Guru.com is a freelance marketplace where users can hire freelancers from various industries to perform certain tasks and jobs. It provides businesses with a platform to connect and collaborate with freelancers flexibly and securely. We compiled Guru.com user reviews from our website and around the web and determined that they generally have negative ratings. We also compared its available pricing options.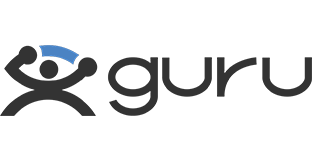 Summary of User Reviews
What Guru.com Does Well
Users who gave Guru.com a positive review said that they like that they can find freelancers for remote jobs on the site.
What Guru.com Does Not Do Well
Users who gave Guru.com a negative review said that they were scammed by freelancers on the site. They also said that not all freelancers are competent enough to do their assigned jobs.
Most Helpful Positive User Review
One user who gave Guru.com a positive review on G2Crowd said that she likes how the site lets her easily find a freelancer. She said that she's comfortable with hiring freelancers on the site since she can easily give feedback for revisions.
Most Helpful Negative User Review
"Never use Guru.com to hire freelancers. Guru.com is a website that encourages freelancers and scammers to rip us off. I have hired a web developer to develop a website for me, Guru.com asked me to put money in a safepay account to have the freelancer start working on my project. I ended up being the fool by putting the money in their safepay and once I told the freelancer that I am not satisfied with the work I received, he immediately filed invoice and collected the money. I don't know how Guru.com gave him my money although he has no proof of delivering any work that I accepted. Please guys stay away from both Guru and their freelancer-scammers."

– Jamal
Guru.com Pricing
Guru.com does not have a sign-up fee, but it requires payment for every milestone, task, or hour rendered by a freelancer in a project. Guru.com requires users to pay a 2.5% handling fee each time they pay an invoice for a job done. The site also offers a 3.5% cash back when users pay using check, e-check, or wire transfer to help offset the handling fee.
Guru.com Features
Quote submissions from freelancers on posted jobs
Agreement development
Various payment methods (pay by milestones, completed tasks, and hours)
SafePay guarantee
Communication platform within the program
Access to files uploaded by freelancers
Time-tracking of freelancer hours via Time Tracker integration
Helpful Freelance Sites Resources
6 Best Freelance Websites for Employers 2018 – Freelance websites provide access to just-in-time workers to complete important assignments of all kinds. We looked at six of the most popular freelance websites with affordable pricing and features small businesses can use.
How to Hire a Freelancer in 3 Easy Steps – From choosing a job marketplace to filtering candidate responses, we guide you through three important steps to find the best freelancers for your business.
Top 59 Free Job Posting Sites & Paid Options for Small Businesses – Finding a freelancer can be overwhelming given that there are so many people you can choose from. In this article, we categorize different websites that you can visit to find freelancers depending on your hiring criteria.
Guru.com FAQ
How can a user find a freelancer or gurus on Guru.com?
A user can post a job on Guru.com and the website will match gurus to the job posted. After this, a user can request a guru to submit a quote. Users can also search for gurus manually and invite them to work on a job.
What payment methods are accepted by Guru.com?
Payments can be made via credit card, e-check, and Paypal.
What is SafePay?
Guru.com employs a system called SafePay. It lets a guru know that there are funds available for payment that won't be released until a user has received their work. Funds remain in SafePay indefinitely. Payment to the guru is made only after a user approves the completed work and pays their invoice.
Guru.com Overview Video
This video provides an overall background on what Guru.com can do to help users find freelancers from different industries on the website.
Top Guru.com Alternatives
Not sure if Guru.com is the right fit for you? Read our reviews of top freelance sites or check out one of these three Guru.com competitors.