FirstResearch.com's latest profile on hair care services puts the number of hair salons in the United States at about 76,000 and growing. With this competitive landscape, it's important for hair salon owners to make sure they create a lasting impression on their potential clients, beginning with a stunning business card design.
Here are 25 examples and templates of the best hair stylist business cards from around the web.
---
Hair salons offer services that cater to the needs of clients looking for changes. Therefore, a good idea for hair salon business cards would be to feature the services you offer. Hair coloring lets you use lots of colors in your design to help you get noticed. Once you have your design, make sure your business cards come out sharp and clear by having them printed professionally with Vistaprint. Vistaprint is the business card provider of choice for small businesses with its affordable price and great turnaround time. If you still haven't finalized your business cards design, you can choose easily from its more than 10,000 templates or get help from one of its professional designers.
---
In color psychology, purple motivates individuality and uniqueness. This helps motivate your audience to express their personal style, so use this color to set the mood to get a new look. The whimsical illustration of flowing hair also inspires creativity to complete the theme.
---
This style of adding illustration as borders for your business card leaves the overall look clean while keeping the interesting elements. Your typical tools of the trade along the edges create a unique border for your design. The fonts and layout are also kept simple so that it remains pleasant to look at.
---
The entire look for this marketing material example is meant to emphasize a salon's haircut services. It starts with a pair of trusty scissors and comb silhouette in a midnight blue background. It's followed by large, simple fonts and a midsection cut design element, elevating the overall look with an interesting feature. Create a theme to set the mood as in this example.
---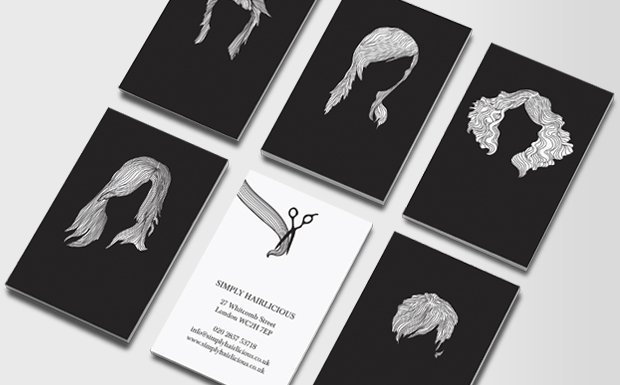 Your skills with the scissors are what clients pay for in a hair salon so it only makes sense that you give them an idea of what you can do. Featuring hairstyles on your business card is a good way to get clients excited to try out your services. You'll also want to use a variety of designs to feature more than one hairstyle but working on a budget can sometimes limit your options. Moo offers a money-back guarantee service with its Printfinity program. Print a different design, double-sided, in full color on every business card, fix a typo or request a design change at no extra cost. You can also choose from its wide variety of designs or upload your own and customize using their online design tool. Sign up with Moo today and get started with your business card design for as low as $19.99.
---
6. Modern Feminine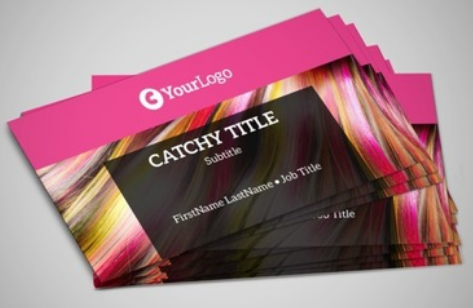 Nothing says feminine than a splash of pink on your business card. There are unisex salons nowadays; however, if your hair salon caters to women, let potential clients know with your design. The multicolor hairstyle in the background gives your business card a modern, edgy look while still showing many feminine touches with your color theme.
---
7. Pastel Palette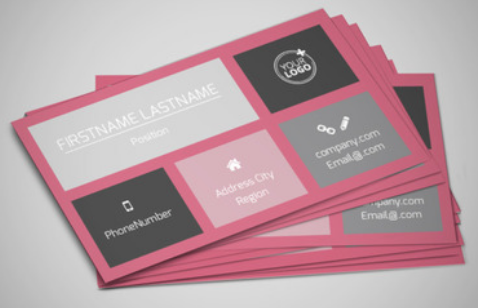 Pastel colors are also associated with designs intended for a feminine audience but not because of the specific shade. The lightness gives out a soft, calming effect that every client wants when going to a salon. A palette-type layout shows order and compartmentalization that helps our brain to relax. If your brand is to become a place to relax and unwind, try this design.
---
8. Salon Snapshot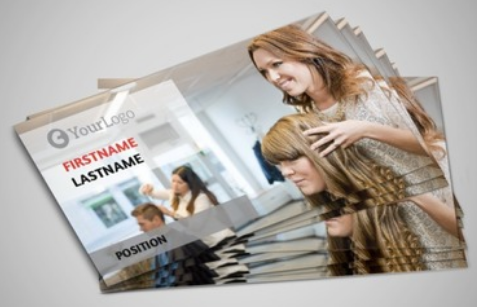 It's always great to be able to let your clients know what to expect. This helps remove doubts and reasons that make them hesitate to avail of your services. Invest in a high-resolution, professional photo of your salon. This example not only shows the premises but also how the staff takes care of their clients.
---
9. Sleek & Modern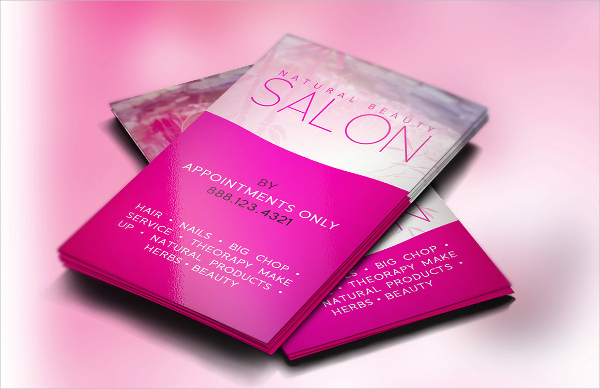 What sets this business card apart is the way it balanced the design elements to make a visually pleasing look that's sleek and modern. It mixes sharp colors, clean lines, and typeface with a touch of gradient white and wavy border in the middle. This keeps the overall look from being too loud or overwhelming that the message gets lost in the process.
---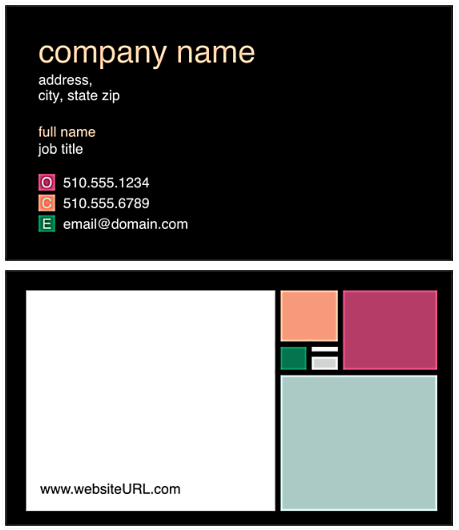 A pop of color can make a design eye-catching in an instant. This example combined this idea with square shapes to give your business card an even more interesting look. The square shape is also associated with balance, professionalism, and security. Combine it with your own brand color for a memorable, easily recognizable brand.
---
11. Modern Glam Design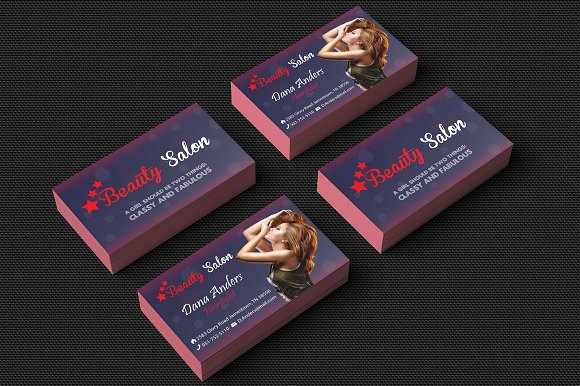 Modern meets glamorous with this business card design. It features a glamour shot image on a modern, gradient background that extends to the edges to create a smoky, dramatic look. The choice of fonts shows a lot of personality and are given accents using colors and sizes.
---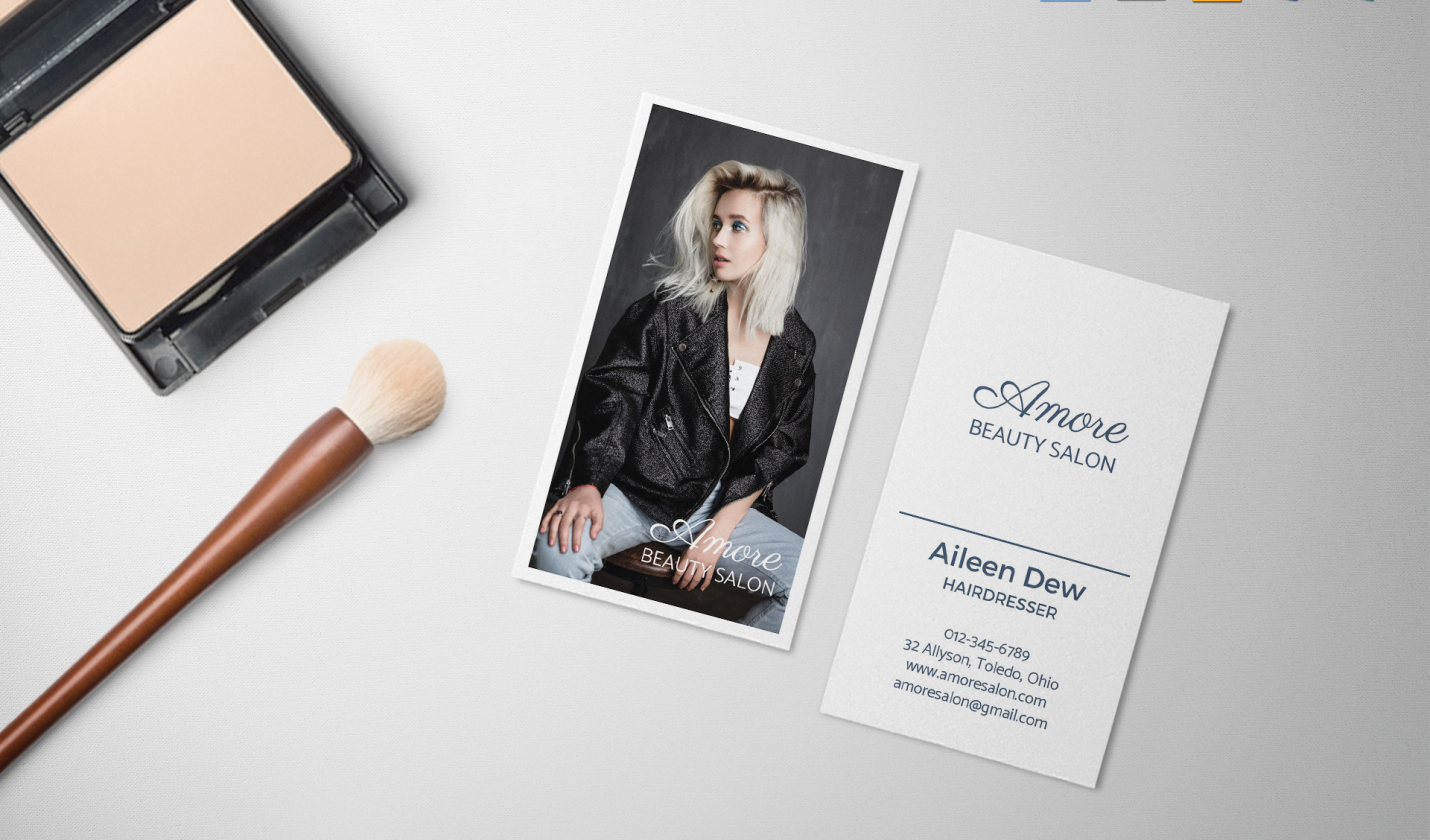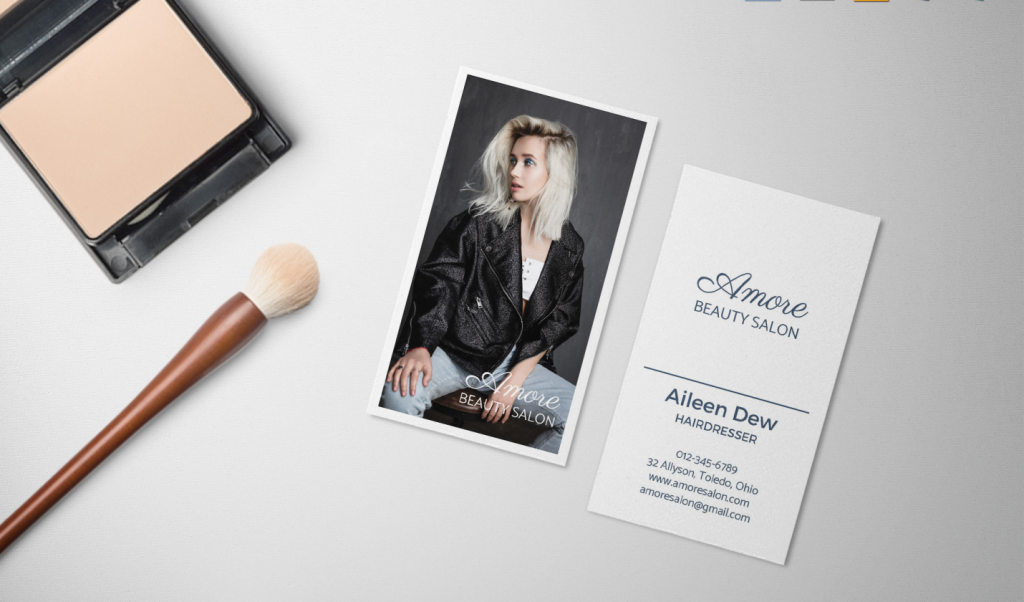 Another way to use glamour shot images is to create a contrast to help let your personality shine. This example shows how a clean, elegant black and white business card is elevated by adding an edgy image. The model's look in a leather jacket and striking hairstyle turns the classic, elegant typeface into an accent that will surely be memorable to the audience.
---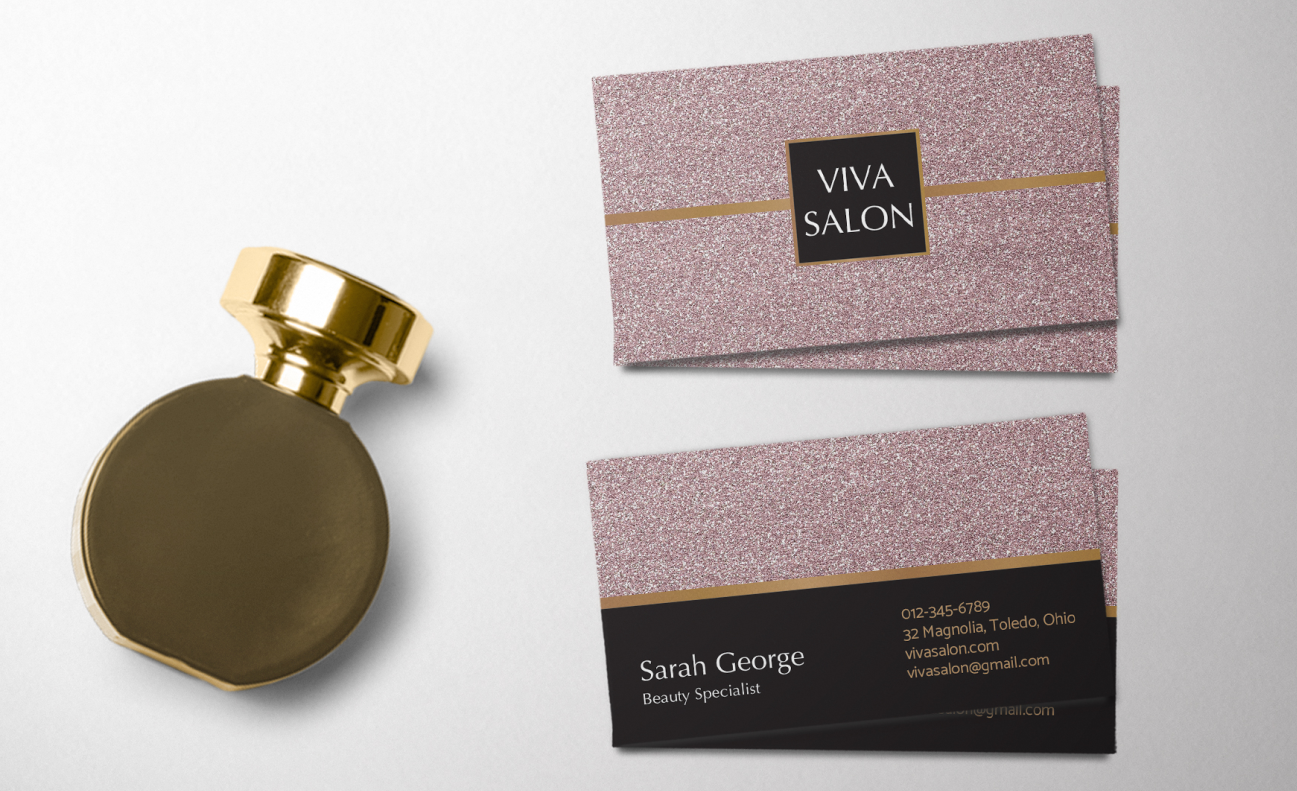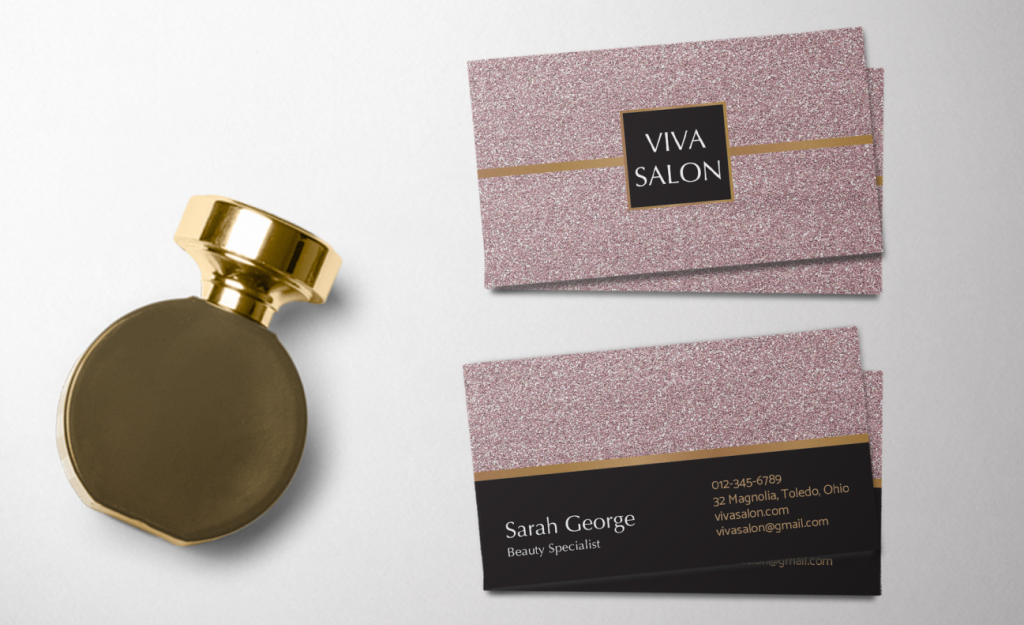 This business card is very clear in its branding. The gold stripes against a purple marble texture background create an elegant feel that will attract clients looking to be pampered and given the VIP treatment. We love how the design used a matte black background for its text to give a distinct contrast while still emphasizing the brand.
---
14. Square Shaped
This example stands out for a number of reasons. For one, the shape of the business card is a fresh take and allows for more creative layout possibilities. The softer colors also break away from sharp, high-impact images that hair salon business cards are usually known for. We also love how this design includes additional information like email address and opening hours, not to mention the website address located under the business name.
15. Feminine Silhouettes
Whimsical silhouettes are also great when designing business cards for hair salons. Notice how the design emphasizes curves and swirling lines to create the right mood. The lines and illustrations create a classy, whimsical look and are perfect for hair salons that want to create a brand around relaxation and pampering for women after a busy week.
---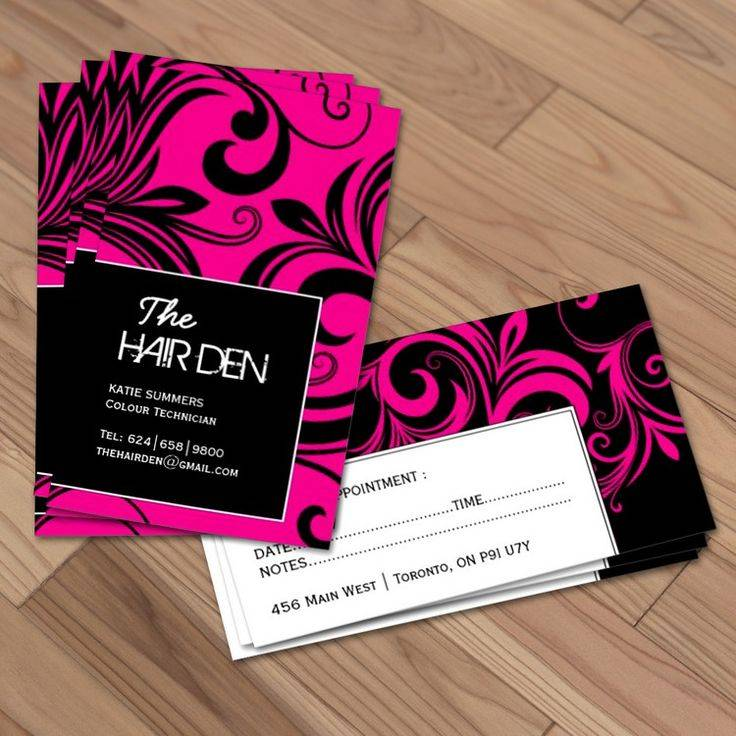 The keyword for this example is versatility, where both design and purpose make this business card worth keeping. It doubles as an appointment card printed on a white background while the rest of the card is blank and pink. It also used a powerful contrast between large floral background patterns against a square frame to bring out personality.
---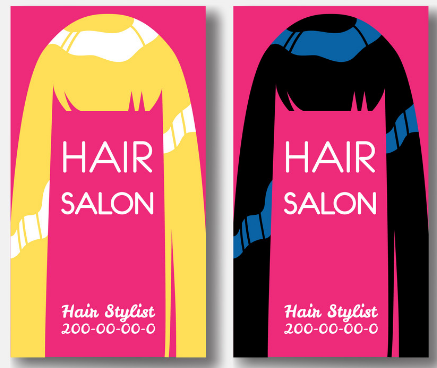 Classy elegance is not the only way to make your branding stand out. This business card design shows a relaxed, fun side of hair salons by adding cartoon-like illustrations. It also adds personality by using colors to give the hair frames highlights and add perspective. The text is simple and direct to the point, giving your business card an overall memorable look.
---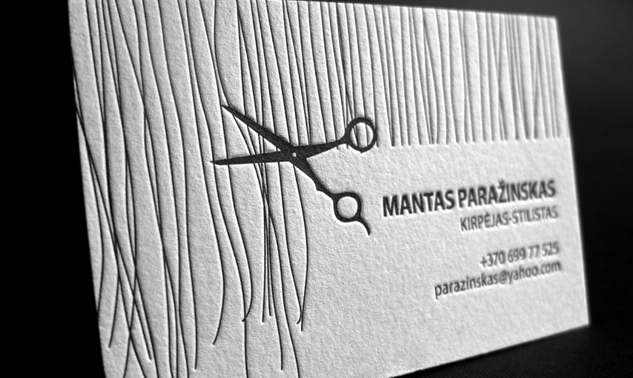 This hair salon business card is in black and white, but the design sends out a clear message at first glance easily. The hand-drawn image of hair trimming in action says it all while the use of letterpress for printing gave the illustration more depth. It's presented in a way that not much text is needed for clients to remember your brand.
---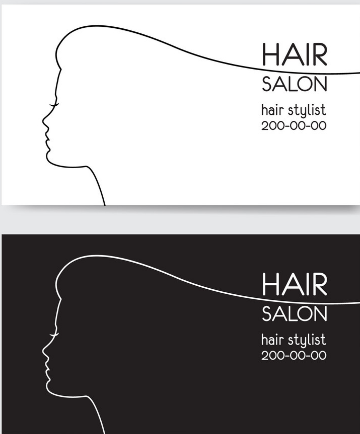 A minimalist design can be tricky to pull off, especially on business cards for hair salons that thrive on color. However, this example shows as much personality with minimum effort. The text is simple, and the layout clean on a gray and white background. The added profile outline gives this look the personality it needs to stand out.
---
One look at this example and you'll notice how creative the idea was of using simple lines to as a design element. Parallel lines were used to illustrate unique hairstyles that serve as the overall look of the business card. The final product is an eye-catching image that will surely be memorable for potential clients.
---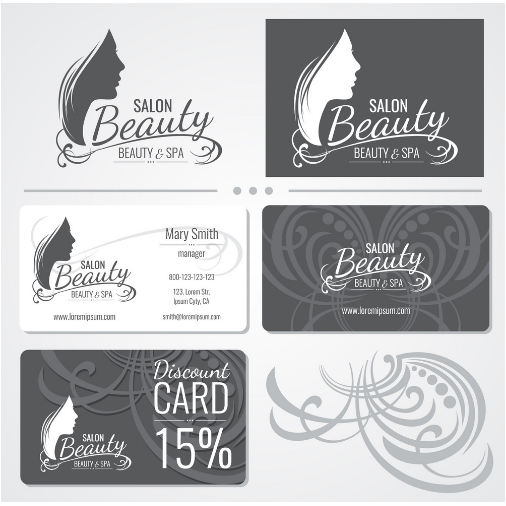 If your business makes use of whimsical elements in your business name and logo, then your business card should continue the look for effective branding. In this example, the same whimsical curves and lines are used to create a background pattern that compliments the brand logo. You can also replace gray for your brand color that clients will recognize easily.
---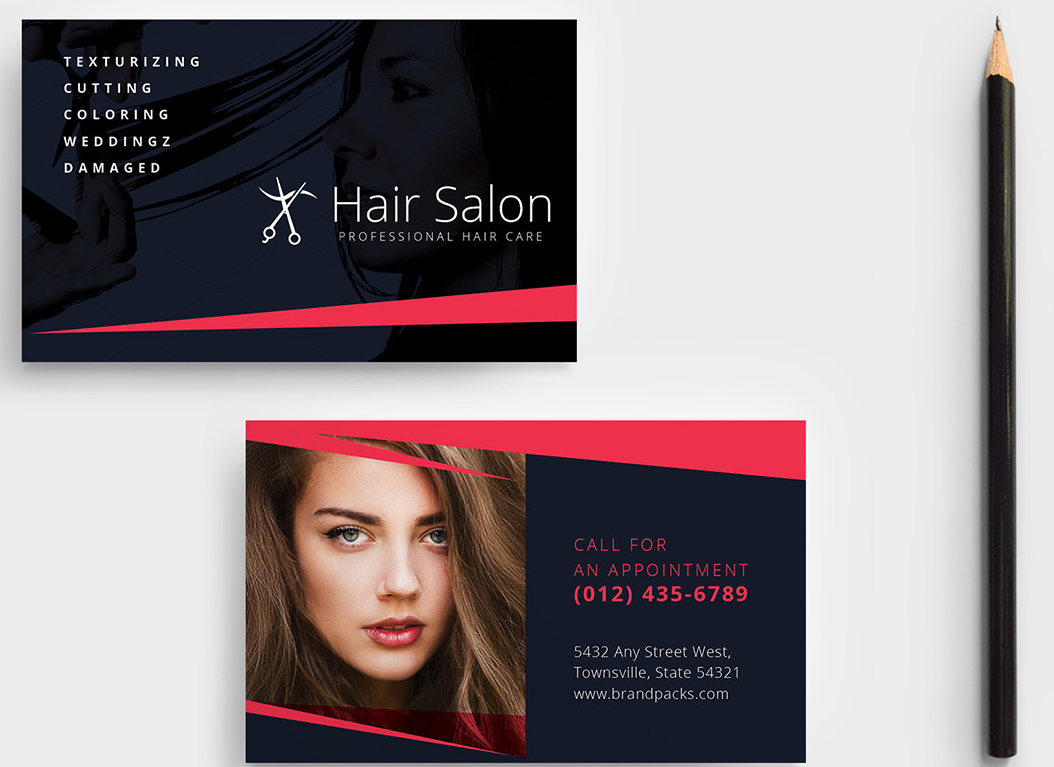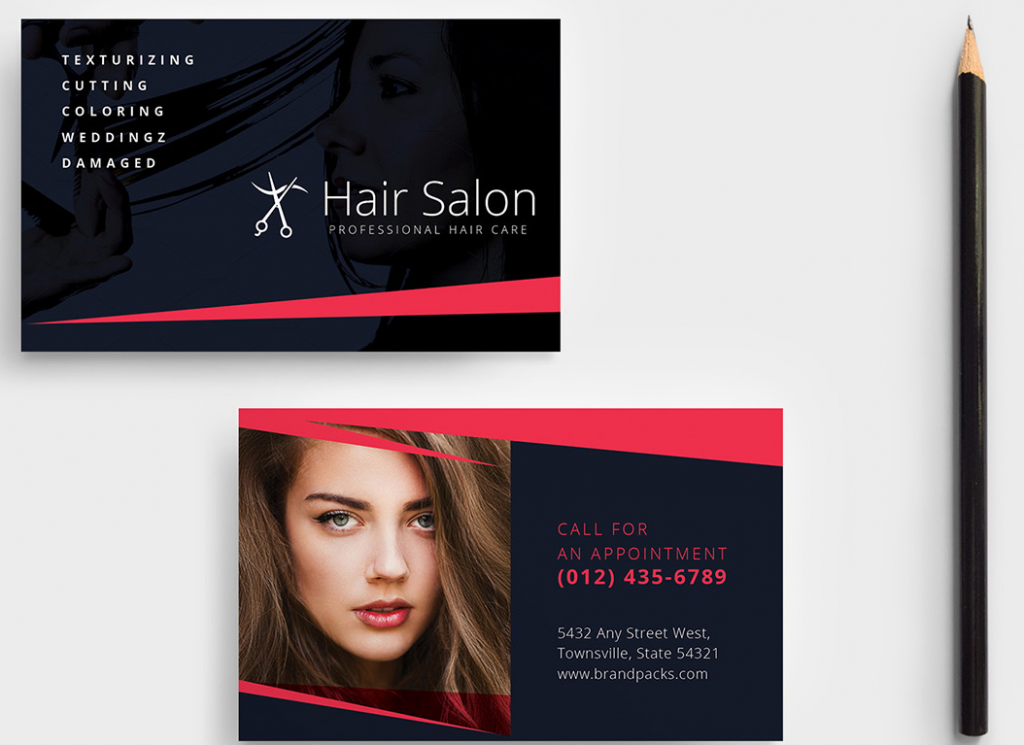 Clients are looking for transformation when they visit their favorite hair salons so featuring this on your business card can attract attention easily. This example makes use of both sides of the card to show models in before (or during) and after images as inspiration. What we loved in this example is how it strategically listed their services on top of the "during" image to help deliver a clear message to potential clients.
---
23. Folded Business Card
Folded business cards can look great when done right. What we like about this example is the way it used color as an accent for the design. The layout is simple, and the choice of typeface creates an impact that's recognizable easily. There's also enough space to add interactive features like quick response (QR) code to help potential clients set up an appointment with you through their mobile.
---
24. Highly Personalized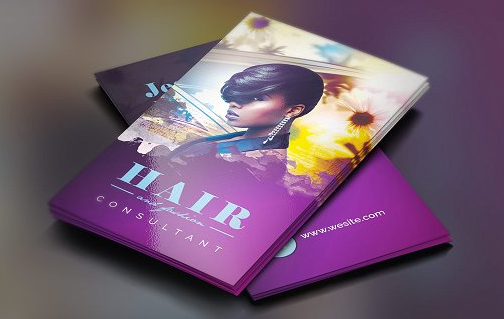 This example is unique in its way because the image on this business card is that of the owner, consultant, or hair stylist. Hair salons can use photos of the owner or their professional staff to create a highly personalized look. It lets your personal style shine and also allows you to create a bond with potential clients even before they reach your doorstep.
---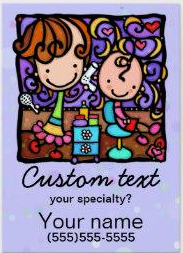 Not all hair salons are for women. Hair salons for kids or toddlers are also in demand nowadays and being able to establish your brand with your business card is crucial. This colorful and playful hand-drawn illustration makes this example perfect to invite clients to try your service. The fun and personal overall look tell parents that their children will be in the hands of friendly professionals.
---
Over to You
There are many hair salon business cards out there, and it's up to you to find the design you feel will help you stand out from the crowd. Check out our list of examples and templates the next time you upgrade your business card design.
Want to add to our list of stunning hair stylist business cards? Share them with us in the comments.