The U.S. Bureau of Labor Statistics reports that hair stylists make around $25,000 annually, and the number of professionals will steadily increase until 2026. So aside from having excellent skills, one will also need the right network to be successful. Start by handing out business cards designed to impress the most demanding clientele.
Here are 27 hair stylist business card ideas and design tips from around the web.
---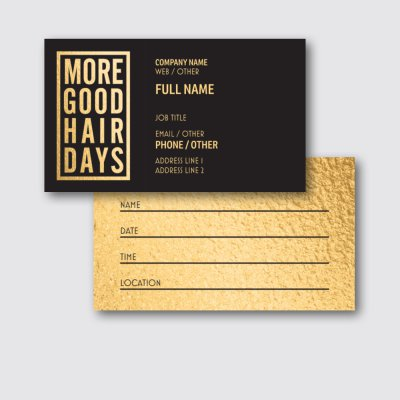 A catchy title and design can impress potential clients even without an image to come up with something that's relatable. This gives them an idea of your personality and how your brand can provide what clients need. Once you have your concept and design all setup, make sure your headlines are clear and easy to read by having them professionally printed with Vistaprint. Vistaprint is the business card provider of choice for small businesses, with its affordable price and great turnaround time. And if you still haven't finalized your business cards design, you can easily choose from their over 10,000 templates or get help from one of their professional designers. Click here to get started.
---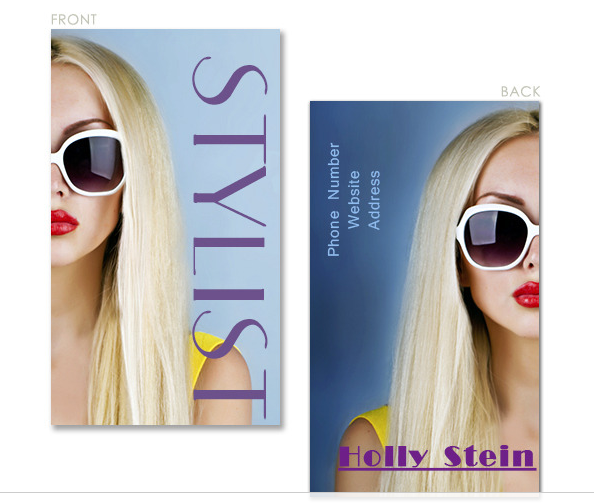 A pop of color never fails to make marketing materials stand out. Professional hairstylists can design their business cards to show off their personality with bright sharp colors and images. Imagine having to create your advertising on a magazine page and think about how you want it to look and the message you want to send your readers.
---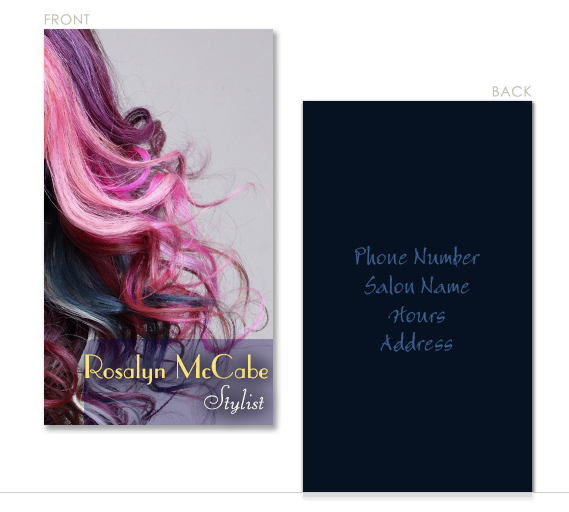 Are you known for a specific skill? Then you might want to focus your business card design on it. This helps you show potential clients that you are their best choice, but don't forget to list your other services as well. Our example works best for hair stylists who are experts in hair color, which what readers will see the moment they look at the card.
---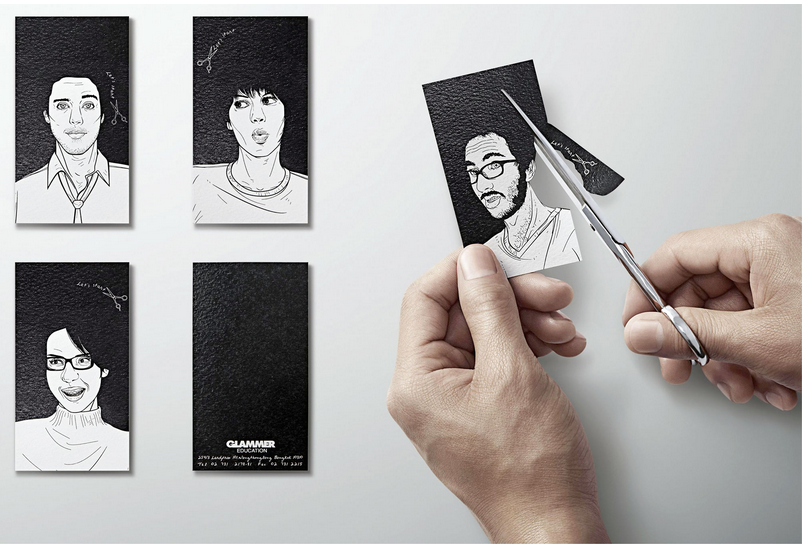 You might not have thought of having an interactive design for your business card, but this is a unique idea that can easily make you memorable to potential clients. The example gives the audience an opportunity to make their own hairstyle and hand it over to their hairstylist during the appointment. You can also create one that's writeable—one on which the audience can draw and color their preferred hairstyle.
---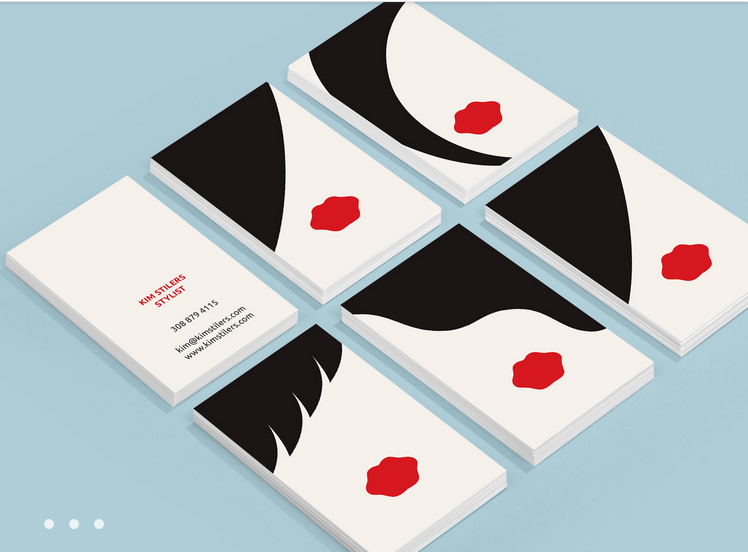 One way to get your potential client's attention is to use classic, popular illustrations. This design focuses on keeping the "mane" attraction to inspire clients with new looks. You'll also want to find different hairstyle versions to keep it interesting, but working on a budget can sometimes limit your options. Moo offers a money-back guarantee service with their Printfinity program. Print a different design, double-sided, in full color on every business card, or fix a typo or request a design change at no extra cost. You can also choose from their wide variety of designs or upload your own and customize using their online design tool. Sign up with Moo today and get started with your business card design for as low as $19.99.
---
6. Play with Unusual Colors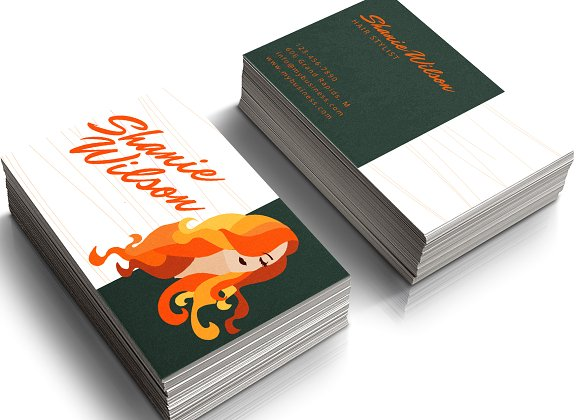 When not working with a photo, most business card designs tend to revert to block colors, making them blend instead of standing out. Notice how our example makes use of shades of yellow and orange on top of a moss green and white background. If you have a brand color, experiment with it by exploring unique combinations to show your personality.
---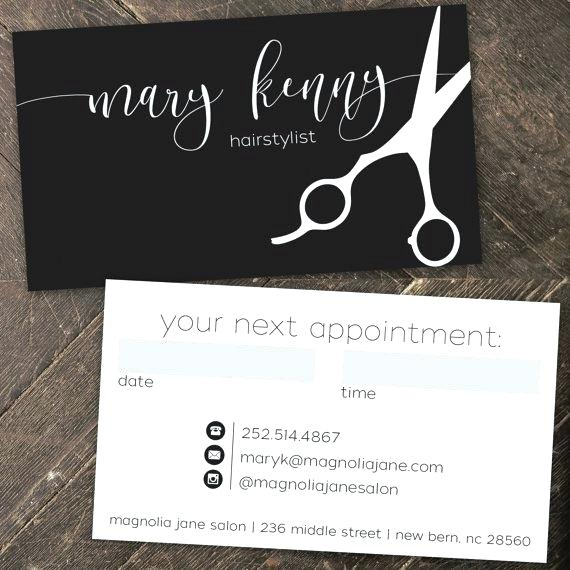 The front of your card is designed to attract attention, while the back is meant to be useful and informative. Make it serve a purpose by using it to schedule appointments. This ensures that your business card is not thrown away and remains top-of-mind with your clients. Don't forget to have your contact information included right below the appointment details.
---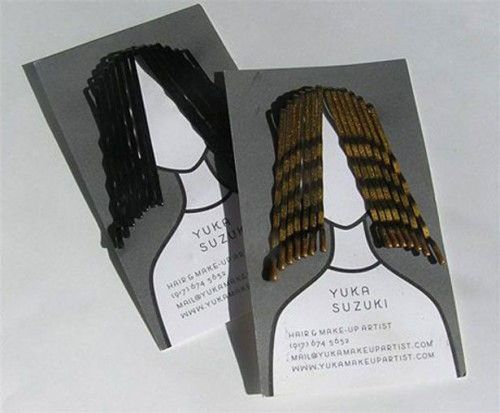 As a professional hairstylist, it's important that you know how to connect with clients. This will help you design a business card that adds value. We love how this example acknowledges a common problem of losing bobby pins and designed a holder with the hairstylist information on the card.
---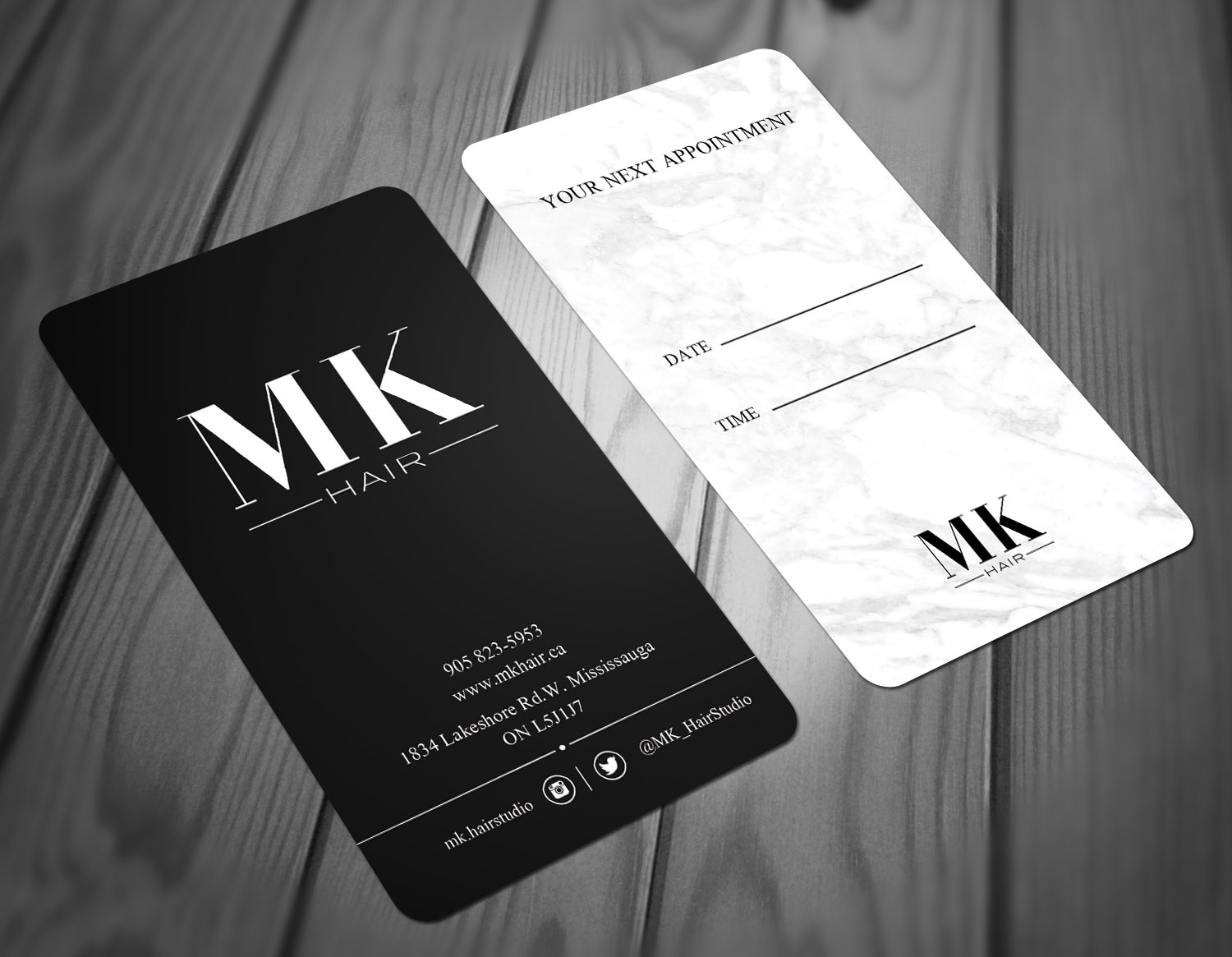 The right layout helps to keep information organized, keeping the business card from looking cluttered regardless of the number of details to be presented. Keeping the layout simple doesn't make it less interesting; instead, it ensures that you get your message across clearly to your audience.
---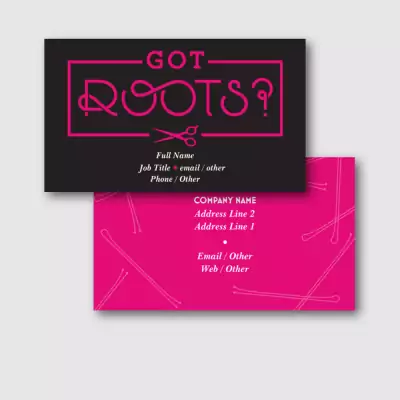 Catching your audience's eye with witty titles will make your business card memorable. You can go even further and pique their curiosity by asking a question. But aside from being witty, your question needs to be something that can be answered by the services you offer. Think about what service you do best and use it to your advantage.
---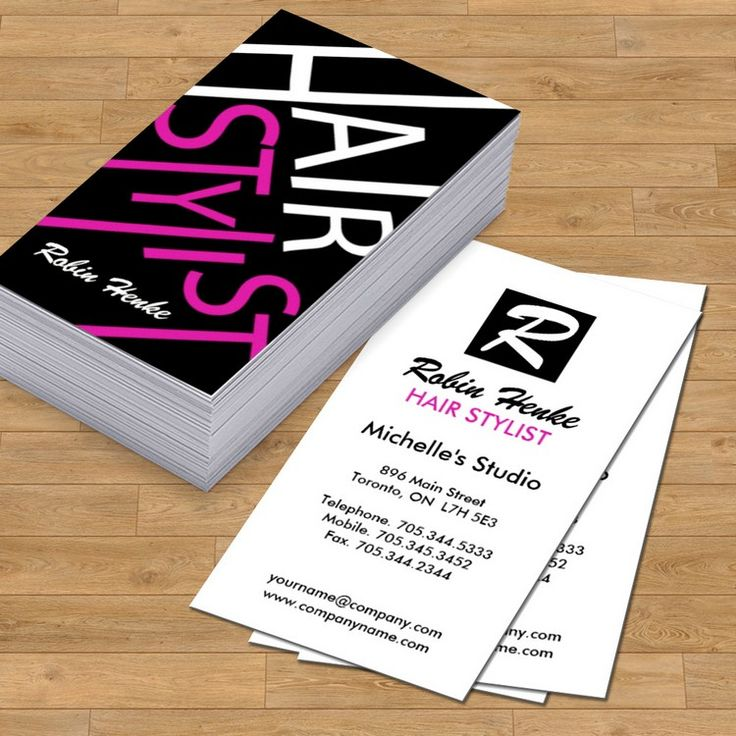 Aside from providing an interesting look, color accents help emphasize key information and images on your business card. It also makes even small fonts stand out and easier to read. Consider the overall look when using color accents. The key is not to overuse it so as not to lose its value.
---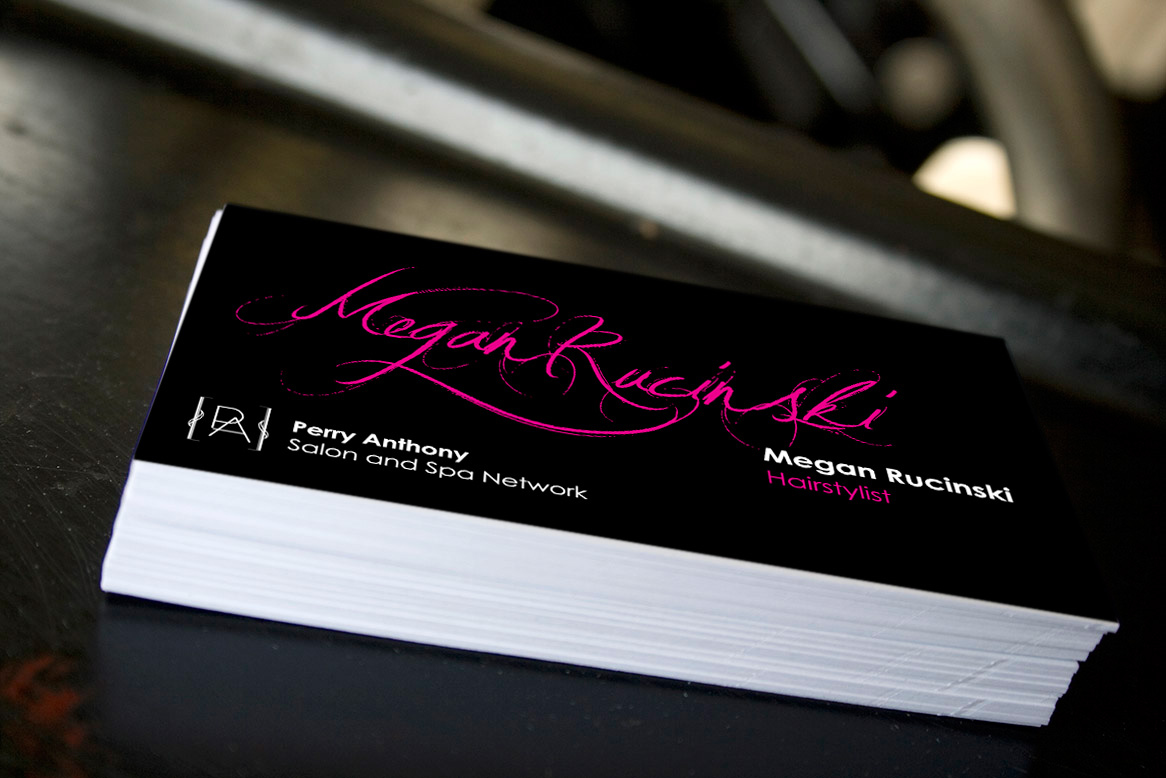 Instead of a personal logo, you can always come up with a design using your name. This allows for a more accurate recall from your audience. Work with your designer to find the right color and typography that reflects your personality. You should also make sure that it's easy for anyone to read.
---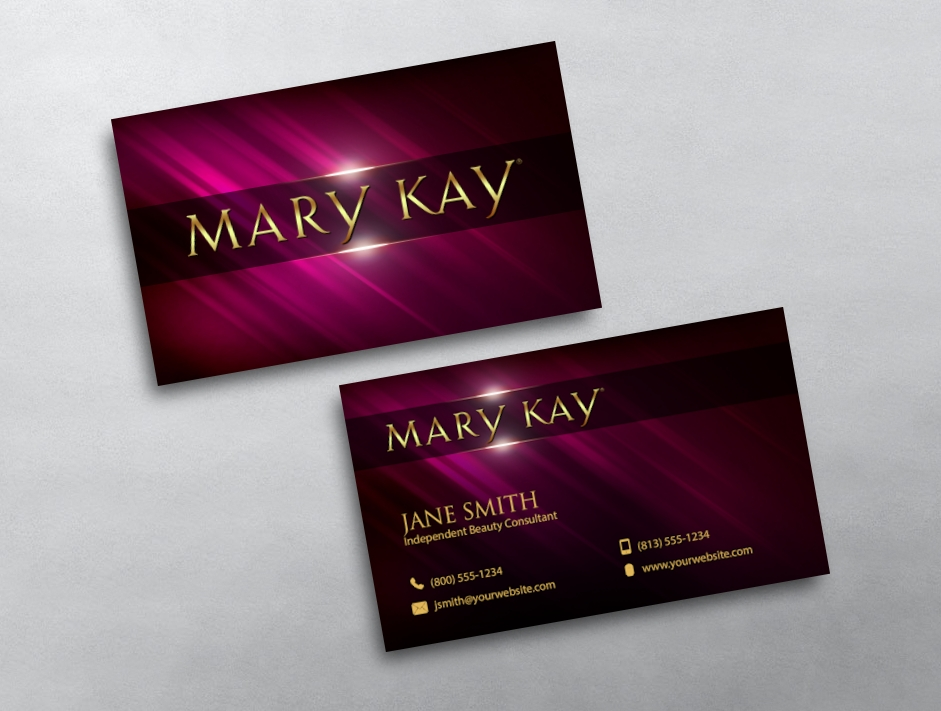 One unique element you can use to make your business card stand out is spot UV accents. Adding spot UV to your design gives accent brightness wherever you want it on your business card. It can be used to accent keywords, images or provide a sense of luxury like the one in our example.
---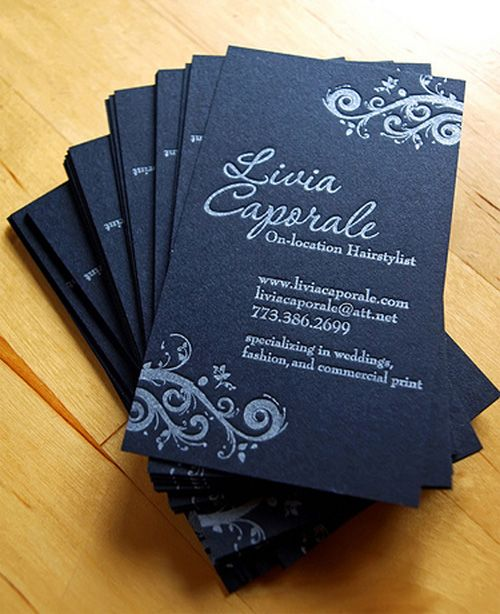 If you have the budget, you can also try using letterpress for your business card. The added texture and design possibilities will give your business card a more elegant, professional look to impress every one of your clients. It's also worth mentioning how this example incorporated a list of services in its design.
---
If you want a simple but smart set of business cards, go for a design that zeroes in on your clientele's needs. Prepare illustrations of hairstyles that are popular with your clients and have them be the cover of your business card. Use a somewhat minimalist design to make sure your featured hairstyle stands out on the design.
---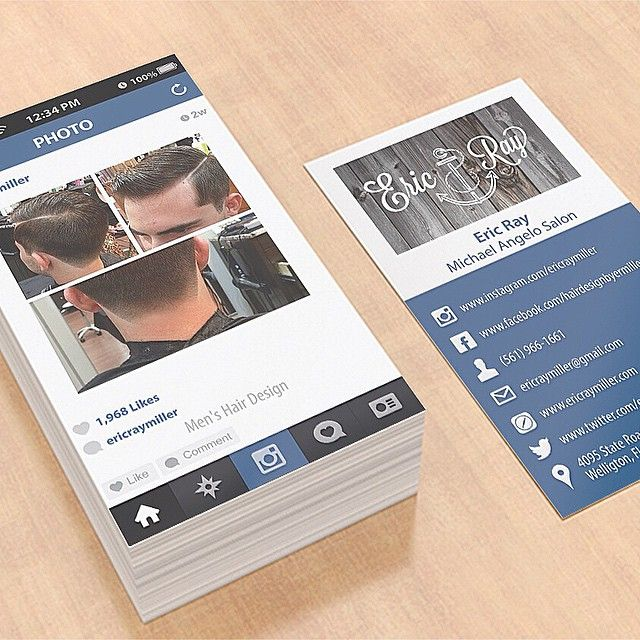 If you want to try a modern design to your business card, try adapting a familiar look that anyone will recognize. This example is like looking through someone's social media page on a smartphone. Not only is this a sure conversation starter, but you might also find your business card shared around social media as well.
---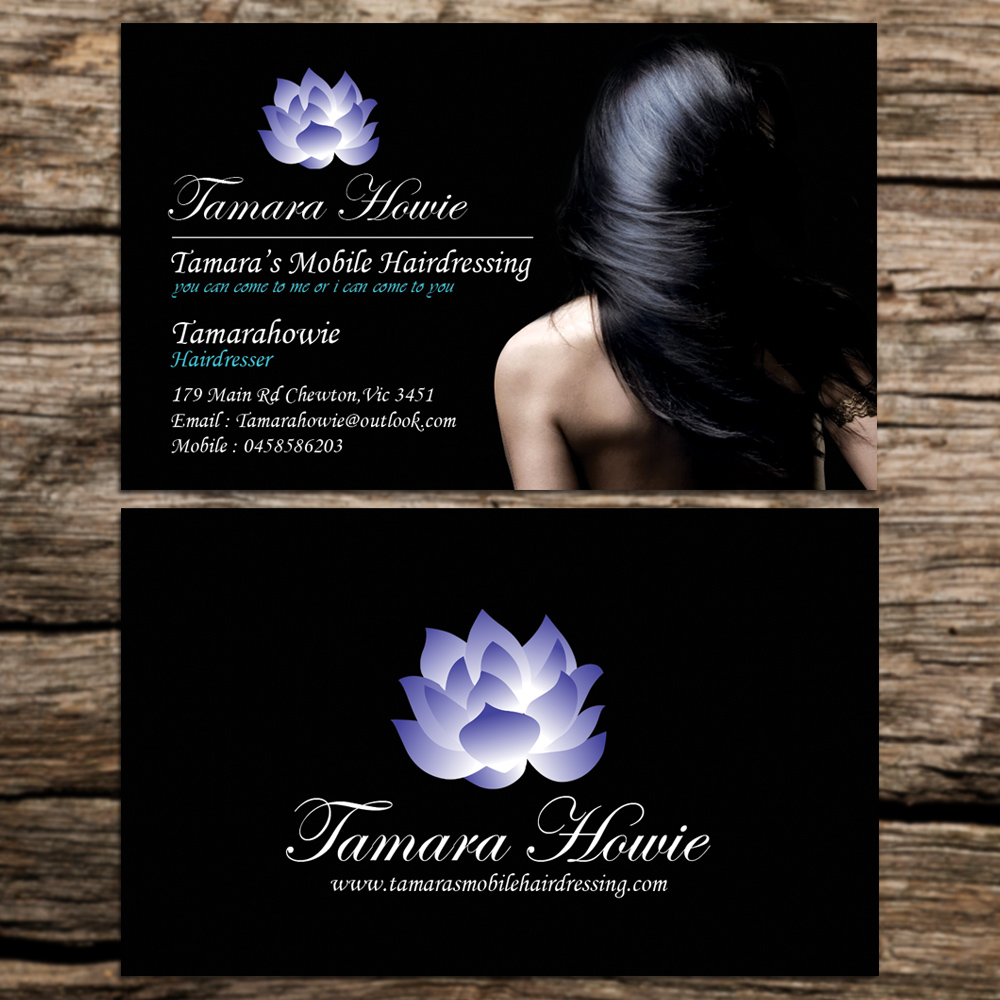 Glamour shots are photos taken in studios with the intention of making the subject look more dramatic and special. Most of these photos highlight clothes, makeup and hair, so professional hairstylists can easily find a variety of images to choose from.
---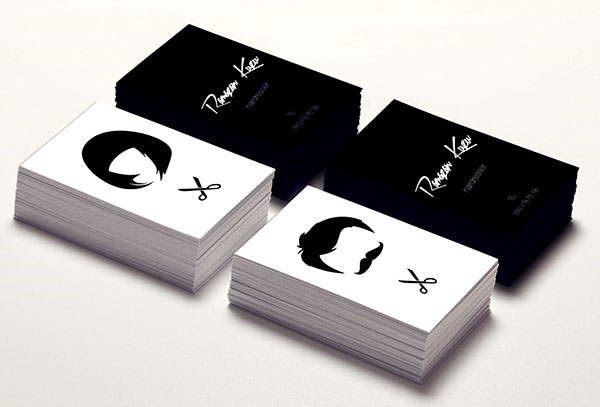 When adapting this to your own business card design, remember to keep it simple. Black and white are classic choices. It helps bring out the elegance in small illustrations and text, making them more pronounced while keeping the layout clean. Notice how this example keeps the elements to a minimum while still being able to send a clear message.
---
Your business logo should always be present on your business card, but it doesn't always have to be the most prominent element. With the right design, your logo can help with your branding as part of the background or a small stamp on either side of the business card. Just make sure it's recognizable no matter what the size.
---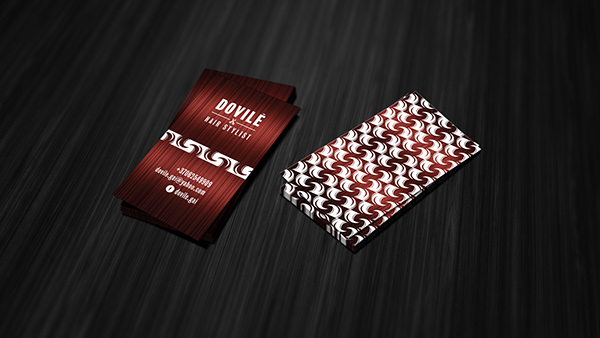 Wondering how to choose a background? Start by focusing on the type of service you provide. If you're great at hair colors, then design business cards with images of hair colors in the background. If you're better at cutting and styling, try a background that shows different hairstyles. This helps potential clients communicate what they want just by starting a discussion about your business cards.
---
21. Add Illustration Your Clients Can Relate To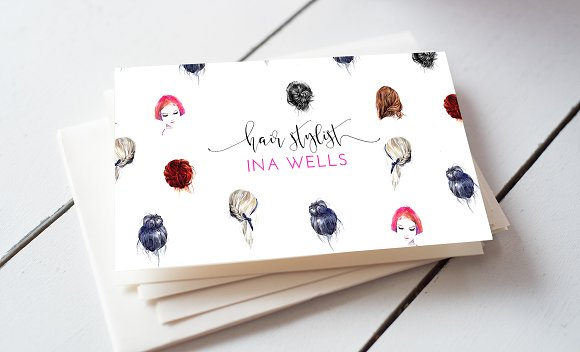 The illustrations in this example might be small but will serve well when talking to clients. It's the same as giving them ideas to choose from and would urge them to make an appointment with you. Consider adding cut-and-color hairstyles and don't forget to add your phone number below your name so clients can contact you immediately.
---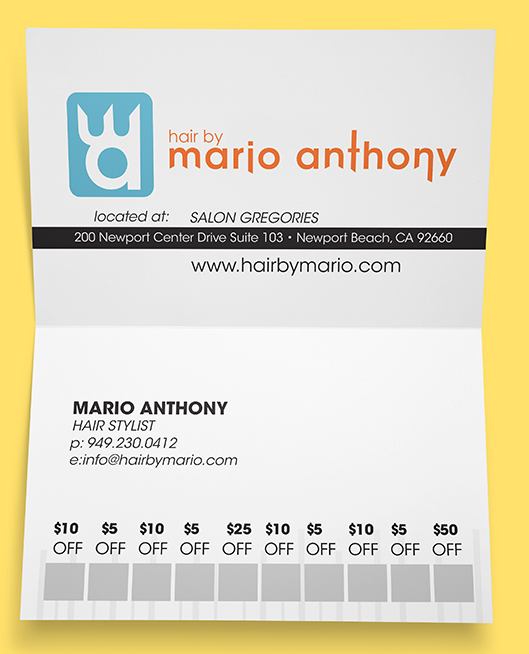 As in the earlier example, adding value to your business card ensures that clients will hold on to them. Creating a foldable business card with loyalty punch cards on one side creates a long-term value, helping you develop a memorable brand. Notice how the contact information is written at the top of the punch card instead of on the back of the card.
---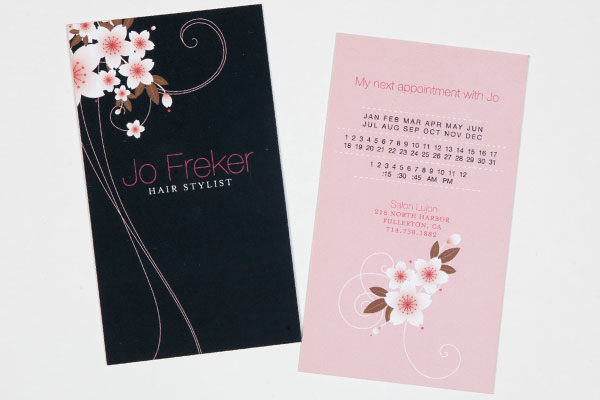 Business cards are designed to attract the attention of a business owner's target market. Floral borders, as in our example, immediately bring femininity to mind; professional hairstylists who use this design on their business card will expect to get calls from female clients. If you want to forego adding images or illustrations, use an elaborate border design that reflects your brand.
---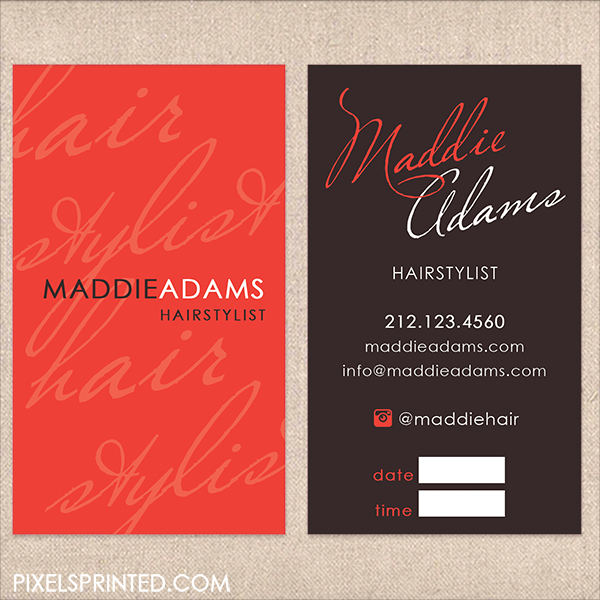 Vibrant colors are normal for business cards for professional hairstylists. But aside from letting potential clients know what you can do to hair, you can also use colors to create the emotion you want your clients to feel. Orange, for example, evokes optimism and motivation, which is a good vibe to give someone who wants to try something new.
---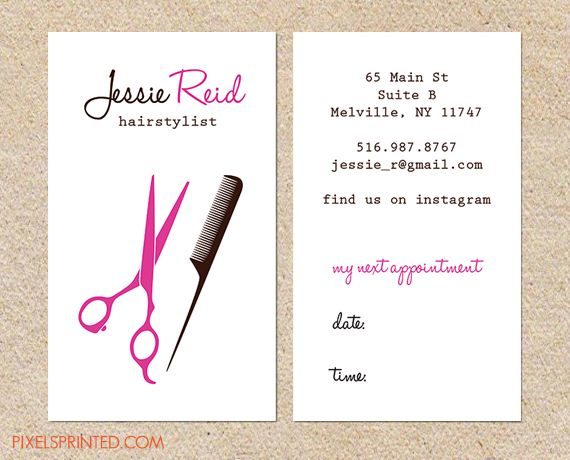 From the symbols to the choice of typography, this example is for anyone looking for a retro design to bring about a feeling of nostalgia to their audience. The old school feel reminds clients of a more personal, friendly service they can get from their neighborhood stylist. Remember to keep the layout clean and simple to complete the look.
---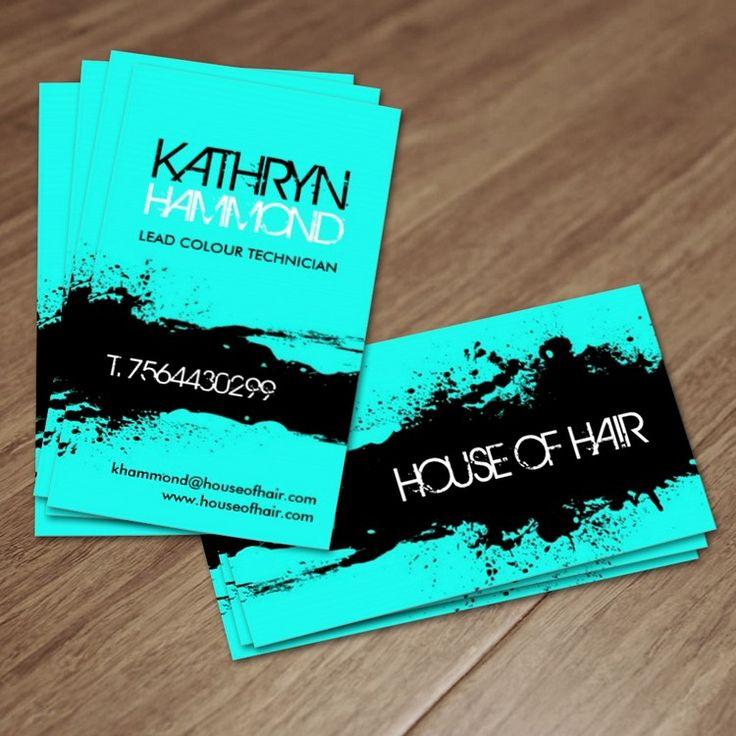 An edgy business card for professional hairstylists tells potential clients that you're bold and creative, so they should expect to be pleasantly surprised if they hire you. The colors and grunge style easily make this business card memorable and a standout. Experiment with bold colors if you want to try this design for your own business card.
---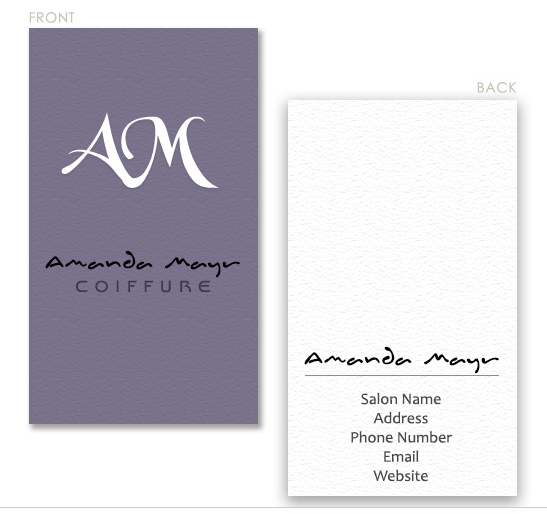 Your choice of typography can give potential clients an idea of your style and creative process that come out of your work. At the same time, you also need to make sure that your text is clear and readable. Avoid using more than two styles to keep it clean. Ask your designer about typography so they can help you find options to match your brand.
If you are inspired to design your business cards, get started by choosing a provider from our buyer's guide on the best business card providers. 
---
Over to You
The most successful hair stylists are able to show their personality and skill with the perfect business card. Take a page from our list of hair stylist business card ideas to make sure you're always ahead of your competition.
Got your own unique hair stylist business cards worth sharing? Let us know in the comments.