Many insurance service providers manage small business health insurance for owners and their employees at affordable rates. Companies with as few as one staff member can offer health insurance benefits similar to what corporate enterprises provide. In fact, the best health insurance for small businesses is often available through companies offering human resource and payroll services.
Small Business Health Insurance Requirements
If you have a business with fewer than 50 employees, providing health insurance to your staff is optional in most states—except Hawaii. There are many small business health insurance options available to attract new employees and to keep your current ones happy. We'll show you how to provide small business health insurance to your employees, what it costs, how to maximize your tax savings and other best practices.
Please note that if you have more than 50 full-time employees (FTE), you are required by the Affordable Care Act (ACA) to offer health insurance, and you must provide proof of that to the IRS each year.
Who Small Business Health Insurance Is Best For
Small business health insurance is for startups and professional businesses that want to attract and retain top talent. Offering health insurance, even while your company is small, will give you an edge, because you'll be able to hire employees that may otherwise have sought out a larger company offering better benefits.
Here are the kinds of firms that should consider offering health insurance to their staff:
Companies with 50 or more FTE: Businesses with 50 or more employees need to pay close attention to the ACA's health insurance requirements mandating health coverage.
Any professional firm: Professional employees like lawyers, accountants, and technical staff have numerous employment options. Offering benefits helps you compete with other companies.
Businesses in Hawaii: In a fairly recent rule, Hawaii now requires all employers, regardless of size, to offer health insurance.
S corporation (S-corp) shareholders: Small business owners in an S-corp may participate in any company-sponsored health insurance plan. That's a good reason to offer it to your staff too.
Any business wanting the best employees: Offering health insurance is a competitive advantage and helps you recruit and retain quality staff in addition to reducing turnover.
What the ACA Requires
Businesses with fewer than 50 full-time employees (FTEs) are not required to provide health insurance for their employees. If your business has 50 or more FTEs, the ACA requires you to provide health insurance for your employees or pay a penalty between $2,000 to $3,000 per employee when you file your taxes.
The ACA requires companies with 50 or more FTEs to do these three things:
Offer a qualified health plan to eligible employees and their families
Ensure that the health plan is affordable for employees
Complete required IRS forms: 1094-C and 1095-C each year
What Small Business Health Insurance Costs
The largest costs of offering health insurance are the premiums that you and your employees pay. But you might also incur other costs such as software to manage benefits enrollment and training to educate your employees on their healthcare benefit options.
Here are costs to consider when offering health insurance to your small business employees:
Employee premiums: Premium charged by insurance companies vary based on services chosen and family size, many running from $600 to $1,500 a month
Employer contribution: Employers often contribute 50% or more toward what the employee pays.
Software: HR and other workforce management software cost $6 to $12 a month per employee to keep track of who is enrolled in each plan and how much they pay for it.
Benefits program enrollment: Benefits program management is an add-on provided by your HR provider or payroll service that costs a few dollars extra a month per employee. It helps you manage annual enrollment as well as offer benefits to new hires.
Training: Some providers offer employee benefits training at no cost. Others charge as much as $500 or more for a one-day session. Employers can also opt to do the training themselves.
Health Insurance Portability and Accountability Act (HIPAA)-compliance: HIPAA requires you to keep employee medical information private. That means secure filing systems and employee notices. The cost is negligible.
There are so many variables that affect healthcare costs, from the kind of healthcare offering to the size of your employee's family. This chart from the Kaiser Foundation provides overall averages.
Average Annual Healthcare Costs
Only after you choose the provider and coverage types is it possible to estimate specific healthcare costs for your business. Your cost is also driven by the percentage, if any, you choose to―or are required to under the ACA―contribute toward employee premiums.
Cost Varies by Type of Health Benefits You Provide
The type of health insurance benefits you provide will affect your cost unless you are doing a set amount per month per employee. Keep in mind that premiums also vary greatly by state. For example, Alaska pays almost 76% more in premiums than New Mexico, which pays below the national average. Additional cost information can be found in our article on healthcare costs.
How to Provide Health Insurance to Employees
Because health insurance plans and their costs vary so widely by state, there's no one plan we can recommend for all businesses. What we can do is share insights about the kinds of organizations that can provide your small business employees with affordable health insurance plans and provide a glossary explaining what some of the confusing healthcare jargon means.
Disclaimer: Please note that this article contains general information only, so please consult your own legal, HR, or insurance professional before making any decisions about whether and what type of health insurance to provide.
Here are six steps covering how to provide health insurance to employees.
1. Determine Your Budget
You'll need to determine how much of each employee's health insurance premiums you, as the employer, want to pay toward their coverage. Once you know how much you can afford to contribute, you'll be able to talk to providers and look at options.
Employers traditionally pay for health insurance in one of the following ways:
Set percent contribution: You can choose to contribute a percentage of the employees' monthly premium, usually ranging from 50-100%:

Sometimes with a limit, such as 50% up to $250 per employee
Alternatively, a clause covering only the employee, such as 75% of the employee-only premium

Flat amount toward health insurance: You may find it fairer to provide a flat amount each month that each employee can use towards their health insurance or a health savings account (HSA or FSA), such as $100 per employee
A flat amount toward any benefit: To give employees choice, you may want to provide each with a fixed amount, such as $500 per employee, that they can use toward any employee benefits like medical, 401(k), disability insurance, and so on.
In general, a flat amount per month is the best practice since it's easy to budget. It also makes the most sense in terms of fairness for your employees. Some employees will use the entire amount for their family health insurance whereas others might want to invest in other insurance instead.
2. Choose the Best Health Insurance Provider Type
Small businesses have several options from which to choose a partner in providing health insurance. They may prefer to work with a local licensed insurance agent or broker, a professional employer organization (PEO), online software services, or the Small Business Health Options Program (SHOP) marketplace.
Here's information explaining the pros and cons of each.
PEO
A PEO, like ADP TotalSource, lets you outsource your employee management tasks, including employee benefits. They tend to cost about 2% of your annual payroll. What's great is they can serve other areas of the business such as HR and payroll while managing IRS tax filings and compliance. On the downside, your employees have a co-employer, and that may confuse them.
Furthermore, a PEO, with a large book of employees, has more buying and negotiating power with health insurance providers than you have as a small employer. You may find it cheaper overall to partner with a PEO as it can offset your employer contribution costs. Here are the best PEOs for small business.
An HR or Payroll Provider
Many HR and payroll software providers, like Gusto, offer employee benefits as an add-on service starting at about $6 to $8 per month per employee. Some serve as their own benefits broker while others negotiate group rates on your behalf. The plus of using the software is that it manages benefits enrollment online using a self-service employee benefits portal, and the cost is typically lower than if you were to work with a broker on your own.
A Health Insurance Broker
A health insurance agent or broker can quote your rates for several health insurance companies and may be able to help you navigate the government healthcare marketplace as well. Health insurance agents may charge extra for services like helping your employees enroll each year or keeping track of the deductions you need to manage. You may also not want to pay commissions on top of insurance provider premiums.
The SHOP Marketplace
SHOP is the government's online marketplace where you, as an employer, can purchase health insurance for your small business. Affordability depends on your state and the size of your business. Because it's the government, it meets ACA-compliance requirements. However, the system and customer service may not be on par with what private health insurance providers offer.
Unfortunately, there is no one answer as to which health insurance provider option is going to be best for everyone. Not only can the pros and cons vary by state, but your choices and costs will vary based on your exact geographic location, the plans you offer, and the amount you choose to contribute towards helping your employees pay for their coverage.
3. Research Specific Health Insurance Providers
If you're located in a major city, you'll likely have greater access to a selection of brokers. Conversely, if you're located in a smaller town, you may be limited to a single health insurance broker. In that case, searching for online benefit providers like an outsourced HR provider might give you more choices as many provide benefits across multiple states in the United States.
We recommend researching a health insurance partner in three ways:
Talk to small business owners near you: Ask your fellow local small business owners who they use for employee health insurance as their recommendations can be invaluable.
Search the internet: Check out online customer reviews or read buyers' guides like ours that cover the best HR platforms or the best HR information system (HRIS) software.
Find SHOP brokers: You may be able to find local healthcare brokers who are familiar with and can help you navigate the government's healthcare marketplace
4. Request Health Insurance Price Quotes
Once you have an idea on who you might want to work with, schedule an initial meeting or call to learn more about the benefits, products, and services that they offer. For instance, do they offer health reimbursement or savings accounts in addition to insurance?
It's wise to get a price quote from each of the four types of health insurance providers listed in Step 2 above. Why? Because insurance offerings vary greatly by state and even by city. Some locations have few providers available, driving costs up. In the same location where the SHOP exchange is cheap, it might be expensive to use an insurance broker. The number of employees that participate also affects cost.
You can easily compare your health insurance options with Zenefits. Zenefits offers all the "must-have" health benefits from more than 250 nationwide insurance carriers. Filter and view plans side-by-side based on deductibles, premiums, and more. Then choose a plan as easily as shopping for airline tickets.
5. Meet With & Evaluate Your Chosen Providers
Cost is only one factor in choosing a service provider to manage employee healthcare coverage. Did you get a quick and friendly response when receiving your quote, or was it a hard sell? Did you have to wait a week? Keep in mind that this is the "wooing" phase. If you don't like the customer service now, you certainly won't like it when there is a problem that you need to be resolved. Neither will your employees.
When you set up meetings with a broker, a PEO account manager, software vendor, or SHOP agent they will probably ask you questions such as:
Census: How many full-time and part-time employees do you have?
Participation rate: How many of those employees do you think will want to sign up for health insurance for themselves and their families?
Employer contribution: How much are you looking to spend per employee? Are you planning to contribute any business funds to help employees purchase insurance?
This information is needed by the vendor to figure out the best options for your business, including ACA-compliance if required. The provider can then price out each option and present you with choices.
Questions to Ask a Benefits Provider
When you meet with your health insurance provider or benefits company, you should ask them some questions to maximize the value you receive for the money you have to spend and ensure the health insurance you purchase meets any federal or state requirements. Also, be prepared to share your business goals for sponsoring employee health insurance.
Here are the topics to cover with each provider when considering your options:
Cost: What is the cost per employee, including service charges and account fees?
Customer service: What kind of support with you get as the health plan administrator?
Employee support: How much and what kind of support will they provide for your employees? Will they answer questions about healthcare coverage options?
Benefits enrollment: Will they help you manage open enrollment paperwork? Do they have a website for employees to sign up? Do they provide employee training on enrollment options?
Accessibility: Will you have a dedicated rep, or do you get the feeling they'll disappear once the contract is signed? What support can you expect from the company?
Website data: Do they offer an employee portal for your staff to look up their healthcare information or re-order benefits cards, or is that on you? Is their site HIPAA-compliant?
Reliability: Do you see any complaints online about the company? Do the online reviews concern you?
Kinds of healthcare insurance options: Does the provider offer all of the different types of coverage you want to offer, such as health savings plans, vision, and dental in addition to medical?
Documents: Will they help you manage all the paperwork required from summary plan descriptions to open-enrollment forms and annual tax reporting?
By sharing your questions and concerns with the provider, they can often steer you toward tax-advantaged health insurance choices that fit your budget. It also helps them understand what you're looking for in health insurance for your small business. That may prompt them to offer plans or combinations you hadn't considered.
6. Sign Up With Your Provider of Choice
Once you sign up with a provider, a representative will typically walk you through the software set up process and help you plan for employee communications. Many businesses launch their new benefits at the start of a fiscal or calendar year to make record-keeping and tax filing easier.
Small Business Health Insurance Plans & Accounts
No matter who you work with to get health insurance for your employees, the organization should have access to various types of health insurance plans and a broad array of insurance companies who provide those plans. Each kind of plan offers unique coverage; some are easier for your employees to use, but not all are ACA-compliant.
Common Types of Healthcare Insurance Plans
There are four main types of health insurance plans: health maintenance organizations (HMO), high deductible health plans (HDHP), point of service plans (POS), and preferred provider organizations (PPO). There are also savings plans and combinations you might consider.
The service provider you choose will help you identify which insurance plan is best for your organization based on your budget, the number of FTEs, and life stages of your employees. For example, older employees may want to stay with an existing medical provider, while younger employees may be willing to switch to save on copays instead.
Here's a little more information on each of these four types of healthcare plans.
HMO
An HMO is an insurance plan that limits where a person can get care. The employee's medical provider must be in-network for the employee to receive benefits. Employees may need a referral for specialists like an orthopedic doctor. However, once they find a doctor in-network, copays are low or even $0. HMO plans may offer the lowest premiums.
HDHP
An HDHP is a medical plan with high out-of-pocket costs (high deductible). It's often paired with a tax-free savings option such as an HSA. This type of plan offers lower premiums than a traditional POS or PPO. One of the benefits is that it's easy to use, and the employee can often keep their own doctor.
POS
A POS is a health insurance plan that gives your employees some choice in doctors. This type of plan allows the insured employee to use an in-network provider or get a referral prior to treatment. POS plans have reasonable premiums, provide decent coverage, and are easier to use than an HMO. The employee will have some out-of-pocket costs, such as a deductible and/or copay.
PPO
A PPO is a health insurance plan with an expansive network. PPOs offer a large range of practitioners, and no referrals are required. This type of plan is going to have the highest premiums but also the best coverage. It's also easy for employees to use. Like a POS, the insured will still have a deductible, copay, or both depending on the treatment.
Add-on Healthcare Savings Options
The following savings options are not traditional health insurance plans like those listed above. They don't meet ACA requirements by themselves. Instead, these are value-added health benefit savings accounts that let employees use pretax dollars to pay for their health expenses.
Employers often make these available in conjunction with one of the traditional health plans mentioned above. All accounts aside from an HSA can also be offered as a stand-alone option if you have under 50 employees and can't afford or don't want to offer traditional health insurance.
FSA
An FSA is an employer-sponsored tax-advantaged account. That means it's a pretax savings account that employees can use to pay for medical expenses. It's a good option if you have fewer than 50 employees yet want to help employees use pretax dollars to pay for healthcare. An FSA is owned by the employer, and funds in the employee's FSA don't roll over from year to year—it's a "use it or lose it" benefit.
HSA
An HSA is another kind of pretax health savings account; it's only available when paired with an HDHP. It works like a 401K for health savings. An employee can contribute with an (optional) employer match. The employee can then use their FSA funds to pay healthcare costs and deductibles. HSAs are owned by the employee and stays with them—even if they change jobs.
Health Reimbursement Account (HRA)
An HRA is an employer-funded and maintained account that allows employees to be reimbursed for medical expenses if they submit valid receipts. An HRA is a good option if it's administered by an outside broker or a HIPAA-certified HR manager to prevent you or your managers from having access to otherwise private employee health information.
Combining Plan Offerings
After you work out your budget with your chosen healthcare plan provider, you can narrow down which health plans to offer employees. It's not a bad idea to mix plan offerings and give your employees choices. Consider asking your team members what kinds of plans or plan combinations might be most helpful to them.
For example, a few health insurance combination options might be:
An HSA and HDHP: This health insurance combination works best when you can't afford to contribute much toward employee health premiums. HDHP insurance premiums are lower than other health plan types. The HSA lets your employees save pretax dollars to offset any deductibles and copays.
A PPO and HMO: These are two good options if you have an employee base with multiple generations. It gives your employees choices on the coverage they want and how much they wish to pay. Read our article on HMO vs PPO to learn more.
A PPO, HMO, and FSA: An FSA is a nice value-add you can provide for your staff. FSA savings are pretax dollars you set aside for employees to spend each year. It offsets their out-of-pocket expenses. In addition, funds over $500 that are left in the account after year-end rolls back to you, the employer.
An HDHP, HMO or POS, PPO, and FSA or HSA: Employers that want to maximize benefits might offer multiple choices to fit employee budgets and family needs. A PEO like ADP TotalSource is your best provider option because it can negotiate lower group rates for all types of insurance plans thanks to the power of numbers.
Of course, employees have the option to purchase many of these plans on their own through the SHOP exchange or a private health insurance company, but it's often cost-prohibitive. Offering healthcare plans through your business makes it more affordable for employees. Typically you, as the employer, will also have the option to enroll in any plans you provide to employees.

Pros & Cons of Providing Health Insurance to Your Employees
If you're looking solely at the cost of health insurance, you may miss the benefits you'll get in terms of better-qualified employees who stay longer. In addition, employees with health insurance are less likely to miss work and are less stressed about how to care for their family health needs. That may translate to better on-the-job performance and lower absenteeism.
Pros of Providing Small Business Health Insurance
Here are some great reasons to provide health insurance to your small business employees:
Tax savings: Your contribution toward employee benefits is tax-deductible. Because employees use pretax dollars to pay their premiums, your payroll taxes will be lower too.
Tax credit: You may be eligible for a small business healthcare tax credit—up to 50% of the premiums paid.
Hiring employees: You'll have better luck attracting top talent to apply to any open jobs if they know your business provides health insurance benefits.
Employee retention: Employees will be less tempted to change jobs for work that provides health insurance; plus, they won't want to quit and give up their coverage.
Employment brand: Your brand reputation will increase as employees note in online company reviews that you take care of your staff by providing benefits.
ACA-compliance: You'll be compliant with federal law once you reach 50 FTE.
Get healthcare for yourself: When you offer health insurance to your employees, you often have the option of purchasing it for yourself and your eligible dependents as well.
Cons of Providing Small Business Health Insurance
Here are some of the cons you should consider before providing small business health insurance:
Documentation: You've got to keep track of new hires and terms, enrollment, benefits plans, summary documents, and payroll deductions. Software providers can help.
Annual open enrollment: You have to re-enroll employees in benefit plans annually. That typically requires training, education, and benefits administration paperwork.
COBRA expense for termed employees: Depending on the size of your organization, such as 20 employees, you'll need to offer any termed employees extended coverage. Here's more about the Consolidated Omnibus Budget Reconciliation Act (COBRA).
HIPAA-compliance: You and your staff may become aware of confidential health information that you'll need to protect. Here's more about HIPAA.
Tax filings: Under the ACA, you need to provide the IRS with annual benefits enrollment reports just after the first of each calendar year.
Alternatives to Providing Small Business Health Insurance
Once your firm reaches the critical mass of 50 FTEs, the ACA will require you to provide health insurance, period. However, there are options for smaller firms to consider, such as providing health savings accounts instead or partially outsourcing staffing needs.
These are alternatives to providing small business health insurance:
Offer a health savings account instead of medical insurance: If you can't afford to contribute to employee health insurance premiums, perhaps you can help workers use pretax money to pay for their own health insurance by setting up an FSA.
Provide other perks in lieu of health & medical benefits: Many small employers get creative by offering low-cost perks to their staff. Here are suggestions on great work perks to offer.
Outsource your staffing: Temporary agencies lease employees to your business while taking care of the worker's required health insurance. Similarly, a virtual assistant (VA) firm provides workers to do tasks for your business. In either case, you're not the employer and don't need to provide health insurance coverage.
Hire freelance contract workers: Independent contractors pay their own insurance as well as their own taxes. Here are some of the best places to find freelancers. Keep in mind that the IRS has strict rules determining the difference between an employee and a contractor, so be sure your freelancers fit the classification rules.
Frequently Asked Questions (FAQs) About Small Business Health Insurance
We've got answers to some of the most common questions you may have about offering health insurance to your employees. In addition, we've created our own glossary of health insurance terms you can download to help you better understand how small business health insurance works.
Where can I find more information on providing ACA-compliant healthcare?
For a comprehensive guide on the ACA which regulates how businesses provide health insurance, read this U.S. Department of Labor (DOL) guide. The IRS provides a simpler document if you want the basics.
Am I required to pay for the health insurance if I offer it?
Employers aren't required to pay for an employee's health insurance. However, those that choose to offer small business health insurance, regardless of company size, must offer health insurance that is affordable. This means that the cost must be less than 9.5% of the employee's salary. Employers that don't provide affordable insurance may be subject to penalties.
Can I get tax credits for providing my employees with health insurance?
In some cases, you can receive tax credits for providing employees with health insurance. For example, if you purchase health insurance through SHOP, pay at least 50% of the premiums and your employees make less than $53,000 per year, you could get a tax credit of up to 50% of your employer contribution. You may want to talk with your tax advisor about this and other ways to save on taxes.
How can a PEO help me with employee healthcare?
As a co-employer, a professional employer organization can make your benefits administration so much easier by providing tools and an employee portal to manage benefits and enrollment. In addition, a PEO has big-company negotiating power, meaning they can offer your employees better rates and more benefit options. It's a win-win situation if you want to take HR administration off your plate because they manage employee payroll and tax filings too.
Are there tools to help employees decide what they need in healthcare?
Your workers can use a calculator created by the Kaiser Family Foundation to help employees who don't have health insurance figure out how much medical coverage would cost if they had to purchase it on their own through the marketplace. This is helpful if you plan to offer a healthcare FSA, so they know how much to contribute to it.
Why shouldn't I work with an insurance company directly?
Working directly with an insurance company is not an affordable option for small businesses due to having so few employees. However, if you work with a broker, PEO, HR/payroll software or SHOP agent, you'll likely be able to get insurance through one of the big carriers like Blue Cross Blue Shield, Aetna, or United Healthcare at an affordable group rate.
What about new hires? Do I have to provide insurance right away?
Under the ACA, if you offer health insurance to your employees, you must offer it to all eligible employees within 90 days of their employment start date. Even companies with fewer than 50 workers must make insurance available to new hires within 90 days if they offer it to other employees.
Are there state laws besides the ACA that govern healthcare?
States can expand upon the ACA and place additional requirements on health insurance. Besides Hawaii, which now requires all employers to provide health insurance, the only difference is that some states mandate specific coverages, such as for contraceptives to be included as part of their healthcare plans. Others require employers with fewer than 20 workers to provide COBRA. Here's an article on federal and state labor laws for reference.
Besides healthcare, what other insurance do I need to provide my employees?
Most small businesses in the U.S. must have unemployment and workers' compensation insurance. Five states require employers to provide disability insurance as well: California, Hawaii, New Jersey, New York, and Rhode Island. You can learn more about state-specific small business insurance requirements on the Small Business Administration (SBA) website.
Common Health Insurance Terms Defined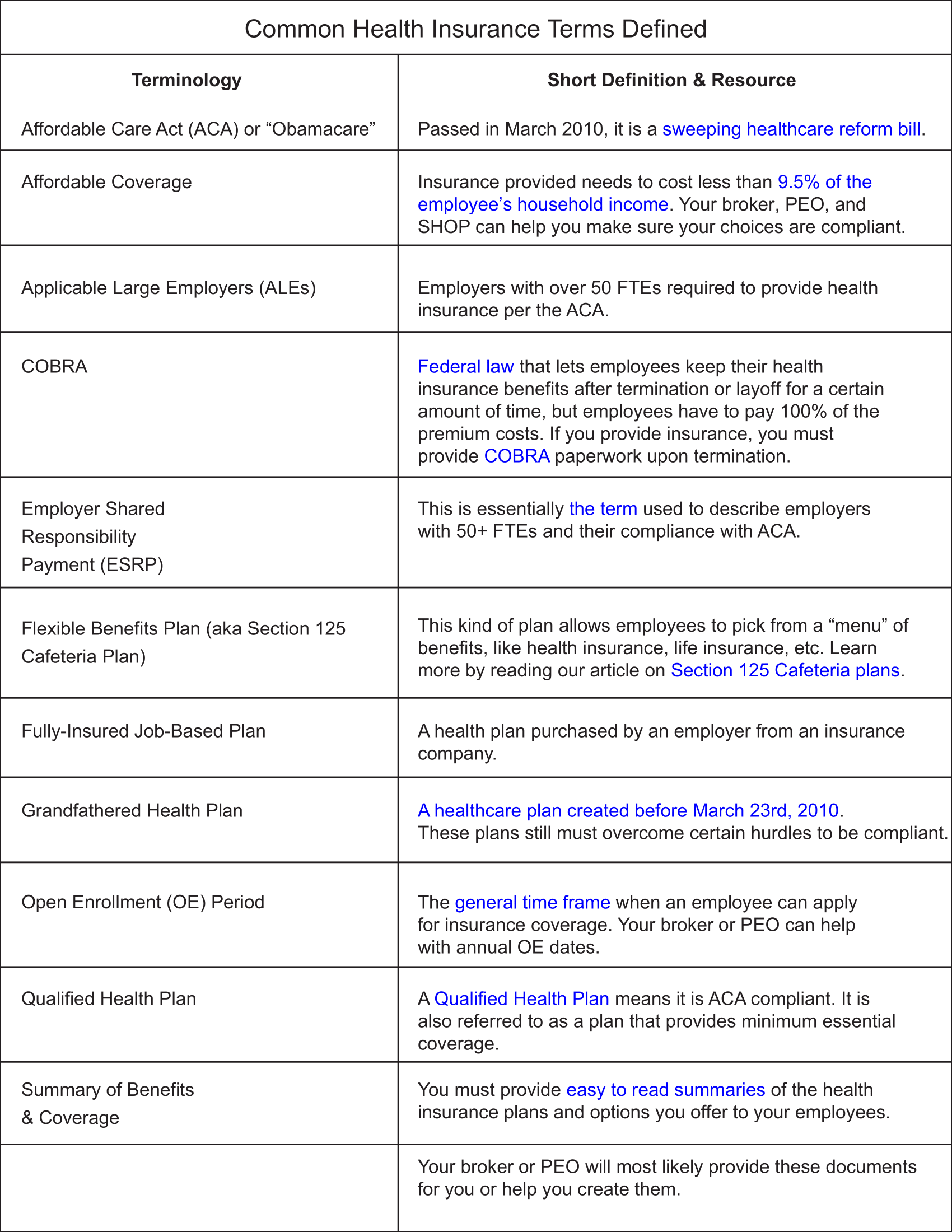 Bottom Line
Providing small business health insurance to your employees is required by the ACA if you have 50 full-time employees or the equivalent. Health insurance is the number one employee benefit that workers want. It's a great perk for your staff. We hope this guide helps you navigate how best to provide health insurance benefits and possibly earn an employer-sponsored pretax credit too.