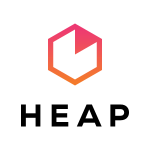 Heap Analytics is a tool that lets businesses track the website behavior of their visitors through pageviews, comments, link clicks, and other user actions. It is capable of delivering data and insights to businesses in real-time. We compiled reviews from around the web and determined that Heap Analytics has generally positive ratings. We also compared the most common pricing options for small business owners.
Want to know the top analytics software for small business? Read our Heap Analytics alternatives guide.
Summary of Heap Analytics Customer Reviews
What Heap Analytics does well:
Users who recommend Heap Analytics said that the platform can be used and deployed easily, even by users with no tech background. A lot of users like the ease of being able to view data from both desktop and mobile.
What Heap Analytics does not do well:
Users who left negative reviews of Heap Analytics said that there are occasional bugs when using the platform. Some users also encountered difficulty in downloading fresh data from the app.
Most Helpful Positive Review
A user who left a positive review on G2 Crowd said that Heap is easy to implement and use and very simple to deploy. According to him, Heap gives even the "lay-person" who is not tech savvy the ability to review the most important insights, which results to meaningful and clear business decisions based on solid data.
Most Helpful Negative Review
A user who left a negative review on G2 Crowd said that he has encountered a few glitches and outages when using Heap Analytics. There was also an instance where the report that he downloaded wasn't up to date. However, he mentioned that the customer service team is usually quick to respond when he has issues or questions.
Heap Analytics Pricing
Heap Analytics has two subscription options and employs a customized pricing scheme. According to third party sites, prices range from $0 to $500+ per month. The main differences between the plans are the number of sessions or activities allocated per month, data retention period, and level of customer support.
Basic

Premium

Pricing

Free

Starts at $500

Activity/Sessions

5,000 per month;
with free 50,000 if Heap badge is included on the user's website

Unlimited

Data Retention

Maximum of 3 months

Unlimited

Customer Support

Email

On-site support and dedicated Data Science Consultant
Both plans include Heap Analytics' basic functionalities including visitor analysis, graphs and reporting, funnels, and SQL technology.
The Premium Plan has unlimited allocation for activities and sessions, customized data retention, service-level agreements, and on-site support with a dedicated Data Science Consultant.
Compare Heap Analytics Competitors
Not sure if Heap Analytics is the right analytics software for your business? Check out our reviews of top analytics software.