Hike POS Review: Scalable, Budget-friendly Point-of-Sale
This article is part of a larger series on POS Systems.
Hike is a point-of-sale (POS) system with inventory and order management capabilities that rival top competitors like Lightspeed. It earned an overall score of 4.01 out of 5 in our 31-point criteria for the best POS for small businesses, standing out for its advanced inventory and flexible payment processing at a very competitive price point.
It is an ideal choice for small retailers looking for a scalable and more-budget friendly POS.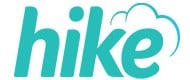 What We Like
Centralized inventory and order management for multiple stores
Flexible hardware options
Designed for mobility
Top-rated customer support team
What's Missing
Multistore management requires plan upgrades
Advanced reporting requires plan upgrade
Lacks a built-in payment processor
When to Use Hike
If you need:
Advanced inventory on a budget: Pay less for advanced inventory management for a single location
Scalable POS: Upgrade and downgrade registers without hassle
Flexible payments: Hike is compatible with most popular payment processors.
When to Use an Alternative
If you need:
Free POS: Hike does not have a free plan.
Multichannel sales: Find more value with other POS systems.
Restaurants: Consider industry-specific alternatives like Toast
We highly recommend Hike for small specialty retail shops requiring advanced features like composite product management, lay-by and on-account sale, and integrated label printing at a price point well below the competition.
If you have seasonal pop-ups or need to add additional registers for your busy season, you can upgrade your plan and then downgrade once the season is over. Hike's native iPad app offers the mobility and compact size required for on-the-go and popup store sales.
On the other hand, while Hike is less expensive than our other recommended POS inventory systems, it does not have a free plan. Monthly fees start at $59 but expect to pay at least $89 per month if you need to manage more than one store location or set up an online store with your POS system. If these are deal breakers, consider a free POS system like Square, which also provides scalable features, or Shopify if you primarily sell online.
Hike POS Deciding Factors
Supported Business Types

Retail

Small brick-and-mortar retailers, pop-up shops, specialty retail shops

Standout Features

Advanced inventory management tools
Order management features
Integrated payment processing
Flexible hardware options
Offline mode
iPad-native app

Monthly Software Fees

Competitive

$59–$119 per month

Setup and Installation Fees

Very Competitive

$0

Contract Length

No long-term contract, Upgrade/downgrade plans at any time, 14-day free trial

Payment Processing Options

Flexible

No built-in solution but integrates with most popular payments processing provider

Payment Processing Fees

Varies

No built-in payment processing, depends on your choice of integrated payment processor

Customer Support

Excellent

24/7 phone, email and chat support

Extensive online tutorials and knowledgebase
Hike POS Alternatives
| | | | |
| --- | --- | --- | --- |
| Best for: All-around free POS and mobile POS app | Best for: Brick-and-mortar retailers w/ large inventory | Best for: Online retailers expanding to multichannel sales | Best for: Retailers needing customizable matrix inventory |
| Software from: $0 (free to use) | Software from: $69 | Software from: $0 plus ecommerce subscription ($39 - $399) | Software from: $69 |
| Hardware from: $0 | Hardware from: Custom | Hardware from: $29 | Hardware from: Varies |
| Runs on: iOS, Android, and Square hardware | Runs on: iOS app, browser-based, or custom Vend hardware | Runs on: iOS | Runs on: iOS app, browser-based |
| | | | |
Not sure if Hike is right for you? See how it compares with our top POS inventory systems and leading retail POS systems.
Hike has three subscription tiers—Essential, Plus, and Enterprise—starting at $69 per month ($59 per month if billed annually). Each of these plans has one register included, but you can purchase extra registers at $39 per month. The main differences between the plans are the ability to sell online and available integrations (multistore management, inventory accounting, marketing, and ecommerce, and marketplaces).
Essential

Plus

Enterprise

Monthly Fees

(month-to-month billing)

$69

$119

Custom quote

Monthly Fees*

(annual contract)

$59

$99

Custom quote

Users

Unlimited

Unlimited

Unlimited

Products

Unlimited

Unlimited

Unlimited

Customers

Unlimited

Unlimited

Unlimited

Transaction fees

0%

0%

0%

Sell in-store

✓

✓

✓

Sell online

✕

✓

✓

Inventory Features

Product management

Variants and composite products

Customizable units of measure and integrated label printing

All Essential and Plus features

Stocktake, purchase orders, returns

✓

✓

✓

Multi-outlet features e.g., stock transfer, outlet-based user access, etc.

✕

✓

✓

Customer service

24/7 Email and Live chat

✓

✓

✓

Dedicated account manager and customized onboarding

✕

✕

✓
*Lump-sum billing. Additional registers cost $29 per month billed annually, $39 per month billed monthly.
Hike Essential: Includes unlimited users and products and you can sell in-store using compatible devices (PC, Mac, iPad, and Android app). Accounting integrations are available, along with basic product and inventory features (variants, composite products, purchase orders, and more).
Hike Plus: Offers access to its multistore management features for product, inventory, and order management. It also unlocks more integrations for ecommerce, marketplaces, marketing, inventory, and order management features.
Hike Enterprise: Gives you a dedicated account manager and a customized onboarding session. Everything under the Essential and Plus plans is included in this subscription as well.
---
While it does not have a built-in payment processor, Hike offers ready integration with popular payment processors for US merchants, such as Worldpay, PayPal, Square, Chase, and Fiserv.
It does not charge any transaction fees on top of your payment processor's fees and can also help connect you with your chosen provider. It even allows you to set up custom payment types if your preferred payment processor is not on their list.
Hike accepts all major credit and debit cards. Customers can also pay with tap, swipe, or chip and pin. Most integrated payment devices include Apple Pay and NFC—contactless technologies.
---
Hike is compatible with most PC, Mac, and iPad systems and works with widely used retail counter hardware brands such as Star Micronics, Epson, Socket Mobile, and even Apple. Its plug-n-play hardware list includes receipt printers (Bluetooth, LAN, and USB), barcode scanners, cash drawers, and payment devices. You can find Hike's list of recommended hardware (bundles and peripherals) on its website.
Works with iPads:
Star mPOP
Elo PayPoint Plus
Hike iPad POS bundle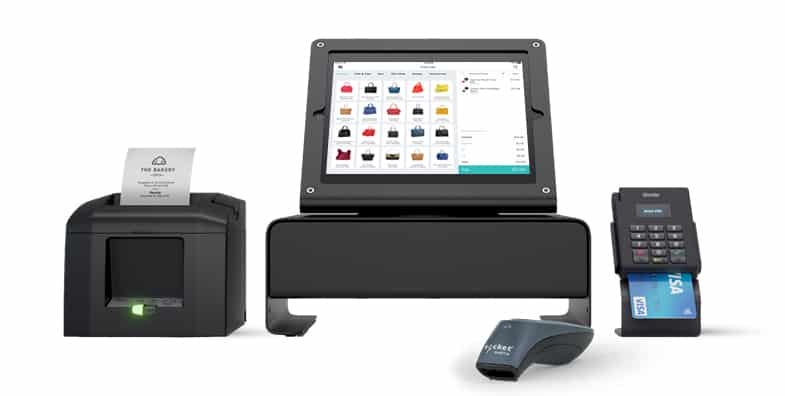 ---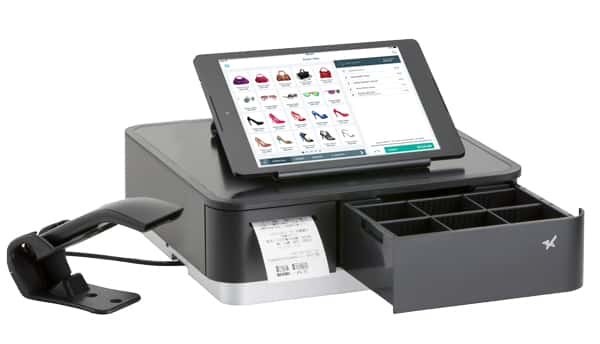 ---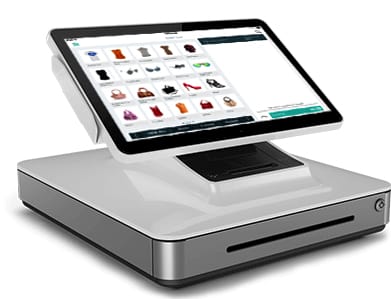 ---
Works with all computers (PC and Mac):
APG/Nexa cash drawer, Star TSP143 USB receipt printer, Honeywell 1400G barcode scanner
---
Hike offers a wide range of seamless payment processing methods including custom payment types. On top of a touch-screen register and customizable interface, the system can even allow you to easily create unique custom sale items right at checkout. However, ecommerce functionalities are somewhat limited and access to some advanced features will require you to have a higher subscription plan.
Checkout function: Customizable payment types, product lookup, order notes, parked orders, discount per product, or entire bill.
Barcode scanning system: Tap, search, or scan a barcode to add items to the shopping basket.
Hike offers an easy-to-use interface, with the ability to set shortcuts and custom payment processing flow. It supports barcode scanning, intuitive product search, and quick tap functions for a fast checkout process. You can also attach notes to orders for any special customer request right at checkout.
---
Access through browser: Run on an iPad, PC, and Mac from your browser
Offline mode: Sync offline orders once an internet connection is found
Hike is a cloud-based program so you can set up your system on an iPad, your PC, or Mac and have immediate access to your sales and inventory data. It also allows you to process transactions even if you temporarily lose internet connection. The system automatically syncs to your store cloud any changes to your inventory and sales data as soon as you are back online
---
Standard payment types: Cash, integrated card payments
Additional payment types: Buy Now, Pay Later, gift cards, checks, partial payments (deposits and lay-by), loyalty points, and store credit
Adjustments: Refunds, taxes, and discounts per item or entire bill
Hike offers a wide range of payment methods. Aside from cash and card payment options, you can also accept gift cards, checks, loyalty points, and store credits. It even lets you accept partial payments, Buy Now, Pay Later, lay-by, and on-account sales, with the system setting customer credit limits and updating available inventory for every payment method. It can also process returns and refunds and support multiple tax rates for businesses that operate in more than one locations.
---
Integrated ecommerce: Integrates with BigCommerce and Shopify
Real-time sync: Inventory and orders are updated in real time to your central dashboard
Omnichannel feature: Supports buy online, pickup in-store (BOPIS)
While Hike does not include a built-in website builder feature, it does offer free integrations with well-known ecommerce platforms such as BigCommerce and Shopify. Your inventory data is stored in your cloud which then gives you the ability to specify which items will be available for sale on your online store through your central dashboard.
The system also automatically syncs your inventory and sales data in real time along with sales analytics functions to help you make timely business decisions.
---
Customer directory in-store and online: All contacts, one location
Customer information and behavior insights: Basic data plus insights on customers' visit frequency, average spend, loyalty points accrual, and more
Having a central location for your customers' information enables you to gain a wealth of insight about customer behavior—spending habits, frequency of visits, and other details—that you might miss if you keep them separate by store location.
This setup gives your customers leverage to earn more loyalty rewards points. Furthermore, its Mailchimp integration will provide you an edge for marketing purposes as it allows you to segment your customers based on behavior and purposefully target them for campaigns.
---
Hike offers excellent inventory and order management functionalities, customized reporting, and employee management features that easily rival popular retail POS software in the market. However, similar to its register and checkout features, most advanced management tools will require an upgraded subscription. Hike's marketing features are also limited to integrations.
Hike offers strong and pretty advanced inventory management features, even on its basic plan at $69/month. It actually got a perfect score in the inventory features category during our evaluation of several inventory POS systems. It provides real-time tracking, low-stock alerts, barcoding, purchase orders, and vendor management (something not offered by many popular platforms).
While stock transfer is available only at a higher-priced plan, its granular inventory management features—the ability to set unlimited variants, do product bundles, and group products—are extremely valuable for retail businesses.
Additional inventory features include:
Purchase orders, purchase order receipts, supplier directory
Granular inventory tracking

Stock by variant: Size, color, material, and more; assign unique SKUs to each
Product organization: Categories, sub-categories (groups), tags
Assign barcodes to products

Retail hybrid inventory

Product bundles: Build composite product bundles from existing products

Bulk import and export: Add, update, and count inventory at once
Price margin: Enter cost price and specify percentage value and the system will calculate a selling price
Perform full or partial inventory count, schedule counts in advance
Inventory tracking on/off
Automated reorder reminders
Stock transfer between stores
---
Hike is built with mobile in mind. Its app can function as a POS and management system. You can bring your POS to the customer to deliver a unique experience (floating cash register), check stock information and sales reports in real time, and even update product pricing—all from your mobile device.
Mobile features include:
Set up a checkout counter using an iPad device through the iPad register app
Access to retail management system, including full inventory control and reporting
Supports plug-n-play Wi-Fi and Bluetooth hardware—receipt printers and barcode scanners
Available as iPad app (iOS) and Android devices
---
Multiple outlets: Stores, pop-ups, warehouses
Multi-store reporting: General store performance and site-level performance, in real time
Multi-store POS inventory: Set automated inventory counts and re-ordering per store
Having a centralized location for everything is truly Hike's best feature. Inventory is tracked and managed across all locations and is updated in real time. Based on permission levels, staff can adjust stock details, pricing levels, and even transfer stock in between stores—straight from Hike's dashboard.
You can also set up automatic reordering when stock levels reach a specific point. Comprehensive reporting—overall and per store—helps you see what items in your inventory are top sellers, what isn't selling, what stores sell which products, and more.
---
Ecommerce: Shopify, BigCommerce, WooCommerce, Magento, and Neto
Inventory: Deputy and Unleashed
Accounting: QuickBooks Online, Xero, MYOB AccountRight, and MYOB Essentials
Marketplace: Amazon Marketplace
Marketing: Mailchimp
One of Hike's strengths is having built-in integrations. This allows you to have a more efficient business process. For example, you can track and have real-time updates about your store sales in your accounting program and have faster payroll processing. If you have an online store, then you can connect it to Hike so that your inventory is synced—you don't risk selling out-of-stock items.
The only downside is that all of these integrations, except for the accounting programs, are only offered at the Plus ($119/month) level. However, considering that these integrations are available at a set pricing level and not as individual paid premiums, it can still be considered an affordable upgrade.
---
Intuitive user interface
Offline mode
Touch screen
Help center
Video tutorials and webinars
Dedicated account manager and customized onboarding for those under the Enterprise plan
24/7 email and chat support
Customer callback for demos and sales
Hike is one out of three POS software that earned a perfect score for ease of use. The system is easy to set up and compatible with a wide range of hardware without the need for professional installation. It also works offline and even offers 24/7 customer support and extensive user guides on its website.
As a browser-based software, setting up a Hike POS account is relatively easy. You can immediately sign up for its 14-day free trial, which gives you complete access to all of its features. Once you submit your email address and specify what type of business you have, you get directed to the dashboard, where you can start adding products (either manually or through a preloaded inventory). Configure your language, time zone, and currency settings and you are ready to start!
The system will not ask for credit card information until the free trial ends, at which time, you will need to sign up for a paid subscription. Note that monthly payments are collected in advance, and you are free to upgrade/downgrade or cancel your account at any time.
---
Hike nearly earned a perfect score for this category, if not for the fact that it does not have a free plan and a lot of user reviews online. The system can also benefit from improvements on its available ecommerce features. Otherwise, its value for money—a key factor for small businesses—is one of the best when compared to top inventory management POS systems.
Some small businesses would not need most of the features that they pay for in a basic POS plan with advanced invoicing tools. So, while Hike does not have a free plan, we particularly like how the system is easily scalable. Allowing users to upgrade or downgrade their subscription at any time means the cost of using Hike will always match the business needs whether it's a busy season or not.
What Users Say in Hike POS Reviews
At the time of publication, Hike reviews have generally improved, although there are still not many available online. User sentiments still remain mainly positive with Hike consistently receiving excellent feedback for customer support. They said its agents are extremely helpful, are responsive, and would go the extra mile to resolve issues.
Hike's robust inventory features earned praise for the ability to handle complete inventory as well. Recent feedback also mentioned Hike's excellent messaging app. On the other hand, occasional platform glitches and downtime are still the main concern.
Hike earned the following scores on popular user review sites:
We also observed user review trends, similar to our previous update:
PROS

CONS

Can handle complex inventory
Too click-intensive (requires many clicks to perform a task)
Very helpful and responsive support team
Occasional platform glitches
Excellent messaging app
Clunky app—sometimes loses connectivity
Methodology: How We Evaluated Hike POS
We test every POS software ourselves when evaluating small business POS systems. We gauged each one, including Hike, for affordability and value-for-money features that not only include, but also go beyond, basic POS functions—such as the ability to handle complicated inventory, multiple payment methods, and multichannel features. We also evaluated each system's scalability and flexibility ideal for small businesses.
Overall, Hike performed well in our evaluation, standing out for its inventory and order management capabilities, competitive pricing, and ease of use.
Click through the tabs below to see the full evaluation criteria.
30% of Overall Score
We prioritized POS systems that include a free plan or free trial, affordable subscriptions, and additional plans that grow with your business. We also gave premium points to systems with affordable integrated payment processing, flexible hardware options, and unlimited number of users, inventory, and transactions. Points were docked for systems that require long-term contracts and hefty installation fees.
15% of Overall Score
Fast and easy checkouts require customizable checkout tools, detailed order tracking, customer management, mobility to sell anywhere, and multichannel tools. We also looked for systems that offer a wide range of payment methods including contactless payments and integrated online ordering.
15% of Overall Score
A major consideration for this criteria is the level of inventory management and tracking features. We also took into consideration each system's available employee management, reporting, and marketing tools.
20% of Overall Score
We prioritized POS systems with 24/7 customer support. We also looked for easy installation and offline mode or hybrid installation so that you can continue operations when you lose internet access. Lastly, we gave premium points for providers that offer extensive system guides and knowledgebase, or training mode available to help bring new employees up to speed.
20% of Overall Score
For this criteria, we considered the overall quality of each system's features, along with system stability, and security. We evaluated whether or not it offers a good value for its price point and standout features. Finally, we accounted for our experts' personal experience using each system and interacting with customer service representatives, its reviews, and the personal experience of other small business owners.
*Percentages of overall score
Hike POS Frequently Asked Questions (FAQs)
Hike is not a free POS, although it offers a 14-day free trial. Hike's price range is also very competitive when compared to retail-specific POS systems with advanced inventory management capabilities. Check out our picks for the leading free POS systems.
---
We recommend Hike for small retail businesses and specialty shops needing advanced inventory and order management features, mobility, and easy scalability for a quick subscription upgrade (for busy seasons) and downgrade (for off seasons).
If you're still unsure about Hike, consider our top alternatives for inventory management POS systems.
---
If you prefer a POS system with built-in payment processing and ecommerce features, consider Square for Retail. For businesses primarily selling online, you can get more value for your money with Shopify. Meanwhile, small restaurants can be better served by restaurant-specific POS systems like Toast.
---
Bottom Line
Hike is an inventory POS system that allows you to expand your business without costing an arm and a leg. Its basic plan offers valuable inventory, store management, and accounting integrations to let you efficiently manage your business across multiple locations. It is a perfect POS system if your business needs to be mobile and in several locations (offline, in-store, and even warehouses) where real-time inventory syncing is crucial.
Sign up with Hike for a 14-day free trial—no credit card required.