4 Hiring Trends Affecting Women & Minorities That Employers Need To Follow
This article is part of a larger series on Hiring.
Hiring today versus 10 years ago looks vastly different, and the landscape continues to evolve. Companies focus on hiring women and minorities more than ever before, as diversity becomes a primary focus in the workplace. The growing trend of using artificial intelligence (AI) in the hiring process and specific challenges and trends within these two demographic groups, brings to light what employers can expect in 2021.
1. Diversity Hiring Is on the Rise
Diversity hiring is selecting new hires based on merit and eliminating bias toward attributes that aren't important to the job, like a candidate's age, race, gender, or religion. It's becoming less about hiring a minimum number of women and minorities for random positions to fulfill a certain quota. The new trend is about creating a holistic vision for inclusion and diversity throughout the company—especially at the top. Ultimately, with the goal that women and minorities will benefit as well as the companies that embrace this trend.
A 2017 study conducted by McKinsey showed that companies with notable gender and ethnic/cultural diversity on their executive board perform significantly better financially than companies without. They also enjoy higher rates of employee satisfaction, attract more quality talent, and ultimately make better decisions overall.
Employers Are Setting More Meaningful Diversity Targets
As more companies shift a greater focus to hiring diverse candidates, some larger businesses that could make a huge positive impact are taking it a step further and setting diversity quotas. Bloomberg recently reported that half a dozen companies have adopted racial quotas in the last few months, including big names like Wells Fargo & Co., Delta, and Ralph Lauren.
Companies Are Creating Jobs That Focus on Supporting Diversity
Before the pandemic, there was an uptick in diversity and inclusion jobs. Indeed reported a steady increase from 2014 to 2018. Glassdoor reported 1,003 diversity-related jobs on its platform alone in August 2019, increasing 37% from 2018. To put it into better perspective, 33% of the jobs posted on Glassdoor were senior management positions or higher. This data shows companies are doing more than just adding a few token employees but launching full diversity initiatives.
Did You Know?
In a survey conducted by Yello, a top recruiting tech company, 87% of respondents indicated that their organization's leadership team believes diversity recruitment is important and should be a priority. And Glassdoor's 2019 Diversity & Inclusion study reported that 64% of US employees believe their employer is investing more in increasing diversity than it has in the past.
What's even more noteworthy is that recent job search trends align with the diversity work employers are putting forth. According to our data research from ZipRecruiter, job seeker searches for the term "diversity" on ZipRecruiter soared from around 5 million to nearly 130 million over the past three years. While employers are looking to ramp up their diversity efforts, job candidates are ready to help them.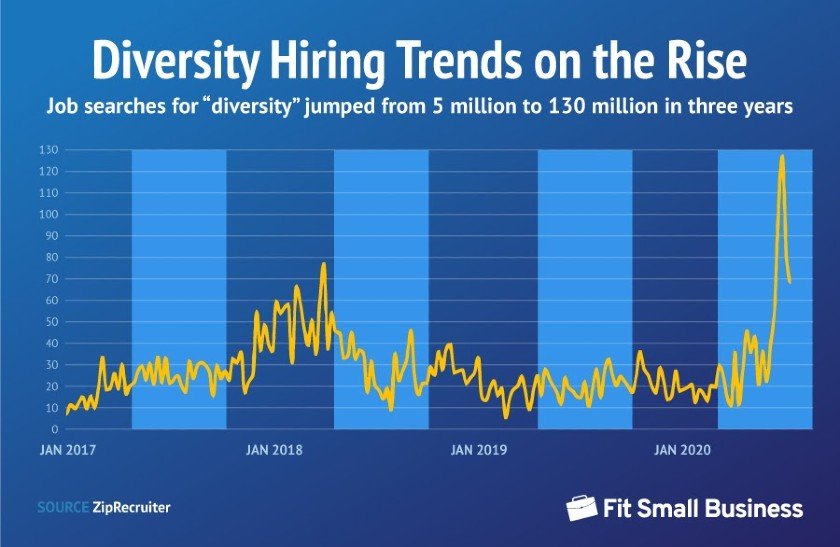 Where Women & Minorities Are More Likely To Be Hired
Overall, employers are placing a higher priority on diversity, but businesses in some industries or locations may find it easier than others—or those filling certain positions. High-paying positions women are already dominating, projecting to experience above-average growth are:
Physician assistant
Nurse practitioner
Physician therapist
Operations research analyst
Software, systems, and applications developer
Medical and health service managers
Many of the positions women are dominating lie in the health services field. We're likely to continue to see this trend even more as the telemedicine industry grows. ZipRecruiter provided us with 2020 internal labor market insights around the medical field. Even during the pandemic as the number of diversity and inclusion jobs fell in response to the economic downfall, the demand for telemedicine registered nurses grew by 38%.
Other industries making waves in their demand for D&I are tech, government, accounting, and even recruiting and staffing.
As for which city areas women and minorities are more likely to be hired, in 2019, Glassdoor reported Washington D.C., New York City, and San Francisco as the top metro areas for D&I job openings throughout the US. Although these rankings reflect the demand of the many large businesses and corporations that operate in these major cities, we expect more small and mid-sized companies to follow suit in the future.
2. Artificial Intelligence Is Shaping Who Companies Hire
Companies are using artificial intelligence (AI) to help screen and interview job candidates and ultimately track them throughout the entire recruitment process. Some 55% of HR managers said AI will be a regular part of their work in the next several years.
Not only does it help standardize the recruiting process, but it also simplifies gathering big data. For example, those looking to increase the number of women they're hiring are taking note of behavioral data from sites that use AI. To illustrate, LinkedIn uncovered insight that women don't usually apply to a job unless they meet all of the required criteria; this tells employers to be mindful of the qualifications they list (required vs preferred), so they don't pass over candidates who are a good fit.
AI Is a Good Helper, Not a Replacement
As helpful as AI is—it can save time by weeding out 72% of resumes before anyone even sees them—it doesn't replace the need for solid HR experts and recruiters. Women and minorities are more likely to be dismissed or treated unfavorably due to historical and institutional biases in data points the hiring algorithm uses.
In 2014, Amazon conducted a recruiting system experiment that went wrong. The software was loaded with ten years' worth of resumes from primarily male candidates (during a time in which they heavily dominated the tech industry). The recruiting system favored men as superior candidates. Historically, women and minorities have suffered from being both underrepresented and underpaid, which means any system that uses machine learning could be susceptible to adopting those biases.
Luckily, even with the rise in companies integrating AI into their hiring process, the Bureau of Labor Statistics (BLS) projects that HR specialist jobs, including recruiters, will grow at a rate of 7% through 2029. By continuing to hire HR staff who can manage their new AI systems, companies will maximize hiring strategies and avoid marginalizing minorities and women.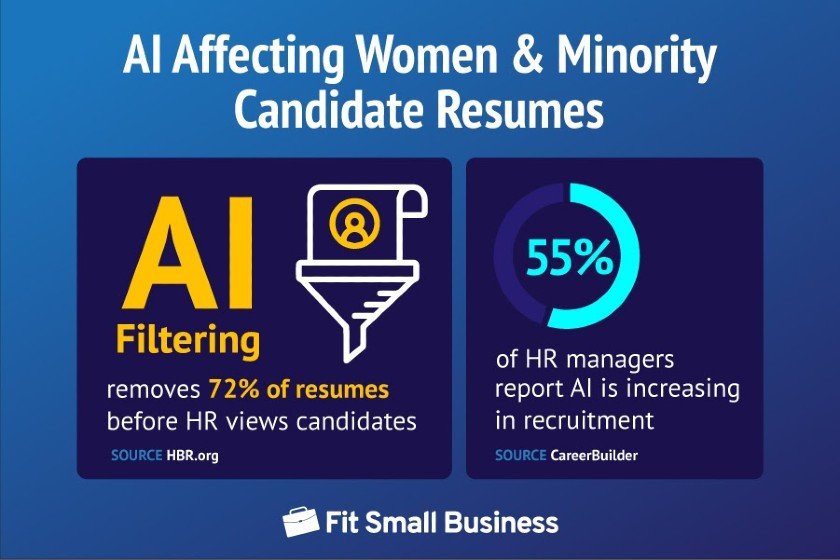 How Employers Can Sidestep AI Challenges
Companies with multiple sourcing strategies will find it easier to deal with the challenges that using AI brings. Online job boards and employer career sites remain the top two places for candidates to submit their applications. In Yello's 2019 Diversity Report, 42% of employers reported posting open positions on specialized job boards like Black Career Network, Women for Hire, and Hispanic Today. These sites allow employers to specifically target large groups of minorities and women, which minimize opportunities for biases to slip in.
Other strategies employers reported using to find candidates from underrepresented groups are:
Partnering with diversity organizations, associations, and networking groups
Recruiting at national diversity conferences
Recruiting at colleges with a diverse student population
Companies must have a flexible approach when it comes to utilizing AI. It works best when used to support a broader recruiting strategy.
3. A Rise in Remote Work Opportunities for Women & Minorities
Remote work is on the rise, and not just because of the pandemic (62% of employed Americans said they worked from home during the chaos). According to Global Workplace Analytics, in 2018, the number of people who worked from home had grown 173% since 2005. People have been longing to ditch their commutes, have more flexibility, and spend more time at home. And it looks like the trend will continue. PWC reported that 55% of employers anticipate that most of their workers will continue to work remotely long after COVID-19 ends.
Women Benefit From Remote Work
Because of the unique issues women face in the workplace, like the gender pay gap and working mom stigmas, remote work stands to benefit them significantly. A recent survey showed that remote workers are more likely to be promoted than in-office workers, with women being more likely to advance than men in a similar environment. They no longer have to leave the office for emergencies, and in turn, work disruptions due to parenting responsibilities are less visible to their colleagues.
Did You Know?
Promotions for remote workers are higher overall. Some 57% of remote working women receive promotions, over 35% of in-office working women. And 51% of remote working men receive promotions, over 43% of in-office working men.
Source: Remote Work Research, Ultimate Software
Women Sacrifice Their Career for Children & Family
As the idea of remote work continues to become more acceptable, companies will find it easier to add women job candidates who are interested. Compared to men, they place more value on working remotely, and given the stats, it makes sense.
For instance, women are more likely than men to reduce their work hours to fulfill parenting duties (42% vs 28%, respectively), like caring for a sick child or transporting them to extracurricular activities. To top that, they're also more likely to be single parents; the BLS reported that 81% of single parents are mothers and 19% are fathers.
Managing in-office work and children as single mothers causes conflict when work and school hours don't align (that's if the child is even in school). It can also lower morale as people with children report expectations for them to work more hours than those without. Women are more likely than men to have to request formal arrangements that allow a flexible work schedule versus being automatically granted one.
They're also more likely to take significant time off to care for a family member (39% vs 24%, respectively) and spend more time providing care.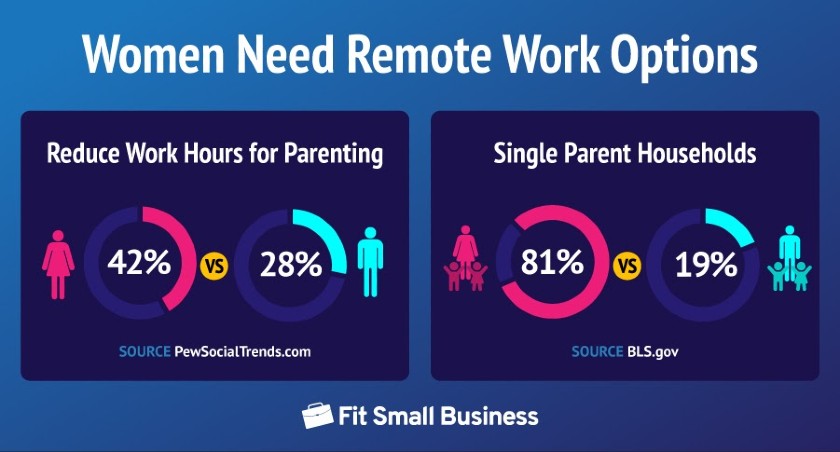 Minorities Could Benefit From Remote Work But Lack the Opportunity
As employers ramp up their efforts to hire more minorities, the rise in remote work could help their cause, as long as they're willing to give their employees what they need to do it successfully. More than 6% of Americans lack access to high-speed internet, and not everyone has a computer or laptop.
Studies show that Hispanics or Latinos are the least likely to work from home, and Blacks follow closely behind. Out of those who could work remotely, 42% had a flexible schedule versus 12% who didn't have flex options.
Companies Have To Provide More Support for Remote Workers
The onset of COVID-19 provided a glimpse of how prepared companies are to have a remote workforce, and unfortunately, many were not. Some 72.3% of remote workers who responded to a Nulab survey were completely prepared; however, this wasn't due to their employers' efforts. The majority of remote workers weren't allowed to bring equipment home from the office, and more than a fourth made equipment purchases with their own money. So while the employee quickly adjusted to the situation, it wasn't necessarily due to the employer's help.
Minority Caregivers Experience a Higher Burden
All racial and ethnic groups have caregivers, but these arrangements more negatively impact black and nonwhite Hispanic caregivers. They earn less money than their white and Asian counterparts and spend more time caregiving (at least 40 more hours monthly) for families with Alzheimer's and other dementias, which puts them at a huge disadvantage when it comes to the workplace.
Without a flexible remote schedule, fair pay, or growth opportunities, they're more likely to put their career on hold. This means that the skills Black and Hispanic caregivers harbor may very well go untapped by employers.
Did You Know?
Blacks and Hispanics spend over 40 hours a month more than whites and Asians to care for family members with Alzheimer's or Dementia.
(Source: Alz.org)
Also, 39% women vs 24% men are the caregivers of elderly family members.
(Source: Caregiver.org)
Minority Women Could Benefit the Most From Remote Work
Since minorities and women present the most opportunities to improve diversity while expanding remote work programs, businesses are likely to see more minority women in their workforce within the next few years. This will present more opportunities for companies to help close the wage gap that's highest between Black women and their white male counterparts; Black female executives earn $0.62 for every dollar a white male executive earns.
4. Career Growth & Skills Development
There is a trend of "up credentialing," particularly over the last ten years. This is when employers require a bachelor's degree for jobs that previously required a high school diploma or less. Sometimes, there are legitimate reasons for doing this, such as when a position evolves to needing a higher skill set, but often, this strategy weeds out candidates for jobs with high demand.
Inflating credentials in this manner causes a negative impact to minority candidates, primarily Black and nonwhite Hispanics, who are less likely to have earned a college degree. In 2019, 40% of non-Hispanic whites had earned at least a bachelor's degree, and in comparison, Blacks were at 26% while nonwhite Hispanics were at almost 19%.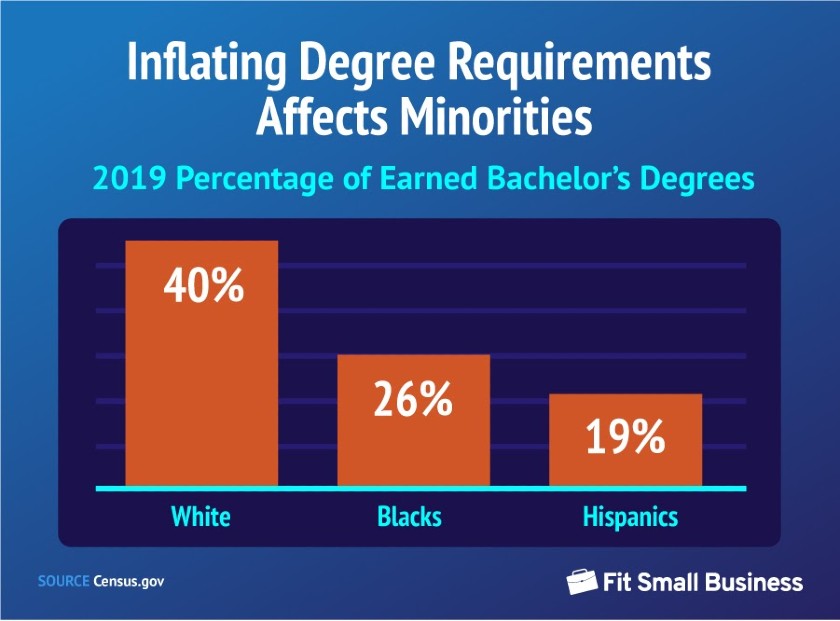 New Collar Jobs
In recent years, a counter-trend has been developing, and it lessens degree requirements in favor of vocational training, placing the main focus back on skills. Coined "new collar jobs" by IBM CEO Ginni Rometty in 2017, it's gaining traction in the tech industry. Many tech companies provide training in-house, where future job candidates can learn skills like digital design and cloud computing within a short period of time.
Apprenticeships on the Rise
In 2017, President Trump passed an executive order expanding apprenticeships throughout the country. And over 3,000 new apprenticeship programs were established nationwide in 2019, which grew 128% from 2009. Of the apprentices who provided information on their race, 14% identified as Black (similar to their overall makeup in the US), 31% as nonwhite Hispanic (much higher than the 19% of the population they represent), and 79% as non-Hispanic white. The majority of them were men.
As the apprenticeship model is picked up by more non-manufacturing companies (the manufacturing industry is filled with a majority of men workers), the potential to increase women's participation may rise. Nursing assistant, restaurant manager, and pharmacy support staff all ranked in the top 30 occupations that utilized apprenticeships in Fiscal Year 2019.
Key Takeaways:
Employers are setting diversity targets and hiring D&I managers to help launch full diversity initiatives.
Companies are looking to AI to standardize the hiring process and save managers' time but not replace recruiters.
The number of remote jobs should continue to increase, creating more opportunities for women and minorities despite their family responsibilities.
College degrees aren't the only tickets to the future. On-the-job training is on the rise, particularly in tech companies that have mainly been dominated by men.
Bottom Line
As a response to the changing world and new research, employers are pivoting their hiring strategies. Women and minorities are becoming a prime focus as more companies strive to build a diverse workforce. In turn, they're also embracing solutions that help relieve socio-economic challenges that many in these groups face.