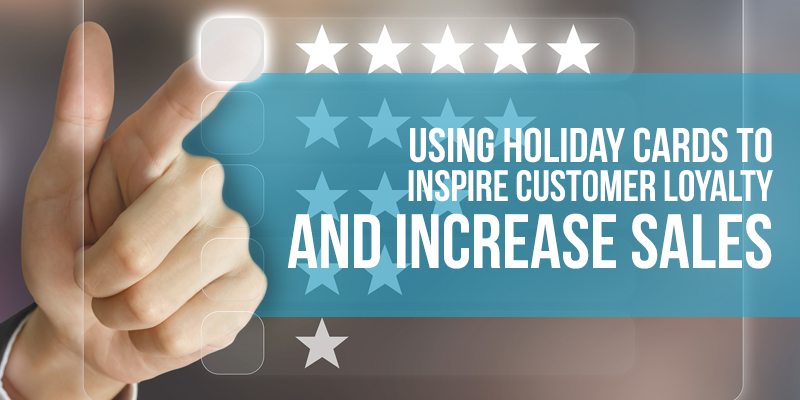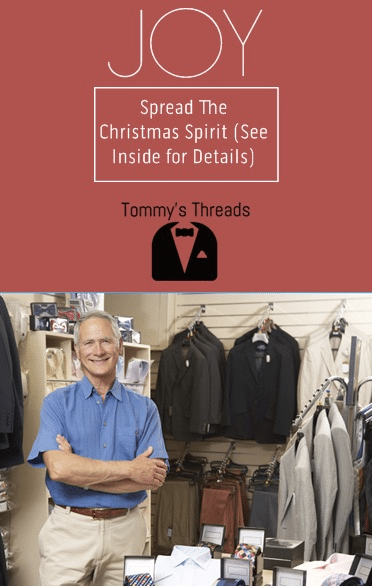 Thank you Vistaprint for sponsoring this post. While this was a sponsored opportunity from Vistaprint, all content and opinions expressed here are my own.
It's starting to get cool outside and you are probably thinking, "How is it October already? It's going to be December before I know it." The reality is that time flies and it is never too early to start thinking about how your business can inspire customer loyalty and increased sales during the holiday bonanza. One good way is to use holiday cards.
Here's how to do it:
Tommy's Threads: Local Neighborhood Retail Store
The best way to illustrate how something works for small businesses is to use an example. Enter: Tommy's Threads, your friendly neighborhood retail store (fictional). Tommy sells new clothing, primarily to local customers. He also provides custom tailoring services as well. As the holiday season approaches, Tommy is wondering if he should give holiday cards a try.
Click Here to get our FREE Google advertising guide and discover the 6 steps you can use to show up #1 in Google search
Why Should I Spend Time and Money on Holiday Cards?
At first, Tommy is skeptical. He has never used holiday cards before and is not sure they will really be worth the time, effort, and money they will take to create and send. But after some in-depth research, Tommy has changed his mind. Here's why Tommy decided holiday cards would be good for his business – and why they might be good for yours too:
Holiday cards will put Tommy's Threads front and center in the consumer's mind during one of the most purchase-oriented times of the year –

Tommy wants his business to be the first clothing business local customers think of when they want to buy. What better way to do that then by sending out a card that will get delivered right to their home, and hopefully end up on their refrigerator?

It gives Tommy a chance to further his brand – Tommy's Threads is all about providing outstanding value to its customers, whether via its clothing options or its tailoring service. By sending a holiday card, Tommy gets another chance to offer marketing materials that inform customers what he is about, both via the text on the card and the images as well.
It is a physical reminder of Tommy's Threads  

– In a world dominated by websites, apps, and digital marketing, business owners sometimes underestimate the power that a tangible card can have. Tommy knows his holiday card will set him apart, serving as a physical and tangible reminder of his business in the hands and homes of his customers.

If crafted correctly, the holiday card pitch will be well received by local customers

– In general, people are more charitable and good-spirited during the holiday season, especially to local businesses that they have relationships with. If Tommy's pitch is crafted effectively and taps into that sense of goodwill, it has a great chance of being received well and inspiring customer loyalty and action.
What Your Holiday Card Needs to Stand Out from the Crowd
Tommy realizes that his customers will probably get quite a few direct mail holiday cards and he wants his to stand out from the crowd. After a lot of research and talking with other business owners who have used holiday cards effectively, Tommy found four primary elements that made holiday cards stand out. If you want your holiday cards to stand out as well, make sure you have incorporated these four elements.
Incorporate Good Design Principles
Good design is a critical part of making your business cards stand out. There are several important elements to this:
Don't try to do too much –

Holiday cards with too much information will just confuse customers and get thrown in the trash. Narrow down exactly what you want your holiday card to accomplish and then highlight that information.

Include high quality images

– Make sure you have high quality images on your card. Have a professional take them if you can afford it. They will add visual interest and catch people's attention. As a local business, you want to use pictures that emphasize that you are a personal business that focuses on community. Here are some good options
A high-profile local family shopping in your store

Your employees dressed in holiday apparel with some text like "from our family to yours"

A local celebrity in your store shopping or repping your product

Any picture that reminds customers that they are dealing with someone they know, not a big box or chain store 
Don't get too crazy with your fonts

– Stick with some of the classic fonts such as Helvetica, Myriad, Adobe Garamond, or Bodoni (formal).
Have a Focused Call to Action
This is extremely important. You need to know what you want your card to accomplish so you can know what text should be added to best  inspire customer action. Here are some tips to create a good call-to-action.
Have one specific goal

– What do you want your customers to do as a result of seeing your card? To buy something, to come on a specific day, to refer a friend? Having one goal will help you focus your text and keep things simple.

Keep it between 1-3 sentences –

Don't write a book. The shorter your call-to-action the less likely your customer will lose interest or get confused.

Make Sure It Will Bring Customers to Your Store – Whatever your call to action, it should eventually result in customers coming to your store. More people in the store means more personal interaction (to build customer loyalty), more sales, and an increased chance for impulse buys.
Here are some examples of specific call to actions Tommy came up with:
Sales

– "Looking for just the right gift? Come into Tommy's Threads in the next 2 days, find that perfect gift, and get 20% off when you show this card at the register"

Gift Card

– "Trying to avoid last minute panic shopping? We get that. That's why we will add an extra $10 on us to any Tommy Thread's gift card of $40 or more that you purchase in-store in the next week . Call it our little gift to you."

Referrals –

"Planning a holiday shopping trip with friends? Bring this card and a friend to Tommy's Threads and you can both get 40% off your orders of $30 or more"
Be Unique
Look at things a little differently from the competition. Ask yourself: "What can I do on my holiday card to make it just a little different or more fun?" Here are some unique ideas Tommy came up with for his cards:
The card had 4 blank lines on it and said "Write an original holiday themed poem about Tommy's Threads, bring it into the store, and get $10 off a purchase of $35 or more (limit = 1 per family)."

The card had a list of 4 of Tommy's favorite kinds of cookies and the text read "Bake some christmas cookies, bring them into the store, and get 20% off your in-store purchase."

The card pictures a prominent local wearing Tommy's Threads apparel at a local sporting event and reads, "Bring in a picture of you repping your Tommy Thread's apparel at a local holiday event and get a free scarf with a purchase of $50 or more.

Donation matches or deals can be great around the holidays. The card read, "Bring in 10 items of nice used clothing to donate to a local shelter and to get $15 off a purchase of $50 or more."
Personal Touch
As a local business owner, Tommy knows that the personal relationships and connection he has with his customers is one of the main reasons they come to his store instead of a major chain or online retailer. Highlighting that personal relationship is a major key to an effective holiday card for the local small business owner.
Handwritten Message

– A handwritten message is the best kind of personal touch for a holiday card. If you are sending out a smaller volume of cards, a personal message is a no-brainer. If you know many of your customers, be sure to include some little fact or detail about them to reinforce the personal touch.
For example, "Bob, you looked great in your wedding with that Tommy's Threads Navy Suit, hope you have been satisfied with it. Happy Holidays!" The point, is to remind your customers that you are a local business who knows their name/face, and appreciates their purchase, which builds customer loyalty and gives them a reason to come into your store instead of shopping at a chain store or an online retailer.
Personal Signature – If you are sending out hundreds or thousands of cards, you may not be able to write a personal message. Make sure to at least include a handwritten signature as the bare minimum.
The Quick and Easy Way to Create a Great Looking Holiday Card
The last step of the holiday card process, once you have your message, images, and content figured out, is to actually create your holiday card. One of the cheapest and quickest ways to create a holiday card is to use a design and printing service like Vistaprint, which allows you to create cards using pre-made templates (or from scratch, it is just more involved).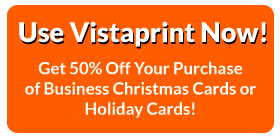 How to Make a Holiday Card on Vistaprint Using a Pre-Made Template
If you want to make a business card using on of Vistaprint's premade templates, the process is fairly simple. Here is what you need to do.
Click here to be automatically redirected to Vistaprint's holiday card page and get a 50% discount on your purchase.
 Click on the "Or Shop All Cards" link in the middle of the page


Click on either the "Shop Photo Cards" or "Shop Non-Photo Cards" link in the middle of the page (photo is generally better)


Click on the bottom right where it says "Business holiday cards"


Scroll through and pick your template


Customize the template with your text, business logo, images, colors, etc. and you are good to go


Here are Some Examples of Vistaprint's Other Top Designs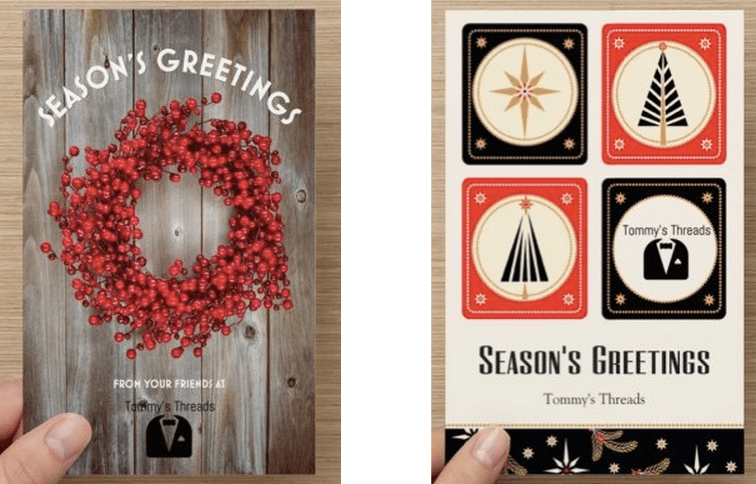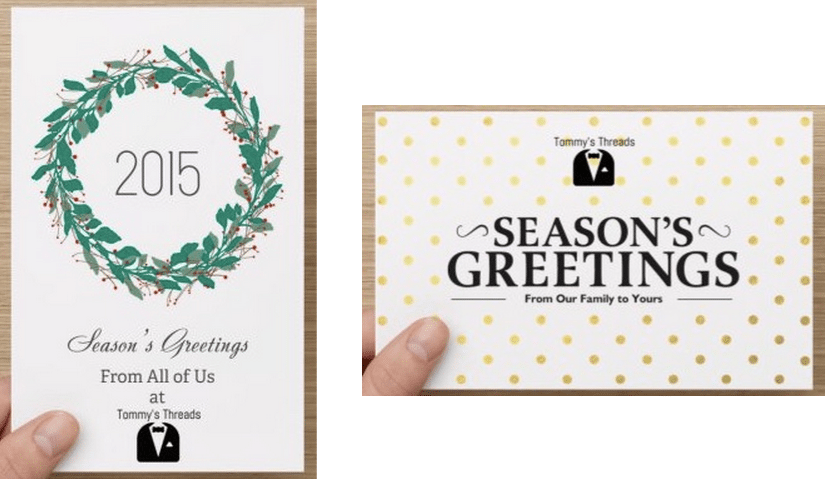 Click Here to get our FREE Google advertising guide and discover the 6 steps you can use to show up #1 in Google search