Need to sell your home fast? Don't make the common mistake of showing an empty room. Many buyers have very limited imagination for seeing themselves in this new home, especially if it's not designed at all.
On the other hand, you don't want to host an open house with rooms cluttered with chunky furniture, family photos, and very personalized design choices.
There's nothing quite as convincing to a buyer than a well-designed home. But what happens if your home doesn't have a designer's touch? You fake it with these home staging tips. Below, we consulted professional home stagers for their top tips on design, decoration, photography, and other aspects of showing off a home.
Before we dive into the details on this topic, we suggest you check out Zillow Premier Agent, our #1 recommendation for generating qualified real estate leads. Click here to learn more.
We've also shared plenty of photos below to illustrate perfectly staged homes. Let's start with ten professional home staging tips:
1. Here's a comprehensive checklist to go through before the day of the open house.
On the day of the open house, make sure that:
The front yard is freshly cut, all weeds are pulled, and all exterior foliage is groomed.
The garage door is cleaned, as well as the driveway.
The front door has been scrubbed clean, and the doorknob is shined.
Everything is de-cluttered! Nothing hides your home's beautiful curves and edges than your sporadically placed stuff!
All dishes are cleaned and put away. Show off your sinks and countertops!
All beds are made.
All furniture is squared up to the rooms' angles. Doing so helps create a feng shui for the rooms, and your furniture can always be moved back to the way you had it after the open house.
Carpets are vacuumed! It also helps if you can create neat lines in the carpet. Leave a little evidence that you worked hard on making your house immaculate!
Removing all odors from your house by oxidizing carpets (smoke smell, pet smell, etc.)
Depersonalizing your home as much as you can. Remove as many of your family pictures as you can without making things seem bare. This will help the browser visualize them and their family in the home, versus them and their family in your home.
Get rid of as many brass fixtures as you can and replace them with oil-rubbed bronze or stainless steel. Brass makes things appear dated, and bronze and steel modernize your appliances and fixtures.


---
2. Are you staging your home according to the principles of Feng Shui?
Arvin Sahakian, Vice President, BeSmartee
Be sure you or the staging company stages them home according to Feng Shui. By doing so, the home simply flows better, and you will also be catering to the needs of many Asian buyers, who seek out properties with good Feng Shui.
---
3. A professional home stager is worth the investment.
I am a professional home stager and I find most agents suggest to clean and declutter. Unfortunately the majority of sellers have no idea what that really means so they go overboard to the point of sterilization – a little too far so the house has no personality that a buyer can relate to.
There is a fine line, and if the agent, or seller are not sure how to get a look in a house that buyers desire, it's always best to call in the pros to achieve best look possible for the house. An agent is a pro at negotiations, pricing not necessarily the aesthetics of a home.
Paint colors are also essential to the difference of an ok listing or a fantastic listing.
---
4. Don't forget to take pictures of the home after it's staged.
John Bodrozic, Co-Founder, HomeZada
Once the home is physically staged, turn it into a digital brochure of the home by taking photos from multiple angles of every room in the home, and perhaps more importantly, take close up photos of the interior and exterior features like each appliance, the countertops, the cabinets, the flooring, etc. It is like a digital staging where you can now share that unique URL on various listing sites to so potential buyers more info online, which is what they all want.
---
5. Creating a symmetrical room can really add harmony to your space.
Rely on symmetry, repetition, rhythm.
Symmetry, repetition and rhythm can be found throughout nature and humans find them to be aesthetically pleasing. Symmetry can be found in most animals and insects. Repetition is why we find flowers so pleasing. Rhythm can be found in the ripples of a sand dune. A quick and easy way to make a space more aesthetically pleasing is to use these simple principles of good design.
---
6. If it's rainy outside, avoid an open house. Here's why:
Whenever possible, I recommend my team members reschedule visits if there is a chance of rain or bad weather. This serves a dual purpose since some of the properties we sell do require going off road on dirt roads, but there is an immense difference between seeing a beautiful clear stream running through a valley during a sunny Texas afternoon versus a grey and gloomy day. Many buyers struggle imagining the possibilities of the property that is up for sale. This is even more important when you're dealing with an empty lot because the buyer needs to be able to see the potential that's in front of them.
This rings true for any property really, nobody is dying to jump into a pool when it's raining. However show someone a yard with a pool when it's sweltering and the sun is beaming and they'll want to buy the property right then and there. This change in scheduling obviously works better in some places than others. Here in Texas we tend to have sun-filled summers so it's easier to juggle viewings around.
---
7. Kill two birds with one stone.
Joe Devost, Move Operations Field Manager, You Move Me
Pack as you stage.
Take some time and go through one room at a time with your packing supplies, collecting small visible items such as photos, mementos, and souvenirs. Wrap them and pack them up in a labelled box. If the room has a closet, place the box there, out of sight. This will give each room a clean, neutral aesthetic and make packing and moving much simpler once you've sold your home.
---
8. Make sure to flood your room with lots of light.
My favorite staging tip is probably the simplest: let in as much natural light as possible. Too many sellers have large, thick drapes that restrict a portion of the light, or simply have their blinds closed. When preparing for photos, before an open house or a showing, open those blinds and pull back the drapes (if not remove them completely)! The house will look more inviting, and now more than ever buyers are looking for bright, open spaces. Sunlight trickling in through the Venetian blinds in the guest bedrooms is not helping.
---
9. Create a focal point for each room.
Understand every room has a focal point. To create a nice focal point in the rooms in your house, pick a key piece of furniture to anchor the room and place the rest of the furniture room around it. Remember to keep in mind the traffic patterns of how you'll walk from one room to the next and move within the room. Leave these traffic patterns and pathways open. If you have accumulated too much furniture in one room, perhaps you can move some of it into another room. Or make the decision to get rid of extra pieces of furniture. You can also use furniture differently from how you are accustomed to using it. I've used dressers as foyer tables and dining room consoles and chairs as bedside tables. I've used ottomans and trunks as coffee tables and folding kitchen tables as desks. Think creatively and come up with your own ways of repurposing items.
I also like to use nature to create focal points and add beauty. Floral arrangements go on entry tables, coffee tables, dining tables, bedroom dressers and even in the bathrooms! Bringing the outside in always tends to lift our spirits.
---
10. Get rid of the clutter because buyers think clutter is contagious.
Clutter is one of the frequently overlooked, but most important factors that will affect whether you get your asking price or not. For some reason, *buyers think clutter is contagious!* If you have too much stuff in your house, they will subconsciously doubt that all their stuff will fit.
Clutter can actually take off 5 to 15 percent of a home's value, just because buyers are less inclined to make a high offer for a house that looks messy. *Having clutter is like having a strip club across the street: no one will want to live there!
---
Home Staging Tips in Pictures
Take a look at these home staging tips alonside pictures to help you create the best staging for your home.
11. Have extraordinarily high ceilings? Hang pictures vertically up the wall to highlight them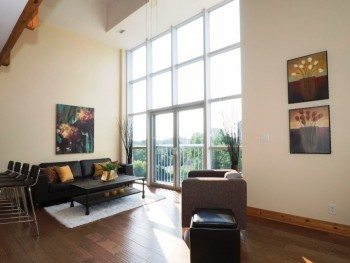 ---
12. Remove family photos that remind buyers of previous owners.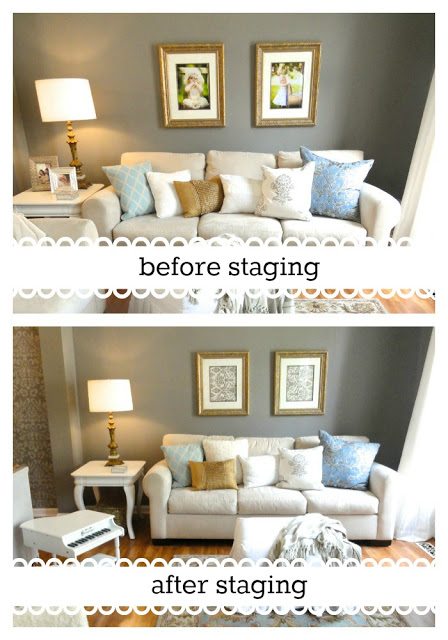 ---
13. Have an empty bedroom? Add an inflatable bed with an easy DIY headboard to help your buyers imagine themselves living in your home.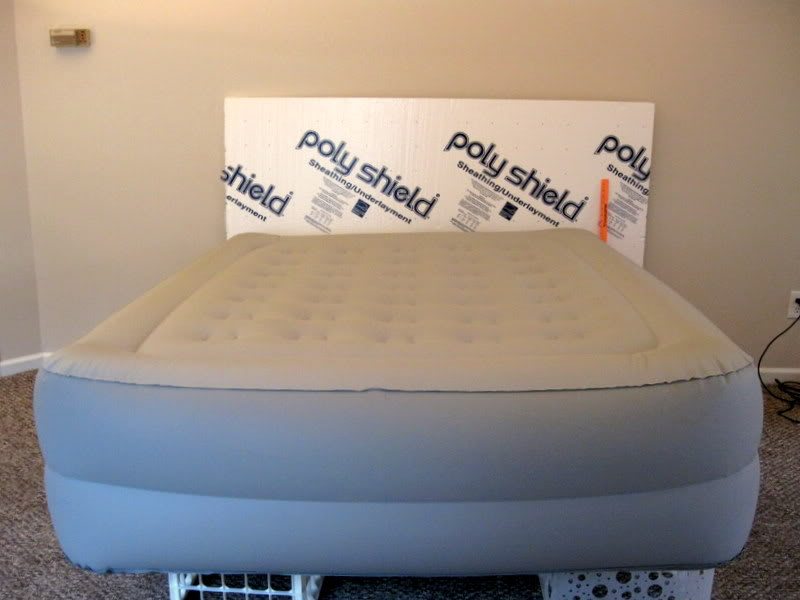 ---
14. Create an entrance that invites your buyers. Re-paint crusty or cracked doors, and add a plant and a doormat to finish the look.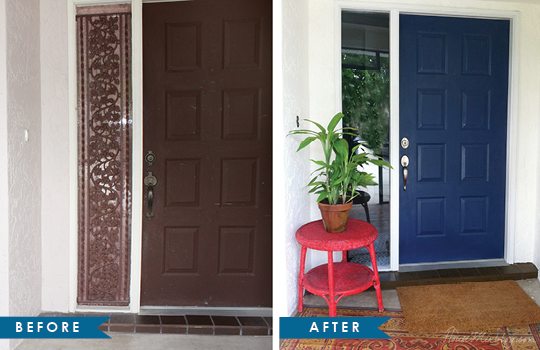 ---
15. When you first enter a home, create an attractive focal point.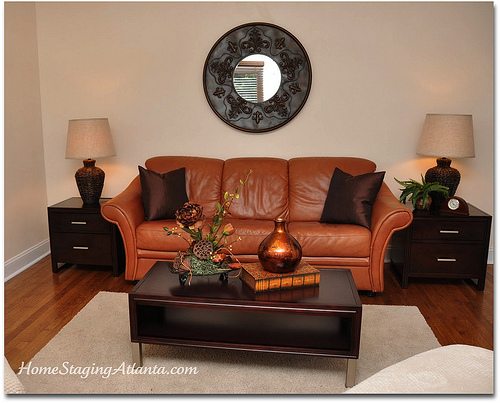 ---
16. Don't forget about bathrooms. Buyers like a clean white bathroom with absolutely no vestiges of the previous owner.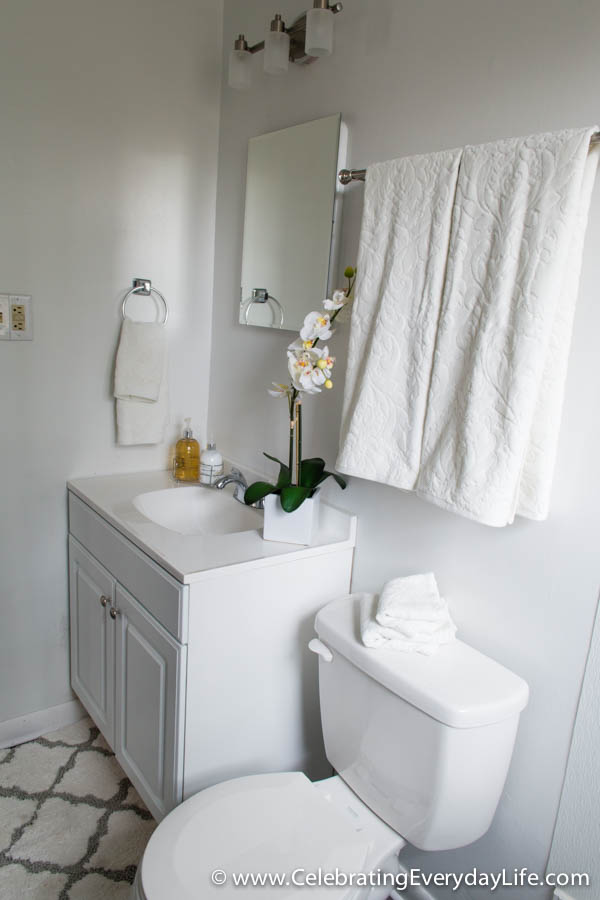 ---
17. If you have old, outdated cabinets, a fresh coat of white paint can brighten the space and make it new again.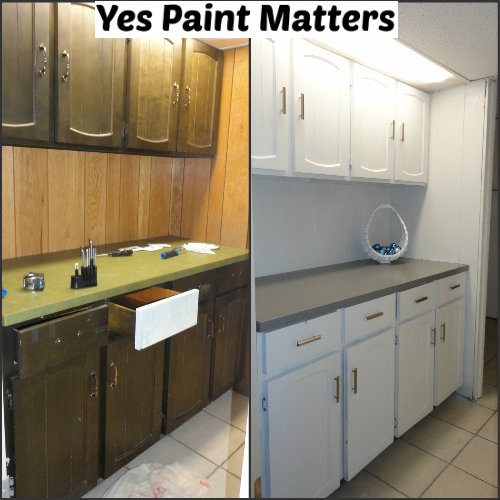 ---
18. Emphasize space by removing unnecessary furniture and pushing larger pieces against the wall.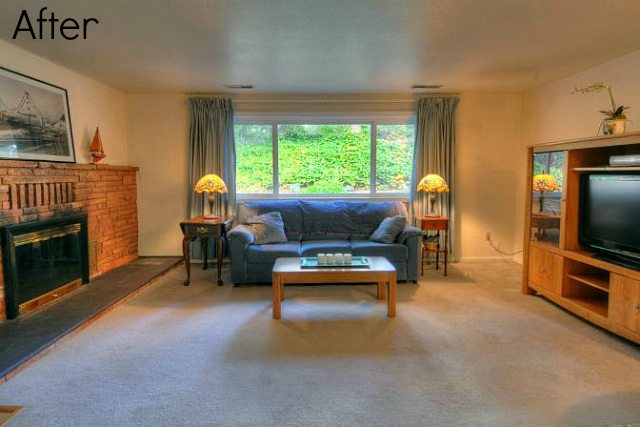 ---
19. When in doubt, add mirrors. Mirrors bring light to the space, and an air of sophistication.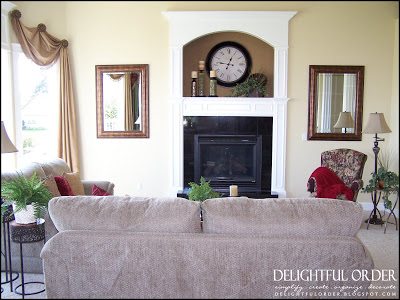 ---
20. Don't highlight an office, always default to a bedroom. Buyers always want more bedrooms.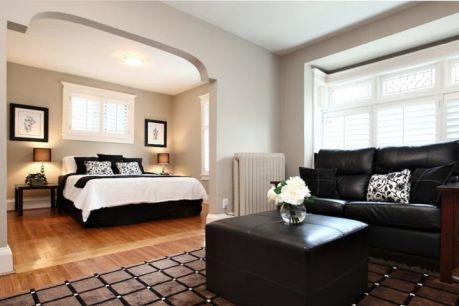 ---
21. Understand your buyer demographics and create rooms that address their needs, for example a playroom.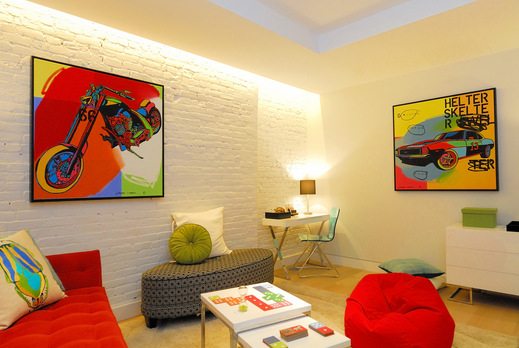 ---
22. Don't neglect your back patio. Get rid of cheap plastic chairs and create a lovely conversation area.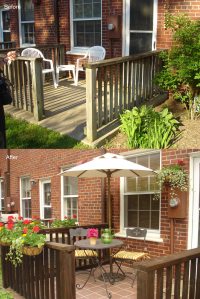 ---
23. Paint walls a neutral color to appeal to a wider group of buyers.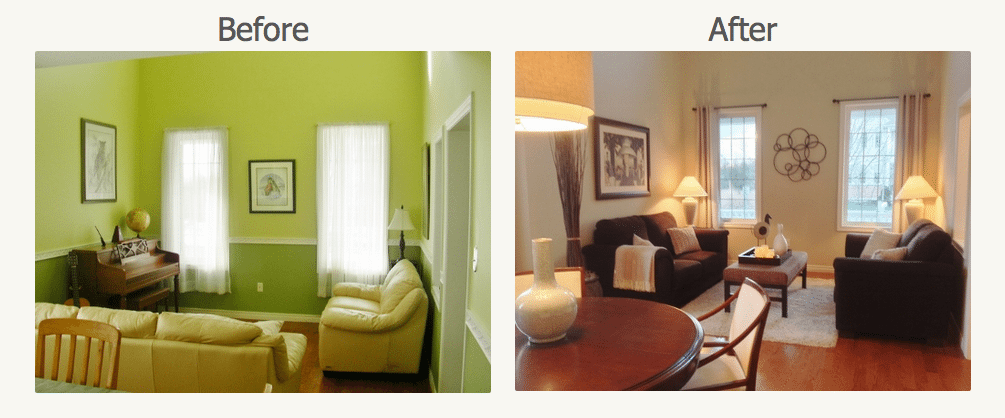 ---
24. Consider upgrading outdated furniture for more modern pieces with clean lines.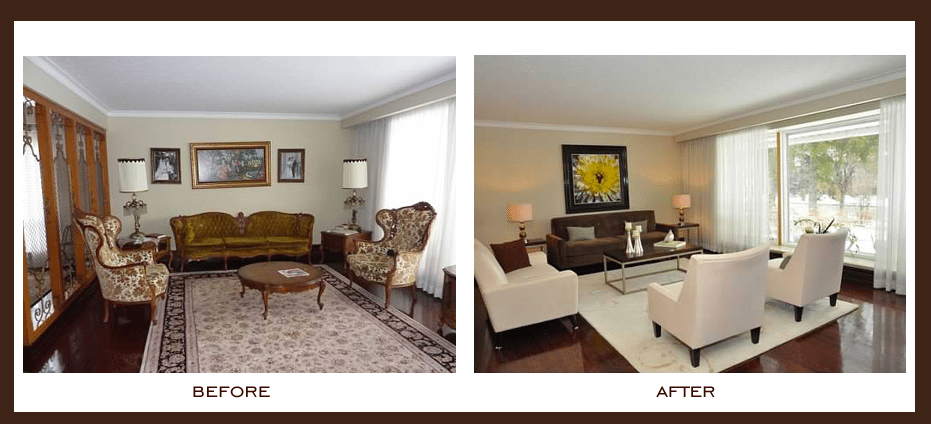 ---
25. Remove plastic blinds to let in more light.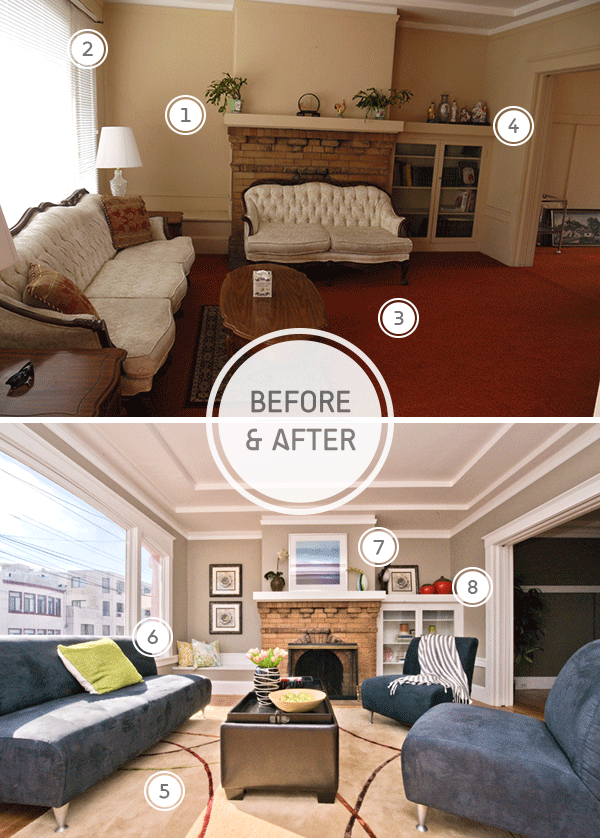 We asked 50 experts for their best real estate marketing idea. Click here to see what they told us!