Let's set the record straight: The gig economy is not the creation of millennials delivering dinners with Postmates or hauling riders with Uber. It dates back to post-WWII America, when mammoth companies' reshuffling opened the door to temporary, mostly administrative jobs. Fast-forward to 2019 and you have a resurgence of the on-demand employment that's been filling gaps in the workplace for more than 50 years.
According to Gallup, 34% of Americans worked in the gig economy in 2016. That number grew substantially over the next two years; 2018 saw 40% of the U.S. workforce—some 57 million people—gigging for extra money. But why the boom? And what are the side hustles that are giving us the opportunity to pad our wallets?
The "why" is not entirely surprising. App-based transactions and the near ubiquity of smartphones have allowed anyone with a job to connect directly to millions of workers looking for a short-term gig. The kinds of jobs created by this democratization of gigging are more surprising—some are remarkably new, and some decades old. We dug in to find the hottest ones of the past year, fired by our app-centric culture.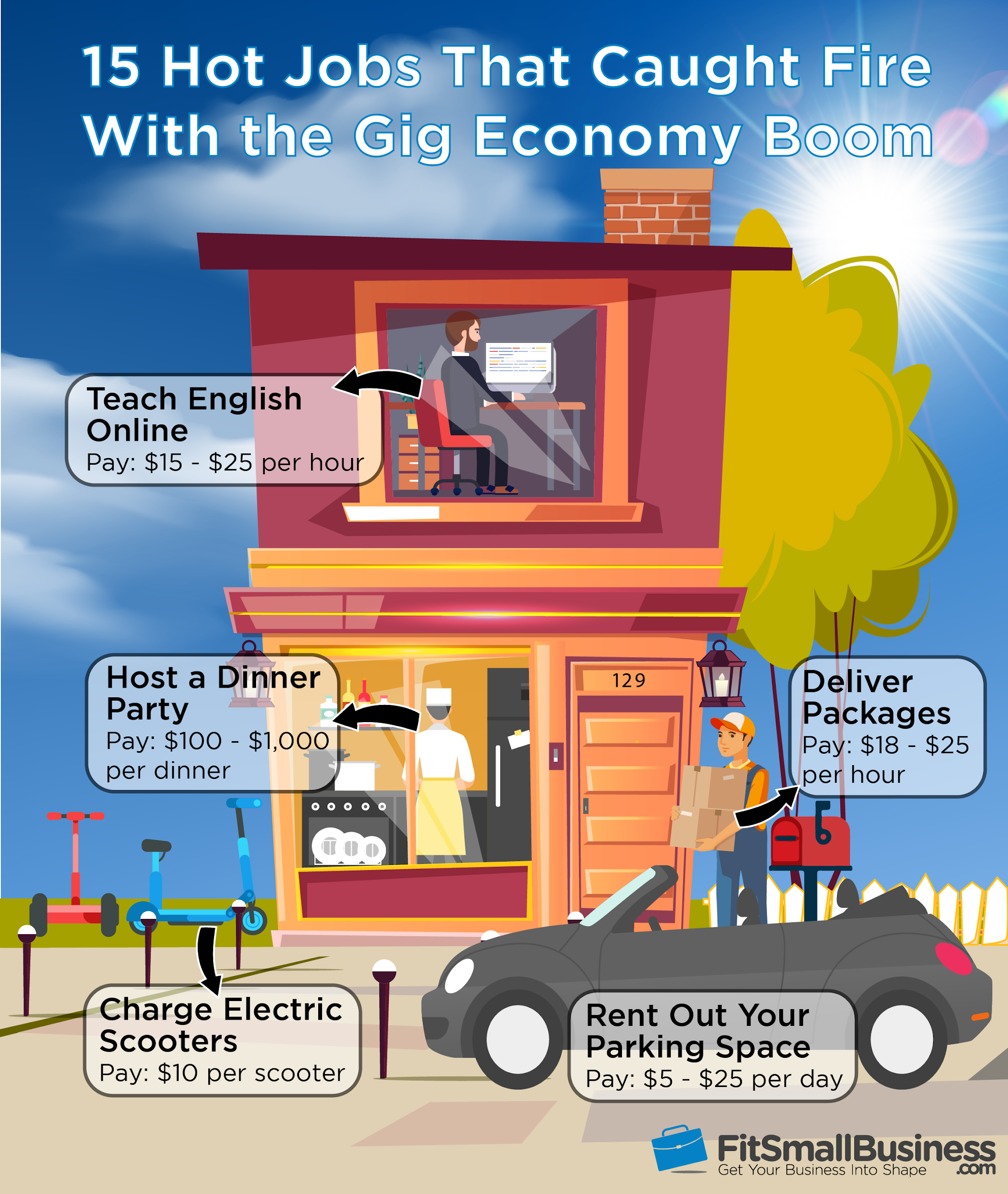 Here are 15 hot jobs that have recently caught fire with the gig economy boom:
1. Amazon Package Delivery
Pay: $18-$25 per hour
Forget the brown shorts and matching top. Wear what you want and work when you want, delivering packages for Amazon—and make $18 to $25 per hour doing it. The online retail giant—said to be the No. 1 Internet retailer in 2018 according to the U.S. Top 500 Report—has expanded operations into many industries, including mail delivery. Gig-based postal delivery started in just a few major cities in 2015, but has expanded to 50 cities nationwide.
Those who enjoy cruising around town will find this an easy way to earn extra money. To be eligible, you must be older than 21; have a driver's license, cell phone, and a car; and be able to pass a background check. Those who think this sounds like an amazing full-time opportunity might want to think again, however. Sure, you can work as many hours as Amazon gives you, but doing the same job for UPS pays $36 per hour on average—vehicle and benefits included.
2. Dog Sitting
Pay: $30 per day, per dog
What could be better than hanging out with a dog? Getting paid to hang out with a dog. Increasingly, people are opting for local dog sitters over kennels—a niche tapped by pet care services app Rover. The platform's concept is simple; dog-loving giggers are connected with dog owners who need short-term pet care. As simple as it is, the idea has caught fire; Rover launched in 2011 and is now valued at more than $300 million, according to Inc.
Those offering their services on these platforms set their own price, but on average, dog-walkers bank around $10 per dog per 30-minute walk, and around $20 to $30 per day dog sitting. Many use the platform for earning extra spending money, while others view it as a full-time job; some users report monthly earnings of over $3,000.
3. Personal Car Rental
Pay: $20-$80 per day on average
Gig economy chauffeuring is ancient news; Uber and Lyft have been transportation fixtures since 2012. But how about renting out your car instead? While it might seem insane to rent your car to a stranger, the idea exploded when car-renting app Turo hit the market in 2010.
Just set up a profile and rent out your car when you're not using it. The concept has been so successful, Turo now boasts 10 million users and over 350,000 available cars.
Unfortunately, this isn't a gig that will likely earn a full-time wage, although Turo CEO Andre Haddad claims people are making as much as $10,000 a year renting out their cars. This amount will vary based on your location, rental periods, and the type of car you have. For example, a quick Turo search for a one-day rental in Los Angeles shows that a Ford Mustang convertible goes for $65, a compact Nissan Versa for $28, and a 2018 Tesla Model 3 for $110.
4. Electric Scooter Charging
Pay: $10 per scooter
Electric scooters are zipping throughout cities across the country, giving locals a fun way to get around while avoiding traffic. Bird, a leading scooter company, had over 10 million scooter rides in 2017, and is currently available in 15 states. The trouble with these shareable electric two-wheelers— aside from accidents and local legislation—is that they run on limited-power batteries that frequently need to be recharged. The solution: electric scooter charging gigs.
If you're one of the millions living in a U.S. city where electric scooters are available, you can actually make money finding and charging dead scooters. Lime, another big scooter-sharing company, pays $9-$12 per charge, depending on how low the scooter's battery is. Charging is typically done overnight, so it's a good way to essentially earn money "in your sleep."
5. Moving Assistance
Pay: Up to $30 per hour
For swole giggers, peer-to-peer moving platforms are making it easy to find moving jobs. The leading on-demand moving service app, Dolly, started in late 2014, raised $8 million in funding in 2015, and clocked $1 million in monthly earnings in 2018, according to TechCrunch. That means tons of moving jobs for workers, who can make up to $30/hour hauling boxes.
While being a mover may conjure images of burly men with back support belts and big moving vans, anyone willing to get in a workout can make money on Dolly. You don't even need a vehicle, as plenty of movers are only looking for a few hours of onsite help. That said, those with a vehicle will earn even higher rates for their services. Just don't expect this to be a consistent gig—moving season typically hits in warmer months and ebbs in the winter.
6. Handyman Services
Pay: Up to $45 per hour
Everyone thinks they can do home improvement jobs themselves, but most of us actually can't. After countless failed attempts and hours of DIY YouTube videos, people are turning to Handy to hire experienced workers. The app boasts wages of up to $45/hour for those with the right know-how; top earners make over $1,000 per week, all while setting their own schedule.
To be eligible, you must have previous paid experience as a handyman or woman, be authorized to work in the country in which you are applying, have great customer service skills, and be able to pass a background check. It's not a gig for anyone, but it is a good gig for those who know how to mount a TV or fix some drywall.
7. Parking Space Rental
Pay: $5-$25 per day
Making money doing nothing sounds too good to be true, but it's a reality for those who have an open parking space. Quite possibly the best way to make money with little to no effort, renting out your free space with an app will make you $5-$25 per day. The leading parking space rental app, SpotHero, started in 2011 and has facilitated the parking of over 20 million cars to date, according to Crunchbase.
Sure, $5-$25 doesn't sound like a lot, but it is possible to land ongoing parking deals with locals who need your space on the regular, giving you a consistent income. For example, if someone rents out their spot to a commuter who works nearby for $10 per day for five days a week, over a month, they'll earn $200. Of course, to make this happen, you need to own a parking space and live in an area where parking is a hot commodity.
8. Tech Support
Pay: $30-$90+ per service
If you're the type of person friends are always calling for tech help, you should probably consider getting paid for your services by using HelloTech. Much like Geek Squad—but without the set hours, nerdy uniform, or goofy company vehicle—HelloTech gives tech-savvy people a way to provide tech support to locals without punching a clock, all while earning $30-$90 (or more) per job.
Consider yourself tech-savvy and interested in earning extra money? Sign up for HelloTech by answering a few questions about your availability, your areas of expertise, and technical training. Then, complete a skills assessment, phone screening, and background check. Once approved, you will have access to local job postings.
9. Elder Care Companion
Pay: $15-$25 per hour
Do something a little more meaningful with your spare time by providing companionship for elderly people in your area—while getting paid $15-$25 per hour. Many families are looking for someone to spend time with their elderly loved ones, and not just for safety. Caretakers serve as attentive companions, offering comfort to those in their twilight years. It's a service many busy families prize.
Care.com, the leading platform for connecting families to care companions, started in 2006 as a babysitting platform and has grown so much it recorded $50 million in revenue in the fourth quarter of 2018. In other words, there's plenty of opportunity to offer your companionship. To find a caretaking job, go to Care.com and create a profile. Then, browse jobs and connect with those in your area seeking elderly care.
10. Online Course Creation
Pay: $1,000 per month
Who said you couldn't make a lot of money teaching? Wth online course platforms such as Teachable and Udemy, individuals can earn well over $1,000 per month by creating and publishing online courses. Relatively new, Teachable started in 2014, and in 2018, was valued at $184 million, according to Forbes. Instructors are raking it in, too. Udemy reported that its top-earning instructor of 2015 made $2.8 million.
Despite a wealth of (free) knowledge available on YouTube, people are choosing to pay for courses on these platforms. And if you have expertise to share, you can get paid to teach those courses—no degree or teaching experience required. Courses can be on anything from JavaScript coding to playing the hand drum. Those with skills, the ability to teach others, and a video camera will find this to be a lucrative opportunity.
11. Online ESL Instruction
Pay: $15-$25 per hour
English is the most studied language around the world, which is good news for native English speakers. Websites such as VIPKid, Say ABC, and 51Talk take advantage of the demand for English instructors by virtually connecting English speakers to those learning English. Each platform has varying levels of pay, but the average teacher makes around $15-$25 per hour, according to MoneyPantry.
Many people assume they can't teach English if they don't know a second language. That isn't true with these platforms; anyone with a solid command of the English language and a stable Internet connection can earn money in their free time. It likely won't make you enough money to cover rent, though it does provide a stable way to make some dough without leaving the couch.
12. Laundry Services
Pay: $15 per hour
Some people simply hate doing laundry—so much so that they are willing to pay a pretty penny to hire others (like you) to do it for them. Sure, this isn't a new concept, but with the gig economy, anyone can wash a few sheets in their spare time. On-demand laundry apps like Rinse, Cleanly, and Laundry Care connect free time-rich workers with those who have piles of dirty clothes, earning giggers $15/hour for a simple wash-and-dry.
The laundry service apps above are available across the country. Some provide the laundry facilities needed to get the job done, while others are setup so that you actually do laundry at the customer's house. So even if you don't have your own washer and dryer, you can still make clean money airing dirty laundry. Many washers make around $200 per week working part-time, according to Smart Money Mamas.
13. House Cleaning
Pay: $10-$25 per hour
Who doesn't love a clean house? But then, who loves to clean? If you're someone who doesn't mind a bit of dirty work, you can make around $10-$25 per hour cleaning local houses—on your own schedule. This kind of house-cleaning service has largely sidelined traditional cleaning services; apps like TIDY, which directly connects giggers with dirty house owners, make industrious cleaners as much as $1,000 per month according to Money Pantry.
To get started on TIDY, you must be a legal U.S. resident, be fluent in English, pass a background check, pass a TIDY certification, and agree to only use green, non-toxic cleaning products. Best for the clean freak with time to spare, TIDY is an excellent opportunity to make some side money.
14. Dinner Hosting
Pay: $100-$1,000+ per dinner
If you can't stand the heat of a commercial kitchen but love to cook, there's a job for you: hosting dinner parties for strangers. Chefs and aspiring chefs alike can make money by cooking for unknowns in their own home using platforms such as EatWith and Feastly. These now-popular apps connect cooks and socially adventurous foodies for custom dinner parties arranged entirely by the host.
It's such a popular concept, in fact, that some chefs have been able to put away $1,000 in a single night, according to the Penny Hoarder. Before you turn your home into a private restaurant, however, keep in mind that you do need to know your way around a kitchen. On top of that, you need ample seating. Still, what you offer and your price per plate is up to you—an attractive prospect for chefs craving both money and creativity.
15. Vacation Experience Guide
Pay: $20-$120 per person, per gig
If you want your passion to be your job, you'd likely enjoy work as an experience guide for AirBnB Experiences. AirBnB started in 2008, but it wasn't until late 2016 that it launched Experiences, which saw growth at 2,500% year-over-year from 2016 to 2018, according to CNET. The cost of experiences varies, but averages around $25-$150 per person. The takeaway for the guide is a bit less, thanks to AirBnB's 20% booking commission.
So what exactly can you do to make money with AirBnB Experiences? Just about anything someone on vacation would want to do for fun. More specifically, experiences give vacationers adventures they wouldn't otherwise have. Examples include cooking classes, exotic yoga classes, city tours, wine tastings, sports tours, surf lessons, and horseback riding lessons. It's best for those who have a strong passion for adventure and live in an area with lots of tourism.
Bottom Line – Hot Jobs in the Gig Economy 2019
The growth of the gig economy is owed largely to new technology that makes it easy to connect giggers and job creators. Now, you can earn a good wage doing nearly anything—without a schedule or a commute. Find the gig that suits you best by reviewing the options above, thinning out your free time, and signing up for some lucrative short-term employment.