The hotel industry is a $600 billion industry, and while the demand for short-term accommodation is high, the competition may also be fierce. Savvy hoteliers know that hotel marketing is multifaceted and requires multiple marketing channels in order to compete and attain bookings, and a great step to becoming one of them is learning how to strategically market your hotel.
Start by Identifying & Understanding Your Audience
The foundation of successful marketing strategies is understanding an audience. Who are they? What do they seek in a hotel? How do they find hotels? What makes them decide to book one hotel over the abundant alternatives?
By looking deeper and determining who your audience is, you can get much more specific about their needs and how you can serve and reach them without wasting valuable resources. It will become easier to attract the right guests, improve their stay, and grow as a business.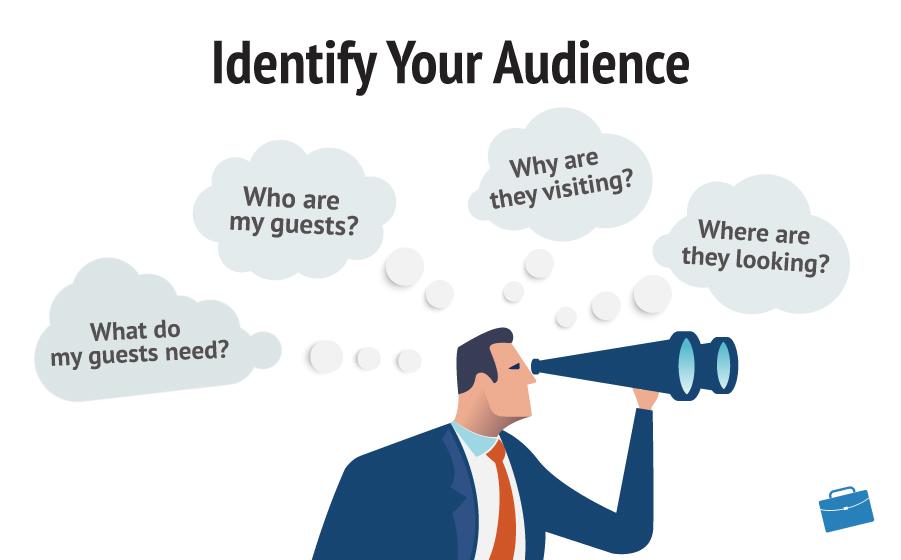 Here are a few questions you can ask your hotel management team to clarify the kind of guests you want to target with your hotel marketing methods.
Why Are Your Guests Traveling?
The reason for your guests' visits will tell you a lot about what they are looking for. Business travelers have different needs and preferences than couples on vacation. Here are a few of the typical reasons your customers may be traveling:
Business
Couples getaway
Families
Adventure tourism
Value travelers
If you aren't sure why your guests are traveling, ask them. You can create a script for front desk clerks to ask guests their reason for travel during check-in, or place a survey in their room or during booking. Depending on your amenities, you can incentivize these surveys with a drink from the bar, a snack, or a discount off room service.
Another way to determine your guests' reason for traveling is to consider the businesses, events, and attractions in a geographical radius from your location. If your hotel is located near a large amusement park, you can estimate that a large portion of your customers are families on vacation. If your hotel is en route to a well-known safari in Botswana, then you'll probably have more adventure travelers and couples visiting.
What Does Your Audience Value Most?
Narrowing down your audience will help reduce waste in your business production. Instead of trying to offer every possible amenity and feature, you can focus your resources on the ones that your audience values the most. It is worth creating public polls and surveys on social media or through email to find out more about what your audience is looking for when they travel.
For example, if your hotel is in the middle of Silicon Valley, it is likely that you'll have many guests traveling for business meetings and conferences. This audience will value high-speed Wi-Fi and printer access more than family-friendly breakfast options.
Where Is Your Audience Searching for Hotels?
Just like choosing which amenities to offer, there are hundreds of ways to advertise your hotel. You should think about how you can stand out to your audience through word of mouth, on travel booking sites, travel forums, reviews, and social media. However, you will get the highest return on investment (ROI) from prioritizing your efforts towards your target audience and the best way to reach them.
Even though the majority of travelers are using a search engine to find a hotel, you shouldn't put all your eggs in the Google basket. If you want to appeal to adventure travelers, your time will be best spent utilizing high-quality photography on platforms like Instagram and Pinterest, like nhow Berlin.
Determine Your Value Proposition
In marketing, a value proposition, or unique selling proposition (USP), is what makes you attractive to consumers. If you don't know what makes your hotel different and better than the others, your customers won't either. When you're marketing your hotel, you aren't just selling a place for someone to sleep for a night. You're selling a home away from home, a vacation from day-to-day responsibilities, or maybe an opportunity for more exciting adventures.
How to Find Your Hotel's Value Proposition
If you offer something extremely unique, it may be easier to clarify your value proposition. However, you don't have to have the cheapest, most luxurious, or most unique hotel in your area to have a solid value proposition that generates bookings. You can find your hotel's value proposition by offering solutions to your audience, researching your competition, and collaborating with other businesses.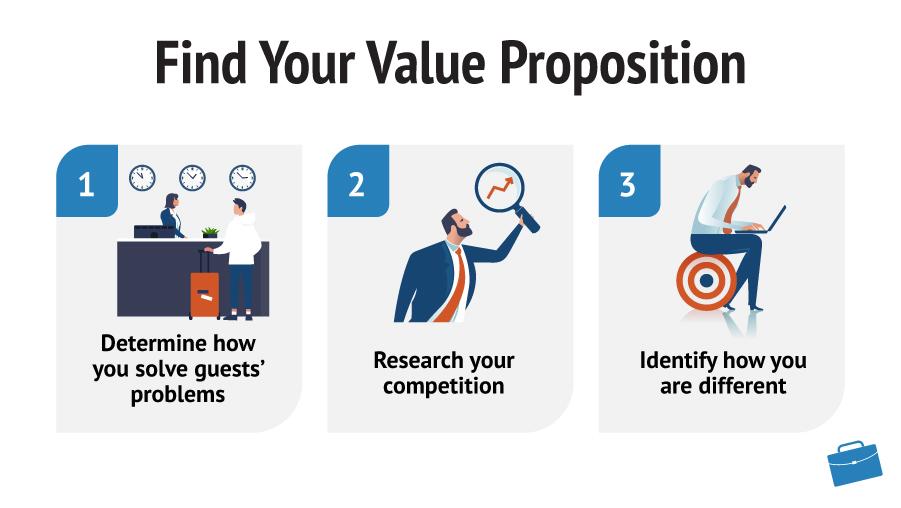 Determine How You Solve Guests' Problems
The more clearly you understand your audience, the easier it will be to serve them. If you have a broad audience base and you can't narrow down your features too extensively, then offer options. Do you notice any patterns in your guest's feedback or habits? If you notice your guests' pain points before or during their visit, you can offer specialized solutions.
Common pain points your guests might experience include:
Price sensitivity, including additional charges such as resort and parking fees
Location (e.g., oceanfront, near an airport, within walking distance to a popular expo center, and so on)
Basic services, including check-in and check-out times and free Wi-Fi
Availability of amenities, such as on-site dining, handicap accessibility, pools, gyms, or business centers
Design preferences (e.g., modern vs traditional interior decor, position of desks for business travelers, and so forth)
Travel flexibility, such as free cancellation policies
Customer service response time and ratings
Transportation and connections to surrounding businesses, attractions, and events
Consider gathering a list of all the ways your hotel solves guests' problems. This way, when you start researching and evaluating your offers in comparison to your competitors, it will be easier to determine what makes you unique.
Pro tip: Talk to your guests. You might think that you are solving guests' problems in one way, like being five minutes away from the airport. However, by talking to your guests about what they actually need, you may find that they are actually booking with you repeatedly because of your loyalty program or business traveler package.
In this example, your proximity to the airport is an additional bonus, but not a key feature that generates bookings on its own. This kind of information is extremely valuable in helping you target the right audience and get the highest ROI.
Research Your Competition
You cannot create an attractive value proposition if you do not understand what your competitors offer. This will prevent you from promoting inaccurate information—like saying you're the only 5-star hotel offering a free shuttle to the city center. Researching your competition will show you the differences between your offers and help you find a clear and unique way of presenting it to customers.
To gather an abundance of data about your competitors, you can start by looking at their website. Evaluate their website design and which amenities and features they highlight. You can also look deeper by searching for their hotel on Google, in directories, travel booking sites, and review sites. You can also look at the social media pages to find what guests are saying or asking.
Identify Your Differences in Terms of Value
While researching your competition, you may notice that you and your competition address many of the same guest needs. However, you can often still identify key differences between you and your competition by looking for what sets your hotel apart from the rest in terms of overall value. This then becomes your unique selling proposition, which can then be featured prominently in your marketing messages no matter which strategy you use.
For example, maybe your hotel in Kissimmee is family-friendly and mid-priced. You aren't the cheapest or the most expensive hotel in the area, but you can still offer your guests high value. If you offered something like free parking and a frequent shuttle to and from Disney, you can help families save money and waste less time traveling between the park and the hotel. Now, you can advertise the savings of $25 daily parking fees and attract specific guests.
Strategies for Reaching Your Audience
There are several different ways to reach your audience, and you will need to use more than one strategy to ensure the largest possible audience for your marketing message. That said, while you can use all of these strategies, it is best if you identify two or three to focus your time and efforts on, as opposed to trying to market on all available communication channels. This will help you better connect with your audience and ensure your unique value proposition gets seen.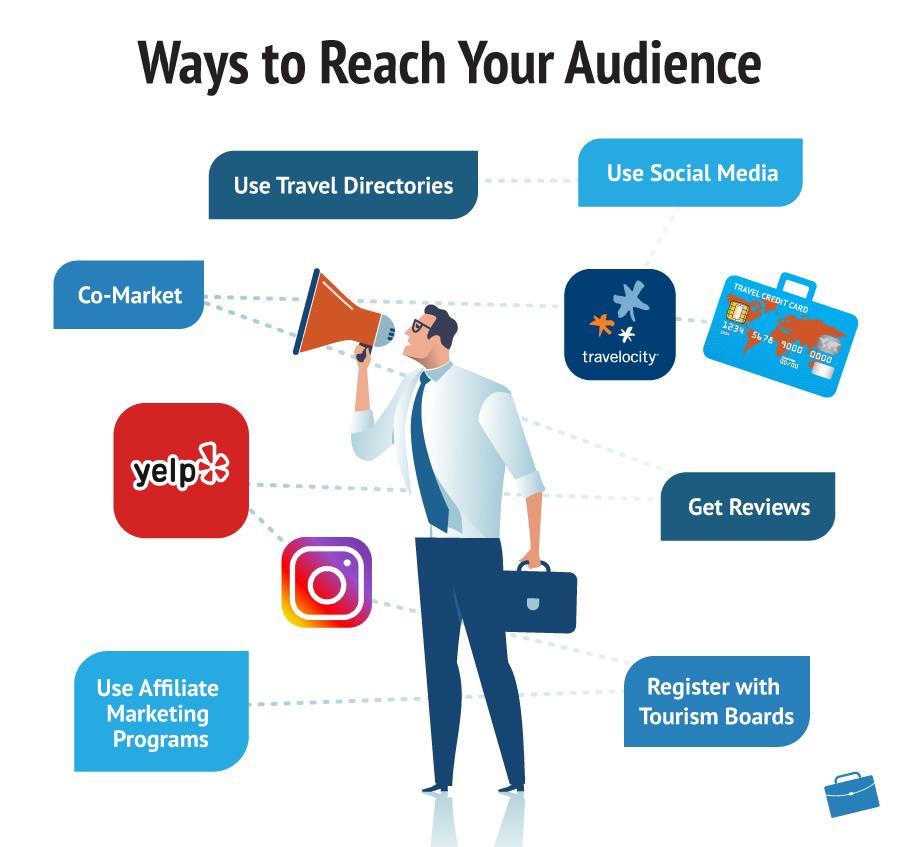 1. Optimize Your Site for Organic Search Traffic
Travelers will not be able to find your hotel if you aren't recognized by search engines, so a vital part of your marketing strategy should be optimizing your site for organic search traffic. This is also known as search engine optimization (SEO), and is a great way to reach potential guests because it doesn't require you to pay for placement using services like Google or Bing Ads.
Pro tip: In addition to structuring your site for SEO, the design of your website should make it fast and easy for visitors to make a booking. This means there should be a booking window visible and accessible on each page. Visitors should also see your value proposition as soon as they land on your site. You can also add features like 3D room images or embedding Yelp or TripAdvisor reviews.
2. Advertise Your Hotel on Directories
Being one of the hotels listed in a directory, such as Yelp, TripAdvisor, or BringFido, is a faster way for your target market to find you. There is less competition if your audience is looking for something extremely specific and using a directory to find you. Additionally, having your hotel listed in directories and travel booking sites can inadvertently increase your SEO.
Pro tip: Consider advertising on one of these platforms as opposed to a search engine that is extremely saturated. For instance, Yelp offers a variety of advertising options like ranking in the top of results. If you need to gain visibility, you may want to start with a more specialized audience.
3. List Your Property on Travel Booking Sites
Remember that not everyone will be searching on the same platforms. In fact, even if your potential guests begin by searching on Google, they will probably end up on at least one travel booking site, if not many. Be sure to optimize your hotel listing on these popular travel websites:
Travelocity
Booking.com
Airbnb
Orbitz
Priceline
Hotels.com
Hostelworld (good option for affordably priced hotels located outside of the U.S.)
Pro tip: Take advantage of an API (application programming interface) that is already available to simplify your booking management process. APIs also provide continual up-to-date availability, which is necessary for you and your guests.
4. Request Reviews From Past Guests
A study from Hotel Business showed that 81% of travelers always read reviews before booking a hotel. Many guests feel like they can't truly judge a hotel online and seek to hear others' opinions before making a decision. Positive reviews are crucial to your hotel bookings, so you need to be intentional about asking for them.
How to Get Reviews
Even guests who are pleased with their stay at your hotel will likely not spend time looking for the right place to give you a review. Instead, you need to make it extremely easy for guests to leave reviews by making links accessible. You can also ask guests during check-out if they would consider leaving a review. However, be mindful that many review sites have policies against asking guests to leave reviews while they are still at your hotel.
Recommend Places Where Guests Can Leave Reviews
There are hundreds of places your guests could leave a review, which can be overwhelming. Narrow down these choices for your guests and provide links to a few specific review sites. This will help you create a collection of positive reviews that build trust with potential guests. Here are a few of the top places to get hotel reviews:
Google
Hotels.com
Yelp
Facebook
Your website
Keep in mind that Google reviews will be the most accessible to your customers, so it's worth making those a priority. In order to get set up for your customers to leave a Google review, make sure your Google My Business profile is complete.
5. Create a Strong Social Media Presence
Some hotels will not benefit from social media marketing, like the majority of airport hotels. However, hotels with audiences like vacationers, tourists, adventure travelers, and value travelers will strongly benefit from prioritizing social media.
You can make your hotel stand out on social media by doing the following:
Utilize Photography-based Social Media Platforms
Although many social media platforms can benefit you, you should focus on the ones that will allow you to regularly share photography, especially Instagram and Pinterest. You can share a broad range of photography of your hotel lobby, rooms, property, and features. Hiring a professional photographer or videographer is a crucial part of maximizing your reach on social media.
Use Hashtags & Geotagging Strategies
Hashtags are a key feature of platforms like Instagram. When someone on social media is searching for a hotel, they'll be looking for key phrases like "cool hotels" or "unique hotels," and you want to be at the top of the list.
You should also create your own location on all social networks so that guests can tag your hotel. If your unpaid, unbiased guests are posting pictures of your hotel and making positive comments, this is an extremely powerful hotel marketing tactic. Additionally, you can find users who have geotagged your hotel, and ask them to leave a review.
If social media is too much of a time-consuming task and you want to make sure you get the biggest results in the shortest amount of time, you can hire a social media marketing agency like Lyfe Marketing. They are social media specialists who can take your social platforms off the ground and rocket them to revenue-generating machines.
6. Seek Out Media Coverage
Being featured in the media can give you a massive amount of visibility and automatically builds your credibility. Planning and seeking out the right media coverage should be a significant part of any hotel marketing strategy.
Choosing the Right Media Outlets
Even though a feature in a local news story or magazine may seem exciting, keep in mind that the people who are watching and reading local stories are not frequently booking hotel rooms in their own town. The only time in which you may want to market to your area is if you offer events or opportunities specifically for them.
The best media outlets for your hotel will be travel magazines (like Travel + Leisure), blogs, YouTubers, and other travel influencers. These are the platforms that will reach the maximum number of travelers and build curiosity and excitement. Media coverage will also end up in visitor's search results, which is a strong, long-term hotel marketing strategy.
How to Promote News to Media
You're not likely to get featured in a magazine by sending a vague question about your hotel to an editor. Instead, do some research on the media outlet you're contacting. Look at the layout and topics of their current articles or news stories. Create a few potential titles for a story about your hotel. This kind of pitch is much more likely to catch an editor's attention and get a response.
7. Use Collaborations to Increase Hotel Marketing
The most successful businesses utilize strategic networking and collaborations to grow their reach. By building genuine relationships with local businesses, global brands, and online influencers, you can significantly increase your audience and create unique offers.
Great sources for marketing collaboration include:
Local Businesses
Even though you will not get much business from local citizens and businesses, your guests can benefit from your local connections. Work with other local business owners to create unique offers, like shuttles or transportation to specific places, discounts for combining orders, coupons to restaurants, and so on. You could host an event for a local business that brings bookings, or allow them to use your space.
Another advantage of networking with local businesses is word-of-mouth references. When they have family coming into town or remote employees attending a conference, your colleagues will often make a booking in your hotel themselves.
National & Global Brands
Working with local businesses and larger entities has many different benefits. Consider potential partners, like a travel credit card company, a large rental car company such as Hertz, or AARP. By finding a company that reaches the same audience as you, you can generate many more bookings and create a mutually beneficial partnership.
Social Influencers & Affiliate Marketing Programs
Since influencers operate their own media platform, you can offer a free stay or a discount for them to experience your hotel and share it with their audience. This is a great way to build a continuing relationship with someone who can generate bookings for you. If they have already stayed with you or you want a different way to partner with them, you can use affiliate marketing.
Affiliate marketing is when bloggers or influencers promote your hotel and get a small commission for every booking that is placed through them. To do this, you must use the right tools to track traffic and bookings from their unique link.
8. Register With Relevant Tourism Boards
Local tourism boards are the perfect place to get your hotel in front of the eyes of travelers. These boards usually have information for visitors about things to do, dining, and accommodations. Make sure you can get on these boards, and choose the image and wording to strategically grab attention.
Consider Display Advertising
Online advertising can help you reach millions of people at a generally low cost. However, if you don't know how to create an advertising strategy, it is easy to waste money on ads that do not generate bookings or revenue. That's why it is important to understand the difference between online advertising types before you pay for your first ad.
For example, Google offers two forms of advertising: Google Ads and Google Display Ads. The difference between the two is as follows:
Google Ads
When creating and strategizing for online advertisements, keep in mind that Google Ads may not be a good investment for every hotel. This is because Google Ads are intended to help your website show up in related search results. However, these ads are dominated by travel booking platforms, and that makes the costs inflated. It's extremely possible to pay a high price for Google Ads and still end up on page two of Google results—where you will not get any ROI.
Google Display Ads
Instead, Google Display Ads provide a different solution. Display ads don't appear on search results, but they do appear on thousands of websites in the Google Display Network (GDN). You can choose the audience that you want to reach, and your ads will appear on related articles and websites. This will help drive traffic back to your website.
Frequently Asked Questions (FAQs)
What is the commission that travel booking sites charge hotels?
Hotels pay travel booking sites a certain percentage of commission per booking. There is no flat rate, so this fee varies between each hotel and booking platform. While the percentage can range from 5% to 30%, the fee is most commonly between 10% and 25% percent of the booking price.
How do I build a website for a hotel?
You can build your hotel website the same way you'd build any website for a small business.
However, when you are choosing your website theme or template, choose one specifically designed for accommodation websites.
What's the best Facebook Ad type for a hotel?
In all industries, remarketing ads have shown to be the most effective type of advertisement. However, if you don't have existing audiences for your hotel, you can use custom audiences or lookalike audiences. These Facebook Ad types will reach your warm audience and others who match the same profile.
Bottom Line
Every successful hotel must take the time to clarify their audience, create a value proposition, and determine where their audience is searching for them. Your marketing strategy should be unique, although it's likely to include strategic website design, listings on travel booking sites, media coverage, and various collaborations. Although it takes time to develop and tweak your marketing strategy, it will create higher revenue and happier guests.