Housecall Pro is a cloud-based field service management and invoicing platform. We compiled Housecall Pro reviews from around the web to determine what their customers think about the company. We also compared the most popular pricing options for small business owners.
For an in-depth comparison of three top invoicing software, read our invoicing software buyer's guide.
Housecall Pro Customer Reviews
Overall Experience: Great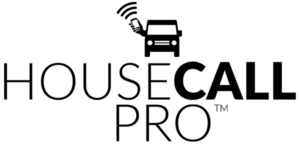 Ease-of-Use: Good
Customer Service: Fair
Rates: Moderate
Summary of Housecall Pro Reviews
We scoured hundreds of reviews online and found that Housecall Pro has mostly positive ratings. Here's what we found:
What Housecall Pro does well:
Users who gave Housecall Pro a positive review liked how it streamlined creating, sending and settling invoices, and made it easy to run their business.
What Housecall Pro does not do well:
Some users who gave a negative review thought that it was difficult to get a hold of customer service over the phone.
Most Helpful Positive User Review
A positive review on Consumer Affairs said that Housecall Pro cut down their steps in invoicing. Before, they used to send their invoices back and forth between their invoicing software, Quickbooks, and Outlook. But with the Quickbooks integration, they've cut that time in half and can have just one person taking care of invoicing.
Most Helpful Negative User Review
A negative reviewer from Consumer Affairs said that they are able to get responses from customer support online if they ask one or two questions via email or live chat. However, they find it difficult when they have multiple questions and would need to talk to someone to save time. They said nobody really answers the phone at Housecall Pro.
Other Housecall Pro Reviews From Users Around the Web
Here are a few other resources for finding helpful Housecall Pro reviews from customers. We rated the review sites on a scale from poor to excellent based on how trustworthy and useful the reviews seemed.
Review Website

Average Rating

Number of Reviews

Quality of Reviews

Software Advice

4.5 out of 5

319 reviews

Good

Consumer Affairs

4.7 out of 5

157 reviews

Good

G2 Crowd

4.7 out of 5

23 reviews

Good

*Average rating as of date article was written: July 7, 2017
Housecall Pro Pricing
Housecall Pro has mid-range pricing that ranges between $39 per month up to $249 per month when users pay monthly. Users can save between $10 – $50 when they pay annually (depending on the plan). The main differences between each plan are the number of users, integrations, and the level of customer support.
Simple

Modern

Advanced

Price
(Monthly billing)

$49/month

$137/month

$249/month

Price
(Yearly billing)

$39/month

$109/month

$199/month

Users

1
($20/additional user)


6
($20/additional user)


Unlimited

Quickbooks Online Integration

✕

✔

✔

Customized Reports

✕

✕

✔

Time Tracking

✕

✔

✔

Credit Card Processing Fees (US)

2.9% + .30

Primary Integrations

Google Calendar, Quickbooks, Stripe

Customer Support

Email

Email, Live
Chat

Email, Live Chat
The Simple plan is a good enough plan if a client is going to mostly use Housecall Pro's scheduling, booking and CRM features. However, for time tracking and invoicing, please take note that only the Modern and Advanced plans can integrate with Quickbooks.
Though the first two plans have a limited number of users allowed to use the software, clients can choose to add users to their plans without having to upgrade. Each additional user will cost $20. There is also a flat fee for credit card processing stated at 2.9% + 30 cents per transaction.
Customer service is quite limited for the Simple plan. Both email and chat support is only provided in the Modern and Advanced plans.
Best Pricing Option for Small Business Owners
For a dedicated invoicing service, Housecall Pro's plans may not be tailored to fit most businesses as it is primarily a scheduling, dispatching and booking service. Their most basic plan may be a bit pricey for some small businesses, considering it doesn't integrate with Quickbooks yet. However, if your business will benefit from their main features and needs invoicing to be integrated, the Modern plan is the way to go.
Compare Housecall Pro Competitors
Not sure if Housecall Pro is the right invoicing software for your small business? Check out our invoicing software buyer's guide comparing three top providers.