7 Ways COVID-19 Changed B2B Sales
As a result of the COVID-19 pandemic, there were significant changes to the preferences of B2B customers in how they wanted to learn about suppliers and interact with them. It also forced businesses to prioritize employee retention, utilize new data sources, and emphasize action over beliefs. Here are seven key post-COVID sales trends that have transformed business-to-business (B2B) operations and what they mean for your business.
1. Remote Is More Effective for Post-COVID Sales
Although COVID continues to negatively impact global health and economic production, it did create a virtual environment as the preferred way to sell and do business. Furthermore, 65% of decision-makers believe the new B2B sales remote-friendly workplace is equally or more effective than the pre-pandemic environment.
Part of the increased effectiveness of remote post-COVID sales is because it's easier to schedule meetings and convince a prospect to agree to an appointment. There's little the prospect needs to do on their end to prepare for a virtual appointment and no risk of virus transmission. This, in turn, enables you to set up more sales meetings and convert more leads to the later stages of the sales funnel.
What This COVID Sales Trend Means for Your Business
The primary ramification of this trend is that your business needs to make it as easy as possible for leads and customers to communicate with you through virtual methods like email, online chat, phone, and video conferencing. One key way to accelerate the virtual meeting process is by automating the virtual scheduling process through calendar appointment tools.
For example, Calendly allows you to manage your schedule by configuring rules as to when appointments can be made and which types of channels can be used. Then you can send a link to leads and customers that takes them to your scheduling portal. They can find a time that works for them and have the event synced to the calendars of everyone invited.
2. B2B Customers Now Prefer Mobile Sales & Service Options
The shift in customer preferences in the B2B space is made apparent by interesting data. For example, there has been a 30% preference increase in placing orders on mobile apps and a 250% overall increase in mobile ordering since the pandemic. Just like consumers, B2B customers have become more comfortable using smartphones and tablets for basic purchase and service needs.
How to Respond to the Rise in Mobile B2B Sales
What the shift in B2B buyer preferences means for your business is simple—ensure your customers can interact with your business and do as much as possible on a mobile device. One way to achieve this is using SMS texting and email campaigns to engage with customers and leads.
Many customer relationship management (CRM) software products let you manage mobile-friendly sales campaigns either directly from the CRM system or through integrations. Zendesk Sell, for example, provides features for contact organization and lead management that streamline text message deployment—send individual messages to specific recipients or mass messages to a high volume of customers at one time.
In addition to utilizing text and email marketing as part of a strong sales plan, you can also appeal to mobile users by making sure your website is mobile-friendly so they can easily view and navigate your site without needing to be on a desktop computer. It's also important to enable customers to access their account as well as customer service and support while on a mobile device, or even through a dedicated mobile app.
3. People Now Prefer Video for Team Collaboration & Sales Meetings
Statistics show that people's preference for how meetings are conducted is overwhelmingly in favor of video conferencing compared to a traditional phone. There also doesn't seem to be any difference, regardless of the scope of the meeting, as 79% of employees prefer video conferences for internal meetings and 76% prefer video calls or conferencing for client or prospect meetings.
What the Preference for Video Sales Meetings Means for Your Business
There are two key adjustments your business can make to accommodate this preference. The first is to invest in and get your team comfortable with video conferencing software like Zoom or Microsoft Teams. The second is to modify resource allocation by moving funds from travel budgets to areas more suited for a video selling climate, such as outsourced appointment setting, content development, online advertising, and social media marketing.
When you make the move into video conferencing software, it's important to incorporate video meeting best practices into your sales training. Your sales reps also need to become familiar with specific video conferencing tools like screen sharing, white boarding, breakout rooms, and meeting note taking. These features enhance online presentations and conversations with prospects and customers.
4. More B2B Customers Want to Interact With Sales via Chat
Live chat is now the number one rated channel businesses use for researching suppliers. Plus, interaction with a sales representative through live online chat is up 23% since the start of the COVID-19 pandemic.
Much of this is due to the convenience of self-service without the hassle of trying to schedule a call or meeting with a sales rep. Plus, many online chat functions are now being done using artificial intelligence (AI) chatbots, which use machine learning and natural language processing (NLP) to converse and interact with website visitors 24/7/365.
What Your Business Should Do About This Post-COVID Sales Trend
Find ways to incorporate live chat into your customer service operation and as part of a customer journey when leads are navigating your website. While there are standalone tools for managing online chat channels, there are also tools built into CRM systems to help with this.
HubSpot, for instance, is a popular CRM with free chatbot building software within its system. Businesses can create responses and routing options for navigating the website and talking with an AI live chatbot. You can use this to provide information, direct leads to key content and web pages, generate leads, and qualify prospects without a sales rep needing to be involved.
5. The Great Resignation Is Increasing B2B Sales Turnover
While the beginning of the pandemic resulted in business shutdowns, furloughs, and layoffs, there is now a huge wave of people leaving their jobs for a variety of reasons. These range from changes within the industry or company to a desire for a higher-quality job or work life balance. The tech industry, for instance, is seeing record highs of resignations with a 4.5% increase from last year.
It's believed that one big reason for the increase of tech personnel leaving is a result of employee burnout from the high demand for their products and services because of the pandemic. More information about handling the rise in stress on your sales team can be found in our how-to guide on managing sales burnout.
What the Great Resignation Talent Shift Means for Your Business
Increased resignations puts those in sales management roles in a position to ramp up and streamline their recruiting process and do everything possible to retain talented employees. This means offering better compensation packages, improving the organization culture, and offering a healthier work/life balance.
Sales managers should also find ways to prevent employees from becoming burned out or disinterested in their work. They can do this by automating tasks and workflows, outsourcing parts of their sales process, and investing in professional development by encouraging their personnel to take part in sales training programs.
Keep motivation high using sales gamification tools that encourage friendly competition. Pointagram and Spinify, for example, are gamification tools that let you create and track sales competitions. Pointagram uses visual tracking in the form of icons and finish lines, while Spinify uses traditional leaderboards to monitor performance.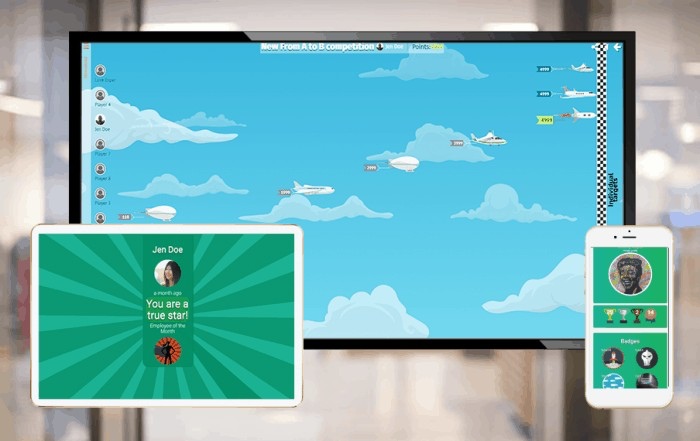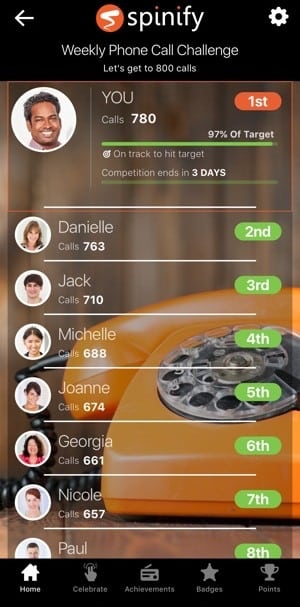 6. More B2B Sellers Are Tapping Social Media for Customer Insights
As a result of the volatility COVID-19 caused in B2B sales, more businesses in the B2B space are now using social media to gain an understanding of their customers' wants and needs. In fact, 48% of B2B executives say they are using social media monitoring for insights, making it the second-largest method for gathering information—only slightly behind using sales teams to get feedback, which is at 50%.
How Your Business Can Leverage Social Media for Sales Research
Many people, decision-makers or not, use social media platforms to express themselves and make statements of wants and needs, which gives businesses relevant information. Social media monitoring for analytics needs to be added to your organization's social media content marketing, lead generation, and customer engagement strategies.
Social monitoring tools like the ones in Zoho CRM let you easily track what customers and leads are saying as well as how they are interacting with your posts on various social media platforms. That information is collected and centralized in the CRM system, where it can be evaluated for potential strategy adjustments, identification of hot leads, and capturing prospects for lead nurturing campaigns.
Pro tip: Combine your social media monitoring with advanced analytics tools for better insights on your customers. Zoho Analytics takes data collected in your CRM system and offers analytics and feedback based on trends it finds. You can evaluate sales rep performance, lead sources, campaign performance, and social media accounts to see what's working and what's not.
7. The Pandemic Created a Gap Between Beliefs & Action
One thing that has been done throughout the pandemic is surveying business owners and executives on how they've adapted, what they think is important, and what they feel they should focus on in this new landscape. One of the more interesting takeaways is that there's a difference between what business leaders think they should do versus what they are actually doing.
For instance, 62% of B2B executives believe increasing understanding of customers through research and data is essential to success, but only 39% actually do it. Also, while 52% of B2B executives say it's important to redefine their mission and offerings to adjust to the pandemic, only 41% actually have. Finally, while 84% believe being a thought leader strengthens their market position, only 75% are actually using it as a strategy.
How Your Business Can Bridge the Gap
It's simple, really―take action on the data presented to gain a competitive advantage. Based on the stats in this article, for instance, you now know that remote selling is effective, mobile-friendly access is important, video conferencing is the best way to connect, online chat is a desired way to communicate, there is value to retaining sales talent, and social media is a key data tool.
Make full use of our guide to sales management, which outlines the processes and strategies you need to have in place. The more you are able to align your business' communications and strategies to the preferences of your leads, prospects, and employees, the better prepared your business will be for post-pandemic sales success.
Bottom Line
Post-COVID sales trends for B2B companies impact everything from the software they need to use to the tactics and tools needed to facilitate and improve the customer experience. With the right knowledge, tools, and ability to adapt, your business can turn what appeared to be a long period of uncertainty into a great opportunity to drive business growth.
Sources: