A point-of-sale (POS) system for a restaurant communicates orders to your kitchen and processes cash and credit card payments from your customers. It also logs these transactions to create reports that help you analyze your operation for potential opportunities to lower costs and increase revenue. A robust restaurant POS can also be a time clock, inventory management, and online ordering and delivery solution. Prices range from $0 to $499 per month and may require you to agree to use a specific credit card processor.
Understanding how POS systems work in a restaurant and choosing the best fit for your business is a common step in opening a restaurant. If you are currently in that process, check out our free e-book on How to Start and Run Your Restaurant for more tips about everything from finding a location to leasing and financing equipment.
1. Understand the 3 Types of Restaurant POS
There are three major types of restaurant POS systems, and they are classified by the way the components communicate with one another. They are locally-installed, cloud-based, or hybrid systems.

Restaurant POS Type

Strength

Weakness

Best Use

Locally Installed

Very secure system
Operates without relying on the internet
Comes with lots of personal training and support

Expensive
May become obsolete before it is paid off
Can only access reports and data onsite

Large or multi-location restaurants with multiple revenue centers
High volume Pizza shops with lots of food modifications

Cloud-Based

Very low cost
Constantly updating with new technology
Can access reports and data from anywhere

Needs internet connection to work
Many systems operate exclusively with one payment processor

Restaurants with good internet access
Food trucks with mobile hotspots

Hybrid

Strong offline functions keep business running in internet outages
Competitively priced

Monthly subscriptions can get pricey

Very flexible; works for a wide variety of restaurant types
Locally Installed POS
Locally installed POS systems are the type that have been around the longest. For this reason, they are sometimes referred to as "legacy" POS systems. Locally installed systems are hard-wired into your restaurant via ethernet cables and networked to one another through a central communications hub. These systems use proprietary monitors and printers and require a technician to install. Locally-installed POS systems are frequently sold through a third party reseller, or a VAR.
VAR: short for "Value Added Reseller" A VAR is a local company that packages the software and hardware components from a large POS system brand, then sells that package to a restaurant. A VAR typically also provides training, maintenance, and ongoing technical support for its clients.
Cloud-Based POS Systems
Cloud-based POS systems operate on tablets and communicate to one another via Wi-Fi and Bluetooth. You can usually set up a cloud-based system yourself, though some robust systems require the assistance of a technician to ensure that everything is properly networked. These systems tend to have a much lower upfront cost than locally installed systems. Since they operate on mobile devices, the user interfaces operate like a big smartphone. Your staff will usually learn how to navigate them intuitively, which can save you time and money with training.
Hybrid POS Systems
Hybrid systems are a combination of locally-installed and cloud-based systems. A hybrid POS communicates via Wi-Fi and Bluetooth, but those communications are routed through a central server in your restaurant. So if your internet connection goes down, your POS will still be able to communicate with your kitchen and spool credit card transactions to be processed as soon as the internet returns.
Each system has its strengths, weaknesses, and ideal applications. Legacy systems tend to come at a much higher up-front cost; around $10,000 to $20,000. But once the system is paid for, you own it with no additional monthly fees. Purely cloud-based systems are the least expensive; some of them, like Square for Restaurants, even have a free option. Cloud-based systems may not be fully operational in an internet outage, though, which is where a hybrid system can really shine.
2. Identify Your Needs
The ideal POS fits seamlessly into your overall restaurant software plan. Restaurant POS systems tend to be highly customizable, because every restaurant is slightly different. This customizability can be a double-edged sword. Customizability makes it possible to fit a POS perfectly to your restaurant's needs. Identifying those needs, finding the right solution, then learning how to operate the customized system, however, takes time.
The biggest complaint I hear from restaurant owners when discussing their POS system is that their system "just doesn't work." Most of the time when a POS system "just doesn't work," it is either because the POS is not the right fit for the restaurant type, or the management team hasn't taken the time to learn the system.
Before you look under the hood of a single restaurant POS system, it is important to consider these basic questions:
How much time do you have? Not just time before your restaurant opens; how much administrative time can you afford to spend on a daily, weekly, and monthly basis tracking and analyzing your restaurant performance?
How much money do you have to spend? It is OK if your answer to this question is "nothing"; there are a few free restaurant POS systems.
What functions do you need? If you have a busy bar, you'll need a system that can start tabs with a credit card swipe. Pizza shops may need a system that can organize menu modifications in a systematic way for their kitchen. Think of this as a wish list. Write them all down.
If you have a management team or business partners, it is a good idea to answer these questions together, since they will be using some or all of the POS functions on a regular basis. I find that rolling in some "quality control testing" of new menu items to the same meeting helps everyone get excited about helping with the POS search.
Once you have identified your basic needs and administrative bandwidth, move on to more detailed considerations like:
Length of contract: Hybrid and cloud-based POS systems frequently have membership contracts. Some pricing is contingent on the length of that contract. Most of these contracts are from one to three years. There are, however, some systems that will allow you to go month-to-month.
Installation type: Some POS systems require a technician to input your menu and network the hardware components. Others require you to do this work yourself.
Payment processing: If you are switching POS providers or moving from a register to a POS, you may already have a payment processor you like (or don't). Most restaurant POS systems only work with specific processors, so keep this in mind during your search.
Hardware: Some systems operate on iPads or Android tablets, while others require you to purchase specific, branded terminals.
Reporting and analytics: Consider what information will help you most effectively in running your restaurant. Reporting and analytics modules on a restaurant POS can be incredibly robust.
Additional functions: You can find restaurant POS systems that can track your inventory, organize your vendor orders, receive online orders, manage delivery drivers, and even monitor your internet reviews and build a smartphone app.
Scalability: If you plan to expand to multiple locations, you will want to start with a POS that can easily grow with your business.
Customer support: Restaurants are busiest when most folks are out of the office. Make sure that customer support is available when your restaurant is in operation.
Training: Many POS providers will send a representative to train you and your staff in person. Others offer mobile training sessions, while some prefer to provide a training database that you and your team can access anytime.
In each of these categories, decide what type solution you prefer. Also, decide if any option is a deal-breaker for you. If you know that you need to work with a POS that will provide on-site training for your staff, then you can immediately narrow your search field.
The Iron Triangle
Restaurant POS systems are related in an iron triangle of time-saving, low-cost, and high functionality. This means that you can generally find a solution that meets two of the criteria, but rarely all three.
For example, it is possible to get an inexpensive, high-functioning POS; Square for Restaurants is a perfect example. But you will need to spend time on administrative tasks to install certain functions and keep your information up to date. On the flip side, if you are short on time and need a POS that requires less attention, you should expect to spend more money on something like Toast or Revel.
3. Plan for Demos
Now, armed with your detailed notes about what specific qualities you need in your restaurant POS, you can begin searching for options. It can be frustrating to search the internet for information about restaurant POS systems and be prompted at every turn to sign up for a demo. If you're opening or operating a restaurant, you just don't have the time. Demos, however, are the very best way to see what the system can do.
Demos are also the only way to get an accurate idea of pricing, even for POS platforms that list their fees and options clearly on their website. This is not because of anything nefarious. During the product demonstration, the team from the POS provider is getting a clearer idea of what your needs are. After the demo, the POS sales rep will send you a customized quote.
To get the most out of POS demos, plan ahead to be in the driver's seat. Write down your specific needs and questions for each system you are considering. Once you decide which systems you'd like to see in action, have your chef and managers take the lead on some of the conversations. Then, get together and share your notes and impressions.
Using a simple spreadsheet like the one below is a great way to organize the information you get from a demo. It also ensures that you and your collaborators are on the same page. To make it even more collaborative, you can create a Google Sheets spreadsheet that contains a page for each demo, demo so everyone can review it and comment.
There are hundreds of restaurant POS systems on the market. To ensure that you and your team feel confident in your choice, plan to demo at least a dozen systems. This may sound exhausting, but it will keep you—and your team—from getting POS FOMO (fear of missing out) when you hear about a different system or a new tool. You'll know that you made a conscious effort to find your best fit, and everyone on the team had a chance to weigh in.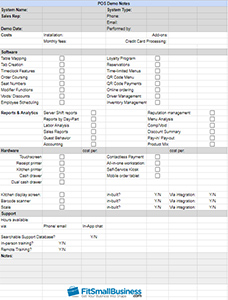 4. Compare Available Integrations
If you have a preferred accounting software, payroll software, scheduling app, or reservation system, make sure they communicate with your POS. Linking these tools together will save you lots of administrative time. When these systems don't communicate, you and your managers will spend several hours every week just gathering information from separate systems in order to calculate your restaurant performance metrics. When your tools all integrate with one another, the software can do most of the work for you.
Restaurant POS systems commonly integrate with:
You may not have selected specific tools in these categories yet. If you plan to add them in the future, however, you should look at what options are available with each POS you are considering. If you are overwhelmed by making all these choices at once, it is a good idea to default to a system with an "open API."
API: Short for "application programming interface." API's are sets of rules that govern how software applications communicate with one another.
An open API simply means that a software tool will allow programming access to its proprietary software. Open API in a restaurant POS allows you to build a programming bridge between your POS and any other software tool you want it to communicate with. Most POS providers will build the API for you at a quoted cost. Or you can hire your own programmer through a site like Fiverr.
5. Ask Fellow Restaurant Owners
Restaurants are a big industry, but a small world. Most independent restaurant owners and managers are happy to share their knowledge with other restaurant folks, and POS systems are a popular topic. POS sales reps are also usually happy to connect you with restaurant owners in your area who use their platform. Many sales reps will actually suggest this to you during your demo, but if they don't, it is always fine to ask.
You can also find other restaurant owners in online communities like restaurant owner Facebook and LinkedIn groups or reddit channels. These are great ways to get honest feedback on the systems you are considering, especially when it comes to customer support and training resources.
Next Steps
Now that you have gathered all the information, it should be very clear which restaurant POS is your best option. Make your choice. Bask in the glow of a calendar that is free of product demos. Your next steps will be to schedule your POS installation, take time to set up the POS system, and train your staff and managers to use all the system's functions.
Choosing a Restaurant POS – Frequently Asked Questions (FAQ)
How much does a restaurant POS cost?
There are restaurant POS systems available at every price point, including free. The most expensive systems cost $400+ per month. Locally installed POS systems tend to cost more upfront than hybrid and cloud-based systems. Though, depending on their monthly subscription costs, you may end up paying more in the long term for a cloud or hybrid POS.
Some restaurant POS systems charge a one-time installation fee. These typically range from $499 to more than $1,000, depending on how involved the installation is and how much information the POS system developers need to input to get the system online.
Total costs can vary widely. A single-location restaurant can expect a ballpark upfront budget of $1,300 to $6,500 for a cloud-based system, $4,500 to $12,000 for a hybrid system, and $10,000 to $20,000 for a locally installed POS.
Can a restaurant run without a POS?
Anyone who has lost internet access on a busy Friday night will tell you that yes, it is possible to run a restaurant without a POS. All you need to do is understand how POS systems work in a restaurant—documenting customer orders, communicating orders to the kitchen, and processing payments— and create manual procedures to complete those tasks.
Since unforeseen events like storms and software crashes can hobble your POS, operating POS-free is a skill that any good restaurant manager should have in her back pocket. On a regular basis, though, operating without a POS is truly only a useful strategy for restaurants that are cash-only, process all payments in advance (as in a ticket-model), or have a limited, unchanging menu (like a doughnut shop).
What is the best POS system for a restaurant?
Toast POS has consistently been our top choice for best overall restaurant POS. It has flexible options for a variety of restaurant types, and blends the accessibility of a cloud-based POS with the customer support of a legacy system. The best POS for you, however, will depend on the style of food you serve, the number of customizations your menu items can have, your sales volume, and the number of revenue centers you use.
For the best-fitting answer, check out our rankings of the best POS systems by restaurant type:
Bottom Line
There are POS options for restaurants of every style, size, and budget. Deciding which system is best for you will take time and attention. If you assess your restaurant needs honestly and plan ahead to make the most out of product demos, you'll be sure to find a perfect fit. Restaurants are a team project. Reaching out to your team for help selecting your POS will ensure that everyone is invested in learning the system and making it work.
If you are currently in the market for a restaurant POS, you may want to start your search with Toast. It offers an affordable cloud-based system with flexible options that can be customized to restaurants of all types. Pricing starts at $79 per terminal, per month. Visit Toast directly to schedule a product demo.