Whether you want to learn how to back up a WordPress site automatically using a plugin, with a managed service, or manually, you can safeguard your business website following our step-by-step instructions. No matter which backup method you choose, it's free and easy to back up your WordPress website.
While you can use a plugin to back up your site, a more secure method would be scheduling backups with your web host. Fortunately, Bluehost includes free automatic backups with its low-cost hosting plans. Get automatic website backups and reliable hosting with Bluehost for as little as $5.45 per month today.
Reasons to Back Up a WordPress Site
According to Forbes, 30,000 websites are hacked daily. Backing up your small business website provides peace of mind knowing that your business' website is protected. It's important to back up your WordPress website frequently in case your site is hacked or your website crashes for some reason.
In the event your site goes down, having a backup means you will be able to restore your website quickly to minimize downtime. The main reason to back up a WordPress site is so you can restore it in the event that your site:
Gets hacked, either directly or via vulnerable plugins
Crashes due to server or plugin problems
Gets malware
Experiences compatibility issues, especially after major updates
Has issues due to human error
Next, we'll explore three different free and easy ways to back up your WordPress site.
Best Ways to Back Up WordPress
When it comes to backing up your business' website, you have different methods to choose from: automated backups using plugins, third-party or managed backups, and manual backups. Each has advantages, and you can also use them in combination so your business has multiple backups should one method fail.
Here are the three basic ways to back up your WordPress site:
Automated backups: Typically done with a plugin, the backup process is automated and done per the schedule you choose
Third-party backups: A separate service, such as ManageWP, that connects to your WordPress website and backs up your website on the schedule you choose
Manual backups: Manually download your database and files to your local computer or to another location, such as cloud storage (Dropbox, Google Drive, and so forth)
Within each WordPress backup method, you have a myriad of options to choose from. We found the best easy and free ways for you to back up your website, no matter which option you choose.
Follow our step-by-step directions below on how to back up a WordPress site using each of these methods:
How to Back Up WordPress Using a Plugin (the Easiest Way)
Here's how to back up your WordPress website the easy way in just four steps:
1. Navigate to Plugins From Your Dashboard
Shortcut: Dashboard > Plugins > Add New
If you haven't done so already, log in to your website's dashboard. From here, navigate to the list of plugins by clicking on "Plugins" in the left column and then clicking "Add New" at the top of the page.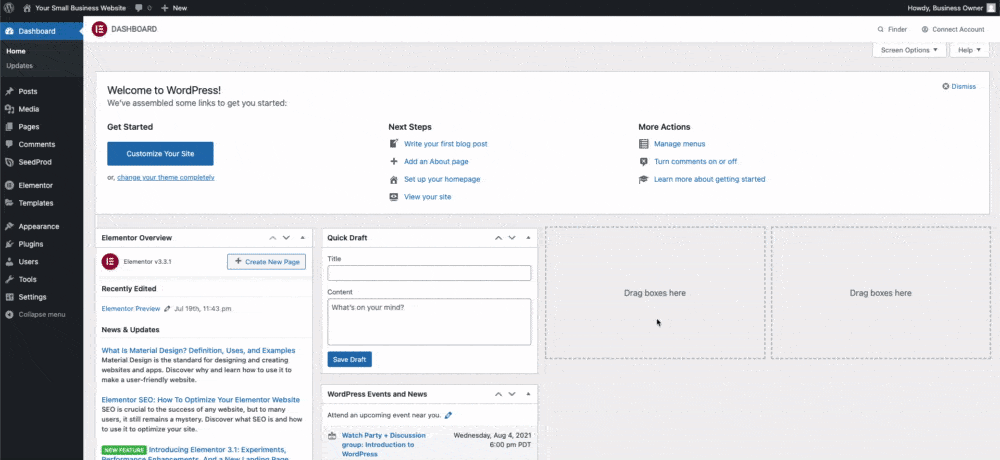 2. Install & Activate a Backup Plugin
Shortcut: Search "UpdraftPlus" > Install > Activate
Next you'll install a backup plugin. We recommend using UpdraftPlus because of its ease of use and its powerful free features. In the search bar on the right-hand side of the screen, search "updraftplus" to find the UpdraftPlus WordPress backup plugin.
There are other good WordPress backup plugin options for you to choose from. If you want to see more options, check out our list of the best backup plugins for WordPress. But for this example, we'll use UpdraftPlus.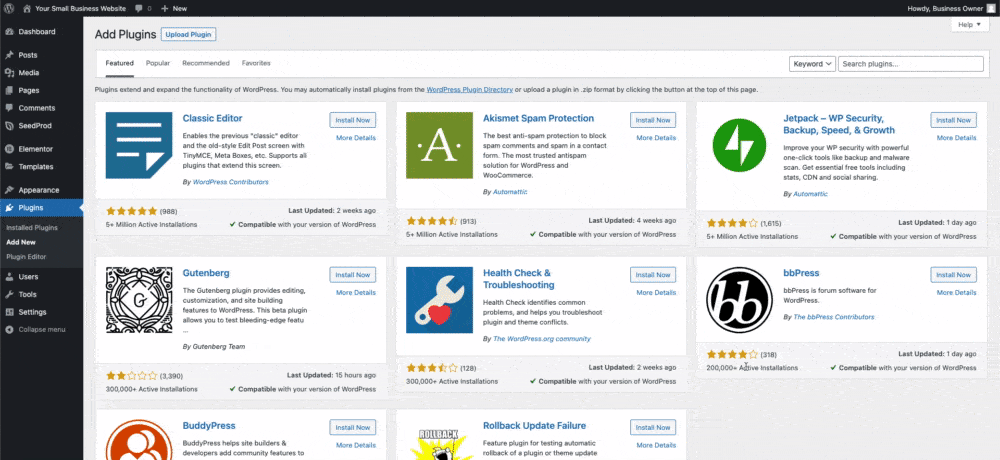 3. Run Your First Backup
Shortcut: Settings > UpdraftPlus > Backup Now
Activate the UpdraftPlus plugin and then click on "Press Here to Start." Next, click on the big blue "Backup Now" button and click "Backup Now" in the pop-up window. Alternatively, you can navigate to Settings, click on "UpdraftPlus Backups," and under the "Backup / Restore" tab, click on the big blue "Backup Now" button.
Depending on the size of your website, your backup may require anywhere from just a few to several minutes to process. Once the backup process is complete, you'll see a "The backup has finished running" message to let you know your site has been successfully backed up.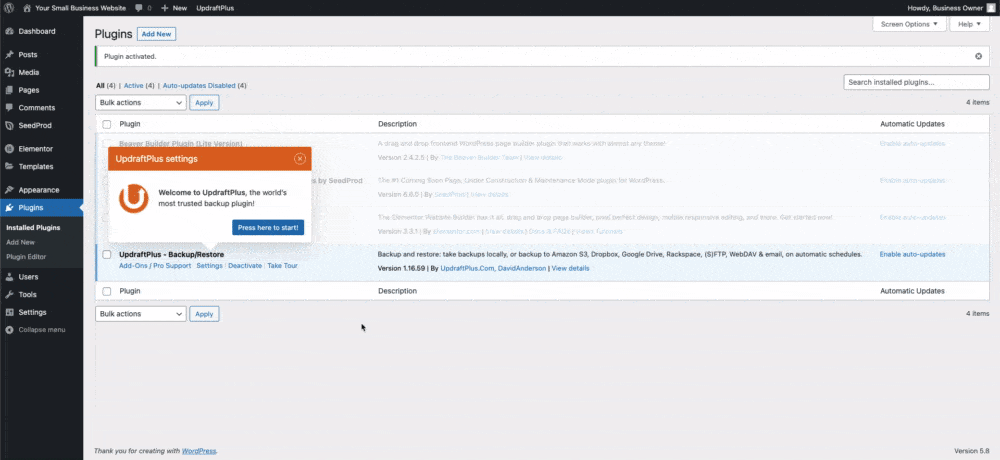 4. Configure WordPress Backup Preferences
Shortcut: Dashboard > Settings > UpdraftPlus Backups > Settings Tab
The last step is to configure your backup preferences. To do this, navigate to "Settings" from your dashboard and click on "UpdraftPlus Backups."
Click on the "Settings" tab in the horizontal menu at the top of the screen. Here, you can schedule backups for your files and databases. We recommend that you back up both automatically at least once a week. However, if you update your website daily or even several times a day, you might want to do daily backups.
To set up your backup schedule, select "Manual" from the drop-down menus and choose the appropriate frequency. Then, select how many archived backups you want to keep; two or three is standard, giving you more than one in case you need to go further back in time or one of the backups doesn't work.
Finally, choose where your backups will be stored, such as on your Google Drive. Select the appropriate remote storage icon at the bottom of the screen and follow the prompts to connect your storage account to UpdraftPlus.
This ensures your backups are automatically stored in a secure location you can easily access from anywhere. If you don't set a remote storage location, the files will be stored locally on your computer or file server. Once you set up your frequency and select your storage location, you've successfully automated the process of backing up your website.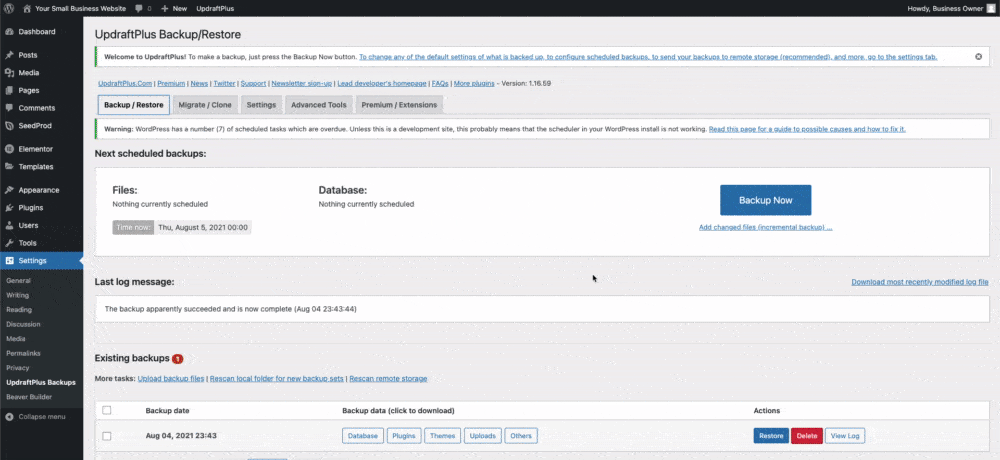 Be in the Know: How to Restore From UpdraftPlus
To restore your business website from backups created automatically by UpdraftPlus, go to WordPress "Settings" and then select "UpdraftPlus Backups." Scroll down to your backups and then click "Restore" to open the Restoration Wizard.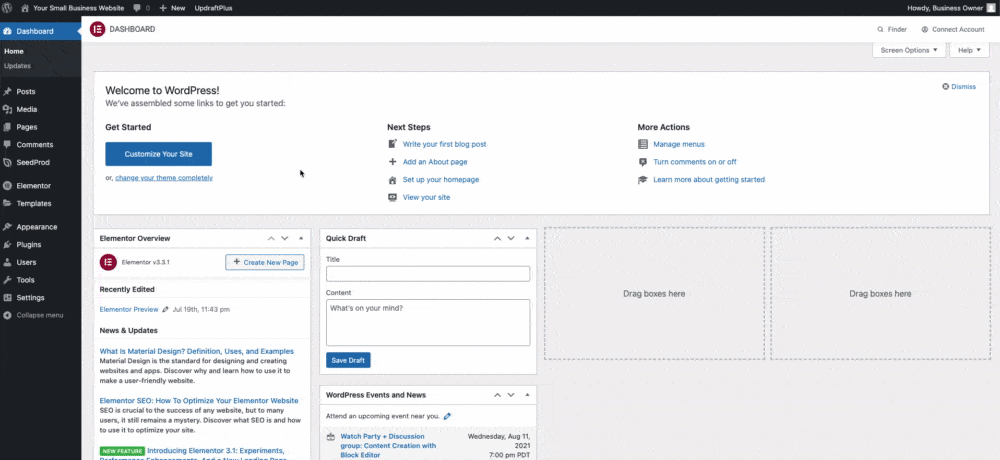 ---
How to Back Up WordPress Using a Third-party Service
Outside of backup plugins, third-party services like ManageWP exist to make the backup process easy and less intimidating. We recommend ManageWP because of its ease of use and its off-site, secure storage of your backups.
1. Install the 'ManageWP Worker' Plugin by GoDaddy
Shortcut: Dashboard > Plugins > Add New > Search: "ManageWP Worker"
Navigate to the plugins section by clicking on "Plugins" and then click on the "Add New" button. Search for "ManageWP Worker," then install and activate the plugin. Next you'll create a free account to allow ManageWP to back up your website.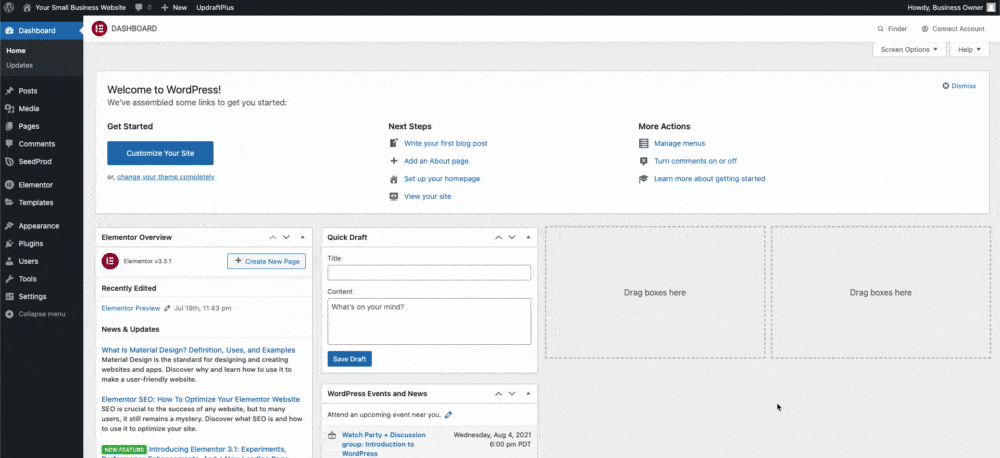 2. Sign Up for ManageWP
Visit ManageWP and sign up for an account. It's fast and it's free.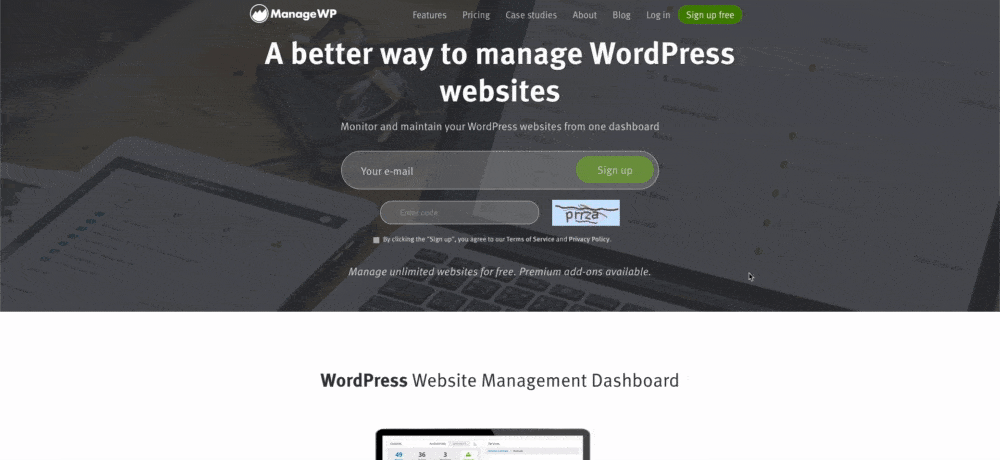 3. Add Your Website
Once you've signed up for ManageWP, follow the directions and add your first website.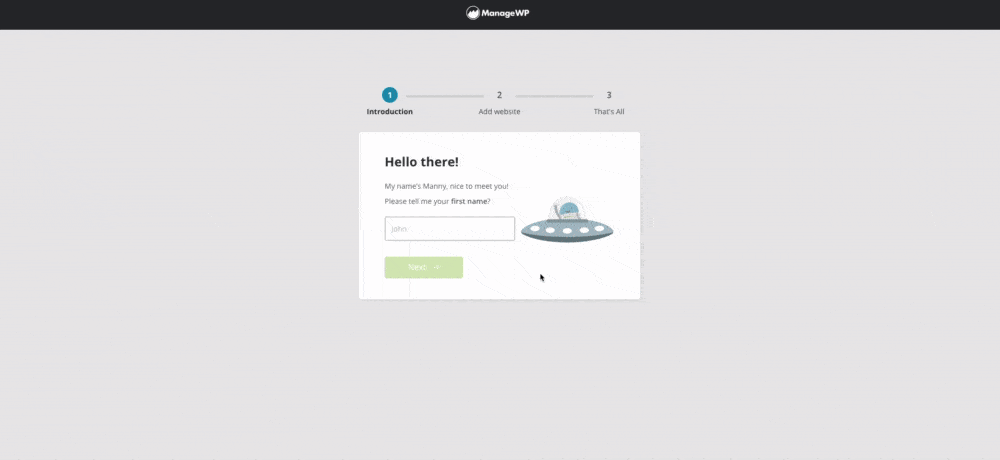 4. Activate Backups
From the ManageWP dashboard, click on "Backups." On the next page, click on "Activate Backups" and on the pop-up, click on "Activate" in the "Free" section.
Once you've clicked on the button, the backup process begins immediately. ManageWP will back up your site once each month with the free version. However, for just $2 per month, you can use ManageWP to back up your WordPress site every week or even every day.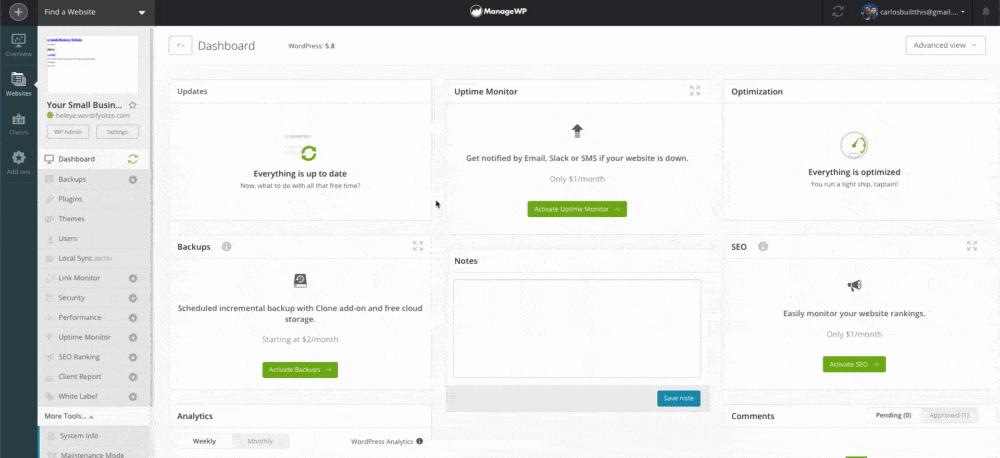 Be in the Know: How to Restore From ManageWP
To restore your business website from ManageWP, click on your website, then click on "Backups," and "Restore Backup."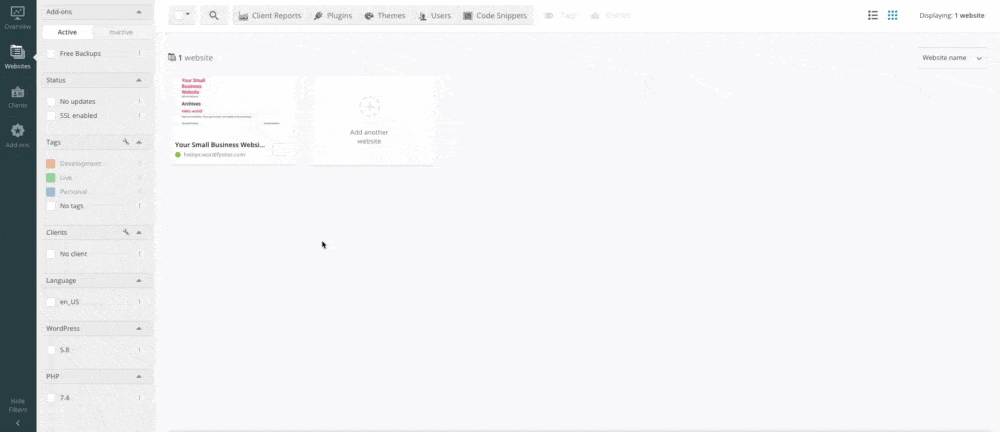 ---
How to Manually Back Up a WordPress Site
The third free way to back up a WordPress website is to do a manual backup. This involves downloading both your WordPress files and your website's database to your local computer or file server. For this, you'll need some technical knowledge and access to your web hosting platform's cPanel account.
Note: Because of the technical know-how required, we strongly recommend that you use plugins or third-party backup services vs manually backing up your site, especially if you're more of a beginner.
Here's how to manually backup a WordPress site for free in five steps:
1. Find Your Database Management System (phpMyAdmin)
Shortcut: cPanel Dashboard > phpMyAdmin
Within your cPanel dashboard, find and click on "phpMyAdmin."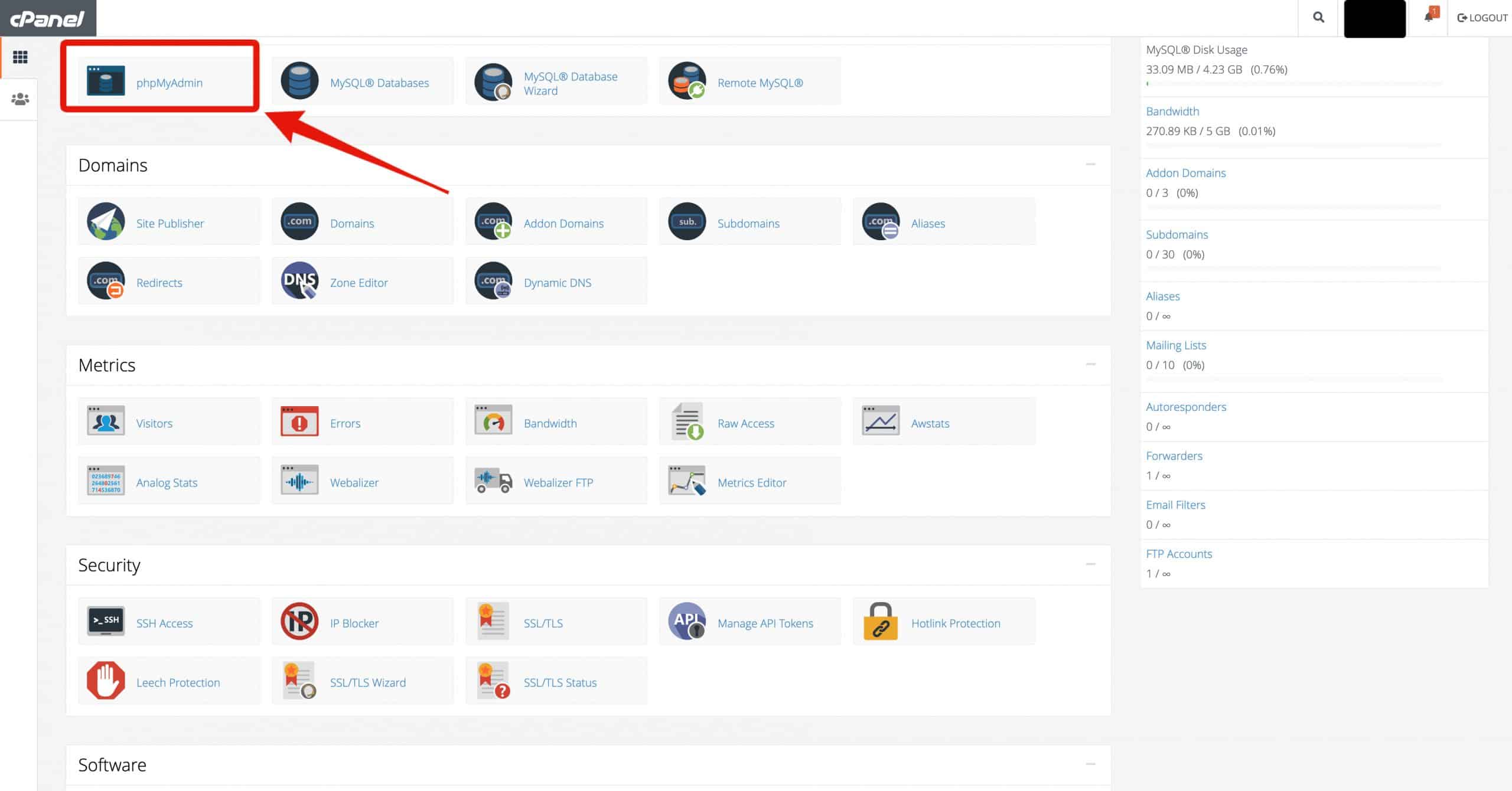 2. Export Your Database to Your Computer or Local Server
Select the database your WordPress installation is currently using (if you only have one WordPress installation on your account, you will only see one database). Once selected, click on the "Export" tab and then click on "Go."
A Structured Query Language (SQL) file will be downloaded to your computer. (SQL is the language to extract and organize the data in a relational database.) You may also have the option to download your database in a ZIP file that compresses it, making it faster to download if you have a large database.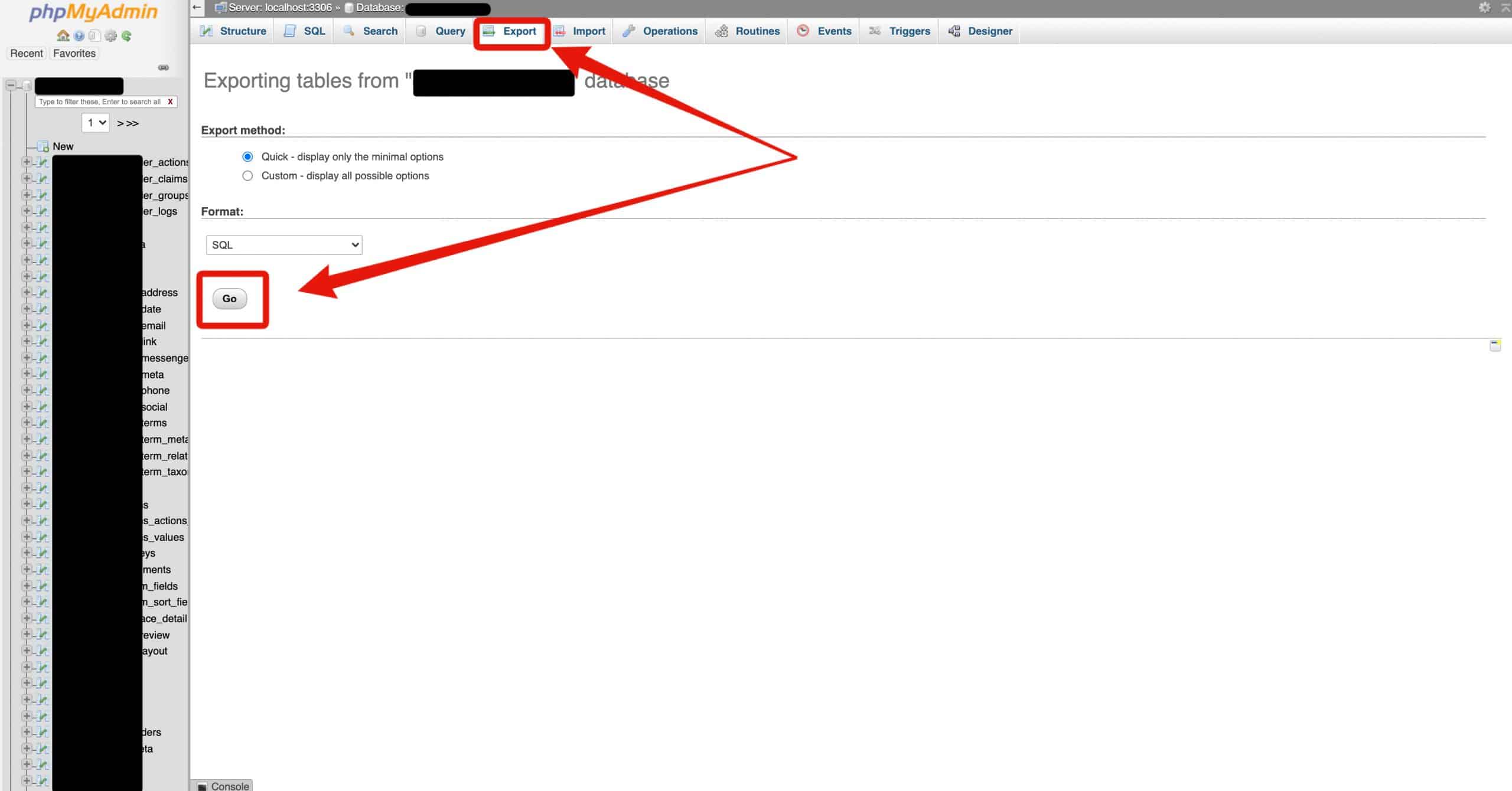 3. Find Your File Manager
Shortcut: cPanel Dashboard > File Manager
Go back to the cPanel dashboard and find and click "File Manager."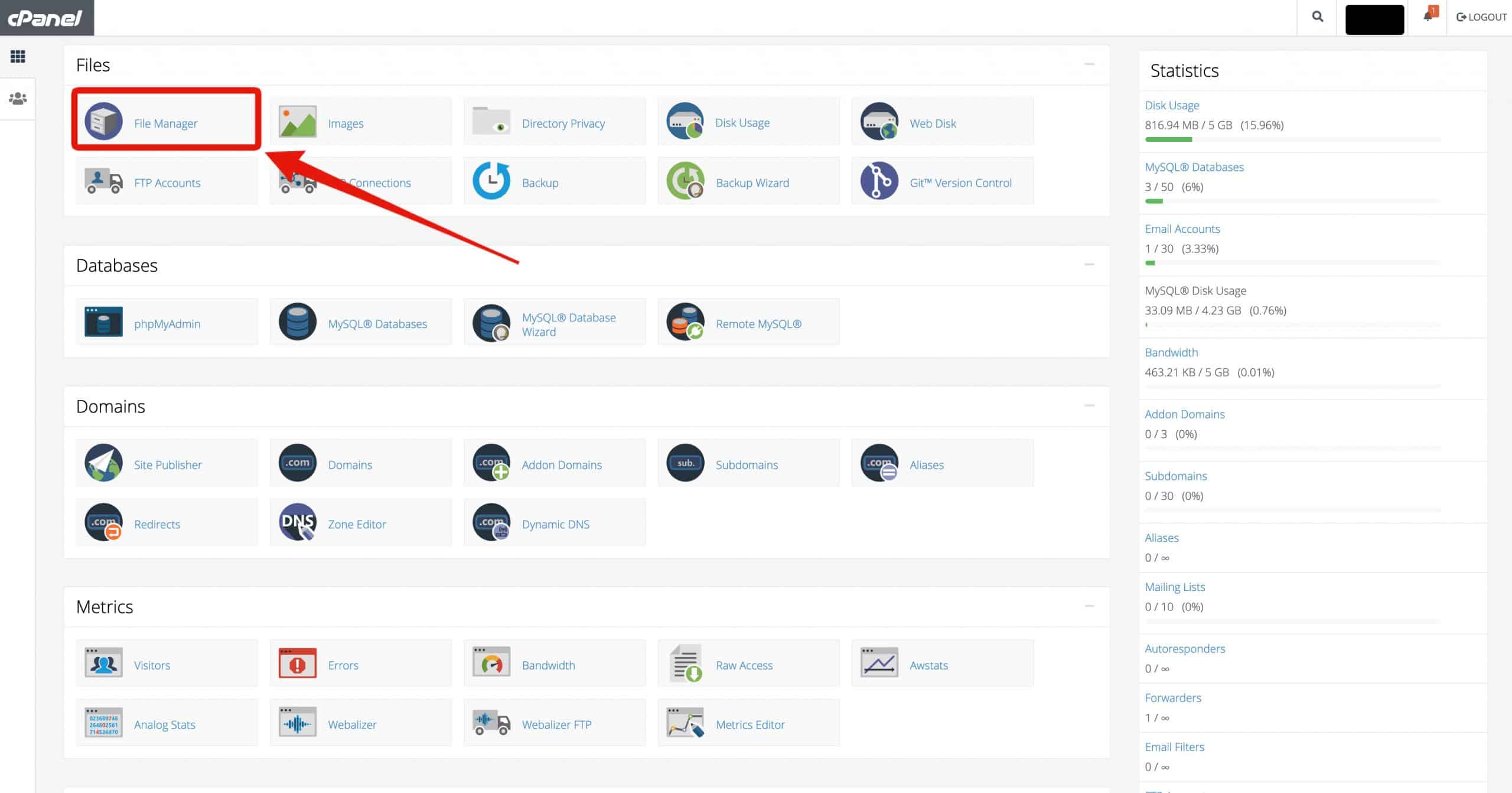 4. Compress Your WordPress Page Files & Folders
On the left, select "public_html" to bring up all the page files and folders your WordPress installation uses. Depending on your hosting provider, "public_html" may be called "htdocs" or "WWW" instead. Select all the files you need to copy and click on "Download." In most cases, you'll be offered the option to compress the files into a ZIP file (or it may automatically be done for you).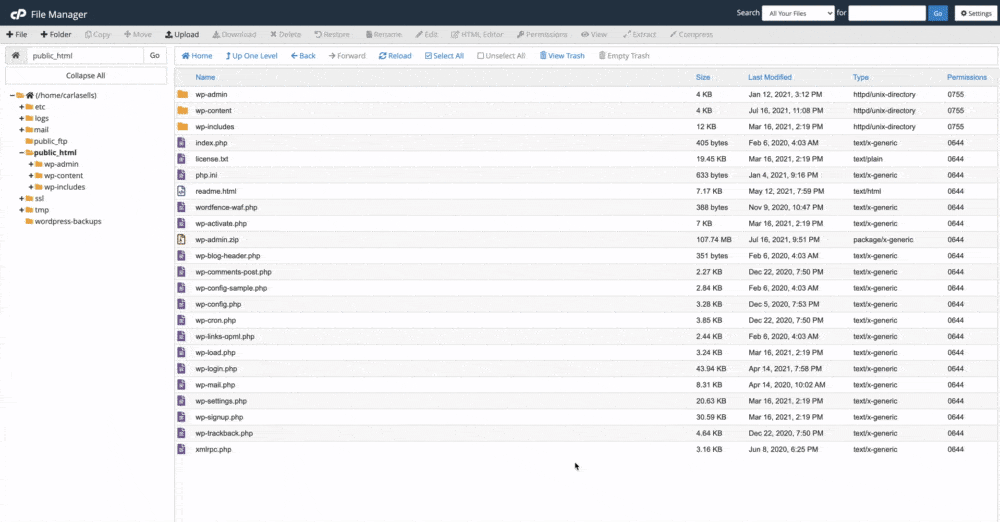 5. Download the ZIP File
Shortcut: Select File > Download
Once the ZIP file is created, select the file and click on the "Download" button to download the file to your computer. Once downloaded, we recommend you delete the ZIP file within the hosting provider's File Manager (not the one you downloaded to your computer or local server) if you need to conserve your storage space.
When both your database and WordPress files have been downloaded, you've successfully backed up your WordPress installation files and database to your computer.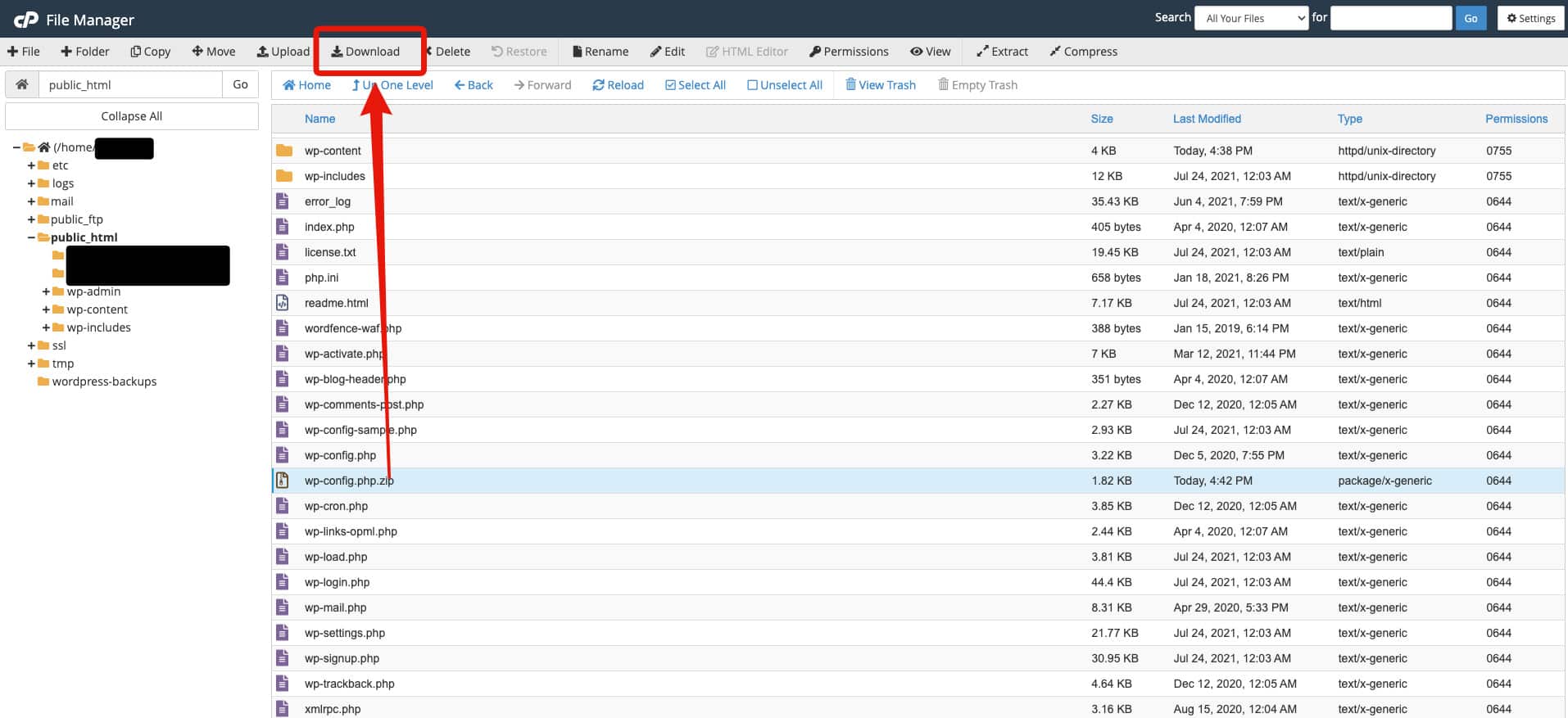 When cPanel Is Not Available
If your provider does not give you cPanel or a similar control panel, you will need to use a File Transfer Protocol (FTP) or Secure File Transfer Protocol (SFTP) app like FileZilla to connect to your account and download the files. Read your web hosting provider's knowledge base help files to connect to your website files, and then download your files and database using FTP or SFTP.
Be in the Know: How to Restore From a Manual Backup
Restoring a WordPress website from a manual backup requires technical knowledge, specifically phpMyAdmin to restore the database. Because of this, we highly recommend you use an alternate method of backing up unless you have experience using phpMyAdmin and MySQL (the database service) experience.
Here are the basic steps to restoring your WordPress website from a manual backup:
Step 1: Delete All Files
Visit your File Manager and delete all the files from the "public_html" folder (or the folder your provider assigned to be used for your WordPress installation).
Step 2: Upload Your ZIP File
Upload the original ZIP file you downloaded to your File Manager. Once uploaded, select the file and click on the "Extract" button to restore all the files into the folder. Delete the original ZIP file to conserve your storage space.
Step 3: Upload Your Database File
Visit your phpMyAdmin and select your database. Find the "Import" tab and upload either the SQL or ZIP file you downloaded. Scroll down and click on the "Go" button.
Note: This is where the technical knowledge comes in. If you receive an error message, you will need to know MySQL commands in order to correct it.
Once the database file is accepted and the files are uploaded, you have successfully restored your manual backup.
---
Frequently Asked Questions (FAQs)
What is the best plugin to back up a WordPress site?
The WordPress website backup plugins with the best reviews include UpdraftPlus, BackUpWordPress, Duplicator, BackWPup, and BackupGuard. Which is the best for your business depends on your budget and needs. However, UpdraftPlus is considered by many to be the best free WordPress backup plugin with a 4.8-star rating from over 5,000 reviews on WordPress.
When do you need to back up a WordPress site?
Regularly scheduled backups are recommended; they should be done at least weekly, but monthly at a minimum. If you make changes to your website every day, or multiple times a day, then daily backups are recommended.
It's also critical to back up your site before major site updates or changes, such as updating your theme or WordPress. This ensures that your data is protected should anything be corrupted or deleted in the update process.
How many backups do I need to keep?
Keep two to three of your most recent backups. This gives you the ability to restore from a couple of backups should you have an issue with your most recent backup, or if you need to go further back in time. Also, keep older backups when making major changes, as there may be times when you would like to revert back to an older version of your site.
Where is the best place to store backups?
Most users store website backups in the cloud. Cloud storage doesn't take up hard drive space and often comes with security features, like data encryption and password protection. The most popular cloud platforms include Google Drive, Dropbox, and Microsoft OneDrive.
Bottom Line
Backing up a WordPress site allows you to protect your site's data should it crash, become corrupted, or inadvertently be deleted. With free backup plugins like UpdraftPlus, you can back up your WordPress site easily, for free, by installing the plugin, activating it, and configuring settings. Restoration of your site using UpdraftPlus is as easy as selecting the archived backup and walking through the restoration wizard.
For the most complete and reliable data protection, get automatic backups through your web hosting provider. We recommend Bluehost—they offer affordable web hosting plans that include automatic website backups for just $5.45 per month, as well as a ton of other features. Secure your site with Bluehost today.
You Might Also Like…