If you want to learn how to be a freelance blogger, you'll need to build your expertise first by creating a blogging portfolio, developing a professional online presence, and learning where to find high-paying freelance blogging jobs. You will also need to master the art of crafting compelling pitches to get those great blogging gigs.
How Much Do Freelance Bloggers Make?
Great question! Freelancers can earn a comfortable full-time income writing blogs; some even manage to do this working part-time hours. Some clients prefer to pay bloggers a flat project fee, while others pay by the word. Experienced bloggers average between 10 cents to $1 per word; the more skilled you become, the higher you can raise your rates.
Starting Out
Some sites offer less: much less … as in one to three cents per word. When you're starting out, you may need to accept a few low-paying projects. This stage helps you build your portfolio. But don't go into freelance blogging expecting to work for sub minimum wages. The more experience you gain, and the better you get at demonstrating your value to prospective clients, the more you'll earn.
Impress Clients and Increase Pay
It's been my experience that when I wow clients they are often willing to increase my fees for subsequent projects. This helps me make even more money because as I get more familiar with a client, I can often complete the work more quickly since I don't have to do as much research as I do for new clients.
You Don't Need Experience, But You Do Need Blogging Skills
You need decent writing and grammar skills to be a freelance writer, but you don't necessarily need blogging experience. That's because all the skills required to write blog posts can be acquired in a relatively short amount of time. In fact, if you'll just devote a few hours a week to building your skills—and creating sample blog posts for your portfolio—you can start earning money as a freelancer in no time at all.
Here are a few things that blog writers need to keep foremost in mind:
Keywords: Bloggers must know how to do keyword research and incorporate appropriate keywords into their blog posts.
Headlines: Blog headlines are key to driving blog traffic, and hence, you need to master the art of writing great headlines. Tip: you can use a headline analyzer to help you with this.
Mobile-friendly: Blogs are often read on mobile devices, which means blog writers should write in short paragraphs and use bulleted lists to make posts reader-friendly.
More personal: Blogs are often written in a more casual tone (though not always; be sure you understand what your client expects).
Know the goal: Companies use blogs to accomplish a goal, such as to educate or motivate a reader to buy something or sign up for something. It's important that as a blogger writer you understand that goal and focus your writing accordingly.
The best way to build your blogging skills is to read a lot of blogs, particularly in the areas that you're interested in writing about. The best way to make money as a freelance blogger is to understand what clients want and to add extra value that others don't offer by nailing all the points just outlined in the bullets above.
"Successful freelance blogging is all about adding value to your clients. My top tip for adding value as a freelance blogger is to learn the art and science of keyword research— for your clients and yourself.

This helps you write content that is centered around well-researched long-tail keywords that people actually search for. Include a focus keyword and secondary keywords when you deliver blog copy to clients. This creative, data-driven approach to blogging helps bloggers stand out from those who ignore SEO best practices."

—Chris Craft, Publisher, InspireFirst
Should I Choose a Blogging Niche?
One of the key decisions you'll make as a freelance blogger is whether to specialize in a specific niche or offer to blog about every topic under the sun. For most freelancers, the answer falls somewhere in between.
Watch Conflicts of Interest
Most clients want to hire freelancers who already have some experience writing in their niche. However, some companies are hesitant to work with freelancers who also work with their direct competitors. So, it's a bit of a Catch-22; if you have lots of experience in a niche, it's easier to land new jobs. But, if you get too much experience with too many clients that compete against each other, you may find it difficult to acquire new clients.
Keep a Balance
Blogging about everything under the sun is fraught with peril, too. It works if you're writing short, lightweight blog posts that require little to no research. But, if you're working on meaty, research-intensive posts, you'll spend so much time getting up to speed on each new topic that your wages per hour will plummet.
Focus on a Group of Topics
I advise new freelance bloggers to focus on a small handful of blogging niches. Start with topic areas where you already have some expertise for which there is demand. If you have trouble finding jobs in the niches you focus on, you can always expand your blogging services to additional niches.
Set Up Your Blogging Portfolio & Online Presence
There are two ways you can go about setting up your portfolio online. The first is to create a portfolio though an online portfolio service and the second is to create your own website. Both have their advantages and disadvantages.
Join an Online Portfolio Website Service
If you are looking for a no-hassle way to build your portfolio quickly, I recommend using an online service like clippings.me. Simply create an account, upload your writing samples, and start sharing your portfolio with the world in an hour or less.
The clippings.me service is free for up to 10 writing samples. If you'd like to showcase more writing samples—and most professional freelancers do—you'll want to upgrade the Professional Plan that costs $9.99 per month when paid monthly or $99 per year.
With a clippings.me portfolio you get to add the following to your portfolio:
Your name
A summary of the services you offer
A brief description about you
Ten writing samples on the free plan—unlimited on the Professional Plan
Links to social channels and your website, if you have one
Your Professional Plan portfolio does not feature the clippings.me brand. If you choose the free plan, the clippings.me logo will appear on your portfolio.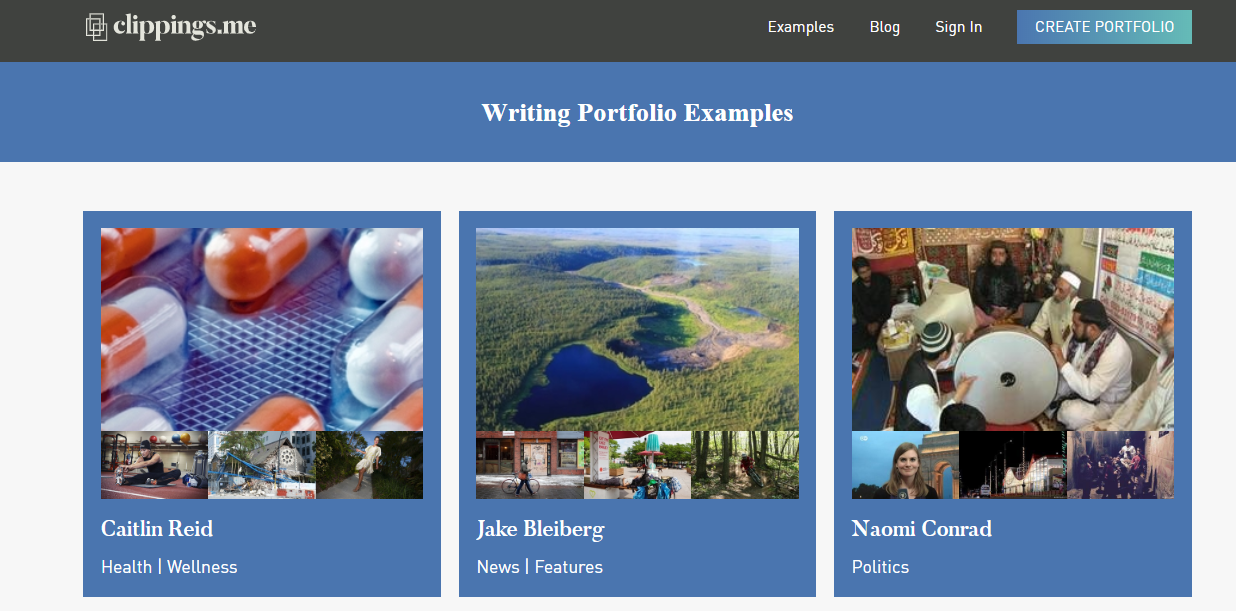 Create Your Own Website
While online portfolio services are the fastest and easiest way to get your portfolio online, you're limited to posting content that they allow. Building your own website may take more time, but it offers more freedom.
The Benefits
A bonus to creating your own website is that you could turn it into a money-making blog by providing services beyond just selling freelancing blogging services. For example, you could add editing, proofreading, and ghostwriting services to your website. Or, you could start selling e-books or coaching services.
Use your custom website to showcase your experience. Feature the types of writing you do, client testimonials and brands, and your writing.
Even better, you can customize your website anyway you want. That flexibility is why I strongly suggest that all freelance bloggers create their own website.
I recommend creating a self-hosted WordPress website with a reliable, low-cost hosting solution like Siteground. Siteground plans start at $5.95 per month for new websites, which adds up to $71.40 for the annual plan. Domains at Siteground cost an additional $15.95 per year.
You could also set up a free blog on Wix or Blogger, but you won't get the customizability that a self-hosted WordPress website gives you. If you're short on funds, though, free sites are an option.
Beware: There Are Many Bad Freelance Gigs Out There
Before I give you the low-down on where to find freelance writing gigs, I feel compelled to warn you that not all freelance writing jobs are created equal. Some are amazing and some are downright awful. I want to give you every advantage possible as you create your freelance blogging business.
Ignore those silver-tongued, self-proclaimed gurus who claim creating a freelance business is all wine and caviar—often consumed next to your mansion's Olympic-size pool. That's not usually how it works.
All Clients and Pay Are Not Equal
Not all clients pay a decent fee and some are irritatingly difficult to work with. Some businesses offer only a few cents per word and expect you to reinvent the wheel for that pittance. While you may need to take a few low-paying gigs to get some experience and build your portfolio, you can quickly increase your income by learning how to find and pitch higher-paying clients.
As for difficult clients who want a Rolls-Royce for the price of a jalopy—and who are going to bug you every hour of every day until you meet their unrealistic expectations—I walk away immediately. Actually, I run. Those gigs and clients are just not worth my time or yours.
Where Do Freelance Bloggers Find Jobs?
There are several ways to find freelance blogging jobs, including general job boards, writing-specific job boards, and signing up on freelancer sites. You can also start knocking on doors of business with whom you want to work. I recommend beginning your freelance job search by speaking with people you already know.
To Find the Best Blogging Gigs, Start With Your Network
Reaching out to people who know and trust you is always the best way to find quality freelance blogging work. Your network already knows how terrific you are, so you don't have to bother with introducing yourself and convincing them that you're amazing. Even better, people you know are often willing to tell their networks about you, too—which can expand your reach exponentially.
Once your online portfolio or website is up, tell everyone you know about it and ask them to share the news with their colleagues, friends, and family. That share is more or less equivalent to a personal endorsement of you and your services. Word-of-mouth marketing is invaluable for freelance bloggers.
"If you want to make money as a freelance blogger, you should work to grow your network. I currently write for four different clients, aside from managing my own websites, and I landed every one of those gigs thanks to my network. There are a lot of ways to find freelance writing work like using job boards, but many of the best opportunities will come as a result of networking.

Make an effort to get connected with bloggers, editors, and other freelancers and you never know what opportunities will open up. People are much more likely to hire you if they know you and they trust the quality of work that you'll provide for them. To start getting connected, you can use social media to reach out to people, email and introduce yourself, comment on their blogs, and attend industry conferences if possible (they're great for meeting people face-to-face).

—Marc Andre, Personal Finance Blogger, Vital Dollar
To Grow Your Network, Be Active Online
If you want to expand your network, join entrepreneur-focused online forums and Facebook groups. It's an effective way to find out who's hiring and what they need.
Your best strategy in these groups is to post often, offering blogging tips and strategies that build your credibility and position you as an expert. Also, answer others' questions, as authentically helpful people are often rewarded with more work.
When you actively participate in online discussions with entrepreneurs and business leaders, you'll soon find your network of prospective clients is expanding. This in turn helps your freelance blogging business grow.
Find Blogging Work via Freelance Sites
Several freelance sites advertise blogging projects. Upwork, Freelancer.com, and Fiverr among the most popular websites for freelancers. Each site has its nuances as to how to get listed as a professional service provider and procure work.
Freelancer sites typically allow businesses to post projects and freelancers then submit job proposals for those projects. Some freelance sites also allow bloggers to post specific blogging gigs they'd like to work on, and then businesses can contact freelancers through the platform to inquire about work.
Here are a few upsides of finding blogging work on freelance sites:
These sites are nearly always packed with projects.
Bloggers can often name their fees on projects, though, ultimately clients decide what they're willing to pay.
New jobs are posted every day.
Here are a few downsides of finding work on freelance sites:
You'll have to sift through a lot of low-paying projects to find better-paying projects.
There is a lot of competition from other bloggers.
Expect the freelance site to charge a fee between 10% to 35% off the total project fee.
Buyers often view a blogger's project satisfaction stats before hiring; as a new blogger, you won't have those stats yet.
While I recommend that you try obtaining freelancing work via these types of sites, don't make this your only avenue for finding work. Also, realize that it will be an uphill battle landing new work, especially at first. The more experience you gain, the easier it will be to land more gigs. Some top freelancers earn five- and even six-figures on these sites.
Find Freelance Work on Job Boards
There are two types of job boards to use for finding freelance blogging work. The first are writing-specific job boards, and the second are general job boards. My No. 1 tip for using job boards is to check them frequently as projects are typically filled quickly.
Here are a few writing-specific job boards:
Here are some general board to check out—and they're all free:
You can also search for freelance blogging and writing jobs on traditional job boards such as Indeed, Glassdoor, or ZipRecuiter. In my experience, though, those options are better for more permanent jobs than freelance work.
Pitch Businesses You Want to Work For
Last but certainly not least, if you're serious about making serious money as a freelance blogger, then reach out to businesses that you feel would make great clients. To find those clients, ask yourself, "What businesses in the niches I cover already have blogs?" Take a look at those blogs, decide whether you'd like to write for them, and then contact those blog owners directly.
While you're not limited to working for local clients, you still may want to be involved in your local chamber of commerce to meet local business owners face-to-face. People are more likely to hire people they've met.
Success Tips for Pitching Your Freelance Blogging Services
The secret to landing freelance blogging jobs with ideal clients is to create an effective sales pitch. Most freelancers make the mistake of beginning their pitch by talking all about themselves and their skills. What most clients prefer to see first, though, is how much you know about them, their business, and their business and their clients.
Here are my top tips for crafting a winning sales pitch:
Do your research on your prospective client—the person you're talking to, not just the business itself—and know who they are and what they do.
Check out the business' current blog and get a feel for its topics, tone, and overarching blogging goals.
Don't tell people what you can do—show them how you get results for others.
Add more value than others bring to the table; that doesn't mean lower fees, but explain how you'll achieve stronger results because you go the extra mile.
Going above-and-beyond when pitching your blogging services to clients is a game-changer. You set yourself apart from other bloggers and you're far more likely to get hired. I once landed an extremely lucrative writing gig—where there were more than 100 others submitting proposals—just by looking at the prospective client's website and providing some basic SEO insights along with my blog-writing proposal.
The Income-Boosting Benefit of Repeat Clients
The process of finding new clients to work with is both exhausting and time-consuming. You can radically increase your freelance blogging income by making client satisfaction your top goal. When you do this, the same clients will hire you again and again-—and you'll spend more of your time making money writing than draining your precious time searching for new projects.
I'd be lying if I said all clients are the same. They're not. Some make their expectations clear, while others are wishy-washy about what they want. Your goal as a freelance writer is to do your best to uncover your clients' needs before you take on a project and then deliver high-quality blog content every single time.
Here are a few ways you can increase client satisfaction:
Clarify writing goals and deliverables before you commence work on any project.
Be clear about writing timelines and never miss a writing deadline.
Communicate regularly with your clients; don't ever leave a client wondering what you're doing.
Make it easy to work with you.
Be courteous and professional at all times.
Be reliable.
Remember, it's easier to keep a client than to find a new one. When you get good at both landing and keeping high-paying clients, your freelance income will soar.
Bottom Line
To be a freelance blogger, it's important that you create an effective online presence, which includes creating a blog portfolio that wows prospective clients. Build your blogging expertise by studying successful blogs and by building SEO skills that you can apply to your writing. To find clients, start with your own network, and then use job boards, freelancer sites, and online forums to land new blogging gigs.
It may take a little time to build a freelance blogging business, but if you're persistent and deliver exceptional results, you can create a comfortable full- or part-time income while working from anywhere.