A home inspector is a person who conducts a thorough visual inspection of a home and its major elements prior to purchase. This article examines how to become a home inspector in eight steps, including license and training requirements. With an average annual income of over $50,000, a home inspector salary can offer a solid living, a flexible schedule, and a fulfilling career.
If you're ready to get started in your career in home inspection, check out the American Home Inspectors Training Institute (AHIT). We loved that AHIT is a convenient, high-caliber option that offers courses both online and in person to get your career started.
Step 1: Confirm the Licensing Requirements in Your State
When examining how to become a home inspector, the first step is to know the licensing requirements in your state. There is no single standard for a career in home inspection that applies in every state. The requirements can vary from no license at all in Idaho to a high school degree, coursework, exam, licensure, and an apprenticeship in Texas.
The map and table below illustrate the variation in requirements from state to state. Of the states that require training, they have a variety of standards that often include some construction knowledge, coursework, training, and passing an exam to operate.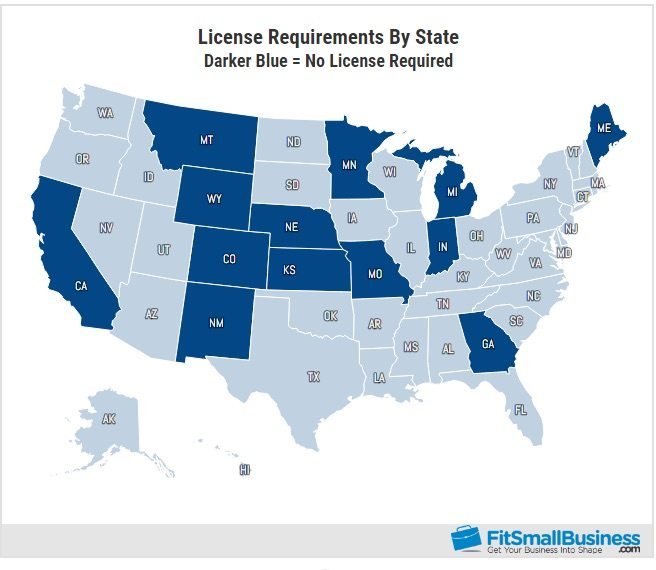 Requirements to Become a Home Inspector by State
The path to becoming a home inspector can vary widely by state. Here are some of the largest states and their requirements as an example of how much training can differ. Be sure that as you pursue becoming a home inspector, you check the regulations in your state licensing office prior to beginning the process.
State
Requirements
California
None
Texas
Pre-licensing courses: 128 classroom hours

Exam: yes
New York
Pre-licensing courses: 140 classroom hours

Exam: yes
Florida
Pre-licensing courses: 120 classroom hours

Exam: yes

Illinois
Pre-licensing courses: 60 hours + 40 experience hours

Exam: yes
Step 2: Increase Your Knowledge of Construction
While construction experience isn't required when learning how to become a home inspector, a primary component of your job will be to judge the safety and integrity of the homes you inspect. Home inspectors are expected to determine the overall state of structural, heating, plumbing, and electrical systems of homes. Having at least general construction knowledge is essential.
It may not seem like it at first glance, but the types of homes out there are incredibly diverse, from historic Victorian mansions to LEED-certified modern homes, not to mention the variety of flat and pitched roof styles and other specific elements that come along with homes built within certain time periods.
Each type of home and its systems have its own strengths, pain points, and areas of particular vulnerability. Having an understanding of how these homes are built, how their heating, plumbing and electrical systems should be safely installed, and what things to look for will bring you one step closer to becoming the type of home inspector people clamor to hire.
If you don't have construction experience…
While most home inspectors start out with some construction experience, it's not necessary to get started. People from all walks of life have started new careers as home inspectors. As long as you're willing to learn and work hard, you can start a successful career. Welmoed Sisson, a licensed home inspector in Maryland, agrees:
"I've met a lot of home inspectors who came from engineering, IT, teaching, manufacturing…you name it. Bob used to be in IT; it was a high-stress/low-happiness job. Friends suggested that since he liked houses and figuring out what was wrong with them, he might like doing home inspections. That was more than 12 years ago, and we've never been happier."
If you don't already have construction experience, the best way to learn is by taking home inspection pre-licensing courses from the right provider. AHIT is known as "the industry's best home inspection training" for a reason. They take you through everything from structural elements to systems using both video and classic materials to be sure you walk away feeling confident in your skills.
Step 3: Develop Your People Skills
When learning how to become a home inspector, no one tells you that people skills will be so important to your career. After technical knowledge, establishing relationships with people in real estate will be the key to success. Building relationships with realtors for repeat business and the customers you serve can be the bread and butter of your income.
Repeat business is the best kind of business, and maintaining good ties with realtors and homeowners in the area often serves as the stabilizing force in your home inspector salary. You may not know if you'll get a call for work during the slower seasons of home buying, but having solid referral sources makes it easier to weather those times.
Realtors often use the same home inspector for multiple deals and refer them freely to clients when they can trust them to do solid work under stress. When a realtor or homeowner calls you for an inspection, it means they are very close to closing their deal. That deal might represent months of hard work and have tens of thousands of dollars in commissions hanging in the balance. They need your inspection to be accurate. I've personally passed on two investment properties because of solid home inspectors who weren't afraid to give me accurate reports when it mattered most.
Step 4: Find Courses and Training That Work for You
While there are many places that offer the standard courses required for getting your home inspection license, AHIT offers some of the best in the industry. When you're ready to start researching how to become a home inspector, AHIT should be the first name on your list. They offer home inspection licensing courses online as well as classroom courses.
The thing we appreciated about AHIT is that it provides not only traditional online courses, but actual GoPro videos that take you through the real world processes of inspection, along with their text learning. It's like being personally mentored on a real home inspection and a feature very few schools, if any, offer.
Here are the 16 areas AHIT covers that can really help you to leave the classroom feeling confident:
Structural
Exterior
Roofing
Electrical
Plumbing
Heating
Cooling
Interiors
Insulation
Ventilation
Fireplaces and Wood-burning Appliances
Pools and Spas
Irrigation Systems and Environmental Issues
Standards of Practice and Code of Ethics
Business Practices
Risk Management Tips for Home Inspectors
AHIT provides thorough education that addresses both the technical aspects of performing your job competently as well as the practical aspects of operating a business. There are so many elements to be sure you cover when you have no idea of the type of structure you'll be inspecting next. We liked that whether you're asked to examine an expansive estate with a pool or a small city row house, you'll leave the classroom prepared.
Step 5: Pass Your State's Home Inspection Licensing Exam
Not every state will require a licensing exam when learning how to become a home inspector, but of those that do, you need to have solid preparation. In the world of changing materials and methods, there is always more to learn, even for those who have been home inspectors for years. Study right and pass the exam the first time.
The best thing to do to prepare for the home inspector licensing exam is to use a study guide and take practice exams. AHIT offers courses as well as an additional study guide you can purchase to prepare for the upcoming exam. While many schools don't publish their outcome statistics, AHIT reports that 90% of their graduates pass the home inspection exam on the first try.
Even if you have extensive knowledge of construction and building systems, you still need to pass your state's licensing exam. If your state requires that you take a licensing exam, don't assume that your extensive knowledge in some areas will carry you to a successful end. The licensing exam is meant to be broad and protect the public from false operators, so it is comprehensive in what it asks you to know.
If your state doesn't have licensing or education requirements, as a new home inspector, you will still need to compete with home inspectors who have decades of professional experience. They have seen it all, done it all, and know it all. In order to stay competitive, more education and training are always helpful, and you may want to consider taking courses to be at the top of your game entering the field.
Step 6: Join ASHI
While there are no laws requiring you to become a part of the American Society of Home Inspectors (ASHI) when learning how to become a home inspector, joining can only help your career. After you've passed your exam, ASHI offers further education opportunities, networking possibilities, and additional specialized industry standard professional certifications.
While getting professionally certified by ASHI requires extensive training and experience, joining now will show your future employer or clients that you take your career seriously. If you're working in a state with no licensing requirements, this is the best way you can show them you take your career seriously.
Here's New York-based home inspector Steve Rosenbaum talking about the benefits of joining ASHI:
"As a home inspector, if you don't belong to a national organization, you tend to operate in a vacuum. Belonging to ASHI national and joining a local chapter allows you to keep current of any changes in the laws governing home inspectors and helps keep you up to date on all of the latest changes in technology and business practices. ASHI stresses education and is the founding principle of the organization."
Bart Hamilton, owner of Pillar to Post home inspection in Cleveland, TN, also recommends joining ASHI:
"I'm a member of ASHI. These organizations establish and advocate high standards of practice and a strict code of ethics for the home inspector members. The mission of ASHI is to set and promote standards for property inspections and to provide the educational programs needed to achieve excellence in the profession and to meet the needs of our members. It also gives clients and customers the peace of mind that their home inspector is trained and adheres to a high standard of practice when completing an inspection."
Step 7: Choose Your Career Path
Once you pass the licensing exam or are otherwise qualified in your state, there are three primary career paths to take in your work as a home inspector. We'll review the positive and negative aspects of working for an established inspection firm, starting your own inspection firm, and buying a home inspection franchise below.
Work for an Established Inspection Firm
Working for an established home inspection company is the easiest way to start working as a home inspector. Since the company will already have a seasoned brand, marketing strategy, professional certification, and a steady stream of clients, you can start working immediately with very little upfront costs compared to starting from scratch on your own.
However, working for an established company can have its drawbacks:
You Often Make Less Money
If you are working for them as an independent contractor, the company will take anywhere from 40% – 60% of the inspection fee charged to the client as their cut. Even though you're not paying many of the startup costs associated with a new business, you will still need to pay for licensing, association dues, tools, and vehicle maintenance. You may even have to purchase your own insurance, so be sure to ask about this if you are considering working for an established firm.
You May Have to Sign a Non-Compete Agreement
Some companies will also ask you to sign a non-compete agreement. This means that you may be legally prohibited from working in any areas the company works in if you decide to leave (at least for a limited period of time). If a company you're interviewing with asks you to sign a non-compete agreement, read it very carefully (or have your lawyer review it) before accepting the job. Non-compete agreements can limit your future growth and income should you decide in a few years that you'd like to leave.
Start Your Own Inspection Firm
By starting your own home inspection company, you can control every aspect of your business. Your potential earnings are also only limited by how hard you're willing to work and your ability to scale your business. An experienced solo home inspector can make anywhere from $50,000 to $80,000 per year doing eight to ten inspections per week. Once you start recruiting new inspectors to work for your firm, the sky's the limit.
However, there are drawbacks to starting your own home inspection firm:
Risks and Expenses
Like many jobs with unlimited earning potential, there are risks and expenses involved with starting your own inspection business. With your own business, you have to consider advertising costs, paying for your own tools, liability and errors and omission insurance, association dues, office space, and vehicle maintenance. All of the overhead expenses heavily impact your bottom line.
Getting Clients from Realtors
The easiest way to keep income consistent as an independent home inspector is to have ongoing relationships with realtors. The problem is that most experienced agents are more than likely already working with experienced home inspectors who they already know and trust. Convincing real estate agents to work with you rather than a trusted, long-time relationship can be extremely difficult, but not unwinnable.
Strong networking, a nice showcasing of skills, or a niche expertise can sometimes get agents to send business your way. For example, if your neighborhood has a lot of historic homes, knowing more about them than other home inspectors can be a real plus. There is an art to knowing and inspecting old electrical systems, slate roofing, steam radiators, and the construction elements of old homes.
Buy a Home Inspection Franchise
When you buy a home inspection franchise, you buy a complete turnkey business that you can start making money with immediately. Buying a franchise can be better than joining an established firm as an employee because you would own your own business, have a recognizable brand, and an already established protocol ready to go.
With a franchise, you will start with the benefit of a recognized brand, marketing materials, relationships with major realty companies, industry-specific software, and often rights to sales territory. However, the cost of buying a franchise can be steep.
In estimates that we examined, franchises can run up to $65,000 once you consider additional fees to the initial franchise buy-in price. Fees such as business licensing, vehicle decals/wraps, software licensing, franchise training, and other add-ons to the initial purchase can add up tremendously and are required to begin business operation.
However, one of the best benefits of choosing a franchise is that you can hit the ground running as soon as you finish your course and pass the exam. Greg Mangiaracina, president and founder of A-Pro Home Inspection, talked about the benefits of buying a franchise:
"From day one, they can enjoy an established internet presence, guidance from corporate office professionals, the wisdom of other franchisees, and marketing muscle that frees up time so they can focus on fostering local relationships – the real key to growing and sustaining a franchise. That takes persistence and dedication. For those willing to put in the hours, owning a franchise can be the ideal choice for launching a home inspection career."
While Greg admittedly has a particular position because of owning a home inspection franchise himself, the benefits he lists certainly exist. It can save a huge amount of time, trial and error, and effort to join a franchise. The only drawback is that the upfront costs are likely higher than starting an independent operation.
If you're interested in learning more about purchasing a home inspection franchise, and aren't sure you have the money up front, we have a franchise financing guide that can guide you through your options.
Step 8: Never Stop Learning
Like any career worth having, a career in home inspection requires you to constantly learn new skills to stay competitive. Building technology can change very quickly, and there are dozens of additional professional certifications you can get to diversify your business and make more money.
Home Inspector Certifications
Here is a quick rundown of some of the new certifications you can get to enhance your skill set and attract new business. Many of these certification courses are free! Click on the links below to learn more about each certification.
Experienced Home Inspectors Love Their Careers
"I started a home inspection business because of the low overhead and high potential income. I went the franchise route with A-Pro, and now 22 years later it turns out to be the best business decision I've ever made."

"The home inspection business is very rewarding for me and my family. I've made six figures for over a decade. Cannot see myself doing anything else."

"It gives me much satisfaction to wake up each day knowing that I will help someone make one of the most important decisions of their lives – buying a home. I love my job! If I had to do it all over again, it would be a no-brainer."
The Bottom Line
Learning how to become a home inspector can pay off. With the average home inspector salary having unlimited potential with a plethora of career options, home inspection can be a great new career with a flexible schedule. It takes hard work to become an inspector, but that hard work can pay off.
If you're ready to take the next step to become a home inspector, check out the American Home Inspectors Training Institute (AHIT), which offers courses online and in-person. AHIT has 90% of graduates pass their home inspectors exam on the first try, and provides quality education. Best of luck as you continue your path in home inspection; homeowners everywhere rely on your expertise for one of the biggest financial decisions of their life.