There are plenty of reasons to buy investment property and become a landlord. For example, it can be a positive long-term investment strategy that provides passive income streams. However, becoming a landlord can be complicated, and it's important to follow the right steps when deciding to take the leap into rental property ownership.
Here are the 6 steps needed to become a landlord:
1. Decide Where & What to Purchase
Deciding on where to purchase a rental property as well as what type of property to purchase are important factors when becoming a landlord. This is because the location and type of investment property will be the first factors in determining your total costs as well as your potential return on investment.
However, if you already own an investment property and are more interested in how to find, screen, and keep good tenants, you can instead start with step number 3: Find Good Tenants.
Location of Rental Property
The location of a rental property is important. It's easier to manage a property if you live or work near it. For example, you can meet with prospective tenants and local contractors more readily. However, you might be able to find better deals outside of your area. If your existing location isn't increasing in value you might want to look elsewhere.
Choosing the right neighborhood can also affect the return you can expect to see on your investment property. Make sure you're buying in a neighborhood that is either already stable or is up and coming. Positive signs to look for include businesses that are getting ready to open, clean streets, working street lamps and well cared for properties. Littered streets, multiple abandoned houses, and neglected neighborhoods are things to avoid.
When looking at locations, check what comparable properties in the same neighborhood sold for and look at the market rents in the area. Using the median rent per square foot in your area will give you good thumb in the air. This will give you an idea of what to pay for a property and what you can expect to rent it out for, which will help you decide if it makes sense to buy a particular property.
Median Rents are based on Zillow Rent Index (ZRI): A smoothed, seasonally adjusted measure of the median estimated market rate rent across a given region and housing type. ZRI is a dollar-denominated alternative to repeat-rent indices. Data acquired from Zillow.com/data on June 22nd, 2018. Aggregated data on this page is made freely available by Zillow for non-commercial use.
Type of Rental Property
In addition to the location, choosing the right type of property is also a big decision when learning how to become a landlord. You can choose to invest in a condo, a single family home, a multi family unit or even an apartment building. Consider your budget and your cash flow goals when deciding on what type of property to invest in.
The type of property you choose will also determine the amount of cash reserves needed for repairs. The larger the property, the more the potential profit, but there can also be more repair expenses. Different properties will have different financing options too. For example, financing an apartment building is different than financing a multi family dwelling or a single family home.
Further, different tax deductions are available for different types of property as well. If you buy an investment property with HOA dues, these dues can be written off as a tax deduction.

2. Understand Landlord Tenant Laws
Part of knowing how to become a landlord is realizing the importance of landlord tenant laws. They are put in place to protect both the landlord and the tenant. For this reason, you need to be familiar with them in order to ensure they work for you and not against you.
If you're familiar with the applicable laws, you will save yourself the hassle of extended evictions, redoing paperwork and unnecessary litigation. These laws pertain to drafting leases, the entire eviction process, fair housing laws, and more. National laws cover fair housing practices but landlord tenant law is mostly comprised of state statutes.
Some things to be aware of include:
Lease lengths (some states have max limits)
The eviction process (widely varies by state)
Tenant's rights to landlord repairs
Choose the Right Legal Professionals
Having the right legal professionals on your team is imperative to being a successful landlord. You wouldn't let a dentist file your taxes, so don't let amateurs help you through the legality of becoming a landlord. Pertinent professionals include a real estate attorney and an accountant. These will help you with landlord tenant law compliance.
A real estate attorney can help you draft a lease, file an eviction and keep you up to date on fair housing laws. They can also keep you aware of zoning regulations and relevant building codes. If you own a triplex but it isn't legally zoned as a triplex, for example, you will need an attorney to help you apply for a zoning variance so the property isn't being used illegally, which can result in fines and violations.
An accountant is also important since they can file your taxes, keep track of your property expenses and even assist you when using property management software. They also know which items can be deducted and which items don't qualify as write-offs. Hiring a CPA for your accounting needs will save you money in the long run by filing your taxes correctly the first time.
Both an accountant and a lawyer can also help you decide what business structure to put around your property. This will ensure that your personal assets stay separate from your business assets. For example, if a tenant injures himself on your property and sues you your personal liability will be less if the property is in an LLC or other entity. After this business structure is decided on, open up a dedicated business bank account to keep all landlord money separate.
3. Find Good Tenants
Good tenants are the most integral part of being a landlord. They can be the difference between positive and negative cash flow. They can make being a landlord a breeze or make it a nightmare. Since they're so important to your long-term real estate investment, make sure you find the right ones.
Advertise to Find Tenants
The first step to finding good tenants is to properly advertise your property. Make sure the property is professionally cleaned, all lights are on and then photograph the highlights of the property. Be sure to include at least one exterior photo, as well as photos of the bathroom, kitchen, bedroom and any outdoor space. These are areas that tenants care about.
Your photos will serve as the tenant's first impressions of the property. Then you want to put these photos and a short but descriptive ad on high traffic sites such as Zillow, Craigslist and Trulia. If you hire a property management company or use property management software to find a tenant they will take care of photographing and advertising your property online. For more information, you can read our buyer's guide on the best property management software.
Also put a "for rent" sign outside the property. You never know who may drive by or which neighbors have friends who are looking to move. It's a bad idea to rent to friends or family but they can serve as good referrals if they know of anyone who needs to find a place to rent. Read our guide on 25 tips for landlords to find out more tips on finding good tenants.
Tenant Screening
The next step in finding good tenants is knowing how to vet them. This can be a tedious process and you don't want to leave anything out since tenant's past payment history is often an indicator of if they will pay rent on time. Tenant screening can be done either by a landlord themselves as well as a tenant screening service or software.
If you do screen tenants yourself, here's what you should look for and require as part of the application process:
A criminal background check
A credit check
Employment verification
Eviction records
Prior landlord references
Employment verification
Pay stubs to ensure they can afford the rent( should make 3+ times the rent per month)
If you're going to manage the property yourself, read our ultimate guide on how to find good tenants. Then check out our buyer's guide on the best tenant screening services to properly screen for good tenants.
Companies like Avail do the tenant vetting for you. They offer property management software which includes tenant screening, online maintenance requests, and online rent collection. Your first unit is free.
4. Sign Tenant to a Lease
In order to keep the good tenants you found, you need to have policies and procedures in place that benefit you as a landlord but are also fair to the tenant. The tenant should be able to know and understand what is expected of him or her up front, which you should as part of the lease agreement.
Jeff Rohde, founder of J Scott Digital and a landlord with 25 years experience, says that his number one piece of advice for keeping good tenants is to start with a good lease.
"I've found the best source for a good lease is residential evictions attorneys because they know that there will always be a percentage of tenants that, no matter how careful a landlord is, won't pay their rent. These attorneys know the law and make it as easy as possible to follow the rules as well as evict the tenant, obtain a judgment, and collect their fee."
In addition to the standard terms, deposit amount, and monthly rental rates, the lease should also include such things as a pet policy on whether or not you accept pets. If you do, you can require a non-refundable pet deposit, typically between $250 and $750. Pet rent isn't as common, but some places (like apartment buildings) often charge between $25 and $75 extra per month per pet.
The lease should also include the penalty for paying rent late. If the rent is more than 3 days late a late fee should be imposed. It is typically 10% of the rent. This will encourage tenants to pay rent on time, which is important to a new landlord so they can pay their bills on time.
However, it's just as important to have policies in place that not only protect you but also reward the tenant. If the tenant pays the rent up front for the year, offer them a discount. It will be worth it since you don't have to worry about collecting the rent or paying someone else to do it. If the tenant refers another tenant to you, give them a referral fee as a small deduction from their rent. These types of incentives encourage good tenants to keep renting from you.
5. Manage the Property
Understanding how to become a landlord often comes with an expensive and time-consuming learning curve. It's best to treat being a landlord as a business, regardless of whether it's full- or part-time. Decide how much time and money you're willing to invest in the management of the property. You can either do it yourself or pay someone.
Manage the Property Yourself
If you have decided that you want to save the money on property management fees, you should manage the property yourself. This is time-consuming, especially in the beginning. It does, however, give you great hands-on experience for the future, such as learning how to deal with tenants.
If you only have one property to manage, it's definitely doable to manage it yourself, even with a full-time job. Over time, you will become familiar with working with contractors and making repairs, making the process easier. This comes in handy if you decide to buy more properties or want to complete a fix and flip project later on.
If you manage the property yourself, make sure to factor in the time and costs associated with advertising the property, as well as getting it ready to be shown to prospective tenants. You will need to market the property, respond to ads, schedule showings and clean the property.
Managing the property will save you money in management fees and rental commissions but it will cost you time. For more information on how to manage a property yourself, including free downloadable checklists, you can read our ultimate guide on landlord checklists.
Pro tip: Schedule prospective tenant showings during one time-frame of two hours. For example, advertise that you're having a rental open house and all prospective tenants should show up between 2 and 4 pm on Sunday with proper identification, proof of income and the application fee. This will save you time on canceled showings and will encourage a buying frenzy since potential tenants will see that other people are also interested in the property.
Hire a Property Management Company
The alternative to managing a rental property yourself is hiring a property management company. This is recommended if you have a demanding schedule or have multiple properties to manage. Outsourced management saves you time by doing the work for you, but in exchange, you give up some of your rental income to pay for their services.
Some property management company services include:
Photographing and advertising the property
Showing the property to prospective tenants
Screening tenants
Drafting leases
Collecting rent monthly
Dealing with maintenance requests
Supervising contractors
Most management companies offer several different management tiers depending on how involved or uninvolved you want to be. If you want the management company to take care of everything, including paying property-related bills, then their top tier service would be required. This varies by company and location but is generally 20% of the monthly gross rent.
If the management company does less work, the fees are usually 10-15% of the monthly gross rent. These fees are deducted from the rent and paid directly to the company before the landlord gets the remainder of the rent.
If a management company finds a tenant and rents out the property they charge a separate fee for that. This is called a rental commission and it can also vary but the industry standard is 1 month's rent. If the tenant pays 1st, last and security deposit before move in, the management company keeps the 1st month's rent and the landlord keeps the last month's rent and the security deposit.
As you can see, hiring a property management company takes away from your rental income but it also saves you time and energy by not having to deal with the property yourself. A property management company is excellent for those landlords who own multiple properties, own turnkey properties out of state, or who are just too busy to be a hands-on landlord.
6. Maintain the Property
Just like you expect the tenant to hold up their end of the lease, they expect you, the landlord, to do the same. Maintaining the property keeps the tenant happy and more likely to pay rent and stay long-term. It also saves you the costly repairs needed if you don't take care of issues as they happen.
Maintaining the property can start with simple things like scheduling consistent pest control services, getting the gutters cleaned regularly and servicing the HVAC units yearly. By checking on the property regularly, you will know what works, what doesn't and when things need to be replaced. It will also keep you aware of damages that the tenant caused.
Part of maintaining the property is keeping property insurance coverage up to date. This insurance is different than your primary residence's coverage since the investment property is covered as if it was a business. Having the right amount – and right type – of coverage can save you thousands if a storm hits, pipe bursts or if the property gets vandalized.
As a good rule of thumb, set aside at least 1 percent of the price of the property to pay for yearly maintenance costs. By properly maintaining the property you're keeping your valuable asset, real estate, in tip shop shape. You are also keeping the tenant in the property which brings you money as a landlord.
How to Make Money as a Landlord
Now that we've covered the 6 steps of how to become a landlord, it's time to find out how landlords make money. The obvious answer is by renting out their property. This is true, but there are also other ways to make money as a landlord.
Landlords make money by renting out the property for more than the sum of their expenses. For example, if a landlord rents out a duplex for $3,600 per month and their mortgage, utilities, insurance, taxes etc come up to $2,000 per month, they will make a profit of $1,600 per month. They can also make money from the price appreciation of the asset itself when it comes time to sell.
Besides rent, landlords also make money by offering tenants upgrades. These upgrades can include updated appliances, portable A/C units or granite countertops. The tenant would pay an extra fee per month to receive these additions. Other common money makers include vending machines, private parking spaces and coin-operated laundry machines. These are more prevalent in apartment buildings since there are more tenants and more space available.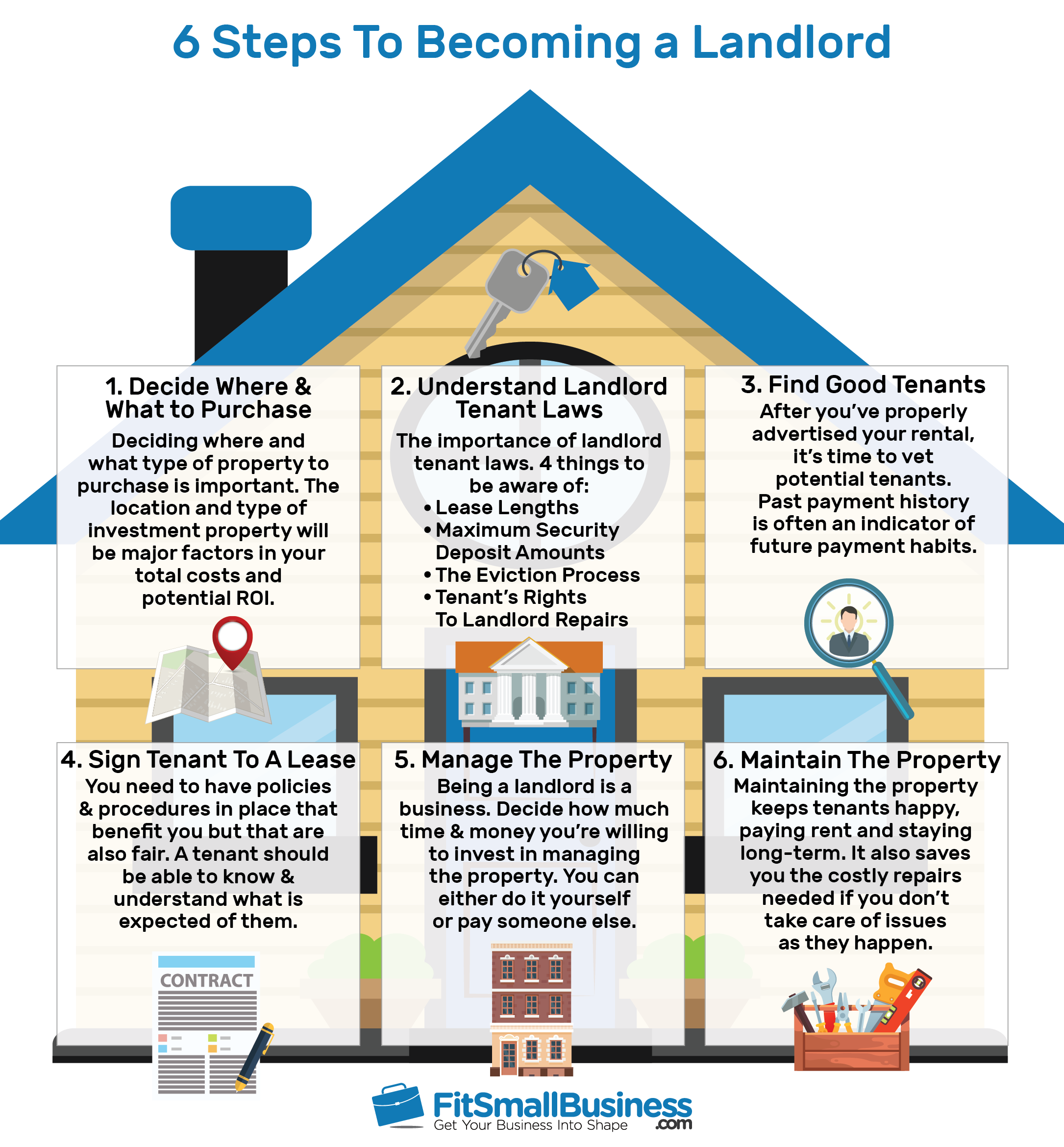 Pros and Cons of Being a Landlord
Being a landlord definitely has its positives and negatives. It can be an amazing full-time or part-time business and it can set you up on a path to building wealth. It can also eat up your time and be a nuisance especially as you first start out. Below are some of the pros and cons of being a landlord.
Pros of Being a Landlord
The pros of being a landlord include:
Having passive income
Owning property that should appreciate and increase your equity
Being a part of the community by owning property in it
Long-term security or a retirement plan
Cons of Being a Landlord
The cons of being a landlord include:
Expensive property repairs
Relying on tenants in order to pay the property expenses
Not having liquidity
A lot of time spent dealing with tenants and contractors
Bottom Line
By following the 6 steps on how to become a landlord you should be able to decide what type of property to purchase and where to buy it, as well as how to manage it. You will also be familiar with landlord tenant laws and know which professionals you need to help you.