How to Become a Real Estate Broker in 6 Steps
To get a broker's license, real estate agents must fulfill required coursework, pass the broker exam, choose a firm or start their own, and establish themselves through marketing and lead generation efforts. A real estate broker is a professional who can own their own brokerage, work within a team, manage and oversee agents, and work individually with clients. This gives brokers more career options than real estate agents, but also takes on a much higher level of responsibility.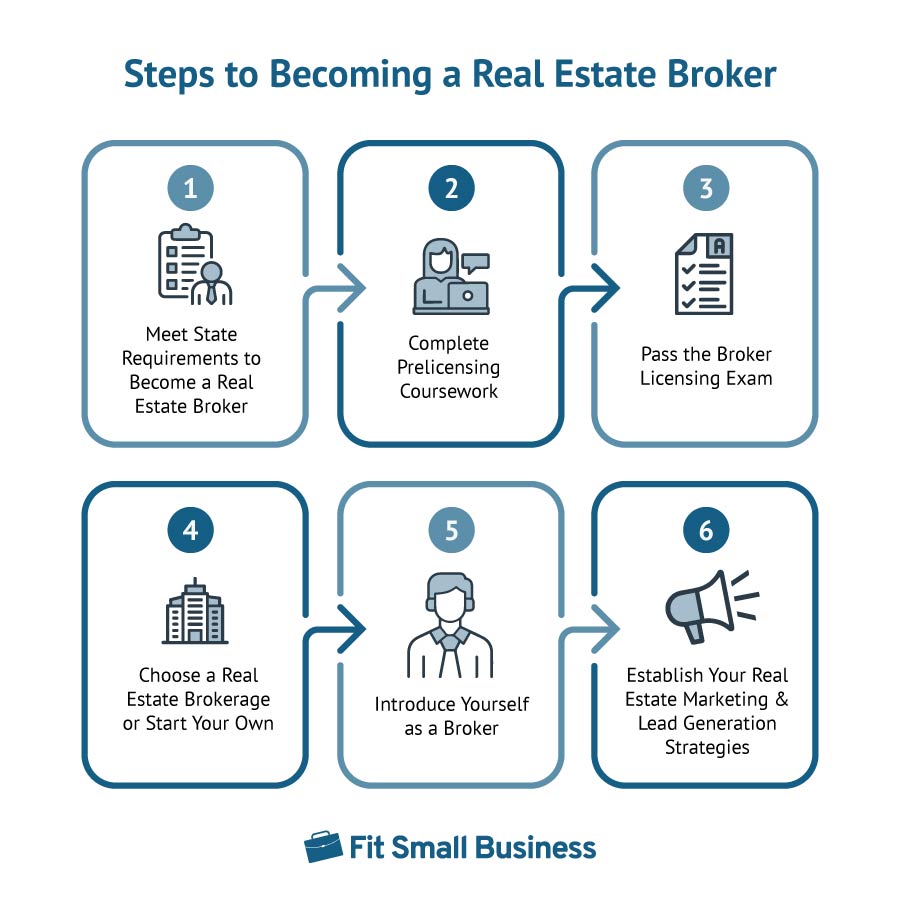 Let's discuss how to become a real estate broker and build a successful business with these six steps:
1. Meet State Requirements to Become a Real Estate Broker
Since real estate brokers manage real estate agents and take on additional responsibilities, almost every state requires previous real estate sales experience. The specific number of required hours or years ranges. For example, Florida requires a total of 24 months of active real estate sales experience within the last five years, so you may still be eligible if you worked part time or didn't close any transactions for a time period. On the other hand, California requires two years of working as a real estate agent for at least 40 hours per week.
Here are a few examples of the real estate broker license requirements in each state:
It's common for each state to also require potential brokers to be a certain age and complete a background check. If you're ready to start the steps to becoming a real estate broker, make sure you start by verifying that you meet all the requirements on your state's official website.
2. Complete Prelicensing Coursework
Becoming a real estate broker is similar to becoming a real estate agent. Once you meet the state requirements, you must complete a specified number of hours of state-approved coursework, which can vary anywhere from 45 to 336 hours.
However, there is a wide variety of online real estate schools that teach you how to become a real estate broker with engaging courses and study tools. Look for a real estate school that provides comprehensive courses, easy-to-navigate course platforms, and affordable prices.
Here are three of the best online schools to help you earn your real estate broker license:
3. Pass the Broker Licensing Exam
After completing the required coursework for your real estate broker license, the next step is to take the state exam. When you're learning how to become a real estate broker, you'll find that the broker exam is significantly more in-depth than the salesperson exam. Some states require more hours of prelicensing education for brokers, and the exams are typically more focused on state-specific details.
For more precise details, make sure to read your state's Real Estate Candidate Handbook. Find it by visiting our guide to getting a real estate license and simply click on your state.
In order to successfully become a broker, you'll need to make a study plan and put in some serious effort to prepare yourself for the exam. Learn more study tips to help you pass the real estate broker exam.
4. Choose a Real Estate Brokerage or Start Your Own
After you learn how to get a broker's license, make some decisions about your new career path. As a real estate broker, you can start your own real estate brokerage if you're looking to be the boss with full control over your business decisions. This career path means you'll become a designated real estate broker responsible for every element of your business, including managing your team members, creating a real estate company name, establishing your messaging, and getting your own real estate website and marketing systems up and running.
On the other hand, becoming a broker who works with an existing brokerage may be a better career choice for you. Managing real estate brokers and associate brokers work within an existing real estate firm, with varying responsibilities like managing day-to-day operations, overseeing agents, or simply working with clients.
Becoming a real estate broker isn't only about earning a broker license—it's also about making the right choices for your career. As you research how to become a broker, make sure you also find out more specifics about what you would do as a designated or managing broker. Plus, don't choose the first real estate brokerage you talk to. Interview and research multiple real estate brokerages in order to choose the right real estate company to work for.
5. Introduce Yourself as a Broker
At the end of the day, your success in real estate won't come from the type of license or title you have—it comes from your networking, marketing, and sales skills. Successful real estate brokers are constantly growing their sphere of influence, which starts by introducing yourself to neighbors, friends, acquaintances, and other professionals as a licensed real estate broker.
This does not mean that you should try to immediately sell to everyone you meet. In fact, that will prevent you from building genuine relationships that are key to real estate success. Instead, simply including your profession in conversations will naturally open the door for questions and discussion. Don't forget to always have a real estate business card ready to hand out to those who may want to contact you in the future.
Stand out even more with a unique business card from VistaPrint. You can get a business card with a simple but unique touch like rounded edges or foil accents, or add a QR code. VistaPrint makes it easy to choose and design a business card that helps people remember you.
Visit VistaPrint
Use Promo Code FSB15 at Checkout to Save 15% + Free Shipping Over $75
6. Establish Your Real Estate Marketing & Lead Generation Strategies
Don't assume that you know how to become a broker until you also know how to build a successful real estate business. Ultimately, every broker's success comes down to their ability to generate, nurture, and convert leads into clients.
As a designated or managing broker, you may also have to teach new real estate agents how to consistently nurture and convert leads. The key to all successful real estate marketing strategies is using the right tools—whether those strategies are based on in-person networking, print advertising, digital marketing, or anything in between.
Whether you choose to go into business for yourself or join a brokerage, it's important to regularly evaluate your marketing and lead generation tools and strategies. This will help you waste fewer resources on tools or strategies that aren't performing and maximize your ability to convert leads and make sales.
Start by looking into four of the top real estate lead generation and marketing tools on the market:
Why You Should Get Your Real Estate Broker's License
Learning how to become a real estate broker may seem intimidating, but there are many benefits to this career choice. There is a higher level of expectations for real estate brokers, but if you're passionate about real estate and committed to working hard, you'll be able to make a bigger impact and experience a fulfilling career.
These are a few notable advantages to becoming a real estate broker:
Independence: As the owner of your own brokerage, you have full creative control over your business and marketing choices.
Higher income potential: While a real estate broker's salary is dependent on the overall success of their business, you have the ability to earn more money than a salesperson without personally working on the same number of transactions.
Higher commission splits (or none): A real estate professional with a broker's license has a distinct advantage over other real estate agents. Hiring or managing brokers value salespeople with more education and experience, so you'll be able to negotiate higher commission splits if you work as an association broker. On the other hand, if you own your own brokerage, you'll be able to keep 100% of your commissions on every sale.
More leads and listings: While not everyone knows the differences between real estate agents vs brokers, many informed clients will choose to work with a real estate broker over an agent.
Increased job security: Many boutique real estate brokerages need a managing broker in order to operate, so you may be able to earn a competitive base salary along with a bonus structure and commissions.
Unique income opportunities: While agents are typically focused on sales, brokers are considered real estate and business experts. In turn, they have more opportunities for jobs and other unique ways to make money in real estate. For instance, many property management firms are required to have a real estate broker on staff, which can open up a new revenue stream.
Bottom Line
If you're considering a career as a real estate broker, make sure you follow the steps and tips above. While earning your real estate broker license requires a significant investment of time, effort, and finances, it can be an extremely fulfilling and lucrative career.