Blogging on LinkedIn is an effective way to establish your credibility, grow your professional network, and generate leads for your business. Getting started blogging on LinkedIn is easy. All you need to blog on this professional networking site is a LinkedIn account and some great ideas for content that will wow your ideal audience.
Sign Up for a LinkedIn Account
You'll need to sign up for a LinkedIn account to begin blogging on the platform. To get started blogging on LinkedIn, you only need the basic free plan. If you have other business interests in addition to blogging, you may want to check out one of LinkedIn's premium plans for career, business, sales, and hiring that range from $29.99 to $119.95 per month.
Once you have your account set up and you've completed your profile, you're ready to start blogging on LinkedIn.
Choose the Type of Blog Post You Want to Create
There are two types of blog content you can create on LinkedIn. You can create a post of up to 1,300 characters by choosing the "start a post" option from your LinkedIn dashboard. Short posts like this are often called microblogs. You can attach a photo, video, or document to these LinkedIn posts.
You can write a full blog post — which LinkedIn calls articles — via the "write article" option on your LinkedIn dashboard. With the article option, you can write in-depth blog posts complete with photos, videos, embedded links, multiple headlines, and basic text formatting. There is a 125,000 character limit for LinkedIn articles.
To create a basic post on LinkedIn, all you have to do is add some text, attach a photo, video, or document if you'd like, and then hit enter. Many bloggers promote content from their websites in their LinkedIn posts.
You can write a longer blog post on LinkedIn in just four simple steps.
4 Simple Steps to Blogging on LinkedIn
To create in-depth, feature-rich blog posts on LinkedIn, click on "Write Article" from your LinkedIn home screen, and you're ready to start blogging. Follow these four simple steps to create your blog article on LinkedIn:
Create a headline for your article.
Write your blog post, embedding images, videos, links, and snippets wherever you want. You can use LinkedIn's formatting toolbar to format text and create sub-headers.
Add a header image to your blog post. LinkedIn recommends images be 744 x 400 pixels.
When you're ready for your article to go live, hit the publish button in the upper right corner. When you do this, LinkedIn will prompt you (see image below) to indicate who you want to see your post (A), write a brief description (B), and add hashtags (C) with keywords related to your post to improve its visibility. When you've added this information, hit the publish button in the lower right corner where your article will go live on LinkedIn.
Your published article on LinkedIn will only be as good as the effort you put into creating it. Always write with your ideal reader's needs and interests in mind. The better you serve your readers, the more likely they are to reach out to you and/or share your blog content with others in their network.
Here are a few of the best ways to write great blog posts on LinkedIn:
Write captivating blog titles that will entice people to read your full article.
Include insightful statistics and little-known facts within your posts.
Add links to appropriate websites (especially your own), as well as links to information that your connections and ideal audience want to know more about.
Write blog posts that are reader-friendly. You can do this by including lots of relevant images in your posts, adding lists or bullets when appropriate, and using short paragraphs.
Viewing Blog Post Drafts & Published Articles
LinkedIn allows you to view how your article will appear on the platform by showing you your draft. When in the "write article" dashboard on LinkedIn, you can access your drafts by clicking on the Publishing menu in the upper left corner of your screen. Here, you can also view drafts to other articles as well as your published articles.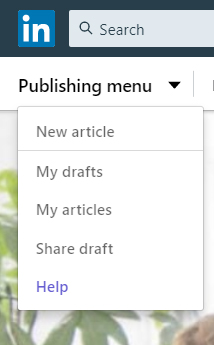 You can also share your drafts with others to get their feedback before you publish an article. LinkedIn will provide you with a live link that you can use to share your draft article (example below).
Editing Published Articles
You can easily edit published articles on LinkedIn. To get started, simply click the "Me" icon on the top navigation bar of your LinkedIn homepage.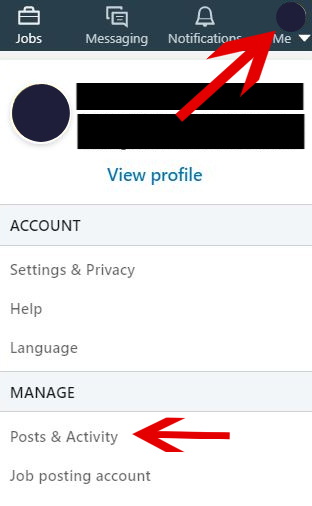 Under "Manage," click "Posts & Activity." A list of posts and articles will then appear along with an edit button. When you finish making your edits, simply click the publish button, and your edited post will appear on the LinkedIn platform. Once edits are made, you won't be able to return to your original article. If you need to retain the original document for any reason, you'll want to make a copy and store that off the LinkedIn platform.
LinkedIn will not tell your connections that an article has been updated. Hence, if you're making significant changes to your content that you feel merits special attention, you'll need to direct your connections to your revised article via a separate LinkedIn post.
How to View Analytics for Your Blog Posts & Articles
Post analytics are available for 60 days, while LinkedIn article analytics are available for two years. To see how many views, comments, and reactions your posts and articles have received, you'll need to:
Click on the "Me" tab from your LinkedIn homepage.
Under "Manage," click on "Posts & Activity."
Once you're on the "Posts & Activity" screen, you'll see an option to look at all activity, or just article or post activity. Statistics for total views, comments, and reactions appear below each of your blog posts and articles; these statistics are not visible to others.
Why You Should Consider Blogging on LinkedIn
There are more than 65 million professionals on LinkedIn in the US, making it the most popular social platform for business professionals. Here are just a few of the many reasons you might want to start blogging on LinkedIn:
Expand your professional network.
Attract new clients for your business—LinkedIn can be a useful tool for lead generation.
Demonstrate your knowledge and expertise to help you land a new job.
Better serve your existing clients and business connections who frequent LinkedIn.
Attract higher quality job candidates for your organization by demonstrating how great your company is.
The Pros & Cons of Blogging on LinkedIn
Blogging on LinkedIn has both its advantages and disadvantages. Here's a look at the top pros and cons of blogging on LinkedIn:
Top Pros & Cons of Blogging on LinkedIn
| Pros | Cons |
| --- | --- |
| It's free and easy. | Blog post scheduling is not available on LinkedIn. |
| LinkedIn has the most extensive base of business professionals online. | You have little control over blog design due to limited blog formatting options. |
| Your blog posts and articles are easy for readers to share on LinkedIn. | You and your audience cannot automatically share your posts on other social networks. |
| You can use a CRM for LinkedIn integration. | LinkedIn controls who sees your posts. |
| LinkedIn offers basic post analytics capabilities. | Advanced analytics capabilities are not available. |
| Great way to showcase your expertise and build your professional credibility. | You can't collect emails directly on the channel (you can on your own website). |
| | There's a lot of competition for attention in LinkedIn feeds. |
| | Limited SEO capabilities, which means limited visibility for your posts on search engines. |
| | No comment moderation capabilities. |
The Best Alternative to Blogging on LinkedIn
While it's super-easy to start blogging directly on the LinkedIn platform, you will likely achieve your blogging goals more quickly and effectively by creating your own website.
Building a website has many advantages. First and foremost, on LinkedIn, you're just one of the millions of contributors on the platform, while on your website, you and your business take center stage.
Creating your own website gives you far more control over how your content looks, who sees your blog posts, and how you go about generating business leads. With your website, you also have a far better chance of having your blog posts rank on Google. That's because LinkedIn doesn't offer the same search engine optimization (SEO) features and capabilities you can execute on your own website.
With your blog, you have complete control over design, branding, email capture, post length, SEO, analytics, and comment monitoring. For all these reasons, you can make more money blogging by setting up your own blog.
Start a Self-Hosted WordPress Blog
If you want to receive the highest return from your blogging efforts, I recommend starting a self-hosted WordPress blog using Bluehost as your hosting provider. WordPress is the most popular blogging platform in the world. Bluehost offers dependable and secure hosting solutions that start at just $2.95 a month—a minimal investment for anyone focused on building their business or professional online presence.
Promote Your Self-Hosted Blog Content on LinkedIn
Instead of using LinkedIn as their sole blogging platform, the most successful bloggers use the social channel to promote content from their blogs. Doing this gives bloggers the best of both worlds; the bloggers get to tap into the power of LinkedIn's enormous business user base while retaining complete control of their online presence through their websites.
Bottom Line
LinkedIn is the largest social network for business professionals. It's both easy and free to get goal is to monetize your blog, you may want to consider creating a self-hosted WordPress website and use LinkedIn to promote your blog.