How to Choose Help Desk Software for Small Business in 8 Steps
Choosing the right help desk software enables your business to maintain quality and efficient customer service and support. To pick the right platform, identify the communication channels that resonate best with your customers and determine the solution based on your business needs. From there, narrow down products based on price, essential features, user reviews, and your experience during a free trial or demo.
In eight steps, let's explore how to choose help desk software for small businesses.
1. Identify Customer Communication Preferences
Since the purpose of help desk software is to resolve customer issues and assist with inquiries, it is crucial to provide customers with communication channels they are most comfortable with. If they feel it's a hassle to get in touch with service reps or agents, they could end up leaving you as a customer altogether without a second chance. Support channels are the most important feature in help desk software and should be a significant factor in the provider you choose.
Generally, offering omnichannel access is the way to go, as it allows customers to choose from multiple options based on their issue or request. The chart below shows the primary channels your customers will likely expect, along with their advantages and disadvantages.
Channel

Advantages

Disadvantages

Phone

Offers personalized, one-to-one service
Resolutions can happen in one conversation

Access is contingent on time zones
Service reps can only manage one call at a time
Customers could get annoyed if they are waiting in a queue
Reps must be properly trained to handle on-the-spot questions and requests

Email

Reps can respond to requests at their own pace
Communication is documented and tracked
Some customers are more comfortable without vocal conversations

Takes longer to respond and resolve cases
Doesn't have a personal touch as it is behind the screen

Live Chat

Businesses can automate this channel using chatbots
Agents can handle multiple customer cases at once
Resolutions can happen in one conversation
Customers get real-time responses

Doesn't have a personal touch as it's behind the screen
Access is contingent on time zones

Social Media

Customers can easily post reviews
Businesses can manage and view social media reviews

Requires customers to have a profile for that platform
Risks overlapping communication between sales or marketing teams

Knowledge Base & Blog

Businesses can save time not managing recurring issues
Customers can resolve issues through a read-as-you-go service process
Some customer prefer self-service options

Takes a lot of time and money to write the content
Content must be updated as products or services evolve
Doesn't always have the information customers need

Community Forum

Businesses can save time by letting customers help each other out
Offers a great source for new product or service ideas from feedback

Requires constant oversight to prevent spam or inappropriate posts and comments
Negative comments can damage your reputation

Frequently Asked Questions (FAQs)

Businesses can save time not managing recurring issues
Some customer prefer self-service options

Content must be updated as products or services evolve
Doesn't always have the information customers need
Pro tip: Customer relationship management (CRM) systems such as HubSpot use a modular approach for businesses to pick their features and communication channels based on "hubs." In the customer service hub, for instance, service teams offer omnichannel communication through email, live chat, or social media channels and create a knowledge base library with helpful articles. There's even a customer service portal designer for customers to submit requests or receive self-help resources.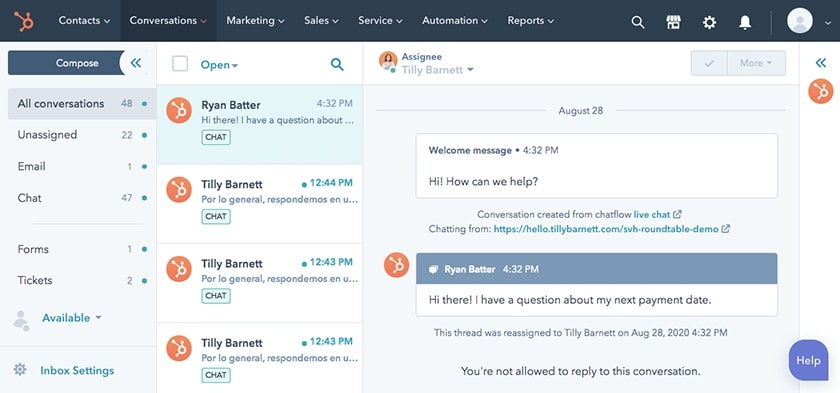 ---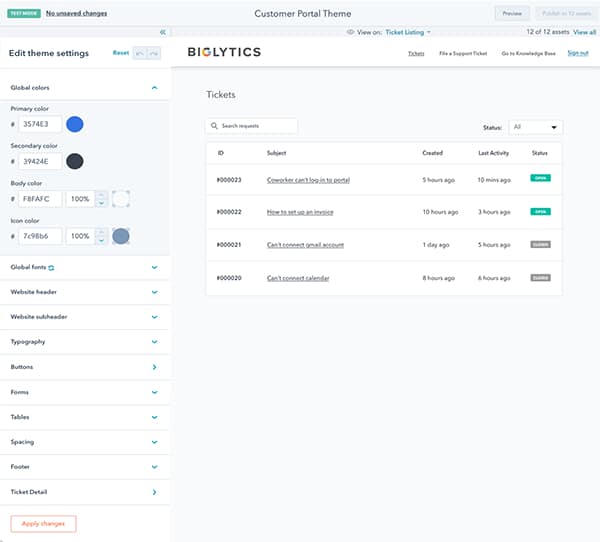 ---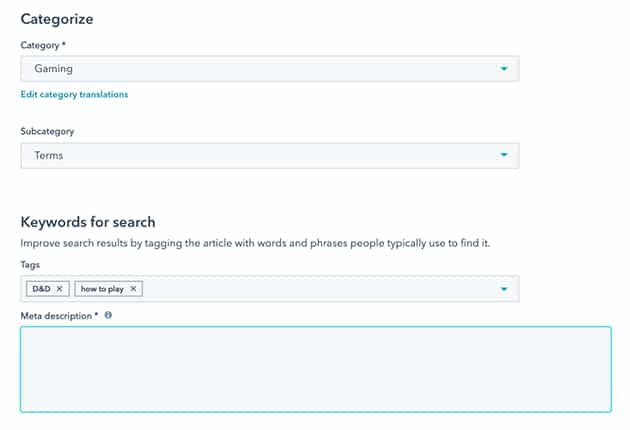 ---
2. Determine Operational Requirements
In addition to communication channels, there are other feature requirements to consider based on your business and unique help desk operation. Like the service channels, these requirements must be considered when deciding on a product. Some examples of these types of capabilities, either in built-in modules and tools or outside integrations, include:
Ticket and case management: When customers make specific requests due to product, billing, or account issues, those inquiries come in the form of tickets or cases. Support teams need a system to help organize, assign, and resolve those tickets and automate case management workflows.
Billing and payment processing: Many businesses use online payments or invoicing for customers to pay via credit card, direct deposit, or automated clearing house (ACH). In turn, they need features that allow them to monitor those payments and offer potential refunds or discounts to dissatisfied customers.
Document storage: This feature is particularly useful in highly regulated industries such as insurance, financial advising, accounting, and tax preparation. It gives businesses a system for storing and organizing critical customer documents and lets them better address inquiries by having easy access to relevant information.
Project management: For businesses requiring a lot of back-end work to provide their product or service, as seen in software development services, a customer case or ticket might require various input, collaboration, and resources to resolve. In this case, teams will need a project management system to oversee all tasks, milestones, and activities associated with a project.
Content management or hosting: In addition to a knowledge base or blog, a business might use videos to give customers self-service capabilities. That means they need capabilities to create and host that content, as well as organize it into an elaborate library.
On top of features that help complete and organize customer support activities, businesses with larger help desk operations need reporting and analytics tools to monitor and improve their operations. In HubSpot Service Hub, customer support managers can get full reporting on team and individual ticket management. With that, they can evaluate ticket resolution efficiency and see where the help desk bottlenecks are in the system.
3. Consider Your Technology Solution Needs
Small businesses need to narrow down their options by selecting a specific technology or product type. This takes into account whether or not you'd also like to manage sales and marketing activities in one interface, or if you are looking for specialty products with one or a few channels and features you need.
Note that some products, such as CRMs, can check multiple boxes since they often integrate with third-party tools and communication software. Plus, they have an array of built-in features. Below are some solution options you can consider for your small business based on your needs:
Solution Type

Best For

Examples

Customer Relationship Management (CRM) System

Businesses that want to manage direct sales, leads, and contacts with their

customer support

operations

Marketing Automation Software (MAS)

Teams that want omnichannel options to manage marketing campaigns and customer service inquiries

Association Management Software (AMS)

Nonprofits and trade associations specifically looking to manage a member help desk

Customer Experience Management (CEM) System

Businesses that need multiple channels and tools to deepen client relationships and manage support operations

Email Software

Customer support teams that exclusively want to resolve requests through email

Live Chat Tools

Help desk reps looking to appeal to newer generational preferences by assisting through manual or automated chat messaging

Help centers that need elaborate systems for receiving and placing calls to customers and managing a waiting queue
4. Evaluate Help Desk Features & Interfaces
Once you know the type of customer service software product you want, begin conducting online research via provider websites and buyer's guides to see which one best meets your feature requirements. As you undergo this process, keep your expectations in check and be mindful that one product might not have all the features you want.
Therefore, you should identify the non-negotiable features as a filtering mechanism. For example, if ticket management and live chat communication capabilities are must-haves for your business, you should only consider platforms with both features. Also, consider general attributes such as user limits, file storage capacity, system customization, automation options, and the number of third-party integration options available.
Zoho Desk, along with its native CRM and marketing products, for example, is well-known for its high-level system customization. Users can adjust page layouts, data fields, status options, help center pages, and templates for emails, responses, and tickets. This specific product function lets your technology meet your unique help desk management needs.
Additionally, consider the system's interface as you look through product images or videos online. The ability to easily navigate customer service software is essential to a solid user experience. If you or your service team members don't have much experience using a CRM or customer service software, the product's usability ratings will need to carry much more weight.
5. Compare Pricing Options
After features and functionality, consider any budget restraints you have. Note that some products offer a free-forever plan, which is the perfect solution if it has your desired features. HubSpot Service, for example, has a free option for unlimited users with access to ticketing, live chat, and a shared inbox for help desk reps.
If your narrowed-down list of help desk tools doesn't offer a free option, set your spending limits. Most products do monthly or annual billing commitments—typically on a per user, per month basis. Determine what that spending limit is, compare each product's tiered plans to ensure it contains your must-have features, and eliminate any that fall outside your budget range.
Pro tip: Want to use free software for your help desk operations? Check out our in-depth buyer's guide on the top free customer service software for 2022. Here you'll get insights on feature comparisons between providers and best-for scenarios to help you best navigate the marketplace.
6. Read User Reviews
By now, through filtering based on feature requirements, interface design, and pricing, you've likely narrowed your search down to a few solid help desk software options. Now is the time to check out user reviews on popular software review sites like G2, Capterra, GetApp, and TrustRadius. These websites post real user reviews and summarize each platform's most common pros and cons.
7. Use Free Trials & Product Demos
Nearly all CRM, help desk, and customer support products have some type of free trial, typically ranging from one week to 30 days. Trials, as well as product demos by the provider, are great opportunities to get a final evaluation of the narrowed-down selection by seeing it in action. You can use the tools and navigate the interface to ensure it meets your all-around usability requirements and ensure the features operate as advertised.
If offered, it's recommended using both the trial and the demo. While trials let you operate the system on a temporary, free subscription, demos give more insight into concerns specific to your business. You can ask questions about the product while a trained specialist addresses them and shows you how something works in a live setting.
8. Subscribe & Adopt
The last step is simply making the purchase and adopting the customer service software. Some providers offer onboarding assistance and training for new users to become comfortable with the system. Migration specialists for certain software platforms also help you import data from another source, such as a previously used help desk software or Excel sheet, into the new platform.
Product adoption, or getting your users to use new software to its fullest capabilities, is a common challenge for all types of businesses. To get the best results, be sure to check out our article on six ways small businesses can increase CRM adoption.
Top Help Desk Software Platforms
Customer service, customer experience management, and help desk support encompass various communication activities and tasks. Therefore, a single platform that manages these functions could be a combination of integrated external tools or a specific module, often within customer relationship management (CRM) software. Below are some popular examples of help desk software products.
Provider

Starting Prices

Best For

Free to $15 per user, per month

Businesses looking to communicate with customers and receive omnichannel requests

Free to $45 per month

(up to two users)

Customer service teams needing free live chat and ticket management solutions

$19 per user, per month

Firms looking to provide a wide range of self-service support options

Free to $14 per user, per month

Businesses that need robust customization options in their help desk system
Customer Service Preferences & Help Desk Software Stats
Investing in customer service software allows teams to stay organized and provide efficient support—helping retain business, boost satisfaction, and improve brand reputation. These stats show the importance of service desk technology and offer insights into today's customer preferences you should consider in your platform selection.
Bottom Line
When choosing help desk software, look for features that align with your customer communication demands and requirements set by your specific operation. Once the framework is in place, make deep comparisons on products that include easy-to-use and must-have features, all at a price within your budget. Small businesses should solidify and finalize their help desk software selection by demoing the product with the provider's rep and taking advantage of free trials.