After surviving my first year as a real estate agent in Manhattan, I noticed something very strange. Almost a quarter of the agents that worked there when I started had left the company. Why did so many people leave?
Part of the reason people don't stay with their first brokerage very long is that they choose the wrong one to begin with. In this guide, we break down how to choose a real estate company that you'll want to work for.
National Franchise vs. Boutique Brokerage vs. Virtual Brokerage
The first step in choosing the right brokerage is understanding the pros and cons of the two basic types of real estate brokerages: franchise brokerages and boutique brokerages. Also, a new option is joining a virtual brokerage, which we'll discuss below.
How to choose a real estate broker
When choosing a real estate broker, first look at aspects like the commission split, what expenses you'll need, and what kinds of leads you should expect. For the most success, you'll need to interview a broker in person to make sure your goals are aligned.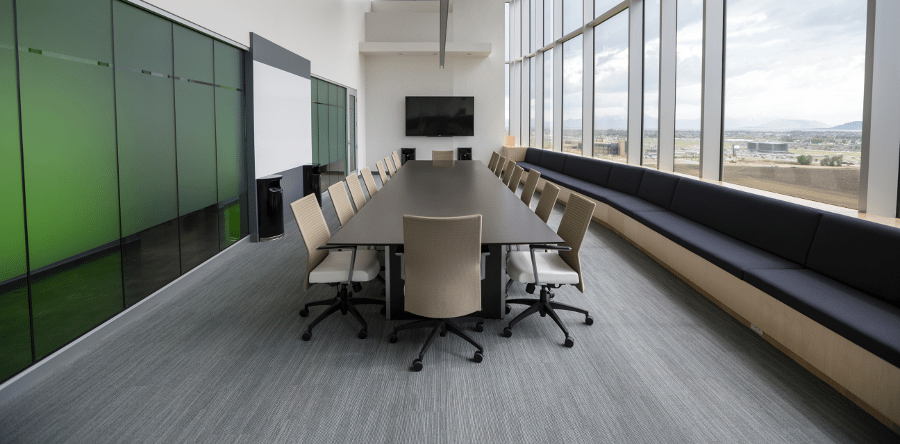 National Franchise Brokerages
The first type of brokerage is called a franchise brokerage. Franchise brokerages are large national companies that sell the rights to use their name, branding, and business model to brokers. After they sell a franchise to a broker, they also charge them a set percentage for every deal closed in the office.
While many franchises are independently owned, almost all of them follow rules and regulations set by the head office. Now that you know how they operate, let's go over the pros and cons of working for a franchise office.
The Benefits of Working for a National Real Estate Franchise
Instant Credibility
The main reason a newly minted agent would choose to work at a franchise is brand recognition. Since the franchises have already done the hard work of building the brand, customers already know and trust names like RE/MAX, Century 21, or Keller Williams. As a newer real estate agent, that reputation can go a long way in building trust with potential clients.
Multiple Offices
Another great benefit of working for a large national real estate franchise is the fact that they have hundreds, even thousands, of offices all over the country. This means that you can not only use other offices in your city that are more convenient for your clients, but that you can relocate and transition more easily as well.
Technology
National franchises also have a lot more leverage when it comes to negotiating discounts on software and tech support than boutique brokerages. This means that you will likely get free or discounted access to top-shelf transaction management software, CRM software, and website building software. A boutique brokerage may not have the resources to offer their agents discounts on any software at all.
Tech support is another huge advantage to working for a national franchise. Put simply, many boutique companies simply don't have any. For example, I used to work for a boutique new development marketing brokerage in New York City. Whenever I had a tech support issue (which was fairly often) I had to resort to google searches, trial and error, or asking my equally tech-deficient coworkers. This slowed me down on many days where I simply didn't have time to figure out a technical issue on my own.
The next year, our company was purchased by a larger company who offered free 24-hour tech support. Now instead of wasting time figuring out why my email wasn't working, I could focus on actually selling real estate.
TurnKey Marketing Solutions
While creating your own marketing materials can be rewarding, sometimes you just want to get going. Franchises generally offer their agents turnkey marketing solutions. For example, Century 21 offers their agents free direct mail and online advertising templates, website building tools, and drip campaigns. Again, instead of coming up with your own designs and strategies, you can use their materials and hit the ground running. To learn more about national franchises, click here to see our ranking of the top 3.
Training
While you may not get as much individual attention, many large franchises like Keller Williams have developed incredibly thorough training programs.
Agents who work for national franchises tend to love them. In fact, we spoke with one Georgia Real Estate Professional Priscilla Chukwueke who even offered to help introduce new agents to her brokerage, Keller Williams. You can reach her at her website: https://realestateagent.kw.com/ if you're interested.
The Drawbacks of Working for a National Franchise
The biggest drawback of working for a national franchise is their size. Some agents, especially new agents, feel that large franchises are more impersonal, and don't value their development as much as a boutique brokerage would.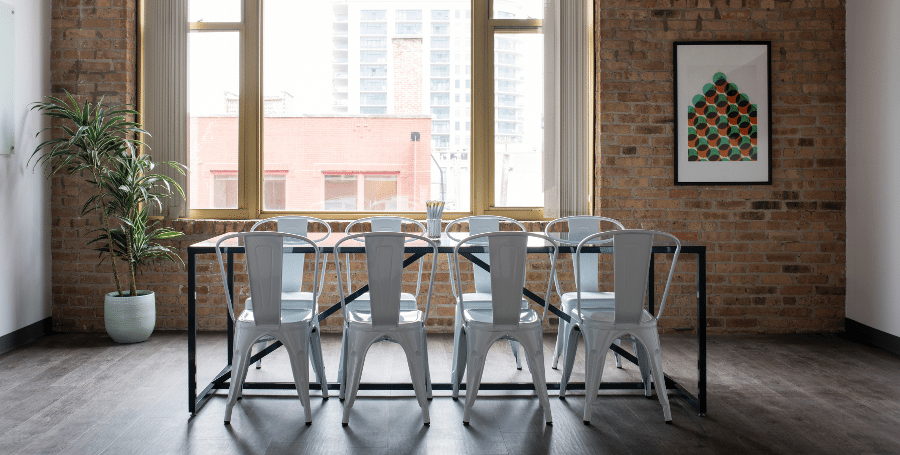 Boutique Brokerages
Boutique brokerages on the other hand, are generally owned by one small company and managed by a single broker. While you might initially think that smaller=less successful, don't be fooled by their size. Some of the most successful brokerages in the country are boutique brokerages. For example, California brokerage Rodeo Realty's 2015 sales volume was over $5 billion!
The Benefits of Working for a Boutique Brokerage
More Individual Attention
Since they're much smaller, an individual agent's contributions to the brokerage's bottom line can be more important for boutique firms. This means that brokers at boutique firms may spend more time coaching and nurturing newer agents.
Less Competition for Leads
At the boutique agency I worked at in New York City, our broker would often let anyone who was available answer the phones or help walk ins. Since there were only a handful of us working there, the competition for leads was pretty low. More experienced agents would often let newer agents handle the majority of new leads.
After we were acquired, that all changed. Leads were distributed by management, and since there were more agents, some newer agents didn't get as many leads.
Teamwork
Many real estate agents I talk to are shocked to learn that all the agents at my last brokerage helped each other at every opportunity. At some franchise brokerages this is unheard of. Boutique franchises foster a more cooperative environment.
Less Red Tape and More Flexibility
Since there was no corporate office to answer to, the boutique firm I worked at could make big decisions that affected agents quickly and easily. Policies and best practices could be changed overnight. At a franchise, this would be like turning the proverbial battleship on a dime.
More Creative License with Marketing
While every brokerage has guidelines for marketing and advertising, rules at boutique agencies are almost always less strict. This means that agents have more creative control over their own brand.
The Drawbacks of Working for a Boutique Brokerage
Boutique brokerages might have smaller marketing budgets, lower online traffic, and fewer tech resources for their agents. If they are very small, brand recognition might be an issue outside of their immediate neighborhood.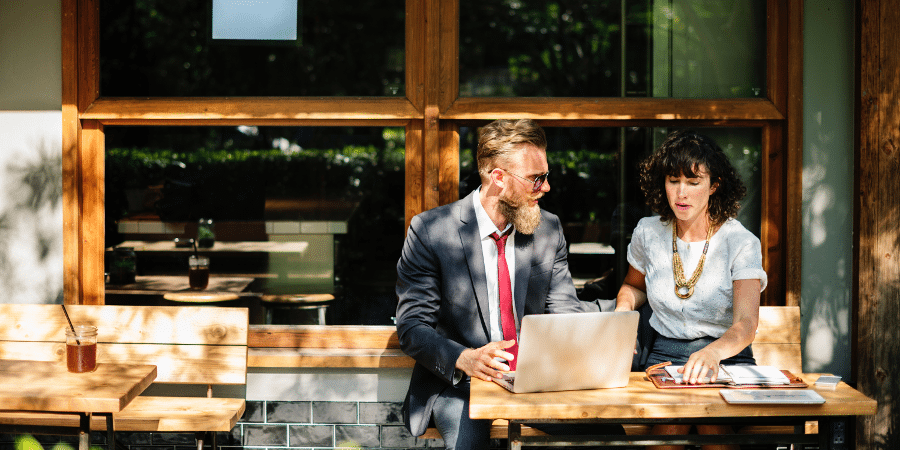 Virtual Brokerages
With the advent of SAAS (software as a service) real estate software and the increasing reliance on online advertising, virtual brokerages are now a viable option for independent and experienced Real Estate Professionals. Since they don't have to pay for expensive office spaces, they can offer their agents very attractive commission splits.
Virtual real estate brokerage
Instead of walking into a brokerage office, you can handle your real estate needs from the convenience of your computer with a virtual real estate brokerage. They often have higher commission splits, updated technology and offer more flexible than their brick and mortar counterparts.
The Benefits of Working for a Virtual Brokerage
Higher Commission Splits
One of the main advantages of working for a virtual brokerage are the very attractive commission splits they offer. Virtual brokerages generally offer splits ranging from 70%-100% for agents with some experience under their belts.
Lower (or no) Desk Fees
Most traditional high split firms charge their agents desk fees of around $150-$400 per month. While desk fees are not going to bankrupt a successful agent, agents at virtual brokerages can use the money they save on desk fees on marketing and lead generation. An extra few hundred dollars per month put into Zillow Premier Agent or Facebook advertising can have a significant ROI.
Explore Your Options
Sick of paying high desk fees for an office you don't use? Try a virtual brokerage like Real. They offer splits starting at 85% with no monthly fees, free IDX websites with landing pages and live chat, CRM, Dotloop, Cloud CMA, and more. Click below to learn how Real can help put more money in your pocket this year.
Better Tech Tools
Since virtual brokerages don't offer agents an office to work out of, they generally make up for it with better tech tools. Websites, CRM, and transaction management tools are usually top shelf and well integrated.
More Independence
Even though all real estate agents are technically independent contractors, there are still many obligations that go along with working in an brokerage office. Weekly sales meetings, social outings, and training sessions optional, but in many brokerages (I won't name names) are pretty much mandatory. As a virtual agent you are truly your own boss. This is liberating for many people.
The Drawbacks of Working for a Virtual Brokerage
While high commission splits and better tech tools are great assets for all agents, the independence of truly working on your own is not for everybody. Many people thrive on a lively office culture. For example, having a room full of agents to share your highs and lows with very important for some people. Coming home and complaining to your significant other just isn't the same.
Commissions – Beware The Pitch & the Hard Sell
If you haven't been on an interview at a real estate agency before, you may end up pleasantly surprised. Your interviewer will probably spend more time trying to pitch the company to you than vice versa. Of course, since they're probably great salespeople, they are going to emphasize the positive and try their hardest to ignore the negatives completely. Don't let them. Your goal here is to get cold hard numbers out of them, preferably in writing. Here's what you need to know to critique their offer:
Commission Plans
Generally speaking, there are three types of commission plans offered by real estate brokerages:
High-split plans
Traditional split plans
Hybrid plans.
Here's how they work:
High-Split Plans
A high-split plan means you will get a higher percentage of the overall commission paid to the brokerage. High-split plans range from 70% all the way up to 100%. Sounds great right? Not so fast. In order to recoup their expenses, high-split brokerages charge monthly "desk fees" to agents on high-split plans. Desk fees are like rent, you need to pay them no matter how well you're doing financially.
Traditional Split Plans
A traditional split for a real estate deal is 50/50. That means you get 50% of the commission and the brokerage gets 50% of the commission. With these plans there are generally very low desk fees or no desk fees at all. While you may technically get a smaller split, you're also not reaching into your pocket every month. A fair trade off for many agents.
Hybrid Plans
Hybrid plans are the happy medium between high split plans and traditional split plans. Most high split plans offer agents a 70% split to start off the year which goes up to 100% after certain production goals are met.
Which Commission Plan is Best for New and Newer Agents?
While there's no easy answer here, I think hybrid plans offer the best of both worlds, especially for new agents. That said, the commission split offered to you will depend on the broker's assessment of your potential to succeed. If you're interviewing with multiple brokerages, try to get their offers in writing so you can compare them.
Other Fees
Brokerages often charge their agents other fees besides desk fees and commission splits. Franchise brokers will often charge a "franchise fee" for each deal ranging from 5% to 8%. Boutique brokerages sometimes charge an "advertising fee" or other fees. Be sure to ask your interviewer about ALL the fees that come out of your bottom line.
Contracts
When you accept an offer from a real estate brokerage, they will have you sign a contract stipulating terms. Read it, and read it carefully. Generally speaking, you will be signing a one year contract, but you can leave whenever you choose. Make sure the commission split and desk fees you agreed on are spelled out in the contract.

The Firm's Reputation & Market Share
Whether you choose a franchise brokerage or a boutique brokerage, reputation and local market share are critical.
Reputation
In order to establish trust with potential clients, you need a great reputation. Here's how to determine if the brokerage you're considering has a good reputation:
Yelp reviews
Since almost no one logs in to Yelp unless they've had a very negative or very positive experience, Yelp reviews need to be taken with a grain of salt. That said, if the brokerage has a very high number of negative Yelp reviews, this might be a red flag.
Word of Mouth
Word of mouth is an easy way to vet a potential brokerage to work for. Have you heard of the company? Have your friends or family? What's the first thing that comes to mind when you think of them? Chances are, many potential clients feel the same way.
Press Mentions
Do a quick Google search for the agency. What kind of press have they gotten? If there is a lot of local and national press, odds are they have a great reputation. Many reputable firms will also have a press section on their websites.
Awards and Memberships
Do they have any awards listed on their website? Do they belong to any national associations besides your local board or real estate agents? Being listed on the Realtrends 500 rankings is a great indicator of success.
Market Share
If the brokerage has more listings than anyone else in your local market, then there is a good chance it's a great place to work. If they have none, you might want to look elsewhere.
The overall number of listings is less important than the number of listing per agent. Some companies have a few superstars while the majority of agents are struggling.
See how many exclusive sales listings the brokerage has in the area you want to work. Do most agents have at least one exclusive listing? If so, this is a great sign.
Training for New Agents
If you're a brand new agent, good training, coaching, and mentoring can mean the difference between a successful first year and a mountain of credit card debt. If you're just starting out, this should be at the top of your list when selecting a brokerage to work for.
Even if you have a year or two of experience, you should still weigh training heavily when selecting the right brokerage to work for. You may think you know it all, but trust me on this, you don't. Even top agents can benefit from coaching.
Don't Believe the Hype on Training
While every agency claims to have the best training in the business, in reality, nothing could be further from the truth. When you interview with them, ask about what kinds of training are offered to agents, and how often. Some companies, like Keller Williams for example, have a vast catalog of training materials and seminars available. This is part of the reason we picked them as the best overall real estate company to work for. Others have very little. When in doubt, ask.
Going Solo vs. Joining a Team
Joining a real estate team
If you're interested in joining a real estate team, you need to weigh the pros and cons. By joining a team, you get benefits like covered expenses and a group of mentors, but you sacrifice flexibility and additional commission potential.
When you associate your license with a brokerage, there are two ways you can work for them. The first option is to go solo. That means that everything from lead generation to accounting rests squarely on your shoulders. The benefits are autonomy and a standard commission split. When most people talk about becoming a real estate agent, they're talking about going solo.
The second option, and my personal recommendation for brand new agents or newer agents that are struggling is to join a team. Joining a team means that you are working under another more experienced agent in the office.
Joining a Team
The main benefit here is that you will learn how to run a real estate business the right way from a seasoned pro. The team will also feed you leads, so you can spend more time on selling and less time on lead generation. If you want to survive your first year, lead generation is absolutely crucial. Since it may take a long time for a brand new agent's lead generation efforts to bear fruit, working for a team is a great way to start.
Going Solo
Since there is rarely any reward without risks, some brand new agents might decide to go solo. If you have a large sphere of influence and/or enough cash reserves to keep you afloat, this can be a great way to go. You might make more money, and you will have complete autonomy over your business.
The only problem with going solo is that everything is on you. You may need to try multiple lead generation tactics before finding what works in your area. If you join a team, you will be told what works right away.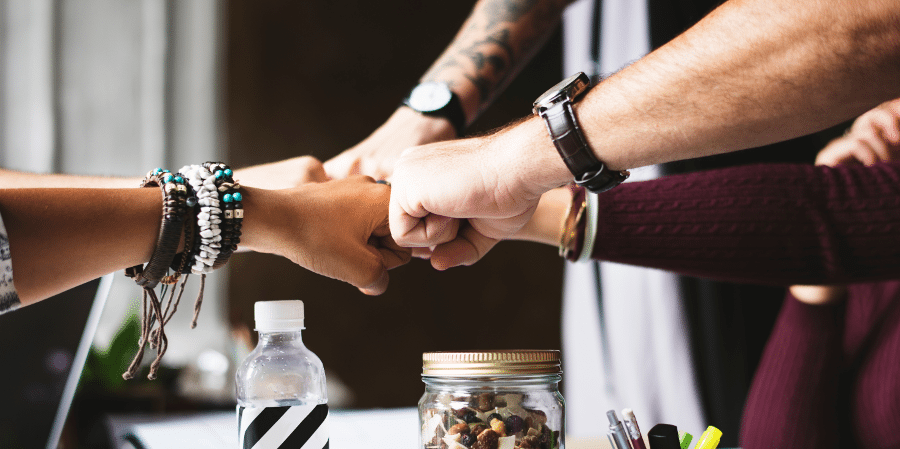 Company Culture
Often overlooked by newer agents, company culture can actually be very important to your success. Happy agents are successful agents. If the office culture doesn't mesh with your personality, you might find yourself avoiding going into the office. If it's a good fit, you'll never want to leave.
To get a sense of the brokerage's culture, check out their facebook page. If you're looking for a laid back office and their page has dozens of pictures from their latest softball tournament, then it's probably a good fit.
Other Factors to Consider
How Leads Are Handled
While most leads are either going to come from your team leader or your own blood, sweat and tears, many brokerages get general leads they distribute to their agents. Ask them how this process works.
What the Offices Are Like
What's their office like? Does it look or feel like a place you want to spend time working in? More importantly, would you feel comfortable here as a client? Is it clean? Do they have nice conference rooms? Friendly receptionist? While a mediocre office shouldn't be a deal killer, it's still something you should pay attention to.
Online Presence
While Zillow has made great strides evening the playing field here, a better online presence means more views for your listings and more leads.
Bottom Line: How To Choose a Real Estate Company to Work For
Choosing the right brokerage can have a huge impact not only on your first-year bottom line, but your future in the industry. The decision is an important one, so before you choose a real estate company to work for, be sure to weigh the costs and benefits well before signing the contract.