With thousands of themes available, your options can initially feel almost limitless. And while this can make choosing a WordPress theme fun, it can also make choosing the perfect theme difficult. If having an overload of options wasn't enough, there's a lot involved in picking out which is best for your business. From layouts and designs to functionalities, compatibilities, and ratings, putting in the time upfront will save you a lot of time (and potentially money) later.
To help you avoid making some rookie mistakes, we've put together a list of tips to help you choose the perfect WordPress theme for your business, your skill level, and your needs.

Here are 15 tips for choosing the perfect WordPress theme for your business:
1. See Which Themes Other Sites Are Using
Whether you want to check on the competition or simply find out which theme a site you like uses, the good news is that you can. All you have to do is use a theme detector tool, such as Gochyu. There, you input the URL of the website in question and click analyze. It's free, and assuming the site is built with WordPress, it will tell you which theme the site is using.
On top of discovering which themes other sites are using, these tools also enable you to easily see which content management system (CMS) another site is using. You may be surprised to find that while WordPress is typically regarded as the gold standard, it's not always the CMS of choice—and for good reason. Many opt for other platforms for their small business website, largely for ease of use.
If you start to see that many other businesses in your industry use a CMS other than WordPress, that might be a sign that it's worth looking into the alternative CMS, as there may be good reasons why these sites aren't being built on WordPress. For example, maybe another CMS simply provides a better platform for the industry's needs, or it offers the right capabilities out of the box.
2. Don't Overlook Premium Themes
As appealing as free themes may be, if they don't include the design and features that you need, don't bother. Choosing a free theme is a rookie mistake that will often come at the expense of your time. In other words, it's free, sure, but that doesn't mean it won't cost you in other ways. A good theme will save you a lot of time, and even premium themes can ultimately save you money.
In general, if you're not an experienced WordPress web designer or developer, and if you don't have the time or interest in learning, leave the free themes to the pros.
3. Filter Themes by Category
Chances are, you don't need to waste your time looking at every theme available. Instead, filter themes by category, industry, or features. This way, you will only see the themes that fit your industry, including the standard functionalities of said industry. By choosing a WordPress theme that comes out of the box with the features that you need, you'll spend a lot less time customizing and building your new website.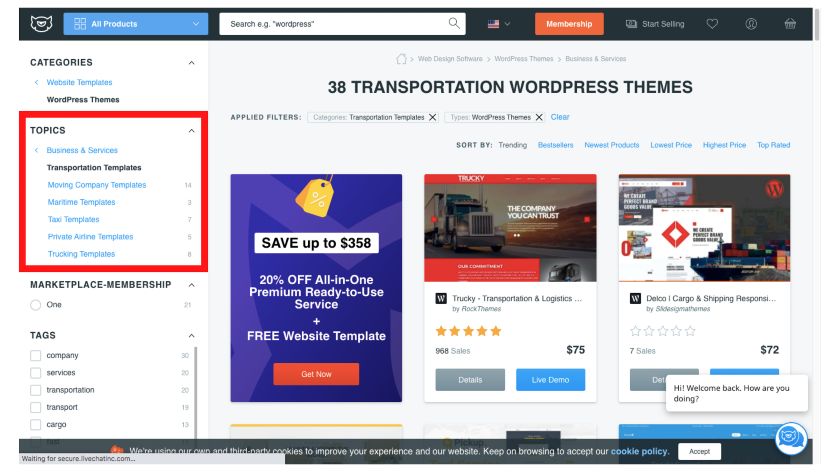 For example, a directory WordPress theme will come standard with directory listings, search functions, search filters, ability to leave reviews, and claim listings, whereas a restaurant theme will come with pages for menus and industry integrations such as OpenTable or DoorDash.
4. Comb Through the Theme Description & Details
Even when filtering themes by category or purpose, every theme will have its own unique set of capabilities, design elements, and functionalities. For example, you may find a theme that looks perfect, but the page builder it is compatible with is one that you don't like using. Or, say it's an ecommerce theme and you're selling products on a subscription basis, but the payment processor it uses does not have the capability to accept recurring payments.
Here are a few things to look for when choosing a WordPress theme:
Compatibility
Responsiveness
Features, such as multilanguage
Included plugins
Capabilities and customization opportunities
Available integrations
5. Test Drive Demos
Just about every premium WordPress theme will offer a demo (typically linked as "Live Preview"), which is a live version of the theme. This gives you a way to test it out and see how it works. In many cases, themes will actually come with a variety of demos to choose from, each with either a slightly different design or layout, or different functionalities.
For example, a real estate theme may have two demos, one for agents listing properties for sale and another for agents listing properties for rent. Test the demo and consider which offers the features and functionalities that you need. Be sure to look at more than the appearance of the site and consider the usability.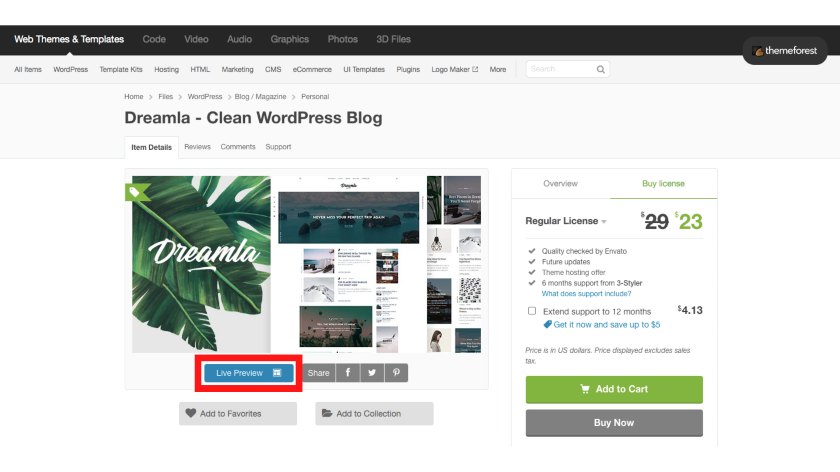 6. Factor in Included Plugins
If cost is a concern for your business, you need to remember to factor in the cost of included plugins that come packaged with more expensive themes. For example, the Slider Revolution plugin costs $29 but is included for free in many themes. Granted, just because a theme comes with a plugin, that doesn't always make it a good thing. For example, not everyone loves Slider Revolution, but if a site is built with it, then you'll be stuck using it (whether you like it or not).
Also, consider if it comes with any plugins that you'll need to pay to use the premium version of. It's fairly commonplace for WordPress themes to come with free versions of plugins. However, in order to gain the functionality you're looking for, you may need to upgrade to the premium version.
7. Check Reviews & Comments
Popular themes with great reviews will almost always be of high quality and include good customer service. By sticking to themes with good overall reviews, you can have the confidence that your website will be built on a good foundation. One easy way to filter themes by reviews is to use the option to sort by top-rated themes. This way, you're looking at themes from best to worst in terms of user reviews and average ratings.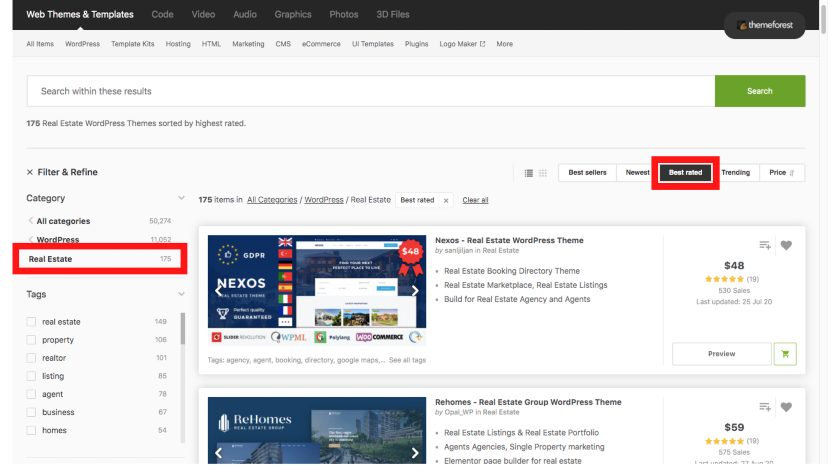 Taking it a step further, don't just look at the theme's overall rating. Take the time to read through reviews and comments. At the very least, read through its most recent reviews and comments to get a better understanding of the current shape of the theme. Comments are a particularly great source for discovering what a theme lacks or any issues that it has. Since the theme isn't going to list its shortcomings, comments are a fast way to see what a theme lacks.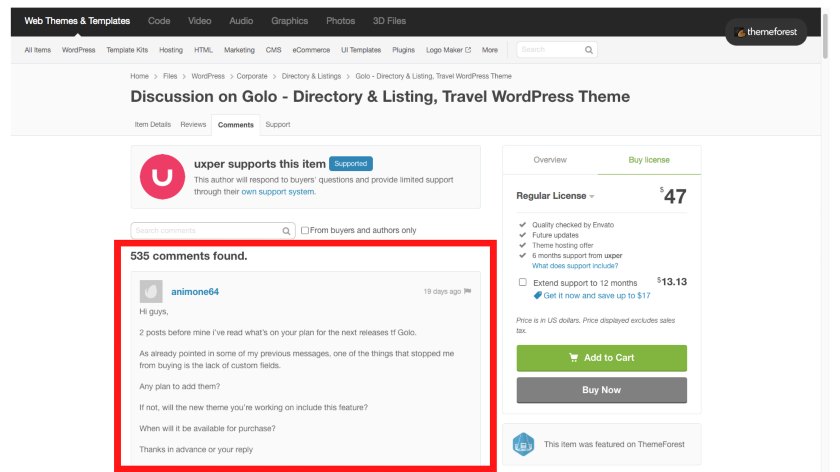 8. Look for High-quality Customer Support
If you're new to WordPress, high-quality customer support is essential. Make sure every theme you're considering offers high-quality customer support. The industry standard is that premium themes include six months of customer support. However, the quality of support varies greatly from provider to provider. Keep in mind that the developer of the theme is the one who provides the support—not necessarily the site you purchased the theme through (e.g., themeforest.com).
Check to see what real users have to say about the quality of support in the reviews. Another way to gauge the quality of support is to see which methods of support are available (e.g., email, ticket system, and so forth) and to see the average turnaround time of support.
9. Only Opt for Themes That Are Frequently Updated
WordPress is always updating, and so you need a theme that is compatible with the latest versions of WordPress. To do this, look at a theme's list of versions and choose one that is frequently updated. If you fail to do so, you may find yourself not being able to use plugins as they may no longer be compatible with your version. Since many sites depend largely on plugins for functionality, this could be to the detriment of your site.
As a general rule of thumb, themes should be updated at a minimum of every few months. This is in line with the standard frequency with which WordPress is updated.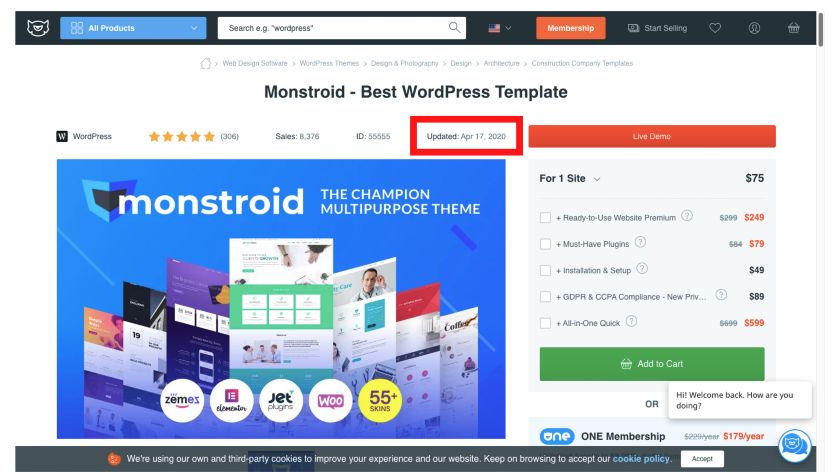 10. Choose a Theme That Uses Your Favorite Page Builder
While WordPress has come a long way, and no longer demands a grasp on code to build a site, drag-and-drop page builder plugins like Elementor and Visual Composer make customizing pages much, much easier. You will notice that themes will list which page builders they are compatible with. Of course, not every page builder is created equally, so it's worth taking the time to decide whether that seemingly perfect plugin is compatible with the page build that fits you.
Don't have a favorite yet? Check out the best website builder plugins to get a better idea of which best suits you.
11. Make Sure the Theme Has Useful Shortcodes & Widgets
Shortcodes and widgets allow you to simply drag and drop site elements like calendars, calls to action, forms, and click-to-call buttons onto your pages. Before choosing a theme, take a look at what kind of shortcodes and widgets are included.
To learn more about widgets and how to install them, check out our guide to WordPress widgets.
12. Review Theme Documentation
Theme documentation is different from a theme's description. Documentation serves as your user manual, and good documentation can make a world of difference. Even if you're familiar with WordPress, every theme is different and has its own unique functions. Check that a theme offers high-quality documentation. Not only should it include very detailed user setup instructions, but check what it offers in terms of customization capabilities.
After all, it won't matter if you've chosen the perfect theme if you aren't able to customize it to suit your business.
13. Confirm You Can Easily Import Demo Content
Not only will themes come with demos, but the best themes come with easy-to-use import demo content. Without this, you will still struggle to create a site that looks and functions like the theme. So be sure to check that the theme comes with the option to import demo content (including the demo you want to use in the case where the theme offers multiple demos).
Pro tip: Importing demo content isn't always straightforward. If you have installed the demo content, but aren't seeing a change in your site, check that you've installed and activated all required theme plugins. This is the most common culprit in demo content failing to load.
14. Remember That a WordPress Theme Is an Investment
A good WordPress theme can be used to power your website for many years. Spending a few more dollars now for the perfect theme instead of a cheaper, mediocre theme is a worthwhile investment for your business.
No matter what kind of business you run, choosing the right WordPress theme can mean the difference between a thriving online presence and a website that doesn't work. Make sure to choose a theme that fits your branding, includes advanced plugins and editors, and has great reviews and customer support.
15. Expand Your Search to Various Marketplaces
If you're not having luck finding the perfect WordPress theme for your business, try looking for themes on different platforms. There are many providers available, from the WordPress theme directory to premium theme directories such as Themeforest, Template Monster, and even Etsy.
Here are a few of the most popular platforms for finding WordPress themes:
Choosing a WordPress Theme: Do's & Don'ts
Choosing a WordPress business theme can be a challenge. There are certain overarching things you will want to keep in mind while choosing the right one, including the built-in features that you need, responsiveness as a mobile-friendly design, and cost.

PROS

CONS

Seek simplicity
Limit your search to free themes
Focus on features
Overlook quality web hosting
Consider usability
Forget to choose a theme that suits your brand and its audience
Frequently Asked Questions (FAQs)
How do I find the best WordPress themes for business?
The best WordPress themes can be discovered on theme marketplaces, such as Themeforest and Template Monster. Of course, the term "best" is subjective and will depend on your unique needs. Still, there are certain elements that help separate the good themes from the best themes, such as a large volume of high ratings, glitch-free code, and feature-packed themes. To get started, check out the best WordPress themes for business.
Which is better: Wix or WordPress?
Wix and WordPress are both popular platforms for business websites, but which is best will depend on a variety of factors, from experience to site requirements. Generally, Wix is the better option for those who are new to web design and want an easy way to build an affordable website, whereas WordPress is best for those with some experience (or the time to learn) who need a highly customizable site. Learn more about Wix vs WordPress.
How do you sell on WordPress?
Building an online store on WordPress is very similar to building any other type of WordPress site in that it simply requires additional plugins. For example, WooCommerce is a versatile ecommerce plugin that gives you the ability to add products, manage inventory, and process online sales. For more information, learn how to sell on WordPress.
Bottom Line
Choosing the perfect WordPress theme requires a bit of digging, but it's time well spent if it means choosing the best theme for your business website. Be sure to go through themes with a fine-toothed comb, read reviews and comments, and check that it offers the features and capabilities you need. The more time you spend upfront finding the right theme, the less time you will spend later on customizing it.
You Might Also Like…