Whether you need a logo, flyer, menu or other design, it's common to know what you want, yet have trouble seeing it on paper. With 99designs, 30 – 90+ creative minds compete to offer you the best design. You get to choose your favorites, and ultimately, only pay for the one you wind up using.
This guide gives you simple step-by-step instructions on how to use 99designs for a logo, flyer, menu or other material. Providing expert tips along the way will be veteran 99designers Dan, Marta and Shelby.
In particular, we'll cover:
Want to see an example of a 99designs project? You're looking at one! We used 99designs at Fit Small Business for our website and logo. Click here to launch your own 99designs contest and get a custom logo for your business. Or click here to make a custom menu or here to make a custom flyer.
Before we get started, check out our guide on how to get a website up and running. It's surprisingly easy to get a WordPress site set up on a custom domain. Click here to give it a shot.
1. Prepare For Your Contest
At 99designs, projects are called "contests." This is because they engage many different designers who "compete" to win your business. Designers submit an initial idea, then you select your favorites who, in turn, refine their ideas for a final round.
Part of the beauty of 99designs is you only pay for the 1 design you wind up using. This comes at – all things considered – a modest fee of $199 to $799, depending on the package (which we'll get more into later). If you aren't happy with your initial submissions, you don't have to pay anything at all.
The other major advantage to 99designs is being able to see so many different designs laid out in front of you. Often times, business owners have trouble knowing what they want until they see it. Through sheer force of numbers, 99designs provides a solution.
Although the point of 99designs is to have designers work for you, spending some time preparing and managing your project will help you get a lot more for your money. Here's what our experts recommend business owners do to prepare for their 99designs contest:
Designate Some Time
First and foremost, make sure you can set aside some time. Contests last a week, and you need at least 30 minutes a day to make the most of it.
You'll need this time to sort through submissions, send feedback and communicate with designers. If you're out of town or swamped with work, consider postponing the contest for another week. Being able to invest a little time will go a long way towards producing a killer design.
The other things you need prepared is a well thought-out plan. By this, I mean, have some examples in mind of other logos, brochures or menus that you like (and dislike). Also, make sure you have any images or copy finalized that you'll need in the project.
Preparing to Create a Logo
For a 99designs logo, the preparation process is more mental than physical work. What you need to have down is a strong understanding of your brand. Then, you need to translate it into a description that designers can easily understand.
If you haven't yet dove into the world of branding, I recommend checking out our Ultimate Guide to Real Estate Branding. It's written for real estate companies, but can easily translate to any small business. It will help you brainstorm branding ideas that get the core of your business.
Preparing to Create a Flyer or Menu
For a flyer or menu, there's two important steps to prepare for your contest:
Prepare any images or text that will appear on the design. For a menu, for example, have all the categories, items, prices, and notes written out. Also, collect any images of plates you'll want included. A designer can (and likely will) find some stock images, however, so you don't have to worry about every little detail.

Decide if it will be printed, or displayed online. If it will be printed, decide if you want to do anything special. As Marta explained, "perhaps you might be interested in die cuts (where special shapes are cut out), letterpress or spot colors in printing (adding a special effect like foils). This is important information for the designer, who will need to prepare all files accordingly."
2. Writing Your Design Brief
When you decide it's time to start your contest, the first step will be writing a design brief. These are the instructions your designers will see when they submit to your contest. As you can imagine, a good design brief is essential to get some good submissions.
To help you write your brief, 99designs gives you a simple online questionnaire. This is one of the first steps after signing up. Included are questions about your brand, target audience and stylistic preferences. You'll also be asked to find some examples of designs you like.
Both Marta and Dan recommended business owners also find examples of designs they don't like, as this can be just as helpful to designers. Also include a few short sentences about what, specifically, you like or dislike. To browse through design examples, check out the Discover Tool on 99designs.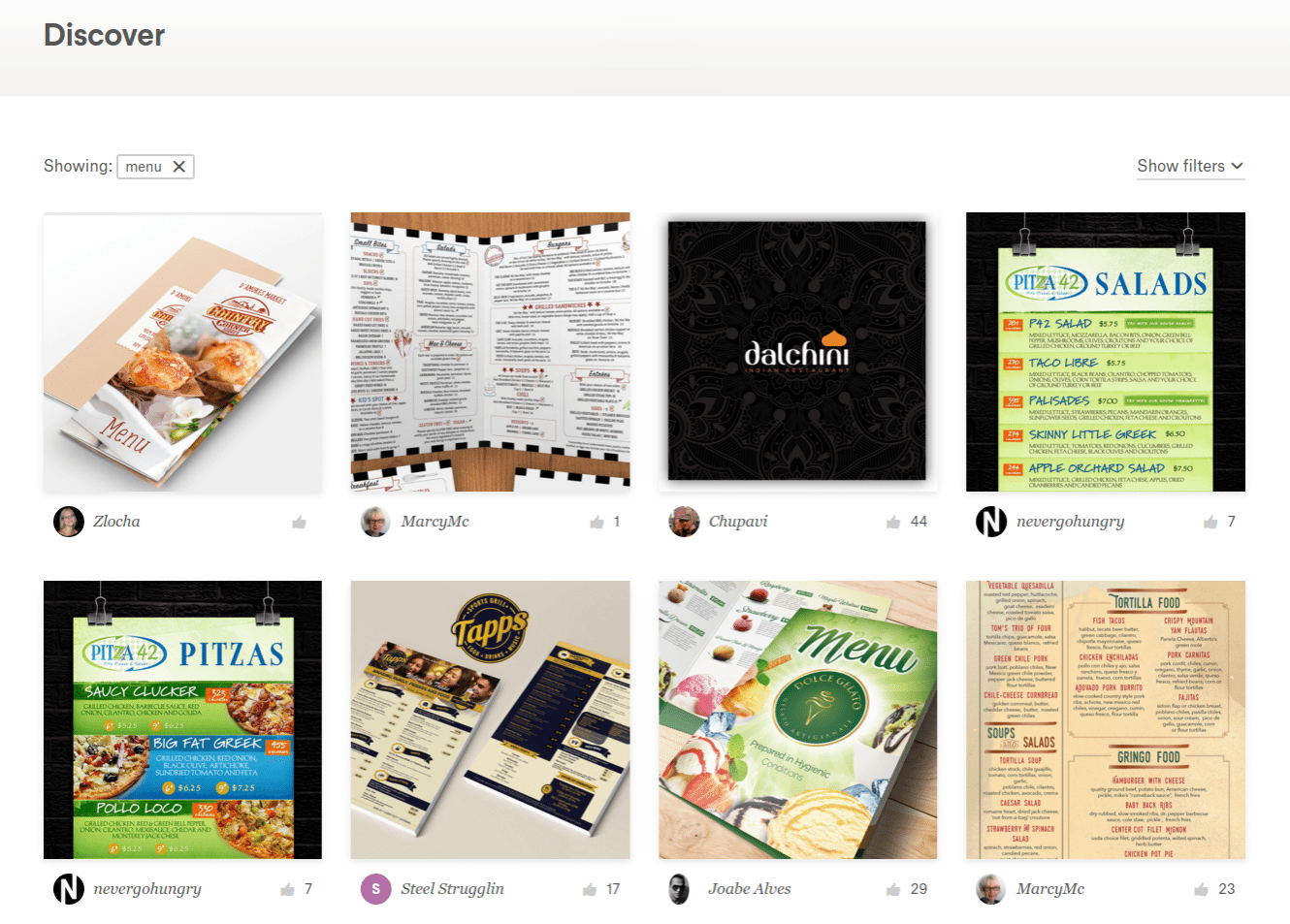 Browsing through designs on "Discover"
Your design brief should also contain all the finalized details – such as the size/dimensions of the logo/flyer and the material it will be printed on. You also want any text/images you'll be supplying to be finalized. While you can technically make changes during the contest, this will slow the process.
3. Choosing Your Contest Package
The next step is to choose which 99designs package you want to go with. What you're essentially deciding is how much prize money to offer your winning designer. The bigger the prize, the more contestants will enter. You also tend to have more expert designers join when the prize is larger.
Here's the four packages 99designs offers. Prices vary depending on your exact type of project:
Bronze Package

Silver Package

Gold Package

Platinum

Price

$299 (logos)

$199 (menus & flyers)

$499 (logos)

$299 (menus & flyers)

$799 (logos)

$599 (menus & flyers)

$1,299 (logos)

$999 (menus & flyers)

# Designers

~30

~60

~90

~60 "premium" designers
Which do we recommend? At Fit Small Business, we've had a lot of success using the Silver package. It's a good balance between price and attractiveness to designers.
With the Platinum package, only top "premium" designers are allowed to join. This can make it a good option for those with limited time to sort through submissions, since you'll only be hearing from the best of the best. On the other hand, non-platinum designers who might still be incredibly talented are not permitted to join. With a Silver or Gold package, you can get more submissions overall by inviting both platinum and non-platinum designers.
Guarantee Your Contest For Better Results
99designs has a money back guarantee: If you aren't happy with any submissions after 4 days, you can end the contest without spending a dime. For first-time users, this can certainly be attractive feature. However, users should also consider guaranteeing their projects to yield more high quality submissions.

A guarantee means you agree to select a winner at the end of the contest – you waive your right to end early and take your money back. A guarantee helps attract more submissions from more talented designers, since they now the contest will follow through to the end (and thus, they have a greater chance of winning).
4. Launch your Contest
When you launch your contest, it will be posted in the 99designs marketplace. Designers will be able to click on it, read your brief, and decide whether or not to make a submission.
While you could technically just wait for designers to come to you, it is highly recommended that users also invite contestants that they like. Using the Discover Tool – the same one you used before to browse for design ideas – you can pick out your favorite designers. View their profile, then click "invite to work."
When you reach out directly, it shows designers that you have a preference for their work. They'll be much more inclined to join your contest knowing they have a leg up against the competition. It's important, however, to personalize your message – point out specific projects or features that you like. This will show the designer that you're genuine, and not just sending out mass invites.
The Contest Timeline
Contests on 99designs last 1 week. There's also 5 days at the end (after you pick your winner) to request finishing touches before sending payment. This makes the total length up to 12 days.

Here's a breakdown of the contest stages. Note that you can usually ask for extensions during any phase, if need be.
The Qualifying Round (4 days).

This is the start of the contest where anybody can submit a design. During these first four days, you'll want to spend at least 15 minutes per day inviting designers. You'll also want to spend 15 minutes rating submissions and sending feedback. Submissions and ratings are visible to other designs, so they help others understand what you're looking for.





Dan recommends avoiding 4 or 5 star ratings during the first stage. "It's better to start low then proceed to give better ratings as the contests approaches the final stages," he explains. This is because high ratings can discourage potential candidates, who might feel the contest in already the bag.





At the end of the qualifying round, you will pick up to 6 of your favorite designers to move onto the next round. While you can technically choose winners at any time, it is recommended to wait until the very end of the 4 days.





As

Bryan Collins

told in a blog post, his contest for a book cover saw the best entries close to the deadline. "And the winning designer submitted his book cover an hour before the deadline of the entire competition," he said.

The Final Round (3 days).

For the final round, you'll zero in on up to 6 of your favorite designs. During the last 3 days, you'll provide feedback for candidates to polish their entries. At the end, you'll pick your winner.

(In this next section, we'll discuss how to provide feedback in more detail.)

The Handoff (up to 5 days).

Once your winner is selected, you can work them an additional few days to make finishing touches. 99designs gives you 5 days before payment automatically goes through. We'll discuss the handoff more at the end of this guide.
Ready to get started? Click here to launch your own 99designs contest today.
5. Providing Feedback
The cornerstone to running a good 99designs contest is leaving good feedback. Providing clear and consistent feedback not only rears you closer to the perfect design – it also improves your feedback score, which signals to potential candidates how easy you are to work with. A good score can mean a lot more submissions.
To leave good feedback, you don't need to be a designer. You do need to be able to express criticism, however, in a very clear and specific way. Before launching your contest, you should take a minute to familiarize yourself with some basic design terms.
To help, we put together a 1-page Design Dictionary For Dummies below. It should get you familiar with all the key terms in 5 minutes or less – including font types and image files.
Communicate Often and Clearly
The feedback cycle begins the moment your first submission comes through. Users are encouraged to provide feedback well before you pick your shortlist of contestants. Even if you dislike a submission, politely let the designer know. They may want to head back to the drawing board and try again.
In this scenario, Dan recommends sending a message like, "I don't think the logo hits the mark for me. I, however like the icon you did. Could you please try something different with the icon you made? Thanks."
Another important thing to remember is the time gap between you and designers. Many will be located around the world in different time zones than you. To ensure designers have adequate time to make edits, be sure to communicate frequently – especially as deadlines come closer.
Good Feedback vs. Bad Feedback
When most of us see a design for the first time, our initial reaction is a feeling: "this feels a little too bold," or "this feels juvenile." While this initial reaction is important, it needs to be translated into instructions in order for it to make sense to the designer.
As Marta told us:
Things like 'can you make it pop', or 'it's lacking wow factor' might make sense to you, but it doesn't really help the designer. If your feedback is "can the font be more luxurious," then show the designer an example of what you think is luxurious.
Shelby also shared this story that highlights good vs. bad feedback:
Recently I participated in a print contest where the client wanted to advertise a dance event for her ballet school. Thinking tutus and ballerina shoes, I went with a soft pink theme thinking it was a suitable color given this particular industry. The only feedback I received was 'Can we make it bolder?'

That is an example of poor feedback. It's ambiguous, non-descriptive, and too general. What needs to be bolder? The colors? The fonts? The photos?

I often liken weak feedback to the old trope of a married couple where the wife tells the husband 'Just get me whatever.' 9 times out of 10 she's unhappy with what he brings back. Why is that? She wasn't specific in what she wanted.
6. Finishing the Contest
During the final round of the contest, you'll have 3 days to work closely with a select few designers. You can request additional rounds of edits before making your final decision.
As Bryan Collins told from his experience using 99designs, it can be tempting to task everyone for revisions. You want to give all of them a chance. As time wears on, however, you'll begin to veer closer to a decision. To be respectful of everybody's time, avoid request too many edits from designers you're unlikely to choose.
If you're having a lot of trouble deciding, you may want to enlist the help of your co-workers, or even customers. 99designs offers a handy poll-making tool: Select the designs you're debating between, then send out a link for others to view and grade them.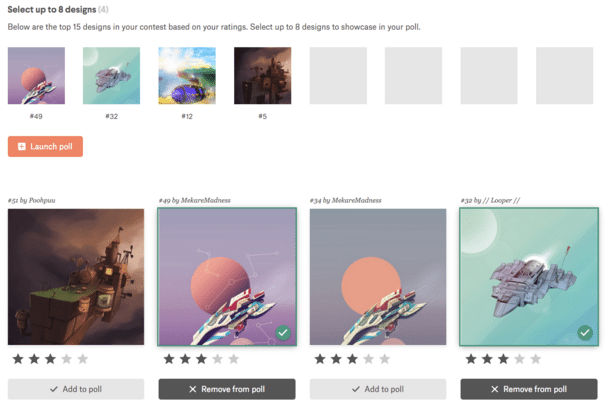 While the poll can be helpful, you should also remember the importance of your own gut reaction. As one of our designers warned "trust your gut instinct. No one knows your brand better than you. The more people involved, the harder it can be to make your decision."
The Handoff
Once you've chosen your winner, there's a period of up to 5 days where you can request any more finishing touches. This also gives the designer time to collect all the files you'll need. After the 5 days are up, your auto-payment will go through and the transaction will be complete.
Generally speaking, you want to be handed your design in the following formats: PDF, JPEG, PNG, and EPS (or AI). That's because each format serves a different purpose: PDF is used for printing and JPEG and PNG are for the web. EPS and AI are ultra high-quality files you'll want to hang onto should you ever need a larger print of your design.
The Bottom Line
A 99designs contest is a commitment – there's no denying that. You need to be to spend at least 30+ minutes a day for 7 to 10 days. You need to be willing to learn a few basic design terms, and must be willing to communicate effectively with many different designers.

As payoff for your work, however, you get something traditional design firms can only dream of. You get 30 to 90+ professional designs all laid out in front of you. You get to see the full spectrum of possibilities, and you get to experience the "AH HA" moment when the perfect design rolls through.
Ready to get started? Click here to launch your own contest today.