A talent pool is a large group of highly skilled and qualified future job candidates able to fill open positions quickly. Having a talent pool saves your business from gaps in key staff. That ensures productivity, even as promotions or turnover occur. Here's how to create your talent pool in five steps.
Freshteam is cloud-based recruiting software that can be used to help you find great talent for your talent pool. It manages applicants in a searchable database. It then tracks candidates as they go through the process that starts by uploading their resume and finishes when that top talent is hired by your company.
Free Checklist for How to Create a Talent Pool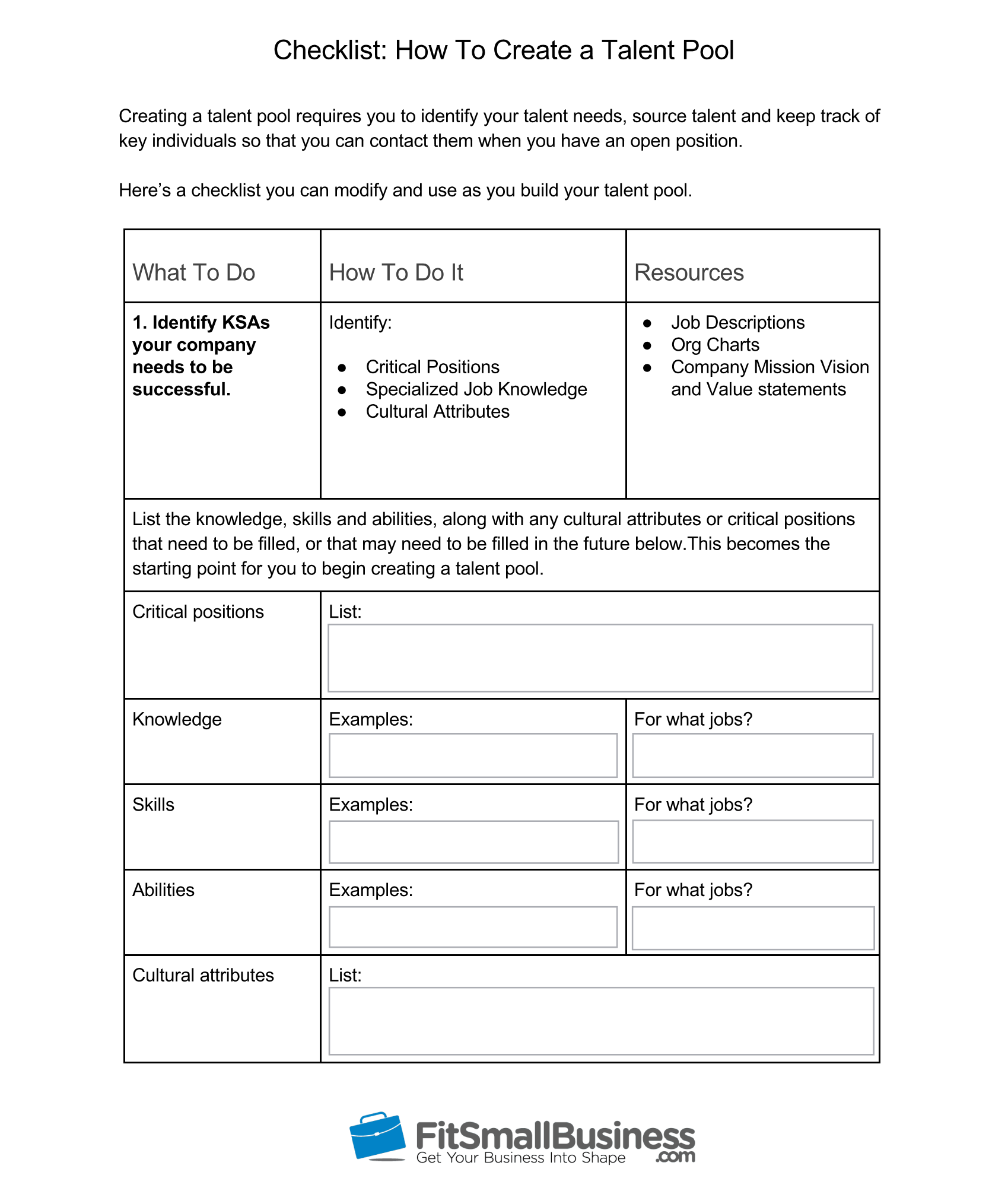 Here is a free checklist to help you follow along and take notes when creating your talent pool. You can download and modify this checklist to tailor it to your business. It mirrors the steps provided below.
The 5 Steps to Building a Talent Pool
Here are the five steps to building a talent pool as part of your talent acquisition and recruitment strategy. We'll describe each step in detail with expert tips from recruiters included.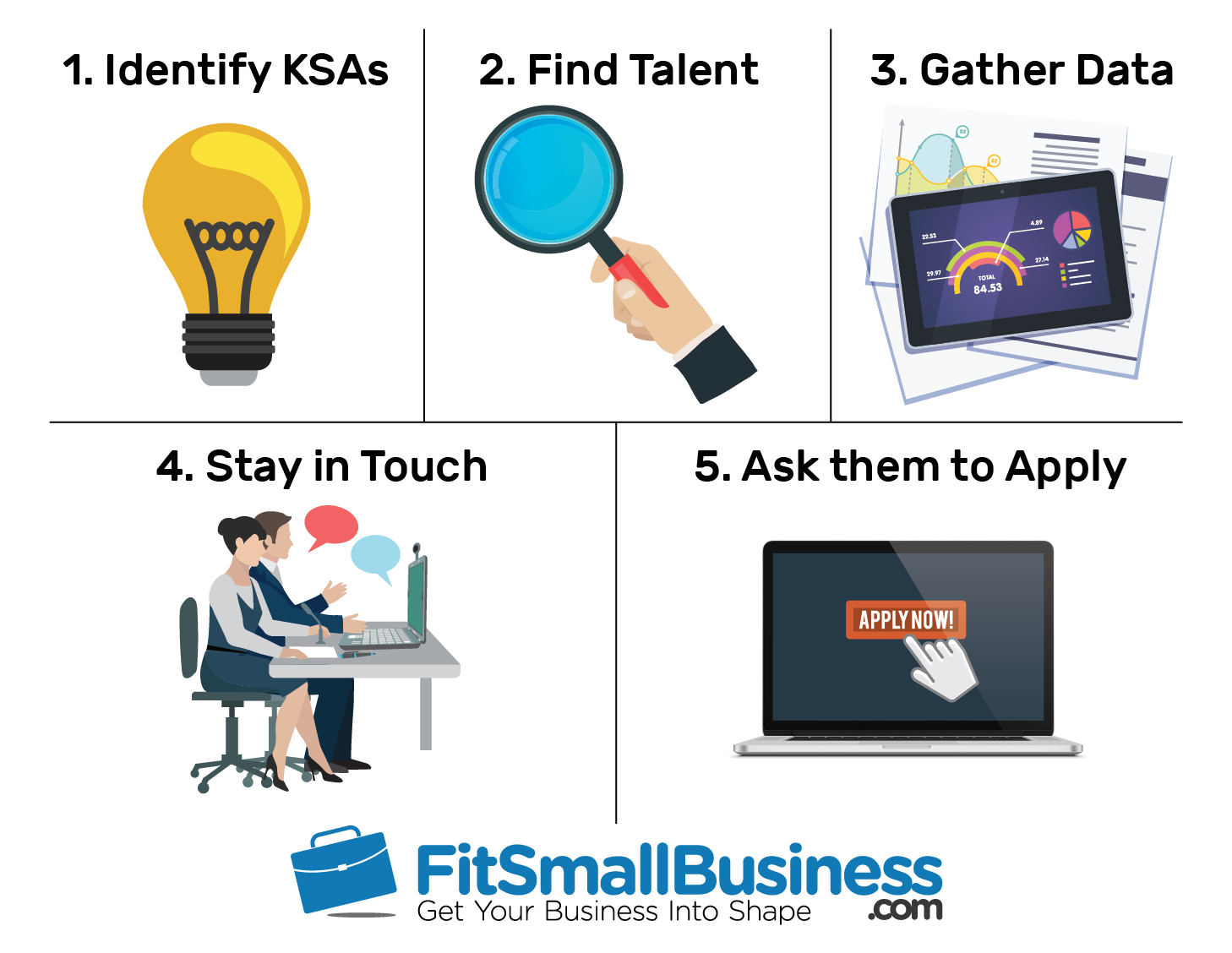 1. Identify the Knowledge, Skills & Abilities That Your Company Needs to Be Successful
In order to build a talent pool, you first have to understand the type of talent your business needs—the knowledge, skills, and abilities, also referred to as KSAs. Knowledge and skills can be quite specific, such as someone who is an expert in AI facial recognition. Abilities can be more general, such as individuals with project management, leadership or sales aptitude.
What's important is to do a little sleuthing. Talk to managers to find out which positions are most critical, particularly those for which it may be difficult to replace workers if they leave. Also look ahead to see what positions may be opening up due to business growth, promotions, or employee retirement.
Further, determine whether there's any specialized knowledge that your business could not function without, such as a plumbing expert certified in back flows, or an insurance agent licensed to sell life insurance. And lastly, identify the cultural and personality attributes of individuals that tend to be successful in your industry.
Once you've identified those factors, you're ready to start looking for talent who can fill those positions as needed. Those individuals become part of your talent pool.
Critical Positions
Critical positions are those your business can't do without. In larger companies, there may be several people who can step in to manage the IT system if your database manager goes out on leave. But in a small company, you may not have that luxury.
Critical positions are those which you might want to have a ready pool of talent to draw from should the person leave and the position suddenly become available. Ask yourself, "What job roles are so critical they can't be left undone/unfilled for long?" Make a list of the critical job roles in your company that you couldn't do without. One way to do this is to look at your company org chart.
Specialized Job Knowledge
Most businesses serve a niche and contain within them individuals with specialized job knowledge. If you run a tattoo studio, perhaps there's one person on your team who's an expert in black and white shading. Or consider that an auto shop may have a mechanic with expertise in British or German autos. Those skills are so specialized that your business may suffer if that knowledge were lost due to a termination or retirement.
One way to identify specialized job knowledge needed by your business is to look at your existing workforce. Examine job descriptions—do you have team members with expertise that no one else possesses? What happens if that team member leaves? Would you have to train someone new or hire from outside? If that's the case, you may want to identify individuals for your talent pool that possess that knowledge, so that you could hire a replacement worker quickly.
Additionally, you may be looking to expand your business into areas that require skills you don't already have. Perhaps your small bakery wishes to add a wedding cake designer in the future, or an HVAC shop wants to expand into solar heating. Those missing skills are ones to seek out.
When you're ready to hire those positions, you'll have individuals with those skills and knowledge pre-identified and ready to interview. Questions to ask yourself are: "What positions require specialized knowledge that isn't easy to find on short notice?" Or, "What skills and abilities are required for our business to add additional services?"
Cultural Attributes
Cultural attributes are another way to think about KSAs. To run a successful business, you'll need to find people who support your cultural values. You'll want only those who mesh with your business vision and mission. Add people to your talent pool who can fit in and work well with existing team members.
These individuals may come from within your industry, or they may bring these values while working in generic roles, such as management, customer service or sales in other businesses. It's not uncommon for your talent pool to contain individuals who exude your values, and whom you're willing to train in the skills and knowledge aspects of your specific industry.
2. Find Talented People Who Possess Those KSAs
Finding the people who possess the KSAs you seek requires multiple different strategies and tools. For example, you may find people while interviewing. Perhaps they don't match the job you have open but could be a good fit for a future role. Or perhaps your existing employees can recommend someone.
Based on a 2017 survey, SHRM reports the following tools for finding candidates:
Or perhaps you find people while going about your non-work life. It's not uncommon to meet someone in a service role that you'd love to hire based on their customer service, communication, and interpersonal skills. Here are more details on a few of these venues you could use to find individuals for your talent pool.
Job Boards
Job boards like Indeed are a great place to look for talented job seekers who you'd like to add to your talent pool. Of course, it's inappropriate to post a job you don't plan to fill just to get applicant resumes. However, Indeed and other job boards often contain searchable resumes of talented individuals looking to make a career change.
We use the Indeed platform and place ads to find technical talent for positions using search terms like "field service technician, kitchen oil service specialist, fryer route service specialist" and others.

We also capture leads directly from our own website, where people can view a video and click "apply here," and that potential employee is routed directly to the franchise owner. Depending on the time of year, the unemployment rate and other factors, each of our franchisees typically receive between two and five employee leads every month via this system.

– Tom Dunn, CFE, COO, The Filta Group Inc.
For example, on Indeed, you can do a search to find even the most obscure skills. Perhaps you're looking for a cartoonist to illustrate your customer marketing materials once you reach a revenue goal. Go ahead, start looking for them now—they're out there on job boards and can be found with a simple resume search.
Employee Referrals
Some of your best talent may come from the people you already employ. For example, your new hire who relocated from out of state may have a talented spouse with the marketing skills you need. And workers in all fields, from engineering to health care, have peers and former colleagues in their social network. Tools like Freshteam, shown below, can help you keep track of employee referrals.
Consider building an employee referral program based on the cultural attributes you're looking for and by identifying positions and skills you're often recruiting.
We offer a cash award based on the role and department—for instance, a referral for a Customer Care position has a smaller payout than a Tech role. We pay these referral bonuses once the person referred has completed three continuous months with LegalZoom.

– Lisa Fernandez, Director of Talent Management, LegalZoom
For more on creating an employee referral program, here are expert tips.
Passive Candidates
Passive candidates are individuals who are not actively seeking a job, but who may entertain an offer. While you don't want to poach talent from your business partners and vendors, you'll often encounter experts in your daily business dealings that you'd love to have work for you—if and/or when they were available.
In fact, The Washington Post recently reported that up to 71 percent of employees may be looking for a new job. Gallup concurs, stating that two-thirds of workers are burned out, and are more likely to seek a different job. That means the odds are in your favor if your company can provide those employees with a better employment option.
While not offering them a job, you might consider talking to them about future potential opportunities with your firm. Get their resume and add them to your talent pool. You never know when you'll need their skills, or when they might be open to changing roles. Here's what one talent expert suggests:
My secret for developing a talent pool is to start by uncovering their secret. You will find that you only have two situations: (1) either people don't know what their options for growth are (short- and long-term), or (2) they know exactly what they would like to do in the future.

Uncovering this secret is the starting point for mapping out a path with actionable milestones, since developing a talent pool requires collaboration between you and the talent you hope to bring onboard.

– Minal Joshi Jäckli, Talent Expert, OpenElevator
People You Meet
Don't overlook the chance meeting of a talented individual while in line at the DMV, on a flight across the country, or while you're going about daily activities in your home town. Once you know the kind of people skills you value and types of talent you're looking for, even a casual meeting can add great people to your talent pool.
Let's say you're on a day cruise and run into a recent college graduate. You like their personality, their skill set, and their passion. Start asking questions, and if they fit the profile of people you're looking for, add them to your talent pool. They'll be inspired and flattered to know you think highly of them, even if you're not hiring at the present moment.
Experts
You often meet experts in your line of business. It could be someone who presented on a topic at a Chamber of Commerce meeting or at a trade show. Or it could be professors from the university you attended. It could even be the sales rep from a vendor who happens to have expertise in just the area you're planning to expand in your own company.
And, then there are experts on blogs. These are people who've developed a following and may either be available or know someone who is within their specific area of expertise. Those are individuals to add to your talent pool.
Social Media
Social media tools like Twitter and LinkedIn can provide a great resource to find talent to add to your talent pool. You don't even need to request a resume, as their work profile may already be available online. Based on their tweets, or the groups they belong to, you'll quickly come to understand their expertise and their passion.
If there's a match, add them to the list of talent in your talent pool. They may have just the skills you need (or know someone who does) when the time comes to hire a person with that specific expertise.
Internal Employee Database
It's not a bad idea to maintain an internal talent database. What that means is that you input data into your internal talent management system regarding skills and abilities that your existing employees possess. Perhaps your sales manager speaks Cantonese? Or your warehouse worker used to manage the general ledger while working in Puerto Rico?
This can be as easy as asking each employee to fill out a document listing all the skills they possess and including the number of years of experience they have using each of those skills. You may be surprised what your existing employees have as skills in their background—from construction to management. You'll never know if you don't ask. Your next promotion or management trainee may come from within your existing ranks.
AI hiring software has come a very long way in terms of discovering candidates. One of the most interesting use cases of it today is enterprises leveraging it to parse through their own corporate candidate and employee data to make sense of it all.

AI is able to provide intelligent and compliant automation that provides detailed insights around all this candidate information, therefore making talent selection and discovery more efficient, and giving recruiters up to 70 percent of their time back.

– Shon Burton, CEO, HiringSolved
Internships
Internships are another great source of talent for your talent pool. Interns don't just exist at the undergrad level. Internships exist at all educational levels and are often required as a component of Masters and Ph.D.-level students. Businesses as diverse as manufacturing and social services can benefit by adding interns in the summer or part-time during the school year as a way to assess talent for future roles in engineering, counseling and health care professions.
Executive Recruiters and Temp Agencies
Let's say you're in a small business such as a dental office or an urgent care facility and can't go for even one day without key talent, such as a dentist, dental hygienist or interim physician. That's where you may want to have individuals from an executive recruiting agency or temporary hiring firm available to step in at a moment's notice. Those individuals should also be included as part of your talent pool.
No, it's not a long-term solution. But if you know that Dr. Tina works with a search agency and temps in an emergency, you'll want her name in your talent pool—even if you have to pay an agency upcharge on days you need her to sub.
Educational institutions do this. They have a ready list of pre-qualified "substitute teachers" in their talent pool. If you're in an industry that can't do without workers—such as a restaurant that can't run without a cook or a retail store that can't open without staff—you may want to have a few names from the local talent or temp agency in your talent pool to help out in an emergency.
3. Gather Talent Data in One Place
Several tools are available to keep track of individuals in your talent pool. You could create a simple list in a Google document or spreadsheet or you could drop their resumes into a paper file folder. But to save time and improve your search capabilities, you might consider investing in software instead.
Software to store your talent pool could range from a job board like Indeed, with free applicant tracking features, to recruiting software like Freshteam. Both allow you to store applicant data such as resumes. Either option will let you search resumes for keywords whenever you need talent that matches specific criteria, such as a graduate degree or unique skills.
Here are some helpful articles on where to find and keep track of individuals and their skills within your talent pool.
In fact, Freshteam gives you an easy way to tag and find candidates in your talent pool. And, whenever you post a job, it can provide you with suggestions of individuals who have the exact skills you're looking for. You can create custom tags to keep track of specific groups, such as people with SEO skills or experts in QuickBooks.
4. Communicate & Stay in Touch
After you've identified top talent that meets your needs and gathered information about them, you'll want to stay in touch. Initially, you may want to reach out and schedule a luncheon or video conference call; consider it a meet and greet, or networking. Or it may be a simple phone conversation. Many individuals are happy to talk to prospective employers about their interests and will add them to their social media connections.
These communication contacts accomplish two objectives. First, they allow you to further assess the individual for organizational fit in terms of style and skills. In a way, it's like pre-qualifying a job applicant. Second, they keep the individual interested in you, your employer brand and your value proposition.
Perhaps they work in boring corporate America. Meanwhile, your business is a startup or a nonprofit focused on something they are passionate about. They may be inspired to join and help you accomplish your vision. But they have to get to know you and learn about your
vision
first. Here are ways to stay in touch with top talent.
In Person and at Conferences
Invite them to join you at an industry meeting or conference. Or welcome them on a tour of your company headquarters. You're in these places anyhow, so why not get to better know the individuals that you find talented. Have them join you.
You might sit with them over lunch, or even ask their input on an industry presentation. You'll benefit by gaining the insight of a person you respect as well as help them understand you and your business model better.
Email & Phone
Email is an easy way to stay in touch with prospects in your talent pool. You can make it a habit to reach out to your top 10 prospects monthly (individually, not in a spammy group email).
Suggestions might be to let them know about upcoming industry events, share a link to a new free software tool, or attach a business-relevant article about something you both have a common interest in, such as billboard marketing or chatbots.
You can also do this via text or phone, but in an email, you have more words to convey your ongoing interests, as well as the ability to share something of value with the prospect, like an article, product or video link.
Projects & Freelance
Another way to keep top talent engaged, and assess their skills at the same time, is to offer them a short-term project or freelance assignment. You could ask them to write a guest post for your business/company blog. If you like their work, you may consider hiring them in the future.
Or perhaps you're implementing new software, and want to see if their IT skills are really all that. Have them assist on a short-term, paid project. You'll both get to determine whether working together may be a good option in the future.
Social Media
If you're often looking to hire experts in a particular discipline, consider joining a group on Facebook, Twitter or LinkedIn. Post articles or comment on postings of those you're following. That keeps you (and your business) top of mind should one of those experts consider changing job roles.
I use one big tool that no one else seems to be using when it comes to hiring talent away from their current employers—video and testimonials! Almost everyone in the modern business era uses video to sell their products and services. Why not use it to sell your company to prospective hires?

Here is my process:

1. I start by using LinkedIn Sales Navigator to search for people with my desired background in my area who might be a good fit.
2. I go to one of my current employees in that position and have them record a video with me. In that video, I ask my current employee how they feel about the job, where they work, and their boss. (Then I have the employee give them a little tour of our office space. All of this happens in less than 90 seconds.)
3. I blast my shortlist with a link to the video on YouTube and a link to my ScheduleOnce calendar to book a time to come in.

– Joe DeMaria, VP of Sales, NexGenT and Founder of JoeDeMaria.co
Regardless of how you communicate, staying in touch makes it much more likely that top candidates in your talent pool will respond positively when and if you ultimately want them to come in for an interview. It's relationship building, and it's key to keeping yourself and your business on their radar.
5. Reach Out & Ask Them to Apply When a Position Opens Up
While staying in contact with prospective talent, you'll have gathered their email, phone, LinkedIn account, resume or other means of contact. If you use recruiting software, a job board, or applicant tracking tools, you'll have a ready database of talent available to contact as soon as a position opens up in your organization.
Now is the time to pick up the phone and let them know you have a job open, and that you'd like them to consider applying for or interviewing for it. Then, follow up by email or via LinkedIn message (if you don't have their email address) with a link to the job posting on your company careers page or job board.
Or, if you're local, invite them to come in and fill out an application, ensuring them that they'll be on the top of your list for an interview. If you're ready to interview them, send them a scheduling request.
You're not guaranteeing them a job. You'll still want to go through all the steps in your hiring process, such as background checks and pre-employment screening. But, since they're already in your talent pool, you'll want to be sure they get an interview. They're already on your short list of top candidates for consideration.
Alternatives to Creating a Talent Pool
If your company is small, or you're not worried about the time it takes to recruit replacement talent, then you may want to consider some of these alternatives to creating a talent pool of your own.
Just keep in mind that the time it takes to hire an employee is based on many factors, including the job role, company size, your business location and the salary offered. Datapine shows that it takes an average of 49 days to fill an open position.
Job Board/Job Site Aggregator
Rather than managing a talent pool in your own database system or free ATS software, some firms are confident enough in their ability to hire top talent that they only use existing job boards like Indeed, or job site aggregators like Zip Recruiter.
Those sites provide access to millions of job seekers in their talent databases already. However, you typically have to pay from $100 to $300 a month to be able to contact those job seekers.
Nonetheless, using search functions, small business recruiters can really narrow down the top talent by skills, years of experience and location. Only those who fully fit the job requirements are selected and contacted with a personal request to apply to your open job.
If you're looking for a free job posting site that allows you to view and search online resumes, consider Indeed. Once you find candidates to include in your talent pool, it costs $100 per month to contact up to 30 people. Otherwise, job posting is free.
Professional Recruitment Agency
If you don't wish to maintain a talent pool on your own, you can leverage a professional recruiting firm to help fill open positions for top talent. They have talent pools to draw from based on years of filling open roles. However, the cost of using a recruitment firm can be upwards of 30 percent of the job hire's annual first year salary.
In addition, professional recruiting agencies often specialize. For example, there are recruitment firms that specialize in finance roles, project roles, IT roles, engineering roles, and medical professionals. To ensure you have a ready pool of talent should you need an expert hired on short notice, you may want to research professional recruiting firms, known in slang as "headhunters," that service your industry.
Career Page/Employer Branding
Businesses in high-turnover industries, such as fast food, cleaning services or skilled home care, keep jobs posted and accept applications year-round, even when they don't have open positions. They do this so that they can reach into their pool of applicants and hire quickly when someone gives notice, quits or is fired. In a sense, this pool of applicants serves as a ready talent pool.
To encourage applicants to apply, however, these businesses put some effort into employee branding. Like Netflix, they may put more than a logo on their career site (see image below).
For example, they may ask existing employees to tweet about how fun it is to work in their business, post photos on the website, provide employee testimonials, or ask their staff to leave reviews on sites like
Indeed
and Glassdoor.
These employer branding tactics encourage job seekers to submit an application, ensuring a ready supply of applicants for open roles.
For a low-cost option that provides great employer branding options as well as your own company career page, internal referrals and a full-blown applicant tracking system, try Freshteam. Freshteam is part of the Freshworks family and can help attract talent to your workplace.
Conferences & Presentations
Some business owners present at conferences, record and share videos, or provide presentations at local venues. This serves as a means not only to promote what they do, but to inspire qualified professionals to join their company. By showcasing products they're working on or projects they've completed, businesses can motivate top talent to want to join their firm. Some may even host a booth at a trade show, college campus or career fair. They present examples of what their company does and why it's a great place to work.
Frequently Asked Questions (FAQs)
Here are a few questions business owners have about creating a talent pool.
If I email a prospective employee I don't know, isn't that spam?
There are CAN-SPAM laws that govern email. But, in general, if you're reaching out one-on-one and identifying yourself and your business, you're probably not violating any laws. As long as you give the person an option to say "no thanks," you're safe in contacting prospective and even passive job seekers. This is especially true if they've posted their resume on a job board or connected with you via social media.
Of course, if they ask you to take their name off your list, or they don't contact you again, it's best you delete them from your talent pool. They're no longer your prospect.
Can I hire talent from a competitor if there's a non-compete agreement?
It depends. If their non-compete agreement states that the employee can't work for a vendor or business partner of their company, and that fits your business dealings with their prior employer, then they may not be able to work for you. However, non-competes aren't valid in some states, such as California. And they're difficult to enforce in other places.
In general, as long as the employee isn't sharing trade secrets from the prior employer or poaching their client list, it's likely you'll be able to hire them. However, be sure to have your attorney take a look at any agreements you have with the former employer, as well as protect your employee by looking at any non-compete or non-disclosure agreement they've signed.
Isn't it more expensive to hire passive talent?
Recent research from Indeed shows that yes, it often is more costly to hire passive talent. You're recruiting them away from a job they already have. As such, they'll often expect a salary boost or some other perk (flex time, remote work) in order to make the switch. Some may demand a salary increase of between 15 percent to 32 percent.
However, employers like nonprofits and startups, as well as those that offer cool work perks, can often encourage passive talent to make a move without a salary bump. Based on your company values, a great work environment or career opportunities, you may have what it takes to get a passive candidate to come on board without paying them more than they're currently making.
Bottom Line
Creating a talent pool is a smart business practice. For most small businesses, employees are what make the business run. Once you move past being a solopreneur, you need skilled individuals to carry your business vision forward and execute on your daily activities serving clients and customers. If you can't afford to have those positions sit empty for long, a talent pool is the answer.
To manage your talent pool, including posting jobs, importing resumes and creating an employer brand that attracts talent to your business, consider using Freshteam. Freshteam is recruiting software that manages the entire applicant pipeline. It includes providing parsed and searchable resumes within your talent pool database. You can try it free for 30 days. No credit card is required.