How to Do a Comparative Market Analysis (CMA) Report
A comparative market analysis (CMA) is a report that estimates the current worth of a home using sales and property data from similar homes (commonly known as "comps"). CMAs are created by agents to give property analyses to homesellers, buyers, and investors, so learning how to do a CMA report is essential. In this guide, we explore how to create a comprehensive, well-organized CMA to help you gain new clients, provide insight to existing clients, and demonstrate your authority and knowledge in the real estate sector.
Read on to discover how to do a CMA report using the appropriate tools and evaluation criteria, when to use it, and examine examples from other real estate experts.
1. Understand How & When to Use a Real Estate CMA
Comparative market analysis generally gives sellers a listing price estimate. As a seller's agent, you must be able to explain what a CMA is and what it consists of to potential sellers in a prelisting package or during a listing presentation. You must offer a CMA report after being hired as a listing agent to assist them in determining the listing price for their home.
While CMAs are most commonly utilized for sellers, a CMA in real estate can also be created for:
FSBO (for sale by owner) homesellers: Incorporating a CMA into a listing presentation for FSBO homeowners helps demonstrate how they can make more money by working with a real estate agent rather than dealing with the process alone.
Homebuyers: Gathering data on the pricing of comparable homes in the neighborhood can assist potential buyers in determining whether a home is a good buy and submitting a solid offer.
Landlords: When marketing rental properties for sale or deciding on rental pricing, real estate investors benefit from knowing the value of their rental homes.
Commercial properties: Real estate CMAs are frequently associated with residential homes, but understanding the value of comparable properties is equally essential to commercial buyers and sellers.
2. Know What Is in a CMA Report
Even if you are a local real estate market expert, most of your clients are not. When learning how to do a comparable market analysis, remember you are not doing it for yourself. It is designed to assist your clients in understanding the market and making the best decisions regarding their property. Furthermore, a comparative market analysis can be utilized to nurture and convert potential leads to obtain more listings.
When real estate agents perform a comparative market analysis, they generate a report laying out the findings. There is no standardized comparative market analysis report; however, there are basic factors that are included in these reports that give an accurate picture of the market value of the property.
Here are some of the most common elements in a real estate comp analysis:
The subject property's address and five to seven comparables
Property descriptions, including the number of bedrooms and bathrooms, square footage, and price
The comparables' adjusted sales price per square foot
The selling price of each comparable
Adjustments in dollars for any differences
3. Determine the Resources You'll Use to Research
Since a comparative market analysis is intended to deliver value to potential clients, an off-the-cuff home estimate is insufficient for this report. You'll need to collect and compile data that makes sense to your clients and provides them with clear evidence regarding your evaluation of their homes.
Here are several of the best options you can utilize:
Local MLS: It is the most reliable source of property information.
Zillow or Realtor.com: Allows you to see the homes currently on the market or have sold recently and fill any gaps of information missing from the local MLS listings. You will also see data on the subject property and the previous agent's marketing strategy.
Google Street View: This lets you learn more about the neighborhood before visiting in person.
HouseCanary: It automates more accurate home valuations and value forecasts, especially for investors.
Cloud CMA: Enables you to create interactive comparative market analysis presentations.
Zillow is well-known for offering "Zestimates," which are general estimations of a home's value based on Zillow's property and market data. However, these estimates have an average error rate of 2.4% for on-market homes and 7.49% for off-market homes. The most effective method is to start with the Zestimate and be ready to explain what a CMA in real estate implies and why your estimate is more accurate.
4. Develop a Spreadsheet to Gather & Organize Property Data
Depending on the tools you use and the volume of data you collect, your information may be muddled across numerous platforms and documents. Because your CMA aims to help clients better understand the worth of their house, you must gather all property data and calculations into an organized document.
Download our free CMA worksheet to centralize and organize your data:
This spreadsheet will help you present your findings to your clients in an organized way. Also, a spreadsheet with preconfigured formulas will do calculations for agents like the price per square foot, average property price, and approximate property value.
5. Record All Data About the Subject Property
While the local MLS or real estate listing websites can provide historical information on the subject property, it's crucial to get the most updated information by visiting the property in person and interacting with the current homeowners. Keep track of any information you uncover about the property, like the number of bedrooms and bathrooms, square footage, age and type of property, and amenities.
In addition, seek any hidden issues or features that will affect the sale price and inquire with the existing homeowners about the dates of previous renovations, average utility bills, homeowners association (HOA) fees, and taxes. Include this information in the CMA report, and this will assist you in answering homebuyer questions during open houses or showings.
Other factors to consider when touring a property include the following:
Condition: Is the home in very poor or excellent condition?
Upgrades and additions: Has the homeowner built a swimming pool? Central air conditioning? Skylights? All new features can have an impact on value.
Necessary upgrades: During the property viewing, consider whether the new owner will need to make any extensive upgrades, such as a new roof, electricity, plumbing, or other costly improvements.
Exterior and landscaping: Has the exterior or landscaping recently been upgraded? This can boost the value too. Look for significant issues like old siding, foundation cracks, or other exterior issues that can reduce home value.
Amenities: Consider whether the home is in a gated community with a clubhouse and fitness facilities, close to shopping and restaurants, or has other desirable amenities.
Make a checklist you can use when performing property walk-throughs. This guarantees that you pick up all the crucial details during your visit and don't waste time afterward asking questions, clarifying with the homeowners, or wondering if your final CMA is accurate. Begin with the above list and incorporate it into your real estate listing checklist.
6. Compile Comparable Properties & Data
Once you've gathered all the essential details and data about the subject property, you'll need to find comparable properties to compare, analyze, and construct your real estate CMA. Although comparable properties will not be identical, finding as many similarities as possible is beneficial.
Search for properties that are comparable in the following ways:
Location and neighborhood (comps are ideally in the same neighborhood, but you may also compare properties in other neighborhoods with similar features like walkability, community events, and transportation)
Listing age (use properties that are currently on the market, just sold, or sold within the last one to two months)
Age of property
Bedrooms
Bathrooms (include both full and half-bathrooms)
Square footage (look for homes within 300 square feet)
Layout
Lot size
Condition of property
Exterior and landscaping
Amenities (for example, in-ground pool, gated neighborhood, or a fenced yard)
Building type (this is particularly important for rentals or homeowners associations)
Recent renovations or updates
Pro tip: Begin by looking for commonalities, but broaden your search as needed. Depending on your location and the condition of the real estate market, it may be difficult or impossible to discover homes the same size, have the same number of bedrooms, are in the same neighborhood, and were sold within the last few months. Start by expanding the listing age and looking for comparable homes sold within the previous three to six months. If you can't find a selection of comps, try broadening your search to identify other options.
7. Calculate an Estimated Price From Comparable Listings
The next step is calculating the price per square foot for each of the five to seven comparable properties. To estimate the cost of your subject property, apply simple calculations to get the average price per square foot for each comparable property. For example, here's how to conduct a price analysis on a 3,000-square-foot ranch with five comparable homes. To start, use the equation below to calculate the price per square foot of each comparable property:
Sales Price ÷ Square Feet = Price per Square Foot
Subject property: 3,000 square feet
House one: $500,000 price ÷ 2,700 square feet = $185.19
House two: $525,000 price ÷ 3,200 square feet = $164.06
House three: $510,000 price ÷ 3,300 square feet = $154.55
House four: $495,000 price ÷ 2,650 square feet = $186.79
House five: $515,000 price ÷ 3,100 square feet = $166.13
Then, compute the average price per square foot by adding the costs per square foot of each comparable property and dividing by the total number of comparables:
Sum of all five house ÷ 5 = Average price per square foot of comps
($185.19+$164.06+$154.55+$186.79+$166.13) ÷ 5 = $171.34 average price per square foot of comparable properties
Finally, to determine the estimated worth of the subject property, multiply the square footage of your subject property by the average price per square foot of comparable properties:
Subject property square footage x Average square foot of comps = Property Value
3,000 square feet x $171.34 = $514,028.77 approximate subject property value
This is a relatively accurate estimate of your client's home sale price, but remember that there are unique property features. Many factors will influence the home's worth, which is especially relevant if there are few comparable homes nearby or if the house is in a new development with no recent sales data. Conversely, this computation is a valuable and beneficial component of your comparative market analysis.
To learn the estimated value of your subject property, use our property value calculator for easy computation:
8. Prepare Final CMA for Your Potential Client Using the Proper Tools
After collecting, analyzing, and organizing your data, it's time to combine it by producing a CMA package. Instead of delivering potential clients a plain, dull spreadsheet with property facts that may or may not make sense to them, create a comp report with descriptions and key takeaways.
There are multiple ways to create and customize your comparative market study, including:
Putting together a digital presentation on PowerPoint or Keynote
Printing or sending a PDF
Using Cloud CMA to create an interactive CMA presentation
Purchasing a CMA template online
Designing or customizing a template from Canva
You are displaying a large amount of information to clients, so the best rule is to keep it simple. More information isn't necessarily better. If the report confuses you, it will likely confuse the seller. Make your real estate CMA understandable by emphasizing critical information, including descriptions, and using a scannable format.
Manually creating a real estate CMA might take hours. However, there are numerous tools available that can help simplify and speed up the process. Most local MLS systems support CMAs but are typically generic and difficult to customize. Several platforms can help you design a CMA report for your clients that is tailored to your brand and style.
To begin streamlining the process, consider the following CMA real estate tools:
Providers

Best For

Professionally designed printed market analysis reports

Real estate agents and brokers wanting in-depth reports and analytics

Real estate professionals seeking for advanced, proprietary analytics

Agents with no design experience looking for a simple graphic design tool

Key Features

CMA templates
Interactive and digital CMA presentations
Presentation tools

All-in-one appointment scheduling
Branded and automated texts and emails
Activity reports

Accurate property value insights
Interactive tools to find and select comparable properties
Value forecasts for up to three years

Free templates, fonts, and logos
Premium stock images are available
Ability to export designs in multiple formats

Starting Price

$49 per month

$45 per user, per month

$10 per report

Free; paid plans start at $12.99 monthly

Read More
9. Schedule an Appointment to Review the CMA
Set up a meeting with new leads as soon as possible. Although emailing your finalized CMA report is the simplest choice, there may be information in the report that your clients are unfamiliar with without you to walk them through it, so visiting them in person is the best approach to delivering it.
Even if your leads choose to interview or hear pitches from several agents, you will stand out just by being the first. Setting up a meeting for a listing presentation is one of the most effective strategies to convert them into clients and develop long-term relationships.
Even if the CMA is for existing clients who want to work with you, the presentation is still critical to provide them with the resources they need to sell their houses. Furthermore, it assures that you and the homesellers enter the real estate transaction on the same page, with open communication and established expectations.
Pro tip: Don't toss away or disregard a CMA once it's completed. Keep the information for future listings, sales, and marketing. You might obtain new leads with similar properties, and utilizing data from your CMA will make the process go more quickly and efficiently.
A comparative market analysis is also an excellent strategy to generate new real estate leads from your website. With a landing page like Real Geeks' Home Valuation Tool, you can effortlessly generate traffic to your landing page and acquire new seller leads. Then, you can move them farther down your funnel by providing a free CMA and a more accurate method of determining their house value.
Real Estate CMA Examples
Finding the proper format and information will be more time-consuming the first time you create a comparative market analysis. As you obtain more real estate listings and deliver more presentations, you'll see patterns or common inquiries from homeowners. Your CMA report should evolve to incorporate answers and explanations to typical questions, improving your presentation and interaction with clients.
Here are four CMA real estate comparables templates and examples to get you started on your analysis:
This comp report sample has a simple format and design, yet it contains an array of information and easy-to-understand charts and statistics. The comparable properties are shown on a map and in several easy-to-read charts to make the information as straightforward as possible. It also consists of a QR code, allowing sellers to download the physical report to their electronic devices instantly. This is an excellent solution if you cannot decide whether to provide a printed or digital version of your CMA.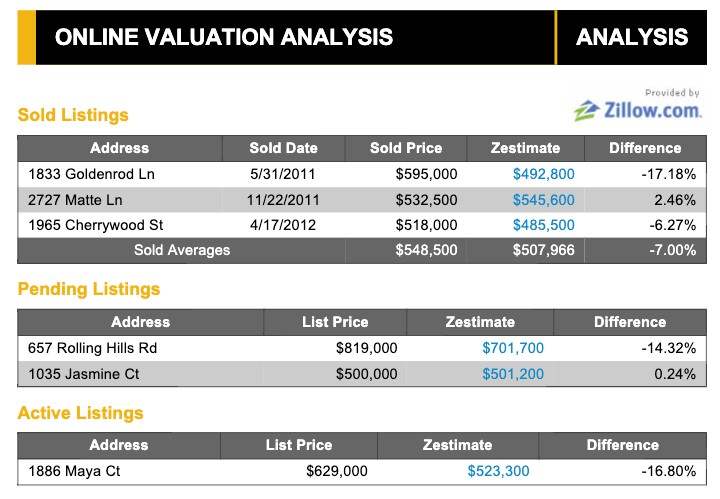 ---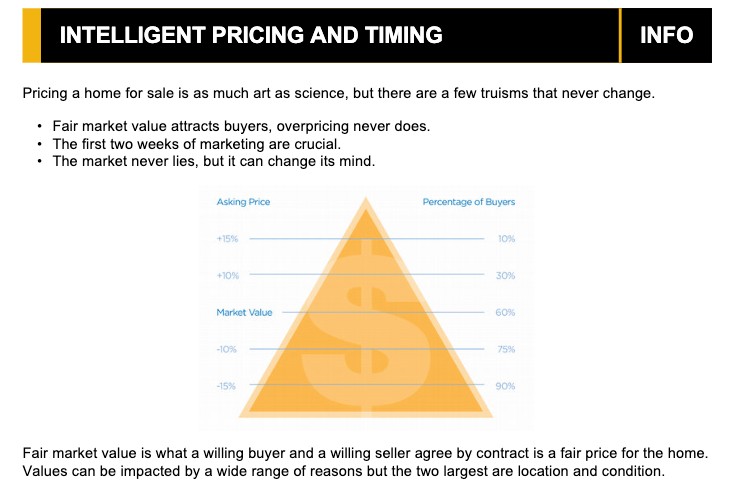 ---
---
This CMA is an example report from Cloud CMA, and it is incredibly user-friendly and easy to understand due to its graphics, well-organized charts, and concise headings. This analysis may be printed quickly, but Cloud CMA can generate interactive reports you can walk through with your clients online. This is your ideal strategy if you want to make your comparative market analysis and presentation more engaging and memorable.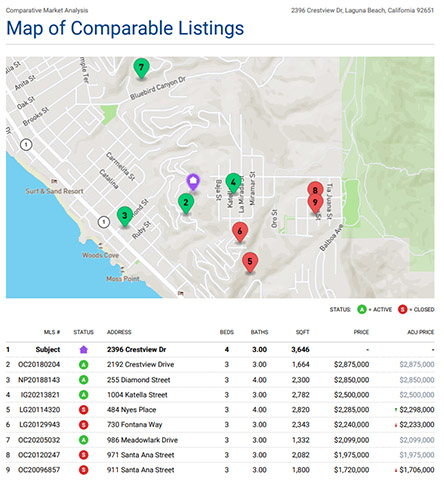 ---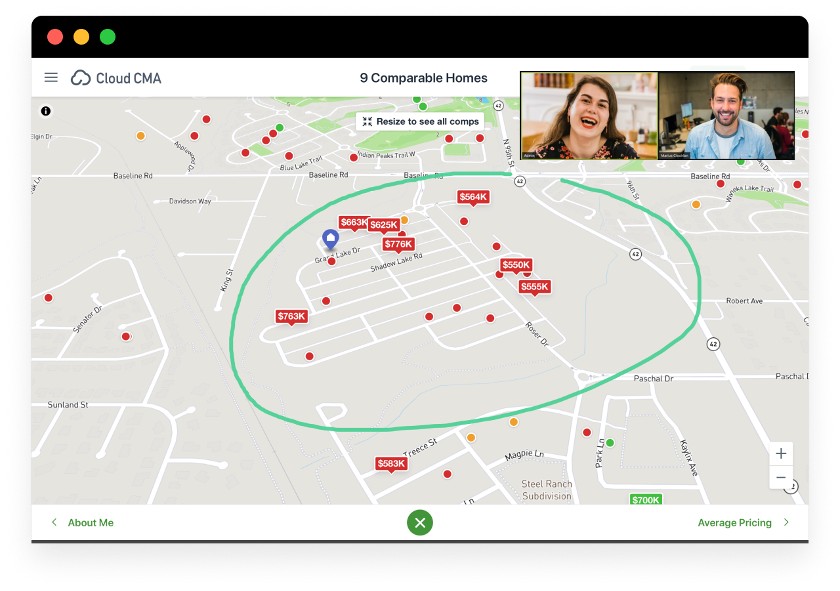 ---
---
Using graphs is one of the best methods to make your CMA easier for non-real estate professionals to understand. This CMA example includes standard charts with property statistics and comparisons. Still, it also has unique graphs to visually convey essential details, such as list price vs selling price or days on the market.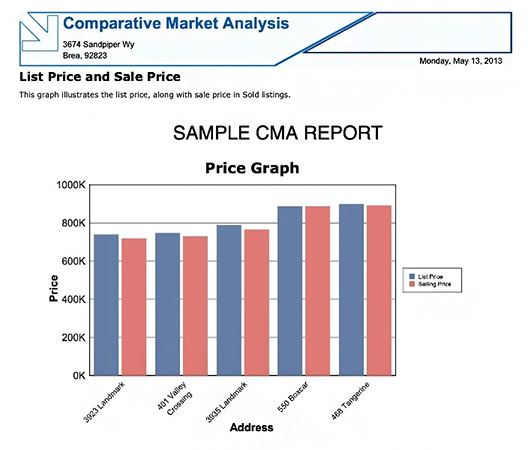 ---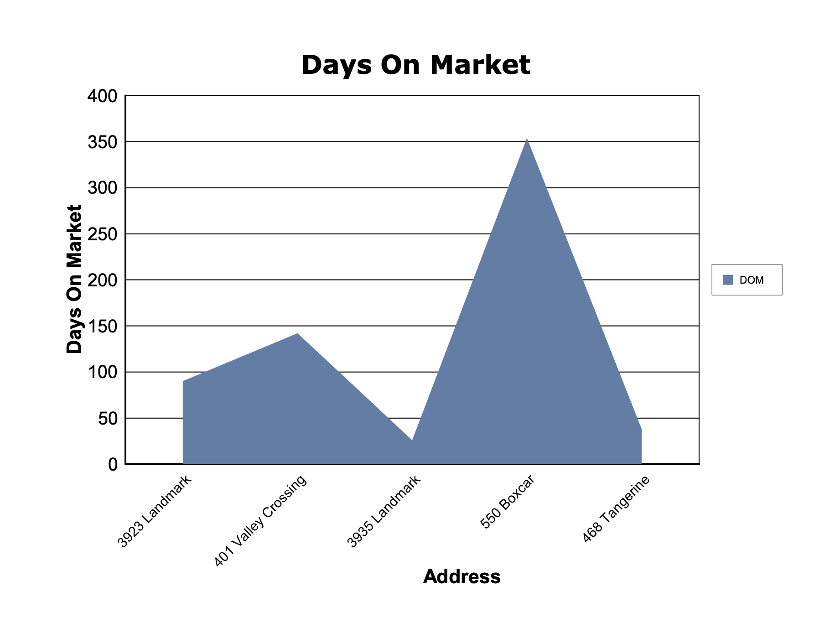 ---
---
Reuse the information from your CMA to promote your business by creating a flyer and sending direct mail to similar properties in the neighborhood. This CMA template only has two pages. Therefore, it is not the best choice for a listing presentation when your goal is to boost trust and familiarity. On the other hand, sending property information to neighboring homeowners may stimulate their curiosity and help you generate listing leads.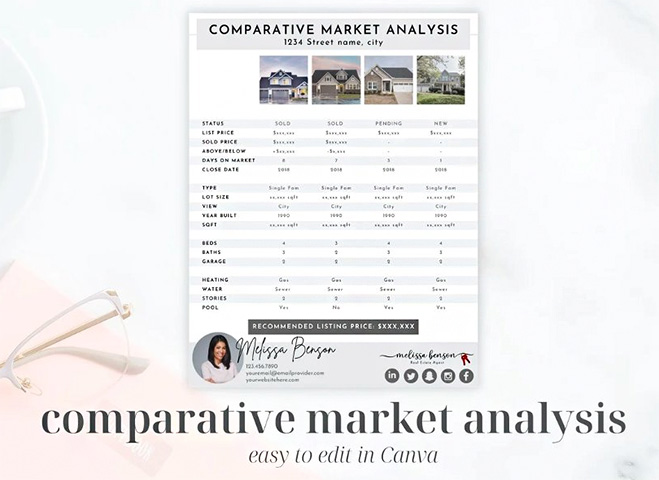 ---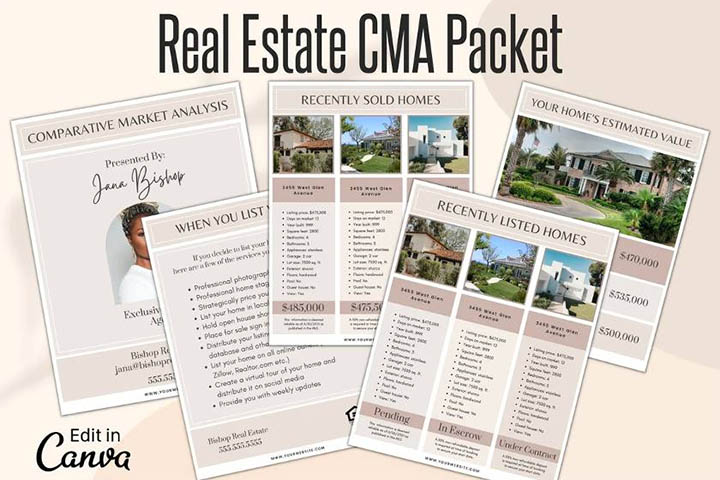 ---
---
You don't have to be a graphic designer to create a visually appealing and intuitive comparative market analysis report. Canva is a visual design tool that offers thousands of templates for documents, presentations, infographics, flyers, and branding elements, such as colors, fonts, and images. You can also save customized templates for each marketing item, making it simple to maintain consistency in your branding.
Bottom Line
A comparative market analysis (CMA) is an instrument that assists real estate professionals in demonstrating the worth of a possible listing to homesellers. It is accomplished by employing the necessary tools, locating comparable properties, obtaining data, and combining it into a visually appealing and simple-to-understand CMA report. That is why knowing how to do a comp report is essential since listing and real estate market data can be used to convert listing leads and generate new ones with the correct marketing methods.
Frequently Asked Questions (FAQs)
A suitable number of comps for sold and currently listed houses is five to seven. Remember that it is vital to include comps that only align or coincide with your subject property in your CMA report.
---
The most crucial property characteristic to evaluate is the location. A property's location determines its value, shows how far it is from major establishments, and influences the property taxes for the home. Finding comparable homes in similar areas is essential when looking for comps to use in your CMA.
---
CMAs and appraisals are sometimes confused by many people, but their primary distinction is who is in charge of doing the review. A real estate agent creates a CMA based on sales data, whereas a qualified real estate appraiser completes an appraisal. Another significant distinction is that a CMA determines the price of a home. In contrast, an appraisal determines its value, and appraisals occur after a home is under contract and are legally necessary for the transaction.
---