Website funnel analysis means examining your visitors' actions and behavior with the goal of increasing your conversion rate. A conversion-optimized website guides your visitors toward making a purchase with you. Funnel analysis looks at visitor actions to determine if your website is working well and, if not, how to optimize so it will.
Analyzing your funnel to find areas of improvement is important to boosting conversions, but nearly impossible without a conversion analysis tool. Freshmarketer is a small business software with comprehensive tools to perform website funnel analysis, including funnel analysis, heatmaps, session recordings, polls and feedback, A/B testing, and data dashboards. Their Garden plan is $99/month when paid yearly, and they offer a free 30-day trial.
How a Conversion Funnel Works
Before you can begin your analysis, you have to understand the four main stages of a marketing or conversion funnel. A conversion funnel has four consecutive phases: awareness, interest, desire, and action. Each phase includes a step or steps leads must take to progress to the next phase. Relevant content drives customers to take these steps. Once leads reach the action phase, they ideally become customers by making a purchase.
Here's a closer look at each stage of the funnel: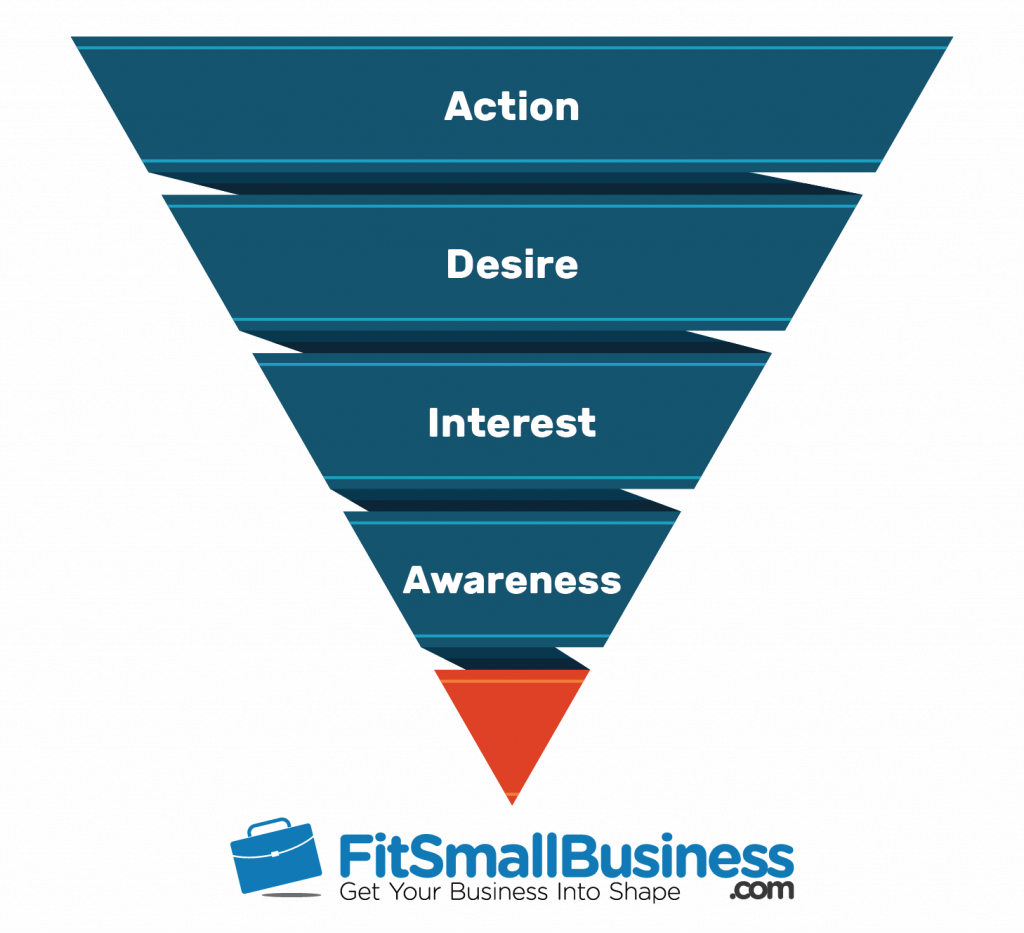 Awareness
During this phase, customers go from not knowing your business exists to knowing your brand name and getting a basic understanding of what you have to offer. To discover your business, they may search for a product or service online to meet an existing need or they may simply come across your brand via word-of-mouth or social media.
To garner awareness, businesses use content to attract qualified leads. This content might include traditional media ads, SEO content, social media or PPC ads, landing pages, or blog posts. When possible, businesses cast a wide but targeted net to attract attention from "qualified leads" that are part of their target audience and likely to move to the interest phase.
Interest
Customers gather general information about products or services to determine if what you offer satisfies their wants. They often research your company by visiting your business website or blog, but may still be considering other brands. To deepen their interest and help them choose your brand, you must create and deliver informative content that answers qualified leads' questions and builds trust. The goal is to show leads your products or services meet their preferences better than your competitors.
Content that deepens qualified leads' interest helps them visualize the product or service's place in solving their problem. This might include blog posts, white papers, case studies, FAQ pages, how-to or informative guides, and gated content. Gated content is offered in exchange for leads' contact or other important information. For example, offer a white paper in exchange for an email address.
Desire
At this stage, leads are convinced they would like to purchase a product or service from someone, but they are still comparing to decide which brand offering best suits them. Your job is to convince qualified leads that your products are not just what they want, but are what they need so they're justified in spending money with your brand.
Desire-phase content should highlight the problem your products or services solve, then prove your brand's offerings can solve the problem better than competitors'. Content types at this phase include customer success stories, email drip campaigns with CTAs, request-a-quote CTAs, free trials or demos, comparison guides, features or specs pages, targeted offers, invites to talk to a sales representative, and more.
Action
This is when your lead makes a decision to buy from you and seeks information on how to do so. The business goal of this phase is a purchase. Your job is to make the purchase process easy and clear, and avoid obstacles that will cause them to change their minds.
At this phase, your content should make the purchase process straightforward and easy. This includes upfront shipping and handling information; clear descriptions of different packages you offer; CTAs to "make an appointment," "order now," or "add to cart"; return policies; payment and shipping information collection pages; order confirmation pages; and more.
Who Funnel Analysis Is Right For
If your business depends on customers or website visitors performing actions, like purchasing products, hiring you, or making a consultation appointment, funnel analysis is an effective way to increase revenue for your business. Solopreneurs, small business owners, and mid-sized business owners who have website-based business goals can benefit from website funnel analysis.
Here's how funnel analysis works for different audiences:
Solopreneurs: Funnel analysis can lead to more website visitors purchasing your product or signing up for your services. Tracking your visitor behavior will help you grow your business and get more leads to convert.
Small business owners: Even as a small business, you may have multiple products or services. Website funnel analysis helps detect what each audience most needs from the conversion funnel, and how to optimize it to offer content and design that will entice them to convert.
Mid-sized business: Mid-sized business owners have several audiences they market to and lots of website traffic. However, they often don't have the budget or data influx to automate funnel analysis and optimization via machine learning. Software-based funnel analysis helps them scale their audience analysis and offer experiences that will keep conversion rates growing.
How to Do Conversion Funnel Analysis in 9 Steps
1. Define Your Audience(s)
The first step in funnel analysis is defining your audience(s) by learning why they come to your site and their phase needs. Ask your leads for their interests, behaviors, and goals via surveys and polls. Once you've gathered some answers, pinpoint their differences and group them into personas. In the next step, this information will be valuable as you craft relevant content to entice each persona through your conversion funnel and, ultimately, to purchase.
Starting at your awareness phase, ask leads what you want to know about them via surveys or polls, then track their behavior from there to analyze their conversion paths. For example, if ABC Books, an antique book dealer, ran a PPC campaign for "antique books," they would pair it with a landing page. Then, they could target a percentage of landing page visitors with a survey asking searchers' relevant needs, demographics, and intent in exchange for a discount.
Questions ABC Books might ask to learn about their audience include:
What era are you most interested in?
Are you a private collector, a curator, a seller, or other? If other, please explain your purchase goals.
Are you just browsing or looking for a specific book?
What is your city, state, and country?
Do you regularly need appraisals?
From this information, ABC Books might learn audiences searching for "antique books" fall into three categories, including curators, resellers, and private collectors. If you need help creating different personas for your business, check out our customer profile template to identify helpful questions in discovering your target audience.
2. Pinpoint Content That Drives Your Conversion Funnel
The next step is to dig into the paths unique audiences take to convert. In the ABC Books example, a museum curator looking for a particular Civil War book is likely to take different steps to conversion than a general history buff because each has different needs. To pinpoint what content drives conversions, use session recordings to observe conversion steps of different visitors.
A session recording tool allows you to record how users interact with your website. To understand your conversion funnel, find a session recording tool with strong segmenting capabilities. For example, Freshmarketer allows users to segment session recordings by URL. If you've set up a landing page for the search term "rare Civil War books," session recordings can be set to target visitors that begin sessions on this page's URL.
Record a few sessions, then watch them and note which content causes visitors to go on to the next conversion phase, from blog posts they read to CTAs they clicked. Further, pay close attention to high-spending customers' steps. Different audiences may take different paths. For example, a small investor may read blog posts about assessing books for edition and condition, then purchase a first edition Revolutionary-period book.
3. Map Your Audience(s) Funnel(s)
Now it's time to lay out your target audiences' conversion funnels. List each conversion phase: awareness, interest, desire, and action. Then, while referencing your target audiences' session recording notes, jot down the steps taken in each phase to move on to the next. More precisely, pinpoint the steps your highest-spending customers took to purchase.
Since you have not been analyzing and optimizing your conversion funnel, it may be somewhat unorganized and limited right now. That's okay. Your job is to pinpoint the content and steps that most helped your converting visitors advance to each phase.
Some things to consider as you're determining and annotating each phases' steps include:
Content consumption: What content encouraged visitors to move on to the next phase? For example, a museum curator would consume different blog posts than a history buff when evaluating Native American antique books. Did each audience find certain tabs, pages, CTAs, or blog posts valuable?
Action steps: What actions lead them to give you information you need at each phase? For example, at the interest phase, did certain gated content cause visitors to more often give you their email addresses or create a profile? At the desire phase, what content did they view before deciding to sign up for a free demo, consultation, quote, or trial?
URLs: URLs to content that moves your audiences through the funnel will help you pinpoint whether you can guide people to that content with some testing and optimization. However, first you want to input them into the funnel analysis software to verify their place and effectiveness in the funnel from a broader audience view, so be sure to note these as well.
4. Determine Key Steps You Want Visitors to Take at Each Phase
Pinpoint not just which steps leads take at each phase, but which are paramount for leads to pass onto the next phase. By pinpointing key steps, you learn what business goals you need audience(s) to meet at each phase. Then, after having mapped out your funnel(s), you can fill in gaps for phases that lack clear key steps.
For example, to purchase an historical book as a private collector, customers may need to complete the following actions:
Awareness phase: Leads must provide their trackable email addresses.
Interest phase: Leads must watch a demo on evaluating a books' desirability.
Desire phase: Leads must click on a genre catalog or search for a book.
Action phase: Leads must add a book to their online carts.
Your goal here is to pinpoint key steps at each phase and fill in any gaps that may exist. Notice that at the awareness phase, customers need to offer their email addresses but there are no key steps that will lead them to do so. This is a gap in your conversion funnel that must be filled. You need to add a website pop-up or piece of gated content to encourage an email signup.
5. Use a Conversion Optimization Tool to Analyze & Optimize
With a full and clear funnel to analyze, a few tools can help you pinpoint, then remedy, any issues that hinder conversions. Consider using a robust conversion optimization software, like Freshmarketer, to reveal not just where visitors drop off but why, using session recordings and playback, heatmaps, funnel analysis software, A/B testing, code-free editing, funnel segmentation capabilities, polls and feedback, and form analytics.
Here's a brief overview of how to use each tool in your conversion funnel analysis:
Session Recordings and Playback: Record and replay visitors' website interactions to pinpoint their behaviors, frustrations, and preferences.
Funnel Segmentation: This is a capability within funnel analysis software that allows you to analyze audience-specific funnels.
Heatmaps: Heatmaps are visual representations of where visitors click, scroll, or move their mouse. They are helpful for learning what hinders and lends to conversions and so guide you in the optimization process.
A/B Testing: Once you know where leads drop off the conversion funnel and pinpoint elements causing drop-offs with your heatmap software, A/B testing helps you learn how to optimize website elements to better guide leads through your conversion funnel.
What-You-See-Is-What-You-Get (WYSIWYG) Visual Editor: A WYSIWYG Visual Editor allows you to make improvements to your website for better conversion rates without coding skills.
Form Analytics: Learn how form elements lead to or hinder conversions.
Polls and Feedback: Polls and feedback allow you to ask visitors why they dropped off, then detect patterns via word clouds, charts, and bar reports.
6. Set Up Reporting for Each Phase of Your Funnel
To create funnel reports, you'll need to invest in a robust and vetted funnel analysis software. Freshmarketer is a leading funnel analysis software that offers a $99/month Garden plan (with a 30-day free trial) with heatmaps, A/B testing, session recording and replay, and form analysis, all of which help you analyze and optimize your funnel. From there, integrate with your website and set up your funnel and phase steps.
Here are the steps to set up reporting within Freshmarketer's funnel analysis toolkit:
Integrate Freshmarketer: Add Freshmarketer's code to your website. Freshmarketer offers step-by-step integration guides to integrate their code in your website.
Create a New Funnel: Click "Create Funnel" from the "Funnel" page.
Name Your Funnel: Input a funnel name ("small business conversion", for example).
Set Up Phase-specific Steps: Name and enter the pages set up for your funnel. Think of each step as the key phase-specific step audiences must take to advance to the next funnel phase. Pair each step with the URL where leads need to perform key steps. If you want visitors to offer an email address in exchange for resource library access, for example, add the URL of the page asking for email addresses and provide the name of the phase it belongs to.
Add Four Phases: Click "Add another step" to create a step for each phase. Continue naming each phase and providing a key-action URL for each.
Build Your Funnel: Click "Build Funnel" once you've added a step and URL for each phase.
Verify Code Integration: A pop-up will appear asking you to verify code integration. If you've already integrated your Freshmarketer code, click "Go to Dashboard."
Wait for Your Report to Generate: As visitors interact with your website, Freshmarketer will gather data regarding their actions at each phase, then compile a visual report showing phase-specific conversion success. Slice the reports to analyze target segment behaviors and drop-off points. Before acting on insights, wait until you see a marked and consistent trend of a funnel's underperformance, usually two to four weeks for small businesses.
7. Identify Where & Why Leaks Happen
Funnel reports show where drop-offs occur in leads' conversion paths. While drop-offs at each funnel phase are expected, above average or drastic drop-offs tell you where to begin the analysis and optimization process. Begin by pinpointing the phase with the most drop-offs, then use tools like heatmaps, form analytics, and session replay to learn why drop-offs happen there.
As you can see from the example below, a drastic drop-off occurred in phase two. Because most businesses cast a wide net to attract people at the awareness phase, this is to be expected (hence, the funnel shape) but should be minimized. The way to minimize drop-offs at each phase is to pinpoint why drop-off patterns occur, then optimize to resolve the issue. Now that you've pinpointed where major drop-off patterns occur, use analysis tools to understand why.
These four tools help you analyze lead behavior at each phase to pinpoint why leads drop off:
Funnel Analysis Tools
Heatmaps
Freshmarketer offers dynamic, segmentable heatmaps, allowing you to see click-and-scroll behavior for each visitor. For example, if a sale promotion appears in pop-up form, dynamic heatmaps allow you to view which fields leads click on and complete and where they drop off by the intensity of color over each field. A lighter intensity means fewer leads got that far in filling out the form.
You can also segment heatmap data to only view clicks and scroll behavior by customer segment. If you want to understand where your reseller customers drop off after clicking an invite to get a quote, you can segment to only view their click-and-scroll behavior. What's specifically helpful here is the heatmap data shows overall patterns, not just what a few visitors do. By understanding trends, you learn what needs optimization for large conversion boosts.
Check out our compilation of best heatmap software.
Session Replay
Session replay allows you to view where visitors go when they drop off of a key phase step. For example, you may see from click behavior that your leads tend to drop-off after they've received a special discount offer. From there, you can view what distracts them with session replay. Does a dynamic element catch their attention and lead them to click elsewhere? Does the discount code malfunction, making redemption impossible?
One very helpful capability within Freshmarketer's Session Replay feature is the ability to segment recordings to pinpoint exactly what you need to know. You can segment by audience to analyze only visitors who fall into an audience-specific conversion funnel. You can also segment by website page to review where specific conversion steps take place. Segment by device to learn if issues only occur on mobile or desktop.
Form Analytics
If you notice your leads drop off during a funnel step that involves filling out a form, much like funnel analysis, form analytics helps you pinpoint where in the form leads tend to drop off. Like funnel analysis, once you pinpoint where leads drop off, you can use segmentable heatmap and session replay tools to pinpoint why.
Heatmaps then give you a sense of where form fillers tend to go instead by showing patterns of leads' behavior. In addition, on a case-by-case basis, session replay allows you to view form fillers' behavior to catch obvious malfunctions or problems that could affect all leads.
Polls and Feedback
When heatmaps and session recordings don't offer enough qualitative insights into drop-off causes, Freshmarketer's Polls and Feedback allow you to ask exiting visitors why they're leaving your site. For example, you can set the exit poll to trigger as the person moves their mouse toward the "close browser" button. Once you gather a batch of answers, you can view visitors' sentiments around each poll question in a word cloud, a bar chart, or a gauge chart.
8. Test & Optimize to Find a Solution
Once you understand what's hindering your leads from converting, it's time to run targeted tests to find a solution. A WYSIWYG editor helps you to create different web page versions even if you don't have coding skills. Then, A/B testing tools help you test each version against the original to learn which converts better.
Here's how WYSIWYG editors and targeted A/B testing tools help you to complete this step:
Create Versions with WYSIWYG Editor
Freshmarketer's WYSIWYG editor allows you to change any website element with drop-down menu options. For example, if you've determined a CTA simply isn't prominent enough to catch leads' attention or that the text needs to be changed to entice more clicks, the visual editor offers a menu that will allow you to change the CTA button's copy, text color, background color, and size as well as rearrange, resize, or remove it altogether.
Run A/B Testing
To test your changes, create various versions of your original page, then run them by a percentage of your audience to understand which version converts better than the original. The trick here is to ensure the audience you need to convert at each step does so. So, pair A/B testing with segmentation to ensure you gather data on which page best converts your target audience.
Here's how to run a targeted A/B test using Freshmarketer's A/B Testing capabilities:
Upload Your Test Page to Freshmarketer's A/B Testing Chrome Extension: Freshmarketer's A/B testing Chrome extension helps you to upload the page you'd like to optimize, make your changes, and then save it as a variation. Simply go to the URL of the page you'd like to test, then click Freshmarketer's Chrome Extension and click on "A/B Testing."
Make Changes and Save Variations: Once you've clicked on "A/B testing," hover over page elements and click on those you'd like to edit. A menu will appear with options like "edit link," "add text," "add image," "text color," and more. Click what you want to do and follow the prompts to do so. Your first page will be saved automatically as "Variation 1."
Track Element Clicks: Once you've created element versions, click on the changed element and select "Track Clicks."
Add a New Version to Create Alternatives: When you're satisfied with your Variation 1, click "Add new version," then hover over and click on elements to edit them via Freshmarketer's pop-up creative menus.
Set Up Your Goals: Once you've created your variations, click "continue" to open the goals page. You've already created the "track click" goal. Now, click "Add another goal" to set up more goals. Add all the goals you'd like to track and designate one as the primary goal.
Set Your Audience: On the top of your current page, you will see a "Targeting" tab. Click on it. Use this menu to pinpoint the audience you'd like to track. If you'd like more options for a custom audience, click the "Custom Audience" tab and follow the prompts to create more granular audiences.
Launch Your Test: Click "next," then verify Freshmarketer's code and "launch experiment" to begin testing.
Interpret Your Report: Freshmarketer will offer you a report detailing a winning version, a losing (or learning) version, or perhaps an inconclusive report telling you one did not perform statistically better than the other.
"The average conversion rate is what the average company settles for, but who wants to settle and who wants to be average? You don't have to optimize the entire funnel at one time. After you look at what parts are converting and which aren't, choose one point and test ways to make that one point convert better. Improving the funnel at any point should deliver better results, even if it's only incremental."

– Bethanie Nonami, Chief Revenue Officer, Marley Nonami
9. Optimize Based on Test Results
Once you receive and review results detailing how variations performed against your original version, you can implement changes for conversion boosts. Remember, analyzing, testing, and optimizing your conversion funnel is an ongoing process, not a one-time event. Test and optimize continually to learn about and refine your ideal conversion funnel and boost conversions.
Here are the steps to implement an ongoing conversion funnel optimization process:
Implement Winning & Learning Versions
Once you determine which element variations increase conversions, edit your site to incorporate your winning version. Other versions may have performed well in terms of key goals (even if they didn't make the cut as the overall winning version). If these key goals are important to you, also consider how you can include that version's characteristics in your live conversion funnel.
Optimize Further to Differentiate Inconclusive Versions
If your report tells you a version was inconclusive, it means that the version didn't perform statistically better or worse than your original version. If this happens, you need to either edit the version and test it until you see statistical performance differences, or track more goals, like revenue instead of just clicks, to understand how it may perform differently.
Analyze & Test Again
Continual testing and optimization of your conversion funnel allows you to continue striving toward your ideal conversion and revenue goals. In addition, throughout your company's lifetime, you'll find that customer preferences evolve and shift. Continual testing allows you to respond to those shifts so they don't cause revenue declines.
Refine optimization
Don't stop at continual testing. Apply what you've learned about customers' preferences after each round of testing. Then, take it a step further by editing out any element characteristics you learn your customers don't like after each testing round.
"Funnel analysis should not be a one-and-done project. You should always be optimizing your funnel. Testing and optimization may be a shift in your culture or mindset but well worth the adjustment. Make it a practice to review your funnel at least once a quarter."

– Bethanie Nonami, Chief Revenue Officer, Marley Nonami
Alternative Funnel Analysis Tools
In this guide, we focused on how Freshmarketer can be used for funnel analysis. Other tools on the market offer a different set of tools and capabilities for different business budgets, audience sizes, and target-conversion experiences.
These alternatives offer funnel analysis for solopreneurs and small to mid-sized businesses:
VWO is an A/B testing and conversion optimization platform. It offers A/B, multivariate, and split URL testing; a visual editor (no coding required); click heatmaps; personalization and targeting capabilities; and dynamic text replacement for real-time personalized funnels. VWO is best for mid-sized businesses with various audiences and that need to target each with relevant and optimized conversion funnels.
Zoho PageSense is a funnel analysis, testing, and optimization software. It offers A/B testing, heatmaps, funnel analysis, a visual editor, and strong segmentation capabilities to understand more than one audience. It is best for small businesses with more than one audience and a small marketing budget.
Google Optimize is a free, bare-minimum conversion rate optimization platform for solopreneurs. When users take advantage of its natural integration with Google Ads and Google Analytics, it offers funnel analysis, A/B and split URL testing, and a very basic personalization based on metrics like referring URLs, browsers, locations, and operating systems, not necessarily customer preferences, histories, behaviors, and contexts.
Bottom Line
Website funnel analysis and optimization should be a continual process. It helps businesses better align with customer preferences at each customer-journey phase, ultimately ensuring customers are more likely to buy. It also pinpoints customer preference shifts so you meet customers' needs before they purchase elsewhere. A robust conversion rate optimization software helps small businesses get and stay ahead.
For more options, check out our article on best optimizely competitors and alternatives.
Freshmarketer's conversion rate optimization software offers an all-in-one toolkit for small business conversion funnel analysis and optimization. They offer session replay, heatmaps, A/B and split URL testing, funnel analysis, form analytics, and polls and feedback for $99 a month when paid yearly. You can also try Freshmarketer for free via their 30-day trial.