A financial advisor is a licensed professional who helps clients build and execute financial plans based on their individual needs. It's important to identify your needs before choosing a financial advisor because they typically serve a variety of functions. There are seven steps to help you find the right financial advisor that can meet your needs.
You can typically find a financial advisor if you follow these seven steps:
1. Determine What Type of Financial Advisor You Need
The reasons that people hire financial advisors vary based on individual circumstances. One of the most common reasons people hire an advisor is to help them save for retirement. However, advisors can also help recent college graduates budget to pay off student debt. New parents can hire an advisor to manage a child's college fund.
The three main functions of a financial advisor are:
1. Financial Advisors Can Execute Your Trades
Historically, many people have hired financial advisors just to help them place trades in stocks, bonds, or other securities. Today, this practice has been mostly replaced by discount online brokers. However, if you intend to be an active investor, it can still be good to work with a financial advisor for placing trades to help you get the best price.
2. Financial Advisors Help Manage Your Investments
Many financial advisors provide active guidance in helping their clients choose investments. Some are registered as investment advisors and can take on the responsibility of managing client accounts on their behalf—choosing and executing trades. This is ideal for investors who prefer to take a hands-off approach and let someone else make decisions for them.
3. Financial Advisors Can Specialize in Certain Products
Not all advisors have access to the same products and services. Because many financial products change frequently, most financial advisors have areas that they specialize in and stick to. If specialized products like life insurance or annuities are part of your financial planning, it's important to work with an advisor who is well-equipped in these areas.
Whatever your individual needs are, it's important to have help from a knowledgeable, licensed financial advisor. The financial services industry has too many minefields for investors to navigate alone—from frequently-changing products to markets that can change direction without notice. When investing for your future, be sure to work with an industry professional who can help you navigate these rocky waters.
Decide Whether You Need a Fiduciary Financial Advisor
When looking at your list of candidates, find out whether your potential advisors function as fiduciaries. A fiduciary financial advisor is legally required to put your interests ahead of their own. They can't sell you one product over another just because it pays them a higher commission. If they do, they can lose their license or be fined.
Working with a fiduciary advisor is a great idea, especially if you expect your financial advisor to do more than just execute transactions. If you want your financial advisor to provide personal guidance or manage your account on your behalf, then you should definitely work with a fiduciary financial advisor.
Who a Financial Advisor Isn't Right For
A financial advisor can be very helpful in a number of different ways, but not everyone needs to use an advisor. If you want to trade stocks, you can usually get a number of free trades through online platforms. If your primary concern is life insurance, work directly with an insurance specialist to cut costs.
Some cases when a financial advisor may not be helpful include:
Small balances – Investors who don't have enough saved to meet account minimums
Day-trading stocks – Frequent trading is often cheaper through online platforms, which may also offer free introductory trades
Passive mutual fund investing – Investors who know what mutual funds they want to invest in may be able to buy them commission-free through a platform
Insurance-only needs – Working directly through an insurance company can help to cut total life insurance costs
Robo-Financial Advisors Can Manage Your Money Automatically
Many investors want someone else to manage their account for them, but aren't concerned whether decisions for their account are made by an actual person. For people who are comfortable with technology and OK having their account managed by complex computer models, a robo-advisor can be a great option.
Robo-advisors can handle account management functions the same way as a traditional investment advisor. While robo-advisors typically don't offer in-person guidance for clients seeking help on budgeting or other issues, they can usually help clients save money and usually have lower minimum balance requirements to open an account. For more information on robo-financial advisors and their costs, check out our list of the Best Robo-advisors.
Financial Advisor Needs for Small Business Owners
Whether you're buying insurance or setting up a small business retirement plan, be sure that you know how a financial advisor should help your small business. Know whether you expect them to work only with you individually as the business owner or if you expect them to help your employees as participants in a 401(k) or other retirement plan.
Some ways a financial advisor can help small business owners are:
Succession planning – Putting together a plan for the next generation of leadership to take over a business
Sale of business – Helping to value a business, prepare its financials for sale, and negotiate terms
Budgeting for fluctuating income – Making sure you build a budget that can withstand low-income years
Estate planning – Helping you choose the right investments to transfer wealth to heirs
Acquiring other businesses – Examining acquisition targets, review financials, and help provide necessary financing
Financing operations or growth – Providing guidance on what types of financing work better for your business and helping you put the right financing in place
Deciding what kind of financial advisor you need—or whether you need one at all—is an important first step to choose a financial advisor that's right for you. Financial advisors come in all shapes and sizes, so defining your needs will determine the scope of your search and set your budget for financial advisor fees.
2. Evaluate Potential Financial Advisor Certifications & Specialties
You can tell a lot about the role an advisor plays based on their licenses and certifications. While some licenses are legally required for some advisors—the Series 7 or 63, for example—other certifications represent additional training they've undergone to help clients or are indicative of the role an advisor plays.

"There are many factors consumers should consider when working with an advisor. Chief among them are their expertise in product knowledge, the consultative sales process and compliance with ethical, legal and regulatory requirements. Consumers should consider working with an advisor who holds a professional designation or certification that further demonstrates their knowledge and training." – Keith Gillies, President, National Association of Insurance and Financial Advisors
Some financial advisor licenses and certifications include:
Series 6 – A Series 6 is a FINRA license that allows someone to sell mutual funds and annuities. It's commonly used by newer financial advisors or employees at a financial services firm that do only limited work with clients.
Series 7 – A FINRA Series 7 is the license that allows a financial advisor to help clients with stocks, bonds, ETFs, and other investments in addition to mutual funds and annuities.
Series 63 – A Series 63 is the state license that a Series 7-licensed financial advisor must pass before they start working with clients.
Series 65 – Unless someone has passed a FINRA Series 65, they can't act as an investment advisor or recommend specific investments to clients.
Series 66 – A FINRA Series 66 is one license that combines both the Series 63 and 65.
CFP – A Certified Financial Planner undergoes additional training from the Financial Planning Association to help clients plan for their individual financial needs. However, in some firms, a CFP may not be licensed to work with clients

—

they may only be able to help with planning.
CFA – Some financial advisors get additional training to become Chartered Financial Analysts, which requires them to demonstrate knowledge analyzing specific securities and derivatives. However, this certification is more common among portfolio managers.
CAIA – A Chartered Alternative Investment Analyst is like a financial analyst who has undergone training to analyze special investments including hedge funds, private equity, and other structured products.
CLU – Chartered Life Underwriters are certified to underwrite life insurance for clients.
CPWA – Certified Private Wealth Advisors have undergone training to help them better serve high net worth individuals and families.
PFS – A Personal Financial Specialist can be awarded to Certified Public Accountants (CPAs) who have undergone additional training specifically to help clients with savings and investment needs outside taxes and other normal accounting functions.
Financial advisor certifications aren't the only deciding factor in how to choose a financial advisor. However, advisor certification can be very helpful in determining their areas of specialty as well as their compensation structure. Understanding what certifications are available will give you another way to vet potential advisors when deciding which one is right for you.
3. Look for a Financial Advisory Firm with the Right Specialty
Once you know what kind of firm you want, start researching individual firms to see which might be a good fit. Avoid calling firms initially—instead, check them out online. That way you can consider a firm and determine whether they have the right offerings to suit your needs without being pressured to open an account.
When you're researching financial firms, try to get a feel for what they offer and the things they focus on. You can often find clues in their investment philosophy as to how they approach investing. Learning a firm's philosophy about saving and investing can be a big part of how to choose a financial advisor that offers the right products and services to fit your needs.
A firm's philosophy will also shape the structure of its financial advisor fees, including:
Transactions – If a firm's investment strategy or philosophy is based on trading, they'll likely have a lot of charges for transactions in your account. Look for keywords like "best execution," "moving quickly," or "mobile trading" to know if this is a firm's primary focus.
Investment Management – A firm focused on managing client accounts or "providing returns" will likely charge a quarterly fee for managing client accounts. This won't be helpful if you want to manage your account yourself, but it can be valuable for investors who want to be hands-off.
Insurance – If your prospective financial advisory firm says they take "a holistic approach" to client finances or are focused on "long-term planning," it means that they want to manage all of your accounts and will likely want to sell you some insurance. These can all be valuable services if used properly, but aren't worthwhile if you just want someone to manage one of your accounts.
Whether you're researching traditional brokerage or advisory firms or robo-advisors, online brokers, or virtual advisors, use your research to get a feel for how they operate. Many financial advisors have specialties like stock trading, private placements, mutual funds, or insurance. If the firm you're considering has a niche they focus on, be sure you know what it is and why they excel in that area.

"PlannerSearch®, FPA's online search tool, helps people find CERTIFIED FINANCIAL PLANNER™ (CFP®) professionals in their area with the ability to narrow down their search by specialties. It also provides suggested questions to help individuals better understand a financial planner's background, knowledge, experience and competency as well as a wide assortment of articles to help Americans plan for life events, such as starting a family, paying for college and saving for retirement." – Frank Paré, President, Financial Planning Association
4. Research Each Individual Financial Advisor You're Considering
This step isn't important to all investors. Some people prefer to work with a financial advisor whom they like personally and whose financial philosophy is consistent with their own. However, if your focus is on finding a knowledgeable financial advisor but not necessarily someone you like personally, you can skip to Step #5 – Conducting Interviews.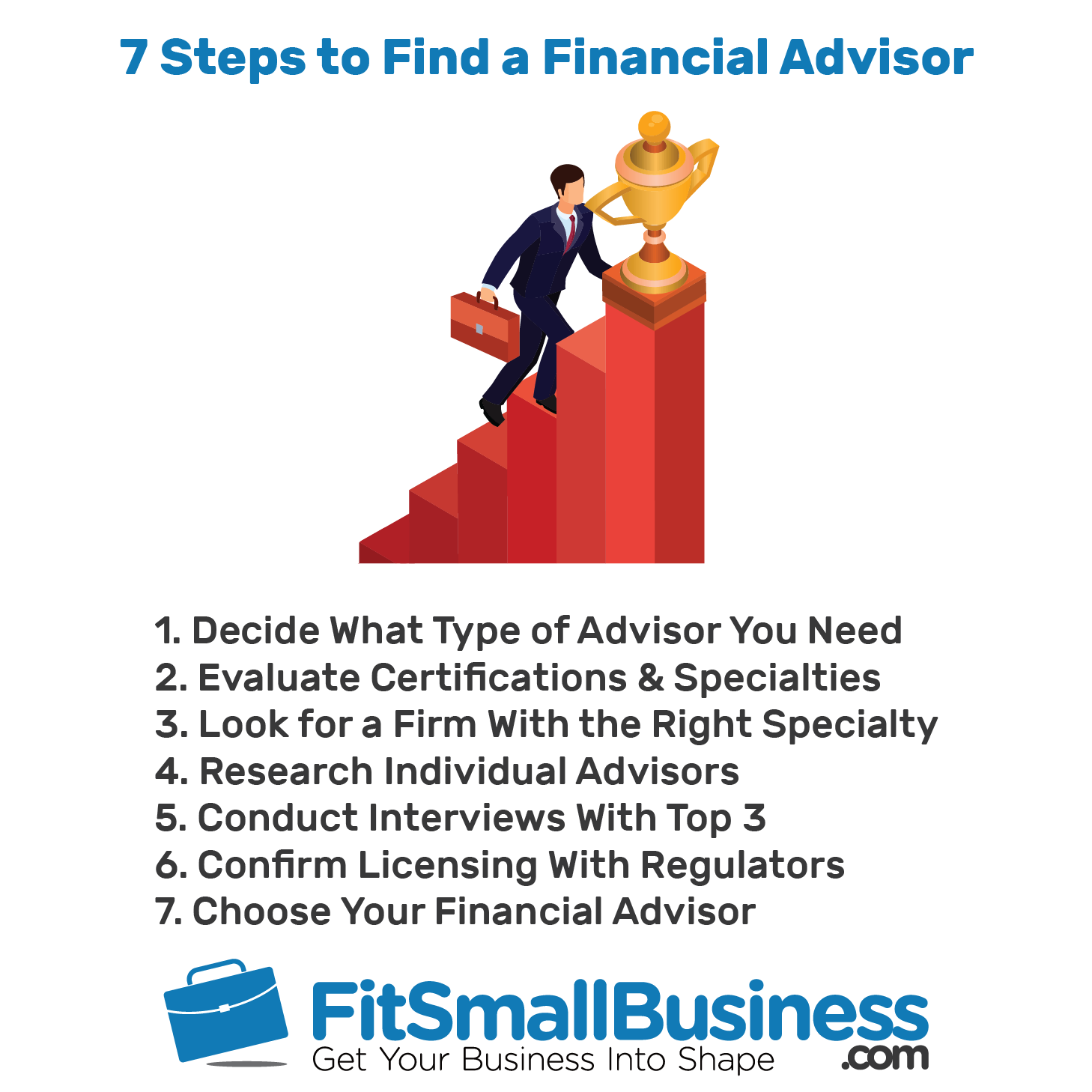 If you want to work with a dedicated financial advisor within a firm, research individual advisors once you start identifying good potential firms. Check their education to get an idea of their personality and level of competence about finance. Review any certifications they have to understand what role they play in the financial planning process.
While it's important to ensure that your potential financial advisor is knowledgeable about finance, you should also look for someone you can get along with personally and whose perspective you will value.
Your potential advisor will be providing guidance on how to handle many important events in your life, including retirement savings, education expenses for your kids or grandkids, and end-of-life planning. One of the most important parts of how to choose a financial advisor is finding someone you can trust and whose input you will value.
Some things to look for in a dedicated financial advisor include:
Education – Find out how much education your prospective advisor has had and their areas of focus.
Personal Background – How long have they been in the industry? Are they still learning how to help clients? Have they changed jobs frequently or worked in finance for a long time?
Individual Certifications – See whether your prospective advisor has any advanced training. Are they a Certified Financial Planner? A Chartered Financial Analyst? Are they a licensed broker with FINRA (Series 7)? A licensed investment advisor (Series 65 or 66)?
Life Experiences – Is your potential advisor married? Do they have kids? Have they been through some of the things they're going to help you plan for?
Lifestyle – Find out whether a potential advisor travels frequently and may not always be available to help you. Do they lead a different kind of life than you do?
Values – If it's important to you, find out whether an advisor attends church or if they're involved in their community.
Once you've reviewed individual advisors, build your final list of candidates. Try to narrow your list down to no more than three potential financial advisors based on education, expertise, and the factors that are important you. You can always come back to this step later and compile a new list of candidates if necessary.
5. Conduct Interviews of Your Final 3 Financial Advisor Candidates
After you've created a list of potential financial advisors, schedule one-on-one consultations. Go prepared with a list of questions to ask a financial advisor so you can confirm the role that each advisor plays in the planning process and their qualifications. Also be sure to get information on their backgrounds and areas of expertise.
When meeting with an individual financial advisor, it's also important to make sure that the advisor is someone you can work with personally. This is your opportunity to see whether their personalities, work habits, or values conflict with your own. Learn about their own plans and goals. If they're trying to move up in their company, they may not be overseeing your account for long, and that's something that may impact your decision.
Some questions to ask a financial advisor to know if they're right for you include:
What's Your Investment Philosophy?
Find out how your potential advisor views their role when it comes to helping clients. Are they proactive or reactive? Do they take responsibility for managing an account or are they just a facilitator? What's their philosophy on saving and investing?
How Do You Structure Your Workday?
Find out about how your financial advisor works. Do they keep traditional hours or are they always available to clients? Do they travel frequently? What's their work-life balance?
What Are Your Guiding Principles?
If important to you, this is your time to find out about your potential financial advisor's values. Are they married? Do they go to church? Are they involved with philanthropies or civic organizations?
Small Business Owner Questions to Ask a Financial Advisor
If you're a small business owner who is going to interview a potential financial advisor, there are other potential questions to ask. This advisor may be working with you or your employees' retirement benefits, so it's important to see how they expect to add value to your small business and your own planning.

"Ask people you know for names of professionals they have used, but don't stop there—interview a selection of candidates. Ask lots of questions: have they worked with people like you; verify their background; how are they compensated; and what fees and expenses they charge. Always work with registered firms and individuals, and check employment and regulatory histories. You can do that quickly, easily and at no charge with BrokerCheck®." – Gerri Walsh, Senior Vice President for Investor Education, FINRA
Some questions to ask a financial advisor if you are a small business owner are:
Do You Have Experience Advising on Retirement Benefits?
Does your prospective financial advisor consult on other small business retirement plans? Helping employees within the context of a 401k) plan is a unique skill in the financial industry, so if an advisor is only experienced handling individual accounts, they may not be able to help you.
Have You Helped Other Business Owners with Estate Planning?
Find out whether a prospective advisor has helped other small business owners take care of estate planning needs. Like retirement benefits, estate planning for small business owners also presents unique challenges.
Have You Ever Advised on an Irrevocable Life Insurance Trust (ILIT)?
Some business owners choose to use ILITs as part of their estate planning, but these trusts have special rules. If you think you may want to use a life insurance trust, be sure your advisor has worked with them previously.
Have You Previously Helped Structure or Execute Succession Plans?
Succession planning is a significant financial planning need for many small business owners. In many cases, a small business is the owner's primary asset, and the sale of the business is how many finance their retirement. If this is going to be part of your financial planning as a small business owner, make sure your advisor has helped others through the process. Don't be afraid to ask for references.
If you're thinking about working with a fiduciary financial advisor, you should also make sure that your prospective advisor is properly insured. Among their other policies, be sure that your prospective advisor has fiduciary liability insurance. This insurance will help protect you if your advisor makes a mistake when setting up your account or managing your money.
6. Confirm with Regulators That Your Financial Advisor Is Licensed
After you conduct individual interviews with potential financial advisors, one of the last but most important steps in how to find a financial advisor is to do final due diligence. Once you have a short list of potential financial advisors, research those individuals with the appropriate regulators and confirm that they're properly registered.
More than 1,200 financial advisors were suspended or barred from the securities industry in 2017 alone. That's less than 0.005 percent of the 600,000+ licensed financial advisors in the U.S., but every year there are also thousands of financial advisors caught violating rules who aren't barred or suspended. However, those violations are reported to regulators and can be a good indication that your prospective financial advisor may not work in your best interest.
There are several tools that are particularly valuable for looking into the regulatory background of financial advisors. FINRA BrokerCheck and SEC Investment Advisor Public Disclosure (IAPD) are two tools that can be very helpful for looking into financial advisor backgrounds. Look for any complaints, regulatory infractions, fines, or regulatory disclosures that might indicate your potential advisor doesn't always follow the rules or keep client interests first.
"We encourage people to take this simple step and use BrokerCheck before doing business or continuing to do business with a broker. Investors should ask if the individual and all of the investments that are being offered are registered—then check to verify that what you are being told is correct. BrokerCheck provides information regarding a broker's disciplinary and professional background. It indicates where an individual has worked and for how long. It also shows investors if an individual has a history of customer complaints and if they are licensed." – Gerri Walsh, Senior Vice President for Investor Education, FINRA
Professional associations and trade organizations are also great potential resources for investors who are looking for a financial advisor. Many of these organizations have directories that list their members along with information on their background or expertise.
Refer to organizations like the Society of Financial Service Professionals, Investment Advisor Association, Financial Planning Association, or the National Association of Personal Financial Planners to see whether your advisor is an active member or has received any organization-specific designations.

"Determine if the advisor is a member of the Society of Financial Service Professionals. Our organization has a strict ethical policy which requires that the interest of the client be first and foremost; our members are qualified advisors since they must have nationally-recognized credentials to be a member of FSP, and our membership includes aligned professionals such as attorneys and CPAs. We foster a collaborative approach to providing advice, which is essential in this ever-changing financial planning environment." – James Aussem, President, Society of Financial Service Professionals
7. Choose Your Financial Advisor
The final part of how to find a financial advisor is to settle on a final choice. You'll need to work with your new financial advisor to open your accounts. This will require completing necessary paperwork, reviewing and executing new account forms, and getting set up with any technology your financial advisor's firm uses for client accounts.
Before you execute new account forms with your new financial advisor, make sure that you review the terms of your agreements and any fees that will be charged to your account. Some financial advisors have the flexibility to lower their fees if you make a point to ask.
As you begin work with your new financial advisor, you may also want to move over any accounts you have at other firms. It's important to do this in light of your overall financial strategy and to do things the right way to avoid encountering unexpected fees.
As you open accounts and move and manage assets, be sure that you and your financial advisor communicate regularly on any updates to your financial plans or investment strategy. As new products become available or overall trends in financial markets change, it's important to update your financial plans and adjust accounts as necessary.
Consider Typical Financial Advisor Costs
Financial advisor fees and their structures vary significantly. While many financial advisors offer free consultations to review your finances and explain how they can help, once you open an account, you'll start paying fees that will be disclosed in your new account forms. Be sure to set a budget for your financial advisor fees to ensure that costs don't hurt your account value in the long term.
Some typical financial advisor fees include:
Trading Commissions: $5 – $50 per trade
You'll typically pay a fee for each trade you make in stocks, bonds, options, and other securities. These financial advisor costs can be minimal for publicly traded U.S. stocks, but higher for stocks traded on foreign exchanges.
Asset Management Fee: 0.25% – 2.00% annually
Some advisors charge a fee for managing your account on your behalf.
Product Commissions: 2% – 12% one-time fee
Some products like annuities and life insurance policies can pay sizable commissions to financial advisors.
Custodian Fees: $25 – $50 per year
While not typically charged by advisors, financial institutions charge custodian fees to hold certain accounts, like IRAs.
Administration Fee: 0.25% – 1.5% annually
Some accounts, like 401(k) plans, charge additional fees for things like administration and record keeping.
For example, if you're looking for a financial advisor to manage a Rollover IRA that you've rolled over from a previous 401(k), then you should expect to pay a management fee of 0.25 percent to 2.00 percent annually and probably a custodian fee of $25 – $50 per year to the financial institution that's holding your account.
If, on the other hand, you want to work with a financial advisor who will process stock trades for you and can help you to buy whole life insurance, then you can expect to pay commissions of $5 – $50 for each trade plus life insurance premiums on life insurance of that includes broker commissions of 2 percent to 12 percent.
Small Business Owner Financial Advisor Costs
If you're a small business owner thinking of hiring a financial advisor to help set up a 401(k) or other retirement benefits for your company, you'll likely need to consider additional financial advisor fees as well. Your financial advisor may collect an advisory or plan administration fee between 0.5 percent to 1.5 percent annually, for example. However, these financial advisor fees will probably be paid from plan assets.

"An individual should first make sure their financial planner is knowledgeable of their goals and understands their risk tolerance to achieving those goals. A financial professional that has not done their due diligence to understand why their client is enlisting their services and how comfortable they are with risk in realizing those goals should be cause for concern. Investors should also be wary if their financial planner is not clear on how they get paid. If they are not upfront about their fees, commissions and conflicts of interest, they may be self-serving and not working in their best interests." – Frank Paré, President, Financial Planning Association
In your search for a financial advisor, it's also worth considering how your needs may change over time. You may start out looking for a financial advisor to execute trades on your behalf and later want to buy permanent insurance or have your advisor manage your account. For this reason, it's important to think not only about your current needs, but potential future needs as well.
Tips for Finding a Financial Advisor
When looking for a financial advisor, there are lots of things to consider. It's important to know your advisor's role to set expectations and understand what other services they offer. It's also important to consider your future needs to avoid having to change advisors later. Use these tips to help find the right advisor for you.

"NAIFA recently launched a consumer website, AdvisorsYouCanTrust.org, that tells consumers who NAIFA members are, what they do to serve consumers, and how consumers may locate a trusted NAIFA member in their area. Many NAIFA members perform a range of services for consumers from needs assessment to financial planning, employer-provided benefits, education and business continuation planning and funding. Choosing an advisor should be based on matching the needs of the consumer with the expertise and services the advisor is able to provide." – Keith Gillies, President, National Association of Insurance and Financial Advisors
Some tips for finding the right financial advisor are:
Consider Both Current and Future Needs
When you're beginning your search, be sure that you aren't thinking just about your current needs. Instead, keep in mind additional products or services that you may need down the road. Your biggest concern now may be saving for retirement, but in a few years, you might be saving for a down payment on a house or a child's education.
For small businesses, however, you may just be starting to look for a 401(k) company for your company. However, you might also want see whether they offer Safe Harbor 401(k) Plans for when your business grows and you want to contribute more. This will keep you from having to find a new financial advisor later on.
Ask About Other Types of Accounts
While your needs may be limited today and your potential financial advisor may have certain accounts they specialize in, all advisors should have a basic understanding of several types of accounts. If you plan to open an IRA, for example, your financial advisor should have a basic understanding of how other types of IRAs work.
Some accounts that a financial advisor should understand include:
Know the Role Your Advisor Is Agreeing to Play
The management of some accounts can be complex, so it's important to have a firm understanding of precisely what role your financial advisor will play. If you're hiring an advisor to execute transactions on your behalf, make sure you understand their commission structure. If they're managing your account, understand their management fee and any other charges.
Financial Advisor Roles for Small Business Owners
Small business owners need to be conscious of additional potential roles for a financial advisor. If, for example, you're hiring an advisor for your 401(k) plan, be sure you know whether they'll be advising individual participants or coordinating plan administration. Who will be handling ADP versus ACP testing or Top Heavy testing?
Learn About Additional Services Your Financial Advisor Offers
If you've decided to work with a financial advisor from a bank or large financial services company, be sure you understand what other services they offer. You may not need access to these products or services right away, but they may later help with your business financing needs.
It's also helpful for you to find out how your individual financial advisor may be able to help you with other products or services offered by your provider. They may not be able to help you with everything, but should at least be able to help coordinate applications and paperwork for other offerings and know who from their firm they can loop in for various needs.
Financial Advisor Frequently Asked Questions (FAQs)
If you still have questions on how to choose a financial advisor, here are some of the most frequently asked questions. If you don't see an answer to your question, feel free to post it in the comments section below.
What's the Difference Between a Financial Advisor and a Robo-Advisor?
A financial advisor is a licensed professional who helps clients budget, save for retirement, or manage their investments. A robo-advisor is an automated system that manages investors' accounts using complex computer models. Robo-advisors are a good option for investors who are comfortable with technology, but they don't provide the personal guidance of traditional financial advisors.
How Do You Fire a Financial Advisor?
Terminating a financial advisor is typically a two-step process. The first step is to notify your advisor that you're cancelling any advisory agreements you signed when you opened your account. The second step is to move money out of your account, either to another financial advisor or onto an investment platform.
How Much Does It Cost to Start with a Financial Advisor?
Starting costs for opening an account with a financial advisor vary by firm, advisor, and agreement. Financial advisor fee structures vary widely based on the services provided. However, when you open an account with a financial advisor, it's common to pay an upfront fee or commissions that can total 1 percent to 4 percent of your account value.
What Is an Investment Advisory Agreement?
An investment advisory agreement is a contract that governs the relationship between you and your financial advisor. Advisory agreements outline the services your financial advisor will provide as well as their fee structure and billing schedule. Many agreements also outline the advisor's investment philosophy or objectives for your account.
Bottom Line
Knowing how to find a financial advisor that's right for you is critical for the long-term financial health of any small business owner. If you want to find a financial advisor who can help with your individual needs, follow these steps to conduct a thorough search and identify an advisor that's right for you.