If you want to find good tenants, you have to effectively promote your rentals. There are three main ways to find prospective tenants: find them yourself, hire a real estate agent, or hire a property management firm. Each method offers a set of promotional options, with each harboring certain advantages and drawbacks.
One smart way to find renters is with Avail. With Avail, it only takes a few minutes to list your available units on a dozen top sites like Zillow, Trulia, and Apartments.com. Plus, Avail lets you screen prospective tenants, run background checks, create and manage leases, and accept rental payments online. Try Avail for free for 30 days.
8 Ways to Find Renters On Your Own
If you're a new landlord who prefers the do-it-yourself route, then you'll be personally responsible for locating suitable tenants. You'll have to market your property, take inquiries by phone and email, show the property, and screen prospective renters to make your selection.
The more you promote your available units, the greater the pool of applicants you'll have from which you can make your tenant selection. There are seven solid ways for a DIY landlord to promote their rentals to find tenants.
1. Use 'For Rent' Signs
As simple and old school as this sounds, using a "For Rent" sign is still a good way to find prospective tenants. This is especially true if prospects are shopping for housing in a certain area or neighborhood.
A sign can be placed in a window of the property, in the yard, and/or on strategic corners near the address. Be aware though that any of those placements may be governed by local or community ordinance, so make sure you research restrictions for sign placement.
2. Craigslist
Today, posting property listings online is undoubtedly one of the best ways to reach potential tenants, and Craigslist tops the list of online resources that people use. Posting rentals to Craigslist is free, and you can list both apartments and rental houses on the site.
3. Advertise on Rental Websites
Increased visibility means a greater number of prospective tenants may notice your property. The greater the number of prospects, the larger the candidate pool of potentially-qualified applicants you'll have. A good pool of candidates betters your chances of getting a good, qualified tenant in your property.
Today, landlords have a huge selection of property websites where they can advertise their units. These include: Trulia, Rentals.com, Apartments.com, Zillow, and Hotpads. You can list your property on any or all of these ― and many are free!
Additionally, many modern renters are more likely to use their smartphones or tablets to search for housing, and rental sites like these are almost always optimized for mobile browsing, delivering your rental listings in their preferred format.
4. Your Own Website
If you are an investor, particularly with multiple properties, having a real estate website for your available properties can also be a good idea. A website shows prospects you are professional and are willing to provide necessary information such as location, neighborhood, and even pictures or videos to help them make their selection.
5. Social Media Groups
Various social media sites have groups formed around geographic areas, with some as small as single neighborhoods. Facebook groups, in particular, are popular places where locals advertise items for sale and other listings. If you have a property for rent, you may be able to join one of those groups and post your available listings there.
It's worth mentioning that some groups may not allow the posting of rental advertisements. It's also not uncommon for group moderators to discourage or outright ban advertising messages, so be sure to check the rules before you join.
6. Print Media
Local print media like newspapers, local free-press publications, and community newsletters are yet another avenue for landlords looking for renters. While they won't outshine online options like Craigslist or rental websites, they do remain a viable option, particularly when you recognize that older generations still rely on print publications and may actually prefer them to online sources.
Additionally, many newspapers and local media have online equivalents to their print editions. These online editions are typically where most of a publication's classified advertisements are published. In some areas, those newspaper online classifieds rival Craigslist in usage.
7. Word-of-Mouth
Turning to your circle of influence ― your friends, neighbors, relatives, and worker associates can be a great way to find qualified renters. Often, word-of-mouth can provide you with some of the best candidates you'll ever find because the referrer can vouch for the candidate.
Of course, as with any applicant, referrals can sometimes, unfortunately, turn out badly. That said, it's important not to let an unfortunate experience with a referral destroy an otherwise good relationship with a friend or family member.
8. Use Property Management Software to Find Renters
Property management software can also be a big help for do-it-yourself landlords, combining most of the above steps into one easy-to-use platform. Companies like Avail provide landlords with tools to market their rental listings across the web and leads come straight into your inbox. This keeps rental applications organized and allows landlords to screen out renters who may not be qualified.
Property management software companies like Avail also make listing your property easy by syndicating your listing with the top rental listing sites. Once you input your rental property listing into their software, it's distributed to most of the major rental listing sites.
Once you publish your listing, it is sent out to sites like Zillow, Hotpads, and Trulia.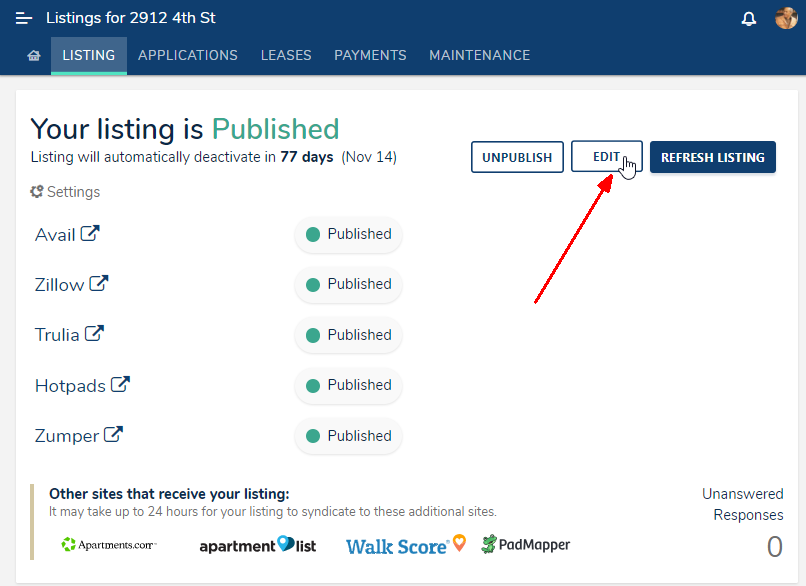 Property management software like Avail also allows landlords to customize the details about their rental listing. Landlords can list the rent, terms, available dates, and payment methods right in their online rental listing.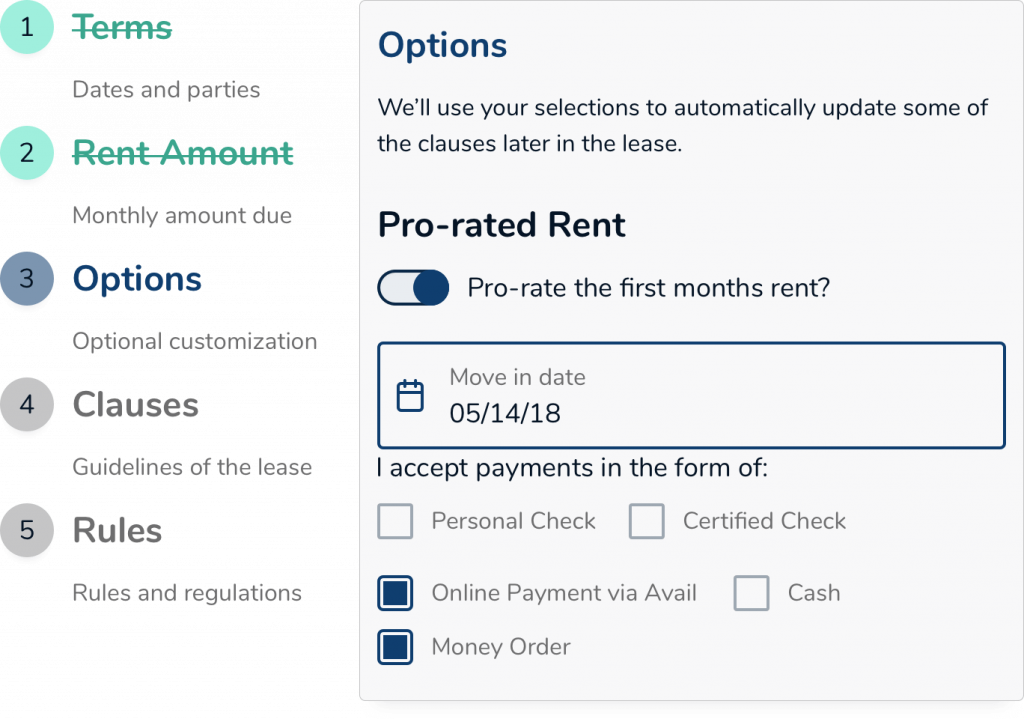 Property management software is an affordable way to handle most of the landlord's responsibilities including marketing property, screening tenants, signing leases, and online rent collection. Companies like Avail make using software easy for both the landlord and the tenant. Listings, applications, leases, and rent collection can all be processed from your mobile phone or computer.
Pros and Cons of Finding Renters On Your Own
For many investors, finding a renter on your own makes sense. Being in control of your listings allows you to directly make decisions without involving other people or paying commissions. However, finding a tenant can be a time-consuming process. You'll need to be available to show your property, take applications, and screen tenants.
Some advantages of finding renters on your own include:
Not having to pay a commission for securing a tenant.
Personal control in every step.
Firsthand due diligence when choosing prospective tenants.
Some disadvantages of finding renters on your own include:
You will need the time and fortitude to write listings, create advertisements, and field calls and emails from an endless stream of inquiries.
You will need to know where and how to market your property, have a good tenant application, and understand lease agreement terms and best practices.
It's not free

―

you can still run up plenty in costs using various forms of advertising, signs, and rental websites.
If you're the do-it-yourself landlord who recognizes the need for powerful online software to help you find tenants, we recommend Avail. Its online software allows you to create just one listing, then have it syndicated across the web to sites like Zillow, Trulia, Hotpads, Apartments.com.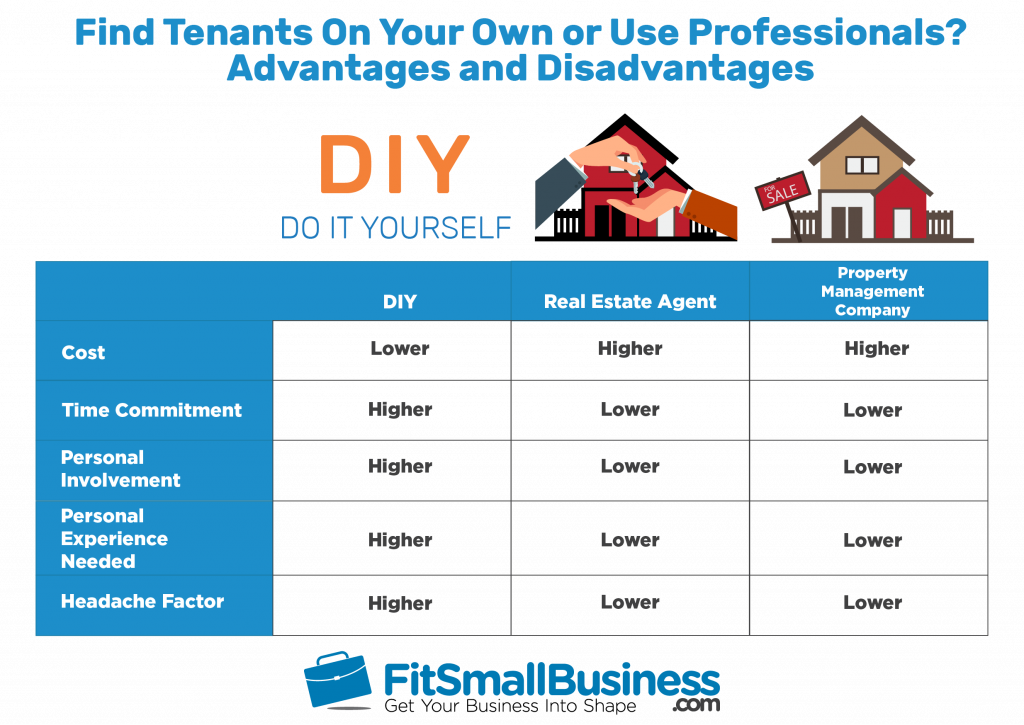 Hire a Real Estate Agent to Find Renters
If you decide that marketing, fielding calls, and trying to screen prospective tenants on your own is too much, the next option to consider is using a licensed real estate agent to find renters for you.
Real estate agents usually charge the equivalent of one month's rent as a commission for locating and placing a qualified tenant in your rental. In exchange for that fee, the agent will advertise the property, take all the inquiries, show the property to prospects, screen candidates, and secure a signed lease.
Agents offer many benefits over the do-it-yourself route. First, there's no cost to you at the outset ― you only pay when a tenant is actually placed. Agents are also familiar with local market conditions, so they can price your rentals effectively. Plus, agents who specialize in rentals may already have qualified prospects available for your unit, and that might reduce the time your property sits vacant. Finally, since agents do thorough tenant screening, they can help you avoid being taken advantage of by shady renters.
Perhaps the main benefit of using a real estate agent is their marketing arsenal. Because agents have access to the most robust rental listing tools available, your unit will get prospects' attention faster ― and that means curtailing costly vacancies.
"Between the mass-market exposure offered through major brokerages (versus only reaching a portion of the market through public websites), an expert agent's broad knowledge of the local and overall markets, coupled with strongly developed negotiation and sales skills, an experienced professional agent would be able to rent apartments at higher prices and in less time than any landlord could."

—Salvatore Fichera, Licensed Real Estate Salesperson, Halstead Property
There are four main tools that real estate agents can use to find tenants for your property:
1. Company Website
First, rentals will be placed on the listing agent's website, which offer distinct advantages in two settings.
Small Markets: Perhaps only a handful of brokerages exist, so when a prospect is looking for housing in the area, they will naturally turn to the few agencies available. Your rental will likely be advertised by one of them.
Large Cities: Because the biggest agencies in major cities market themselves so extensively, they become the go-to place for people seeking housing. If you select wisely, your listings can be on one of their websites.
2. Multiple Listing Service (MLS)
The Multiple Listing Service (MLS) is a database of all agent-listed properties available in a given market, which also includes the rentals handled by real estate firms. There is no larger source of properties on the market than the MLS. Every real estate agent in a given area will have access to the MLS and can potentially promote your rental.
Additionally, brokerages often belong to more than one MLS, which means the potential for even wider promotion of your unit. If an agent other than the one who has your listing secures a renter, your agent will share a portion of the commission with that agent. This means that it doesn't cost landlords anything extra to be listed on the MLS.
3. Syndicated Rental Websites
Today, real estate agents who promote rentals also use independent rental websites like Trulia and Hotpads for listing properties. But agents have one distinct advantage over the DIY'er — they can typically "syndicate" to many (or all) of the major sites with one listing. With the click of a button, they can submit your property across as many as a dozen of the most popular rental listing sites. Unless you use property management software that has syndicating capability, you'd have to create each rental listing individually.
Because of the resources at most brokerages' disposal, these syndicated rental listings are normally at no cost to you. If you were trying to post own property on rental sites, not only would you have to prepare each of those listings individually, but you'd also incur some costs unless you cherry-picked only the free sites.
4. Signs
Real estate agents who handle rentals often also employ signs. "For Rent" signs are readily available through their offices, cost virtually nothing, and come in a variety of forms, including for windows and yards. Sometimes, all it takes is a person driving past a property at the right time ― and seeing a sign ― to become the tenant you need.
Pros and Cons of Hiring Real Estate Agents to Find Tenants
Hiring a real estate agent can save time for a landlord. Agents show your rental property, market the property, and screen tenants. However, using an agent can also be expensive, and anytime you give someone else control of your property, there's a chance they may fail to meet your expectations.
Some of the advantages to using an agent to find renters include:
Benefiting from their expertise
Leveraging their connections, particularly with potential renters
Saving you time and headaches
Gaining access to robust forms of marketing for your rental
Some disadvantages of hiring a real estate agent to find renters are:
At a minimum, you will pay a one month commission when they secure a qualified tenant
Some charge an advertising fee, either in lieu of or in addition to the commission for securing a tenant
Lease renewals will generally cost you, even if the agent didn't have to do much work
Hire a Property Management Firm to Find Renters
Property management firms can take the form of stand-alone companies, or they can be a division within a real estate brokerage. Whichever form you find, property management services offer the ability to list your rental and much more.
Where real estate agents merely provide the marketing and tenant placement, property managers not only list the property, find the tenant, and get it leased, they also take on the day-to-day responsibility of handling the rental for you. The upfront work is similar with both agents and property managers, but managers offer long-term oversight of the rented property.
Property managers run the gamut of how they charge for tenant placement. Some charge the same one-month commission that's typical of real estate agents. Some charge only for the initial tenant placement, but nothing upon renewal; some charge for both. Others have a modest marketing fee in lieu of a commission. Yet others have no upfront costs at all and instead charge monthly fees for managing the property.
Here's how property management firms can help you find renters:
1. Property Manager's Website
Similar to a real estate brokerage, property management companies have websites on which they can place their listings, and those can be powerful marketing tools. That's especially true if the property management firm is well-known or the only player in town. In either case, listings on these websites are likely to be discovered by people searching online for rentals in a given area.
Search traffic and a company's notoriety can produce a pool of potential renters interested in properties soon-to-be available. This functions almost like a built-in reservoir of potential tenants which can help you get your unit rented quickly.
2. Multiple Listing Service (MLS)
Many, if not most, property management companies are licensed real estate brokers in some form, so they typically have access to the regional MLS. The same benefits of MLS access apply to them as apply to real estate agents. Your property will be in a database accessible by every agent in that MLS service area.
However, MLS access through a property manager can create a bit of a financial quirk. If your property manager doesn't typically charge a leasing fee but uses the MLS, you may end up paying a fee just the same. If your property is leased by a real estate agent who found your listing on the MLS, they will expect at least the traditional half-commission (half of one month's rent). That's certainly fair but makes it important for you to read your property manager's listing agreement so you won't get caught off-guard.
3. Syndicated Rental Websites
Equipped property managers use property management software that has the capability of syndicating your rental listings across everything from Craigslist to any number of rental websites. Just like with a real estate agent, you will get great online coverage that typically doesn't cost you anything extra but will save an immense amount of time over you trying to list on all those sites yourself.
4. Signs
Here again, most property managers also use physical signs. Using "For Rent" signs is as much a common practice for property management companies as real estate brokers for one reason — they work and the cost virtually nothing to use.
Pros and Cons of Hiring a Property Manager to Find Tenants
Hiring a full service property management firm provides landlords with a turn-key service for managing their rental property. Not only will property managers help you find tenants, they will handle screening, executing leases, collecting rent, and maintaining your property. This can be a huge help to landlords, but it does come with a cost and some loss of control.
Advantages of hiring a property manager to find tenants include:
It will save you time and energy over trying to do it yourself
You benefit from the property manager's experience in areas like marketing and tenant screening
You get to leverage their connections, particularly with potential tenants seeking available units
You get the long-term benefit of them taking on the day-to-day responsibility once they have found a tenant
If you're out of town, you can rely on the property manager's maintenance crews for time-sensitive repairs
Some of the disadvantages of hiring a property manager to find tenants include:
It can be expensive, often including a monthly management fee plus new lease fees
You have to trust the property manager to handle your investment in your best interest
You could lose some control over decisions being made regarding your rental
Writing a Good Rental Listing Helps You Find Renters
Whether you are a real estate investor trying to find renters yourself or use the services of an agent or property manager, your property is competing with a lot of others on the market. Either you or the professionals you employ need to prepare a well-written listing. At minimum, the rental listing should indicate:
Address
Neighborhood of the rental
Number of bedrooms
Number of baths
Whether the property has features like a basement or garage
Any amenities, such as a pool or nearby park
When preparing a listing, pictures are essential. You should have multiple exterior shots and good, enticing pictures of each room. Today, linking to video clips is also a good idea as video is one of the most preferred forms of content.
Finding Good Tenants Involves Screening Candidates
Part of how to find a good tenant involves screening the incoming applicants. Landlords are inviting disaster if they accept tenants simply because they appear able to pay rent and cover your mortgage payment. In fact, in the long run, a bad tenant is generally more costly than no tenant at all. This makes it worth the wait to find a well-qualified tenant who will pay their rent on time and take care of your property. A strong screening process will help identify these candidates.
Generally, tenant screening involves looking at prospects' income, job history, credit, criminal history, and previous tenant history. You or your agent/manager can use tenant screening software to handle those background checks and make the process effective.
Which Tenant Screening Service is Right for You?
Tips for Finding Renters
Finding tenants is the first step in renting your investment property. There are many ways to spread the word regarding your rental listing. Using social media, rental listing sites, and property management software are excellent ways for landlords to find tenants themselves.
Here are four big tips for landlords struggling to find renters:
1. Hire a Property Manager That Knows the Local Market.
"Hire a property manager that understands how to market your rental listing to the local market. If you're in a college town, you may market differently than in a rural area."

—Jeannie Champlin, PMIC, NARPM®, Oyster Creek Properties LLC
2. Have the Tenant Pay the Real Estate Agent Fee
"I am in a highly desirable market so I can use a Realtor who will market my properties on the MLS. The tenant pays the Realtor's fee in my market so that makes it affordable because they typically charge one month rent to fill a vacancy. This is usually more than enough to find a quality tenant quickly and it weeds out anyone not serious enough."

—Domenick Tiziano, Owner/Blogger, Accidental Rental
3. Use Online Newspaper Ads for Rental Listings
Although sites like Zillow are an excellent place to list rental property. Local online newspapers listings are still a viable way to find tenants in certain areas. The key is to utilize the small ad space efficiently. Be sure to include the rent, how many bedrooms and bathrooms, and whether you allow pets in your rental.
4 . Price Your Rental Competitively
"Ideally, a landlord should have multiple applications to find the best quality tenants. I recommend advertising the monthly rent $50 under market rate to generate multiple applications. The goal is to get one high-quality applicant, but in a competitive situation you can choose someone with a better credit score or find someone who can move in right away. A lousy tenant will end up costing way more than the $50 a month ($600 a year)."

—Jeremy Browne, Vice President, TTR Sotheby's International Realty
Bottom Line
There are three options to finding renters for your property: do it yourself, use a real estate agent, or use a property management firm. Each option has distinct benefits and limitations. Whether you do it yourself or work with a professional, your goal is to effectively build a pool of potentially-qualified candidates from which you can select the best potential tenant.
If you're the do-it-yourself landlord who recognizes the need for powerful online software to help you find tenants, we recommend Avail. It enables you to easily list your available units on sites like Zillow, Trulia, Hotpads, Apartments.com as well as screen applicants, manage leases, and accept rent payments online.