How to Fire a Real Estate Client in 6 Steps (+ Free Breakup Letter)
Even though real estate agents and brokers' businesses are built on client transactions, not all real estate clients are created equal. While most clients are great, you will inevitably find clients who are not fit for a real estate transaction due to inappropriate behavior, dishonesty, or unprepared finances. Learning how to fire a real estate client and knowing when to do so is essential for your well-being and the growth of your business.
To help you keep track of your interactions with leads and clients, thus making a wise decision about your partnerships, use a tool like Top Producer CRM. It is real estate-specific customer relationship management (CRM) software made to generate leads and build meaningful relationships. Having a CRM with personalized communication features helps you catch client red flags earlier and take care of them efficiently.
Here are the six steps to take when considering how to fire a client:
1. Identify Fireable Client Offenses & Protect Yourself Against Them
One of the top reasons real estate agents fail is because they work with clients who are not the best fit for their business. In these cases, the best option is firing that client and moving on to other clients who will appreciate your hard work. To identify the signs of a bad client, read through the top five fireable offenses and strategies to protect yourself.
Offense #1: Unrealistic Expectations
Red flags: Clients with unrealistic expectations come in all shapes and sizes, from buyers and sellers to renters and investors. In many cases, buyers are searching for a unicorn property that, like a unicorn, is perfectly beautiful and majestic, but doesn't exist in real life. Other times, it is sellers who want to list their house at a price that is unrealistic for the current market.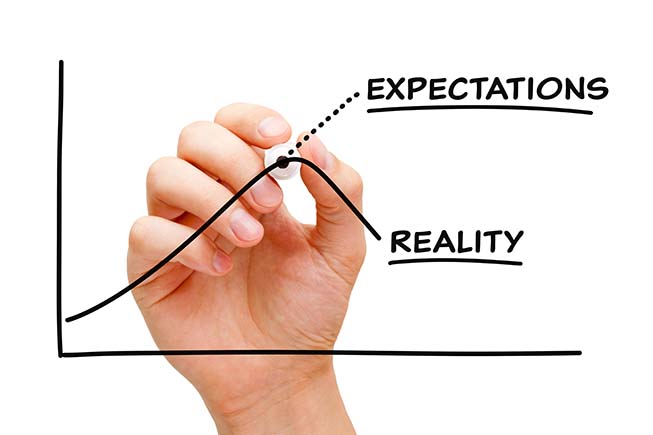 You can sometimes spot these clients during your first conversation as they are typically people who are not familiar with the market, people looking for a bargain, or are unwilling to consider your expertise and advice. In other cases, it may take some time to realize that the client is part of the 27% of homebuyers unwilling to compromise on characteristics they deem necessary in a home.
How to Protect Yourself
Listen to client needs and wants and then educate them on whether those items are realistic within the market they're seeking to sell, buy, or rent.
For buyers or renters, make a list of must-haves, wants, and would-be-nice characteristics to understand what they are willing, or unwilling, to compromise on.
For sellers, present a comparative market analysis (CMA) so they objectively understand pricing and demand in their market.
After trying these tactics, if you find that your clients are still unable to set realistic expectations, timelines, and set deadlines for finding or selling their home, writing a letter to fire a client may be your next step.
---
Offense #2: Dishonesty
Red flags: Having a dishonest real estate client can have consequences for your real estate career even when you are unaware of it. If you discover a client lying or omitting information specifically concerning finances, aspects of the home they are selling, or their relationship with you as their agent, firing a client may be the best option.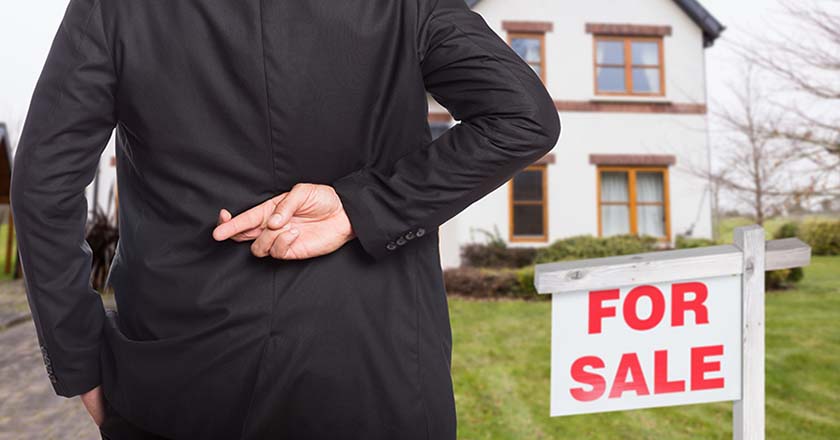 For instance, a seller may be aware of a particular issue with a home, but purposefully does not disclose it to you and/or cover it up whenever there's an open house or showing. Another example is a client saying they are working exclusively with you and you come to find out they are working with multiple agents. These could easily be deal-breakers that prompt you to fire a real estate client.
On the other hand, if a client says they are looking for a three-bedroom colonial home on the north side of town and ends up loving a two-bedroom ranch with a pool on the south side of town, were they dishonest? Absolutely not. Sometimes clients don't know what they want until they see it.
How to Protect Yourself
Be proactive about preventing dishonesty by addressing it clearly from the beginning. Tell each client that honesty is a cornerstone of your business, and you expect to receive it in return.
Use the acronym OLD CAR to define your fiduciary duties: obedience, loyalty, disclosure, confidentiality, accounting, and reasonable care.
Communicate openly about any questionable behavior immediately. Misunderstandings happen, but addressing them right away will help identify dishonesty. If the behavior continues, consider learning how to break up with a client script.
---
Offense #3: Inappropriate Behavior
Red flags: As professionals in the real estate community, we are bound to the Laws of Fair Housing, which make it illegal to discriminate against any protected class, including race, religion, sex, and color. It's necessary and important to uphold those standards with our clients not only to be good people but also to comply with laws and regulations.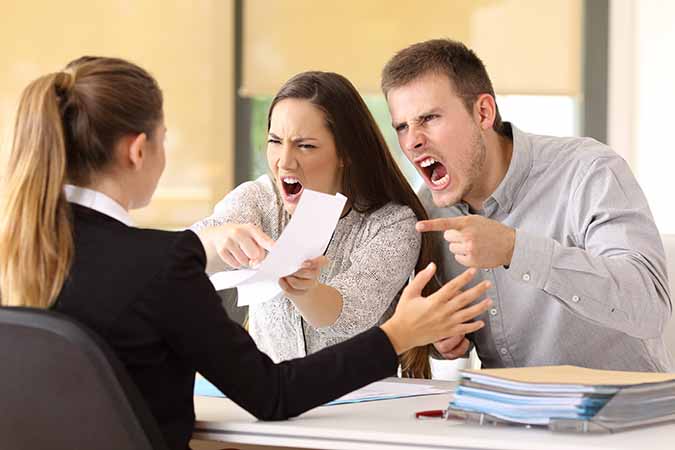 Clients can get angry and frustrated throughout the process of finding or selling a home, but they should never use verbal threats, harassment, or inappropriate language and jokes toward you, other agents, or individuals who are part of the transaction. This is extremely unacceptable behavior and immediately becomes a fireable offense.
How to Protect Yourself
You can't control the words or actions of your clients, but you can address them immediately.
Prepare a script for situations like this so you can professionally explain why it is unacceptable and shouldn't happen again.
If you recognize a pattern of behavior, terminating the behavior is the wisest choice for your career.
If there is ever an instance of racism, violence, or unwelcome advances, you should immediately leave the situation and contact the appropriate authority.
---
Offense #4: Time-wasting
Red flags: This is probably the most common reason real estate agents fire a client, and there are a couple of tell-tale signs that you are working with a time-wasting client. According to the National Association of Realtors (NAR), it usually takes a buyer about 10 weeks to find a home, during which time they visit an average of five houses.
It's OK for clients not to know exactly what they want, but clients who are dedicated to finding a home should be able to quickly narrow their search to avoid wasting your time and their own. If a client takes you to see homes in every corner of the county, city, and state, that's a red flag. You may also find that time-wasters over-communicative, contacting you at all hours of the day and night, which can be burdensome and interfere with your personal life and well-being.
How to Protect Yourself
Set boundaries by telling your clients when you will be available, providing specific hours and expected response time (e.g., between 9 a.m. and 7 p.m., you will respond to their message within three hours).
Learn your client's timeline upfront and agree on the urgency of their messages and requests.
Communicate what availability and responsiveness you require and expect from them.
An efficient way to stay in communication with each client is to utilize CRM tools like Top Producer. Top Producer CRM integrates with more than 100 different vendors, including Zillow, Trulia, and Realtor.com, to keep all of your client information in one place. It also has email and social media tools for automated communication, marketing, and gaining insight into your clients' interests.
---
Offense #5: Unqualified Client
Red flags: It's always necessary for a client to provide proof of funds to purchase a home, whether they are paying for a home entirely in cash or obtaining loan financing. Unfortunately, some clients assume they are financially ready to purchase before confirming with their lender. In fact, some clients may not check with a lender at all before asking to visit a variety of properties for fun without prequalification.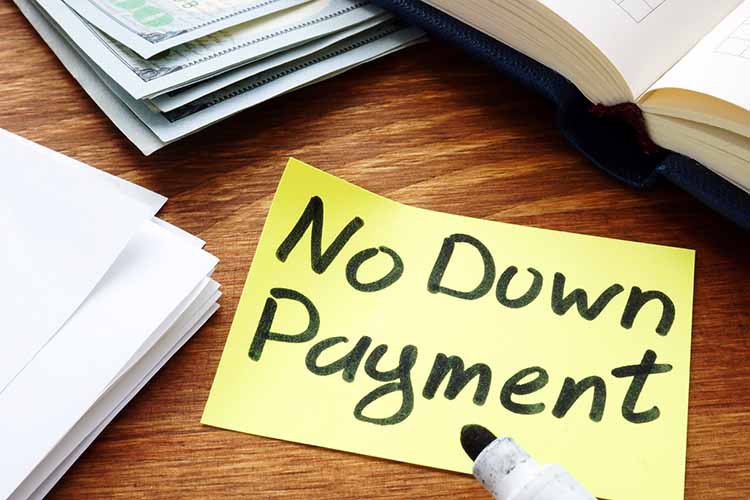 This can create a problem if the client finds a home and wants to submit an offer, but is not already pre-approved. Their offer can be delayed, which puts them at risk of being beaten out of their dream home by another buyer. Even worse, buyers may find a home and then find that they aren't prepared financially to purchase at all—ultimately wasting both your time and their time.
How to Protect Yourself
Have a candid conversation about your client's financial situation at the beginning of your relationship.
Require clients to get pre-approved before taking them to see any properties.
Explain that you can't assist clients to the best of your ability unless you are aware of the amount of money they can spend on a home.
For more valuable tips for real estate agents, read our guide to the top 14 real estate agent tips.
---
2. Speak to Your Broker of Record & Review Your Client Contract
Before immediately firing your client, talk to your broker of record about your difficulties. Chances are that your broker has dealt with similar client horror stories, so it will be beneficial to get their perspective and advice on the situation. Write down all your concerns and review them with your broker along with your client contract.
Whether you're working with a buyer, seller, or renter, you may have signed an agreement or exclusivity contract that can bind you to work with your client. Review all documents carefully to see what your obligations and legal requirements are before taking the next steps. Typically, if both agent and client mutually agree to terminate the contract, you will be able to easily remove yourself from responsibility.
There are usually multiple ways to cancel an agreement, but make sure to consult with your broker or a legal professional. If you and your client have already signed an agreement, you must prepare a termination agreement to officially fire your client. Ensure you've chosen and prepared the correct documentation before contacting your client.
3. Communicate With Your Client & Try to Work It Out
If you and your broker have decided the relationship is salvageable, the next step is to address the issues with your client to determine a potential solution. Write down the concerning behaviors and create a plan to present them in a way that's clear, calm, respectful, and confident. Remind your client that you both have the same goal: to sell, buy, or rent their home.
Pro tip: If you feel the behavior displayed by your client compromises your safety, you should skip directly to firing your client.
After this conversation, the hope is that you can remedy the problem and continue the transaction with an amicable relationship. Unfortunately, unless you have known or worked with your client for a long time, it is difficult to know how they will respond. Start this conversation either face-to-face in a public setting, by phone, or via video call to avoid any unnecessary confrontation.
4. Write a Breakup or 'Firing' Letter to Your Client
If your efforts up until this point do not result in changed behavior, it's time to officially fire your real estate client. You should take time to construct a formal letter that details the reasons you are terminating the relationship. This letter will outline your reasons for wanting to terminate the relationship and action items to complete before moving in separate directions.
Your firing client letter should contain the following:
Reason for letter: Your letter should get to the point that you want to terminate your relationship. If you start with general formalities, you risk confusing the client and deluding your point. For example, start with, "I'm writing this letter with unfortunate news regarding our partnership."
Reason for termination: Clearly state the reasons why you cannot continue your professional relationship, but word it carefully to avoid blaming. For example, instead of writing, "you were lying about your financial qualifications," say, "since our first meeting and subsequent conversations, your financial situation has changed. This has made it challenging for me to find what you want in a home."
Recommendation: As long as the client is safe to work with, you may recommend them to another agent or broker. Make sure you speak with the agent you have in mind and verify that they want to take on this client. You can say, "To continue your home search, I recommend working with [agent name] from [agent company]." However, if you don't personally know any agents who are willing to work with the client, you aren't required to recommend any other real estate professionals to them.
Outstanding tasks: Make sure you include details or a bulleted list with any final tasks or items that need to be completed to conclude the partnership. For example, this may include handing over or removing advertising or single property websites or delisting the property under your name on the multiple listing service (MLS).
Although you should plan to have the conversation in-person or over the phone, it's important to also have a formal letter prepared to document the termination. Download a free client breakup letter template and edit:
5. Schedule a Meeting to Fire Your Client & Use a Script
Arguably, the most difficult part of the process will be telling your clients in person. The conversation will be a bit uncomfortable, but ultimately must be done for each party to move on. It is best to communicate directly with the client when you fire them, either in-person or on the phone, to avoid anything being lost in translation.
Ideally, your meeting will occur face-to-face, but depending on the circumstances leading to the breakup or preferences to meet virtually, you may also choose to meet via phone or video call. In these cases, make sure to follow your conversation up with a letter and/or email.
Pro tip: If you feel your safety is in jeopardy, you should have this conversation over the phone or ask a colleague to come with you to meet your client in a public place. While firing a client by email is not recommended, it may be necessary if your safety is in question.
Even if you are frustrated, angry, or upset, remember to maintain professionalism and stay calm. To help you stay on topic, be confident, and communicate clearly, using a simple script that you choose ahead of time.
For example, here are a few scripts to fire a client nicely:
"I've really appreciated the opportunity to meet and work with you. After thinking through each of our goals, it seems like we aren't the best fit. Although I would love to help you [buy/sell/rent], it's important that you have an agent who can better work with your vision and meet your expectations."
"Based on your [goals/time frame for buying or selling], I don't think I'm the best agent to help you. It will be better for you to find another agent who can give you exactly what you're looking for."
"After seeing [your ideal listing price/your ideal home/time frame/etc.], it appears that our goals might be too different for us to work together successfully. Would you like my broker to assign this to another agent in my office, or would you prefer to find a new agent on your own?"
Keep emotion out of your explanation and state the facts. You may or may not want to provide more details about your reason for firing the client, but it's wise to consider your wording before the meeting. Hopefully, your client will understand, and you can part ways amicably. At the end of your meeting, give your client a copy of the signed termination letter. If you talk to your client over the phone or via video, send a copy of your signed letter by mail or email.
If you and your client do not see eye to eye, you should speak to your broker about whether you need to involve a lawyer. Your broker will also consult their errors and omissions insurance for protocol.
If a lawyer does need to be involved, you can use your brokerage's preferred attorney or the expert real estate attorneys at Rocket Lawyer for legal advice. For a low one-time or monthly fee, they can provide legal documentation and direction to solve your dispute. Even more, you can schedule a free 30-minute consultation to get started.
6. Move On & Avoid Similar Clients
After you've parted ways, you can breathe a sigh of relief and simply move on. It might feel like you missed an opportunity and lost money, but in reality, you've saved yourself weeks of wasted time, stress, and potentially more costly mistakes. To be successful in real estate, you have to be confident in your expertise and focus on best serving your ideal clientele.
After your relationship with the client is terminated, take some time to learn from your experience to avoid repeating it in the future. Write out any red flags that could have been avoided earlier on, and create a plan for handling the same situation even better in the future. Most clients will be wonderful to work with, but being prepared to vet your leads will help you grow a more profitable and enjoyable career.
Bottom Line
Learning how to fire a real estate client isn't one of the most fun parts of growing your real estate career, but it is one of the most important. All successful real estate agents will come in contact with clients who aren't good for their careers, and handling the situation appropriately is paramount. After reading this guide and learning how to fire a client, avoid the issue in the future by being prepared to spot problematic clients ahead of time.