Sales forecasting is a way to project future revenue based on historical sales data, existing market forces, and anticipated future growth. Depending on business type, you can do this by multiplying the value of your sales pipeline by the probability of closing those deals, or by multiplying your historical periodic performance by your current growth.
Using a customer relationship management tool (CRM) like Pipedrive helps you forecast sales by measuring your current pipeline value and multiplying it by the probability of closing each deal. Pipedrive includes a highly-visual pipeline tool that lets you manage deals as they move through your sales process. Plans start at $12.50 per month, per user, and they offer a 14-day free trial. Visit Pipedrive to get started.
Ways to Calculate Your Sales Forecast
While forecasting sales is similar for any business, there are differences based on the types of products and services you sell. For example, if you're a B2B sales team, you might move deals through a sales process with a series of stages that represent action steps, and your sales forecast will be based on how likely you are to close deals at each stage. This is known as calculating a sales forecast using your sales pipeline.
However, if you're a business that sells directly to consumers, or lacks a long and complicated pipeline, your expected sales are more likely to be based on seasonal factors, like a bakery selling more cakes in the month of June, and recent growth trends. This is why businesses with transactional sales calculate their forecasts differently from businesses with pipelines.
Either way you calculate it, it's important to have an understanding of what goes into a sales forecast, and how it can help your business be more profitable. We'll look at how to forecast sales for both types of situations using six simple steps.
How to Create a Sales Forecast Using Your Pipeline
If your sales management process involves moving deals through a series of pipeline stages, one of the simplest ways to forecast sales is to evaluate the likelihood of winning the deals currently in your pipeline, and determining the value overall. The three primary variables in this model are the time period you are forecasting, the total value of deals at each stage, and the probability of winning those deals.
Here are the six steps on how to forecast sales for your pipeline:
1. Evaluate Your Sales Cycle
If you haven't already broken your sales cycle into specific stages, look at how you currently interact with deals and determine the stages of your sales pipeline. For example, you may have a simple cycle that includes the following stages: Incoming Deal, Qualified, Proposal, Negotiation, Won/Lost. These stages are defined by specific action steps that you take to keep the deal moving forward.
Pro Tip: If you're using a small business CRM like Pipedrive, this is already set up for you. You can choose to use the pipeline set up already, or configure it to better fit your sales process. Pipedrive lets you also assign probabilities to each stage to help you accurately forecast sales based on your past sales performance.
2. Examine Historical Sales Performance
This can be based on specific pipeline stages or seasonal sales, depending on your sales cycle. For both, look at what your previous sales have been for each stage or timeframe. This helps you determine the probability of your current sales pipeline converting into sales revenue, or in the case of consumer products, it helps you evaluate your peak sales opportunities.
As you look at your past sales, look for how your performance changes over time, and how the probability increases as you move a deal through your sales process. This will help you assign the right weight to each stage and give you a better picture of what a deal is worth throughout your pipeline.
3. Determine Your Time Frame
The difference between your pipeline value and a sales forecast is that a forecast is connected to a specific time-frame you want to measure. Businesses commonly use sales forecasting to help them prepare for expected sales in the next month, next quarter, or even the next year. In order to determine your forecast, you'll have to decide which time frame you want to measure.
For example, to determine the next month's sales forecast, you would select all of the deals that are expected to close. If you wanted to know what your forecast is for this quarter, you would include all of the deals closed so far, as well as the forecast value of the deals expected to close during the remainder of the quarter. Regardless of when you want to forecast sales, you have to start by defining the range of time you want to include.
4. Add up Deals by Stage
Once you've chosen your time frame, you can look at the deals in your pipeline that fall within it and add up the value of each stage. The reason it's important to calculate the value by stage is because each stage represents a different probability of closing. In order to get an accurate forecast, you need to make sure you reflect that probability within your calculations, but first, we have to start with knowing what the value of deals is by stage.
5. Multiply by Probability Factor
For each stage, you now multiply the total dollar amount you added by the probability factor to determine the actual forecast value of deals in that stage. For example, if you have $1,000 worth of deals in the "Proposal" stage, and you generally close deals in that stage 55% of the time, your forecast value for that stage is $550 ($1,000 x 0.55).
6. Calculate Your Total Pipeline Value
Once you've determined your stages and the probability of closing a deal at each stage, you can use that information to calculate your pipeline value. This lets you forecast future sales based on the estimated closing date, the probability of winning the deal, and deal value. The simplest way to do this is to look at all of the deals that are expected to close within the time frame you are forecasting, add up each stage's value, and multiply them by the probability factor.
As an example, let's say you have five active deals. For simplicity's sake, we'll say they are all worth $1,000. Two of them are in your proposal stage, and have a probability factor of 55%, and the other three are in your negotiation stage, which you have assigned a 75% chance of closing. You would add up the first two deals and multiply the total by 0.55, for $1100.
($1,000 + $1,000) x 0.55 = $1,100
Next, add up the other three deals, by and multiply by 0.75 for $2,250.
($1,000 + $1,000 + $1,000) x 0.75 = $2,250
Finally, add up the totals to give your sales forecast of $3,350.
$1,100 + $2,250 = $3,350
Notice that while the total value of your deals is actually $5,000 if they were all to close, your sales forecast is $3,350 based on the likelihood that you won't win every deal. This formula can be used for any sales pipeline, you'll just have to calculate for each stage and then add up the totals, or use a CRM to do the math for you.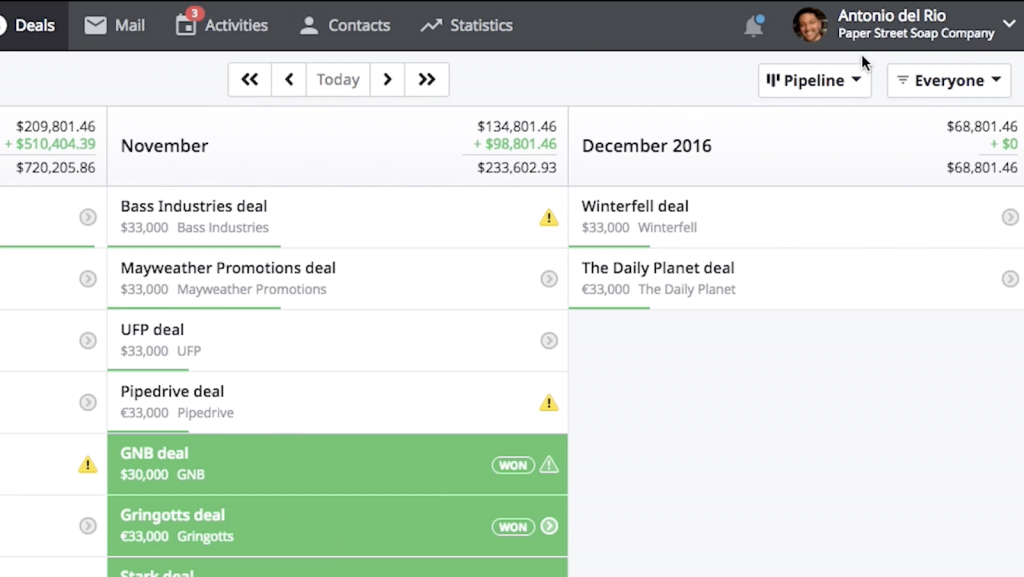 Many CRMs like Pipedrive will automatically calculate your pipeline value and help you forecast sales, without you having to do all the math. Pipedrive offers a highly-visual sales pipeline tool that makes it easy to see how deals are moving through your sales process. Plans begin at $12.50 per month per user. Visit Pipedrive to start your 14-day free trial.
How to Create a Sales Forecast for Transactional Sales
While these steps can help you create a forecast, it's important to understand that it isn't an exact science. There are a variety of ways to calculate sales forecasts for seasonal and B2C businesses, and we've tried to provide a simple way to approach predicting your sales forecast. To make sure that your forecast is accurate, start by establishing why you are doing a sales forecast and then gather relevant data that impacts your sales.
After you determine the scope of your forecast, you'll be able to lay it out in a way that keeps your team focused. You'll also be able to anticipate and prepare for fluctuating sales that come with seasonal and consumer-driven businesses.
Here are six steps you can follow to forecast B2C sales:
1. Set a Purpose for Your Sales Forecast
Before you start creating your sales forecast, it is important to ask yourself how you intend to use it. Are you trying to identify trends in your sales that might need to be addressed? Are you looking to prepare for peak seasons, or determine whether your sales will support hiring new employees. Determining a purpose for your sales forecast will inform the information you need, and how you can best predict future sales activity and revenue.
2. Evaluate Your Sales Data
Take a look at your current and past sales performance to provide a starting point for your forecast. Past sales data can help you see where seasonal peaks and valleys exist and help you know what to expect. For example, if you're located in an area where tourists flock in the summer, you'll see how your sales are affected both during the summer and out of season.
Likewise, if you are currently seeing an increase or decrease in sales this year, you'll want to factor that into your sales. If you are currently seeing an increase of 5% in sales each month, that may directly impact your sales forecast for future months, regardless of the time of year.
3. Look at Relevant Outside Factors
As you consider your current sales trends, look at what market forces might be causing an increase or decrease in sales. For example, if your industry is currently experiencing dramatic growth or contraction, or if new competitors have moved into your market, your sales forecast will be affected by these external factors. It can be difficult to know exactly what impact market forces will have on your business, but you'll need to consider them as you forecast sales.
4. Look at Your Sales & Marketing Activities
Internal activities, such as marketing campaigns, downsizing your sales staff, or closing retail locations, will have a direct impact on your sales. These activities should be considered in sales forecasts. For example, if you expect to see 20% growth in the spring following an email marketing campaign, make a note to include that in your forecast.
5. Determine Your Forecast Timeframe
Consider the timeframe for which you want to forecast sales. You'll need to decide whether you are forecasting sales for the next month, next quarter, next season, or year. Generally, it's important to choose as narrow a timeframe that will still give you the information you need. If you choose too wide a window, you may create too general a forecast, and it may not be helpful.
For example, if you're planning staffing for the next month at your coffee shop, forecasting sales for the next quarter isn't helpful. On the other hand, if you are looking at how many employees you'll need to hire, that forecast becomes more relevant. If you're looking to expand to a new location, you might forecast the next year's sales to determine if it's something you can afford.
6. Calculate Your Sales Forecast
There are a variety of complicated formulas to forecast sales, but as a principle, you should try to keep it as simple as possible in order to be useful to you and your business. Taking into account the outside factors that affect your business, you can calculate your sales forecast using a relatively simple formula. Multiply your current sales by your current growth trend, and then account for seasonal variations.
Here's what that looks like to calculate a sales forecast for a specific month:
Let's say you're a coffee shop and your current average monthly revenue is $10,000. This year you've seen that your sales are growing by 8%, and based on both internal and market forces, you expect that to continue. You want to calculate your sales forecast for your busiest month, December, to make sure you have enough staffing when people are out holiday shopping. Generally your sales are 20-30% higher that month. In this case, the scenario looks like this.
(Current Average Monthly Revenue x Current Growth Rate) x Seasonal Variation = Monthly Sales Forecast
or
($10,000 x 1.08) x 1.2 or 1.3 = $12,960 or $14,040
This forecast will give you an idea of what types of sales you can expect based on how your business is currently performing, your current growth rate, and the factors that affect your businesslike seasonality. One good practice is to regularly update your sales forecast as new information becomes available, or as new market forces impact your business.
Frequently Asked Questions (FAQs)
How far into the future should I forecast sales?
Your timeframe for your sales forecast is really dependent on what you are using it for. If you are trying to schedule employees, you are probably looking into the next month. On the other hand, if you are making plans about whether to hire, or expand, you might look into the next quarter, or even year. Keep in mind, however, that the further into the future you forecast, the less precise it will be since it is harder to account for external circumstances that may change.
What if I'm just starting out, how do I forecast sales?
If you don't have large amounts of historical sales data to compare to, you can still forecast sales. Generally, the more past data you have, the further you can forecast into the future. If you're just starting out your forecast will vary as you look far into the future, but you can still give yourself a rough baseline to predict sales based on the formulas we provided.
Bottom Line
Sales forecasting is a powerful tool to help businesses better understand and prepare for future customer orders and revenue. Understanding how it works and how to calculate it for your business can be a significant factor in improving your sales performance and is an important practice for sales leaders and business owners.
If you're looking for a tool to help you automatically forecast sales based on deals in your sales pipeline, check out Pipedrive. With a highly visual pipeline tool and plans starting at $12.50 per month per user, Pipedrive is an affordable and flexible tool for managing your sales process and measuring your sales forecast. Pipedrive offers a 14-day free trial. Visit their site to get started.