Social media lead generation helps businesses attract customers from Facebook, Twitter, LinkedIn, and Instagram. A social media strategy generates leads by building brand recognition, fostering trust, and creating social proof with each "like" or "follow" button earned. With so many people engaging with businesses on social media, it's a tactic you can't afford to avoid.
However, you might be too busy selling to focus on building your social media presence. Hibu is a service that helps businesses generate leads and build relationships with customers. They help companies create social media pages, curate engaging content, and develop social ads to turn your social media visitors into satisfied customers. Visit Hibu to learn more today.
We will dive into six ways you can engage prospects with social media lead generation.
1. Determine Which Channels Fit Your Target Audience
Before you go out and start creating an arsenal of social media content to engage leads, you have to understand your target audience in order to reach them in the right place, especially since 76% of people are willing to have conversations with brands on social media, according to Hootsuite.
For example, if your business sells retail clothing items, you'll likely be posting an array of pictures and videos featuring your product line, and visual content does great on Instagram and Facebook. On the other hand, if you're selling business-to-business (B2B) software, LinkedIn campaigns can reach prospects in your desired industry.
If you're just getting your social media accounts set up and deciding which ones you should spend the most time on, there's data available to guide your strategy. Read more about the detailed demographics of social media users from The Pew Research Center.
Create a Customer Persona
You should also analyze the demographics of your target audience to create a customer persona for your audience. For instance, if you sell anti-aging skincare products, your customer base is likely women aged 40 and above. Facebook campaigns are effective for that particular demographic. However, if you're selling video games, your target customer is going to be around age ten through the early twenties, so Instagram is a great place to focus your efforts.
2. Use Social Listening to Your Advantage
Social listening allows you to see what prospects are saying about your brand and develop a long-term sales strategy to reel them in. Set up certain search terms relevant to your business or industry to "listen" for. This also allows you to see what types of contacts your social media followers enjoy through their hashtags, photos, posts, and shares, letting you cater future posts to their style and draw them into your sales funnel.
For example, imagine you run a small business that sells and rents formal attire. You could set social listening terms such as "wedding," formal attire," "prom," and so on. However, you'd also want to track mentions of your company name, and even your top competitors' business names. Then, you can choose to interact with customers directly when they engage with your social media channels.
This matters because according to SocialMediaToday, 48% of customers make a purchase with a brand that is responsive to its customers and prospects on social media, so listen carefully. There are also some free social media management tools you can use to make social listening easier, such as Hootsuite, as it lets you track terms, see mentions of your brand, and see which people like or comment on your posts.
Pro tip: Creating content for prospects to interact with isn't the only way to foster lead generation on social media. Zoho CRM integrates with Zoho Social to generate social listening based on keywords you choose to track, followers, and Facebook likes, posts, or messages all in one place. Sign up for a free trial today, no credit card required.
3. Mix Up Organic & Paid Lead Generation Efforts
Once you've determined what social media channels you're going to focus on, you have to decide if you want to create paid or organic social media lead generation content—or both. Both are effective, and what you choose depends on your overall strategy and budget. The biggest difference between organic and paid social media content is that organic is free.
While organic content doesn't have the same reach as paid posts, it can still go a long way if it resonates with viewers. Plus, you can look at how well each type of post engages with certain demographics and use that information to guide your paid social media lead generation efforts since you found out it resonated with them well—for free. You can also view which posts have the most engagement overall, such as clicks, shares, and impressions, and plan future paid posts.
Once you know what your audience engages with, you can plan paid social media posts and ads, giving you advantages such as:
Expanding your reach so more people have the opportunity to view and interact with your content
Creating call to action links within your posts
Honing in on a certain demographic, such as age or location
Targeting people with specific job titles on LinkedIn
Lasering in on those who tweet certain words on Twitter
"When it comes to lead generation, ensuring the customer journey is as seamless and logical as possible is important for high conversion rates. This is no different from lead generation using social media. Make the path to becoming a lead as clear as possible to the end users by using clear offers and calls to action, and a simple form to collect their information.

"A great best practice is to create a dedicated landing page for your campaign so when a user clicks on one of your social media posts, they'll be directed to a landing page with a contact form that collects their information right then and there. By making the path to becoming a lead short, simple, and logical, you will allow little room for user drop-off, thus increasing your conversion rates over time."

– Jeremy Lawlor, Co-founder and Chief Strategist, Active Business Growth
Overall, it's best to create a variety of organic and paid social media content for optimal lead generation. Let your followers guide your efforts by watching how they interact with your organic posts and crafting paid messages that will get their attention—and maximum return on investment (ROI) for your business.
4. Develop a Platform-specific Strategy
You need to develop a specific plan for each social media platform you create posts and ads for to generate the most leads. Let's explore some of the best strategies for engaging potential customers on Twitter, Facebook, Instagram, and LinkedIn.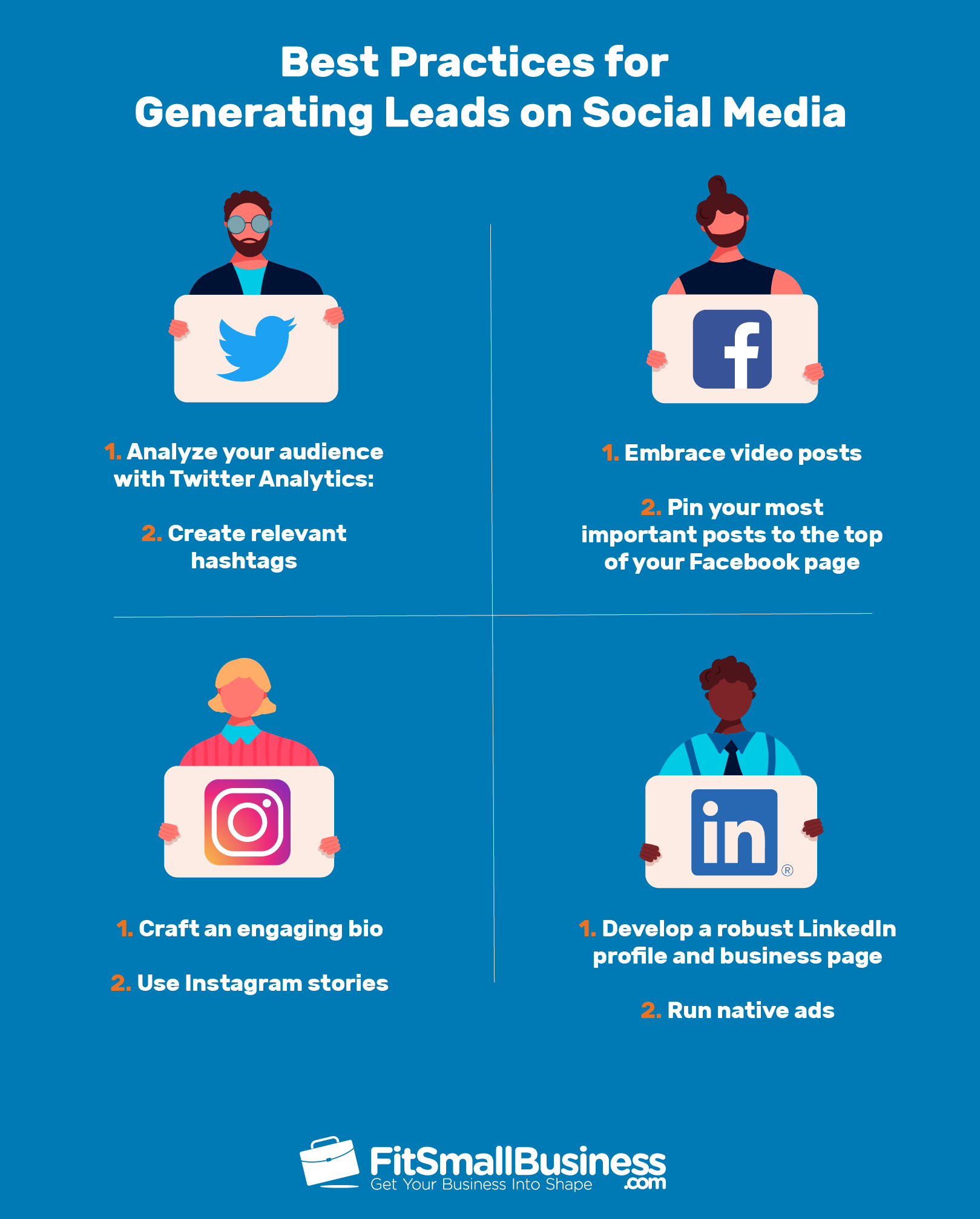 Twitter Lead Generation Strategies
Twitter has about 330 million active users who tweet 500 million tweets each day. Considering 69% of people have bought something they found from a business tweet, this makes it an excellent source of leads for many small businesses.
There are several things you can do on Twitter to increase your following and generate more leads, such as:
Create an interesting Twitter bio: You have 160 characters, so make them count. You can use a link to your website, a call to action about a promotion you're running, your podcast, or a link to your email newsletter.
Tweet at the right time: If you want to reach your prospects, you need to post when they are most likely to see it. HubSpot says Wednesday afternoons are best for business-to-business (B2B) businesses, while the weekends are optimal for business-to-consumer (B2C) companies.
Analyze your audience with Twitter Analytics: There's an "audience" feature that gives you valuable insights into your audience, allowing you to cater your messages to your market. It gives you information about ages, location, education, income level, interests, buying habits, political affiliation, and more.
Create quality tweets: It's important to tweet often, but it's also crucial to create quality, engaging tweets. Try CoSchedule's free Social Message Optimizer tool to analyze the quality of your tweets and learn how to improve them.
Create relevant hashtags: One great way to cultivate leads on Twitter is with popular hashtags. Find out which ones are relevant to the industry you are targeting by using a website like Hashtags.org to track and analyze the performance of hashtags.
Answer questions people in your industry are asking: This helps build trust and foster relationships while helping you stand out as an expert in the field. Use a tool like Topsy to plug in search terms and find out what people are asking. For example, you could type in "content marketing" to explore questions related to that industry and respond with meaningful ideas to earn new leads.
Facebook Lead Generation Strategies
With 1.13 billion daily active users, there's no shortage of potential leads for small businesses on Facebook. The kinds of posts you create help broaden your following and drive those followers to action.
Boost your leads on Facebook by creating posts that engage and draw in your audience by:
Creating posts that send them right to offers with a landing page: For example, you might be offering a 20% off discount on your home cleaning services, but they have to fill out a form with their contact information to get the code. Use an engaging visual image with your logo on the post that leads them the page with the offer and more information about your services.
Embrace video posts: Facebook's algorithm favors videos, giving them a 135% higher organic reach than photo posts. Make sure to include text in the video that links to a call to action. Use a program like BombBomb to easily create videos that you can use in a variety of social media platforms.
Pin your most important posts to the top of your Facebook page: It can be an offer, a video, a testimonial, or whatever you want your potential customer to see when they first visit your page.
Put a call to action (CTA) button on your Facebook page: This will drive more traffic to your website. They are simple to install and include options such as "Contact Us," "Shop Now," and "Book Now."
Use boosted posts strategically: If you have the budget, put some money behind some of your Facebook posts. When you boost a post, you can narrow in on the demographic, such as age, location, gender, and so on, that you want to target and broaden your reach by ensuring it will be seen by more people. Focus on posts that have a clear call to action (CTA) rather than informational posts for the most impact.
Create news feed ads: This can be pricier, but they're generally effective. Rather than showing up on your news feed, they appear in the news feed of your prospects. They also allow a call to action (CTA) button right within the ad.
Instagram Lead Generation Strategies
There are over one billion active monthly users on Instagram, and 200 million Instagram users visit one or more business profiles every day. Sixty percent of those people say they've found new products on Instagram, making it a worthy social media lead generation outlet.
Engage leads on Instagram by:
Crafting an engaging bio: Your bio should describe what you do, why it's valuable, and provide a link to your website—or promote an offer, discount, or free download. Even better, have the link take the viewer to a contact form to gather their information.
Adding action buttons to your Instagram page: You can have three, including call, text, email, or directions. If you're a local company, directions may be a good choice, but usually call, text, and email are the best for generating leads.
Using Instagram stories: They are wildly popular and easy to create. For example, if you're posting a story with a quick description of a free class you're offering, you can layer text over the image or video to swipe up to take them to the sign-up page. You can also save stories to your Instagram highlights page so users can view those stories long after you've posted the story to drive more sign-ups and purchases.
Creating Instagram lead generation ads: If you have a Facebook page, an Instagram business profile, and a budget for paid ads, you can make lead generation ads within the ads manager to create ads targeted to your specific audience.
Using Instagram Live: When you start a live video, your followers will get a notification that you're live—prompting them to participate in your video. They can ask questions and interact with you in real-time. You can also promote when you'll be going live in your feed to encourage viewers to join you.
LinkedIn Lead Generation Strategies
With over 500 million professionals on the networking platform, LinkedIn is the traditional choice for lead generation for business-to-business (B2B) companies. Forty million of those users are in decision-making positions for their companies, making LinkedIn prime real estate for lead generation.
You can generate leads on LinkedIn by:
Developing a robust LinkedIn profile and business page: It sounds like a no-brainer, but so many people don't craft intentional profiles or business pages on LinkedIn. Create both a personal profile and business page that reflects your brand, your experience, and strengths so leads will be able to learn as much as possible about you and your business—and take you seriously.
Creating a LinkedIn group: It's an excellent way to establish yourself as an authoritative leader in your industry. Start adding industry-relevant content to the group before you add members. Use LinkedIn's built-in search features to find the best leads to invite to your group—focusing on decision-makers. Send those leads LinkedIn connection invitations.
Targeting your posts: LinkedIn allows you to target posts based on title, industry, location, and more—for free. This makes it simple to customize your posts without a hefty budget or annoying those who aren't a good fit for your products or services.
Running native ads: If you have a budget, you can run native ads in the LinkedIn news feed to drive leads, foster awareness of your brand, and engage with targeted decision-makers in your audience.
Using lead generation forms: One barrier to getting contact information through forms is that the lead usually has to fill it out manually. With LinkedIn lead generation forms, when a user clicks your ad or InMail message, their profile automatically fills out the form, making it easier for them to submit and providing you with more accurate lead information.
5. Host Contests & Giveaways on Social Media
One way you can drive leads on nearly any social media platform is by engaging followers with contests and giveaways. You might have a lead eager to try your product or service, but they aren't willing to buy yet. Creating a contest or giveaway is a great way to encourage excitement about your business and expose leads to what you have to offer.
Run contests or giveaways with strategies such as:
Sharing to enter contests: Imagine you're a restaurant giving away a free meal to four lucky participants. Ask them to repost your contest or giveaway post and tag three other people to enter. You've instantly created a ton of shares and brought new people into the conversation who will engage with your brand long after the contest is over.
Referral contests: With each person someone refers to you, they get another entry in winning a prize from your business. This helps build a large list of leads because your customers know only the people who send in the most leads can win.
Influencer-partnered contests: If you use influencers in your social media strategy, leverage them in your contests. Work with your influencers to give away their products in contests or meet with the winners. Even better, the influencer can promote the contest on their own social media channels, increasing your reach.
Testimonial-driven contests: Use your happy customers to your advantage. Ask customers to submit testimonials about your product or service to your social media pages. This fosters positive social proof about your customers while broadening your brand's reach to your customers' networks.
6. Incentivize Gated Content on Social Media
The main point of gated content is to create a call to action for prospects to provide their contact information to sign up for something or download something. For example, you could offer access to an e-book to a lead once they provide their email and phone number. Once they provide the information, they are sent to a landing page where they can download the e-book.
Create valuable content such as:
Monthly or weekly newsletters
Webinars
Whitepapers and case studies
E-books
Business templates
How-to guides
Promote your content on social media with a clear call to action and a visual image. Link the image to a web form to capture their information before they sign up for your service or download your content.
How Social Media Lead Generation Works
Social media lead generation works by cultivating potential customers through social media channels. There are billions of leads waiting to be prospected on Facebook, Twitter, Instagram, and LinkedIn—and the right strategies can maximize your sales and return on investment.
Frequently Asked Questions (FAQs)
What is a social media lead?
A social media lead is a potential customer who has interacted with your posts on any social media channel that you can add to your sales pipeline.
How does social media generate sales?
Social media generates sales by targeting and engaging the right prospects who are most interested in buying your products or services. Engaging potential customers on the social media platforms they use every day builds trust with your brand, removing a major barrier when it comes to making buying decisions.
Do I have to pay for social media leads?
No. While many people buy social media leads to show they have more followers, it's not an organic strategy and you don't know if you're getting the best followers. If you're going to spend money on your social media lead generation efforts, use strategic paid ads and boosted posts to target the right prospects.
Bottom Line
With billions of people engaging in social media platforms, social media lead generation is an excellent way to gain the attention of new prospects and build a loyal customer base. Incorporate social listening, organic and paid social media posts, contests, and giveaways into your overall sales strategy to get the best business results.
Generating quality leads on social media via multiple platforms requires a specific strategy and can be time-consuming, especially when you're getting started. Hibu has a team of experts that helps businesses create compelling social posts and ads that engage potential customers. Visit Hibu to learn more today.