Every sales oriented business knows the importance of responding to leads quickly. If you don't reach out fast enough, they'll lose interest – or worse, move onto a competitor.
Despite this widely-known fact, many businesses lag due to disorganization. Leads coming from their website can pile up for hours (or even days) in their inbox. By the time they make it into the CRM, the lead has moved on.
Before we dive into the details on this topic, we also suggest you check out Insightly, our recommended small business CRM. Visit Insightly to learn more.
At FitBizLoans (the sister site of FitSmallBusiness.com), we've managed to fill this gap by automatically sending leads from our website into Insightly. Within seconds of a lead requesting information, we have their information logged, tasks assigned and salespeople sprung into action.
In this guide, we're going to show you how to set this up yourself on your own website. If you do not have a website yet but are interested in trying this feature, check out our guide to setting up a small business website here.
Using Webforms to Capture Leads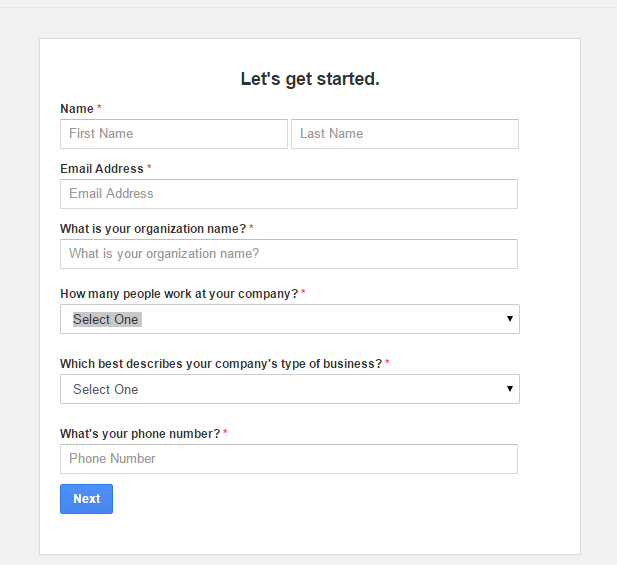 How is it possible to automatically send leads to your CRM? The answer is webforms. Even if you're not familiar with webforms, you've probably used them at some point:
Many businesses have a "contact us" form on their website. This is a webform.

There's boxes for visitors to enter their name, email address or phone number, business details and questions

Clicking "submit" sends this information to a salesperson, who can then contact the lead with some background knowledge about their business
Traditionally, the request gets sent to a salesperson or sales manager's inbox, at which point it needs to be manually transferred to the CRM and assigned to the appropriate salesperson. Instead, we're going to show you how to create webforms that send data directly to Insightly. Cutting out this middle step has saved us a lot of time at FitBizLoans and helped us respond to leads very quickly.
Creating Simple Webforms in Insightly
To get your leads automatically in your CRM, you'll actually use Insightly to create the webform. Head over to "System Settings," then click "Web to Contact." Check the box that says "Enable Web To Contact" and you'll see a new menu appear below it. Note: If you use the "leads" page of Insightly to manage your prospects, you'll want to select "Web to Lead" instead.
Ignore "Contact Settings" for now and scroll down to "HTML For Your Website." Click the link below and it will bring up a new window to design your form.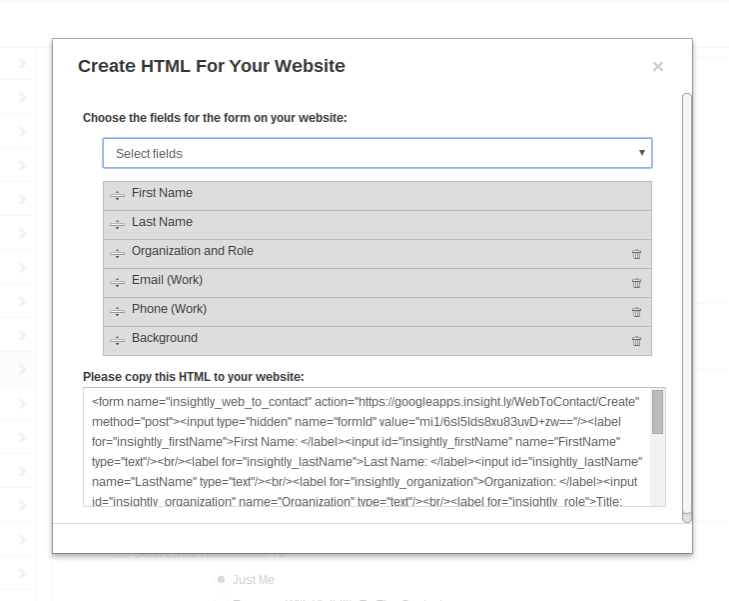 The fields that you see in the gray boxes are the ones that will appear on your form. You can add, delete or reorder fields. Each of them correspond to a data field in Insightly. So, for example, if a visitor submits their phone number, this will be saved under the "Phone Number" field on a contact.
Once you have the form set up to your liking, you'll copy the HTML code and paste it on your website. Here's an example of what the above form would look like on your website: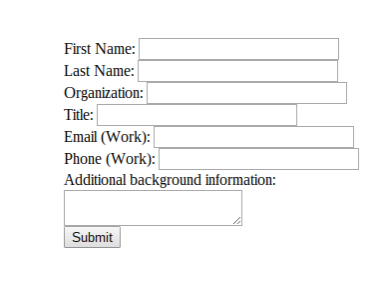 Back in Insightly, you now need to finish setting up your form. Under contact settings, you need to decide which user will be considered the "creator" of the contact. You'll also need to decide if that contact should be visible to everyone, or just you, or just a few members of your team.
Under "Form Submission Behavior", you can setup a thank you page to send visitors to after they submit their info. By default, Insightly will show you a branded thank you page (which contains an ad for Insightly.) So it's a good idea to create your own, or at least route visitors to another page on your website.
The final step is to set up optional email notifications. Insightly can send you (or your team) an alert whenever a visitor submits a form and is added as a contact.
Once you get the form up and running on your website, voila, the job is done. Visitors who request information on your website will now be added as contacts or leads automatically in Insightly.
Creating Advanced Webforms with NinjaForms
Insightly's form builder has a few downsides. For one, you can't save custom fields. You can ask customers to enter additional information under "Description" or "Additional Background Information" but it won't get saved as a custom field. Secondly, you can't automatically start an opportunity or task from a submission. You can receive an alert, as we explained above, but the rest has to be done manually.
At FitBizLoans, we sought out a way to get these advanced tools. The ability to create custom fields was important, since we need to know a lot of details from our leads (such as their credit score, number of years in business, annual revenue and loan amount requested.)
Likewise, we wanted our salespeople to be assigned tasks automatically. This way, they can find the task "Call Lead" on their Insightly calendar. They don't have to bounce between their email inbox and CRM to find their latest to-do's.

The workaround we discovered was a 3rd party form builder called Ninja Forms. It works essentially the same as Insightly's form builder – there's just an extra step to link it with Insightly. In addition to the above tools, Ninja Forms lets us create opportunities, projects or notes automatically whenever a visitor submits a form.
Ninja Forms does come at an extra cost, so if you don't need these tools just yet, you might as well stick with Insightly's free form builder.
Want to manage 1000's of leads, save time, and get organized? Click Here to get our FREE CRM guide and find out how.
The Bottom Line
If you already have a business website, web forms are an essential step to generate business. Listing your phone number and email address will get you some responses, but webforms are a much easier way for visitors to get in touch.
If you don't have a business website yet, we can show you how to get one up and running in less than a day and for under $200/year. Check out our guide to building a small business website here.