If you require an influx of capital for your business, a business loan can be a good option. However, if your business doesn't have many assets, you'll have to qualify for an unsecured loan, which is much more difficult than qualifying for a secured loan backed by property. Instead of collateral, unsecured loans use a Uniform Commercial Code (UCC) lien and a personal guarantee on the funds. There are five steps you should follow when considering how to get unsecured business loans.
1. Identify When and Why You Need Funding
By identifying why you need the money, you can set a timetable for acquiring it and the duration it is needed for. Unsecured business loans are best to finance short-term capital needs because their repayment terms are typically limited to three years. The best unsecured business loans also allow you to get access to funds in one to three days but may not be the best option for every business.
When an Unsecured Business Loan Is Right
An unsecured business loan typically is used to cover short-term financing needs if you need to purchase inventory, buy new equipment, or fund a growth project. Getting the money is one thing; repaying it usually is tricky as the repayment term is usually less than 36 months and requires weekly, if not daily, payments to be made directly from the business checking account.
Unsecured business loans aren't cheap, with annual percentage rates (APR) ranging from 9% to 100% or more. This is why lenders will place significance on cash flow and want to see how the influx of capital will yield higher revenues quickly. This should be the fundamental question you answer as you seek an unsecured loan.
When an Alternative to an Unsecured Business Loan Is Better
Consider an alternative to an unsecured business loan if you have larger funding needs or need longer repayment terms. This will save you money in the long run due to the lower interest rates and allow you to manage your cash flow better. Additionally, if you can wait 30 to 90 days to get funded, consider a Small Business Administration (SBA) 7(a) loan for the best rates and higher loan limits.
2. Consider the Unsecured Business Loan Costs & Terms
Savvy business owners will consider the cost of money—the interest rate—and loan duration when considering an unsecured loan. Ideally, you want to get a loan at the lowest interest rate and longest term as possible. With that said, without collateral, your options may be limited to high-cost loans.
The costs of an unsecured loan typically will range from 9% to 100% or more APR, which is higher than most traditional secured loans. Your APR will vary depending on the origination fee, interest rate charged, and the total length of repayment for your loan.
The typical costs and terms of an unsecured business loan are:
Expected APR: 9% to 100% or more APR; your rates will vary depending on the type of financing you use, your personal credit score, and your business fundamentals like sales, growth, and customer retention
Repayment term: One month to three years
Repayment schedule: Daily, weekly, or monthly
Loan amount: $1,000 to $500,000
Comparing Costs of Unsecured Business Loans to Alternatives
Unsecured business loans typically carry higher maximum costs than their secured traditional counterparts and other alternatives like business credit cards, or a line of credit, and invoice factoring. Typically, the daily interest cost of a $10,000 unsecured term loan ranges from $3―which is similar to most loans―to $38, which is slightly higher than most alternatives except merchant cash advances.
The typical daily interest costs of different small business loans for $10,000 are: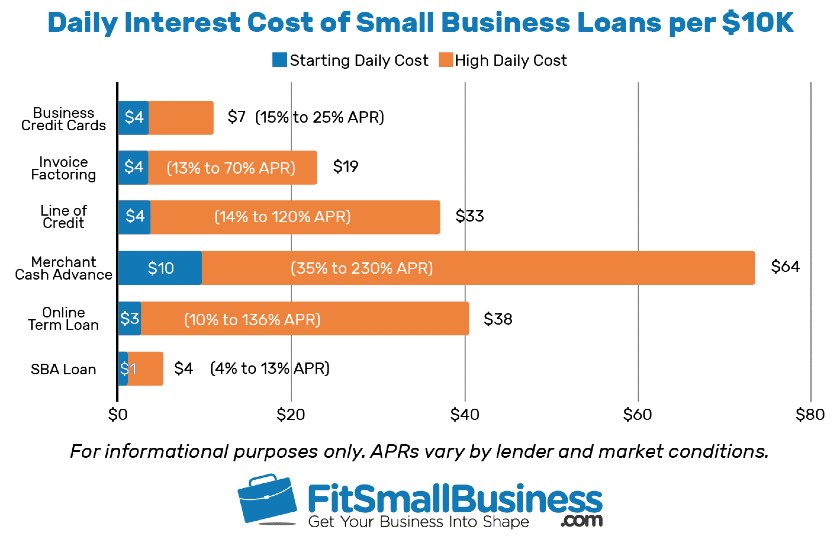 The high upper limit of the term loan APR is due to the longer repayment terms over alternatives like invoice factoring. When receiving the entire loan amount upfront, the lender is typically taking a greater risk, especially if the loan isn't backed by collateral. For context, a collateralized loan like an SBA loan typically costs as little as $1 to $4 in interest per day on a $10,000 loan.
3. Identify if You Meet the Minimum Qualifications
Rather than waste time, energy, and potentially money with application fees, it's wise to determine if you meet the eligibility parameters first. The minimum qualifications for an unsecured business loan will vary, depending on the kind of financing you are getting. Typically, more expensive financing has lower qualifications and vice versa.
The typical minimum qualifications and requirements for an unsecured business loan are:
Minimum credit score: 600
Minimum annual revenue: $100,000
Minimum time in business: One year
Collateral & personal guarantee: Typically, a blanket UCC filing and personal guarantee are required for the loan. This gives the lender the right to go after your business and personal assets in the event of default. Furthermore, it may also restrict you to working with a single lender because each lender will want to have the first claim in the event of default.
4. Gather the Required Documentation
With traditional lenders, you would typically need extensive documentation including, business plans, tax returns, and financial statements to get approved for a loan. This is in addition to multiple trips to the bank, revisions, and prolonged procedures. Some online providers shorten the application process and can approve funding in as little as one business day.
The documentation requirements for an unsecured business loan with an online lender include:
Tax identification number: You will need to provide your employer identification number (EIN) or tax identification number (TIN) as part of your documentation.
Owners' Social Security number: For the soft personal credit check and personal guarantee, your Social Security number will also be required.
Estimated annual gross revenue: You will be asked to estimate your annual gross revenue for the business.
Bank statements or connection to your bank account: You can verify your business revenue by connecting your bank account, which is preferred by most online lenders; as a substitute, you may also be able to submit bank statements to determine your eligibility.
5. Apply for Your Unsecured Business Loan
When you have all the required documentation in place, it's time to sit down and apply. Applying online for an unsecured business loan will typically take about 20 minutes or less. We prefer online lenders who can provide funding in as little as 24 hours compared to traditional lenders that may take weeks to evaluate your application and give you an approval.
Pros & Cons of Unsecured Business Loans
| Pros | Cons |
| --- | --- |
| No collateral required | Higher interest rates and costs |
| Easy application process | Requires a personal guarantee and UCC lien |
Unsecured Business Loan Alternatives
Not everyone qualifies for an unsecured business loan. There are other working capital loans that might fit your business or business credit cards that are useful for day-to-day expenses.
Some alternative unsecured business loan options are:
Unsecured business line of credit: For those who need several smaller loans or want access to revolving credit with flexible terms, and early repayment benefits, a business line of credit may be the solution.
Other types of working capital loans: Other financing options include a merchant cash advance (MCA) or invoice factoring, especially if you process numerous credit cards or invoices.
Business credit cards: The best business credit card options offer rewards and cash back to help you save money on everyday business expenses.
Bottom Line
When seeking an unsecured business loan, consider the purpose of the funds and whether or not you have the revenues to justify the loan to lenders. Make sure your credit is in good shape and be ready to offer a personal guarantee for the funds you receive from the loan.