Delivering performance feedback is the most essential component of managing employee development. This one-on-one conversation between manager and employee should include information sharing, a review of both qualitative and quantitative performance data, and an opportunity for both people to speak. The end result is a motivated employee and a plan for moving forward.
Here are the six steps for how to give a performance review:
1. Gather Data and Forms
Before you schedule your employee meetings and give a performance review, gather your data and forms. This includes performance review forms you've completed as well as data you've saved, such as peer feedback, team member performance metrics, or any accolades or recognition your employees have received since the last performance review meeting.
Below is a performance feedback checklist that can help you keep track of your reviews and ensure you make each performance review meeting as productive as possible with your direct reports.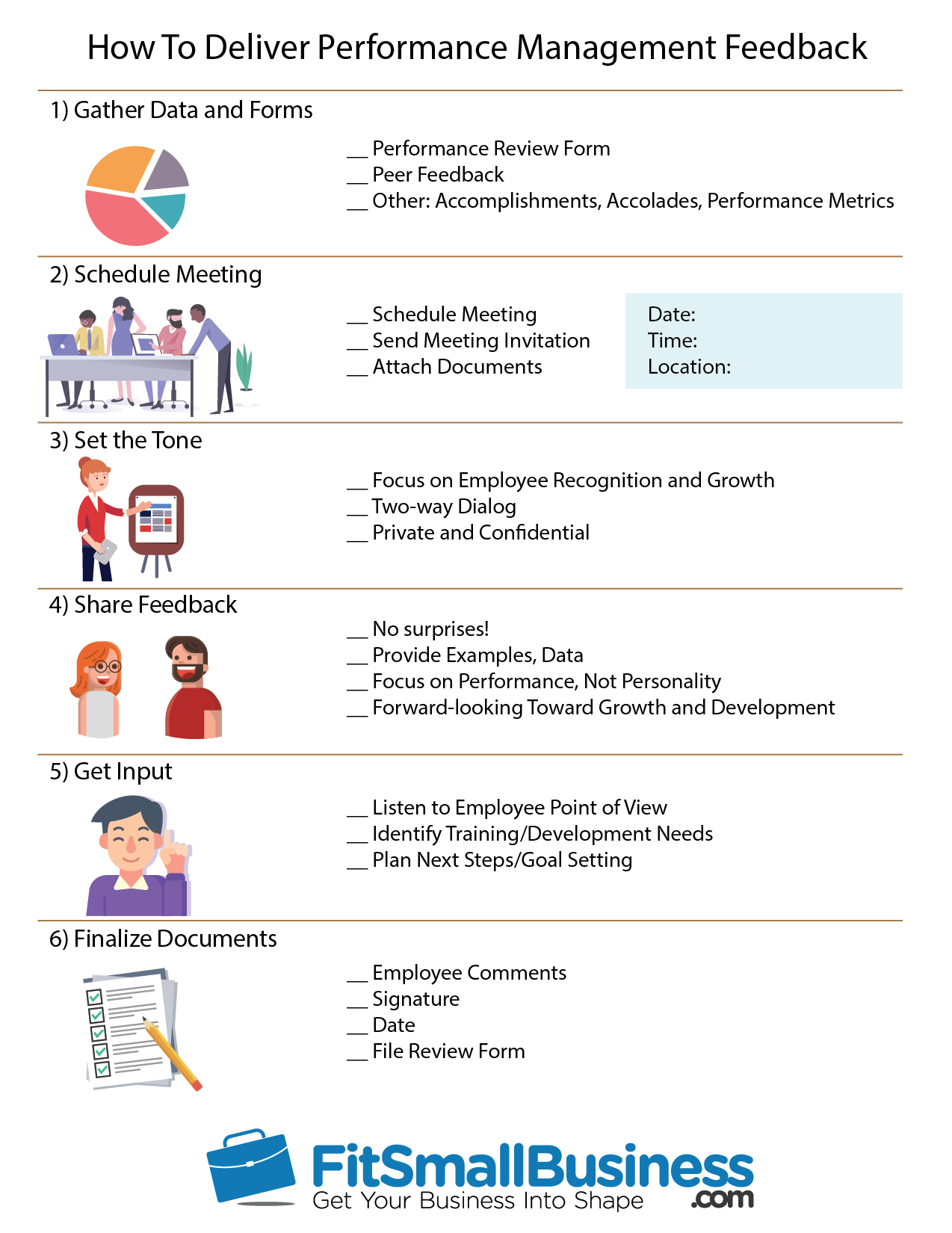 Performance Review Checklist
You can use our performance review checklist to make sure you're prepared to give a performance review or for your employee review meeting.
Download free performance review checklist as a PDF or DOC file.
Performance Review Form
The performance review form, which may be called an annual review, employee review or some other name, is typically where feedback and ratings are documented. If you have this document, it will serve as the primary tool for you to use when providing the employee with performance feedback.
If you haven't yet created one, you can download and modify sample review forms here. In addition, many software systems, like Zoho People, provide customized employee review forms online. An example is shown below.
Peer or Other Feedback
Gather any feedback you've received from others about this employee. Some managers maintain data in an online system, such as email, where this information is saved by employee. Others drop notes into the employee's file to remind them of their accomplishments. Still others use employee praise apps or 360-degree feedback to get a broader perspective of how the employee is doing.
Regardless of how you gather the feedback, be sure to include the perspective of peers, internal/external customers and others who work with the employee, so that you have a well-rounded perspective of what they do well and how they can grow in the company.
Here's an example of how performance management software can provide peer and multi-rater feedback on employees to save you time as you prepare for your employee review meeting.
Employee Accomplishments, Accolades or Performance Metrics
Another source to look for performance feedback on an employee is within your CRM system or other systems that provide KPIs and metrics. For example, if you're doing a performance review for a member of your sales team, you'll want to look at their sales metrics.
Also gather any awards, licenses, or projects this person has completed as examples of their positive performance to share during the review meeting.
Employee Data
Some managers like to ask the employee to send them a list of their accomplishments over the performance review time frame to help jog their memory and avoid the recency-effect (recalling only what happened lately).
Other businesses have employees complete their own self-review, which the manager can then consider as they prepare for the review meeting.
I like to make sure I have real examples when discussing development areas to help employees understand where performance gaps are and how they could improve, rather than just telling them they're not very good at something and need to improve. Sometimes examples are physical documents, output of previous tasks, while other times it could be the notes on verbal feedback from other colleagues and customers.

– Sarah Dowzell, COO/Co-founder, Natural HR
2. Schedule a Meeting
Use an online calendar or employee scheduling tool to schedule your meeting. Depending on your company policy, it's a good practice to share expectations within your scheduling communication. Let the employee know the length of the meeting, what you'll provide (their review form), what they'll provide (a list of their accomplishments) and how the meeting will flow.
Ideally, the employee has already been given a blank copy of the evaluation form at the time of hiring and again a few weeks prior to the performance review. Then, you can ask him or her to prepare a list of questions, areas they think they need to improve, and additional training that might benefit everyone involved.

This invites the employee to partner with you toward his or her success, rather than focus on whether they are accepted or liked. It reminds him or her the review is about results, not necessarily personality or popularity.

– Nance L Schick, Attorney, The Law Studio of Nance L Schick
Many businesses provide training on their employee review process annually so that employees are alerted well in advance about what to expect.
3. Set the Tone & Put Your Employee at Ease
HBR asserts that, "For many employees, a face-to-face performance review is the most stressful work conversation they'll have all year." It's therefore critical that you, as the employee's manager, start the conversation on the right note. Do that by keeping the focus on performance and growth, as well as how you, their manager, can help them succeed.
Here are three experts' tips on how to do just that:
When giving a new employee their first performance review, I always ask my team members how I can support them in the upcoming months, thus ensuring they know I am there to support them. Super simple, but seems to work as I have a long track record with my team of 12 years and now an intern of two years. Our turnover rate is under 1 percent. Feeling supported is key.

– Kerry Wekelo, HR Director, Actualize Consulting
Schedule the review in a neutral space, not the manager's office. Acknowledge that these sessions can cause anxiety. Reassure them that the purpose is to help them be their best and you're "in this together." You're partnering with them to maximize success. Stress to them that this is a two-way discussion and you welcome their input and insights.

– Mimi Brown, Leadership Development Expert CEO, Amp Up Success
Putting an employee at ease can be done simply by turning the meeting focus from "delivering a report" to having a constructive conversation. For example, after some small talk, "Hey Joe, thanks so much for meeting with me, it's really great to have a chance to chat. Let's focus our time on learning about you, how you feel you're doing, what you hope to achieve in the coming quarter, and how I can help."

– Jana Tulloch, CPHR Consultant, Tulloch Consulting
4. Share Constructive Feedback & Use the Form
The most important part of sharing your feedback and going over the review form with the employee is that there should be no surprises. In other words, you don't want to blindside the employee with negative information that you hadn't brought to their attention when it happened.
You also don't want to withhold praise until this meeting. Praise and feedback should be ongoing. The feedback summarized on the review form and during this meeting is in many ways a recap of what the employee is doing well, and how they can continue to contribute and perform.
Here are other common pitfalls to avoid.
Don't Compare Your Employee to Other Team Members
This can be discriminatory, and, just as bad, can create a company culture that is undesirable (think cat fights and negative competition). The review is about the employee sitting in front of you, not about their teammate.
For example, instead of saying, "John, we need you to get your quota to where Sally's is. She's performing at the level we want," you should say, "John, we need you to get your quota to (insert specific goal/quota)."
Don't Use Inappropriate Language or Tone
The performance review should be done with the highest level of professional communication, almost like an interview. Be patient, don't patronize the employee, and stay calm if the employee gets upset or angry.
For example, instead of saying, "John, isn't it obvious that you are behind every other salesperson?" you should say, "John, we need you to hit your quota. How can we help you to be more successful in reaching that goal?"
Don't Let Bias Affect Your Feedback
There are several kinds of biases that people can accidentally have in the workplace, and especially during performance reviews.
One form is the horns/halos effect, where you might let your personal opinion of someone run their performance review, and someone you like will get higher ratings than someone you do not. You can avoid this by using documentation in your performance review process, and, if you are open to it, having another person review the employee as well (and then comparing notes).
Another issue is self-comparison, where it is tempting to evaluate employees based on what you were doing when you were in that role or when you were their age. You'll want to avoid sentences that start with "When I was your age…" or "Let me tell you from my experience…".
Finally, the other common bias in performance review is recency-bias, mentioned above. Remember to include the performance of the employee throughout the entire review period. However, if the employee's performance has improved or deteriorated over time, be sure to acknowledge that.
Don't Wait Until the Review Meeting to Bring Up Disciplinary Issues
Have you been having an issue with an employee for months now? Have you told them about it? If not, you're making a mistake bringing up something for the first time that has been festering for months in the annual performance review. It's going to make your employee feel frustrated and even embarrassed. Speak up and give continuous feedback, not just at performance review time.
Don't Be Critical
Remember when your parents said "Because I told you so"? Do you remember how frustrated you got? The same thing can happen in a performance review—it's fine to provide suggestions to an employee, but don't criticize. Better yet, give multiple options so that the employee can play an active role in their own professional success and truly improve their performance.
Below are additional tips from HR experts:
Be honest. This piece of advice might seem obvious, but it's important for employers not to make the mistake of altering feedback to avoid a confrontation. By being honest and to the point, employers have the opportunity to work with employees and help them improve.

In some cases, an employee may not realize they are going about something at work in the wrong way unless it is brought to their attention. Be sure to keep the conversation open-ended and allow employees to respond. Remember to focus on the issue and not the person.

– Jason Carney, HR Director, WorkSmart Systems
In addition, keep your feedback as positive as possible, focused on what the employee has accomplished, and then ask the employee what they think/feel needs to be improved or changed. This helps your employee take ownership of their development. There's real science behind this, according to Dr. Brent Obeholzer,
The chemistry of the performance conversations, human interaction and behavior has measurable, chemical interactions.

Negative interactions release cortisol, shutting down thinking and activating conflict aversion, defensive/ protective behaviors. Starting a performance conversation with negative information will have a stinging effect. Effects can last for 26 hours, imprinting memories and magnifying impact on future behavior.

Positive interactions and performance discussions spur production of oxytocin, elevating the ability to communicate, collaborate and trust, activating networks in the prefrontal cortex. Oxytocin metabolizes more quickly than cortisol, so its effects are less dramatic and long-lasting.

Most importantly, to drive behavior change and encourage development of the discussion, stay to the positive and slowly engage the negative by asking the individual to identify the negative behavior or performance and leave the ownership on them.

– Dr. Brent Oberholtzer Owner, Org-ology
5. Get Your Employee's Point of View & Input
Some suggest that this step should be done before the prior step. In either case, before the meeting ends, you want to be sure you've asked and listened to the employee's point of view on the following items. They may have documented this feedback in their self-review if that's a practice done in your business. Even so, allow them to verbalize:
Their contributions
Their value
Their personal strengths
Training and development or any tools they may need
Their short- and long-term career goals
The Balance Careers states, "If your intention is genuine, to help the employee improve, and you have a positive relationship with the employee, the conversation is easier and more effective."
Here are some sample questions to get your employee to open up:
What have you enjoyed most about your job over the past review time frame?
How have you contributed to the company in terms of work product or projects?
How have you personally added value to the team or culture?
What do you believe are your top two or three core strengths in this job?
What other strengths do you have that you feel you're not fully using in this role?
What are your short- and long-term career goals?
What training, tools or resources can we (the company) provide to help you reach those goals?
Here are some additional tips from career coach Temeka Thompson:
Ask the employee to start off by asking how well they think they performed this year and how well you, as their supervisor, supported them this year. Then dive into the performance feedback—this will put the employee at ease a little bit.

At the end of the review, ask the employee where they'd like to see themselves next year and ask how you can support them in this journey. Schedule monthly or quarterly check-ins to ensure you're on target for the upcoming performance year. Employees want to know they're being valued and supported. Once you display this, the performance reviews become a little easier.

– Temeka Thompson, Career Coach, Speaker, Author, Career Coach Cafe
Goal Setting
In regards to goal setting specifically, some organizations do it as part of the review and others schedule separate meetings to talk through goals for the next review period. There's no one way to accomplish goal setting.
If goal setting is included in your employee review meeting, document the upcoming goal time frame, expectations and goal targets.
If you need help with goal setting, read our article on how to create SMART goals.
Zoho People provides an easy-to-use goal setting tool within their HR software as shown below:
6. Finalize & Sign Documents
Based on how your performance review form is set up, you may want to add comments to the review form resulting from this meeting. What's important is to have the review form signed. This can be done on paper, or e-signed with workflow using any software that provides an e-signature option on your forms. There are two reasons a signature is important: one is legal, the other is cultural.
Signatures May Protect Your Business in a Lawsuit
From a legal point of view, providing performance feedback documentation helps your organization stay compliant, should an employee ever leave your employment and file a lawsuit claiming unfair or discriminatory labor practices.
You'll have documentation of performance conversations, to show why one employee received a larger pay increase than another, or why one employee was promoted while another was not. This assumes, of course, that your performance reviews are fair and based on job-related metrics and performance. Zoho People provides e-signature as part of its HR software suite.
Signatures Help Obtain Buy-in
When an employee signs a document, they're often committing themselves to agreement with the rating, review and go-forward plans. That ensures that you and the employee are both on the same page and supports a culture of performance.
Should they disagree and not want to sign the document, you can allow them to write a note to state that their signature confirms that the review meeting was held (and not that they agree with the feedback in its entirely).
If you're using Gusto as your HR/payroll and benefits software, you'll find it also contains online document storage, forms and e-signature options that can ensure signed performance review forms are attached to the employee file.
HR Best Practices
Here are some best practice recommendations from HR experts via SHRM to help you get in the right mindset for conducting performance management feedback.
Recognize the Good and Constructively Point Out Issues
Paula H Harvey, SHRM-SCP, MBA HRM, SPHR, GPHR expert, reports that:
"High-performing organizations' performance management systems include performance planning, goal setting and planning, and performance reviews. Formal performance appraisals take place on a recurring basis, while casual dialogues happen whenever a project or situation justifies them. Supervisors recognize good performance and constructively point out performance issues."
Deliver Feedback in Real-time
Arlene S Hirsch, MA, LCPC, reminds us:
"If you really want to improve an employee's performance, feedback is usually more effective when it is delivered in real-time, along with guidance and recommendations about how to improve performance."
Avoid Compliment Sandwiches
However, Eileen Habelow, President of Leadership-Link, cautions against "compliment sandwiches"—a criticism wedged between two compliments—because the praise is likely to come across as contrived and insincere.
Set the Stage for Performance Management in Advance
As a best practice, we recommend having a performance management system established in advance, as well as using performance management software to ensure your employee feedback process is ongoing, fair and documented.
Ashley Cox agrees:
A good performance conversation begins before the annual review meeting ever takes place. In fact, it should start from the first day you hire someone new. When you consistently share both positive and constructive feedback throughout the year, it makes review time a lot less intimidating for both the employee and the manager.

By doing so, you have the chance to recognize the employee in the moment for the positive contributions he or she is making, as well as provide opportunities to help the individual learn and grow from mistakes made. When the formal review period finally rolls around, there should be no surprises for either party.

– Ashley Cox, PHR, SHRM-CP, Founder/Owner, SproutHR
Frequently Asked Questions (FAQs)
Here are some questions you may have about preparing for or conducting your performance evaluation meeting to provide an employee with feedback.
Should You Give the Employee a Copy of Their Review Before You Meet?
Experts say yes. That allows them to process their emotions in private and consider the ratings prior to the meeting. They'll have time to review and react to the feedback in a more positive way, instead of being upset and emotional during the meeting itself.
CEO Ketan Kapoor agrees:
Many a time, the employee's idea of self-evaluation and the true evaluation in the eyes of manager are completely off track. The entire session becomes a blame game in a short time, which is counterproductive. On the other hand, if the hiring manager clearly communicates the evaluation criteria in advance and keeps the performance areas clearly defined and objective, the discussion can be more fruitful and productive.

– Ketan Kapoor, CEO & Co-Founder Mettl
Should You Bring Up Compensation or Raises During the Review?
These same experts say no. Let the review meeting focus on performance—what the employee is doing well and should keep doing. Also focus on training and development needed.
Save the conversation about compensation until after the review so that the employee can stay focused on job performance, rather than being distracted about whether they're getting a raise or not.
How to Soften Performance Review Feedback for Poor Performers?
Don't soften it. You're doing no one a favor by trying to make them feel good about poor performance. Instead, focus on the performance expected and how they can get there.
If they're performing below expectations, you're giving them a gift by helping them improve—rather than the alternative—failing in their job. In fact, poor performance should be dealt with long before an annual review.
For information on how to manage performance issues, check out our articles on:
What if the Employee Refuses to Sign the Review Form?
You can document that the review was conducted, and then note in the signature line that the employee refused to sign the form. That may alert you to an employee concern that needs to be addressed by HR or by the next level of management. Perhaps there's an issue in the relationship between manager and employee, or an issue in the employee performance.
How Does Goal Setting Fit in with Performance Reviews?
Goal setting for the next review cycle is often a standard part of a performance review. It sets the stage for future performance. To learn more about how to set goals as part of establishing a performance management process, read our ultimate guide on performance management.
Bottom Line
A well-planned performance review meeting is a great two-way dialog opportunity for manager and employee to talk about what's going well and what's on the horizon. It provides actionable feedback the employee can use to be more effective in their job or to earn a promotion.