Great restaurant chefs combine extensive food knowledge with business acumen and leadership skills. Hiring a chef for your restaurant will depend on your culinary and business needs as well as your budget. The restaurant industry is projected to expand rapidly through 2028, so competition to hire a chef will be fierce for the foreseeable future.
If you are in the market to add a chef to your restaurant team, we have five simple steps to make sure that you hire a great chef who is a perfect fit for your business.
1. Assess Your Restaurant's Needs
When hiring a chef, a restaurant owner must know what skills and qualifications the operation needs to fill. This step may take some time, but it is the most important one to ensure that you hire the right kind of chef. Workers with the title "chef" have a wide range of skill levels and backgrounds. Some have culinary degrees while others have worked their way up from entry level restaurant positions.
The industry standard of the Brigade de Cuisine creates a universal guide to measure chefs' experience levels regardless of educational history:
Line cook / chef de partie: A line cook, sometimes called a chef de partie, works a specific workstation on the kitchen line (the section of the kitchen where dishes are cooked). Workstations on the line are defined by the style of cooking performed on them—grill, fryer, broiler, etc —not the type of food they produce. An experienced line cook has skills on several kitchen stations.
Sous chef: Pronounced like "sue," this literally means "under chef" as in a chef under the head chef. Sous chefs have usually been promoted from a line cook position and are capable of working every kitchen workstation and training other cooks. They are developing their business and leadership skills under the mentorship of an Executive chef.
Chef de cuisine: Sometimes called simply "head chef," a chef de cuisine is the head chef of a kitchen. A chef de cuisine manages the kitchen staff, controls kitchen costs, liaises with suppliers, and creates the menus. In most restaurant kitchens, this is the highest level chef on the team.
Executive chef: An executive chef is a head chef with extensive experience managing personnel, budgets, ordering, and sanitation—in addition to culinary skills. A Certified Executive Chef® is a chef who has gone through accreditation via the American Culinary Federation to demonstrate his or her knowledge.
Restaurants hiring "a chef" are generally seeking a chef de cuisine or executive chef to help manage their restaurant operation. This doesn't mean that line cooks and sous chefs are irrelevant, however. Frequently, strong chefs working on the lower levels of the line need to seek a new job to progress in their career. Smaller restaurants or those that have time to train can save money on salary by hiring a slightly junior chef with a solid culinary background and moving them up the line.
Administrative Needs
If you are not familiar with writing menus, figuring food costs, or scheduling cooks, you will need a chef that can also manage your back of house (BOH). In which case, you want a chef with experience writing menus and staff schedules, costing recipes, liaising with suppliers, and supervising a team of cooks.
If you already have a strong management team that can cover these administrative tasks, and have a strong training program, you may be able to promote a line cook or sous chef into your chef role. Bonus: employees that feel supported in their professional development are more likely to remain engaged in their work and less likely to leave for another job.
Sales Volume
If your restaurant is high volume—more than 200 customers daily—you need a chef that is experienced with handling that level of traffic. High volume restaurant kitchens move quickly and have a large staff that requires scheduling, mentorship, and management. High volume kitchens also tend to have limited time to get a new staff member up to speed because the kitchen itself never slows down. If you are a high volume restaurant, you need a head chef with high volume experience.
If, on the other hand, your restaurant profits by selling high-priced fare to few diners in an intimate setting, that is a different style that requires a slightly different set of culinary skills. Such a restaurant needs a chef with experience handling expensive, perishable ingredients, preventing waste, and maintaining a world-class attention to detail.
Style of Cuisine
A chef that has experience cooking the style of food your restaurant serves can seamlessly fold into an operation that is already running. Small restaurants serving popular foods like burgers or tacos may be able to carry on with a chef that has a passion for the cuisine and willingness to learn. With some styles of cuisine, however, relevant experience is a must; a sushi bar needs a sushi chef, a bakery needs a pastry chef.
Service Style
The basic distinctions in restaurant service styles are full-service restaurants (FSR) and quick service restaurants (QSR). FSRs have dining rooms, orders are taken tableside, and guests pay after they eat. In a QSR, customers order at counters and pay before they eat. Barbecue, burger, and pizza joints are quick service, as are limited service restaurants like buffets, bakeries, and coffee shops.
A full service restaurant can be fast casual, upscale casual, family-oriented, or fine dining. In a full service restaurant, a chef needs a broad understanding of food cost and labor cost management. Comfort with multiple food allergies and dietary restrictions is also helpful in an FSR.
Fine dining FSRs need chefs that are comfortable working with expensive raw ingredients like fresh fish and pricey cuts of beef. Chefs in busy FSRs should be able to update menus seasonally and expand the business into new revenue centers like catering, food delivery, or food trucks to remain competitive.
On the other hand, quick service restaurants need a chef that can handle a high volume of sales, works quickly, and can motivate the rest of the kitchen team to do the same. Designing good base recipes and dishes that can travel well is a useful skill in QSR chefs, as is staying current with culinary trends. QSRs are a highly competitive field where independently owned restaurants compete with large chain operations. Chefs in independent QSRs should be incredible at decreasing food waste and controlling food costs.
Create a List of Tasks and Qualifications
After considering your needs in each category, write a list of tasks that a chef will need to perform on a daily basis to meet them. It is helpful to think about what a typical day will look like for this role and start from there. Administratively, you may need a chef to create weekly schedules and annual staff development plans for a team of 10 kitchen staff. You may also need them to maintain a labor cost margin of 12%, place orders with suppliers, and be available to cook on the line during busy times in service.
In order to maintain your quality of service, it's important to find qualified candidates who have experience with your style of cuisine. For example, if your restaurant is high volume, it is a good idea to look for a chef with high volume experience. If this chef will be your head chef, you should also require that they have a current certification in health and sanitation management.
2. Determine Your Budget
According to the U.S. Bureau of Labor Statistics, the top 10% of chefs and head cooks earned $81,150 in 2018. Top performing chefs tend to earn higher salaries in vacation destinations like Hawaii and metropolitan areas like Washington D.C.
According to Glassdoor.com, this is the annual pay range for each level of chef:
Line cook: $24,000 – $34,000
Sous chef: $35,000 – $71,000
Chef de cuisine/head chef: $36,000 – $79,000
Executive chef: $45,000 – $90,000
Industry averages are only one consideration. Every restaurant's financial picture is unique. To maintain profitability, it is important to determine what salary your business can support. A seasoned chef can likely help you control food and labor costs, or even create new revenue streams, but the initial salary you offer should be based on what your business can afford at the moment.
A good guideline for figuring your budget for salaries is to look at your gross sales. Combined manager salaries for your restaurant—including payroll taxes and benefits payments—should be 10% or less of your gross sales.
(Gross sales $ /10) – (Manager Salary A + Manager Salary B + etc.) = Chef Salary
Let's say a restaurant does $3.2 million in total annual sales. This restaurant currently has five salaried managers, paid a combined total of $245,000 in salaries, payroll taxes, and benefits. That leaves this restaurant with a budget of up to $75,000 to offer a chef and stay on budget.
($3.2M / 10) – ($70,000 + $55,000 + $40,000 + $40,000 +$40,000) = $75,000
Smart restaurant owners sweeten their compensation package by creating a bonus structure for their head chefs to incentivize hitting sales and cost targets. Depending on your sales volume, budget, and reputation in your market, some chefs may also request profit sharing. You should work with your accountant to determine if profit sharing is something you can afford to offer so you will be prepared if this comes up in negotiations with your final candidate.
3. Write a Comprehensive Job Description
After you assess your needs and determine your budget, writing a job description should take no time at all. A comprehensive job description helps applicants determine if they have the right skills for the job. This, in turn, ensures that you will not waste time filtering through dozens of applications from unqualified candidates.
Your job description should include:
A brief description of your restaurant: This can be simple but it should give an idea of the type of cuisine you serve, your service style, the level of sales volume, and your general location. Something like "High-volume, full service, fast casual restaurant in the business district" is great.
Tasks the job requires: This is the place to take the list of needs you generated in the first step and turn them into a task-oriented bullet list.
Minimum job qualifications: List how many years of experience the right candidate should have, degrees or certifications you require, and experience with a particular Point of Sale or scheduling program, if relevant.
Benefits information: Summarize what type of benefits you offer, like health insurance, staff meals, discounts, tuition reimbursement, and continuing education opportunities.
Salary range: Applicants are more likely to respond if you include salary information. It can be a range, like $60,000 to $75,000, and include the phrase "depending on experience."
Application instructions: Let applicants know how you prefer to receive responses. Should they respond online with a resume and cover letter or come to the restaurant in person at an appointed time?
EEO statement: All job postings should include verbiage about Equal Employment Opportunity. Something as simple as "X Restaurant is an equal opportunity employer. All applicants will be considered for employment without regard to race, color, religion, sex, sexual orientation, gender identity, national origin, veteran or disability status" is all that is necessary.
If writing a comprehensive job description feels overwhelming, you can lean on an app for support. Some team management apps like Homebase have a library of job description templates. After completing the template in the app, you can post your job description directly to job sites like Ziprecruiter and Indeed.
4. Publicize Your Job Opening
Once your job description is complete, it is time to put it where applicants can see it. The first step is to post your job opening on high traffic job sites. Hospitality professionals also check industry specific job sites like Culinary Agents, Poached Jobs, and Hcareers. These are most useful in large markets with a lot of competition for high quality restaurant talent. In small markets or remote locations where finding staff is more difficult, the general employment sites will likely get more respondents.
Signal Boost Your Job Opening
There are several other ways to reach applicants when you are hiring a chef. If you live in a city that has a culinary school, reach out to its alumni network to publicize your job opening. Ask your staff for referrals. Many chefs find their next job through someone they have worked with in a previous job. Offer a bonus to staff if their referral gets hired and lasts 90 days.
Hosting an industry mixer for restaurant workers can also help draw in candidates. They allow lots of restaurant folks to experience your restaurant, see what it has to offer, and chat with your staff. If you do plan to host an industry mixer, Monday or Tuesday nights tend to be best, as many restaurant workers have one of those days off.
Publish your mixer on social media platforms and directly invite workers at nearby restaurants. At your mixer, set out some complimentary appetizers and design a drink special. Because your attendees will all be restaurant folks, suppliers may offer some free product to promote goodwill. Let people know that you are hiring and have the link to your job posting ready so attendees can share it with people they know in the industry.
5. Interview Candidates
Chefs tend to be kinetic personalities who would prefer to show you their skills rather than discuss them. Across the restaurant industry there is a great respect for an ability to show culinary skills, speed, and finesse. An "ability to execute" is a phrase you will often hear when interviewing candidates for chef positions. A working interview allows candidates to showcase their ability to execute.
The Working Interview
Chefs anticipate that a portion of their interview process will be a tasting or a stage. Typically line cooks and sous chefs perform a stage while sous chefs, chefs de cuisine, and executive chefs present a tasting.
A stage (pronounced to rhyme with dodge) is a working interview. A stage allows a candidate to display their skills by working in your kitchen for a couple of hours or an entire shift. A stage is a great opportunity to see a chef's culinary ability and speed as well as the way he or she collaborates with the other kitchen staff on your team.
To comply with the Fair Labor Standards Act, restaurants with a gross revenue of $500,000 must pay minimum wage to chefs performing a stage or a working interview. Restaurant owners should check local labor codes for additional regulations that may govern or prohibit working interviews in their area.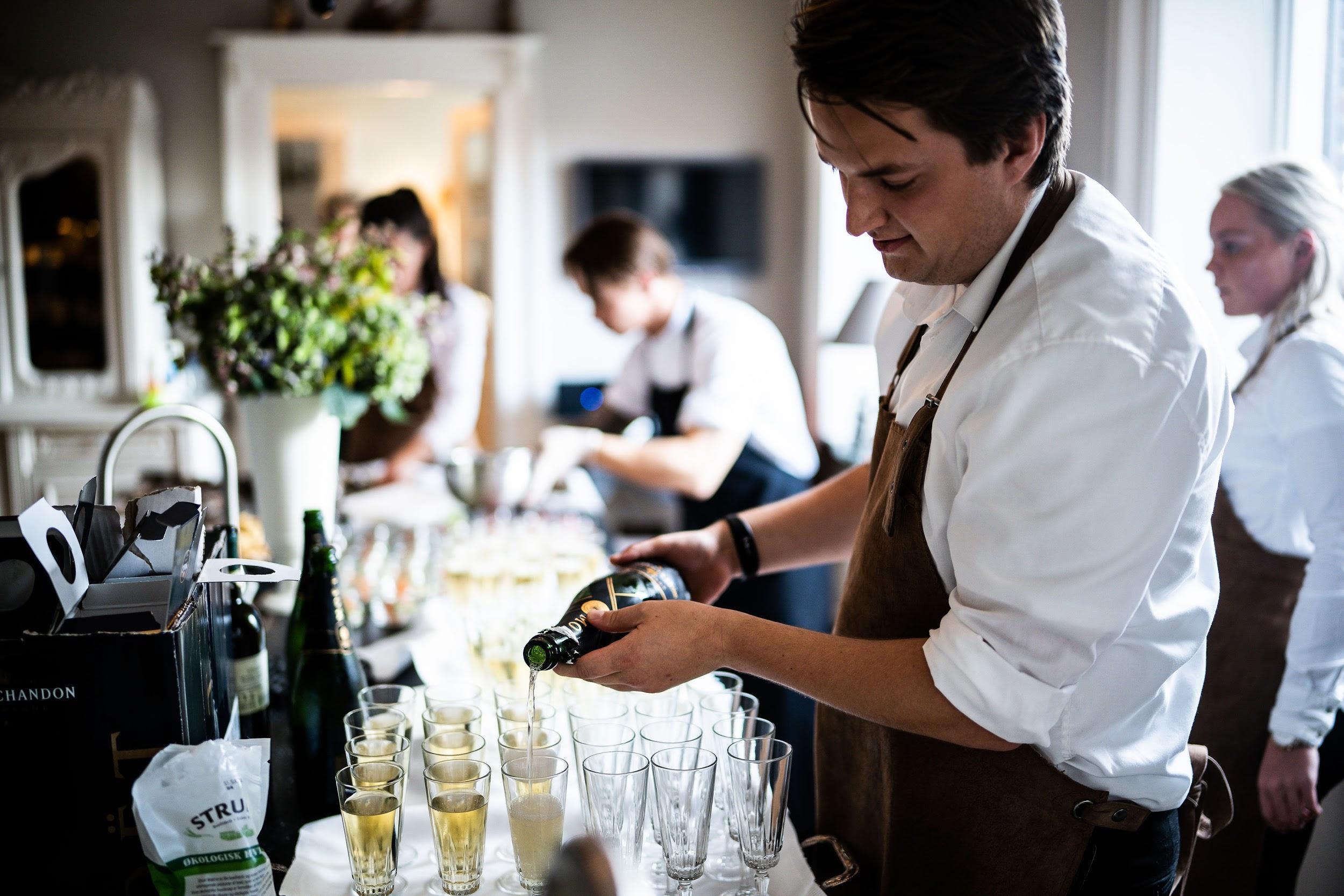 Interview Questions
When interviewing a chef de cuisine or executive chef, it is a good idea to ask him or her to present a sample written menu. This will give you an idea of their culinary background, their knowledge of cuisine, as well as their ability to control costs. If their menu is full of high-cost proteins or complex preparations, this could be a sign that they will struggle to control costs.
Scenario-based questions are better than yes or no questions or questions that are too open-ended. For a sous chef or higher, ask questions that reveal a candidate's leadership ability, adaptability, and cost management knowledge. A request like, "Tell me about your most recent mistake, how you fixed it, and what you learned from it" will tell you more about what a candidate is like to work with—and work for—than "Tell me about yourself."
The questions below are great prompts to begin with:
Which is more important—quality of food or quality of service?: There is no wrong answer to this question. The way a candidate answers it, however, usually shows their views toward customers as well as the service staff that works in the dining room.
How many covers do you do in a typical service?: Covers are the restaurant industry term for individual customers. The answer to this question will tell you what service volume this chef is familiar with, as well as if they pay attention to basic metrics like cover counts.
How do you handle high food cost?: The answer to this question will show a candidate's familiarity with restaurant metrics as well as their ability to problem-solve.
Tell me about the last cookbook you read: The response here tells you if the candidate stays on top of culinary trends. The way he or she answers the question will illustrate how passionate they are about cuisine and learning new recipes.
What are your strategies for developing a cook's talent?: Chefs need to be leaders and mentors to line-level staff. The majority of hourly staff that leave restaurants leave because of the way they are managed, so it's important that any chef you hire be prepared to motivate their staff and develop their skills.
Many owners like to ask quantitative questions about measures (e.g., how many cups are in a gallon, how many tablespoons in a liter) or basic recipes (e.g., list the ingredients in chicken stock). Questions like this can tell you a chef's fluency with those basics. Make sure you know the answers to these questions before you ask them.
Prepare for Questions From Candidates
Chefs, especially those working at sous chef level and above, will likely have many questions for you. If you have not included a salary range in your job posting, candidates will likely ask for it at the interview stage. They may want to know what your bonus structure is like, what benefits you offer above the baseline salary, and what opportunities your company has for advancement.
Candidates will likely ask you why the position is open, why you have decided not to promote from within, and what your turnover rate is like. They may also ask if you offer a bonus structure for exceeding sales and cost targets, and if you do, how often your managers have actually been paid bonuses. Owners should also be prepared to answer questions about how many hours a day and week their managers are expected to work.
Hiring a Chef — Market Trends to Watch
From now until 2028, the labor market for chefs will be tight. In that timeframe, the restaurant industry is projected to grow by 11%, much faster than other industries. For restaurant owners, this will mean increased competition for the best candidates.
Additionally,
consumers are demanding healthier meals
made from scratch from non-traditional, ready to eat food venues like grocery stores and meal delivery services. To grow their market share, these establishments are increasingly adding experienced chefs to their teams, adding a new competitor in the chef job market.
Small independent restaurants will also need to compete with hotels and casinos that have the resources to offer high pay and generous benefits. Workers with a combination of business skills, previous work experience, and culinary creativity will be in high demand. Restaurants with smaller labor budgets should prepare to train the right candidate for high level jobs like chefs and managers.
Alternatives to Hiring a Chef
If your need for a chef is temporary, seasonal, or you need a line cook or lower level skills, there are some apps stepping into the restaurant staffing space. Instawork and Pared are the two fastest growing platforms connecting restaurants to chefs and front of house staff on an on-demand basis. Staff on these platforms work as independent contractors and are paid via the platform on a weekly basis.
Instawork currently operates in 14 cities from New York City to Los Angeles with rates that vary by location. Hourly rates range from $10.50 to $22 per hour, with some markets requiring a $10 booking fee per shift. Candidates have been vetted for their experience level and are covered by insurance in the case that they damage your equipment or are injured in your kitchen.
At the moment Pared only operates in New York City, Washington, D.C., San Francisco, and Philadelphia. Hourly rates for their services start at $17.95 per hour. Many restaurants have used Pared to cover sick-outs and busy seasons. Others, however, have used Pared to supplement their staff on a regular basis to build new revenue centers like catering sales. Pared was started by restaurant industry veterans, screens all contractors to have at least one year of restaurant experience, and—like Instawork—covers its contractors with occupational accident insurance.
How to Hire a Chef — Frequently Asked Questions (FAQs)
What is the difference between a cook and a chef?
The title of chef is applied to cooks in professional kitchens. The title of cook is used more often to refer to cooks in domestic spaces like private homes. Technically, all chefs are cooks. They are merely cooks who have a demonstrated knowledge of food safety, sanitation, knife skills, and various styles of food preparation in addition to cooking delicious food.
How do I hire a personal chef?
Hiring a personal chef can be as easy as running a Google search for your location and "personal chef service." You can also try websites like the United States Personal Chef Association (USPCA) and the American Personal and Private Chef Association (APPCA).
When hiring a personal chef for a private party in your home, budget $40 to $50 per hour plus the cost of food. Chefs cooking in your kitchen will charge more than chefs that cook off-site in a commercial kitchen and bring the food to your location. If you are looking for a chef to perform regular meal preparation for your family on a weekly basis, Salted Chef is a good option.
What does an executive chef do?
An executive chef is a head chef that has demonstrated abilities in cost management and team management in addition to an extensive knowledge of cuisine. Executive chefs tend to work in large operations and spend their work days mostly on managerial tasks rather than actively preparing food.
The title Certified Executive Chef® is a registered trademark of the American Culinary Federation. It applies to culinary professionals who have completed courses in nutrition, food safety and sanitation, cost control management, beverage management, and supervisory management at an accredited culinary program.
Bottom Line
Restaurant owners hiring a chef should determine their restaurant's needs and budget in order to create a comprehensive job description. If local labor laws permit working interviews, many chef candidates prefer them. Candidates will also likely have questions for you, so be prepared with detailed answers about your operation.
In small or remote markets, general job sites like Indeed are good places to post your chef opening. Restaurants in competitive markets should consider industry specific sites like Poached Jobs. Most chefs find jobs through personal referrals. Employee referral incentives or hosting mixers for local restaurant workers can be great ways to tap into the chef network in your area.