If you are a small business owner who is wondering how to find and hire a general contractor for your remodel or store project, then this guide is for you. Having worked as a plasterer for Hoerst Plastering in the construction industry for over 8 years, I have learned quite a bit about contractors and their practices.
Based on that experience, I explain the steps you should go through to get a general contractor for your small business project. After reading, you will know where to find contractors, how to choose the one that is best for your business, and know what is important to include in your project contract.
Before we dive into the details on this topic, we also suggest you check out Square, a free POS system that can manage inventory, process credit cards and so much more. Visit Square to learn more.
Step 1:
Assemble an initial list of 4-5 contractors
You don't want to narrow down your options to one contractor right away. Instead, you want to compare 4-5 options to see which is the best fit.
When assembling your initial list, there are 4 main places to check for quality contractors.
Ask Local Business Owners  – References from local businesses can be one of the best ways to find a quality contractor. There is no substitute for a positive recommendation from a business owner you trust.
Search for Contractors on the Better Business Bureau Website – The BBB can be a valuable resource for finding contractors. They have ratings for each business and have a comparison tool that allows you to see how potential contractors compare to other in their industry/in your area.
Search for Contractors on Angie's List – Their no-hidden review policy shows you who commented on contractors, allowing you to follow up and see how reviewers liked contractors. They also have a complaint review board that will intervene on your behalf if things start going south with your contractor.
Check with your local building inspector – Local building inspectors know which contractors regularly meet code requirements and which don't, which is very important information when hiring a contractor. Call your local courthouse, ask for the building/permits department, and they should be able to hook you up with the local inspector.
Step 2:
Meet with each contractor individually to do a walk-through of your project
Meeting with each general contractor individually is vitally important. This is your chance to get a feel for each company and ask any questions you may have personally.
Here are some things to think about as you relate to each contractor:
How well do they communicate?
Communication is key. If you do not feel comfortable communicating with a contractor, you're setting your project up for failure. You want to work with someone who is going to keep you in-the-loop and notify you quickly of any changes or hiccups in your timeline/budget.
Are they knowledgable?
If a contractor has had lots of experience, it will generally show as you talk. Ask detailed questions about your project. Experienced contractors have a wealth of information and should have no trouble explaining how they will address your needs.
Do they have liability insurance and workman's compensation for their employees?
Most contractors that you will find through any of the avenues recommended above will have liability insurance and workman's comp. However, it never hurts to check again when you are together, just to be sure.
Step 3:
Ask each contractor to provide you with a detailed and itemized estimate
A detailed estimate is your primary resource for gauging how much time and money your project will take. This is why you need to ask each contractor to provide you with a detailed/itemized estimate before you make your decision.
Ask your potential contractors to include the following in each of their estimates, for each phase/element of your project :
Material Cost – Generally around 40%
Labor Cost – Variable
Profit Margin – Often around 15-20%
Other Expenses – Variable
Timeline – Variable
Payment Terms – Often 10-50% upfront with several payments due at specific dates or balance due at completion of project
With detailed/itemized estimates, you will go into your project with a good idea of what to expect. Also, if you decide to move forward with specific parts of your project but not others, you will know exactly what each portion of your project will cost and how long it should take.
Step 4:
Pick Your Contractor
The time has come to make your final decision. Here are 3 factors to consider when making your choice.
1. Which contractor has the best reputation/rating?
Before you decide, you should have a good idea of which of your 4-5 contractor options have the best reputation for quality work.
Make sure you have:
Checked out all your contractors with the BBB, Angie's List, with your state's consumer protection agency(call your state's Attorney General's office), and your local building inspector to make sure they do not have any outstanding complaints, disputes, or code violations.
Call up former clients of each contractor and see what they have to say about their experience. Was the job completed on time? Was the job completed on-budget? Were they happy with the contractor's communication? Did they feel the contractor dealt with surprises well?
If you are still having trouble deciding, do not be afraid to actually visit contractor's current job sites to see how they run their operation and how helpful the workers are.
2. Which contractor gives you the best value for your money?
Cost is always a consideration when picking a contractor. Here are several things to keep in mind when trying to find the best overall value for your money:
The cheapest option is not always the best
There are times when the stars will align and your best option will also be the cheapest. However, this is often not the case. Do not be afraid to spend the extra money for a contractor who is better qualified or who you feel more comfortable with. In the long run, it could actually save you money, especially if the cheaper contractor cuts corners or skimps on quality materials.
Only pay more if there is a reason to
Cheapest is not always best, but neither is the most expensive. It is certainly worth spending the extra money if the contractor comes highly recommended. But, do not expect better service just because you pay more.
Find a contractor who comes highly reviewed. Make sure you communicate well and feel you can trust them. And then balance trust and cost, picking the contractor that you feel most comfortable with that gives you the best price.
Step 5:
Draw up and sign a detailed contract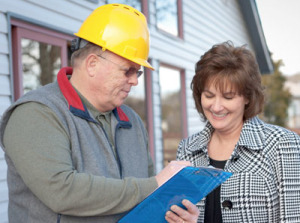 The last step in the contractor hiring process is to draw up and sign your contract. Although it signals the end of the process, it is just as important as the beginning, if not more so. This aspect of the hiring process is the only one that actually has legal implications, so make sure you know what you are signing up for.
Here are the important things to include in your contract:
Payment schedule: Large jobs – 10% up front, 3 scheduled payments of 25% throughout duration of job, final 15% at completion of job.
Proof of liability insurance and worker's compensation payments
Start date, general timeline, and projected completion date
Specific materials and products to be used
A requirement that the contractor obtain lien releases from all subcontractors and suppliers. This protects you from financial liability in case your contractor does not pay his bills.
Conclusion
Picking the right contractor for your job can be a difficult process. But, pairing this guide with some research of your own, you should have all the resources you need to make a good and cost-effective choice.
Want to Reduce Retail Theft and Better Manage Your Inventory? Click Here to find out how.