When you search Google for terms related to your business, do you see your website listed on the first page of results? If not, don't worry. There are a few steps you can take to improve your presence on Google and make sure people find you when searching for your type of business, instead of your competitor.
The fastest way to get on top of search results is via paid advertising. Click here for our guide on how to advertise on Google, or click here to get $100 of free advertising when you spend $25 on Bing Ads.
Follow this step-by-step guide on how to increase Google page rank. In this guide we are going to cover:
The 3 Primary Ways You Can Rank on Google
There are three primary sections in Google where your website could potentially rank: paid results, local results, and organic results.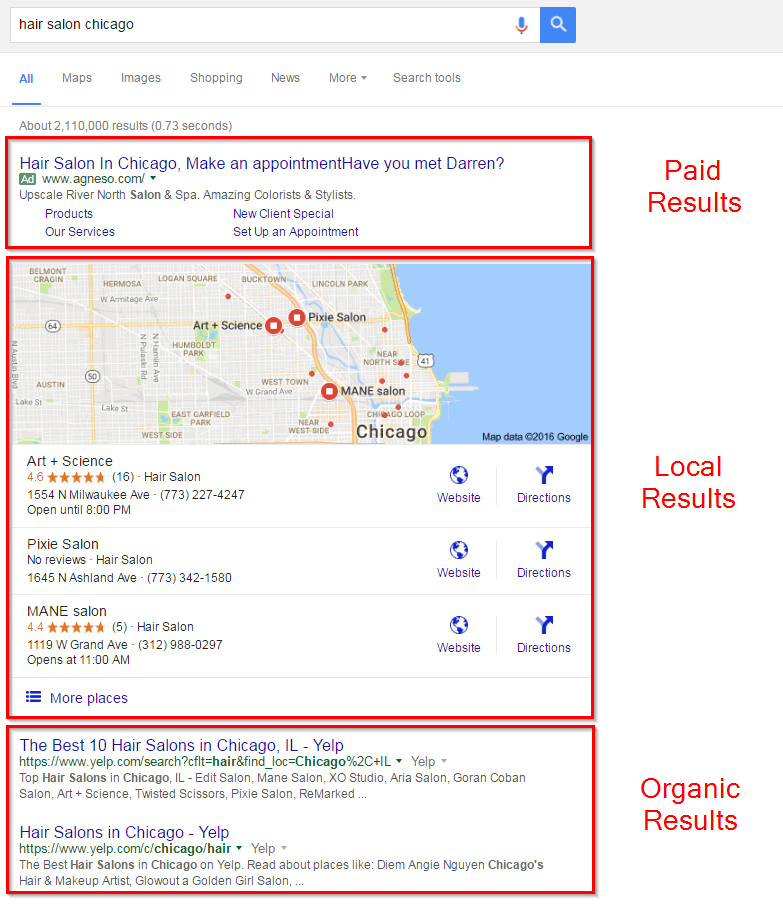 In this article we will be focusing mainly on how to rank in the local results, but we will also touch on how to rank in the organic results. There's a lot of crossover between the work you will be doing to rank in the local and organic results sections. For more information on the paid results section, view our complete guide to advertising on Google. If you would like more background information on how Google works, start here.
Local Results vs. Organic Results
Before we get into how to rank on Google, you will need to understand the difference between ranking in the local results and ranking in the organic results.
The local results (also called local pack) are true to their name. This section lists businesses in the area of the location term used in the search. For example, if you search "pizza nyc," Google will show three pizza spots in New York City. Furthermore, if your location is turned on, Google will list pizza restaurants closest to your current location within New York City.
Google chooses which websites will rank in the organic results based on which sites the person searching will find most relevant. While location may still be a factor in the organic results, it is not generally the dominant factor. The main factor is authority of the website, which is why you will often see sites such as Yelp, Angie's List and Facebook show high up in this section.
There are two main reasons we are focusing on local results:
Higher chance of ranking

–

Most small business websites have a higher chance of ranking in the local results than in the organic results. This is because you are only competing against businesses in your area.

People are looking to buy

– The local results show up on search terms where people have intent to buy from a local business, so they are often the most beneficial for small businesses. For example, this section will show for search terms like "shoe store brooklyn" or "hair salon kansas city."
The local pack below resulted from my search "pizza nyc." The first three websites listed in the local results are locally owned businesses because the search term used has local buying intent.
Compare this to the nationally recognized websites displaying first in the organic results.
This is not to say that local businesses can't show on the first page of the organic results. If your business is located in a less competitive market, like a nail salon in a small town, you will have a better shot at getting listed there.
However, in this article, we are going to focus mainly on the local 3-pack. People searching for a brick and mortar business, like a restaurant or shoe store, are likely to look to this section to determine which business to choose.
How to Increase Google Page Rank in 7 Steps
Now that you know more about the different sections of Google and why it is important to rank in the local search results, we will get into the steps you can take to have your business rank on the Google search results page.
Some steps are easier than others, but expect to work hard on your online presence in order to rank on Google's search results page. The good news is that since it takes effort to rank, not all small business owners are doing what they need to in order to have their website listed. Since you are taking the time to read this guide, you are already a step ahead of your competition.
Step 1: Do your local keyword research
Keywords are the words and phrases that customers type into Google when looking for your business or the types of products and services your business offers. You first want to find the most popular keywords when searching for your type of business, and then apply those keywords to your website.
By signing up for a free Google Adwords account you get access to Google's keyword planner (under the "tools and options menu" once logged in) which gives an approximate number of searches that a particular keyword gets in a given month.
You should think about terms that your potential customers would use when searching for your type of business. When doing this, try to think about things from the customer's perspective and stay away from industry jargon. Then you can enter those terms into the keyword planner and see how many average monthly searches that term gets.
Keyword Research Example
If you own a hair salon in Chicago, you would want to search "hair salon chicago" in the keyword planner tool. As an extra step, you can make it so you only see searches that are conducted in your area.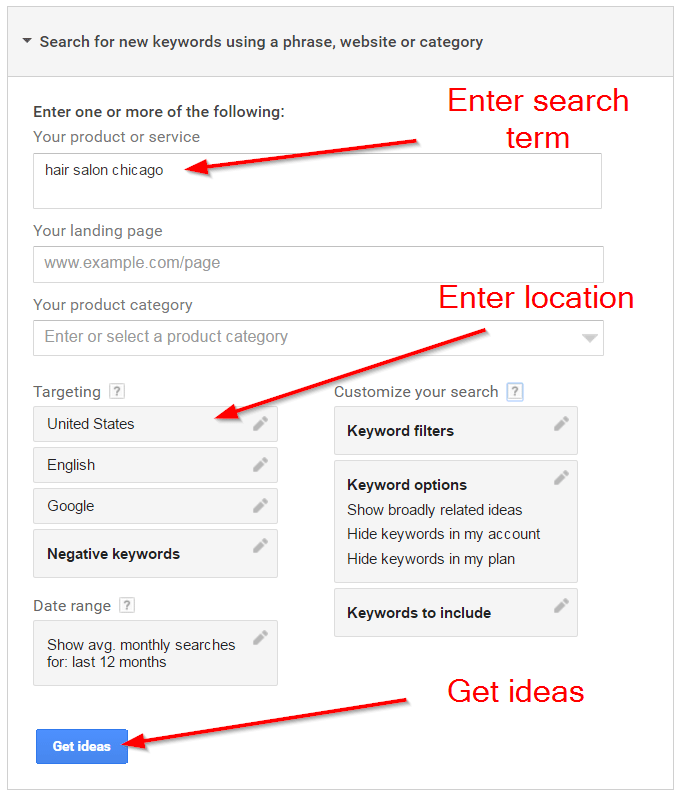 After you hit "Get ideas" you will see the number of average monthly searches for the term you entered, plus other related search terms that you may want to use as keywords.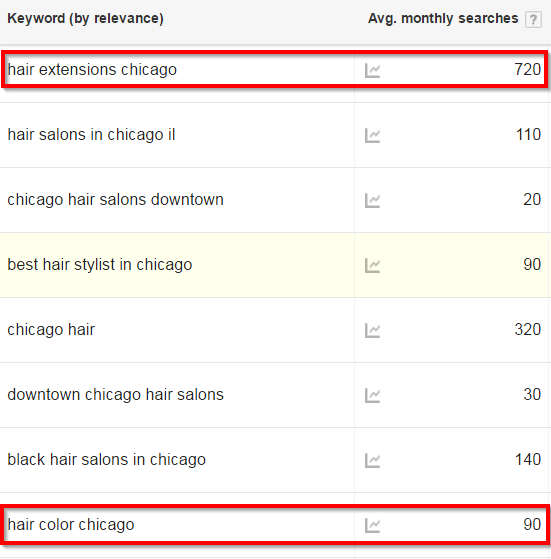 The number of average monthly searches is more of a thumb in the air estimate and is best used for relative search traffic you can expect between keywords. For example, a take away from the image above is that "hair extensions chicago" has way more monthly searches than "hair color chicago," even though it may not have exactly 720 searches next month. So if you own a hair salon that offers both extensions and color treatments, you should promote your hair extension service more heavily on your site.
Step 2: Claim and optimize your Google My Business page
Your Google My Business page is a huge factor in whether or not you will rank in the local results section of Google. If you do not have one it is going to be very hard to rank in the local results at all because your website will be beaten out by websites that do have a page. Also, if you do not claim your page, inaccurate information about your business could show up in search results, or worse, no information at all.
For example, when I search "ethiopian restaurant nyc," Google pulls three restaurants and includes ratings, price, category, description, address, hours of operation, and pictures for each. All of this information comes from the businesses' Google My Business page.
When someone searches for the name of your business specifically, you also have the chance to have a panel appear on the right hand side of Google results if you have a Google My Business page. This is great for a small business, because you are not only taking up a lot of space on the first page, you are also able to immediately tell the story of what your business is about.
To get started on optimizing your page, you will need to either claim your current business or create a new one depending on whether or not you have a page yet. If you are unsure, you can go to google.com/business to search for the name of your business. We have a step-by-step guide to setting up your Google My Business page that you can find here.
There are a few ways you can optimize your GMB page in order to rank higher in Google:
Include keywords in your description

– Remember the keywords you found using Google's keyword planner tool? Use those in your description whenever possible on your GMB page. However, don't just put a list of your keywords, Google is smarter than that.  As long as it flows naturally however you should be able to include a few of your top keywords in this section.

Keep keywords in mind when saving images and videos

– Use keywords in the file name when relevant and the titles/descriptions you use when uploading those images and videos to your GMB page.

Choose your category carefully –

Your category is a deciding factor in whether your business will be deemed relevant to a search. Make sure it is as descriptive of your business as possible.

Ask and respond to reviews – Businesses with more reviews are likely to rank higher. You will also want to respond to both negative and positive reviews because owner response could boost your ranking as well.

Use a consistent address – Make sure the address you use is consistent with the one on your website and across directories (such as Yelp and Angie's List). We will talk more about why this is important later.
Step 3: Optimize your small business website
One of the methods that a search engine uses when deciding if it should rank your website is looking at the text on the pages of your website. Google quickly reads your website and picks up keywords that it thinks your website is about. Therefore, you want to make sure you are including the keywords that you want to rank for multiple times within your site. You also want to be specific; for instance, if you are a brick oven pizza restaurant, include the terms "brick oven" and "pizza."
In order to fully optimize your website, there are a few key things you want to keep in mind so that your site ranks highly in Google's local search results:
Make sure that every page of your site has your business name, address, and phone number with local area code.

Make sure the above information is in text and not an image so it can be 'seen' by Google.

Make sure to include a descriptive title tag that includes what your business is and where it's located, like in the example below.

Put your primary keywords, areas your business serves, and phone number in your 165 character meta descriptions. You should see a place to add your title tag and meta description on the back end of your website.


Embed a Google Map on your "contact us" page by searching for your business on Google Maps and then clicking share on the left and then embed to get the code.
If you are willing to pay $59 a year then Yoast's Local SEO WordPress plugin is well worth the money and will help you tackle the bullet points above.
Step 4: Get structured citations
A business that the search engine is going to want to rank highly will likely have mentions outside of just their own website on sites like Yelp and Citysearch. When your business is listed in an online directory, this is known as a structured citation.
There are 3 main benefits of structured citations:
Being listed in a lot of directories lets Google know that a lot of people know about your business.

Your customers look to these types of directories to find businesses like yours.

These directories are likely to rank higher in Google's organic results since they have high authority. This means that even though your website may not appear in the organic results, your business could show up here by being listed on a site like Yelp.  
Therefore it pays to be listed accurately on these sites for both your ranking and so people will be able to find you on these sites.
Citations include a combination of your business name, address, and phone number, with the best citations including all three.  Google looks at structured citations, and the consistency of those citations across the web, to determine things like your correct address and phone number.  With this in mind you want to make sure that you are always using the same address and contact information.
Example of a citation:
Fit Small Business
315 Madison Avenue
New York, NY 10017
212-555-3434
Here is the definitive list of directories that every business should consider submitting themselves to. This list not only includes top directories that every small business should be listed in (Yelp, TripAdvisor, etc.) but also industry specific and local directories that you can choose from based on your business type and location.
Step 5: Get unstructured citations and links
Unlike submitting your site to a business directory where your full information will be placed in a structured format (structured citations) unstructured citations and links are things like a mention of your business in a local newspaper article, press release, online job board, etc.  Unstructured citations and links are important because they let Google know that people are talking about your business, a key factor in ranking higher in the local results.  
Let's take a moment and clarify the difference between an unstructured citation and link. A link is a citation that includes a direct link to your website. If you notice a citation for your business in a local online newspaper you should reach out and ask if they are willing to link the citation to your website. Turning a citation into a link will boost its effectiveness as a ranking factor.
Here are some ideas for places you can obtain unstructured citations and links:
Customer reviews of your business on sites like Yelp and Google

Events

Bio information on sites like Linkedin

Charities you contribute too

Blogs

Participating in local forums
Creating buzz about your business is important because it not only gets people excited about your business, but if done right, it can let Google know that people are excited about your business. Make sure you are taking advantage of any event you are holding or sponsoring by getting press about the event. We have a guide to getting local press that will give you ideas on how to shed a spotlight on your business.
Step 6: Get reviews on Google My Business and Yelp
Reviews are important to your small business because having reviews is likely to be a ranking factor on Google. People are also more likely to click and visit your business if it's listed with a lot of good reviews.  Which of the businesses listed in the local pack below would you be most likely to visit? Probably the one with multiple 5-star reviews.
There are many different review sites out there, but from our experience, Google and Yelp are the two most important from a ranking standpoint.  So how do you get reviews for your Google My Business and Yelp pages?
Don't be shy about just asking your customers for reviews.

Include 'please give us a review' links in your emails

Send out customer feedback surveys and then ask for reviews from those who gave you high marks.

Add links to your review pages from your website.
For more on where and how to get reviews, view our guide to online reviews here.
Step 7: Create fresh content to rank for a higher variety of keywords
Updating the content on your small business website can be time consuming, and you may think that including a blog is not something that your site needs in order to be successful. However, if you are having trouble ranking on the first page on Google, including a section on your website with frequently updated content could boost your website higher in the search results.
There are two things that fresh content on your website is telling Google:
Your website is current –

By updating the content on your website, you are sending the message that you regularly include current content on your site. Beware, this will have the reverse effect if you have a blog that is only updated once a year, so if you are going to include a blog, make sure you refresh the content fairly often (at least once a week).  

Your website is relevant –

By having more content on your site, there are in turn many more keywords that you could potentially rank for. For example, if you own a gym, it would be a good idea to have a section of the website dedicated to tips on how to keep in shape and stay healthy. That way, when someone searches "how to stay fit" on Google, your website will have a chance of showing in the organic results section, even though this type of search would not trigger a local results section.
Keeping an up-to-date blog falls under the umbrella of going the extra mile, so if you don't have the time or resources to do this, don't fret too much. By focusing on the other 6 steps, you should still be in good shape to have your business appear in the local results. Having a blog could boost your ranking in the local results and potentially land you in the organic results as well.
The Bottom Line
The process of ranking on Google's results page is never over, and the moment you think your job is done is when you will notice that your competition has outranked you on the results page. You need to be consistently looking to get new reviews, citations, links, and updating your content to let Google know that your site is up-to-date and relevant for today's user.
The good news is that after doing these steps once, it will get easier to understand the nuances that help your business rank on Google and you will get better at building your online credibility.  
If you have any other questions or comments about how to increase Google page rank, send us a comment below.