Stocks are shares that represent ownership in a company. Many people invest in stocks because their shares entitle them to a piece of the company's future earnings in the form of dividends. Investors also buy or trade stocks to make money as the share price changes based on market conditions and the company's prospects.
How Stocks Work
When businesses are starting out or trying to expand, issuing stock is a common way to raise money to help meet funding needs. When companies get large enough, they can become publicly traded. In this case, their shares will be traded on national exchanges such as NASDAQ or the New York Stock Exchange and entitle shareholders to a portion of their annual revenue.
Investors who own shares in a company have the right to vote on many company matters, including the composition of the company's board of directors which appoints the CEO. Shareholders have the right to vote on company issues but also face the largest risk if the company files for bankruptcy as all of the company's vendors and creditors must be paid before any remaining funds are distributed to stock investors.
Because shareholders are a company's owners, they are also owed a fiduciary duty by the company's board and its managers. This means that directors and managers of the company must make sure that they run the business for the benefit of stockholders. Failure to meet their fiduciary duty to shareholders can leave company directors open to lawsuits.
For more information on fiduciary duty and how it works, be sure to check out our article on being a Fiduciary Financial Advisor.
Types of Stocks
Stocks can be grouped into several categories based on the companies they represent. Many stocks represent ownership in private companies. Only a small minority of companies are ever publicly traded. Among publicly traded stocks, some are companies that investors like for their future growth. Other stocks are believed to be undervalued based on their current earnings.
The primary types of stocks you can invest in include:
Stocks of private companies: Many companies aren't publicly traded but sell stock to a limited number of investors to help meet financing needs
Growth stocks: Stocks of some companies including tech companies have tremendous growth prospects that are the primary reason people invest
Value stocks: Many companies are undervalued based on current assets or earnings and investors buy stock in anticipation of more investors realizing their underlying value
Stocks can also be broken down many other ways, including by industry/sector, company size―as measured by market capitalization―or price relative to earnings. For more information, be sure to speak with a licensed financial advisor. If you need help finding an advisor, visit our ultimate guide on how to find a financial advisor.
When to Invest in Stocks
Investing in stocks can be a great way to preserve and grow your savings over the long run. For wealthy or sophisticated investors, investing in stocks directly can be a great option. However, investing in individual stocks can also be very risky. For many investors, it's better to invest in stocks through other investments like mutual funds and exchange traded funds (ETFs).
Some of the best cases when to invest in stocks include:
Work for the company you're investing in: If you have an employee stock ownership plan (ESOP) or want for a publicly traded company, sometimes buying stock in the company you work for can be a great way to invest in what you know
Wealthy investor: If you have a lot of money to invest, putting some in individual stocks can help boost your returns
Have lots of investing experience: Investors who know a lot about the financial markets can sometimes get better returns in individual stocks than more conservative mutual funds
Understand trading strategies: Some investors don't buy individual stocks for the long-term but trade for short-term gains using complex trading strategies
Stock Costs
The costs of investing in stocks are minimal. Most of the costs are incurred directly by the underlying company in the form of operating expenses and taxes. However, there are typical costs for acquiring stock, especially in public companies. There are also taxes to consider on dividends as well as short- or long-term capital gains.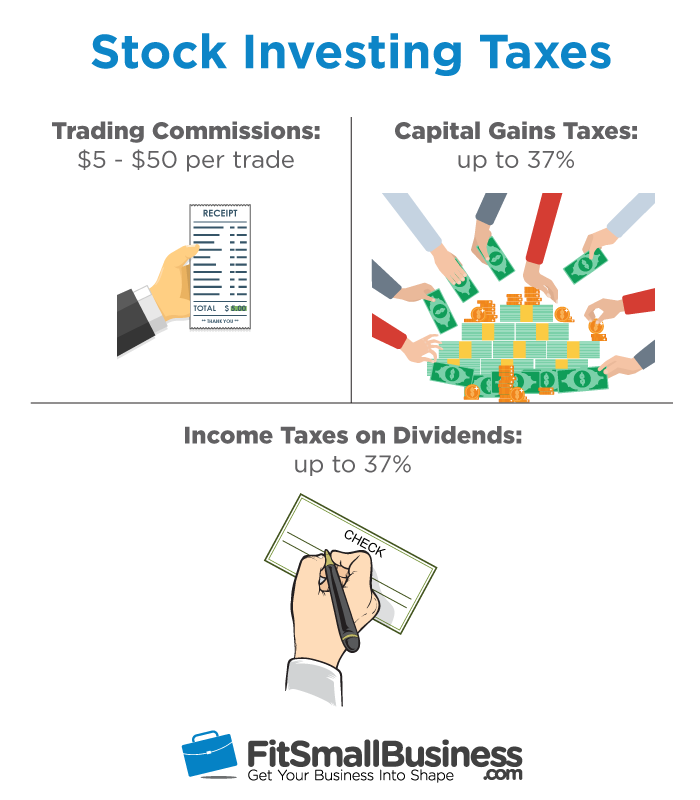 Some typical costs of investing in stocks include:
Trading commissions: $5-50 per trade
Anytime you trade in stocks you pay a commission that varies by provider and whether the stock is listed or if it's traded on international exchanges
Capital gains taxes: Up to 37%
Short-term gains are for stocks you hold less than 12 months, and gains are taxed as ordinary income, which can reach 37%. Long-term gains are for stocks held more than a year and range from 0-15% based on your income and other deductions
Income taxes on dividends: Up to 37%
Dividends received on stock investments are taxed as ordinary income and can be as high as 37% depending on your tax bracket and other deductions. Companies also pay taxes on profit before it's distributed as dividends, meaning dividends are double-taxed
How to Invest in Stocks in 5 Steps
If you want to invest in stocks, there are a number of steps you should follow to ensure you pay low commissions and get reliable trade execution. Before you start investing in stocks, be sure that you pick a well-established stock investing provider. You'll also need to open and fund an account before you can invest.
1. Identify a provider for investing in stocks
If you've decided that you want to invest in stocks, the first thing to do is decide on a provider. To choose a provider, be sure that you consider the stocks available from a provider as well as the costs of investing in stocks. Think about how often you'll be trading and make sure you'll have access to the stocks you want to invest in.
2. Complete a stock account application
After you've selected a provider, the next step for how to invest in stocks is open an account at the provider you choose. This requires completing an application for investing in stocks. You'll need to provide personal financial information and may need to link a bank account for transferring funds.
3. Fund your account for investing in stocks
Once your account application is approved, you'll need to fund your account before you can invest in stocks. This can usually be done by transferring money to your investment provider, or you may need to mail a check. Once those funds hit your account, you'll be able to start investing in stocks.
4. Research and pick individual stocks
Before you invest in stocks, it's important to do extensive research on the company's you're thinking about investing in. Be sure to look at the company's operations and the industry it works in. However, you may also want to consider a stock's price-to-earnings ratio or its dividend rate to ensure the stock is consistent with your overall investment objectives.
5. Invest in stock shares
When you've established a stock investing account decided which stocks to buy, the final step for how to invest in stocks is to buy shares in the companies you've chosen. The process for investing in stocks will vary based on the provider you've chosen and the type of account you use. However, until you buy shares, you won't be invested in stocks.
Where to Buy Stocks
The first step in buying stocks is to choose a provider that suits your needs. When you consider a provider, you need to make sure that their fee structure fits your investing strategy and also that the provider offers access to all of the stocks you want to invest in.
1. TD Ameritrade
TD Ameritrade is a very large financial firm that provides a whole host of financial services that include banking, investment management, and brokerage services. In addition to mutual funds and ETFs, TD clients can also use the firm's investment platform to buy and trade shares in thousands of stocks.
TD Ameritrade offers investors the ability to trade thousands of stocks easily over their platform. The company can also provide access to financial advisors who can offer individual guidance for investors who need help choosing investments. If you think you may benefit from other financial services, be sure to look at TD Ameritrade.
2. E-Trade
E-Trade started as an online discount brokerage firm. Since its founding, E-Trade's focus has been offering investors the ability to trade stocks and other investments cost-effectively. Although the company has grown drastically and added many additional products and services, cost-effective trading remains its core focus.
Among E-Trade's most significant benefits for investors is an excellent trading platform that makes it easy for clients to research investments and execute trades on the go. If you plan to do a lot of stock trading or want the ability to trade easily from your cellphone, E-Trade is a great option.
3. Fidelity
Fidelity is another large diversified financial services company ― one of the largest in the world. In addition to investing in stocks, Fidelity clients also have access to retail banking service and individual investment advice through any of Fidelity's offices around the country.
Fidelity is a great option for clients who want access to a financial advisor at one of Fidelity's offices around the country. If you think you may want to invest in things other than stocks, Fidelity also offers a number of other options including their own line of ETFs.
4. Charles Schwab
Charles Schwab is a very well-established financial firm that's great for investing in stocks. Schwab offers clients a range of business and retail banking services in addition to investment advice and securities brokerage. Using Schwab's trading platform, investors can invest in a number of different securities, including a wide variety of stocks.
Schwab clients have access to a wide range of investment options, but they aren't the most cost-efficient option. If you want a provider who can serve as a long-term partner to help with banking and other services, Schwab is a great option. If you want to invest in stocks, Schwab may not be your best choice.
5. Merrill Edge
Merrill Edge is an online securities brokerage division of Bank of America Merrill Lynch. Trades start at $6.95 for investing in stocks and many ETFs. Clients also have access to a full lineup of services from Bank of America Merrill Lynch, including business and retail banking, insurance, and investment advisory services.
In addition to stock investing, Merrill Edge is also one of our best 401(k) companies. The company is focused on providing cost-effective investment services to clients who can handle their financial needs online. If you want to invest in stocks online and use other Bank of America products later, Merrill Edge is a great choice.
How to Invest in Stocks
There are many types of accounts that you can use to invest in stocks. Which is best for you will depend on your individual tax situation. If you have a retirement plan at work, you may be able to invest in stocks through your plan. If not, other accounts can be established to invest in stocks.
Some ways of investing in stocks include:
Stock Alternatives
Investing in stocks is a great option for many investors. They're a great way to boost returns and grow savings faster than in a diversified portfolio. However, stocks may also be too risky for many investors. Investors may be better off investing in bonds, mutual funds, or other investments rather than focusing on individual stocks.
Bonds
Many companies and even countries issue debt to fund operations or expansion. This debt takes the form of bonds, which can be purchased by investors. When an investor buys a bond, the issuer repays this debt over time with interest. If you buy a government bond, the interest may be tax-free.
Bonds can be ideal for older, conservative investors seeking a fixed income from their portfolio. However, they can also be as risky as stocks. If you aren't a wealthy or sophisticated investor, you may be better served investing in a bond-based mutual fund instead of individual bonds.
Mutual Funds
Mutual funds are groups of stocks and bonds managed professionally. Unlike stocks that trade between investors, mutual funds issue new shares whenever investors want to buy and redeem shares when investors want to sell. Investing in mutual funds allow investors to own a diverse basket of stocks and bonds rather than individual stocks.
Mutual funds also have a very different cost structure from individual stocks. Investing in stocks only has taxes and trading commissions while many mutual funds charge higher commissions in addition to annual expense ratios. However, mutual funds allow investors to achieve a much broader diversification than investing in stocks.
ETFs
ETFs are baskets of underlying investments like mutual funds, except they trade like stocks. Using ETFs, investors can get much more diversity, similar to using mutual funds, but often at a lower cost. Unlike mutual funds, ETFs typically have trading commissions like individual stocks and annual expense ratios are far lower.
If you want to achieve diversity in your portfolio without the cost of buying many different stocks and bonds, ETFs are a great alternative to stocks. If you use ETFs, you can also take advantage of short-term gains by trading throughout the day, like individual stocks.
Target Date Funds
A target date fund is a type of mutual fund that's designed for investors planning to retire in a certain year. Target date funds start off owning a basket of stocks and bonds that are heavily weighted in stocks. However, as the target retirement date approaches, the fund's portfolio shifts from stocks to bonds. This should decrease volatility in the portfolio over time and start to generate retirement income instead.
Investors can use target date funds to mimic basic investing strategies for investing more heavily in stocks when they're young and bonds when they're older. However, target date funds often have additional fees that can make them less cost-effective than managing your investments yourself using traditional mutual funds and ETFs.
Stock Investing Frequently Asked Questions (FAQs)
If you still have questions about how to invest in stocks after reading this article, here are some of the frequently asked questions. If you don't see an answer to your question, be sure to post it in the comment section below.
1. How do I start investing with a little money?
If you want to invest in stocks, you can get started with as little as a few hundred dollars in savings. To get started, be sure to work with a stock investing provider who focuses on low-cost investing. You'll still probably pay $5-plus per trade, but this will allow you to start investing with minimal savings.
2. How can I trade online without a broker?
Investors who want to invest in stocks can always do so through a broker. However, investors can also work through an online trading platform like TD Ameritrade to invest in stocks. Using an online platform, you can invest as little as a few hundred dollars in individual stocks without working through a broker.
3. How much money do you need to buy stocks?
You can start investing in stocks with far less money than other investments. The minimum investment in mutual funds is usually several thousand dollars or more. However, investors can buy stocks online with as little as a few hundred dollars. Trades typically cost $5 to $50 each, but investors can still buy shares with a minimal initial investment.
Bottom Line
Stocks are great investments for wealthy or sophisticated investors who want to boost returns. These stocks represent ownership in underlying companies and entitle investors to a share of company profits in the form of dividends. If you want to focus your investments in individual companies or industries, be sure to consider investing in stocks.