A blogger rate card lets brands know how much you charge for your blog services. It is also sometimes called a rate sheet. This differs from a media kit, which is a detailed look at your blog's stats. You send brands your rate card when you're negotiating your deliverables and rates.
Collaborating with brands is a great way to monetize your blog. Before you can work with a brand, you need your rate card to use as a guide when negotiating rates.
1. Choose a Graphic Design Platform
To create your blogger rate card, you need a graphic design tool. Sure, you can make your document in Microsoft Word or Google Docs, but why would you when you can use an easy-to-use platform to make the design great? After all, you're sending this to potential clients and want to make a great first impression. Many of these platforms have pro versions for even more versatility.
Canva: By far a favorite of many bloggers, Canva is a drag-and-drop graphic design tool. You can choose from thousands of different designs to get started, or you can create a card from scratch. When you pay for the pro version, you get access to premium stock photos.
PicMonkey: Known as one of the original drag-and-drop platforms, PicMonkey has come a long way since its original debut. Users now have access to graphics, templates, textures, and fonts—they can even edit photos within the platform. Note that you will need a subscription in order to download your design.
Easil: A newcomer to the graphic design space, Easil has some of the most stunning templates available. It's not quite as easy-to-use as Canva, but it's close. To access most of the templates, you need to subscribe to the Plus plan.
If the mere thought of designing your own graphics makes you want to retreat, you can use a freelancer service like Fiverr. When you use Fiverr, you hire a freelancer to create your graphic for as little as $5.
Otherwise, download our blogger rate card template. You can edit this template using Canva. This way, you can change the fonts, colors, and images to suit your blog's branding.
Download Blogger Rate Card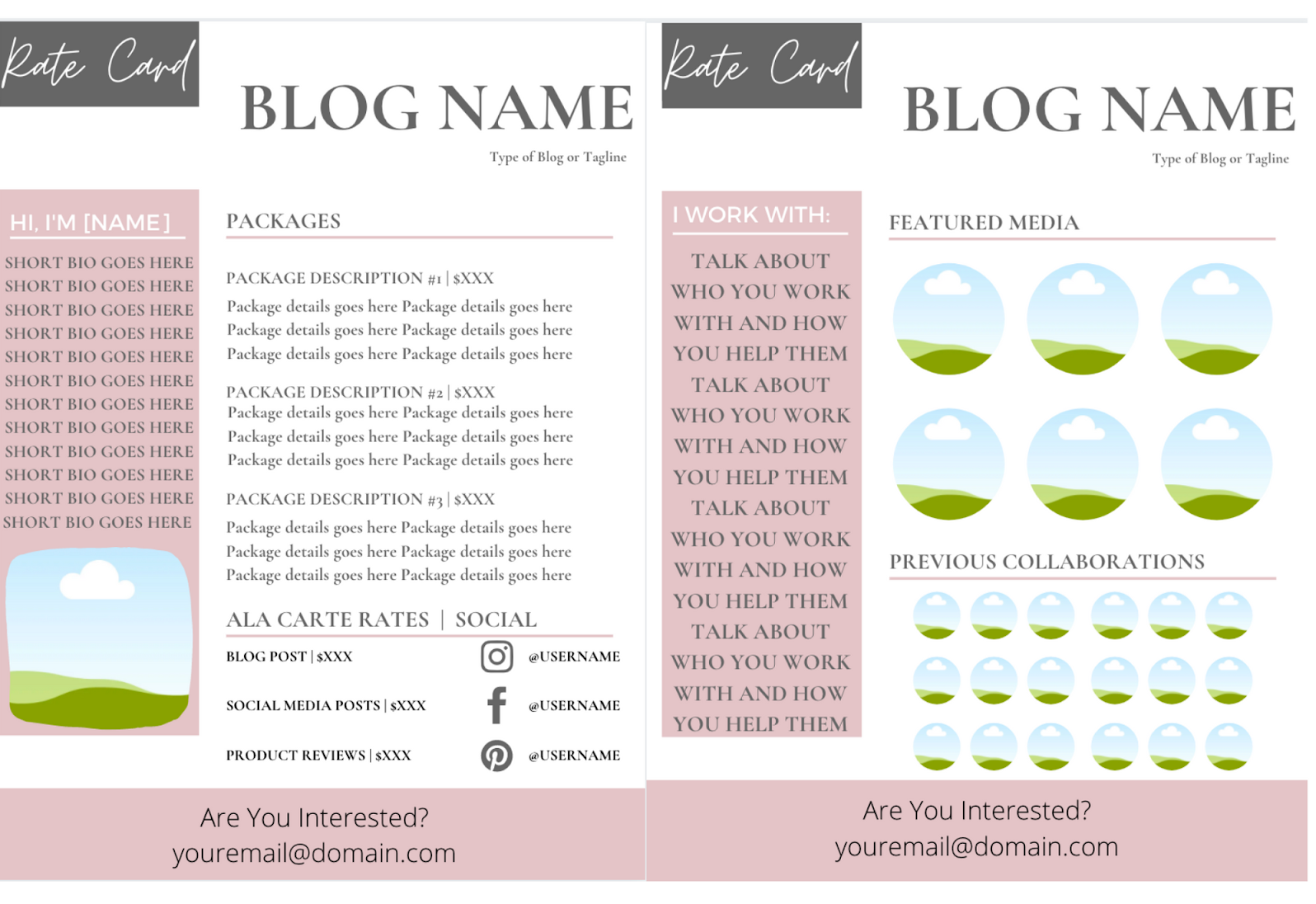 2. Price Your Blog's Sponsored Post Rates
Blogging rates are arguably one of the most debated topics in the blogging world. Even veteran bloggers struggle with how to price their services. With so many bloggers competing for a brand's marketing budget, you don't want to price yourself too high, and you definitely don't want to sell yourself short.
Collaborating with brands is by far one of my favorite ways to make money blogging. However, pricing formulas aren't scientific and differ between niches, so use this as a general guide when determining your sponsored blog post rates. Much of what I've learned about blogging rates comes directly from brands, other bloggers, and experience navigating my own blog.
To calculate rates for your blog, start by identifying your domain authority (DA). Your DA is simply how strong or authoritative your blog looks to search engines, based on a scale of 0 to 100. The higher your DA, the higher you can usually rank on search engine results pages (SERPs). You can find your blog's DA for free using the Moz Link Explorer.
Next, determine how many unique visitors your blog gets every month by logging into your Google Analytics dashboard and viewing your stats. This number represents each person (counted only once) who visits your blog in the month.
Now that you have both of these figures, use the table below to get a ballpark figure for your blog's rates. Keep in mind that your rates may vary depending on your niche. For example, a travel blogger might need to have their flight and hotel supplied; a food blogger may need the cost of ingredients covered. You can indicate on your blogger rate card that expenses are additional or included. You can also bundle blog posts with social media posts to get even more money.
Sponsored Blog Post Rates
| UVM* | DA 15 to 25 | DA 26 to 35 | DA 36 to 45 | DA 46+ |
| --- | --- | --- | --- | --- |
| 5,000 | $100 to $300 | $275 to $600 | $545 to $850 | $700 to $950 |
| 10,000 | $250 to $450 | $425 to $750 | $700 to $1,000 | $950 to $1,300 |
| 20,000 | $425 to $550 | $500 to $850 | $825 to $1,200 | $1,125 to $1,600 |
| 30,000 | $545 to $850 | $825 to $1,200 | $1,125 to $2,800 | $2,800 to $4,200 |
| 50,000 | $700 to $1,200 | $1,125 to $2,800 | $2,800 to $4,200 | $4,200 to $5,500 |
*Unique visitors per month
3. Assemble Your Blogger Rate Card
When creating your blogger rate card, remember to include just the facts. There's no need to write a book at this point, because brands are likely only looking for your rates and a few key details about working with you. Save your full bio for your media kit.
Contact information: At the least, list your name, blog name, and a way for brands to contact you. Some bloggers even list their address and phone number, although I've found that unnecessary as most brands collaborate strictly through email.
A short bio: You're not telling your life story here. Instead, give them your elevator pitch.
Your rates: Some brands like to purchase by the package, so consider bundling options together. For example, you can group one static social media post, two Instagram stories, and a blog post as a single bundle. You should also list à la carte options.
Media: Have you or your blog received positive media mentions? If so, you absolutely want to list those on your rate card.
Social media handles: Provide the usernames of your strongest social media accounts. Some bloggers will also include the number of followers for each.
Logos: If you've worked with other brands, be sure to highlight those on your rate card as social proof that you know what you're doing. This works particularly well if the brands are large, well-known household names.
Who you serve (optional): Are there any brand types that are off-limits (alcohol, Monsanto, or tobacco companies for example)? Are you a food blogger who will only work with food brands? Or are you willing to work with lifestyle brands?
When to Send Your Rate Card to Brands
Once you finalize your blog rate card, it's time to send it to brands. On your first contact with a brand, do not send your rate card. That's like asking someone to marry you on the first date. Instead, talk about collaboration ideas, and let them get to know you. When you're pitching a brand, it's best to send your media kit, and only send the rate card when they indicate they're interested.
However, you shouldn't send a rate card every time you have a collaboration opportunity. You don't want to display your rate card for anyone to view it, and you don't want to send it to brands you're not really interested in working with. If you don't get a lot of unsolicited brand collaboration requests now, you will eventually as your blog gains traffic.
An example of when you shouldn't send a rate card might be for charitable reasons. For example, many restaurants are hurting because of the COVID-19 pandemic. I received an email from a marketing director who wanted to hire me to share that their drive-thru is still open so families can eat at home or in their vehicles. I let them know that I typically charge for this service, but in light of the circumstances, I will happily take an exchange of product only. My family ate well, and the brand will definitely work with us again.
What to Say When Pitching Brands
If I'm the one sending an unsolicited email to a brand, I don't usually include my rate card in the initial email. Instead, I send my media kit and give ideas about how we might work together. Be as specific as possible in your pitch because you want to make it as easy as possible for the brand to say "yes." After a brand indicates they're interested, start a conversation about money by sending your blogger rate card.
What to Say When a Brand Pitches You
If a brand wants you to write a blog post that mentions their company—or worse, if they offer to write one for you—proceed with caution. Know that this company is simply trying to build its domain authority by getting you to link to it. Unless, of course, this is a brand you really want to work with and you see the potential for collaborating further—in which case it's fine to accept the offer.
Keep in mind that big brands have big marketing budgets, and many don't pay bloggers fairly. More often than not, when I receive an unsolicited pitch from a brand that I want to work with, I send my rate card and media kit. If I don't have interest, I let them know that I appreciate the email and we will be in touch if we feel it's a good fit.
Bottom Line
Your blogger rate card is your ticket to securing sponsorships and collaborations with brands. Know that you will likely have to turn down opportunities from time to time—the brand might not have the budget or the collaboration won't be a great fit for your audience.
You want your blogger rate card to make a great first impression. You can use your template, or you can hire a freelancer to create one for you. We like Fiverr, because you can have your graphic created for as little as $5 and have it ready for brands by Monday. Get started today.