Accounts payable (A/P) is the money you owe vendors and suppliers who have provided you with goods and/or services on credit. It's important to stay on top of your vendor bills because if you don't, it could lead to cash flow issues, penalties for late payments and it could affect your ability to order products and services on credit in the future.
In this article, we will discuss the following key elements to managing accounts payable.
First, we will discuss the A/P process for products and services since they are different. We'll then compare and contrast the difference between managing your bills using QuickBooks vs. a manual system. QuickBooks simplifies this whole process, saving you time and money. Click here for a free 30 day trial.
The Accounts Payable Process for Services
When you purchase services like consulting or legal services, the A/P process is just slightly different from what takes place when you purchase a product. Generally, sometime after your vendor has provided you with their services, you will receive the bill in the mail. Once you receive your vendor bill, you should take the steps to verify the accuracy of what you have been billed.
The invoice verification process would typically involve checking that the number of hours billed, the hourly rate and the description of services is accurate.
Once you are satisfied that the invoice is correct it then needs to be recorded on your books and scheduled for payment. If you use accounting software like QuickBooks Online, then this process is very simple.
However, if you do not use an accounting software like QuickBooks and you are manually keeping track of your bills, then you will have to create a journal entry to record your payment and then set up a filing system to schedule the bill for payment. We will discuss how to manage A/P using a manual system vs. an accounting software in more detail later on.
The Accounts Payable Process for Products
The A/P process for products involves a few more steps and a few more documents than the A/P process for services. Purchasing products on credit will generally include the following steps:
1. Place order for products
When placing an order from a supplier for product, you should create a purchase order (commonly referred to as a PO) and send it to your vendor. A purchase order is a document created by a buyer to place an order for goods with a supplier.
In general, purchase orders include a description of the items, the quantities for each item and the agreed-upon price of each item.
2. Receive Products into Inventory
Once the products arrive, you should verify that the order is correct. To do so, you should use a receiving document to record the quantities of each item received. In QuickBooks, we can easily do this by going into the receive inventory window and entering the purchase order number.
At that point, you would either confirm that everything on the purchase order matches what was received. If it was not, then you would change the quantities to reflect what was actually received.
If you are doing this manually, then you should use a receiving document to record the quantities of each product received. See if there's a packing slip included in the box, which includes a list of the products and quantities that were shipped. Verify that what is on the packing slip is actually in the box. Once you do that, you can use this document as your receiving document.
At this point, you could compare your receiving document to the purchase order. However, we are going to discuss how to match these up a little further down.
3. Receive Vendor Invoice
Some suppliers will put their invoice in the box along with the packing slip and your products while other suppliers will mail or email the invoice separately. At any rate, once you receive the invoice, you have everything you need to start the verification process, also known as the 3-Way Match; which we will discuss next.
4. 3 Way Match
The 3-Way match involves comparing the purchase order, the inventory receipt and the vendor invoice to verify that the goods ordered were in fact received and that you were charged the agreed-up amount for each item.
Compare the purchase order to the inventory receipt document
To correctly perform the match, you want to start by comparing the purchase order (PO) and the inventory receipt document. Make sure that each item that was ordered was received.
If there are any discrepancies between the products ordered and/or received you need to contact the supplier ASAP. I recommend making a phone call first and then follow-up with an email so that you can have adequate documentation.
Compare the inventory receipt document to the vendor invoice
After you have compared the PO to the inventory receipt document, you can compare the inventory receipt and the PO to the vendor invoice. First, verify that the items and quantities billed match up to the inventory receipt document. If they do, then you can compare the cost of each item on the PO to what you were billed on the invoice.
If there are any discrepancies in quantities or price, you need to contact the vendor asap. Again, make the phone call and then follow-up with an email for written documentation.
If you do find a discrepancy with the products or the price, depending on the issue, there are a few ways to resolve:
The supplier will ship you the missing goods
The supplier will ship a replacement for a product that was damaged en route
The supplier will issue you a credit memo for any price discrepancy. A credit memo is a document that you can use as a credit against a future payment to your supplier.
Once you are satisfied that the invoice is accurate then it needs to be recorded on the books and scheduled for payment. We will discuss how to manage A/P using a manual system vs an accounting program next.
How to Manage A/P using a Manual System vs. Accounting Software Like QuickBooks
The first part of the A/P process is to verify that the vendor has billed you for the right products and/or services that you received. Once that verification is complete, then it is time for you to record the invoice on the books and schedule it for payment.
1. Record the Invoice on the Books
Recording an invoice on the books will generate a credit to the accounts payable account and a debit to an expense account or asset account (depending on what was purchased).
Depending on whether or not you are doing this manually or using an accounting program like QuickBooks, will determine what steps you take. We will discuss both of these in more detail next.
QuickBooks
Using an accounting software program like QuickBooks really makes things a lot easier. To record your vendor bill in QuickBooks, you simply go to the Enter Bills window and enter the information from the paper bill that you received from your vendor into QuickBooks. When you save the bill, QuickBooks will create the following journal entry behind the scenes:
| | |
| --- | --- |
| Debit | Expense Account or Inventory Asset Account |
| Credit | Accounts Payable |
Check out our QuickBooks tutorial video on how to enter bills here.
Manual System
If you don't use an accounting software like QuickBooks and you need to record the invoice manually, then you will need to record a journal entry. A journal entry is a manual way to record business transactions like vendor bills. It should include an effective date, a debit amount, and a credit amount. To learn more about what a journal entry is and how to create one, check out this article from Accounting Tools.
The journal entry that you will record will be exactly the same as the journal we discussed in the previous QuickBooks section. Let's say that you need to record a journal entry for $50.00 for office supplies that you purchased from Staples but have not paid for. Here is the journal entry that you would record:
| | | |
| --- | --- | --- |
| Debit | Office Supplies Expense | $50.00 |
| Credit | Accounts Payable | $50.00 |
We will discuss the impact these journals have on the financial statements later on.
The reality is that keeping your books in order just takes time. For many small business owners, it may make more sense to hire a virtual bookkeeping service like SmartBooks keep things in order for you. They will set up QuickBooks for you, manage bill pay, send and receive invoices, run payroll, and more. Plans start at $250/month. Get your first consultation free.
2. Schedule the Invoice for Payment
QuickBooks
Entering the invoice in QuickBooks not only records it on your books but it also schedules the invoice for payment based on the payment terms you entered when you set up the vendor.
Setting up a vendor in QuickBooks involves entering basic info such as the Vendor's name, remit to address and payment terms. You can watch our tutorial video on How To Set Up A Vendor In QuickBooks Online.
Entering payment terms for a vendor is very important because it will create a reminder from QuickBooks that the invoice due date is approaching. In addition, if your supplier offers a discount if you pay early, you can set up the invoice with those terms so that you don't miss the due date to take the discount. We will talk more about how to proactively get early discounts from your vendors in the Best Practices for Bill Payments section.
Manual System
If you are manually processing accounts payable then you can use something as simple as one accordion file with at least 30 slots and a dozen expandable folders. Label each expandable folder with one of the 12 months. When you receive a bill from a vendor, file it in the expandable folder for the month that it is due. For example, if you receive a bill and the due date is 2/15 then it goes in the February folder.
On the first day of each month, take the bills out of the expandable folder for that month and file them in the accordion folder (which represents the days of the month) based on their actual due date. Using the same example above, our 2/15 bill would be filed in the accordion file under day 15.
If a bill has an early discount due date then you would file it using that date in order to take the discount. Every week, you should review and prepare checks (or set up online payments through your bank) for bills due the following week.
Best Practices for Bill Payments
Keeping track of the money going out of your business is just as important (if not more important) as keeping track of the money coming in. In my experience, I have managed accounting teams in very large organizations and I've also run my own consulting business.
As a result of managing accounts payable in both large and small organizations, I would like to share 4 tips that you can implement immediately to help you have a solid accounts payable process in place:
Tip #1: Avoid duplicate payments
While this might sound like a "no brainer", it's pretty easy to pay a supplier twice if you don't follow a couple of basic rules when it comes to paying your bills.
Always use an invoice number. Most vendor bills will have a unique invoice number assigned to it. Enter this invoice number into QuickBooks (or your accounting system). QuickBooks has a feature that you can turn on to alert you if a duplicate invoice number is used.
If you are manually paying bills, you can set up a folder on your computer for each vendor and scan all of their invoices into their respective folders. Save each invoice using the invoice number and that way if you suspect a duplicate invoice you have a way to check to see if you have paid that invoice before.
To learn more about how to set up your bookkeeping files, check out our Small Business Bookkeeping and Accounting Guide here.
Never pay from a statement if you receive invoices. Some suppliers might send out statements at the end of each month to summarize the invoices that have been billed to you and any payments that have been received. This is a great way for you to compare your records to your supplier's.
However, if you do find a bill on the statement that you do not have in your records, contact the vendor and ask them to send you a copy of the missing invoice. Do not pay it from the statement.
A couple reasons why you should not do this are; if the invoice does show up later then it could be accidentally paid again. The second reason is that a statement is not sufficient for you to verify the details such as quantity and rate charged. Most statements simply show the invoice number, invoice date and total amount billed.
Tip #2: Pay Bills on time
Pay bills on time might also sound like a "no brainer" but it is something that you don't want to take lightly. It's important to pay your bills on time for several reasons. Here are just a couple:
To avoid penalties and late payment fees
Some suppliers will charge you a penalty or a fee for late payments. As a small business owner, it is important that you don't get in the habit of just giving away your money. While these penalties for late payment might appear small, they can add up quickly.
To maintain credit privileges
Another downside to paying late is that you can ruin your good credit rating with your supplier. Remember, they don't have to extend credit to you. They can ask for payment upfront before they agree to ship any products and/or provide services. If you habitually send in your payments late, don't be surprised if the next time you place an order you hear the words "Before we can ship that to you, we're going to need a deposit".
If you use QuickBooks, you can run an A/P Aging report which will provide you with a list of all outstanding vendor bills and categorize them according to how many days past due they are. Below, is a sample A/P Aging report for a fictitious company.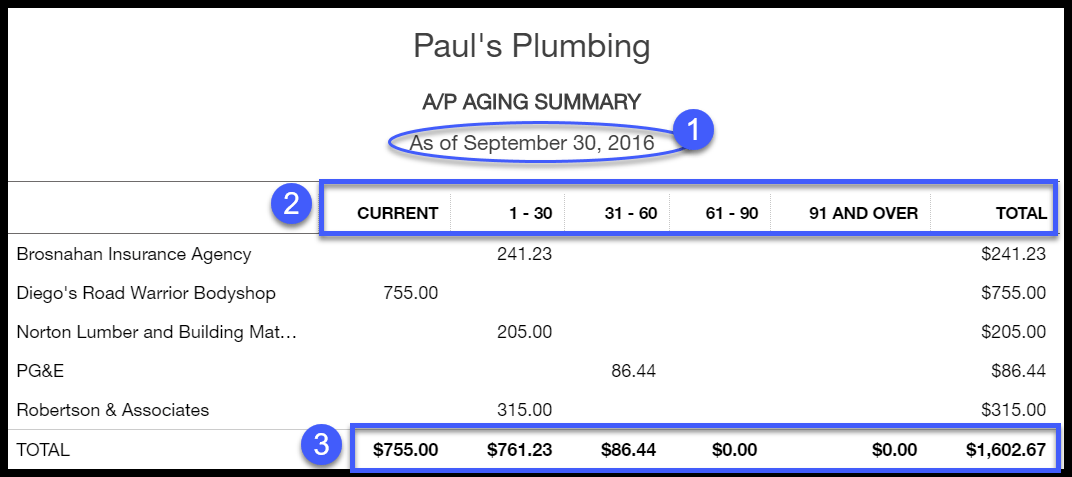 Report Date – This aging report is as of September 30, 2016.
Aging categories – These are the various aging groups based on the due date of your bill. The Current column indicates bills that are not yet due. Beginning with the 1-30 day column, each category represents the number of days your billsare past due.
Total – This row shows the total amount per aging category. A good rule of thumb is to make sure that the majority of your outstanding bills stay within the first 3 columns. It should be a rare occasion that you have something creep into the 61 and over columns. If you do, be sure to address it as quickly as you can with your supplier.
Tip #3: Don't pay your bills too early
I know that we just discussed why you should pay your bills on time so now you're probably wondering how can it be a bad thing to pay your bills early. Well, from your supplier's perspective, it is a good thing but for you as a small business owner it can be detrimental.
Having positive cash flow is a key ingredient to running a successful business. You might be in a situation where business is good and the bank account is healthy so you can afford to just pay your bills as soon as they arrive in your mailbox. The reason why you don't want to pay those bills early but closer to their due date is because you never know when an unexpected expense might come up. Here is an example of how this could play out.
Example
Let's say you are a jeans manufacturer and one of your machines breaks down unexpectedly. You contact a repairman who says that he can't fix the machine and you have to buy a new one. This is an unexpected expense that must be taken care of immediately. If not, you will not be able to fulfill any customer orders. If you can't fulfill your customer's orders on time, they will go to someone else to get their product. Not having the cash that you need can literally stop your business in it's tracks.
Tip #4: Take early payment discounts
One of the things that companies don't do consistently is take early payment discounts. An early payment discount is where a supplier gives you a discount if you pay your bills early. For example, a 2% Net 10 discount means if you pay your bill within 10 days of the bill date, you can deduct 2% of the total amount due as a discount. While this might not seem like much, let's take a look at an example.
Example
We will continue to use our jeans manufacturer example. Let's say that you found a deal on a used machine that will cost you $20,000. The seller is willing to give you a 2% discount if you can pay for the machine in full. Luckily, you've got the money in the bank (because you did not pay your bills early) and so you take him up on his offer. Let's calculate what your savings would be by taking the early payment discount.
$20,000 X .02 (2%) = $400
You would keep $400 in your pocket and hand over a check for $19,600 to the seller. I don't know about you, but a $400 savings is nothing to sneeze at!
One other point I would like to make about early payment discounts is if you do find that you are able to pay some of your bills early, don't wait to see if your supplier will give you a discount. Ask for a discount. Most of the companies that you deal with are small businesses just like you that would love to be paid early and they might be willing to receive a little less money if they can have access to that cash a lot sooner.
If you want to take advantage of all of the tips above, but don't have the time to spend hours updating your QuickBooks, check out SmartBooks.  They are a virtual bookkeeping service that will set-up your QuickBooks, manage accounts payable, cash flow and more. Get your first consultation for free and plans start from as little as $250/month.
Impact of A/P on Financial Statements
In the previous section, we discussed the journal entry that is generally recorded when you enter a bill. In this section, I would like to discuss the journal entry that you need to record once you pay a bill and the impact both of these have on the financial statements. Let's walk through an example to see how this works.
Example
Let's say that you create custom gift baskets for any occasion. You placed an order for a pallet of baskets for $5000. The baskets were all received in good condition and the purchase order, receiving document and vendor bill all match.
Let's take a look at the journal entry that QuickBooks (or you) would record for the vendor bill:
| | | |
| --- | --- | --- |
| Debit | Gift Basket Inventory | $5,000 |
| Credit | Accounts Payable | $5,000 |
This journal entry would only impact the Balance Sheet Report. The Balance Sheet shows all assets, liabilities and owner's equity for a business. The Gift Basket Inventory account is an asset account and would be increased by the debit of $5,000; the Accounts Payable account is a liability account and would also be increased by the credit amount of $5,000. Watch our video tutorial on The Balance Sheet Report to learn more about how this financial statement works.
Once you pay the vendor bill, the following journal entry should be recorded:
| | | |
| --- | --- | --- |
| Debit | Accounts Payable | $5,000 |
| Credit | Cash | $5,000 |
Once again, only the balance sheet report is affected. The A/P account is decreased by $5,000 and the Cash account which is an asset account, is decreased to reflect the payment made to the vendor.
Tips on Hiring an Accounts Payable Manager
If you find yourself consistently paying bills late or missing out of early payment discounts then you might want to hire an A/P Manager. Having someone that can focus solely on managing your bills will save you time and money which can improve your cash flow.
Here are a few tips I would like to share with you on hiring the right candidate to manage your accounts payable or any accounting position:
Be open to candidates who may not have a Bachelor's degree.
In my experience, I've found that candidates with a lot of experience in accounting tend to get up to speed faster than someone right out of college. This is generally because they have worked in the field and understand how accounting works in the "real world" and not just in the book sense.
Include in the job description the accounting software that you use.
While someone might have accounting experience, there is no guarantee that they have used the accounting software that you use (i.e. QuickBooks). If they don't have any experience with the software that you use, plan to invest the time to properly train them.
Test their technical skills.
After an initial telephone screen, have the candidate come in and complete an assessment so that you can verify if they have the skillset to do the job. For example, if you need someone that has QuickBooks expertise then you could have them use a sample QuickBooks company file (instead of your real company data) to complete basic QuickBooks transactions. You can also check out the American Institute of Professional Bookkeepers (AIPB) site which offers a free bookkeepers hiring test here.
Select a candidate that has great people skills.
As an A/P manager, this role will require a lot of interaction with your vendor suppliers. Therefore, you want someone who can build and foster good relationships with both employees who may be submitting their expense reports and with vendor suppliers.
Hire someone who has experience making process improvements.
There is always a better way to do things. You want a candidate who is willing look at your current process and make improvements that will save you time and money.
Be sure to complete a background check.
Since accounting positions usually involve exposure to sensitive financial data you want to make sure that you hire someone who does not have a criminal record. Check out our guide on the best background check companies for employers.
If your business is not yet ready for a full time accounts payable manager, you could hire a virtual bookkeeping service like SmartBooks.  They will most likely be cheaper than hiring an in-house bookkeeper and they will set-up and manage your accounts payable, as well as prepare your monthly financial statements. Get your first consultation for free.
The Bottom Line
By now, I hope I have convinced you that managing the money going out the door is just as important as the money coming in from your customers. If you implement some of the things that we discussed in this article,you will be well on your way to managing your bills instead of your bills managing you!
Here are just a few action items for you:
Check out our free QuickBooks course so that you can easily stay on top of your outstanding bills.
Implement the best practices that we discussed like always use invoice numbers and never pay from vendor statements.
Use the tips that we shared to hire a good A/P Manager, or check out a virtual bookkeeping service like SmartBooks.