Learning how to market a new business successfully can be overwhelming. There are so many decisions to make: What marketing materials do you need to create? Should you build a website? What social media platforms do you need to be on? And should you advertise?
In the steps below, we're going to walk you through the most common marketing decisions small biz owners make. As a small business consultant, I've helped hundreds of clients strategize and implement these steps. Remember, you don't need to use all the marketing strategies to have a successful business. Positive outcomes from just a few of these strategies can help you attract more customers.
1. Create a Marketing Plan
To make your life more focused and less stressful—and before creating a single marketing material—you need to create a marketing plan. This planning process helps you better understand your customers, your marketing goals, and the best opportunities available.
As someone starting a new business, you may feel that your business needs to be seen everywhere to be successful. That isn't true. A general piece of marketing advice is that it's better to implement a couple of marketing strategies well than many strategies poorly.
In practice, this means that instead of being on every social media platform, you should choose to put the majority of your marketing energy into using one platform exceptionally well. Instead of networking with five groups monthly, consider getting heavily involved in one and assume a leadership position.
Whatever strategy you use to market your new business, you should create a plan, implement it, and review. If it doesn't work, change course and experiment until a strategy fits well with your personality and business.
2. Create a Brand Identity for Your Business
Before purchasing marketing materials, designing a website, or claiming social media profiles, you need to create a cohesive brand identity for your business. A brand identity is how you present your business to customers—it's the logos, colors, font, photos, and signs you create for your business.
When creating a brand identity, you should try to avoid using marketing materials with different colors, fonts, and overall style. Customers don't enjoy receiving your brand in different styles as it can send mixed messages. Create one brand and stick with it before creating any of the following marketing strategies.
3. Purchase Marketing Materials
Once your branding strategy is set, you'll need to create marketing materials to promote your business. Don't get crazy and create all of the materials you can! One, it's expensive; and two, it's not necessary.
Your budget, type of business, and how bold you want your marketing to be—vehicle wrap?— will determine what materials you need to create.
At a minimum, you'll want business cards to hand out to potential customers, vendors, and business peers. Additionally, you'll want to create materials for potential customers to take home, such as flyers, brochures, or booklets. This take-home material will help them learn more about your business and serve as a reminder that your business exists.
Here are common marketing materials for small businesses:
4. Launch a Website
You should consider a few different options when creating your website.
If you're interested in hiring an online website design company or online freelancer, consider Optuno; it's an example of an online web design company that charges a monthly fee. Upwork and Fiverr are marketplaces where you can connect with a freelancer who will build it upon receiving your approval to pay an upfront cost.
Domain Name
The domain name of your website is the URL address, "www.(yourcompanyname).com." If your marketing company buys the website domain name for you, make sure you have ownership and access. If you have the option, we recommend that you purchase the domain on your own.
To purchase your domain name, you can use a company such as Bluehost for around $10 per year. Domain names have gotten more complicated in recent years. Generally speaking, you'll want to choose a ".com" extension. However, if you'd like to be trendier, you could get a ".co," ".tech," or another variation that fits your business.
Use the tool below to see if the domain name you want is available for purchase:
5. Set Up Your Business' Online Footprint
Creating a website is only one step to getting your business found online by potential customers. To get the site to rank higher in search engine results, there are a few different strategies: Apply local search engine optimization (SEO), optimize your Google My Business listing, and set up online directories.
Local SEO
Local SEO is what you do to get your website to rank higher in search engines such as Google and Bing. For example, if you own a salon, you'll want your site to show if a customer searches for a specific service you provide such as highlights, hair extensions, or bridal services.
A simple way to optimize your website for SEO is first to brainstorm a list of specific services or products your business provides. Then, once you have your list, create a webpage on your website for each particular service.
For example, in the screenshot below, the salon has a webpage for hair cutting, hair coloring, and bridal service. So, if a customer who is located near them searches Google specifically for "hair coloring service near me," that salon's specific webpage is more likely to show in Google's search results. The page more closely matches the potential customer's search than the business's homepage.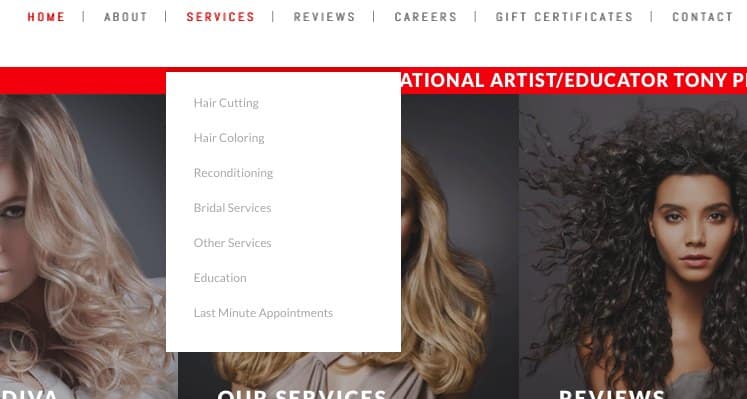 Google My Business
Google My Business (GMB) is a free online listing for all businesses looking for local customers. In recent years, Google My Business has become critical to small business marketing because of the addition of Google Posts, Questions and Answers, and integration with Google maps.
To get started with GMB, visit its official website, and follow the signup process. Once you're able to log in to your account, fill out the basics of your profile.
One essential aspect of GMB is online reviews. Potential customers will use Google Reviews to determine the popularity and quality of your business. Make sure you have a process that encourages customers to leave you a Google review.
Online Directories
One way to get found online is through popular online directories. Almost all businesses should be on directories like Yelp and Yellow Pages. Likely, there are also industry-specific directories for your business such as Angie's List for service-based businesses.
To find out if there are online directories you should be listed in for your industry, simply enter a search for the products or services you provide with the words "near me" at the end of the phrase.
What shows in the search results? Is there an online directory you could join that would display your business? If yes, join it!
6. Claim Your Social Media Profiles
While you may not use all social media platforms available to you frequently—nor should you—you do need to claim and set up a basic profile for all platforms. Requesting social media page names ensures that another entity cannot claim your business's name on the platform.
Regarding social media management, you should spend 90% of your time building up a following on the platform your ideal customers are spending the most time on. Don't try to spend your time on three or four platforms. You'll end up with mediocre results. Create a strategy, focus your energy on one social media platform, and make it an asset for your business.
Top Social Media Marketing Platforms for Small Businesses
Determine which social media platform to devote your time and energy based on where your ideal customers are spending their time most. You can figure this information out by doing market research and developing customer profiles.
Based on my experience with clients, here are the most popular social media platforms among small business owners:
7. Set Up Email Marketing
Every business can benefit from an email marketing strategy, which is creating email campaigns for your contact list. Many new business owners believe that sending emails to their customers will annoy them. They are right, but not completely; frequent salesy emails with little value will annoy customers. Don't do that.
Keep your customers happy—and your business top of mind—by sending high quality, valuable information. For example, if you have a landscape company, don't just send emails of new plants. Send emails with the goal of educating customers on seasonal gardening trends—and then mention the new plants.
Email Marketing Software
Email marketing software allows users to plan and send emails to a large number of email addresses. What makes email one of the best marketing strategies for a new business is that it can be completely free.
Mailchimp is free to use for the first 2,000 subscribers, with up to 12,000 emails sent per month. It will likely take your business a long time before collecting 2,000 emails.
8. Network in Your Community
Networking in your local community has several benefits. The No. 1 benefit is promoting your business face-to-face to potential customers. Another advantage is meeting other business owners who may have similar customers. Having referral partners can be a great way to get new customers.
A simple networking goal should be to inform as many people as possible about your business and your story. This goal removes the pressure to secure a customer or a referral at the event. If you tell a concise, memorable story, people will remember your business, and you'll get customers and referrals.
Before walking into your first networking event, there are some basics you need to know. Treat everyone you meet as important—you never know who may be an asset to your business.
Try to get a business card from every person you meet. Follow up with them after the event on LinkedIn—it's an easy way to reconnect and reintroduce yourself.
9. Have a Grand Opening
A grand opening celebrates the opening of your business. It's a great way to create a buzz in your community and tell people about your business. A grand opening can last a week, day, or just a few hours. You should provide some kind of incentive for people to show up—a discount, deal, or something free.
Write a Grand Opening Press Release
One way to get potential customers to attend your grand opening is to write a press release and send it to local media outlets. Any local media coverage you secure will extend the reach of your grand opening event and earn you free marketing.
To help your press release gain attention, network in your community before opening the business. Pre-business opening networking is a great way to get introduced to journalists or someone who can introduce you to a media professional.
10. Advertise Online
An easy way to get a quick marketing boost is to pay to get your business found online. Advertising online is popular, because you can place your ad in front of specific demographics doing searches in targeted locations. When compared to traditional advertising options, the precise targeting of online ads appeals to many business owners and marketers.
There are three main places to advertise online. One is in search engines, such as Google and Microsoft Advertising (formerly Bing ads). A second is on social media platforms. A third place to advertise is on directory websites such as Yelp.
Search Engine Ads
Depending on the type of business you have, search engines can place ads in several locations. If you want to advertise directly in Google local search, you can have your business positioned at the top of the search results.
If you're a service-based business, you can receive local leads from Google. With Google My Business, you can have your listing placed at the top of a Local three Pack (top three local business results), like the "attorney near me" search example below.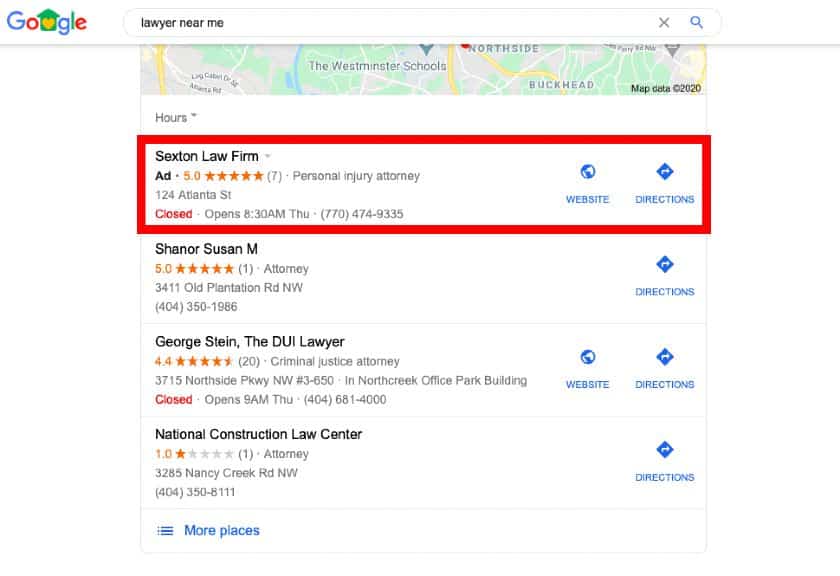 Google is typically the go-to when businesses consider advertising in a search engine, but you should also consider advertising in Bing. Ad costs in Bing are less than those in Google, because there is less competition from other businesses. You can get the same results—paying customers—in Bing with a much lower advertising cost.
Social Media Advertising
Advertising on social media can get complicated. I've witnessed business owners spend hundreds of dollars on Facebook and Instagram advertising with no positive results. If you'd like to get your business in front of customers on social media, I'd highly recommend working with a professional. Find someone to do social media ads locally, on a freelancer platform like Upwork, or through a dedicated company such as Lyfe Marketing.
Online Directory Ads & Leads
If you create a listing in an online directory, it's likely that the company—especially Yelp—will reach out to you for advertising or leads. If you choose to advertise, I'd recommend starting small and not signing a contract, if possible.
I once had a client sign a three- month deal with Yelp. After the first month, she didn't get any new customers from the enhanced profile. She called to cancel, but they refused and she had to pay for an additional two months.
11. Advertise Through Traditional Channels
While online ads have their benefits, local advertisements through traditional channels have unique advantages as well. Traditional channels reach a wider local audience and can lead to word-of-mouth advertising. A unique billboard, radio, or TV ad can spark a conversation between viewers that in a way that online ads can't.
Consider advertising through the following traditional channels:
Bottom Line
Successfully marketing your new small business will be a slow and steady process. It will take time to build local brand recognition, get your business to rank in Google, and grow a social media following. If you have the budget, you can jump-start the process with advertising.
Remember, testing is a big part of success with marketing. Experiment with different strategies, and if they don't work, try something else. Eventually, you'll find a mix of strategies that helps you get qualified customers without breaking the bank.