SEP IRAs are employer-sponsored retirement plans allowing employers to contribute up to $56,000 or 25% of their pre-tax income each year. How to open a SEP IRA for you and your employees is quick and easy, once you understand how SEPs work and determine your eligibility. A good provider can help you with the rest.
The 6 steps for how to open a SEP IRA include:
1. Understand SEP IRA Eligibility & Requirements
A SEP IRA is ideal for small businesses with few or no full-time employees. Using a SEP, employers can shelter up to $56,000 or 25% of their pre-tax income, whichever is less. In order to use a SEP, however, you must make contributions for all of your employees whenever you contribute to your own account.
In a SEP, employees can't contribute. While contributions are totally discretionary for the employer (there is no annual minimum), whenever you make a contribution for your own account, you are required to make proportional contributions to each employee account based on annual compensation. If you contribute 15% of your own compensation to your IRA, you must contribute 15% to every eligible employee's account.
To calculator your SEP IRA contribution limits and see how much you'll be required to contribute for employees, be sure to check out our SEP IRA Calculator.
Contribution structure aside, SEP IRAs are operationally among the most flexible retirement plan options. All employees eligible for SEP must be automatically enrolled, unless they revoke their accounts. There are 3 main deadlines for establishing or administering a SEP, which are among the latest for retirement plans.
The 3 SEP IRA deadlines to know include:
Establishing a SEP IRA – Employers can set up a SEP IRA anytime prior to their own tax-filing deadline, so SEP IRAs can actually be formed after the tax year for which they'll be effective, though this isn't recommended.
Employee Notice – As soon as an employee becomes eligible for a SEP, they must be given certain disclosures about the plan and be allowed to enroll.
SEP IRA Contribution Deadline – Employers can make contributions anytime before their tax-filing deadline, including any extensions. Prior-year contributions are allowed and even encouraged by many tax professionals.
SEP IRA Costs
SEP IRAs cost almost nothing to set up or administer. The only direct expenses are custodian fees, which are less than $25-$50 per account annually and are paid directly from employee accounts. For employers, the biggest expense of SEPs are the costs of contributions, since SEPs require employers to fund contributions for all employees.
The specific costs for a SEP IRA include:
Custodian Fee – SEP IRA account holders pay annual charges to the trustee holding their account. These fees start at $25-$50 and can exceed $2,000 for alternative providers focused on specialty investments.
Employer Contributions – Unlike any other alternative, SEPs require employers to fund all contributions for their own accounts as well as all employees. Contributions are tax-deductible and discretionary for the business owner but must be directly proportional based on each employee's annual compensation.
Who a SEP IRA is Right For
The details of how a SEP works and the requirements of employers make SEP IRAs most appropriate for small business owners with no or very few employees. Usually, having more than 3-5 full-time employees makes SEP IRAs uneconomical. This is because employers are required to fund contributions for all employees, which is too expensive compared to alternatives if you have more than 3-5 employees.
If a SEP isn't right for you, there are a number of other types of small business retirement plans you can choose from. A few of the alternatives include:
ShareBuilder 401k offers small businesses traditional 401(k) plans, safe harbor plans, and solo 401(k) plans that are affordable and easy to set up. Not only that, but they cost up to 66% less than the industry average. Get started with ShareBuilder 401k and a 401(k) advisor will help you select the right plan for you and your business.
SEP IRA Pros and Cons
SEP IRAs have a number of advantages and disadvantages that you need to consider when deciding whether to set on up.
Pros of a SEP IRA
High-dollar contribution limits – At $56,000 per year, SEP IRA contributions are on par with 401(k)s and far exceed other IRA alternatives
No mandatory matching – Unlike SIMPLE IRAs or Safe Harbor 401(k)s, there is no mandatory matching required in SEP IRAs. Contributions are complete discretionary for the employer and can be skipped in bad years
Flexible deadlines – SEP formation and contributions can occur anytime before your tax-filing deadline – much later than other types of accounts
Prior-year contributions – SEP contributions can be made for the previous tax year, similar to a 401(k) profit-sharing payment
Cons of a SEP IRA
Funding employee contributions – In a SEP, there are no employee deferrals. All contributions for both employers and employees are 100% employer-funded
No lending facility – Unlike some 401(k)s, you can't borrow against assets in a SEP IRA
Limited to 25% of pre-tax income – While the contribution limits to a SEP are capped at $56,000, they can't exceed 25% of your pre-tax income
For more information on SEP IRAs, be sure to check out our article on SEP IRA Rules, Contribution Limits, and Deadlines.
2. Identify a Provider
When considering SEP IRA providers, it's important to find a reputable, low-cost company that can help you implement and administer your plan. Mutual fund companies, brokerage firms, and even banks can hold SEP IRAs. If you want the added investment flexibility of a self-directed account, there are alternative providers that specialize in investments like real estate.
What to Look for in a Trustee or Provider
Just like 401(k) companies, when you implement a SEP, it's important to find providers that have certain things including:
Competitive Fees – Paying unnecessarily high fees can significantly impact your account balance over time.
A Strong Reputation – While not all SEP IRA providers are household names – especially those that specialize in self-directed accounts – it's important to use a reputable company that's properly registered and has a good track record.
Good Investment Options – When you choose a provider, make sure you'll have access to investments that are consistent with your investment strategy and risk tolerance.
How to Identify a Trustee or Provider
If you already have an existing relationship with a financial firm, check there first. If you don't have an existing relationship, or if you don't like the SEP IRA offering of your preferred provider, then look for a reputable company that has costs and investment options that match your needs.
Most small business owners need a straightforward plan with low costs, so make sure you get reliable fee information from prospective providers. If you want to use a self-directed IRA to invest in real estate, make sure you find providers that offer self-directed accounts.
Top SEP IRA Providers to Choose From
If you don't already have a relationship with a potential provider, or if your existing relationship doesn't offer what you want in a SEP IRA, some good providers include:
Vanguard is the largest mutual fund company in the world and a great provider of competitively-priced small business retirement plans, including SEPs. A Vanguard SEP IRA gives you access to more than 100 mutual funds at very low-cost. They also offer a selection of target date funds for business owners who want to invest in mutual funds that automatically adjust their portfolio as a targeted retirement date draws near.
While the company is very reputable, they don't offer any additional services like business banking and don't offer much individual advice on specific investments.
Fidelity is an extremely reputable, one-stop-shop for financial services. They not only offer their own funds, but also securities brokerage services so you can trade individual stocks, bonds, and ETFs in your account. Fidelity also offers business banking services and investment advice for those small business owners who need one-on-one guidance.
Another diversified financial services company, Charles Schwab is a great alternative to Fidelity. They also offer their own mutual funds and ETFs, securities brokerage, plus a host of business banking and other services. If you think you may need access to additional services outside your SEP, be sure to check out Schwab.
TD Ameritrade is another good provider, though mostly online. They do have some offices around the country, but if you want to use TD you should be comfortable doing everything online. Their primary service is securities brokerage, so unless you want to actively trade in your SEP account, you should definitely look at a lower-cost mutual fund provider like Vanguard.
If you want a self-directed SEP IRA that will allow you to invest in alternative assets like real estate, definitely take a look at Entrust. However, niche providers like Entrust are far more expensive than other options, with annual administration fees typically ranging from $200-$2000, so only consider them if you want to invest in things like real estate or precious metals in your SEP.
For more information on the top providers, check out our article on the best SEP IRA providers.
3. Complete Plan Documents
Once you choose a provider, they can help you with the next steps of how to open a SEP IRA. You'll need to complete certain documents that are typically part of your provider's paperwork – it will likely appear as an "employer kit" or "employer application."
Included in the paperwork to set up your SEP IRA will be IRS Form 5305-SEP, which is required by the IRS to set up your SEP. If the form isn't included, make sure to complete it on your own. Though the form doesn't need to be filed, it's pretty easy to complete and only takes a few minutes.
"When setting up a SEP IRA make sure that you don't already have a 401(k). Make sure to weigh your options between the Solo 401(k) and a SEP IRA. Look for companies that don't charge a fee for setting up the SEP IRA. It's usually just a 1 page document that they have to fill out. Remember to keep in close touch with your CPA to correctly fund your SEP, as over-funding your SEP may cause a tax penalty."

– Samuel Rad, CFP, UCLA Instructor and Certified Financial Planner, Affluencer Financial
4. Provide Notice to Eligible Employees
After you've worked through the plan set-up documents from your provider and your SEP has been established, you need to provide notice to employees. This notice must include certain disclosures, including:
Information on SEP IRAs – The IRS wants to make sure employees understand how SEPs work, who contributes, the tax implications, etc.
Details about your plan – Employees need to be educated on the specifics of your plan including where accounts are being held and available investment options.
Employee rights and responsibilities – These include an employee's right to revoke their account if they want.
5. Open Employee Accounts
The next step of how to open a SEP IRA is to enroll all eligible employees. These accounts need to be effective for the same tax year that they become eligible. Accounts can be created up until the contribution deadline, which is the employer's tax-filing deadline, including any extensions (typically April 15, or October 15 with an extension).
Though it's theoretically possible to set up SEP accounts after year-end and fund them with prior-year contributions, it's usually better for the first year to at least register the accounts in the same year that they'll be made effective.
"Don't forget when identifying covered employees that employees of related business entities can't generally be excluded from participating. Not running the numbers can also be problematic at inception. For instance, plan design cannot be discriminatory. This means that employer contributions cannot discriminate in favor of the highly compensated, and employer contributions must also have a uniform relationship with covered participant compensation."

– Rick Kollauf, Vice President and Director of Business Advisory, BMO Private Bank
6. Administer Your SEP IRA
Now that your SEP IRA is established, eligible employees have been notified and had their accounts set up, your plan must be administered in accordance with your plan documents and IRS requirements. You aren't required to make contributions every year, nor is there a minimum. Contributions are totally discretionary for the employer, but when made, they need to follow certain rules.
All contributions need to be made on time and for all eligible employees, in equal amounts as a percent of their annual compensation. As the employer, you must make all contributions – employees aren't allowed to contribute themselves. Also, any contributions that you make must vest immediately for all employees. If there are updates to your plan, make sure that appropriate disclosures are given to all eligible employees, as are annual statements showing any changes in their plan balances.
While you can make contributions at any time throughout the year – so long as they follow the rules – it's usually best to wait until close to your tax-filing deadline. This way you'll be aware of your own tax liability, determine what contribution you want to make for your own account and then see how much you'll need to fund for your employees. You can then make one or a series of deposits before you file your taxes.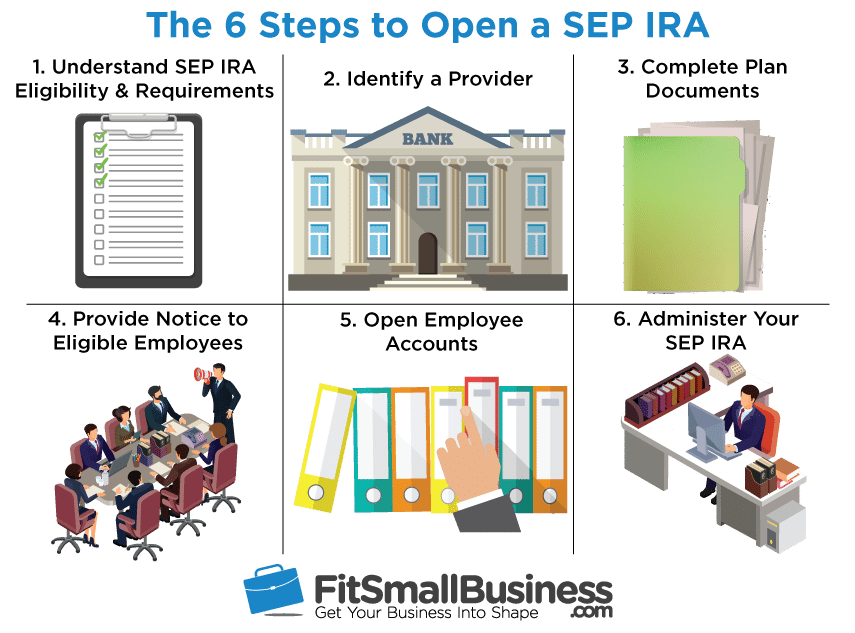 Frequently Asked Questions (FAQs)
Who Can Have a SEP IRA?
There are an estimated 9 million self-employed individuals in the US without retirement plan coverage, and many of them would benefit from knowing how to open a SEP IRA. Any small business owner or self-employed individual can set up a SEP. Because of the contribution rules, SEPs are used predominantly by self-employed individuals and small business owners with few or no employees. This is due to the requirement that, under a SEP, employers fund contributions for all employees, in addition to themselves.
Can an LLC Set Up a SEP IRA?
Yes, an LLC can set up a SEP – even if it's a single-member LLC with no employees except the owner. In fact, this is the ideal use for a SEP IRA.
Who is Eligible to Contribute to a SEP IRA?
Only an employer can establish or contribute to a SEP, and they must make proportional contributions to all eligible employees, relative to annual compensation. If you contribute 15% of your own income to your SEP account, you must contribute 15% of each eligible employee's annual income to their respective SEP IRA accounts, up to $56,000 for each employee.
However, you are allowed to have a waiting period before an employee becomes eligible for a SEP if it's outlined in plan documents.
How Much Money Can I Put in a SEP?
The SEP IRA contribution limit for 2018 is 25% of income or $56,000, whichever is less. This is up from $56,000 in 2018. Small business owners have until their tax filing deadline (including any extensions) to contribute to a SEP for 2017, if you don't already have a qualified retirement plan and are thinking of establishing a SEP, this may mean that you don't need to fund 2018 SEP contributions until October 2019.
What is the Deadline to Set Up a SEP?
SEPs can be set up anytime before your tax-filing deadline for the year the SEP will become effective. For most employers, this means you can set up a SEP anytime before April 15, or potential as late as October if you file for extensions.
Certain types of companies – S-Corps, for instance – would have a March 15 deadline to coincide with their tax-filing deadline. However, it's better to set up a SEP before the end of the year that the plan will become effective, in order to avoid running the risk of an IRS audit.
Bottom Line
SEP IRAs can have substantial benefits for the self-employed and small business owners – especially those with very few or no employees. SEPs are easy to set up and cost almost nothing to administer, the biggest expense being the requirement to fund employee contributions. Once you've identified a provider, working through the rest of the process is quick, easy, and cost-effective.