A business loan refinance can lower your current APR, reduce the frequency of your payments, and even unlock additional working capital for your business. The most common loans used for business refinancing are SBA loans and traditional small business term loans. In this article, we'll show you how to refinance business loans in four steps.
When refinancing your business loans, you'll likely want the lowest interest rates with the longest repayment terms available, thereby enabling you to lower your monthly debt payments. SmartBiz offers SBA loans that fit this description, offering debt refinancing up to $350,000 with rates between 6% and 9.5% and repayment terms of up to 10 years. You can prequalify online within a few minutes.
The four steps to a business loan refinance are:
1. Prepare for a Business Loan Refinance
When preparing to refinance business loans, you should create a clear goal and review your current financial situation. Both your personal and business finances determine which loans are available to you and how lenders will view your application. Having a clear goal will help ensure you're applying for the best loan at the best possible time.
To prepare for a business loan refinance, you should:
Create a Clear Goal for Refinancing
It's important to know what your primary goals are when you're refinancing business debt. Your primary business goals will help define the type of loan you need and what you'll qualify for. Refinancing can allow you to reduce your monthly payments, reduce your interest rates, or change the frequency of your current loan payments.
Some of the reasons that people refinance business loans include:
Reduce monthly payments
Reduce total APR
Reduce total cost of capital
Allow for additional borrowing
Make payments more convenient (e.g., paid monthly instead of weekly or daily)
Understanding what your primary objective is when refinancing will help you pick the right loan and the right lender. With that information, you'll be able to determine the minimum qualifications for approval, as well as the process and timeline for application and funding.
Review Your Existing Debts, Capital Needs & Origination Fees
A complete review of your finances will help you determine how much money you'll need to borrow to complete your business loan refinance. Having a solid understanding of the rates and terms of your existing debt, your future capital needs, and the amount you'll pay in origination fees allows you to establish the amount you will need to borrow to cover those expenses.
In reviewing your existing debts, capital needs, and origination fees for a business loan refinance, you should:
Put Together a List of Your Existing Debts
To begin, compile a list of your existing personal and business debts. At a minimum, you'll need to know the total balances owed and your total monthly payments. For a complete review, you will also need to know the interest rates, remaining repayment term and payment frequency, and if there are any prepayment penalties associated with any loans you plan to refinance.
The business debts most often refinanced are high-interest loans with daily or weekly repayment schedules. These loans often include merchant cash advances, short-term loans, and small business credit cards.
The information you will need for each debt is:
Current remaining balance: The payoff amount of any of your current loans
Current monthly payment: The amount you pay towards this debt each month
Interest rate or APR: The interest rate being charged on your existing debt (APR preferred)
Remaining repayment term: The number of months remaining on any of your current loans
Repayment frequency: How often you make payments (daily, weekly, monthly)
Prepayment penalties: Any penalties you will be charged if you pay the loan back early
Gathering this information will help you know exactly how much debt you need to refinance. It will also help you prioritize the debt you want to refinance (e.g., putting higher interest loans or debt with daily payments first). Refinancing may also become less appealing to you if the amount of the prepayment penalties on your current debts are too high.
Consider Additional Capital Needs & Estimated Origination Fees
While borrowing more than you need during a refinance might seem counter-intuitive, it can be a good idea if it will prevent you from borrowing more short-term debt later with higher interest. If part of your goal for refinancing your small business debt is to also obtain additional working capital for your small business, add the amount you need to your existing debt total, as well as the origination fees for obtaining the loan.
Nearly all long-term business loans have an origination fee (i.e., fee paid to originate a loan) of some kind. These typically range from 1% to 5% of the total loan amount. SBA loans may come with an origination fee, closing costs, and an SBA guarantee fee (as high as 3.5% of the total loan amount).
Knowing potential origination fees is important because a minor reduction in APR may not be worth the origination costs of the new loan. Similarly, spreading a term out by five extra months is not likely to lower your monthly payment in a significant way. As a general rule of thumb, you'll want to see an APR reduction of approximately 5% or a repayment term extension of 12 months or more for refinancing to make sense.
Use an Equation to Determine Your Refinancing Amount
The equation to determine your total business loan refinance amount is:
Current Balance Owned
+ Additional Capital
+ Origination Fees
= Estimated Total Refinance Amount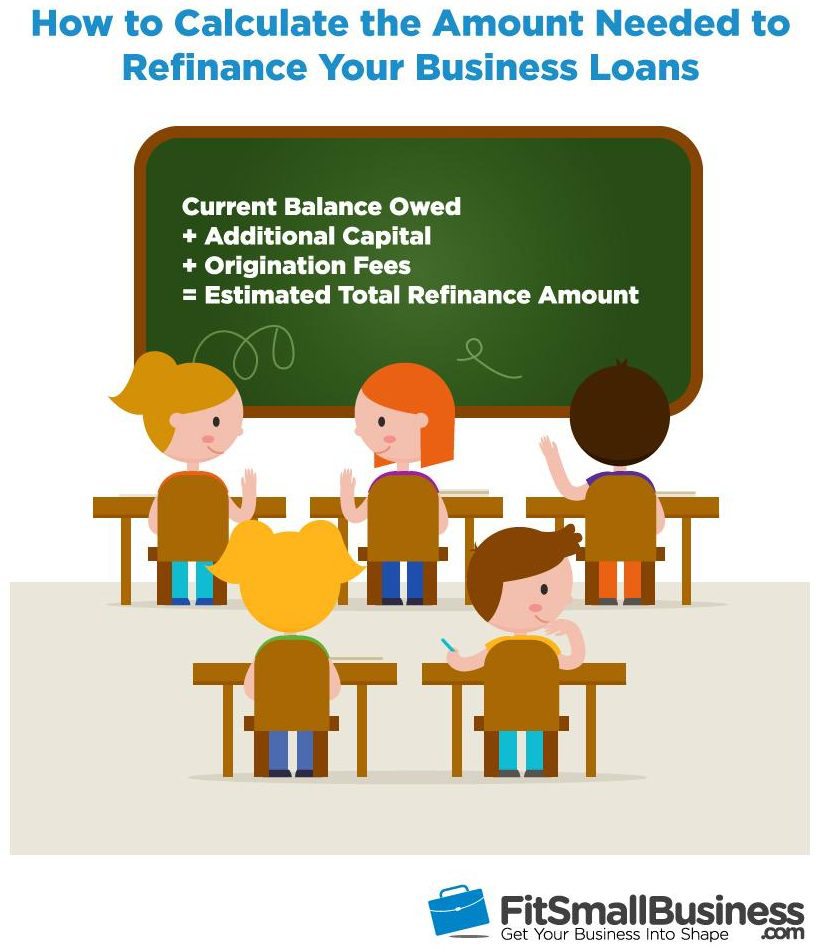 Having the total amount you need will help you determine which loan product will be the best fit for your business refinancing needs. It will also allow you to approach the lender looking well-informed and prepared. Believe it or not, first impressions are as important in small business financing as they are everywhere else.
You can use our refinance calculator to see how much you could save by consolidating your business debt.

2. Review Your Financials
Reviewing your own personal and business financials will give you a good snapshot of how likely you are to be approved to refinance your business loans. You'll want to review your profit and loss statements, balance sheet, recent bank statements, credit scores, tax returns, personal net worth, and business debt service coverage ratio to predetermine your eligibility.
The information you should review from your personal and business financials before applying to refinance your business loans is:
Profit & Loss Statements
Your profit and loss (P&L) statement will give your net operating income (which is your gross revenue minus your operating expenses). Your net operating income needs to be positive after refinancing or you'll be wasting time and money going through the refinancing process.
Balance Sheet
Understanding your assets and liabilities, found on your balance sheet, will help you determine what collateral you might have to secure a loan. The information on your balance sheet can help you determine both your quick ratio and your working capital ratio, which are both used to assess your financial health. Additionally, many lenders will want to see a positive trend in gaining asset value.
Bank Statements
Your cash flow, including your daily balance, will clue lenders into how stable your business operations are on a day-to-day basis. Lenders typically require average daily balances of $1,000, $5,000, or $10,000. Additionally, any overdrafts within the last three months could be a problem for the lender, or, at the very least, it could delay your application process while they understand it better.
Personal & Business Credit Scores
You'll need a credit score of at least 680 to get loans with the best rates, which are typically SBA loans. Your personal and business credit will be pulled with a hard credit inquiry, which can impact your score. That's why it's important not to apply to a lot of lenders at the same time, but instead, focus on applying for targeted loans you know you can potentially get.
You should know your personal and business credit scores before you apply so you don't waste your time. If you have red flag credit events, like a bankruptcy or a tax lien, it will be very difficult to qualify for refinancing or debt consolidation.
Personal & Business Tax Returns
Most lenders will want to see at least the last two years of both your personal and business tax returns. These tax returns should show your lenders that your personal income is sufficient to cover your personal household expenses, and that your business is profitable.
Personal Net Worth
This is a good snapshot to show lenders that you're financially sound as an individual, and that you potentially have personal assets that could be used as collateral. While collateral may not be required for all business loans, it certainly helps your approval chances. A strong personal financial net worth goes a long way for lenders to be more comfortable with the loan.
Debt Service Coverage Ratio
One of the most important factors for a lender when considering a refinancing loan is your debt service coverage ratio (DSCR). DSCR represents your ability to make payments on your debt. Generally, lenders are looking for a DSCR of 1.2x or greater, meaning you have enough net operating income to afford to make payments on 1.2 times the actual debt payment you'll have after refinancing.
If this seems a little complicated, don't worry. You can download our free DSCR Worksheet. With just a little information, it will calculate your estimated DSCR for you.
Prime borrowers should qualify for an SBA loan, which will likely offer you the most affordable monthly payments of all refinancing options. If you've been in business for at least two years, are profitable, and have a credit score above 680, you may qualify for up to $350,000 with an SBA loan from SmartBiz. Prequalify online within a few minutes.
3. Find the Right Lender to Refinance Business Loans
The lender you choose to refinance with will dictate the type of loan you qualify for and what the terms of your loan will be. SBA loans are generally cheaper than alternative term loans, and are more likely to help you save money through refinancing.
General loan terms and qualification requirements for both an SBA loans and alternative term loans are:
Refinancing Loan Options at a Glance
| | SBA Loan | Alternative Term Loan |
| --- | --- | --- |
| Minimum Credit Score | 680 | 600 |
| Minimum Business Revenue | $100,000 and trending up | $100,000 |
| Time in Business | At least 2 years | At least 1 year |
| Time to Receive Funds | Typically 45 - 90 days | 1 to 3 days |
| Time for Approval | 1 Week | 1 to 2 days |
| Payback Time Period | 10 Years | 3 to 36 months |
| Loan Amounts | $30,000 to $5 million | $5,000 to $500,000 |
| APR | 7% to 11% | 9.99% to 99% |
| Origination Fee | 0% to 4% or greater2% to 3.5% Guarantee fee | 0% to 5% |
| | | |
4. Apply to Refinance Your Small Business Loans
People typically refinance using short-term loans, credit cards, term loans, or SBA loans. Short-term loans with an alternative lender and small business credit cards have relatively straightforward applications that require very little documentation to be provided. Traditional bank loans and SBA loans that are used to refinance short-term debt require significantly more documentation and have longer underwriting processes.
Required Documentation for Business Loan Refinance
A small business loan refinance with either an SBA loan or traditional bank loan will require that you provide extensive documentation regarding your business' financial health and operations with your application. To expedite the process for you and your lender, gather these items in advance so that you are prepared when the lender requests them.
In general, the documents required for an SBA loan or term loan from a traditional bank are:
Business financials (past two years)
Profit and loss statement (past two years and year-to-date)
Projected financials (looking forward one to three years)
Ownership information
All business licenses
Business overview and history
All business leases
Loan application history
Business tax returns (past two years)
Personal tax returns (past two years)
Resumes of owners
When you apply for an SBA loan, you will also need to provide SBA-specific forms. Your specific financial situation may also require additional documentation. For example, you may need to provide documentation of additional businesses you own or any rental property agreements for your properties.
SmartBiz completes a lot of the SBA loan application process for you, and they can help you get funded in as little as 30 days. With rates between 7% and 11%, terms up to 10 years, and monthly payments, they can help turn high-interest headaches into a loan you can manage. You can prequalify for up to $350,000 within minutes by filling out an online application.
How a Business Loan Refinance Works
When you have a business loan (or loans) that you are repaying, you may find that you can get better rates and terms now than you were originally eligible for with your existing loan. Obtaining a new loan, at better rates and terms, to pay off your existing loan is a business loan refinance.
By refinancing your business loan, you may be able to reduce the interest rate of your loan, change the length of your repayment, or consolidate your small business debt. A business loan refinance can help free up working capital for your business' daily operations as well as save you money over the term of your loan.
When a Business Loan Refinance Is Right
Refinancing a business loan makes sense when something has changed that will allow you to get significantly better rates and terms on your loan, and that will ultimately reduce your payments or pay-off term. Factors like a significant increase in your credit score or your business' profitability, or a reduction in available interest rates, can be a good indicator that you may benefit from refinancing.
Reasons you may want to consider a refinance include:
Your current debt has a high interest rate: If your current loans have a high interest rate and you are able to get a lower interest rate from another lender, a business loan refinance could save you money. By reducing your interest rate, your total repayment will be less than on the original loan.
Your business is more profitable and better established: Many lenders base their qualifications on the length of time your business has been operational and your business' profitability. As your business matures and becomes more profitable, you will likely be eligible for better interest rates and terms.
Your personal or business credit score has significantly improved: An improvement in your personal or business credit score can make you eligible for lower interest rates or longer repayment terms. If your credit has improved significantly since you originally received financing, you may benefit from a business loan refinance.
You need to free up cash flow and/or working capital: Refinancing your current debts to lower your monthly loan payments can free up cash flow your business needs for working capital needs. Reducing your monthly expenses allows you to use those funds to apply to other areas of your business.
Reducing interest rates on your debts or getting better overall terms for repayment will benefit you. However, you also need to be sure that the amount that you will be saving will be greater than the cost of refinancing. Depending on the terms of your loan and any origination fees involved, it will generally take a reduction in your interest rate of approximately 5% to make a refinance worthwhile.

Tips for Business Loan Refinance
Before you refinance your business loan, you need to be aware of how the process is handled and if the act of refinancing will actually be beneficial to you at the present time. You need to consider the goal of your refinance, and make sure that you are getting the best deal available to you.
Here are six tips that can help you succeed with your business loan refinance:
1. Look at Other Cash Flow Solutions
If the primary reason that you want to refinance business debt is because you need immediate cash flow relief, then you should look at other options available to you. Some examples of alternative cash flow solutions include stretching out your payables or getting better terms from your suppliers to free up cash flow without additional debt.
Avoid using refinancing options that will be more expensive to you in the long run just to boost cash flow now. While it may seem beneficial now, months from now you may find that the added expenses that you have incurred have become burdensome. This could put you in a position where you will soon be trying to refinance your debts yet again. For example, a merchant cash advance can provide you with a quick influx of cash, but the repayment can be extremely costly.
2. Try to Avoid Prepayment Penalties
As your business grows and your cash flow improves, you may choose to pay off your debts early. Some of the money you have already borrowed may include prepayment penalties. If your current loan has prepayment penalties, you will be charged a fee if you pay the debt off prior to its scheduled maturity.
Refinancing debts with penalties of this type make that fee due and payable immediately. While it's too late to avoid any prepayment penalties you have already agreed to, try to avoid taking on debt that includes such fees when you refinance or take on future debts. An exception to this may be loans with declining prepayment penalties that reduce or disappear over time.
For example, an SBA loan may have a prepayment penalty in the first three to five years, but after year five the penalty is nullified. If you intend to continue to make payments on the loan long term, the prepayment penalty may not be an issue.
3. Make Sure You Refinance at the Right Time
It can be difficult to know when it's the right time to consolidate your business loans. It essentially comes down to how much money you're going to save by refinancing, and whether or not that savings is worth it right now. Some professionals don't recommend consolidating multiple loans just to make the payments easier, but to first make sure that the cost will be significantly better.
Paola Garcia, Business Advisor at Excelsior Growth Fund, says:
"You should consider consolidating when the business is demonstrating a decent financial performance and both the owner and the business have a good credit score to be in a good position to negotiate new terms, interest rate, and fees associated with the consolidation.

"We don't recommend consolidating just to have all debt in a single debt instrument. This is unnecessary, as most lenders require automatic ACH payments, which makes it easier to track and stay current on business debt payments."
4. Calculate & Compare the Annual Percentage Rate (APR)
Consolidation loans can be compared in a lot of different ways, from repayment terms to the time it takes for you to get funded. However, the overall cost to your company is typically the most important thing if you're refinancing debt. Calculating the APR of a loan is the best way to compare multiple loans.
The APR is a standardized way to calculate the total cost of a loan. It includes both the interest rate and any fees that are incurred through the loan process (e.g., lender fees). By comparing APRs of different loan options, you get an apples-to-apples comparison of the loan costs, rather than trying to compare different lender fees and interest rates separately.
What makes SBA loans such a great refinancing tool is their low APR. For example, a loan through SmartBiz could carry an APR between 7% and 11%, while an alternative term loan could cost you as much as 25% APR or more.
5. Don't Borrow More Than You Need
When refinancing debt, including funds for additional working capital needs is a good idea if it means you can avoid taking out an additional loan in the near future. However, it may be tempting to borrow extra money to have as reserve. Keep in mind that you will be paying interest on the money you borrow. While you may earn a nominal amount of interest for funds held in a business bank account, it will likely be far less than the interest that you are paying out.
The amount of your business loan refinance should very closely match the amount of your existing debt, plus any funds you anticipate needing in the near future. In the event that you borrow too much, apply the excess funding back to the principal on your new loan. This may reduce the amount of interest you pay over the course of the loan due to the immediate reduction in principal.
6. Make Sure the Debts You Refinance Are Paid Off
After you receive the loan funds intended to refinance your business loans, it's crucial you ensure your old loans are paid off. Whether you are the one sending payoff funds to your existing lender, or your new lender is sending them on your behalf, you need to ensure the loans are paid. While it's rare that a loan being refinanced would not be released by the original lender, mistakes do happen occasionally.
Once payments have been issued to pay off your prior debts, follow up with the account holder to confirm that your debt has been paid in full. Obtain a record of the payoff and file it with your business documents. Next time you review your credit report, check to make sure those debts are no longer listed as active accounts.
Refinancing Business Debt Frequently Asked Questions (FAQs)
A lot of information has been covered in this article about how to refinance small business loans, what the benefits of refinancing are, when you should consider it, and how the process works.
Some common questions regarding business loan refinance are:
How does a business loan work?
A business loan is a method of borrowing money to provide additional capital to your business and help your business grow. With a typical business loan, you have a set amount of time in which you have to repay the debt to the lender, and the debt is repaid based on a regular payment schedule.
Can you refinance a business loan?
You can refinance a business loan provided you meet the credit and repayment eligibility requirements for the lender from whom you are seeking a refinance. You need to be aware of any prepayment penalties that exist on your current loan, and make sure there will actually be a benefit to refinancing your existing debt.
Can you refinance an SBA 7(a) loan?
Under certain circumstances, you can refinance an SBA 7(a) loan with another SBA loan. However, seeking a loan modification directly from the lender that originated the loan may be easier. The SBA loan requirements are strict regarding loan refinancing, and expect that lenders will work with their borrowers if a rate modification is required.
Can you refinance an SBA 504 loan?
In general, you cannot refinance an SBA 504 loan with another SBA loan. The SBA will allow you to refinance the first mortgage if the SBA 504 second mortgage is re-subordinated. A modification of the SBA loan can be requested to adjust the terms, but that modification request must meet a strict set of requirements.
Why do companies refinance?
Companies refinance business debt for many different reasons. The primary reasons that business debt is refinanced is to reduce the amount of interest that is being paid on the debt, to get better terms, to reduce the amount of monthly payments on the loans, and to free up cash flow for the business.
Can you consolidate business debt?
You can consolidate business debt. Consolidation is the act of taking multiple loans and refinancing them into one loan. Consolidating your business debt can lower your interest rates and reduce your monthly payment obligations. Business debt consolidation is beneficial if you can get better rates and terms than you have on your existing debts.
Can I use a business loan to pay personal debt?
While it may be possible to use a business loan to pay personal debt, it's not advisable unless the personal loan was used for business purposes. For accurate business accounting records, business and personal finances should be maintained separately. Paying off personal debt with a business loan can complicate this separation.
Bottom Line
Refinancing business debt can significantly reduce your monthly payments by reducing your APR and increasing the repayment term. It may even be an opportunity to borrow additional working capital for your business. SBA loans are typically going to be your best refinancing option due to their low APR and longer repayment terms than alternative term loans.
If you're ready to refinance your high-interest business loans, SmartBiz can help. With rates between 6% and 9.5%, repayment terms up to 10 years, and monthly payment schedules, their SBA loans could be a game changer for your business. Prequalify online for up to $350,000 in just a few minutes, and get funded in as quickly as 30 days.