Are you thinking about selling your website? If so, this is the article for you. We asked 8 website brokers what you could do to increase your chances of selling your site and increasing your sale price. There were lots of great tips and quite a few were mentioned by multiple experts, but here are the ones that really stood out.
Click Here to get our FREE Google advertising guide and discover the 6 steps you can use to show up #1 in Google search
---
1. Make Yourself Replaceable. Put People/Systems In Place to Encourage a Successful Business Transition
– Nick Kenn, General Manager of Flippa (World's #1 Website Sale Site)
What Nick had to say: "Ensure Your Operations are clearly defined. If the business is 100% contingent on you . . . it's going to be hard to sell"
To see Nick's full comment, click here.
---
2. Get Your Books/Business Financials In Order
– Robert Young, Owner of Acquisitions Direct (Online Business For-Sale Site)
What Robert had to say: "The more solid information you can provide (such as CPA compiled or audited statements) the more likely a buyer will be interested in your company."
To see Robert's full comment, click here.
---
3. Sell When Your Revenues are Steady/Growing and Work to Diversify Your Sources of Traffic
– Michael Koral, Managing Partner for wesellyoursite.com (Website Brokerage Firm)
What Michael had to say: "Look to sell when your site is trending well . . . and get a solid mix of referral, paid, organic, and social traffic to the site so if one source dies down, it is not game over your your website."
To see Michael's full comment, click here.
---
4. Don't Make Any Major Structural Changes To The Business At Least 12 Months Prior To Selling Your Business
– Jock Purtle, Founder of DigitalExits.com (Website Brokerage Firm)
What Jock had to say: "It is hard for a buyer to project future sales when a massive structural change has occurred in the business"
To see Jock's full comment, click here.
---
5. Craft a Formal Exit Plan
– Ismael Wrixen, CEO and Co-Owner of FE International (Website Brokerage Firm)
What Ismael had to say: "We advocate either a 3 or 12 month exit plan depending on the motives for sale."
To see Ismael's full comment, click here.
---
6. Mitigate risk and Maximize Buyer Value
– Mark Daoust, President and CEO of Quiet Light Brokerage (Website Brokerage Firm)
What Mark had to say: "Take the time to look at what could hurt the business and put in place safeguards to mitigate those risks . . . Be sure to clearly show how a new owner can easily grow the business"
To see Mark's full comment, click here.
---
7. Cut Waste Spending and Update Content
– David Fairley, Founder and President of WebsiteProperties.com (Website Brokerage Firm)
What David had to say: "Be very vigilant when it comes to controlling expenses . . . (and) take the time to make necessary repairs/upgrades to your site."
To see David's full comment, click here.
---
8. Diversify Your Product/Services
– Steven S. Endrizzi, MBA/CEO at BizBroker24 (Website Brokerage Firm)
What Steven had to say: " Review your sales per customer. If any income is too concentrated among a few customers, find a way to get more profit from others."
To see Steven's full comment, click here.
If Selling Your Website Was Like Building a House
If you are looking for a quick and to-the-point summary of the steps you need to take to sell your website, that's what this guide is for. We have taken all the information given by the experts mentioned above, picked out the most important points, and created this step-by-step guide you can use to help sell your website.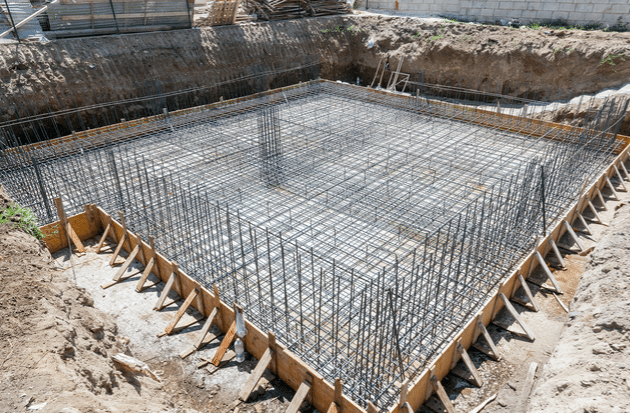 Build the Foundation: Transferability, Financials, and Growth
Buyers will look for three main things in your business, it's ability to transfer well to new ownership, the clarity and comprehensiveness of its financial records/info, and a trajectory of revenue stability or growth. Nearly every expert hammered these three points. Translation: They are kind of important.
Step 1: Put People, Processes, and Systems In-Place That Will Increase the Chances of a Successful Transfer to New Ownership
You need to be replaceable. The more your website depends on you to succeed, the less chance your site will transition successfully to a new owner, which is one of the first things a buyer looks for (known as "owner risk").
Look at the people, processes, and systems you have in-place. Which people are ready to take more responsibility? Bring them alongside and teach them to handle all except the most critical of business processes and tasks. Are certain processes or systems heavily dependent on your involvement? Re-examine those and see what you can do to take yourself out of the equation and spread out the workload. If you can demonstrate that your site can nearly run itself, buyers will be much more likely to buy your business and buy it for a higher price.
Step 2: Get your Books in Order
Having clear, organized, and up-to-date financial records is huge. First and most
importantly, your business' financial records are perhaps the most unbiased and concrete information a buyer has to evaluate your business. Second, it reflects your business as a whole. If a business' financials are unorganized and unclear, your potential buyer will assume the rest of your business was run similarly.
Robert Young, explained that it is good to have at least 3 years of financial information, ideally CPA compiled or audited statements. The more info the better, accrued expenses, depreciation and inventory, a balance sheet, contracts (customers, vendors, employees), etc. The clearer everything is, the speedier the process will go and the more likely it is your website will sell.
Step 3: Cultivate Business/Revenue Growth
If your website has had a steady revenue from year-to-year, that's a step in the right direction. Ideally, you want to sell when your site is growing in revenue and traffic. Your buyer is looking to pay-off his/her investment as quickly as possible. If revenue and traffic is growing, that is music to a buyer's ears.
Their is no one-size-fits-all solution to ensure business/revenue growth for websites. Every niche/site is different. But, one thing, is to work on diversifying site traffic. Another, is to try to diversify your products services to appeal to customer demographics you are not reaching. See sections below for further discussion on each.

Add the Walls: Identify and Address Your Website's Risks, Opportunities, and Excess Spending
Once you have the foundation in place (transferability, organized books, and growth), it is time to build the walls. Dealing with your business' risks, opportunities, and excess spending will not only make your site more likely to sell, it will most likely increase your sale price as well.
Step 1: Mitigate Potential Risks
Every business has unique risks associated with the business itself (systems, employees, operations, etc), the geographical area in which it is located, and its industry. Identifying and addressing these risks for your buyer will make your business stand out from the competition.
Look at each area separately. What are your internal risks?
Employees – Are there any that are causing division/disunity? Consider replacing them and getting several solid employees that will help the business transition successfully.
Suppliers – Is one of your main suppliers on the verge of going under? Do your research and find a solid replacement in-case it does.
Contracts – Are you going to have to re-negotiate contracts in the near future? What is going to change and can you re-negotiate now to avoid confusion later
In other words, envision as many worst-case scenarios as you can and do what you can to address the risks before they pose a serious threat to your business.
Step 2: Maximize Your website's opportunities and create a growth portfolio for your buyer
This is one of the most important things you can do to to increase your site's sale price. What buyer's want to see, is the potential for traffic and revenue growth. If you can demonstrate that there is still a lot of untapped potential for your site and hand over a strategic action plan to capitalize on that potential when you sell your site, your buyer will be much more likely to pay a higher price.
Demographic Study – Do some demographic study of your clients and also your competitors clients. Are there certain demographics that they are capitalizing on that you are not? What are some things your site/business can do to increase your customer base for a certain demographic?
Untapped Potential – Or, maybe there is a certain segment/client base that none of the industry is reaching that you feel is ripe for the picking? What's your action plan to bring some of those potential clients to your site?
Even if you do not get everything up-and-running before you leave, your buyer will be able to take your research/plan and run with it (probably with some tweaks and modifications).
Step 3: Take a hard look at your budget and cut excess spending
Where are you bleeding money? Are you socking a bunch of cash into a marketing campaign that is yielding very little return? These are the questions you need to ask. If you can cut excess spending, your balance sheet will look much more friendly to your potential buyer.
This is also the time to address any excess employee spending. At times, employees with business credit cards will use them in small amounts to purchase non-business items. If you have been in the habit of letting little expenses slide, now is the time to crack-down. The last thing your buyer wants to see, is that a bunch of employees (or even yourself) are playing fast-and-loose with business cash (it's a culture thing that will be hard for the new owner to change).

Finish the Roof, Paint, and Decorate: Tweak Your Layout, Minimize clicks, and Re-evaluate Your Graphics/Content
The business and internal aspects of your site are ship-shape, now it is time to focus on the site itself. All the internal work you have done will probably be pointless if the rest of your site is out-of-date, visually tired, and hard to navigate. Whether you do-it-yourself or hire a designer, take a look at your site and give it a facelift. Your buyer will notice.
Step 1: Clean Up Your Layout
Clean is in. Minimalist designs and styles are all the rage right now. Your goal, should be to present your most key information as concisely as possible. Some sites go way too overboard with this, and you cannot even tell what kind of business the site is supposed to be representing. Make sure you are presenting enough information for your visitor to know what you are about. Just reduce clutter, unnecessary information, and content/media that distracts from your main content. Also, make sure your main navigation bar is easily accessible and clearly labeled.
Step 2: Minimize Clicks
Although there has been disagreement, it is still pretty standard site design technique to minimize visitor clicks as much as possible. In other words, visitors should be able to get to any page on your site in 3 clicks or less. Two, is even better. The average website visitor now spends only 15 seconds or so on a page before they leave. So, the less clicks you have, the more chance your visitor can find the page that interest them and get there before they lose interest.
Step 3: Update Your Graphics and Content
This generation of consumers is probably the most visually driven of any to-date, as any trip to downtown New York will remind you. If your website is not "with-it" visually, your visitors are probably going to lose interest, especially visitors that are millennials or younger. Take some time to get a handle on current website design trends. What graphics/images, etc, can you tweak to better draw visitors in? Does the overall feel of the site match the brand your brand? Take a hard look, re-evaluate, and make some updates.
Another thing that has been discussed a lot lately, is not simply what pages/sites get the most clicks, but which ones customers are spending the most time on. This is where content and story comes in. The better, more interesting, and helpful content you have, the more likely visitors will stay on your site longer and come back for more. If you are selling products, take the time to write interesting descriptions that have some personality to them. Set yourself apart from your competition. A lot of times, it is the little things that make the difference.
Conclusion
None of this information is rocket science. It is pretty obvious and practical stuff. But, a lot of sites do not do the hard work to actually make it happen. The result, is websites that don't sell and sale price cuts. But, by acting on these expert tips and this handy guide, you can make your site stand-out and increase the likelihood of a quick sale and a satisfying sale price.
Full Comments
Name: Nick Kenn
Company: Flippa (General Manager)
Full Comment: "Ensure your operations are clearly defined. If the business is 100% contingent on you, the owner, operating it, then it's going to be hard to sell. Try to put in place processes, systems and people to ensure a new owner can seamlessly transition into the business."
---
Name: Robert Young
Company:AcquisitionsDirect (Owner)
Full Comment: "Get your books in order – Buyers usually like to see at least three years' worth of financial statements, and the more solid information you can provide (such as CPA compiled or audited statements), the more likely a buyer will be interested in your company. Pay specific attention to accrued expenses, depreciation and inventory, the balance sheet, and contracts with customers, vendors, partners, and employees. This is the most important step in the process for both the buyer and the seller. Having this information correct and buttoned up will speed up the selling process."


---

Name: Michael Koral
Company: WESELLYOURSITE.COM (Managing Partner)
Full Comment: "Revenues are steady or growing – Look to sell when your site is trending well. No buyers want to purchase a sinking ship. Ensuring revenues are growing or staying steady is easier said than done and requires different tactics depending on the site niche, but focus on this to ensure the site can sell for the most $$$.
Ensure traffic is diversified – Gone are the days where there is one awesome traffic source that will stand the test of time. Organic traffic is great, but unreliable. Try and get a solid mix of direct, referral, paid, organic and social traffic to the site so if one source dies down, it is not game over for your website."

---
Name: Jock Purtle
Company: DigitalExits.com (Founder)
Full Comment: "Don't make any major structural changes to the business at least 12 months prior to selling your business – It is hard for a buyer to project future sales when a massive structural change has occurred in the business (i.e. added a new revenue source, a revenue channel changed, added new staff etc.)"


---
Name: Ismael Wrixen
Company: FE International (CEO & Co-Owner)
Full Comment: "Ahead of a sale value maximization is key: the activities required to get a business off the ground may differ from those required to sustain andachievelong term growth. As advisors, we advocate either a 3 or12 month exit plan depending on the motives for sale. Working with an advisor, you can help to greatly improve the exit multiple by auditing the finances, systems, documentation and processes to improve efficiency and make the acquisition an easy decision for a buyer."


---

Name: Mark Daoust
Company: Quiet Light Brokerage (President and CEO)
Full Comment: "Mitigate Any Potential Risks. Buyers of websites are generally very risk averse, so take the time to look at what could hurt the business and put in place safeguards to mitigate those risks .How can a buyer grow the business? Buyers love businesses that have real, tangible growth prospects. Be sure to clearly show how a new owner can easily grow the business after they acquire it from you."


---
Name: David Fairley
Company: WebsiteProperties.com (Founder and President)
Full Comment: "Take a hard look and be very vigilant when it comes to controlling expenses by evaluating if those funds are being spent for maximum effect. Finally, like selling a home or car, take the time to make the necessary repairs or upgrades to your site. Updating the content, graphics and layout so the site feels up to date and meets today's mobile browser requirements lets buyers know you are on top of your business."


---
Name: Steven S. Endrizzi
Company: BizBroker24.com (CEO)
Full Comment: "An E-commerce store that has one customer representing 35%+ of its revenue is too risky for most potential buyers.  Review your sales per customer. If any income is too concentrated among a few customers, find a way to get more profit from others."
Click Here to get our FREE Google advertising guide and discover the 6 steps you can use to show up #1 in Google search