A SIMPLE IRA allows both employees and employers to make pre-tax contributions to a retirement fund. As an exclusive option available to businesses with 100 or fewer employees, SIMPLE IRAs are ideal for small businesses who want a low-hassle solution.
If you're looking to set up SIMPLE IRAs, we highly recommend you check out Gusto. Gusto allows you to add custom benefits to your plan, including SIMPLE IRAs, that you can add and change at any time. Click here for a free trial.
Please bear in mind, this guide is not written by a certified accountant or retirement broker. For answers related to your specific situation, be sure to consult a retirement expert.
Step 1:
Make Sure SIMPLE IRA Is Right For You
Before you get too far, let's double check that a SIMPLE IRA is the right type of plan for your business. In particular, ask yourself these 2 questions:
Do you want to offer it to all employees (who earn over $5,000 per year)?
With a SIMPLE IRA, you're required to offer the plan to every employee who has earned (or will earn) over $5,000 per year. This is true regardless of their full-time, part-time or even seasonal status. If you were only looking to offer the plan only to full-time workers, but also employ a lot of part-time workers, you may want to look into a 401(k) instead.
If you do not have any employees and are looking to set up a retirement plan just for yourself (or a spouse), consider a SEP IRA.
Are you okay with one of these contribution options?
Contribute a flat 2% of employee's salary to everyone's retirement fund (whether or not they contribute themselves.)

Or, match employee contributions on a dollar-to-dollar up to 3% of their salary. In this scenario, you only contribute to employees who pay into their funds.
These are the only two employer contribution options a SIMPLE IRA gives you. You do not get the freedom to contribute whatever you want to employee accounts. Employees, however, can contribute however much they want, up to $12,500 in 2016.
In general, a 401(k) will give you a lot more flexibility: You can contribute a larger or smaller amount, and even vary it from employee to employee. On the other hand, 401(k)s are more expensive to set up and require annual reporting/resting to the IRS. If you're okay with the limitations of a SIMPLE IRA, it's a much easier option for small business owners.
If you want to compare small business retirement options in more detail, check out Small Business Retirement Plans – The Ultimate Guide.
Step 2:
Choose a Provider
Once you're settled on a SIMPLE IRA, the task of setting it up is fairly simple. The first and biggest decision is choosing which provider you want to manage your IRA accounts. Also known as your plan "trustee," your provider is the one who receives your funds and places them into investment accounts.
The reason this is such an important decision is because different providers offer different investment options. They also differ in how they charge fees, and whether or not they charge a commission on your employee's investments.
Many of the top investment companies offer SIMPLE IRAs, including Vanguard, Schwab and Fidelity. Below is a quick comparison of the 3:
Vanguard vs. Schwab vs. Fidelity SIMPLE IRA
Vanguard
Schwab
Fidelity
Account Fees

$25/year per account

None

$25/year per account

Investment Options

Mutual funds only

Mutual funds, stocks, bonds ETFs and more.

Mutual funds, stocks bonds, ETFs and more.

Transaction Fees

None

None for Schwab OneSource mutual funds

$8.95 per stock trade (buy or sell)

$76 per mutual fund purchase (buy only)
None for Fidelity mutual funds

$7.95 per stock trade (buy or sell)

$50 per mutual fund purchase (buy only)
Pros

Vanguard has the best low cost mutual funds. Their customer service is also great for beginners.

Completely free to open an account.

Wider selection of investments, including stocks

Wider selection of investments, including stocks.

Cons

No stocks or ETFs offered for SIMPLE IRAs

Not the best selection of mutual funds. You can invest in non-Schwab funds, but with a $76 fee

Not the best selection of mutual funds. You can invest in non-Fidelity funds, but with a $50 fee

www.Vanguard.com
www.Schwab.com
www.Fidelity.com

If you want to give your employees a "hands off" investment option, Vanguard is the way to go. They're known for having some of the best and lowest-cost mutual funds, which are diversified investments managed on your behalf. Rather than manage dozens of individual stocks and bonds, your employees can stick to just a few mutual funds.
Vanguard is also the best option for target date funds, which are mutual funds designed specifically for retirement. Target date funds are designed to give you the optimal balance of stocks and bonds depending on your age. According to an analysis by BeginToInvest, Vanguard beats out Schwab, Fidelity and T Rowe when it comes to target date funds by having lower fees (expense ratios) and a lower required minimum balance.
When Is Schwab or Fidelity A Good Option?
If you want to give your employees more control over their investments, such as the ability to trade individual stocks, Vanguard is not a good option. SIMPLE IRAs are limited to mutual funds only. Your employees cannot trade individual stocks, ETFs or individual bonds.
Schwab and Fidelity, by contrast, offer a huge range of investments. This is because they allow account-holders to invest in outside institutions, giving them thousands of additional options. The downside is this can get complicated for employees who are new to investing. There's also additional fees for trading outside stocks and mutual funds, which can be as high as $76 per purchase (for Schwab) or $50 (for Fidelity).
If you are interested in going this route, the advantage to Schwab is that they have no annual account fees. The advantage of Fidelity is that they have lower transaction fees. (see the chart above)
Step 3:
Fill Out The IRS Form
The next step is to fill out the IRS Form that outlines your plan details. The beauty of the SIMPLE IRA is that you don't even need to submit this form – you just need to file it and keep it for reference. (Your investment provider may ask for a copy as well.)
Most investment providers should be able to provide you with a copy of the form and walk you through the process of filling it out. If not, however, you can find the form you need below:
IRS Form 5305-SIMPLE

– Choose this copy if you plan to set a designated financial institution that will receive your employee's funds. (Most Common)

IRS Form 5304-SIMPLE

– Choose this copy if your employees will get to decide where they deposit their funds. (Less Common)
Some of the choices you'll make on the form include who's eligible (everybody at your business? Or just those who receive at least $5,000 per year?) and whether you're going to make matching contributions or nonelective contributions.
Step 4:
Signing Up Employees
SIMPLE IRAs work on a calendar year basis. Each year begins January 1st and ends December 31st. In a given year, you have up until October 1st to launch a SIMPLE IRA plan.
All eligible employees are required to receive notice about the plan – including their salary reduction options and employer contributions. Page 3 of the IRS document we shared above gives you a handy notification form that works for this purpose. The page outlines the SIMPLE IRA plan and asks employees for their contribution amount (if relevant) and signature.
Again, you do not need to submit this form to the IRS. You just need to get it filled out, then file it for safekeeping.
Step 5:
Set Up Your Payroll System For Deductions
Once your accounts are established, the final step is to set up your payroll system so that it can manage deductions. Remember that employees are contributing pre-tax dollars to their account. You need to deduct payments and send them to your investment provider BEFORE you process payroll. Otherwise it will be subjected to payroll taxes.
The easiest way to do this is to add the benefit to your payroll system. With a program like Gusto, the system will automatically deduct each employee's contribution, as well as the employer's match. The system can also track and stop contributions once you reach your annual limit.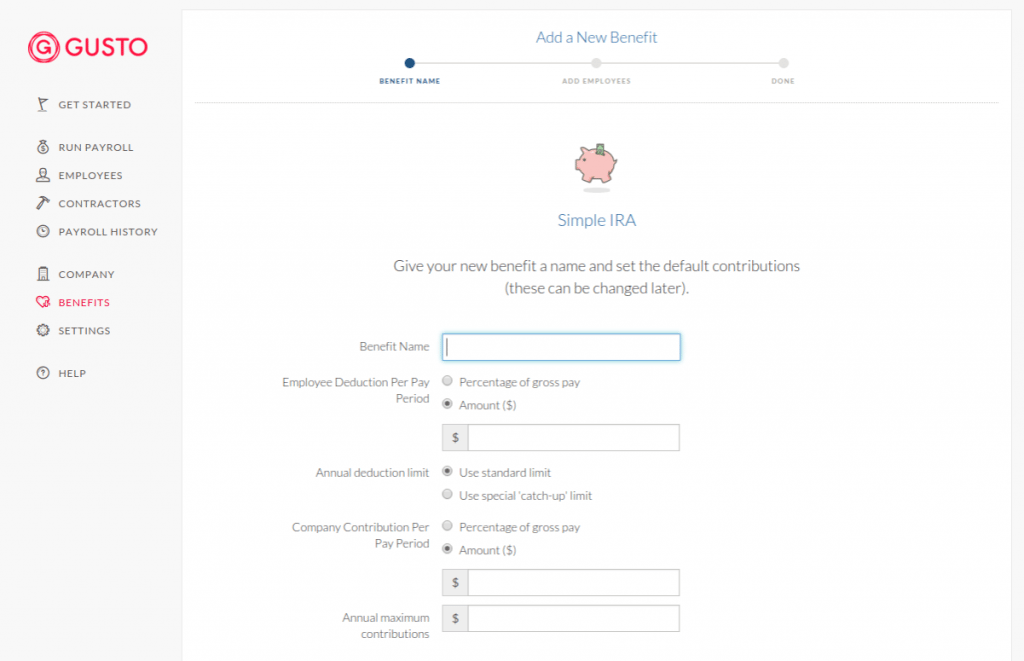 In addition to managing benefits, Gusto pays your employees via direct deposit AND handles payroll taxes on your behalf. To learn more about Gusto, check out our Payroll Buyer's Guide here.
The Bottom Line
Low maintenance fees make SIMPLE IRAs an attractive choice for small businesses. Whereas a 10-employee 401(k) plan would cost around $1,000 per year, a SIMPLE IRA through Vanguard would cost just $250. This means extra dollars you can save to match your employee's contributions.
That said, SIMPLE IRAs do come with their limitations. If you want more freedom as to how you can contribute/match funds, check out our guide to setting up a 401(k) instead. If you're self-employed, take a look at SEP IRAs, which give you higher contribution limits and more flexibility.
Don't forget to check out Gusto if you're adding SIMPLE IRAs and other benefits for your employees. Click here to try it for free.
Thanks to Mark Zoril of PlanVision for providing valuable information for this article.