Insightly is a simple CRM system that's ideal for small businesses who like to combine sales activity with project management. Insightly is our recommended CRM software, which we use at FSB to manage projects and FitBizLoans to manage sales. In this guide, we'll show you how we set up Insightly at FitBizLoans so you can replicate this crm implementation for your business. We'll focus on how to add data, set up opportunities, add users and adjust your security preferences.
If you're not already using Insightly, start your free trial now so you can walk through the steps in this tutorial with a real account. If you already have an account, we recommend signing up for a new free trial so you can test out Insightly's features without messing up your old account. Click here to start a free trial and follow along.
4 Types of CRM Records
Before you start entering data into your CRM system, you need to understand the 4 basic types of CRM records:
Type 1: Contacts
Used to keep track of an individual client's contact info, emails, related files, notes and more. At FitBizLoans, we use contacts to manage our loan leads, vendors, partners and more – basically everyone we communicate with.
Contact Example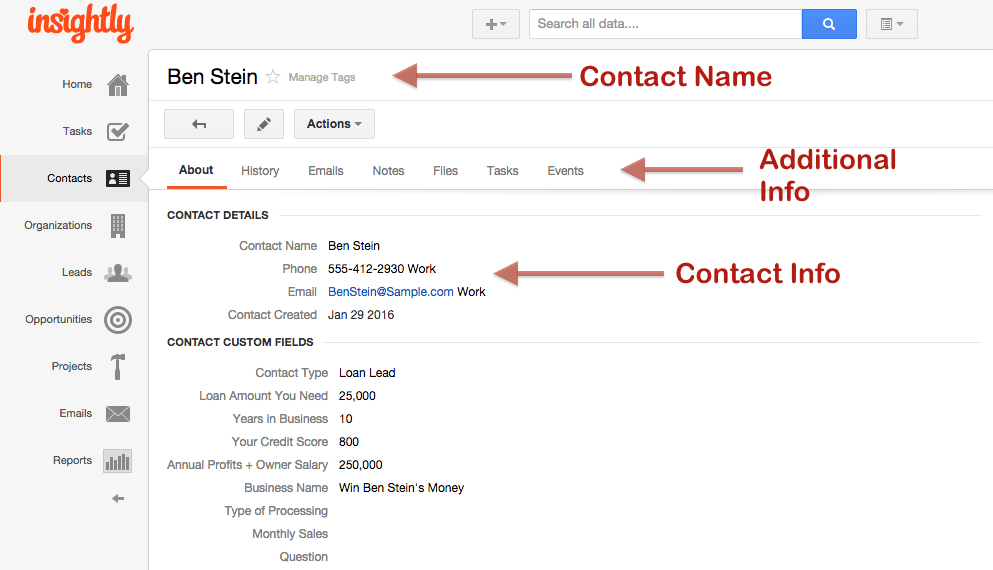 Type 2: Organizations
Organizations are used to keep track of information on a particular company, and the contacts that are associated with that company. Organizations are helpful to us at FitBizLoans because we often speak with multiple representatives of the same business.
Organization Example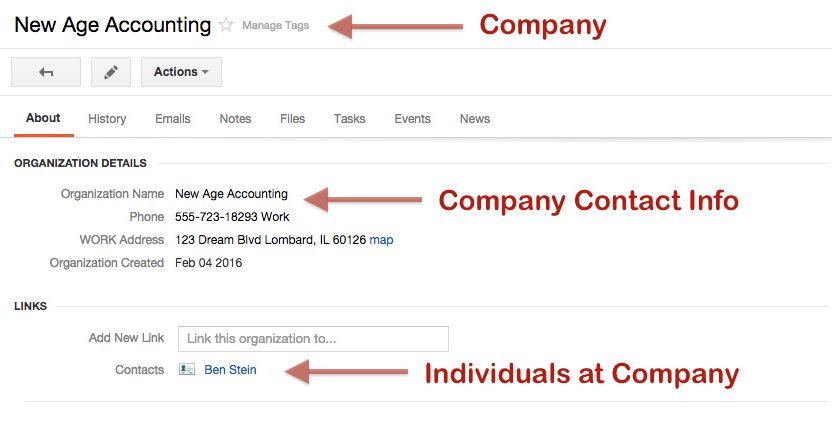 Type 3: Opportunities
Opportunities are used to track potential sales and keep a record of past sales. Opportunities are helpful in tracking the success of your products and individual salespeople, as well as managing your pipeline. We use opportunities to track the progress of our loan deals.
Opportunity Example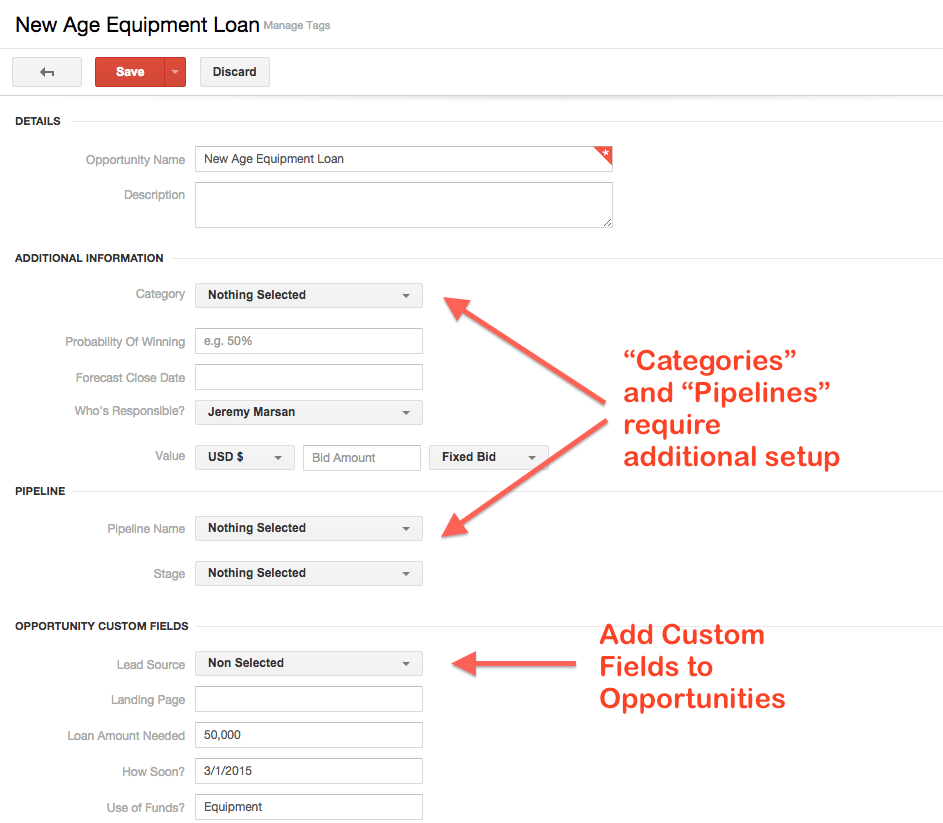 Type 4: Tasks
Used to schedule meetings, calls or any type of task. You can also setup email reminders to go off at a particular time. We use tasks to schedule follow up calls and meetings with our leads.
Task Example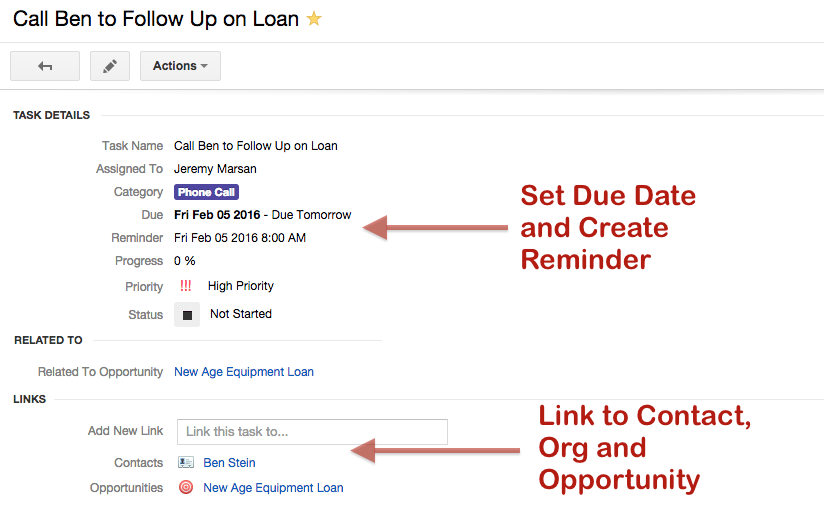 How To Get Data Into Insightly
Now that you understand the 4 basic types of CRM records, you can start creating and adding your information into Insightly. Set up an Insightly test account so you can follow along step-by-step. Click here to start a free trial.
The simplest way to get data into your CRM is to type it in manually. If you are a new business that doesn't already have a lot of information you want to get into the system, that may be fine. Just click "add new," fill out the boxes, and click "save."
Adding A New Record To Insightly Manually

If you are an existing business, then it may be too much data to enter manually. If you have your data in Gmail, Outlook, Act9, or a .CSV spreadsheet, then you are in luck. Insightly allows you to import data directly from these applications automatically.
To do so simply click on the contacts link, and then click "Import Contacts and Notes."
Importing Data Into Insightly

Once you do that you will get a screen where you can select the program you would like to import from, and Insightly takes care of the rest:
Insightly Data Import Options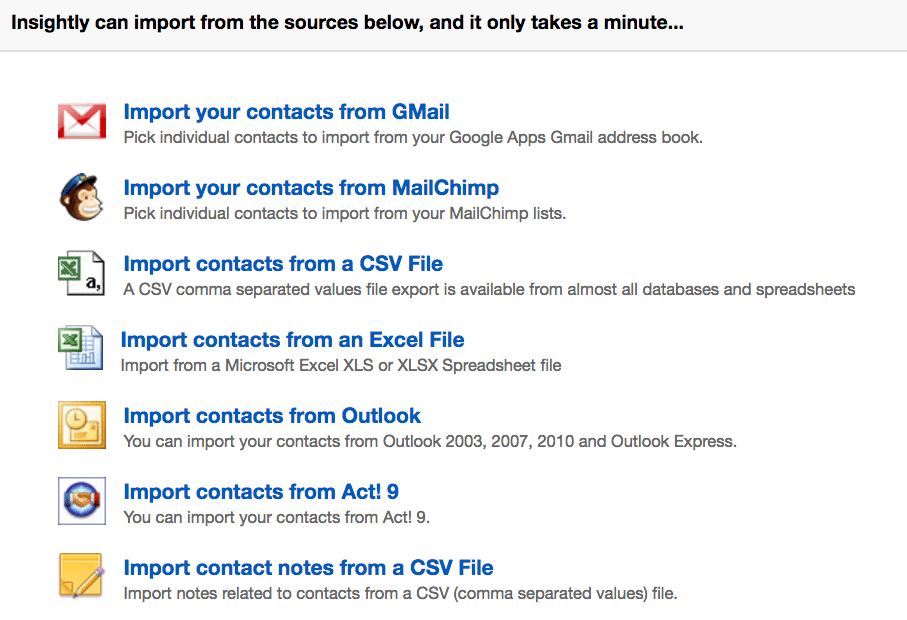 What if My Program is Not Listed?
If the program you would like to take data out of to import into Insightly is not listed above, there's still hope. Many systems will allow you to export data into a .csv or Excel file. The key is getting your data from whatever systems you have it in now, into a spreadsheet which you can then import in your CRM.
Search Google for "How To Export Contacts To Excel from (Your Program Name)" to find out if you can export data from your program into an excel file, and how to do it.
How to Import Data From a Spreadsheet Into Insightly
Once you have your data in a .csv or Excel spreadsheet, go back to the same "import contacts" window above, and select "import contacts from a .csv file." Select your file and then push upload, which will bring up a window that looks like this:
Insightly File Mapping Window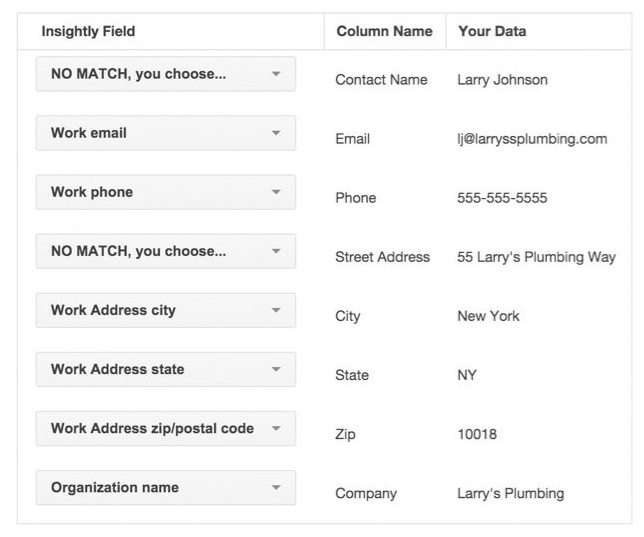 Insightly will attempt to match the available Insightly fields, with the data in each column in your spreadsheet. If it does not recognize a column in your excel file, it allows you to choose the equivalent Insightly field.
If you have data in your spreadsheet that there is not an equivalent Insightly field for, see the section immediately below.
How To Add Custom Fields To Insightly
To help our clients find the right loan for their business, we need know a lot of information about their business and finances. For instance; credit score, years in business, revenue and salary just to name a few. By default, Insightly only lets you save basic contact information. However, thanks to custom fields, we can add all the additional records we need.
Insightly Custom Field Example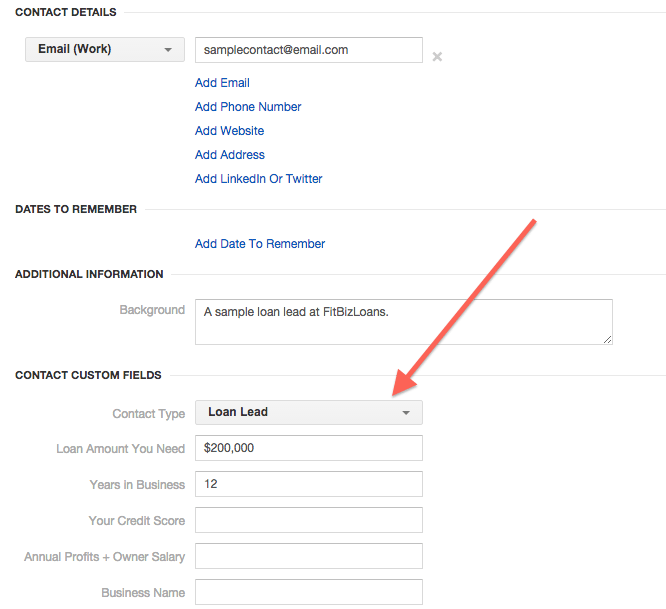 To add a custom field, click on your picture in the upper right hand corner of your screen and select "system settings." On the left hand settings menu, scroll down and click "custom fields."
Because you can add custom fields to 4 different types of records (contacts, organizations, opportunities, or projects) you first have to select which one you're working with. In our example, we added custom fields to the "Contacts" page. Once you're under the right tab, click "Add Field" and enter the details.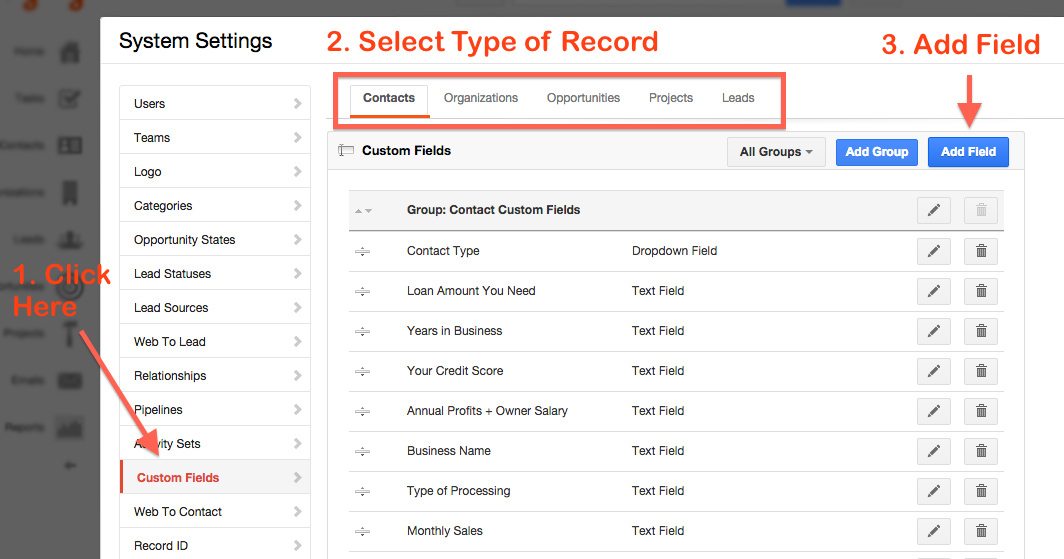 You should now have all the steps you need to set up your contacts and organizations. Now it's time to set up your opportunities.
How to Use Opportunities In Insightly
Sales opportunities represent the products or services you are selling. At FitBizLoans, we use them to manage our loan deals – including ongoing deals, closed deals and those that we lost. From the "Opportunities" page, we can view the status of all our deals at a single glance. Clicking on one allows us to view and enter more details, like the status of our latest loan request.
A key benefit of using opportunities in Insightly, however, is the data they produce. At FitBizLoans we can easily forecast our earnings for any given time frame, determine which lead sources are converting the best, find out which lenders are the most profitable and much more.
If you are moving over from another CRM to Insightly, you can import your existing opportunities in by clicking the opportunities tab and then import. Opportunities can be imported in the form of a .csv file. For instructions on how to create and import a .csv file, scroll up to "What If My Program Is Not Listed?"
If you are new to CRM software, then you will likely be starting from scratch, and having your sales people enter in opportunity data on the fly. First, you want to make sure your opportunities are set up correctly in Insightly. If you already have an Insightly account, we recommend starting a new free trial so you can follow along.
Setting Up Opportunities in Insightly
How much setup is required for opportunities depends on how sophisticated you would like to get with your sales and pipeline tracking. Right out of the box, Insightly allows you to give the opportunity a name and description, estimate the probability the deal will close, estimate when the deal will close, the dollar value of the deal, and state who is responsible for the deal.
At FitBizLoans, we've also created some custom fields to help us manage loans specifically. Here's an example of what that looks an opportunity looks like in our CRM:
Insightly Opportunity Example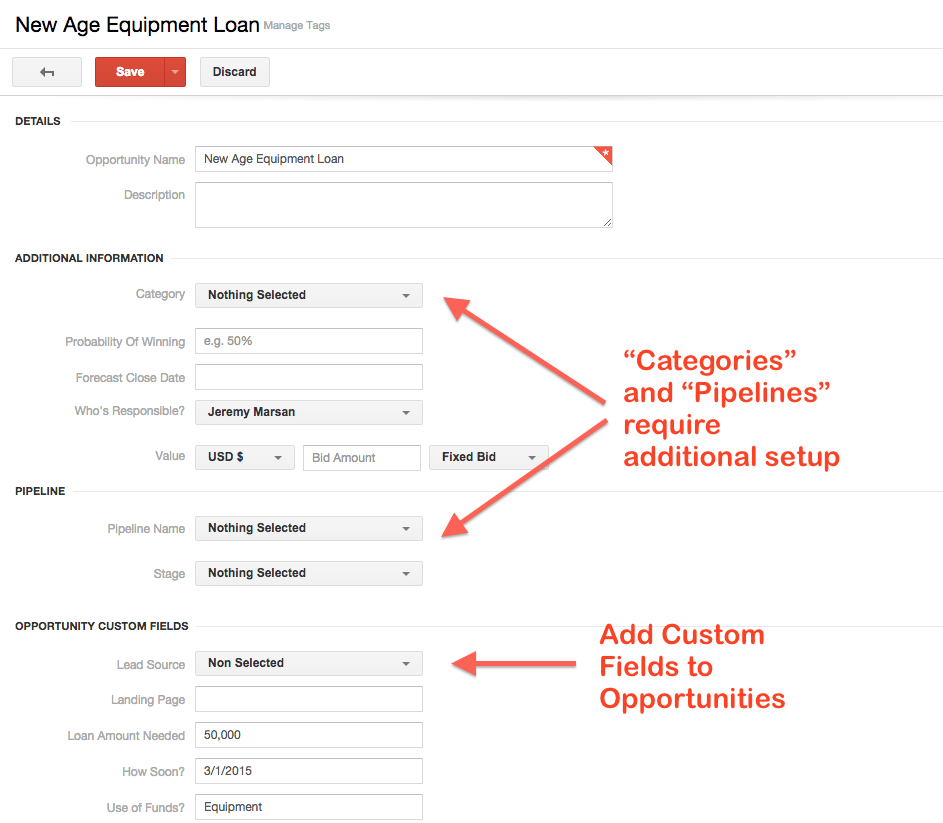 As you can see in the above image, there are two additional details (besides custom fields) you can fill out as part of an opportunity:
Opportunity Categories
Opportunity Pipelines
Both help you describe the "type" of opportunity. Pipelines are step-by-step processes you follow to close a deal, usually starting with "call lead" and ending with "sign contract." You can save different pipelines for the different types of products/services you sell.
Categories are a bit more broad. At FitBizLoans, we use them to describe how urgent a lead is: "Hot," "Warm" or "Cold."
Both require some additional setup, but doing so keeps things better-organized AND enables you to create graphic pipeline reports. Here's how to set them up:
Adding Categories to Opportunities
If you have multiple types of products or services, then you may want to set up opportunity categories. You can also use them as we do at FitBizLoans, to denote how of priority an opportunity is.
Adding a category is straightforward, just click the systems settings menu and then follow the steps below: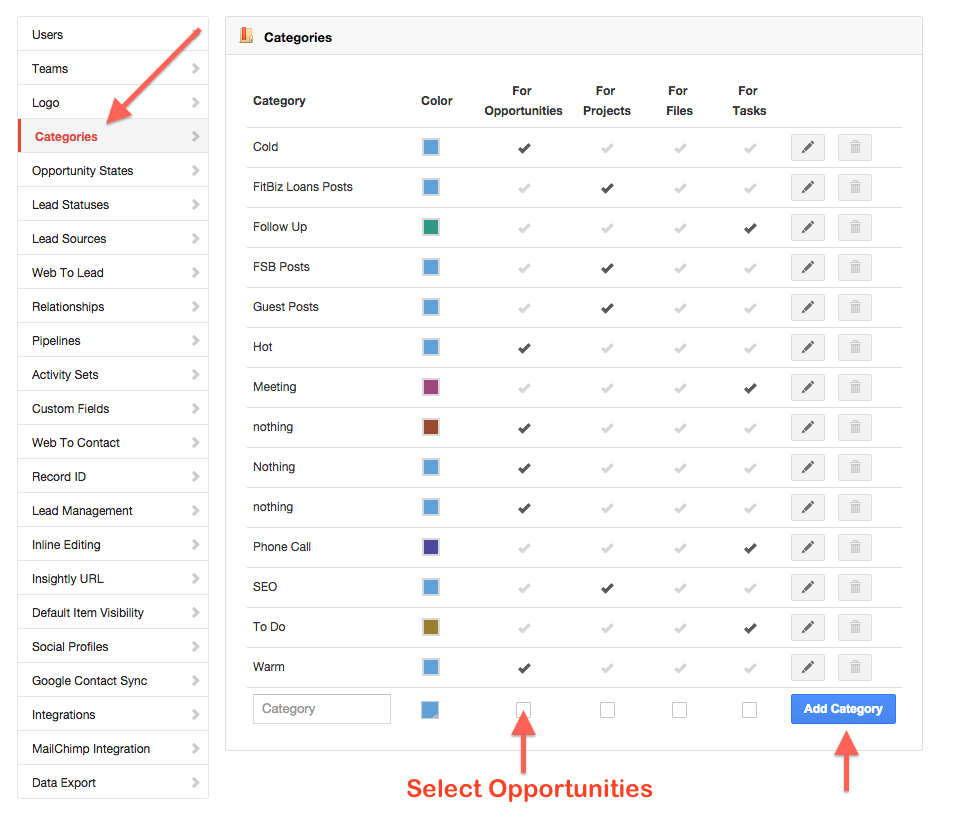 Note that categories are not exclusive to opportunities. You can also add them for projects, files and tasks. In our example above, we categories saved for a few different kinds of records.
How To Create An Opportunity Pipeline In Insightly
Setting up your opportunity pipeline is a little more complicated, but is also a very powerful feature for salespeople and sales managers. When used correctly you can track the current stage of all your sales opportunities on the individual salesperson and company level.
You can also assign activities to each stage of the process, so each time the sales pipeline stage is updated, a new set of activities is automatically assigned.
Here's how to do it:
Step 1: Define Your Sales Process
You need to define your sales process before making any changes to Insightly. To do this, first write down the steps that your salespeople take a client through from first contact, to closed deal. Here's the sales process we use at FitBizLoans:
New Lead
Contract Tried
Contact Made
Awaiting Paperwork
Referred
Closed
For us, the sales process is made up of 6 stages.
Step 2: Add A Pipeline To Insightly
Now that you know the stages of your pipeline, you can set up the pipeline in Insightly. Go to system settings in the upper right hand corner of your screen, then click "pipelines," give the pipeline a name, put a checkbox under opportunities, and then click add pipeline.
Adding a New Pipeline to Insightly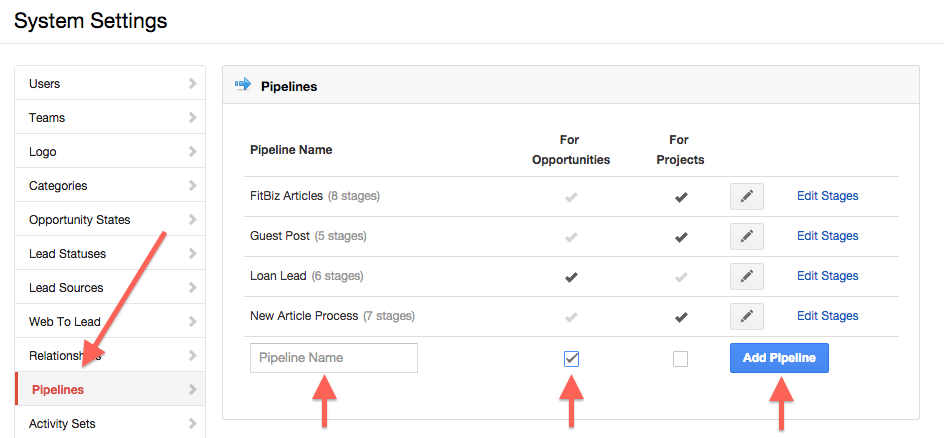 Step 3: Set Up Your Pipeline Stages
Click the edit stages link beside your new pipeline, and add the stages you defined in Step 1. For now leave the "activity set" column blank, we are going to come back to that later.
Adding Stages to a Pipeline in Insightly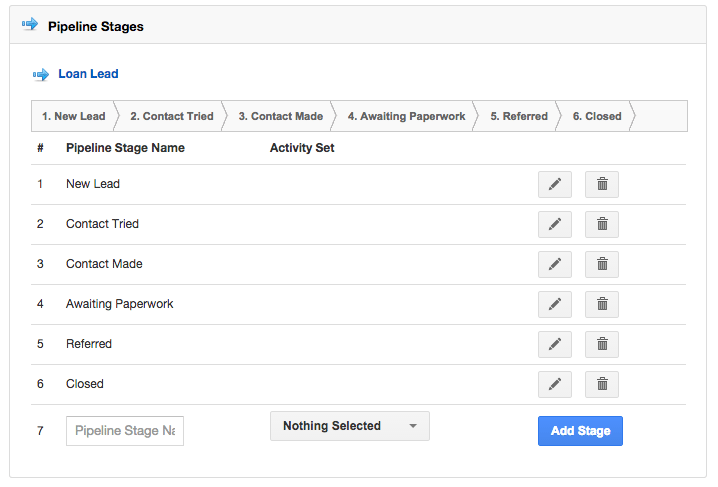 Now you can go back to your opportunity, where you will see your new pipeline and set the stage.
Changing the Pipeline and Stage of an Insightly Opportunity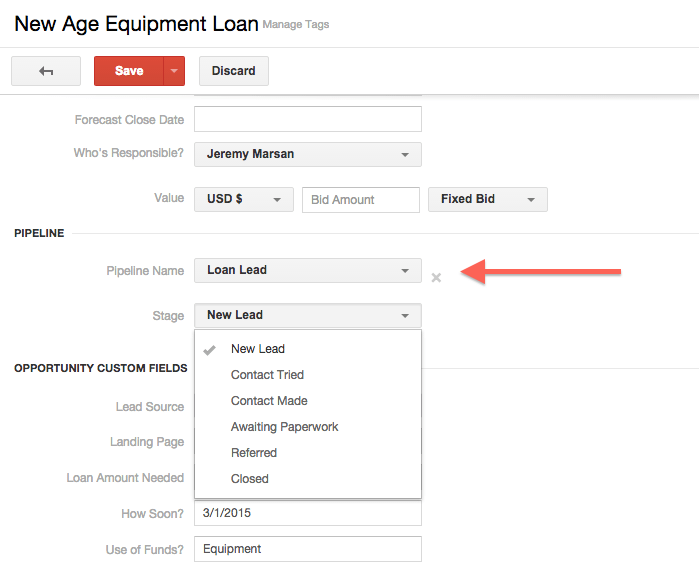 Step 4: Define Your Activity Sets
Do you have specific things you want done at each stage of your sales pipeline? Activity sets allow you to automatically schedule tasks for team members whenever a new opportunity is set up, and whenever the pipeline is updated to a new stage. This helps take some of the manual work out of assigning tasks.
At FitBizLoans, we've managed to stay organized without using activity sets. If we were to set them up, however, we might define activity sets like this:
| Stage | Activity Set |
| --- | --- |
| 1. New Lead Comes In | Call Lead, Email Information PDF |
| 2. Contact Tried | Send Follow-up Email, Schedule Call |
| 3. Contact Made | Schedule Meeting, Send Loan Info Packet |
| 4. Awaiting Paperwork | Send Checklist, Request Business/Financial Information |
| 5. Referred | Contact Lenders, Schedule Follow-up Call |
| 6. Closed | Finalize with Lender, Notify Accounting |
Once you have defined what activities you want to take place at each stage of your sales pipeline, you can then add those activity sets to Insightly.
Step 5: Add Your Activity Sets To Insightly
Go to system settings in the upper right hand corner, and select activity sets. Then enter the name of your activity set, put a checkmark under opportunities, and then click add.
Adding Activity Sets To Insightly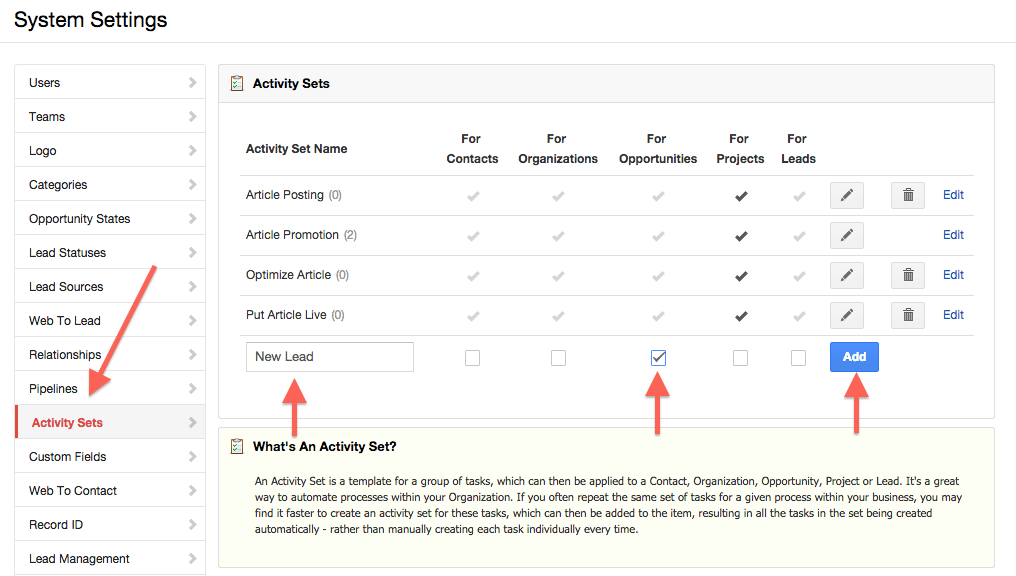 Now click the "edit activities" link beside the activity set, and add the activities:
Adding Individual Activities to an Activity Set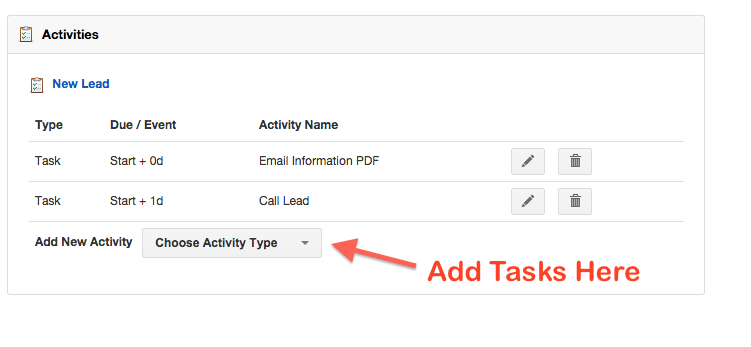 Step 6: Add Your Activity Sets To Your Pipeline In Insightly
Once you have your activity sets set up, the final step is to add them to your pipeline. To do that go back to the pipelines tab under system settings, select your pipeline, and click the "edit stages" link. Next click the edit button beside the stage you want to add the activity set to, add the activity set you just set up, and then click save.
Adding Activity Sets to a Pipeline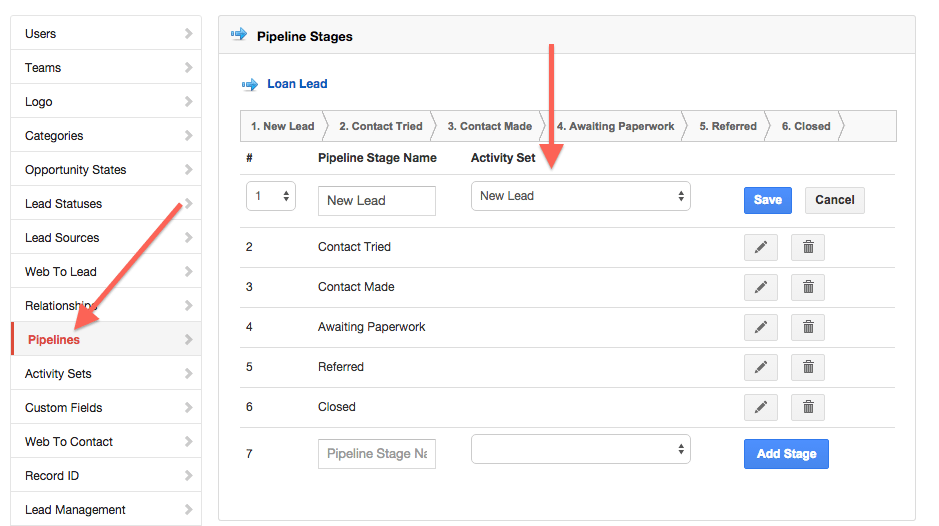 Now when I go to edit any opportunity and change the stage it will look like this:
Opportunity Activity Set Example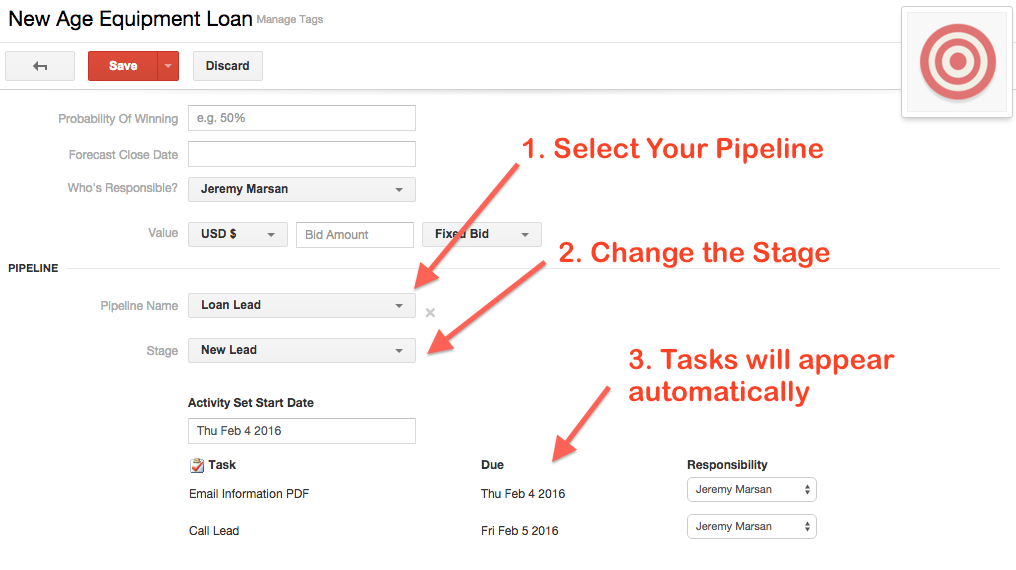 How To Set Up User Permissions & Keep Your Data Safe
Now that you have your data in Insightly and your contacts, organizations, and opportunities setup, you are almost ready to start adding users to the system. Before we do that however, you want to make sure you understand user permissioning and how to keep your data safe.
There is a balance here between keeping the system useful, and being exposed to someone running off with all your data. The more restrictive you make the permissions for individual users in terms of what they can see, the less useful the system becomes. Alternatively, the more access you give your individual users, the more possible it is for someone to run off with all your data.
Here's what you need to know to keep your system useful, while keeping your data safe at the same time.
User Permissions Can Be Set at Two Levels
1. The System Level
Under the system settings tab you can give administrative access (the ability to change system settings), and set whether or not a user can export data from the system. The green icon gives a user admin access and the blue icon gives them export permission.

2. The Record Level 
Insightly gives you the ability to decide who you want to see an individual record when it is created. By default, records are visible to everyone. As you can see below, you can also set records to be visible only to the person that created it, specific people, or teams of people. Regardless of what an individual record's permission level is set to, administrators will always be able to see all records.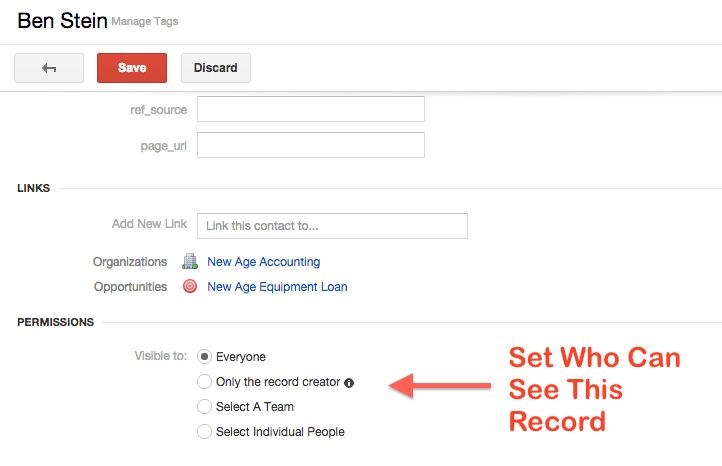 How To Add Users In Insightly
If you have followed the steps in this guide you should now be all set up and ready to start adding users. Congratulations! Adding a new user is simple and straightforward. Just click the systems setting link in the upper right hand corner of your screen, select users on the left hand side, and then click add new user.
Creating Teams in Insightly
Using the teams tab under system settings you can group Insightly users together into teams. In addition to filtering opportunities and other records by teams (for example "show me all of our US Sales Team's Opportunities"), you can also use teams to set who can see an individual record.
To set up a team, simply click the teams link on the left hand side of the system settings page. Give the team a name and then add the Insightly users that you would like to be a part of that team.
Additional Features To Consider
This concludes everything you need to know to get Insightly up and running. There are several more features you may find useful depending on the needs of your business – like email templates and project management. If all you needed was basic contact and opportunity management, you may be good go. Nonetheless, if any of these features interest you, you can read more about them in the corresponding guide:
1. Gmail Sidebar
If you're a Gmail user, you can install a unique Insightly toolbar that lets view CRM data and save records directly from your inbox. For an overview and instructions on how to install, check out this guide on Insightly's website.
2. Email Templates
You can also send emails directly through Insightly. When viewing a contact, just click "Actions" and "Email this Contact." Paying users of Insightly can also save email templates, which is very useful for sales and customer service messages.
3. Project Management
Similar to opportunities, Insightly has a unique menu where you can track and manage the completion of projects. This is especially useful for sales-oriented businesses who have a complex transaction or delivery process.
4. Web Forms
For web-based businesses, you can automatically transfer leads from your website into Insightly using web forms. This helps you jump on leads faster, and helps you save time by reducing manual data entry.
5. More Integrations
Insightly supports a huge range of 3rd party integrations. You can link your accounting software to automatically transfer sales data or link your email marketing software to automatically transfer contacts. Learn more about Insightly's features and pricing in our Insightly reviews article.
The Bottom Line
If you found this step-by-step guide helpful, please click here to start a free Insightly account. Insightly pays us a small fee for each new signup which supports our work to create more useful guides like this.