Redirects automatically send, or redirect, website visitors from one URL to another URL. Businesses use redirects in a number of ways and for a number of purposes, from sending site visitors to a 404 page when they type in a broken or missing URL to sending visitors to a new URL in the case of a rebranding. Regardless, they're surprisingly easy to set up. Simply follow these steps to install a redirect plugin and input your request and destination URLs.
Here's how to set up 301 redirects in WordPress in three steps:
1. Log In to WordPress
Shortcut: WordPress > Log in
To start, log in to your WordPress admin dashboard. If you have any trouble, check out these two surefire ways to find your WordPress login URL.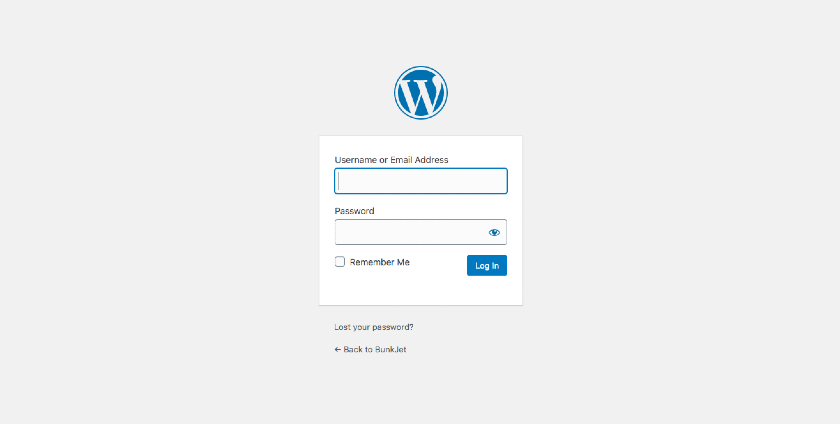 2. Install a Redirect Plugin
Shortcut: Plugins > Add New > Search "Quick Page/Post Redirect Plugin" > Install > Activate
Next, go to "Plugins" and select "Add New." Then search for a redirect plugin. There are a number of options, but the best overall are Redirection, Simple 301 Redirects, and Quick Page/Post Redirect Plugin. We're going to use the Quick Page/Post Redirect Plugin as it's the most versatile and user-friendly of the three. Search for the "Quick Page/Post Redirect Plugin" and when you locate it, click "Install" and then "Activate."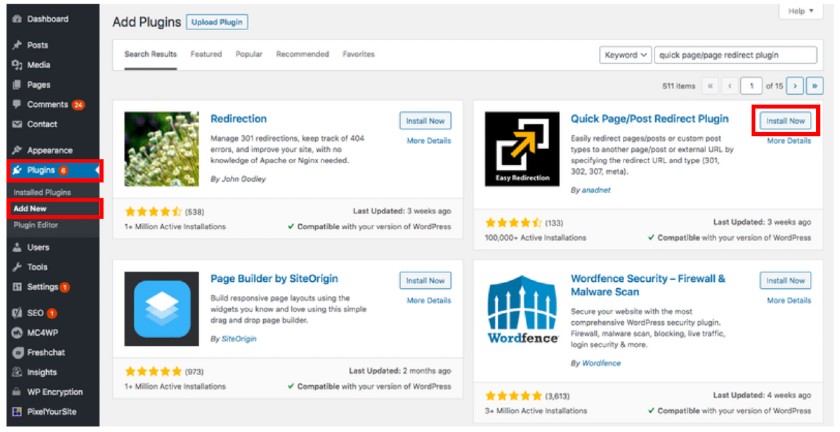 3. Add New Redirect
Shortcut: Quick Redirects > Add New Redirects > Input "Request URL" > Input "Destination URL"
Lastly, add your new redirect by navigating to "Quick Redirects" from the left-hand vertical menu in the WordPress dashboard. Then, input your request URL (the web page you want to set up a redirect for), input your destination URL (the web page you want to redirect the request URL to), check the "NW" box if you want the redirect to open in a new window, and check the "NF" box if you want the redirect labeled as a nofollow.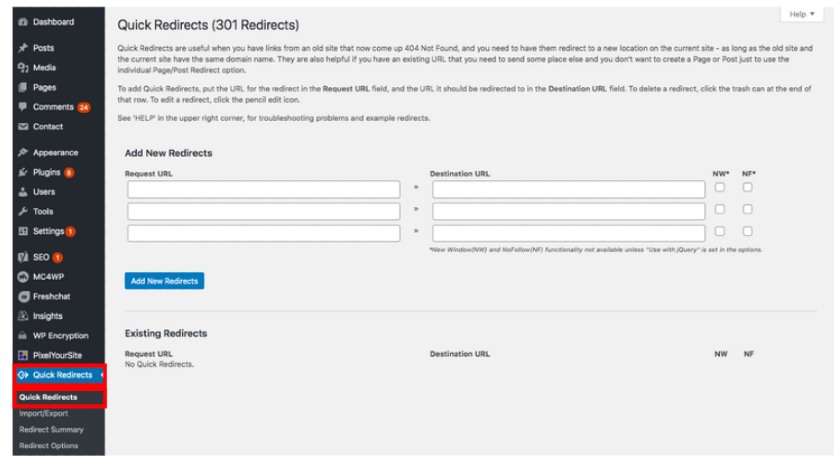 Here's a quick look at the inputs for adding a redirect:
Request URL: The existing web page you want to set up a redirect for.
Destination URL: The new web page you want to direct your original page to.
NW: Check the "NW" box to open the redirect in a new window.
NF: Check the "NF" box to denote the new redirect page as nofollow.
When you're done adding the new redirect, you can also view all redirects from "Pages" and "Posts." A new column will now appear and indicate if there's a redirect, as well as an on/off toggle to easily stop or start the redirect.
Pro tip: Be sure to limit your use of redirects to only those that are absolutely necessary. Reason being, you can quickly damage your search engine optimization (SEO) efforts by using redirects liberally.
Common Types of Redirects & Their Use
The most well-known redirect is the 404 page redirect, though this isn't the only type of redirect. With the 404 redirect aside, the most commonly used redirects include the 301 redirect, which is a permanent redirect, the 302 direct for temporary redirects, and the meta refresh, which automatically redirects after a given amount of time on a page.
In the case of 404 redirects, you may need to first check to see if your theme came with a 404 page. Most do, but if yours does not, note that 404 redirects are set up differently in WordPress because they're designed to send visitors to a new page from a page that doesn't exist (e.g., a broken link or misspelled URL). To set yours up, opt for the Redirection plugin and set up 404 redirects in settings.
Frequently Asked Questions
How do I set up redirects in WordPress manually?
Though it's not generally advisable to manually set up redirects if you're not experienced with coding, you can do so by editing your .htaccess file. You can find this in your site's root directory, which will require that you use an FTP client. From there, you can open your functions.php file, ideally from your child theme. Keep in mind that you should back up your site prior to manually setting up redirects, as errors are easy to make and, therefore, commonly made.
How do I set up WordPress redirects to direct to an external URL?
You can set up WordPress redirects to an external URL the same way you would set up any other 301 redirect. The easiest way is by using a redirect plugin, such as the Quick Page/Post Redirect Plugin, which enables you to add redirects (internally and externally) quickly and without any coding. Simply install the plugin, then after doing so, go to "Quick Redirects" and add a new redirect by inputting the URL you want to redirect from and to.
Where do I find my redirects in WordPress?
How you locate your redirects in WordPress will depend on how you set up your redirects. For example, if you use the ultra-user-friendly Quick Page/Page Redirect Plugin, then you can view your list of redirects by navigating to the "Quick Redirects" tab in the vertical left-hand menu. A nice feature of this plugin is that it also adds a column in Pages and Posts, so that you can easily see which pages (or posts) have a redirect setup, as well as a toggle to turn it off.
Bottom Line: Easily Set Up 301 Redirects in WordPress
It's incredibly easy to learn how to set up redirects in WordPress thanks to the help of quality redirect plugins. Keep in mind that you should use redirects strategically and sparingly. Using redirects frivolously can damage your prior SEO efforts, as well as create a poor user experience for your small business website visitors.
You Might Also Like…