How to Start a Coffee Shop in 13 Steps: The Ultimate Guide
You're thinking about opening a coffee shop, but you have a lot of questions about where to start. Let's face it; launching a new business can be complicated. You want to know how to start a coffee shop that actually makes money—because if you're going to open this business, you definitely want it to make money. This is your lucky day because our guide walks you through the five phases and 13 steps required to start a successful coffee shop.
You can create a profitable business by opening a franchise or by launching an independent shop. Yes, even independent coffee shops can successfully compete with mega-chains like Starbucks and Dunkin. You just need to create an amazing business that sets you apart from the crowd.
The best way to get in the game is by following the steps outlined in this ultimate guide. With younger generations becoming avid coffee drinkers and total coffee consumption in the U.S. expected to grow, there's no better time to get started than now.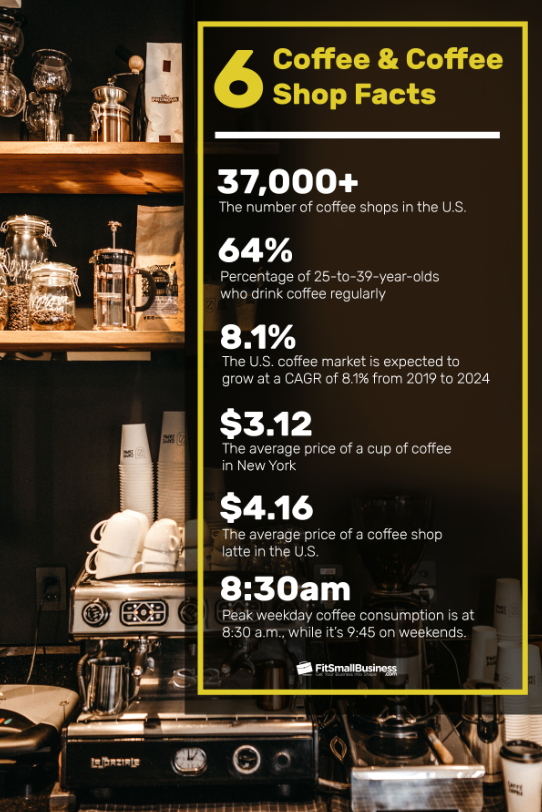 ---

The first phase of learning how to start a coffee shop involves doing your business research. You will visit many coffeehouses and coffee kiosks, build your coffee expertise, and expand your knowledge of the coffee shop business. You will also develop a business plan that outlines in detail how you intend to build a profitable business.
1. Conduct Market & Industry Research for Your Coffee Shop
The first step to launching your business is familiarizing yourself with the industry and the market where you plan to open your shop. The more you know about coffee, the coffee shop business, and competitors in your area, the better. As your knowledge grows, so do your odds of success.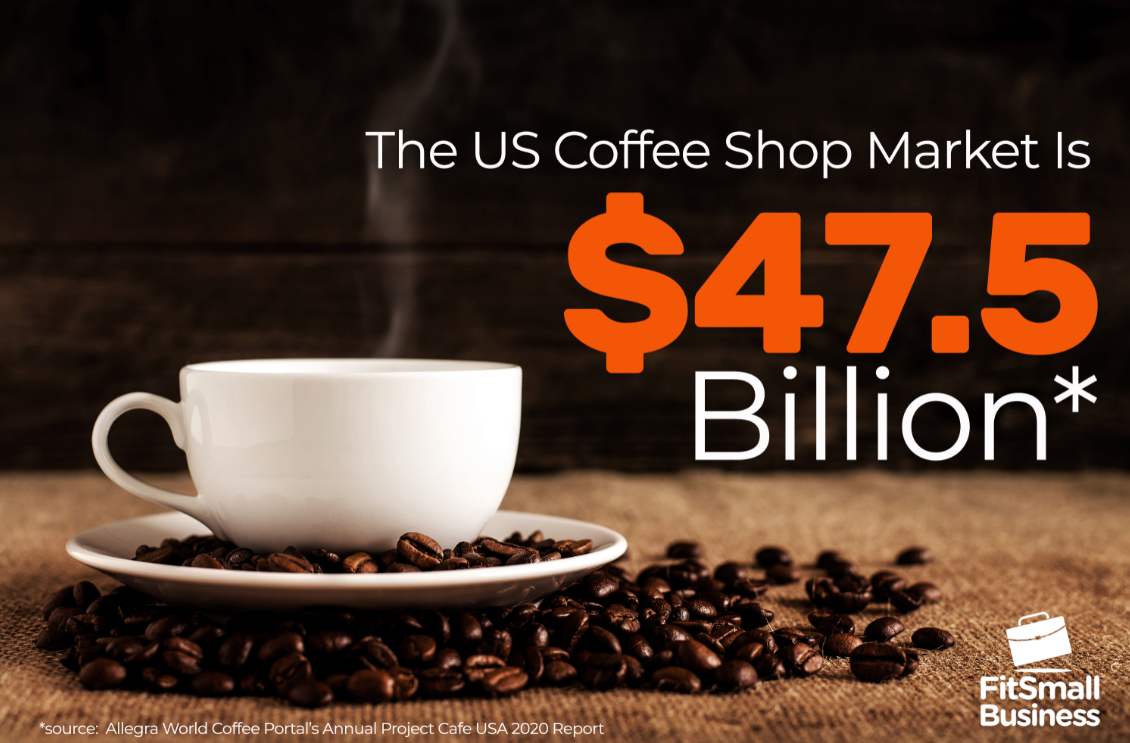 Familiarize Yourself with the Coffee Shop Industry
There are currently more than 37,000 coffee shops in the United States. Coffee chains represent roughly 70% of the coffeehouse market; Starbucks alone represents 40% of the total US coffee shop market. That leaves 30% of the market to independent businesses—small coffeehouses and kiosks that compete head-to-head with the big dogs to capture their share of this $47.5 billion market.
Nearly three-fourths of people over 60 drink coffee, according to the National Coffee Association. While coffee is slightly less popular among the under 60 crowd, it's still a go-to beverage for the 18 to 59 demographic.
While all age groups visit coffee shops, the younger crowd is especially drawn to these venues. Coffee drinkers under 35 tend to purchase their favorite hot beverages at coffeehouses or while on the go, which is one reason drive-thru shops have exploded in popularity. Younger consumers are also more likely to choose gourmet coffee and espresso-based drinks—at often double the price of non-gourmet drip coffee.
As a coffee shop owner, you need to keep your eye on changing trends and generational beverage preferences. Understanding what your customers want—and don't want—as well as how buying behaviors change over time is key to starting and operating a thriving business.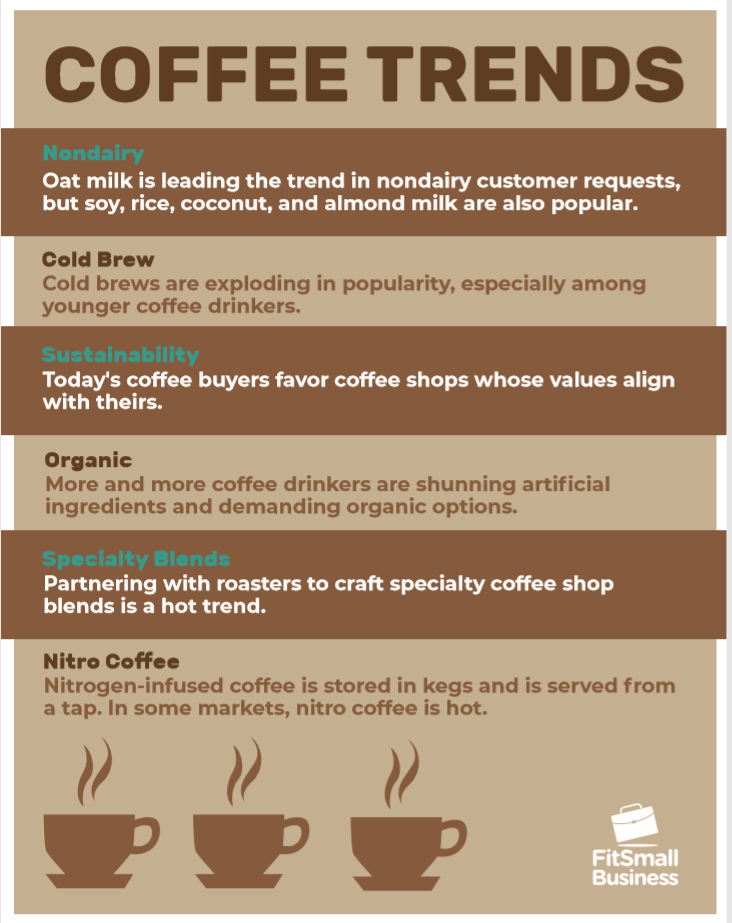 Popular Industry Resources & Organizations for Coffee Shop Research
The most successful shop owners keep their pulse on what's happening as new coffee products, equipment, and marketing strategies emerge on a regular basis. There are many industry resources available to expand your knowledge about coffee and the coffee shop industry.
Here are a few popular resources and associations:
Find, Visit & Evaluate Competitors in Your Market
One of the best ways to do research in your market is to visit all types of coffee shops and take great care in noting how they operate. At this stage in your research, you want to learn from anyone who is in the business. Spend some time checking out their online presence, too; websites and social channels offer a wealth of information.
As you start thinking about a location for your shop, you'll want to narrow your focus on the competition in the same general area. When you develop your business plan, you'll want to outline specific ways to out-compete coffee shops in your immediate market area.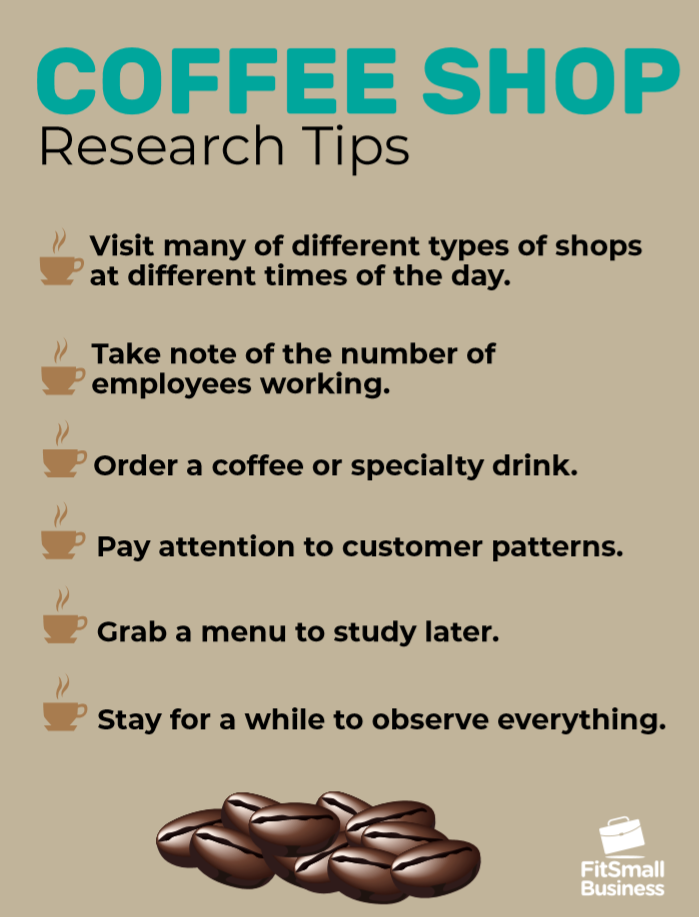 When you're conducting your competitive research, the goal is to look for ideas you might want to employ in your business. It's important to be a keen observer of what's happening throughout each coffee shop visit—from the impression you get before you enter to your overall satisfaction as you leave.
A few things you'll want to note when visiting competitor coffee shops include:
How the experience differs at peak times vs non-peak times
Menu items and prices
Promotions and special offers
Coffee shop layout and design
How many employees are working and what they're doing
How coffee and other items are prepared
What customers are ordering
How long it takes for orders to be fulfilled
How many customers stay in the shop after getting their order and what they do if they stay
Customer demographic patterns, such as age and gender
The vibe of the coffee shop—from the decor to the music
You'll want to visit a dozen or more coffeehouses before starting your business. Vary your research so you visit both large, moderate, and small shops. Don't be afraid to strike up casual conversations with managers and employees, as many are willing to share their knowledge with you. Take thorough notes at each stop along the way as they'll be invaluable as you move forward.
"The best advice that I would give anyone opening a coffee shop is to do your research. Try to find out what other local businesses—that may be your competition—are doing in your area. This allows you to better plan your pricing strategy and also better understand what offerings would most interest your customer base."

—Celia Hopkins, Co-Owner, Main Street Coffee & Treats
Decide Between a Franchise and an Independent Coffee Shop
One of the biggest decisions you need to make before starting a coffee shop is to decide whether you want to launch a franchise or an independent shop. There is no right or wrong answer, as there are advantages and disadvantages to each. Your goal is to decide what's the best choice for you.
Pros & Cons of Starting a Franchise Coffee Shop
When opening a franchise coffee shop, you get the benefit of starting with a proven brand concept, which is attractive to a lot of entrepreneurs. Before you leap, though, make sure you understand all the pros and cons of starting a franchise shop.
Top Franchise Pros
Product brand and products are widely known
Nearly everything is set up for you, including all processes, procedures, menu items, shop design specifications, and even the name of your business
You benefit from brand's advertising, marketing, and promotional efforts
Store concepts are thoroughly researched and the brand concepts are proven to work
Top Franchise Cons
Must pay franchise and annual licenses fees ($15K to $150K)
Must pay royalty fees (4% to 10%) based on sales volume
Limited flexibility in what to sell and how to sell it
Usually have to sign a multi-year agreement
Your store hours are mandated, which can impact labor costs
Your location must be approved
You sometimes have to endure a long and tedious approval process
You have no say over the menu, branding, and other key elements of coffee shop success
Pros & Cons of Starting an Independent Coffee Shop
When opening an independent coffee shop, you are in full control of all the decisions—from branding to hours of operation to the types of beverages and food you serve. Many entrepreneurs find this business model most enticing. Before you decide to start an independent coffeehouse, though, make sure you understand all the pros and cons of making this choice.
Top Pros of Starting an Independent Shop
No franchise fees
No royalty fees
Total flexibility in the menu, shop design, and all aspects of running a coffee shop
You set your operating schedule
You decide on your location
You have total freedom with creating your brand
You have total freedom with marketing and promotions
Top Cons of Starting an Independent Shop
Must create your own menu
Must create your own branding
Must design your own shop
Must find all your own vendors & suppliers
Must develop your own operational processes and procedures
No customer or brand awareness; must build everything from scratch
Your store concept is not proven
If you want the stability that comes from working with an established brand with a proven business model, you'll probably want to start a franchise coffee shop. If the idea of creating your own store from scratch excites you, starting an independent coffee shop is likely the best route for you.
2. Understand the Costs of Starting a Coffee Shop
Several factors impact coffee shop startup costs, including market size, type of shop, services offered, and the complexity of your build-out plan. You can start a business for as low as $5,000 or as high as $2 million. Most cafe-style shops are launched for around $150,000 to $300,000.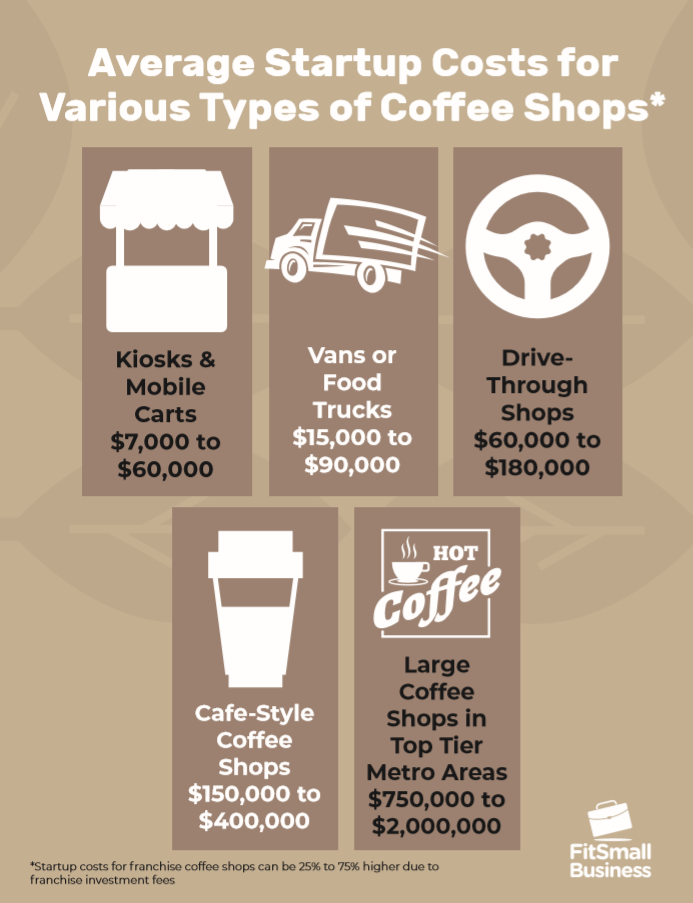 Understand the Costs of Running a Coffee Shop
In the business startup phase, it is unlikely that all your operating, marketing, and administrative costs will be fully met through sales. When creating your coffee shop plan, in addition to finding funding for your startup costs, you'll also want to create a strategy to have sufficient working capital on hand to fund initial operations and marketing costs.
Top costs you'll incur in operating and promoting your business include:
Facility rent or lease
Labor costs
Legal and administrative costs
Food costs
Disposable goods costs (e.g., paper cups, napkins, stirrers)
Payment processing fees
Utility fees
Marketing and advertising fees
Costs vary by location and type of coffee shop. If you decide to open a franchise, you'll also pay a royalty fee on sales every month. If you're an independent shop owner, you have a great deal of flexibility on where and how much to invest in marketing and promotions. Be forewarned that you may need to invest more marketing dollars in the startup phase of your business.
Primary Coffee Shop Costs as a Percentage of Your Total Coffee Shop Business Costs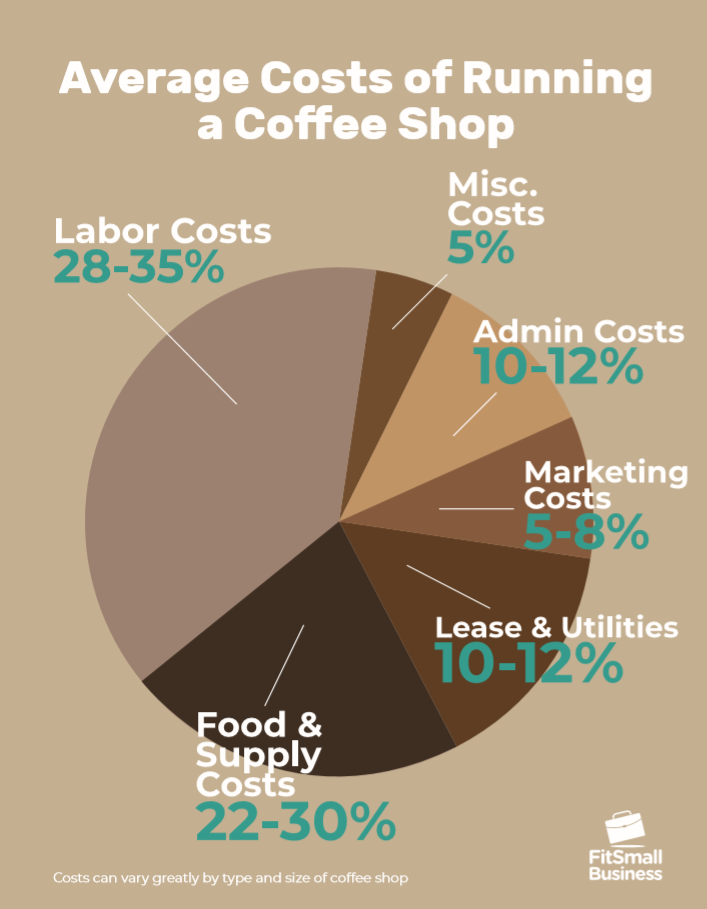 In addition to tracking costs, once your coffee shop launches, you'll also want to keep your eye on key performance indicators (KPIs). In the coffee shop industry, common KPIs include:
Sales volume per day (usually compared against same day, previous weeks)
Total sale amount per purchase
Average and total sales per hour
Average and total sales per labor hour
Average and total sales per barista
Total cost of goods sold (COGS) relative to total sales
Cost of food loss
Watching your costs and sales patterns like a hawk is important if you plan to generate a profit. Before you open your doors, decide which KPIs you plan to measure. You can always add more KPIs to your watch list later.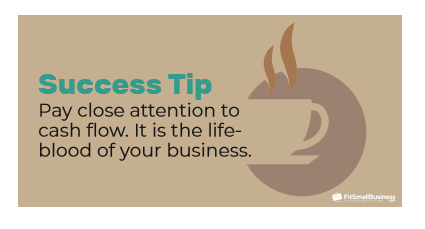 Secure Financing for Your Coffee Shop
You may have sufficient means to self-fund your business, but if you do, you're the exception. Many coffee shop owners take out a business loan or open a small business line of credit for startup costs as well as to ensure they can meet their bills in the initial launch stages.
You may need to use multiple financing solutions to get your coffee shop off the ground. including an SBA loan, a microloan, a personal loan, or a Rollover for Business Startups (ROBS) loan. If you have a rough idea of how much financing you may need and want to know what loan amount you might qualify for, take the handy quiz below.
What Financing Do You Qualify For?
Answer a few questions about your business, and we'll give you a personalized product match.
Set Up a Business Bank Account
Once you decide to start a coffee shop, you need to open a business bank account. When choosing a bank account, you want to consider fees, ease of bookkeeping integration, online and offline convenience, and potential support for future financing needs.
If you have a previous positive relationship with a bank, that can be a big plus. Banks often give preferential treatment to those they've already worked with successfully.
3. Write a Business Plan for Your Coffee Shop
There are several reasons to develop a business plan for your coffee shop. The first is that you may need one to obtain financing. Beyond that, your coffee shop business plan serves as a blueprint for building and running your coffee shop and establishes your strategy for turning a profit.
What to Include in Your Business Plan
Your business plan will include an executive summary of your business objectives, where you plan to launch your coffee shop, types of products you'll offer and anticipated profitability for each, a marketing plan, and a thorough financial plan along with financial projections. For your convenience, you can download the Coffee Shop Business Plan template that is provided below.
If you struggle with various aspects of creating your business plan—such as coming up with sound financial projections—you may want to use a business planning software. LivePlan is a popular and affordable business planning program; their services start at just $11.66 per month.
It's now time to move on to phase two of starting a coffee shop. Things are about to get real.
---

The second phase of learning how to start a coffee shop involves exploring possible locations for your business and then selecting one. You also need to obtain various registrations, permits, and licenses required to operate your business legally in your area.
4. Select a Location for Your Coffee Shop
When starting a coffee shop, one of the most important decisions is your choice of location. You want your business to be in the path of your ideal customers, as it's imperative that your customers can easily find and access your shop.
You also want to find a spot that is suitable for the type of coffee shop you intend to open—which could be different for a kiosk vs a cafe-style shop. For example, foot traffic might be the top consideration for a kiosk, while convenient access to popular entertainment hubs, shopping centers, or business office complexes might be driving factors for selecting a location for your cafe-style coffee shop.
Remember that the coffee industry runs on very tight profit margins; a 3%-5% net profit is considered great. So, you need to have a budget before you start looking for a location, and you need to stick to that budget. Before signing off on a location that you love, do the math to ensure you can afford it. Most small cafes and coffee shops pay between 8-10% of their sales in rent.
If this is your first time renting a commercial property, do your homework. Familiarize yourself with the ins and outs of leasing commercial real estate before you begin your location search.
Here are a few more tips on how to select the perfect location for your coffee shop:
Make Certain You Have Enough Parking Spaces for Customers
If most customers coming to your business will arrive via car, then you need to have adequate parking space around your shop. Insufficient parking can be death to a coffee shop. Ensure you have enough parking spaces before signing a lease, because adding additional parking is extremely difficult to do afterward.
Also, if your shop will have a drive-thru, plan for adequate space for cars to wait in line. Specialty coffee drinks can take a few minutes to make, and if several customers are in line, it may take five or more minutes before each is served.
5. Understand the Legal Aspects of Running a Coffee Shop
There are a number of required registrations, licenses, and permits you must obtain before you can officially open your doors for business. There are also several business and human resource laws that apply to coffee shop owners. Business regulations and laws often vary by region, so it's important that you become familiar with those that apply in the area you intend to operate your coffee shop.
Secure Required Registrations, Licenses & Permits
A vital step when starting your business is to register for a Federal Employer Identification Number (EIN). Issued by the IRS, your nine-digit EIN is a unique identifier that you'll use for a number of reasons such as when you file taxes, open bank accounts or apply for business credit, and purchase wholesale items to resale in your shop. You can obtain your EIN for free online.
Many states and local municipalities require that you obtain a business license to operate within their jurisdictions. Sales tax permits, also called vendor's licenses, and resale licenses and permits are also typically required for most coffee shop owners. Food service handling permits are usually required, too; these are issued by your city or county health department. View a list of required registrations, licenses, and permits by downloading the Reference Guide below.
Understand Key Employee Laws & Regulations
As an employer, you are subject to a wide range of federal and state employment laws. Before launching your business, make sure you familiarize yourself with the laws and regulations that apply to your business. The easiest way to do this is to read this Fit Small Business guide on Federal Labor Laws & State Employment Laws. It features a comprehensive list of all federal laws that pertain to your coffee shop business as well as a list of state resources where you can learn about applicable state employment laws.
Acquire Appropriate Legal & Business Professional Services
If all this talk about laws, permits, and regulations has your head spinning, take heart. Most business owners don't go this alone. It's wise to consult with an attorney to help you understand the legalities of opening and running a business in your area. If you don't already have an attorney in mind, you can find one via LegalZoom or RocketLawyer.
You'll also want to consult with an accountant and an insurance agent before launching your coffee shop. Your accountant will help you better understand your recordkeeping and tax obligations. An insurance agent will help you understand your business insurance needs, which will ensure you safeguard your personal and business assets.
It's now time to move onto phase three of starting your coffee shop. This is where you'll begin to conceptualize business specifics, which can be a lot of fun.
---

The third phase of learning how to start a coffee shop involves creating your coffee shop brand and deciding what items you'll serve. During this phase, you will also develop an efficient and welcoming floor plan for your shop.
6. Create Your Coffee Shop Brand
Branding is a critical step in starting a coffee shop. If you've decided to open up a franchise, your branding is already done for you. If you plan to open up an independent shop, you need to develop a brand that conveys your shop's distinctive voice and vibe, and most importantly, sets your coffee shop apart from the crowd.
Choose a Name for Your Coffee Shop
For some, naming a coffee shop can be an intimidating process. Other entrepreneurs have a name in mind well before they consider opening a coffeehouse. Regardless of which camp you fall into, you want to ensure your coffee shop's name aligns with the overall feeling and message you want to convey with your brand. You also want to give your shop a name that's memorable and isn't already trademarked.
Here are a few techniques you can use when naming your coffee shop:
Focus on coffee: Include the word coffee in your name—or a "coffee-related" term such as bean, espresso, perks, grounds, or grind—so that people instantly recognize what you're selling.
Be playful: Puns and rhyming names are often both fun and memorable.
Focus on why your customers are buying: Many people are buying coffee to wake up or recharge, so you can work that theme into your coffee shop name by using words like octane, boost, or wired.
Add your name to the shop: Some successful copy shop names include the first name of the owner, which typically evokes a friendly and casual vibe. You could also use your last name, which may evoke a more upscale or formal vibe.
Reference a trait of your location: Think about the special traits of the area you serve. For example, if you're near a courthouse, incorporate the word court or justice into your name. If you're near mountains, you may want to add peaks or sky high or another mountain reference to your name.
Focus on your shop's key feature: Use words that convey the vibe of your shop such as express, if you focus on quick service or hangout if you're going for a casual place to relax and chill with your friends.
By the way, you may choose to name your shop using one of the methods above, or you can go an entirely different route. That's what Stabucks did to get its name. "Starbucks" comes from a character in Herman Melville's classic novel "Moby Dick." Starbuck was the name of the first mate.
Before finalizing your coffee shop's name you must make sure the name you select is not trademarked. You can search the U.S. patent and trademark database to find registered trademarks.
If you prefer, you can also consult with an attorney directly about trademark status for your coffee shop name. If you don't have an attorney, you may want to contact LegalZoom to speak with a lawyer that specializes in business development. Do not skip this step; the last thing you want to do is invest in branded signage, advertising, cups, employee uniforms, and menus only to find out you can't use the name you selected.
Identify the Target Audience You Plan to Serve
Obviously, your ideal primary target audience is coffee drinkers. Hooray; you've already identified one common trait of customers you plan to serve. Now it's time to more precisely pinpoint who your ideal client is. For example, perhaps you plan on serving a business clientele, or seniors, or millennials. Identifying your primary target now will help you shape your brand effectively.
Another reason to be crystal clear about who your primary audience is relates to location selection. You want to choose a location that's easily accessible for your ideal customers. You also want to align your branding and promotional strategies to their wants, needs, and interests. Coffee shops that do a good job targeting a specific niche and serving that niche well tend to be far more successful than those that don't.
Create a Brand Identity
Your brand identity is more than just your logo and graphic design elements in your signage, menus, and promotional efforts. Your brand identity is the core impression you want to make; it's what you want your coffee shop to be known for by your customers and the world at large.
Yes, visuals are a part of your brand identity, but so are your company values, your service philosophy, and your company mission and culture. You want all aspects of your coffee shop message to be in harmony and clearly communicate what your business is all about. You also want your brand identity to set you apart from all the other coffee shops in your area.
For this step, you'll probably want to consult a graphic designer or agency that specializes in restaurant branding. If you're on a shoestring budget, though, you could also work with a freelancer on Fiverr, Upwork, or Freelancer.com to get started.
To make your life easier, we've created a Brand Planning Guide that will help you start creating your brand. It's filled with ideas to help you come up with a distinctive brand for your coffee shop.
Be Consistent in Brand Execution
The brand you create should resonate throughout your entire organization—starting from your website to your cafe signage to the aprons or uniforms your staff wears. Consistency is key to making a lasting impression that yields repeat customers. And, in the coffee shop business where margins are razor-thin, loyal customers are critical to your ongoing success.
7. Create a Menu Plan for Your Coffee Shop
Creating a menu plan involves taking great care to have the right mix of items, at acceptable profit margins, that your clientele will buy. By now, you've done your research and visited several coffee shops. You have a sense of the types of items offered by coffeehouses in your area as well as the range of prices you can charge. Now it's time to create a menu that sets you apart from the crowd.
Expand Your Coffee Knowledge
Your customers will expect you to be a coffee expert. They'll also expect your staff to be knowledgeable, which means teaching your staff about coffee is a must.
You need to have a deep understanding of coffee if you're going to open a coffee shop. That means you need to know all about different coffee beans, where they come from, why that matters, how different roasting types impact the beans, and how all of this translates into the superior cup of coffee that you serve.
You'd be surprised how many entrepreneurs don't take the time to learn all about coffee before opening their shops. This often results in subpar coffee quality or coffee options offered that simply don't appeal to their customers—both of which are death sentences to your business.
Understand How Menu Strategies Impact Sales
There are a number of menu tactics you can use to boost overall sales. Don't be afraid to experiment; you never know when a new idea is going to take off and become a bestseller.
Your Menu Should Evolve
When launching your shop, be sure to include items that you know are in demand based on your market research. You'll also want to include other items that are unique to your coffee shop; these may help you differentiate your shop from the crowd. The most successful business owners keep a close eye on sales patterns so they know which menu items sell well, and which don't.
There's no need to keep a menu item that isn't making you money. Change up your menu from time to time, adding new items and removing poor sellers. By the way, the fact that you'll probably want to switch up your menu is a good reason to design flexible menu boards that allow you to make changes easily and cheaply.
Offer Both Standard & Seasonal Menu Items
Cold drinks sell well when it's hot outside, and hot drinks sell well when it's cold outside. Pumpkin-spiced items sell well throughout autumn, but not so much in spring. Keep your menu fresh and exciting by offering limited-time offerings that change throughout the year.
Understand How Menu Items Impact Profitability
Your gross margin on each menu item is the amount of money you have left over once all costs are deducted. Some items on your menu will net a higher margin, which means you'll make more money from them. Others will yield a lower margin—either due to higher raw cost of goods or because it takes more time to prepare them, which translates to higher labor costs.
As a coffee shop owner, you must have a good handle on the net cost for every item on your menu. You'll make more money on some items than others, which is why you need an overall mix of menu items that together yield your desired profit margin.
A general rule of thumb for most coffee shops is to keep your overall food and food supplies costs between 20% to 30% of total revenue. Remember, some items will have low margins and others will have higher margins; 20% to 30% should be the overall average goal.
Here's a formula for calculating the food and food supplies cost for a specialty coffee drink on your menu such as a latte:
Total cost of ingredients (e.g., coffee, oat milk, flavor add-ins)
+ Total cost of serving items (e.g., cup, lid, stirrer, napkins, carrying tray)
+ Labor cost (e.g., three minutes @ $12 per hour)
———————————————————————————————————————————
Total cost of menu item
Here's an example of typical costs for a to-go latte:
Total cost of ingredients: $0.90
+ Total cost of serving items: $0.25
+ Total labor cost: $0.30 (calculated at 90 seconds @ $12 per hour)
————————————————————————————————————————
Total cost of a latte in a to-go cup: $1.45
Here's the calculation for the net revenue on that latte:
Price Charged: $4.00
– Costs: $1.45
————————————————————
Net revenue: $2.55
Your net profit margin is your net revenue divided by your total sales revenue. For this latte, that's $4 divided by $1.75, or 64%. Remember, this does not include marketing or overhead costs of operating your coffee shop.
In some markets, you may be able to charge more than $4 for a latte, which would increase your net margin. In other markets, you'll need to charge less, which will lower your margin. It's critical to do your market research; it helps ensure that you don't overprice or underprice your menu items, which in turn, helps you maximize overall profitability.
Thankfully, you don't have to do all the work yourself. The best point-of-sale (POS) systems for coffee shops come with extensive inventory and cost control features that help you stay on top of both menu item sales and costs. This helps you make smart decisions, such as when to raise or lower prices on certain items and when to pull items that aren't selling.
Decide What Non-Coffee Options to Offer
At an average price per cup of $2 to $4 for most coffee drinks, it's really hard to build a successful coffee shop business on just coffee alone. That's why most shops offer a wide variety of other options, including teas, juices, sandwiches, and bakery items.
If you don't want to get into the food preparation business, you can partner with local bakery and food shops to sell their goodies.
You may also want to sell branded coffee mugs, aprons, T-shirts, and your specialty coffee blends by the pound. A rule of thumb for these, though, is don't invest heavily in large inventories at first. Do a few tests to see what sells and what doesn't and let those sales results guide your next steps here.
Design On-Brand Menus & Menu Boards
When designing your menu, never let the desire to be creative get in the way of readability. After all, the main purpose of your menu is to help your customers understand what you serve.
There's really no need to reinvent the wheel when designing your coffee shop menus and menu boards. Pay attention to how local coffeehouses and other restaurants you visit display their menus. For immediate inspiration, check out our article 15 Unique Coffee Shop Menu Ideas.
When you work with a designer to create your menu boards and to-go menus, be sure to use the same core design elements that you're using throughout your store on other branded items, including signage, barista aprons, and paper bags. This creates a memorable brand experience for all your customers.
8. Design Your Coffee Shop Floor Plan
Once you've committed to opening a coffee shop and chosen a space you feel is perfect for your customer base, it's time to begin the process of designing your coffee shop floor plan. Your goal is to optimize the space for taking customer orders, preparing and serving your menu items, storing food products and supplies, and—if you're opening a cafe style coffee shop—creating a warm and inviting place for your customers to enjoy their coffee.
Plan for the Primary Spaces in Your Coffee Shop
Not all coffee shops require the same amount of space. What is true about every shop, though, is that every square inch of your leased space comes at a price. That's why you want to create an efficient floor plan that serves you well.
Here are a few of the spaces common in coffeehouses:
Cashier space: You need to plan adequate space to take customer orders and payments as well as to serve ordered items.
Space for your customers: Successful coffee shops typically offer a comfortable and inviting space for customers to wait for their orders to be prepared as well as to relax and enjoy their coffee once it is served.
Beverage preparation space: You must allow sufficient space for espresso machines, blenders, drip coffee makers, cups, saucers, lids, and assorted add-ins items.
Food preparation space: While not all coffee shops require a full kitchen, if you plan to serve hot food items such as toasted bagels or paninis, you will need to plan space for hot food preparation in your floor plan.
Space for large equipment: Most coffee shops require at least one refrigerator, freezer, dishwasher, ice maker, and multiple trash receptacles, all of which must be factored into your floor plan.
Storage space: You'll likely need multiple storage spaces in your facility. Some items need to be handy for immediate food and beverage preparation. Backup supplies are typically stored away from the bustling customer-facing cafe workspace.
Display case areas: You may need both refrigerated and non-refrigerated display cases for bottled drinks, bakery items, and self-serve consumables and non-consumables.
Office space: When possible, it's helpful to have a dedicated office space in your shop so you can perform necessary business management functions such as bookkeeping, employee scheduling, payroll processing, and meeting privately with employees.
When creating your floor plan, remember that employees will be moving around as they take and prepare customer orders. And, they'll be handling steaming hot coffee along the way. Don't skimp on space required for safe and efficient workflows.
Your shop also needs to be ADA compliant. This can sometimes have a significant impact on your floor design.
The following video offers some more tips on floor plan considerations for your coffee shop:
One more thing to consider when creating your coffee shop floor plan is that your shop will likely have peak hours—typically in the morning and possibly again at lunchtime. You must account for heightened employee and customer activity to accommodate these peak times.
Floor planning requires considerable forethought on your part. The last thing you want to do is to have built-in counters and heavy equipment installed only to realize you did not allow enough space to perform key coffee shop functions. Tools like SmartDraw and RoomSketcher are extremely helpful for drawing up your floor plan online before you set any construction plans into motion.
Create an Inviting & Comfortable Space for Customers
Coffee shops aren't just popular because of their coffee; they're also popular because of their welcoming environments that beckon customers to come in and stay awhile. Internet-style cafes invite customers to work while they enjoy their coffee. They're also extremely popular with college students who study both alone and with friends in their favorite coffeehouses.
Cafe-style coffee shops have become popular places for group meetups too. This is great news for shop owners as larger parties translate into higher overall sales.
If your ideal customers are expecting a cozy, internet-enabled place to just hang out alone or gather with others, you need to deliver. That means planning ample, comfortable space for people to linger at your shop. Sofas and soft club chairs are standard fixtures at many coffee shops, and they take up a lot more space than simple tables and chairs.
Allow Adequate Space for Menu Signage
It may seem obvious, but you don't want to block a window with a big menu board. Reserve adequate space to hang your primary menu board relatively high—but not so high as to be difficult to read.
You've accomplished a lot in this phase and you're probably getting eager to hang an "open for business" sign on your door. But, before you do, you need to move on to phase four where your coffee shop goes from an idea to an actual business.
---

The fourth phase of learning how to start a coffee shop takes you into the nitty-gritty aspects of coffee shop operations. This is when you select vendors and suppliers for your shop. You'll set up systems and processes for managing sales, expenses, and inventories. Also at this stage, you'll begin to create business procedures that will govern everything from daily opening procedures to how products are prepared and served. Finally, you'll build a staff and develop training programs that get new employees up to speed quickly.
9. Select Vendors & Suppliers
You need different types of vendors for starting your business than you need to operate your business. In the startup phase, you'll purchase more restaurant equipment. To operate your business, you need affordable yet quality vendors for consumables such as coffee beans, food items, to-go serving containers, and cleaning and maintenance products.
The right vendor and supplier choices can make your life easy; the wrong choices can result in headaches and overspending. Be sure to seek out references before committing large sums to any one supplier.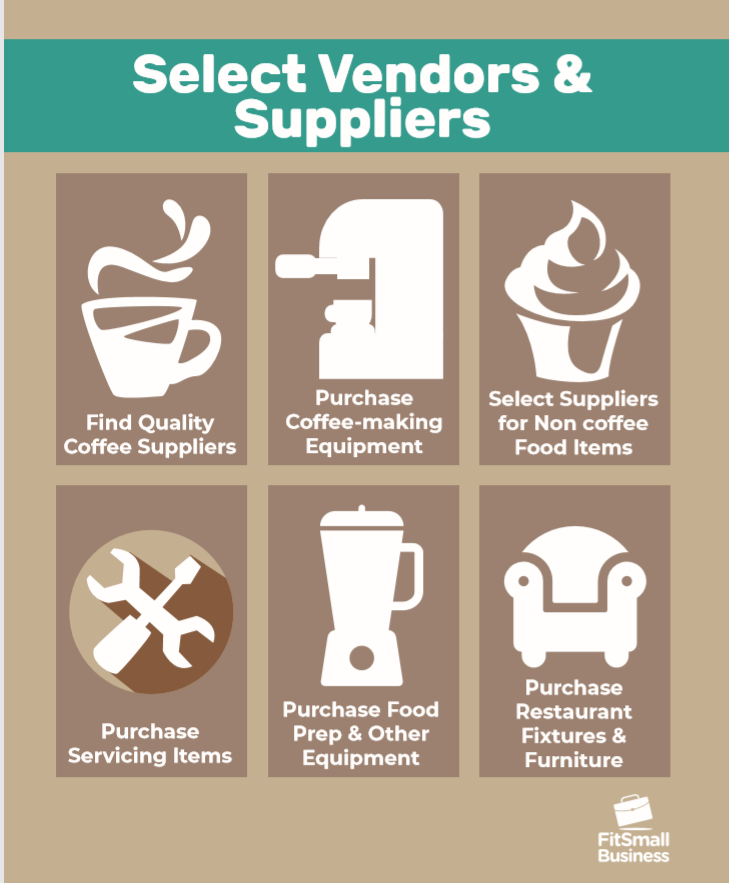 Decide Whether to Self-Roast Coffee
To roast or not to roast? That is a question you must answer. The roasting process requires relatively expensive equipment if you're planning to roast for a commercial endeavor. Industrial roasters that are capable of roasting a sufficient quantity of beans for a busy mid-sized coffee shop average between $4,000 to $10,000. High-end coffee bean roasters can climb to more than $50,000.
If you plan to roast your own beans, you'll need more physical space to conduct the roasting process, which means higher lease payments. Roasting also requires a mastery of the roasting craft and split-second timing. If you don't know what you're doing, you can end up with a lot of wasted beans—not to mention a lousy cup of coffee that will destroy any hope of business profitability
Coffee roasting is truly an art form that is most often mastered through extensive training and years of practice. If you know you want to open a shop plus a roastery, you probably want to hire a master roaster with significant experience—that is if you can find one in your area.
You may also want to enroll in training to develop your own skills. The Roaster's Guild Roaster Certificate Program, offered through the Specialty Coffee Association, is a popular program for those looking for comprehensive, hands-on coffee roasting training.
The upside of roasting your own beans—provided you're good at it—is that you may create another revenue stream for your business. Many local roasters sell their pre-packed specialty blends at local grocery and big-box stores.
Most independent startups work with a roasting supplier to create unique blends for their coffee shops. This allows them the opportunity to still create a unique cup of coffee for their customers without having to invest the time and money in training, staff, equipment, and additional square footage.
Find Quality Coffee Suppliers
Some coffee shops go with one coffee supplier, others work with multiple wholesalers. The choice really comes down to personal preference. Sometimes you can strike better deals by entering Preferred Supplier Agreements (PSAs) with single suppliers. Some coffee shop owners want the variety that can only be achieved by working with multiple suppliers.
Selecting a coffee supplier is without a doubt one of the most important vendor decisions you'll make. Request multiple bean samples—of various roast types—from multiple coffee roasters and suppliers. When you discover roasts you like, then try to visit coffee roasters firsthand.
When doing a coffee roaster site visit, learn all you can about their roasting process, as well as their coffee bean storage practices. Be sure to ask about the original source of the beans and their unique roasting process. Find out how long the wholesaler typically store coffee before it is sent to their customers. Fast turnaround from roast to shipment means fresher coffee, and fresher coffee is higher quality coffee.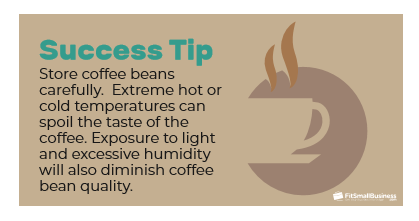 Some coffee suppliers have relatively high minimum order requirements. A rule for startups is to keep minimum wholesale bean orders as low as possible at first. Coffee bean quality diminishes with age; you don't want to be forced to overbuy and then end up throwing away expensive beans—or worse, selling old, stale coffee to your customers.
As your coffee shop business grows, you'll need to purchase more beans. Make certain your suppliers have the capacity to handle increased demand, especially if you've worked with a roaster to develop special roasts that you're serving exclusively under your coffee shop brand.
Consider Serving Only Sustainable & Fair Trade Coffee
Coffee drinkers are becoming increasingly more concerned about where their coffee comes from, especially millennials who frequent coffee shops more than any other age group. Rising demand for coffee and climate changes in coffee-growing areas are causing extreme challenges for both coffee farmers and the regions where coffee is grown.
There's a big movement underway to sell only sustainably-sourced coffee, which is coffee grown in a way that protects and preserves the growing environment. Conservation International is hosting the Sustainable Coffee Challenge, which you may want to participate in as a coffee shop entrepreneur.
A separate but also major issue in the coffee industry has to do with fair trade. Many high-volume coffee traders have been called out for taking advantage of coffee farmers by paying them substandard prices. Fair Trade America hopes to stop this practice, but can only do so if coffee wholesalers and shops are committed to only selling fair trade coffee.
Many coffee shops are not only on board with supporting sustainable and fair trade practices, they prominently advertise their support of these initiatives in their shops and on their websites. Working with coffee suppliers that are committed to sustainable and fair trade coffee is not just a socially conscious way of running your coffee shop, it could give you a business advantage—particularly if your customer base is committed to social and climate change causes.
Purchase Equipment & Supplies
The type of equipment and supplies coffee shops need vary by the type and size of the business. To help you get started, we've compiled a checklist of the most common equipment and supply needs for coffee shops.
Buy Equipment, Furniture & Fixtures for Your Coffee Shop
There are often both new and used restaurant equipment and furniture suppliers in most towns of any size. If there aren't restaurant suppliers in your area, check for vendors in neighboring communities.
Also, don't dismiss the idea of buying used equipment for some of your needs. About half or more of all restaurants fail in their first five years of operation. That means there is plenty of gently used commercial-grade restaurant equipment available for much cheaper than you'd pay for brand- new equipment. It pays to check with local used restaurant equipment suppliers to see what they have on hand before investing in all-new equipment.
Naturally, there are some items that are so vital to your coffee shop operations—such as espresso makers and refrigeration units—that pinching pennies may be counterproductive. When equipment reliability is critical for your business operations, make sure you acquire equipment that will either hold up or can be quickly replaced with minimal effort.
Consider Leasing Espresso Machines
If you're on a tight budget, purchasing a reliable commercial-grade espresso machine might not be your best option; instead, you might want to explore leasing options. Some coffee equipment suppliers offer espresso machine rentals, which may make sense in the startup phase of your business.
Purchase Non-coffee Shop Food & Supplies
There are a number of ways to obtain food items and other ongoing supplies required to operate your business, such as cups, napkins, and stirrers. Where you purchase those items may depend on what's available in your market. Thankfully, though, no matter where you are, you can source a lot of your needs through online wholesale suppliers.
Buy Coffee Shop Supplies Online
These days you can order nearly every item you need for your coffee shop online. Even Amazon offers the Amazon Business program, where you can find competitive pricing on everything from coffee decanters to paper cups to commercial ice makers. The advantage of buying supplies and equipment online is that you can shop for the best prices, which is important since you want to keep a tight rein on costs.
Find Shop Supplies at Warehouse Stores
Some small coffee shops fulfill many of their supply needs by shopping at local warehouse stores. Sam's Club and Costco both offer business memberships for shop owners that resell merchandise—such as snacks or bottled drinks—or purchase items for use as ingredients in items sold in businesses.
Buy Coffee Shop Supplies From Local Restaurant Suppliers
Unless you're in a tiny market, there are a number of local restaurant suppliers that you can find in your area with a quick search for "restaurant suppliers" on Google. Restaurant Depot and Sysco are two of the biggest chain restaurant suppliers, and both offer everything from food to equipment to cleaning supplies.
Acquire Bakery Goods From Local Businesses
Many independent coffee shops don't actually make their own bakery items in-house. Instead, they connect with local bakeries to have freshly baked treats delivered each morning. This is a great way to serve fresh pastries and cookies—and drive up average sales-per-order—without having to commit to baking equipment and staff.
10. Manage Sales, Expenses & Inventory
You're opening a coffee shop to make money, and hence, it's important that you understand all aspects of managing sales and expenses, including accepting payments and managing inventory. It's also vital that you choose reliable software systems that help you track of all transactions.
Choose a Point-of-Sale (POS) System
The best coffee shop POS systems don't just help you accept cash and credit cards—they track cost of goods (COGs), help you manage inventory, and assist with employee scheduling and management. Some even help with guest management, allowing you to collect customer information and track order history so you can send highly relevant email promotions to spark customer loyalty.
Popular POS systems for coffee shops include Square (which also offers payment processing services), and Toast. Each comes with unique advantages and disadvantages.
When selecting a POS, make sure that it's easy to use for both you and your employees. Taking payments and tracking sales is the bare minimum of what you want your POS to do. You may also want your POS to help you identify popular menu items, offer a kitchen display for food preparation staff, track ingredient use, and tell you how much different employees are selling.
Some POS systems seamlessly integrate with popular bookkeeping systems such as QuickBooks. This can save you hours and improve bookkeeping accuracy too.
The average price for POS systems vary, but here is a glimpse at what to expect:
POS systems: Typically range from $0 to $79 per month;
POS equipment: Averages between $49 to $999 per unit.
POS add-ons: Loyalty programs, email marketing, payroll and employee management features are often priced as add-ons, which typically range from $5 to $75 per month.
Your instinct when purchasing a POS system for your coffee shop may be to go all-in with all the bells and whistles from day one. Instead, consider identifying your "must-have" features for opening your shop, and go with a POS system that can grow with you as your business grows.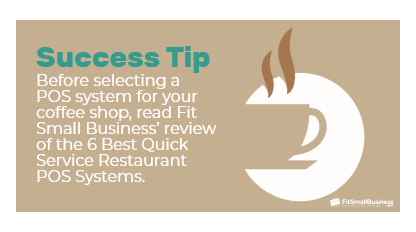 Choose a Credit Card Processing Solution
You need to select a payment processing service or merchant service provider so you can collect credit and debit card payments from your customers. You can set up a free merchant account, though you'll still pay payment processing fees, which on average range between 1.75% to 3.5% per transaction. Your bank may offer competitive merchant account services or you could choose a popular payment gateway such as Square.
Decide How You'll Track & Manage Inventory
Many POS systems for restaurants and coffee shops—such as TouchBistro and Lavu—offer inventory management functionality. Other inventory management tools sync with your POS system. The best restaurant inventory management software includes ingredient-level tracking, helps you set profitable menu prices by connecting stock ingredients to menu item costs, and offers real-time data. They're also easy to use.
11. Establish Coffee Shop Processes & Procedures
You don't want to wait until employees show up to create basic processes and procedures for your shop. It's best to have basic processes outlined before you begin the staffing process. Areas you need to focus is on at this stage are menu item preparation procedures, basic customer service guidelines, and bookkeeping procedures.
Create Coffee & Food Preparation Procedures
Before you bring any employees onboard, you need to create basic procedures for preparing and serving various menu items. Since the quality of your coffee is so essential to your business, the most important procedures you create are those for safe and correct beverage preparation.
You observed dozens of coffee shops as you conducted your initial market research, so you undoubtedly watched how shops make coffee drinks. Hopefully, you've also talked to several baristas by now. In a best case scenario, you already worked in a coffee shop or restaurant and already know what you're doing here. If you don't feel ready to develop coffee preparation and serving procedures yet, though, it's time to get some training.
Get Professional Barista Training
If your barista knowledge is limited, then you need to develop barista skills before developing any procedures for your coffee shop. The more you know about making coffee, the better you'll be able to effectively train your employees. The more employees know about how to make great coffee, the happier your customers will be.
Here are a few of the most popular organizations that offer barista training:
There are several other SCA-certified training outlets throughout America. If you don't feel you need such extensive training, some coffee suppliers and roasters offer basic training, too. Consult directly with the suppliers in your area to see if they have any training programs available for clients.
Once you've been thoroughly trained on barista techniques you'll be far better equipped to create coffee-making procedures for your shop and barista training for your employees.
Establish Customer Service Guidelines
Exceptional service can set your shop apart from all the others in the competitive coffee shop niche. That's why you need to establish simple yet specific customer service guidelines before you hire a single employee.
Here are a few service rules that can help you generate loyal customers for life:
Be friendly: Give every customer a warm and friendly greeting.
Be a menu expert: Be knowledgeable about every product served, including its origin and what makes it unique.
Acknowledge repeat customers: Remember loyal customers and make them feel special.
Make the customer happy: If a customer doesn't like what they're served, apologize and remake the order as quickly as possible.
Don't correct customers: If a customer makes an ordering mistake, don't argue; just remake their order with a smile on your face.
Listen attentively: Pay close attention to customers' needs, wants, and requests.
Have fun: Your energy impacts customers. When you're having fun, it rubs off on customers.
Don't dismiss the importance of "having fun" as a service expectation, either. When you include this in your core customer service guidelines, it lets your employees know you care about them. A fun coffee shop culture makes for a better customer experience for your customers too.
Create Bookkeeping Procedures
You need to have clear processes and procedures in place for managing cash, and tracking sales and costs. Some business owners prefer to hire bookkeeping services, which is a smart move if your bookkeeping knowledge is minimal.
Other Procedures You Need to Create
There are a few other procedures you need to create before opening your shop. Other top procedures you'll want to have in place include clear guidelines for how to open and close the shop, rules for how cash should be handled, and how cleaning is to be performed. In each case, keep employee and customer safety foremost in mind.
You should store your key coffee shop process and procedure directions in your business' standard operating procedures manual. This can be a physical booklet you keep on hand, but you may also want to store it online for easy access. Your business operating manual should be reviewed and updated regularly.
12. Hire & Train Employees
The startup staffing stage of running your coffee shop can be difficult. Exceptional service is a must, so you want to make great hires. You also want to be smart about how many people you hire. Labor will likely account for 30% or more of your costs; hire too many people, and costs balloon, hire too few, and service could suffer.
Decide What Types of Employees You Need
As a new coffee shop owner, you may take on many roles when you launch your business. Unless your shop is tiny, though, you probably can't do everything yourself. Before hiring employees, consider the types of functions that need to be performed in your shop.
You'll need employees who can perform the following tasks:
Beverage preparation: Baristas are the heart and soul of your coffee shop; you need people who can be trained easily or who already know how to use commercial coffee shop equipment to make specialty coffee drinks.
Take orders and collect payments: These customer-facing staff need great people skills, must have the aptitude to take orders quickly and accurately, and must be trustworthy as they will handle cash.
Food preparation: If you plan to serve food that's prepared in-house, you need appropriate kitchen staff required to make that food.
Supervision and management: You need leaders in your shop that can monitor shop needs and keep all areas of the shop working smoothly.
Cleaning: If you open a cafe-style shop seating, you need people to clean tables. You also need staff to empty trash cans, keep restrooms clean, and keep the facility—both inside and out—tidy and well-maintained.
Dishwashing: Cups, plates, utensils, and food preparation containers all need to be cleaned.
Most employees you hire can be trained to perform multiple functions. For example, it's common for a barista to also take customer orders and payments. Cross-training is essential for keeping your coffee shop operations lean and appropriately staffed at all times.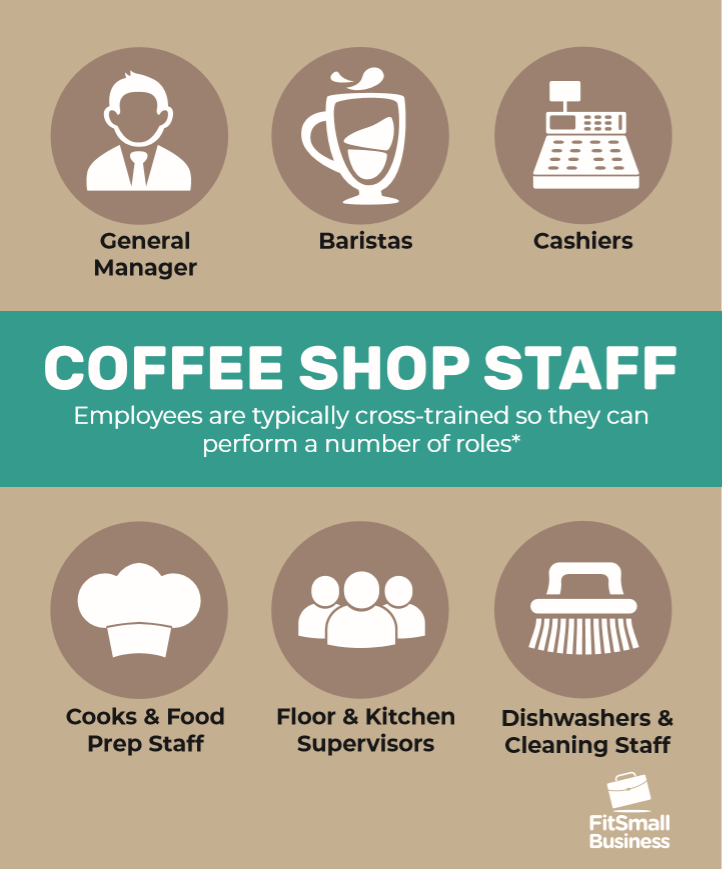 Hire Coffee Shop Managers & Supervisors
When first starting up, most coffee shop owners choose to shoulder general manager responsibilities. Serving as manager may not be your long-term goal; in fact, for most owners, it's not. The simple truth is that many new businesses can't afford to hire managers in the beginning. That's why owners tend to be intimately involved in day-to-day coffee shop operations until their businesses are profitable enough to expand management staff.
Grooming management talent and creating trust-based relationships with key employees takes time. That's why, even from day one, you need to hire either some supervisory or management staff, or at least bring on a few employees with the desire and aptitude to take on managerial responsibilities as your shop grows.
To help you get a jump-start on the hiring process, we've included a downloadable job description template for a Coffee Shop Manager below. The template outlines top skills, type of experience, and other desirable traits for managers.
Hire Cashiers, Kitchen & Cleaning Staff
If you're bringing supervisory or management staff on board, you might want to delegate the hiring of the remaining staff to them. Otherwise, you'll need to take on the task of hiring employees, including, cashiers, kitchen staff—if applicable—and cleaning staff, such as dishwashers.
Decide How Many Employees You Need
The number of employees your shop needs depends on the type of shop you run, your shop's sales volume, and the hours that you plan to be open. You'll need more employees on hand for peak sales hours. To keep costs in check, most shops reduce employee schedules at non-peak hours.
Some coffee shop managers prefer to have most of their staff work part-time. Since turnover is high in the cafe industry, having more employees trained and available to schedule helps mitigate the impact of employees who leave suddenly. You also need enough staff to cover both planned and unplanned employee absences.
Ensuring that staff is cross-trained helps reduce the number of employees you need on-site at any one time. For safety reasons, you want to have a minimum of two employees on hand at all times.
How Shop Hours of Operation Impact Scheduling Requirements
Obviously, you need employees at your shop whenever it's open. If you plan to be open from 6 a.m. to 6 p.m. seven days a week, that translates to 84 operating hours that require staffing. You also need to bring staff in 15 minutes to an hour before you open and keep them for roughly 15 to 30 minutes after the shop closes to perform opening and closing procedures. This time must be factored into your employee scheduling plans too.
Select Employee Scheduling Software
For optimal control over employee schedules and labor costs, you'll want to purchase restaurant scheduling software to create employee schedules and keep track of your labor costs. The best restaurant employee scheduling software includes mobile apps, allow employees to swap shifts, and track employee time and attendance. Some POS systems offer employee scheduling solutions that could work well for you too.
Set Up a Payroll System for Paying Employees
Employees must be compensated for their work, so you need an effective payroll process. The best restaurant payroll software not only helps you pay employees accurately and on-time, but also helps you with payroll taxes and handling compensation from tips legally, which can get complicated.
Train Your Coffee Shop Staff Effectively
You need a training procedure in place for every function that needs to be performed in your shop. Many new coffee shop owners create some of these training processes on the fly as the shop's business grows. For essential functions—such as taking orders, handling money, serving food, and creating coffee drinks—you want to have training procedures established before employees start.
You can create a training manual to store all coffee shop training documents. You may find it's also helpful to post signs at key workstations to remind employees about the proper processes for various tasks.
It's helpful to create a new hire checklist; this will be a handy tool you can access each time you bring new employees on board. On-the-job barista training should be a top priority for most of your employees. This ensures new hires get up-to-speed quickly on the essentials of making extraordinary coffee drinks that your customers will love.
There's simply no way to overemphasize the importance of establishing clear and thorough policies and procedures in your shop and creating effective employee training programs. The benefits of these efforts will help you turn a profit, while falling short in these areas can result in out-of-control costs and lower customer satisfaction.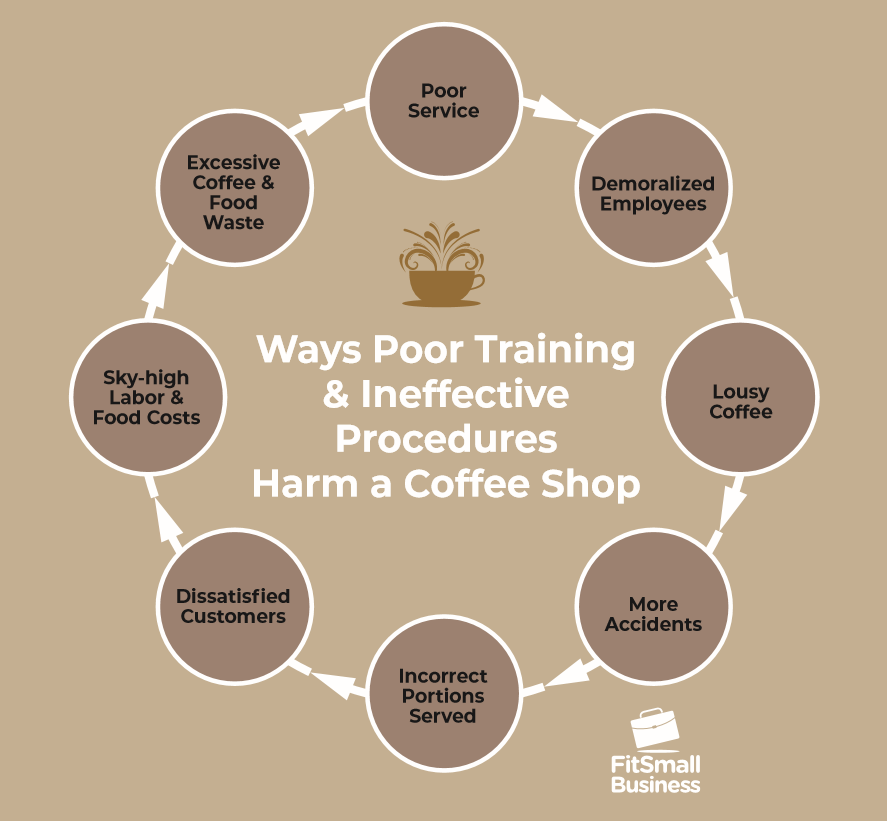 You're now ready for the final phase of starting your coffee shop business. Yes, it's finally time to open those doors and start creating loyal fans for life
---

The final phase of learning how to start a coffee shop involves promoting your business and developing a wildly loyal customer base. The better you are at this, the sooner your coffee shop will turn a profit.
13. Promote Your Coffee Shop & Get Loyal Customers
Success won't happen by chance; it's imperative that you develop effective promotional and advertising campaigns for your coffee shop. Promotions don't necessarily have to be costly to work. What's important to keep in mind is that getting the word out about your business is an ongoing task that requires investments of time, attention, and effort. A little creativity doesn't hurt either.
Because of the relatively low average sale per customer—which for a single coffee drink is around $3 to $4, depending on the order—coffee shops rely on repeat business. In fact, customer loyalty is so important that a 2% increase in customer retention will have the same effect on business profitability as a 10% reduction in costs.
Some coffee drinkers stop by their favorite coffeehouses on a near daily basis. Your goal is to give them plenty of compelling reasons to be loyal to your coffee shop.
Make a Great First Impression
You might not think that making a great first impression is a promotional strategy, but frankly, it's one of the top things you can do to promote your business. You don't want customers to buy from you once; you need them to come again and again. That'll only happen if you make a great impression from the moment they see your coffee shop until they leave it.
Use Attention-Grabbing Signage
If your coffee shop isn't visible to potential customers, you have a problem. A huge problem, in fact. Place tasteful, professional signage that commands attention on the outside of your shop. On the inside of your shop, use easy-to-read, creative signage that evokes the vibe you want to create. Also, be sure that all signs inside and outside your shop align with your brand. Inconsistent use of branding conveys a disjointed, unprofessional impression.
Curb Appeal Matters
Visual appeal matters, not only on the inside of your shop, but on the outside too. This is especially true in the coffee and food service world, where cleanliness and tidiness convey high food handling standards. Fresh paint, trimmed shrubs, blooming flowers, and clean windows all work together to convey an inviting appeal that beckons people to come on in. Don't forget to take advantage of decorating for various holidays too; customers enjoy festive atmospheres.
Be Friendly
Train your employees on the importance of being kind and friendly. Make everyone who walks into your shop feel acknowledged and welcome. For customers that come in frequently, get to know them by name. Friendliness isn't only about human interaction, though. You can also make your coffee shop more friendly by adding fun and playful signage throughout your shop.
Add Special Touches to Your Service
Some coffee shops write fun sayings or draw playful graphics on to-go coffee cups. Others serve their coffee in exceptionally beautiful cups and mugs. Perhaps one of the most fun and creative things that your baristas can do to add flair to serving coffee is to create latte art, as in the image below. If your team doesn't know how to do that, just search for "latte art" on YouTube; there are literally hundreds of how-to videos there.
Promote a Brand-aligned Coffee Shop Theme
Some shops make a name for themselves because of their stunning, revolving photography or art collections that change out each periodically to feature new artists. Others promote themselves as college hangouts: come for the coffee, stay to hang with friends. Still others promote their coffee shop as a coworking environment, a music venue, or a place to play board games. There's no end to the many ways you can make your shop special to various niches.
Use Promotions That Build Customer Loyalty
According to Fivestars, a company that specializes in loyalty marketing programs for local businesses, loyal customers will account for up to 84% of your coffee shop's business. Clearly, repeat customers are vital to the long-term success of your coffee shop business.
If you're just starting out and are on a razor-thin budget, you could create a simple punch-card reward system. For example, for every eight coffees customers buy, they get one free. Punch cards aren't the most secure way to run a loyalty program though, as punches can be faked. Plus, because you're not tracking customer names in a database, you have no way to contact your loyal customers with special promotions.
If your budget allows, signing up with a loyalty program service is an ideal way to run both simple and sophisticated customer rewards programs. Loyalty software services typically average between $49 to $300 per month. The best customer loyalty program software is easy to set up and offers a variety of reward systems. They also include easy-to-use point redemption tools so loyal customers can track and collect their rewards without a hitch.
Advertise Your Business
You can advertise your business online through radio or television. The downside of mass media advertising is that audience targeting isn't precise and results for the average single-unit coffee shop isn't always worth the sometimes sizable investment.
Instead, you may want to advertise online through ads on Google or social media channels where your customers hang out. You could also advertise on super-niche publications in your vicinity such as free community papers or church bulletins. To attract newer customers, you can also run ads through Groupon.
Another way to advertise your shop is to hire someone to don an attention-grabbing costume and twirl a large sign beckoning people to come into your shop. Yes, this relatively low-cost strategy has been known to increase awareness for businesses as well as boost sales. People notice people dressed in wild outfits who are making big, bold gestures more readily than they notice buildings. That means a brief glimpse at a sign spinner can increase awareness for your coffee shop.
Develop an Online Presence
While not all coffee shops develop a website, it can be done so cheaply nowadays with tools like Squarespace and WordPress that creating a website just makes sense. It's a great way for online searchers to find your coffee shop.
You also want to set up social media profiles; Facebook and Instagram are the most popular social sites for coffeehouses, but some shops also have profiles on Twitter, LinkedIn, and Pinterest.
"The single best tip I can give to anyone bringing a coffee shop to market is leverage social … the coffee community is incredibly active on platforms like Instagram. When working with coffee shops, we take a multivariate approach, making the spaces themselves as Instagramable as possible. Every time a new café location opens, we invite tastemakers on Instagram to the new location to offer them free food and coffee in exchange for a post on their channels, casting a wider net and encouraging their followers to stop by."

—Austin Rogers, Founder, Minisocial.io
Be sure to set up a business profile on Yelp; positive reviews on Yelp can be instrumental in attracting customers for your coffee shop. Last but certainly not least, you should create a Google My Business listing. As with Yelp, having several positive reviews on Google can help drive more customers to your shop.
Asking customers to follow you online and offer reviews is a key way you can get the word out about your business. Developing an active, robust online presence is a powerful way to generate awareness for your coffee shop; it's also one of the least expensive promotional tools in your toolbox.
Promotion Ideas for Coffee Shops on a Shoestring Budget
You don't have to spend a lot on coffee shop advertising and promotion. Sometimes, you just need to be creative about how you attract new customers and create customer loyalty. To help you, we've created a free guide, 25 Ways to Promote Your Coffee Shop on a Shoestring Budget. You can download it now.
You've Now Learned All You Need to Know—Well, Mostly
Your dream of starting a coffee shop can become a reality by following the steps outlined above. You need to do your research, create a thorough business plan that outlines how you intend to make a profit, and then execute that plan with precision.
Choosing a great location, hiring an amazing staff, controlling costs, and going the extra mile to make your customers happy are keys to success. It also helps if you're a coffee lover who is a fanatic about creating a great cup of coffee and sharing your love of coffee with the world.
Starting a coffee shop requires having a great head for business, so you'll want to keep learning about all aspects of launching and running a business—especially if this is your first business. That's why we've included a few more helpful resources below to make sure you have the tools and knowledge you need to create a profitable business.
__________________
Additional Helpful Resources for Anyone Thinking of Starting a Coffee Shop
LLC vs S Corp vs Corp: Best Small Business Structure?
LegalZoom vs Rocket Lawyer: Which Is Best?
Small Business Tax Rates: How Much Businesses Actually Pay in Taxes
How to Set Up an LLC on LegalZoom in 7 Steps
Zoning Laws for Small Business: What You Need to Know
Free Payroll Templates
7 Best Payroll Services & Payroll Employees
7 Best Restaurant Scheduling Software & Apps
Best Mobile Credit Card Processing Options
8 Best Restaurant POS Systems
6 Best Restaurant Inventory Management Software
Federal Labor Laws & State Employment Laws
Employee Handbook: Definition, Features & Costs [+ Free Sample]