Starting a fitness blog is an excellent way for fitness enthusiasts to share their extensive knowledge as well as to make money blogging. This step-by-step guide teaches how to start a fitness blog and build an audience of raving fans.
You can start your fitness blog for as low as $2.95 per month when you create a self-hosted WordPress site using Bluehost as your hosting provider. WordPress is the most flexible and scalable blogging platform in the world, which means your website can grow with you as your fitness business grows. Bluehost is among the most reliable, affordable, secure hosting solutions available today.
1. Get Clear About Your Blogging Goals
The best fitness bloggers start with a plan that outlines what they want to achieve. Getting clear on what you want to accomplish will help you develop the right fitness blog for your goals.
Most but not all who start a fitness blog hope to make money in one way or another. There are also those who start a personal fitness blog to track their own progress and have no intention of making money when they start; however, sometimes these personal-journey fitness blogs blow up in popularity and the bloggers are then able to turn a profit.
Create a Blog Business Plan
If you want to make money blogging—whether immediately or down the road—then you'll want to create at least a bare-bones business plan for your fitness blog. This should include the ways you intend to monetize your blog. Getting clear on how you plan to produce a profit from your blogging efforts upfront will save you a lot of headaches and regret down the road.
Fitness bloggers often make money blogging by selling:
Personal training services—which can be offered either online or in-person
Online fitness memberships
Non-personalized workouts
Personalized fitness and diet plans
One-on-one coaching
Group coaching
Wellness and health products such as supplements
Branded merchandise such as athletic wear
Fitness bloggers can also make money through advertising, offering sponsored content, or through affiliate marketing—which is when you join an affiliate program and agree to promote others' products or services in exchange for a fee.
2. Select Your Fitness Niche
You already know you want to start a fitness blog, but now you need to decide what type of fitness blog to create. There are many different niches within the fitness world.
For example, your blog could focus on cardio workouts, bodybuilding, general fitness, strength training, yoga, running, or Pilates. You could target your blog exclusively to women, men, weightlifters, long-distance runners, premier athletes, or people just starting out on their fitness journey.
Your blog could be 100% about fitness, or you could incorporate other wellness content into your site such as healthy eating, weight loss, supplements, and living a fit lifestyle. The most successful bloggers realize that it's nearly impossible to serve everyone at every stage of their fitness journey. That's why it's important to be clear about who your primary audience is and how you intend to serve them.
Blog Examples in Various Fitness Niches
Before you begin your journey as a fitness blogger, it's helpful to review different types of fitness blogs and learn from what they do well—and identify what you can do even better. This can help you get clear on the exact type of blog you want to create. Let's take a look at some fitness blogs in various niches targeting a variety of audiences.
Men's Bodybuilding Blog Example
SpotMeBro.com is an example of a fitness blog that offers extensive content on all things related to building muscle, burning fat, getting fit, and losing weight. It offers content on training such as cardio, CrossFit, HIIT, and strength training, as well as targeted works for every major body part. The site also has extensive content on workout equipment and supplements, which indicates it makes its money through affiliate marketing.
Fitness Membership Blog Example
NerdFitness is a highly successful blog started by Steve Kamb in 2009. The blog is directed to people who are out-of-shape and want to get more fit for a variety of reasons, either because they're overweight, have medical issues, or just want to feel better about themselves. It features many before-and-after success stories, offering hope of massive transformation for its clients.
The vibe for this blog is playful and fun, which makes it extremely welcoming for those who are intimidated by fitness. The main way the blog makes money is through its signature Nerd Fitness Prime Membership which features a wide variety of at-home workouts, meal plans, and connection to a supportive community. The quarterly membership costs $39 while the annual plan is available for $99. One-on-one online personal training services are also available, as well as in-person events called Camp Nerd Fitness.
Women's Fitness & Healthy Living Blog Example
Fit Bottomed Girls' motto is "you can't hate yourself healthy." This blog, started by certified fitness professionals Jennipher Walters and Kristen Seymour, targets women— with a special section for mothers—and offers advice on fitness, eating, and leading a healthy lifestyle. This popular site has more than 180,000 Facebook followers and gets 2.2 million monthly viewers on Pinterest.
The blog monetizes through advertising, coaching services, as well as sponsored posts. The blog founders are also available for paid public appearances, brand endorsements, and speaking engagements.
Personal Trainer Blog Example
BodySmith Personal Training is owned by Scott Smith, a certified trainer and strength and conditioning coach. He uses his blog to promote and support his company's in-person training business, where initial training programs start at $700. The Bodysmith Personal Training blog features exercise videos, healthy eating tips, nutrition advice, and success stories.
Example of a Personal Fitness Blog & Podcast for Runners

Ali on the Run is a fitness blog and podcast targeted to runners. Ali shares stories about her personal running journey and interviews others about running-related topics. The blog is a member of the SheMedia network, which indicates the site monetizes through both display ads and affiliate marketing.
3. Name Your Fitness Blog & Purchase Your Domain
Once you've narrowed down your niche and your target audience for your blog, your next step is to name your blog. A good blog name should be relatively short—12 to 18 characters—and offer some clue as to what your blog is about and ideally who your blog is for.
When naming your blog, you also want to consider what domain you'll use, which is often the same as your blog's name, or a slight derivation of it. I have to confess that coming up with a domain isn't always easy as so many domain names are already taken.
As a fitness blogger, you may have a bit of an advantage in generating viable ideas for your domain, as you're not necessarily limited to using a .com domain—which is the most popular domain extension. Many domain registrars offer .fitness, .health, and .club domains—which could work great for your blog, depending on your fitness niche.
Once you have your blog name and your domain, you might also want to secure relevant social media handles that align with your blog's name and domain. Even if you're not quite ready to start posting on social media, grabbing the social page names and handles you want now assures you'll have them down the road when you do want to start your social media efforts.
4. Set Up Your Fitness Blog
Setting up your fitness blog involves choosing a blogging platform and then following that platform's design and development instructions. Most platforms offer a variety pre-developed design concepts—called themes—from which to choose or allow you to go with a theme from a third-party provider. Themes make the website design process fairly easy.
While there are several great blogging platforms to choose from, I recommend going with a self-hosted WordPress blog using Bluehost as your hosting provider. WordPress is the most popular website content management system (CMS) in the world. Because of that, there are thousands of plugins and themes you can select for your WordPress blog for maximum versatility and scalability. You'll even find themes developed specifically for fitness bloggers.
The WordPress CMS is free, but you'll need a hosting provider. Bluehost offers affordable and secure hosting solutions. Plans start as low as $2.95 a month and come with a free SSL certificate—which is required to keep your website secure—and a free domain name for the first year. Bluehost also offers 24/7 support and is backed by a 30-day money-back guarantee.
If you prefer to outsource your blog set-up and design—as many bloggers do—you can find blog development professionals on Fiverr that can help you with any phase of blog development, from setup to design to content creation.
5. Develop a Content Strategy for Your Fitness Blog
Once your blog is set up, you're ready to start adding content to it. Developing an effective overall blog content strategy is vital to your success as a fitness blogger. Top fitness bloggers understand what their audience wants as well as how to create content that wows their blog visitors.
Decide on the Scope of Content You Plan to Cover
At this point, you should know what type of fitness blog you plan to launch and who your ideal audience is. It's now time to create a content plan that will amaze your audience and keep them coming back for more.
If you hope to rank high on Google—which is a key to success for many bloggers—you need to be strategic about the depth and breadth of the subjects you'll cover. One of the biggest mistakes new bloggers make is to try to cover too many topic categories and subjects too quickly. When your content is erratic and not highly related, neither your readers nor Google know what your site is about. That leads to low page rankings on Google and few visitors to your blog.
I recommend that new fitness blogs start with no more than two to three main categories. It's far better to have just a few categories on your blog and lots of content under each than a lot of categories without much depth.
To come up with incredible content, it's wise to start out by brainstorming a lot of ideas; you can then evaluate the quality of those ideas later. You can use an app like Miro to brainstorm and organize content ideas.
Develop In-Demand Content
You want to develop content that people want to read, and frankly, not all the ideas you come up with during your brainstorming sessions will be gems. That's why you need to evaluate your content ideas to be certain there's demand for them.
One way to ensure content will be in-demand is to look at other fitness bloggers' websites and social profiles to see which subjects and posts have the highest shares and engagement. Another way to verify interest in your content ideas—and generate even more ideas—is through keyword research.
How to Conduct Keyword Research
Keyword research is the process of finding which terms people are searching for online, as well as the level of competition and difficulty of ranking high for those search terms. You can use keyword research tools like Ahrefs, Alexa, and Ubersuggest to find terms you suspect people are using and to discover related terms that you might not otherwise think to blog about.
For example, let's say you want to write about cardio workouts, so you use Ahrefs to find what kind of search volume there is for the term. As you can see from the keyword research results below, there are 20,000 monthly searches for the term "cardio workouts." Unfortunately, the keyword difficulty (KD) is 59, which means there's a lot of competition for that term. It would be very difficult for a non-established blog to rank high on Google for "cardio workouts."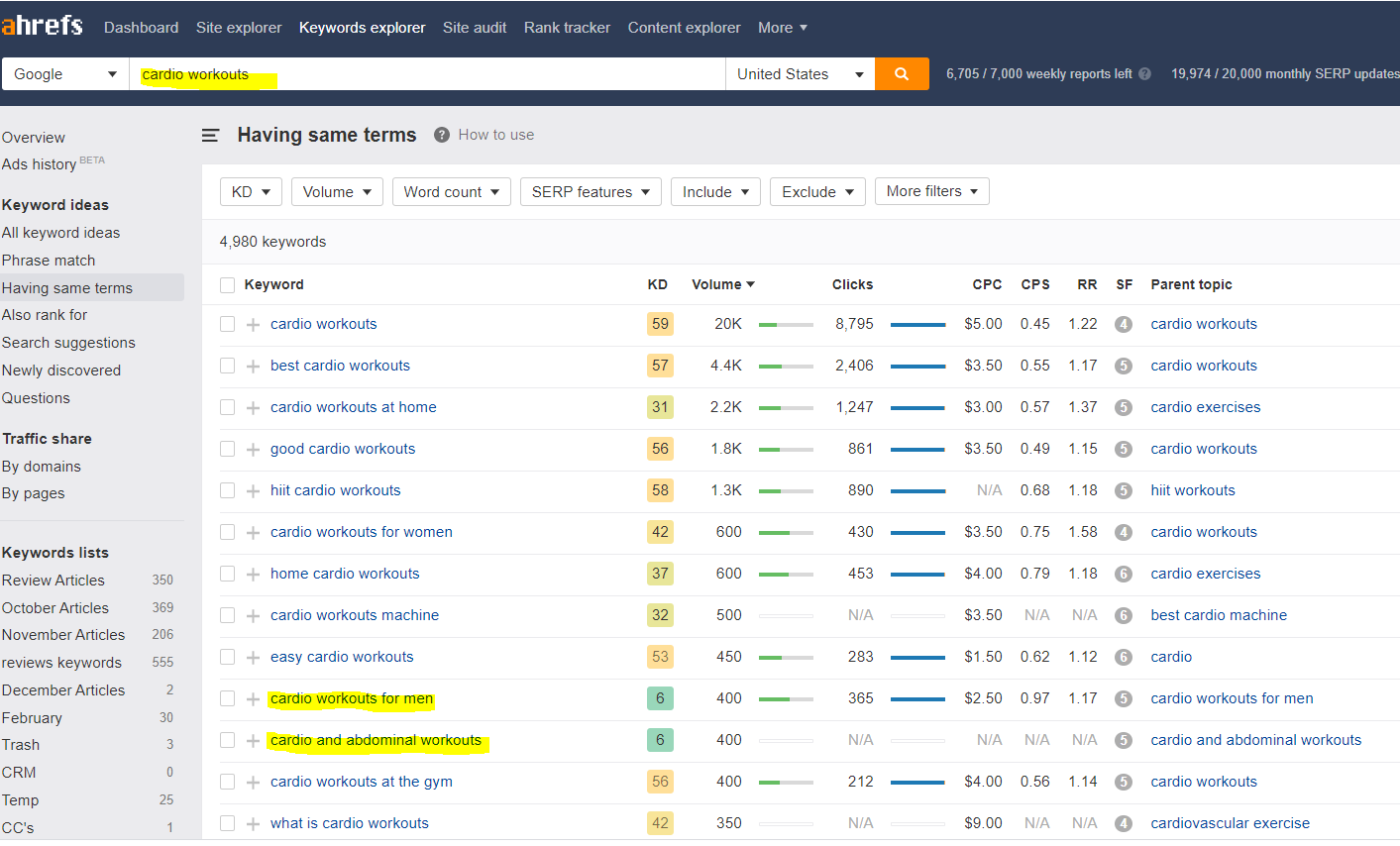 When you scan down on the search results page, though, you'll see that the term "cardio workouts for men" has a search volume of 400 per month but a KD of only 6, meaning it could be relatively easy to rank higher for that keyword. The keyword "cardio and abdominal workouts" has the same search traffic and low KD. You're far likely to rank higher on Google if you focus on keywords with lower KDs, because that means less competition.
Content Types You'll Use on Your Blog
Your content plan needs to include the types of topics you'll cover as well as the media you'll use. Most fitness bloggers develop both text-based and video content, as well as downloadable worksheets and fitness trackers. Some also host their own fitness podcasts.
When developing your content plan, consider the format that you'll use to deliver that fitness content. Videos matter more to fitness bloggers than any other blogging niche as people want to learn how to perform exercises safely and correctly. Many also want to exercise along with fitness videos.
You can choose to create videos and offer them for free or use a membership model to restrict access to your workout videos to paid clients. Since file sizes for videos tend to be quite large, and you don't want to slow down your website's load time, I recommending hosting your videos on YouTube or Vimeo and then embed them into your site.
Create a Blog Content Development Calendar
One of the keys to creating a successful blog is to blog consistently. You can use software like Trello to create a blog editorial calendar that helps you manage all aspects of the content development process.
Your fitness blog editorial calendar will help you keep track of what content needs to be created, which posts are ready for editing and proofing, as well as when each piece of content should be published. Having a set plan complete with development time frames and publishing deadlines is a powerful way to stay on track with business goals.
6. Promote, Market & Drive Traffic to Your Fitness Blog
Starting a fitness blog requires a lot more than setting up a website and creating blog content. You also need to develop a plan to market and promote your blog.
Getting the word out about your blog is an essential step to blogging success. You can promote your blog through social media (paid and unpaid), email marketing, and blog outreach. You can also use search engine optimization (SEO) to drive more traffic to your blog.
Use Social Media Marketing to Promote Your Blog
Social media marketing is the most popular way fitness bloggers get the word out about their blogs. The secret to success on social channels to post shareworthy content that others will pass along to their social contacts. Instagram, Facebook, Pinterest, YouTube, and Twitter are all popular channels to use to promote a fitness blog.
You can always post content directly on social media platforms for free. Many bloggers use social media management software such as Buffer, Hootsuite, and Tailwind to schedule and track social media posts across various channels.
You can also create highly targeted paid social ads to promote your blog content as well as your products and services. Most social channels allow you to advertise for as little as a few dollars per day.
Use Email Marketing to Win Loyal Fans
On average, about 75% to 95% of the visitors to your website will visit once and never come back. Your goal is to keep as many of your ideal blog visitors engaged as possible and you don't want that engagement to end when they leave your site. That's why you'll want to invest in email marketing.
The main advantage email marketing has over social media is that you control when the messages are sent and who sees them. This means you can deliver engaging, relevant content to your followers any time you like.
One of the best ways to build your email database is to offer a free gift—also known as a lead magnet—to your blog visitors. The more valuable your lead magnet is to your blog audience, the more emails you'll collect. Popular lead magnets for fitness blogs include video workouts, fitness trackers, meal plans, fitness challenges, and bootcamps.
Use Blog Outreach to Increase Blog Traffic
Another way to get the word out about your blog is through blog outreach. Reaching out to fitness influencers and getting them to mention your blog to their massive audiences is extremely helpful for generating buzz for your blog. You can also offer to be a guest on fitness blogger podcasts or volunteer to develop guest blogs for fitness websites.
Use SEO to Drive Traffic to Your Blog
Search engine optimization (SEO) is an often overlooked yet critical tactic for generating massive traffic for your blog. Learning how to optimize your site so that your blog is crawled and ranked by search engines is key to blogging success.
You won't hit home runs with SEO quickly, but when you employ effective SEO practices over time, you can give your blog a traffic advantage that can contribute significantly to your blog's growth and profitability.
Tip: If you don't know much about search engine optimization read: SEO for Bloggers (which includes a free on-page SEO checklist).
How Much Do Fitness Bloggers Make?
It's not unusual for a fitness blogger to make a modest $200 to $2,500 a month, but top fitness bloggers can earn upward of $15,000 a month or more. A fitness blogger's income depends largely on monetization methods used as well as the overall quality of content and promotional methods used. Total site traffic is also a factor that influences blog income.
Bottom Line
Starting a fitness blog is fairly straightforward. You select a niche and a specific audience to target, name your blog, purchase a domain, and then set up your site with a reliable, secure blog platform.
To be successful as a fitness blogger, you need to have a strong content plan as well as use smart blog marketing strategies. The better you get at creating high-value, shareworthy content and promoting that content, the sooner your fitness blog will turn into a money-making business for you.
Profitable fitness blogs are built on a strong foundation. That's why I recommend building your fitness blog as a self-hosted WordPress site using Bluehost as your hosting provider. WordPress is the most powerful blogging platform in the world, and Bluehost is among the most reliable, affordable, and secure hosting solutions available today.